For those unsure about giving up the classic canned cranberry sauce, this Cranberry Sauce with Grand Marnier is here to change your mind! A combination of whole and chopped cranberries gives it the perfect texture and the grand marnier and fresh orange adds the perfect sweet kick! It only requires 4 ingredients and can be made in advance - the perfect Thanksgiving Day sauce.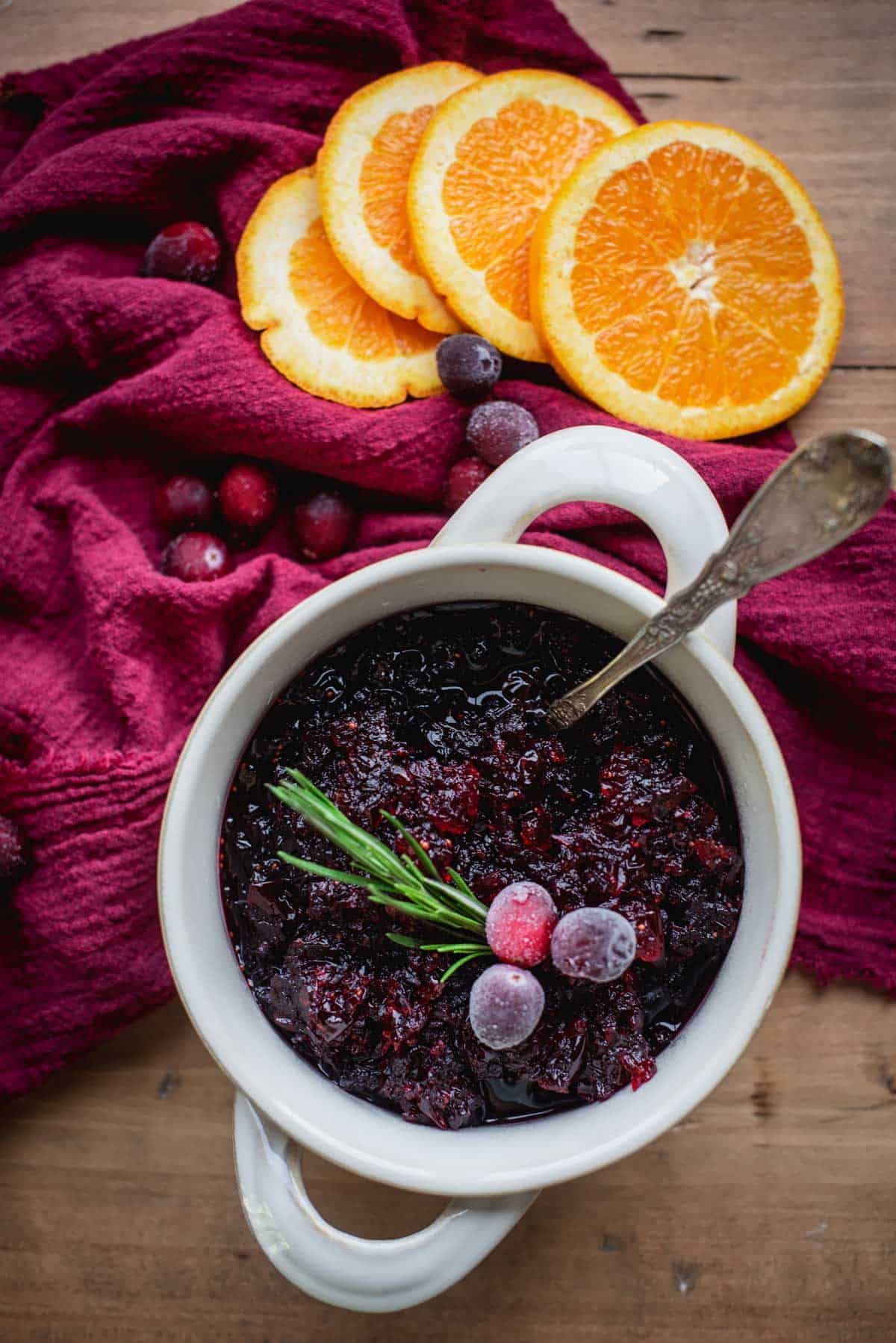 Why I Love Fresh Cranberries with Grand Marnier
There is one thing that has always been on my Thanksgiving table, canned cranberry sauce. The fruit jello that binds the sweet with the savory on your Thanksgiving plate. Well, unless you're part of the crowd that can't have food touching.
Even with the ridge lines from the can still imprinted on the side of the range gelatinous blob, it still was the part of Thanksgiving I looked forward to most.
So then why, you are asking, are you posting this recipe for homemade cranberry sauce with Grand Marnier? Well, I've seen the light.
Long story short, I read a Thanksgiving meal article/interview with Anthony Bourdain and I really dig his show and attitude about food in general. In the article he boasted a big, traditional Thanksgiving Day meal with homemade cranberry sauce as a pivotal ingredient. So, well, poop...let's go ahead and try it. Results? A-may-zing.
After searching the internet, comparing and contrasting recipes and ingredients and textures, and several attempts on the stove, here it is. The turkey day condiment you didn't know you needed until right this very minute, homemade cranberry sauce with Grand Mariner and orange.
Drunken Cranberries with Grand Marnier
There are a few things that set this homemade cranberry sauce with Grand Marnier apart from its many sisters and brothers out there in the world.
It has booze in it,
that booze is Grand Marnier, and
do you need another reason?
Kidding (mostly).
But seriously, that beautiful orange liqueur adds great depth of orange flavor without the metallic, sticky, orange-flavor you would get from something like Triple Sec. In combination with the orange zest and a little (that term is subjective) sugar, it's a great balance of zesty citrus, tangy liquor, and tart cranberry.
The best cranberry sauce recipe with Grand Marnier is about to be best friends with some turkey.
If you can't get fresh oranges for the zest, substitute 2 teaspoons of orange juice.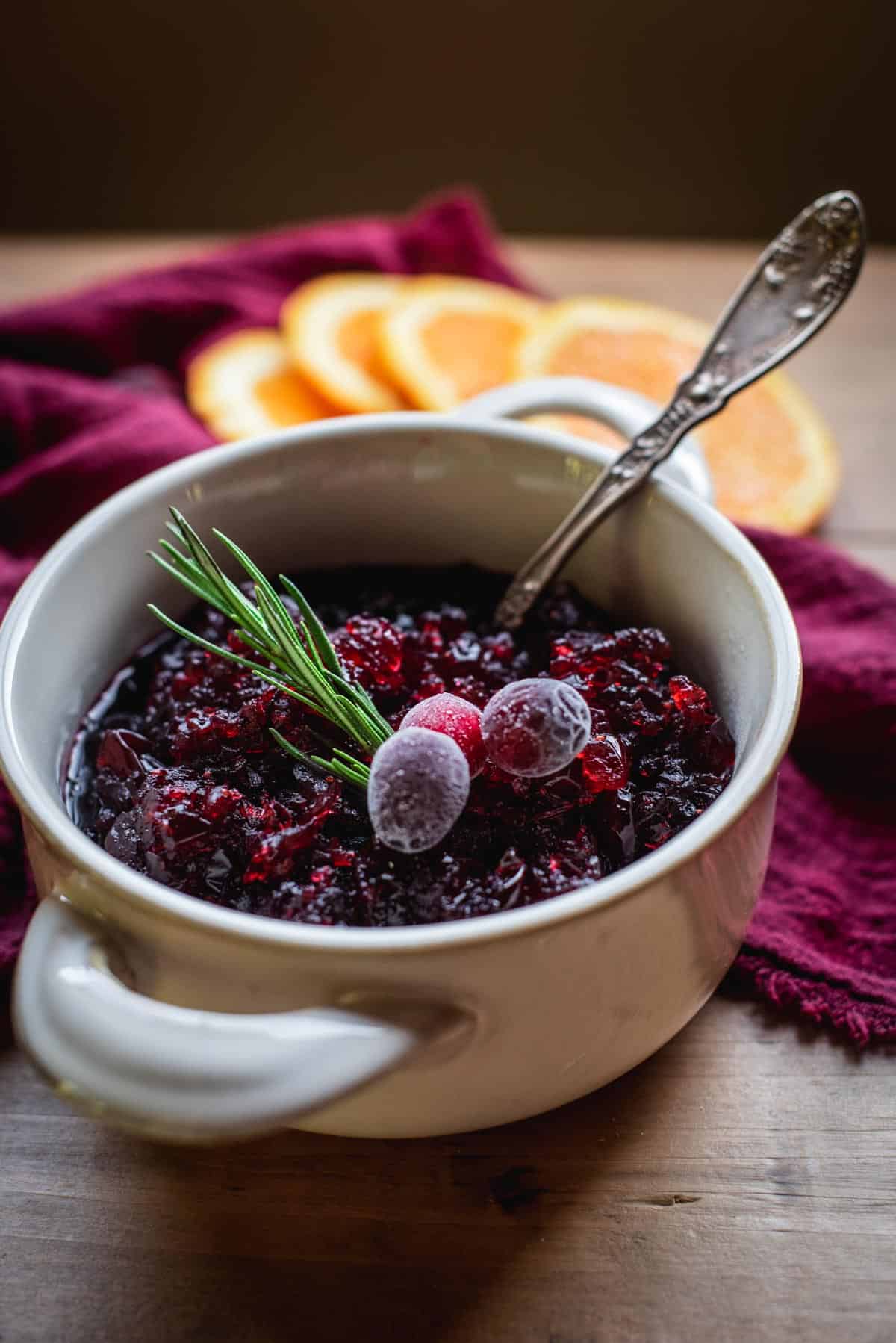 How to Get the Perfect Cranberry Sauce Texture
This certainly can be done without pulsing the whole cranberries, however the combination of puréed cranberries with whole cranberries provides a great contrast of texture.
Pulsing the fresh cranberries with the sugar in the food processor prior to going on the stove top creates a spreadable and slightly crunchy texture that leaves you longing for a leftover turkey sandwich to smother. The whole cranberries invite a burst of zippy, tart cranberry for just the right amount of pucker.
Last of all, like all great recipes, this is easy peasy - pulse, cook, cool and you're homemade cranberry sauce with Grand Mariner is ready!
Ingredients and Substitutions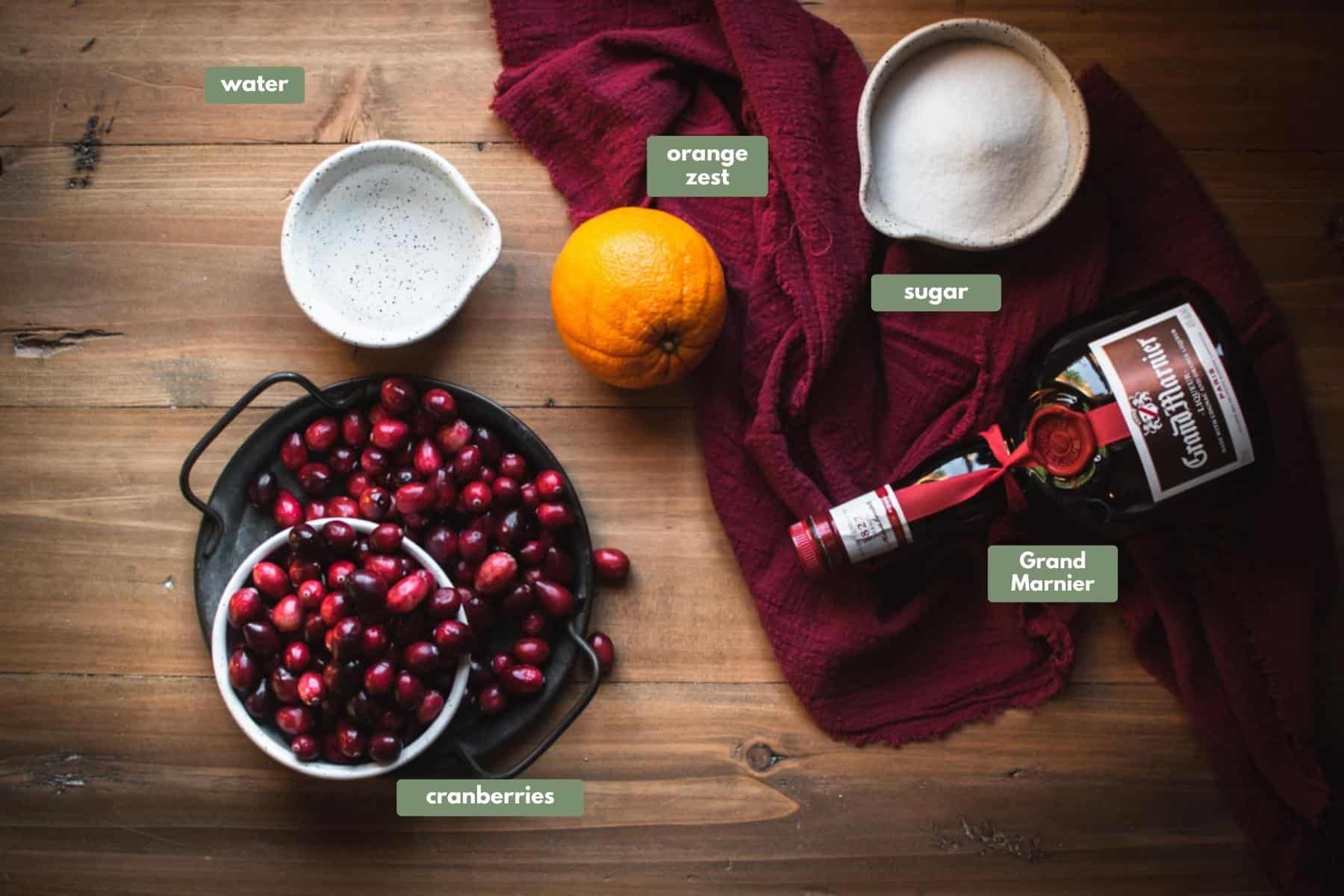 There's only 4 ingredients for this homemade cranberry sauce recipe, so stocking up on ingredients should be super simple!
If you don't have Grand Mariner and don't want to buy a full bottle, you could try the less expensive versions like Grand Gala. It's very close but not 100% the same, I do recommend getting the Grand Mariner if possible!
You don't have to pulse some of the cranberries, although I think it gives the best texture. You can use whole cranberries if you want a heartier texture and you can even substitute frozen cranberries in this case!
Use whole fresh cranberries. If keeping all the cranberries whole for a heartier texture, frozen cranberries can be substituted
How to Make Cranberry Sauce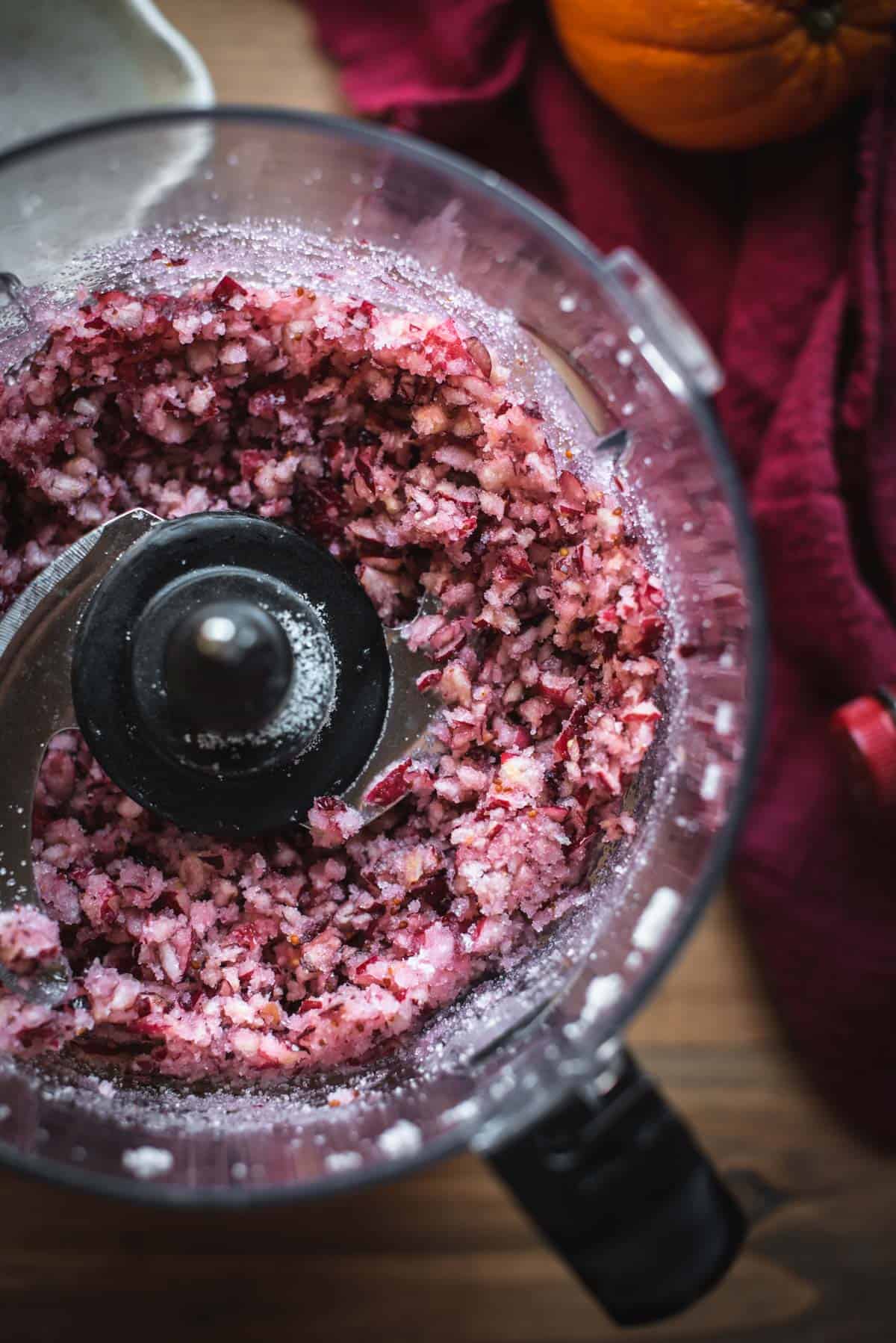 Pulse 2 cups of cranberries and the sugar in a food processor until the cranberries are in small pieces and the sugar is incorporated.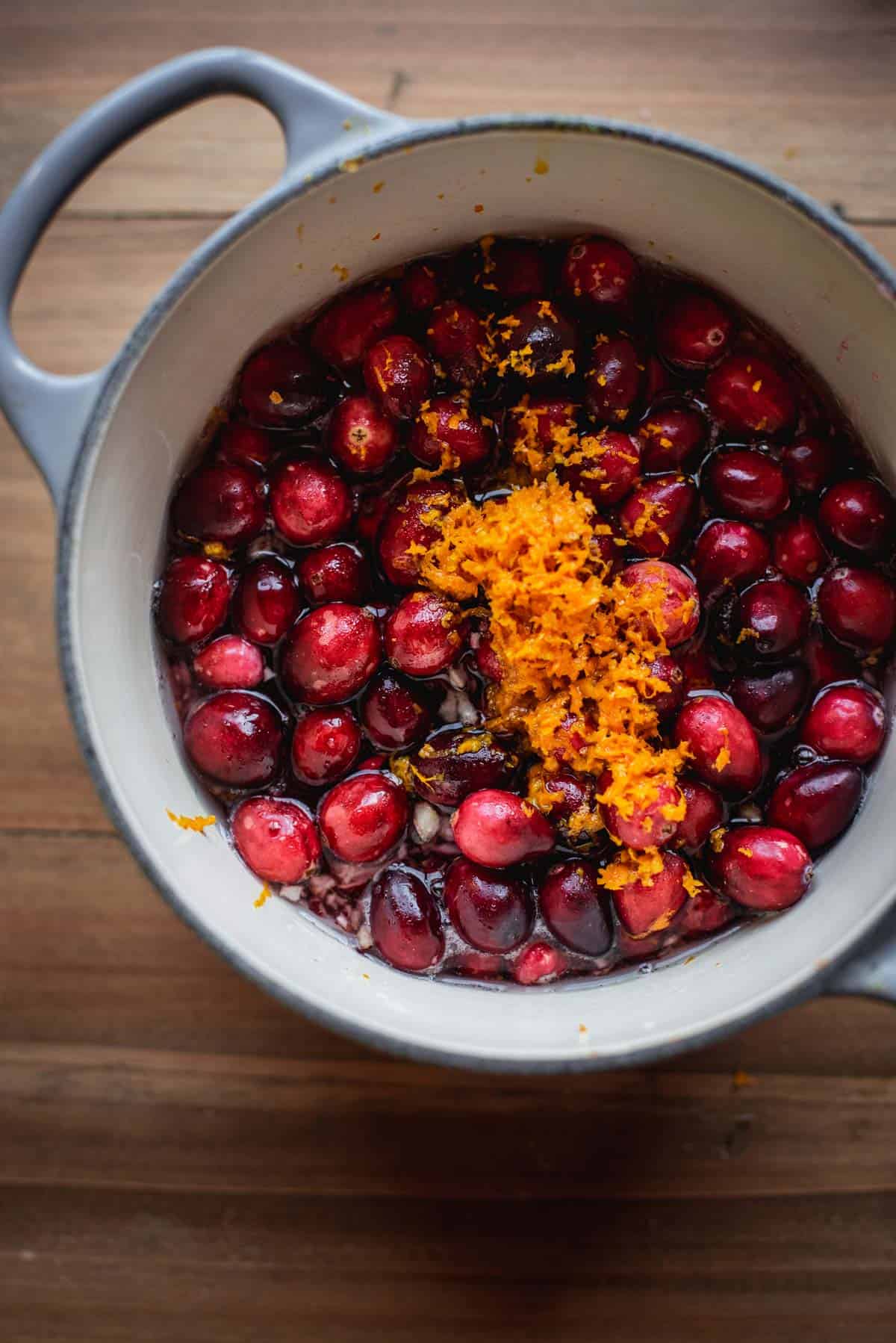 Combine the chopped cranberries and sugar mixture, remaining 2 cups whole cranberries, orange zest, ¼ cup Grand Marnier and ¼ cup water in a medium sauce pan.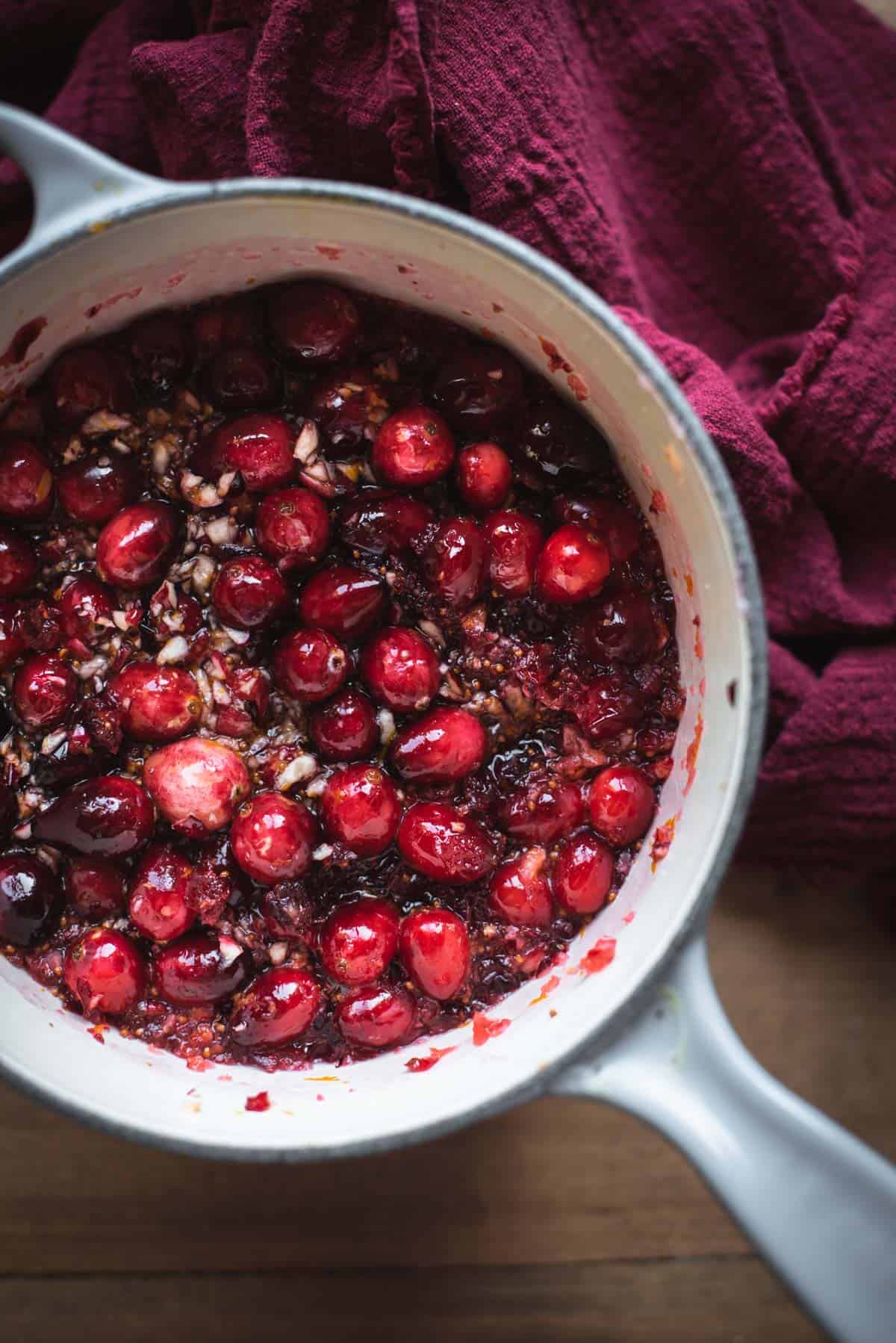 Bring heat to medium-high and cook until mixture starts to bubble, about 5 minutes.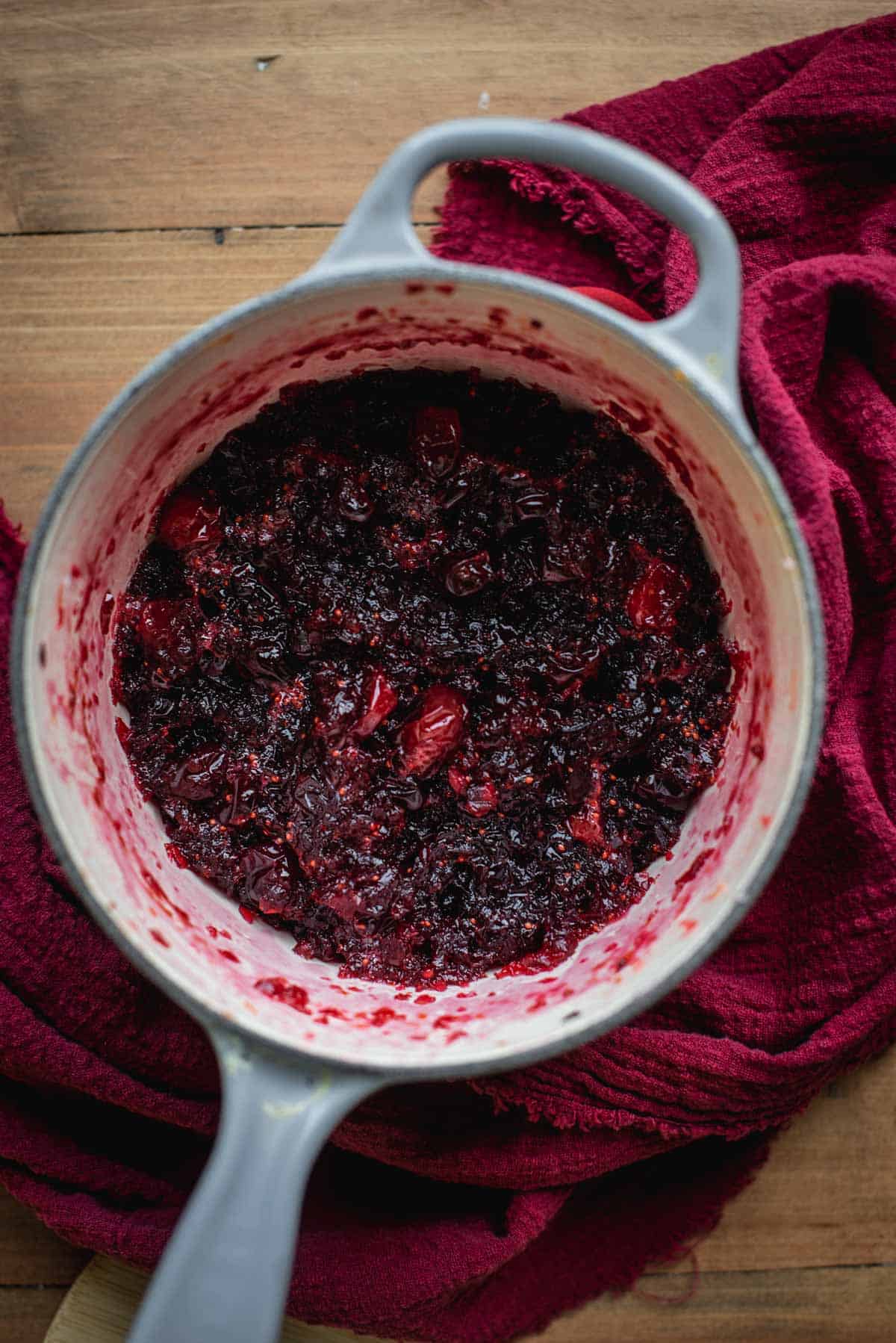 Reduce heat to low and cook for 1 hour.
FAQs
How should I store this homemade cranberry sauce?
Pour the sauce (after it has cooled down) into an airtight container, like a jar, and put it in the fridge...simple!
How long will this sauce stay fresh?
This cranberry sauce will stay fresh in the fridge for 10 -14 days! So it can be made well in advance!
If you want to keep it for any longer, I recommend popping it into a freezer bag and freezing it. It can stay frozen for around 3 months! Just make sure to defrost it fully before using it.
What if I leave this sauce out overnight?
I know what it's like, hosting Thanksgiving Day is so rewarding but it can get hectic and things may fall by the wayside. If you accidentally left this homemade sauce on the table overnight - I would suggest you throw it away.
Hungry for More Thanksgiving Side Dishes?
If you are looking for some more side dishes to impress everyone at your table this Thanksgiving, then check out some of my other delicious recipes.
My Crispy Maple Bacon and Brussels Sprouts are crispy on the outside, with a slightly sweet maple flavor, and with pieces of salty bacon roasted into each bite of these cute little cabbages, nobody will want to refuse any Brussels sprouts this year!
This Creamy Maple Roasted Butternut Squash is here to be the silent star next to your main dish. It's smooth and creamy with just the right balance of naturally sweet with tangy savory.
The simple star of the show that everyone loves, Classic Fluffy Mashed Potato. Pillowy soft, creamy, fluffy...it's all in the potato and my secret weapon of an ingredient!
And for dessert! Pumpkin Panna Cotta because not everyone wants Pumpkin Pie! And also because this can be made days in advance, saving you precious time come Thanksgiving!
If you loved this homemade cranberry sauce recipe, please consider leaving a star rating and comment below! Don't forget to tag @hungerthirstplay when you post on Instagram and Facebook so I can see all your hard work!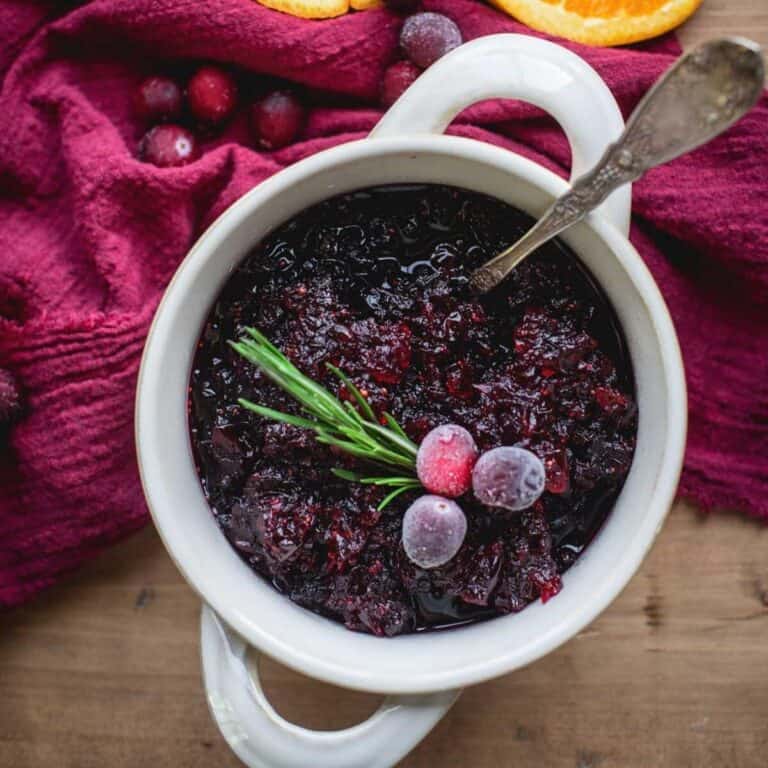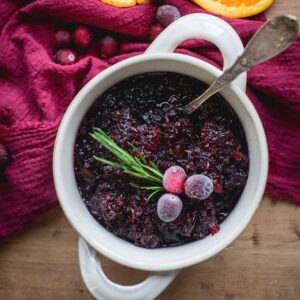 Cranberry Sauce with Grand Marnier
Grand Marnier and cranberry come together with tart, fresh cranberries and bright orange zest for a homemade cranberry sauce that's perfect for your Thanksgiving table.
Print
Pin
Rate
Servings:
6
to 8 servings
Ingredients
12-ounce

bag

fresh cranberries

(reserve 1 cup to add whole cranberries later)

1 ½

cups

granulated sugar

¼

cup

water

¼

cup

Grand Mariner

1

navel orange

(zested)
Instructions
Set aside 2 cups of whole cranberries. Add the remaining 2 cups of cranberries and 1½ cups sugar to a food processor. Pulse until cranberries are in small pieces and sugar is incorporated. The mixture will be a light burgundy color.

Combine the chopped cranberries and sugar mixture, remaining 2 cups whole cranberries, orange zest, ¼ cup Grand Marnier and ¼ cup water in a medium sauce pan.

Bring heat to medium-high and cook until mixture starts to bubble, about 5 minutes. Reduce heat to low and cook for 1 hour.

Transfer cranberry sauce to a heat proof container and cool. Though this can be served immediately, the texture is best if refrigerated for at least 3 hours before serving.
Notes
For a heartier, more rustic texture, leave all the cranberries whole.
Fresh or frozen cranberries can be used. You do not need to defrost the cranberries first.
Cranberry sauce is a great make-ahead recipe for any holiday or special meal. Just store in an air-tight container in the fridge and stir before serving.
Nutrition
Calories:
535
kcal
|
Carbohydrates:
137
g
|
Protein:
3
g
|
Fat:
1
g
|
Saturated Fat:
1
g
|
Sodium:
15
mg
|
Potassium:
601
mg
|
Fiber:
32
g
|
Sugar:
81
g
|
Vitamin A:
437
IU
|
Vitamin C:
97
mg
|
Calcium:
60
mg
|
Iron:
2
mg