Pillowy soft, creamy, fluffy...it's all in the potato. These classic fluffy mashed potatoes are so simple to make with the perfect light and fluffy texture thanks to the mix of both Yukon gold and russet potatoes finished with tangy cream cheese! Perfect for Thanksgiving or to serve alongside any roast.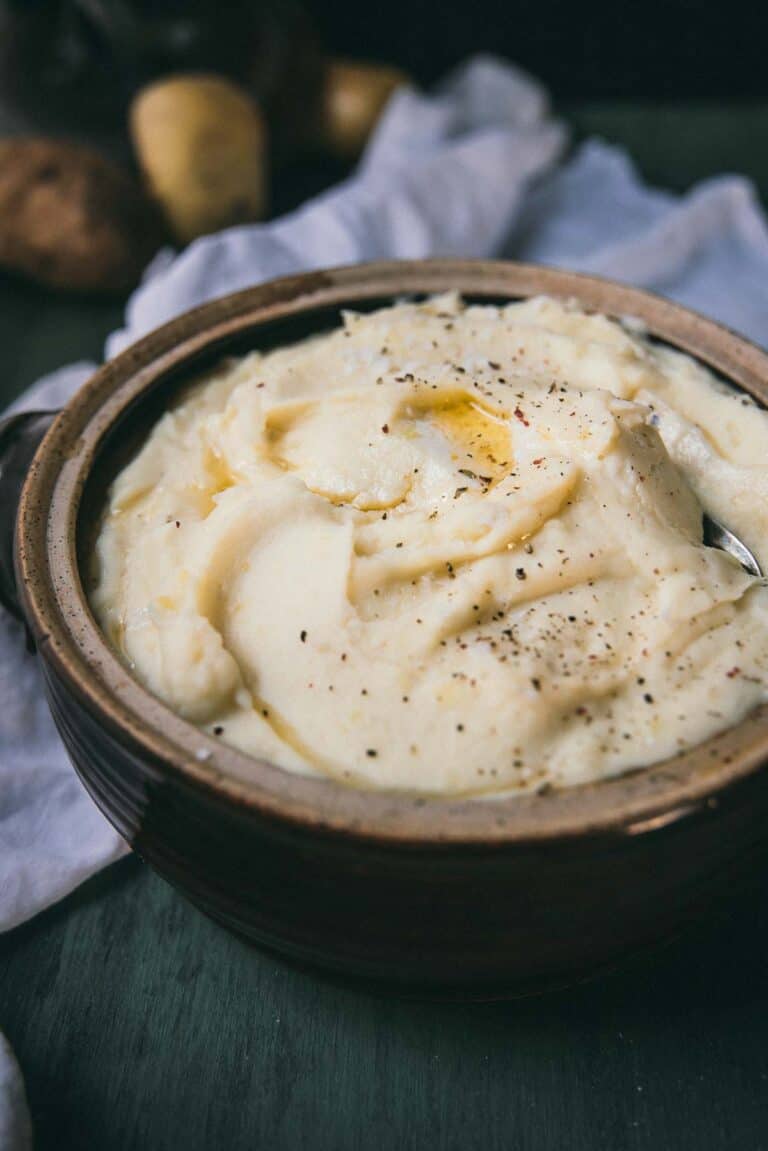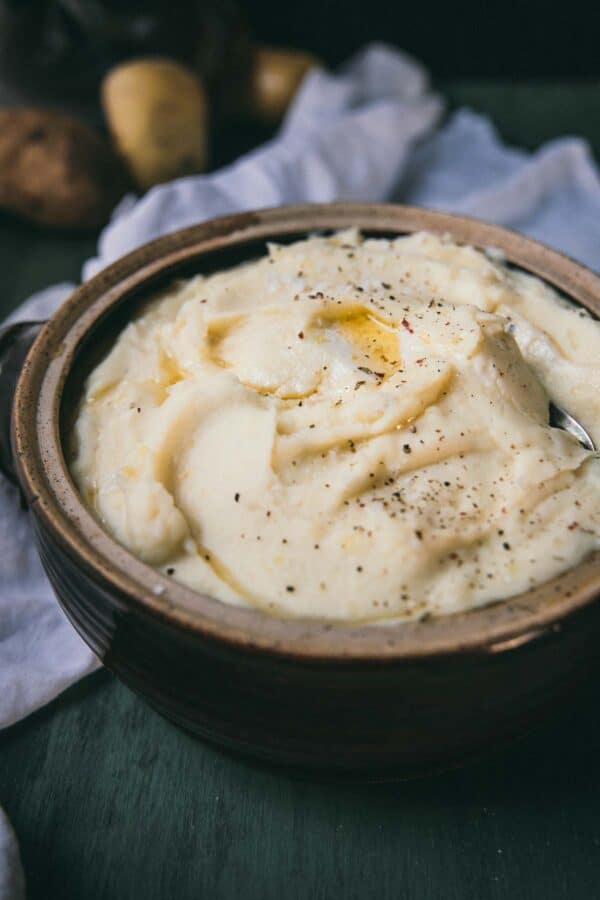 Who knew clouds could be served at Thanksgiving? If you're serving up these fluffy mashed potatoes, you're practically scooping little potato clouds onto the plates.
These are my favorite mashed potatoes to make for a few reasons, but these are the important ones:
super creamy and light
simple ingredients
slightly tangy cream cheese
very easy to make
When you are prepping a big holiday meal or just a fancy dinner to switch things up, having a go-to side that's no fuss and no worry is a solid plan. Classic fluffy mashed potatoes are here to do just that.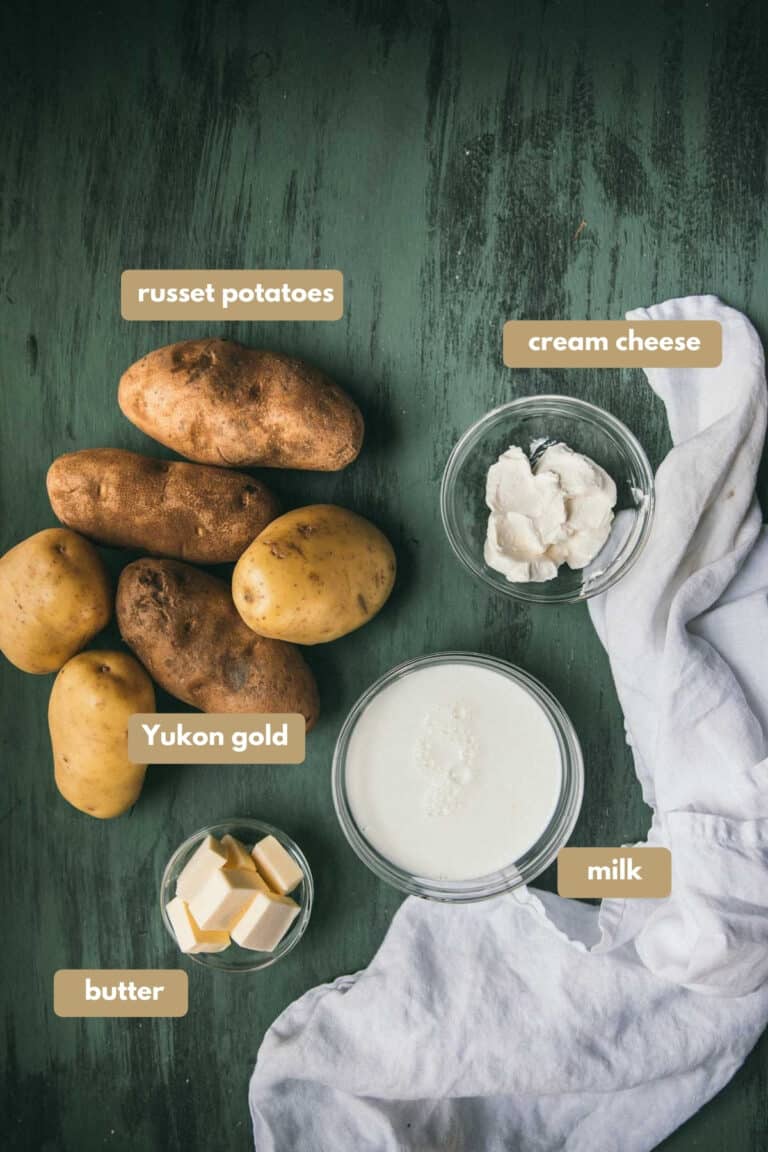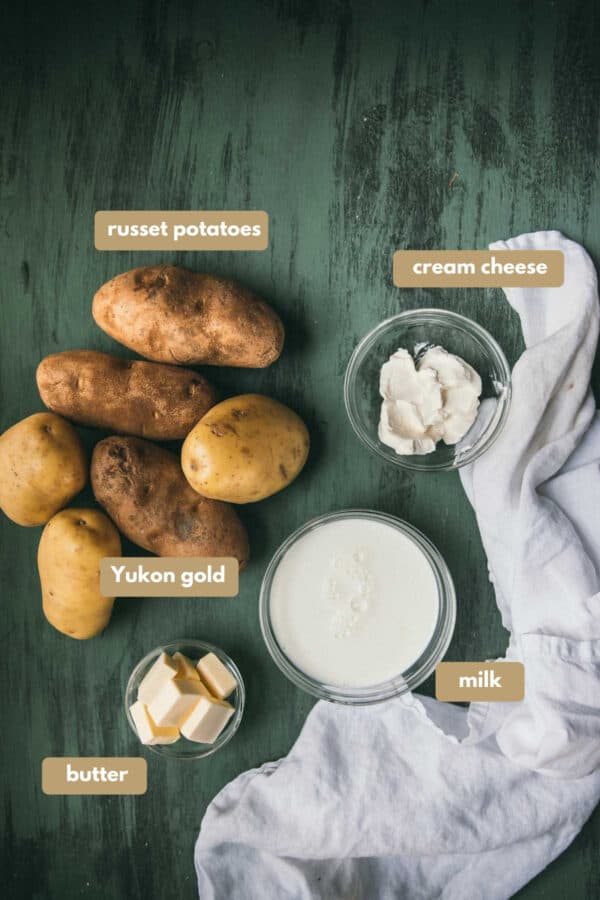 Making fluffy mashed potatoes
For these spuds, we're going to use two types of potatoes. Yukon Gold and russet. To make them smooth, we will peel both of them.
These two varieties of potatoes have different textures when blended together are so perfect! Russets are super fluffy but can be a little grainy, where Yukon gold are heartier and creamier. The combination of the two is really potato bliss in my humble opinion.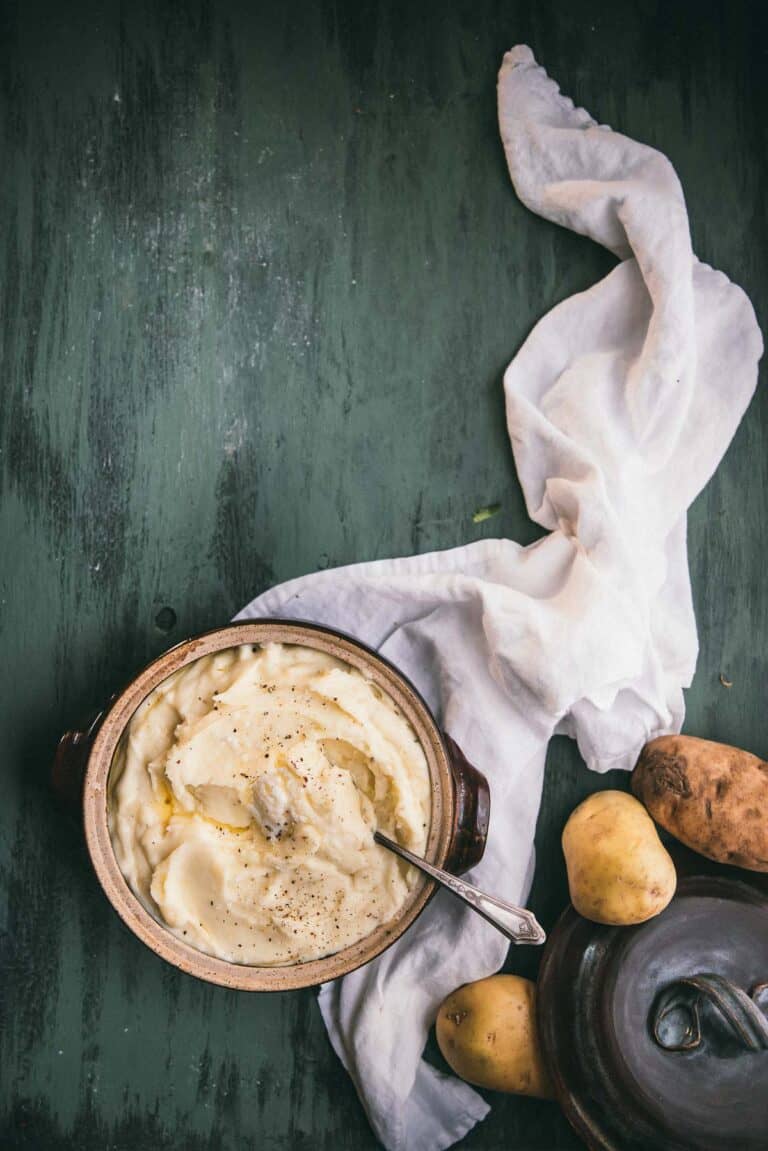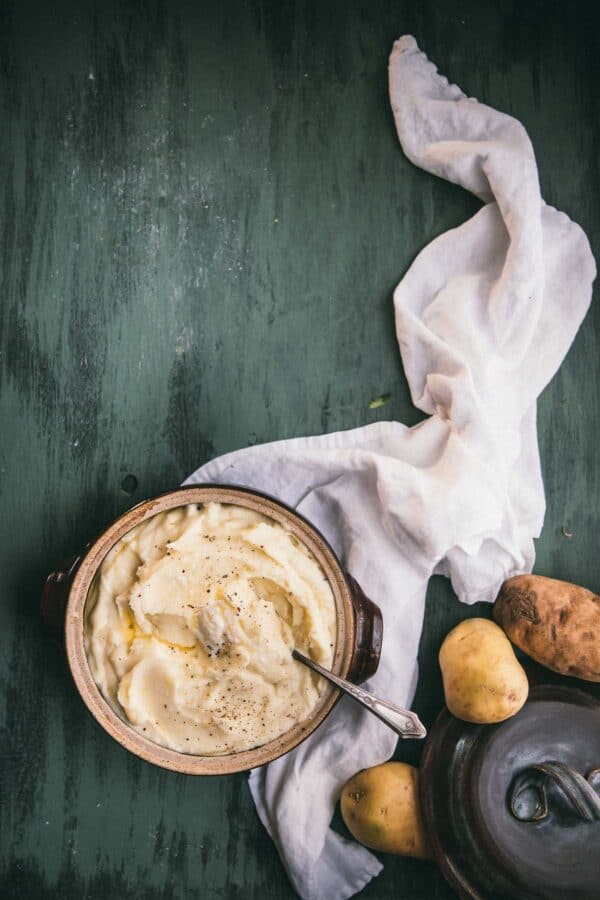 Tips for making mashed potatoes.
Peel both types of potatoes - typically Yukon gold have a tender skin and you can go without peeling them, but russets are the opposite. For a smooth mash, peel 'em both.
You need butter, some form of dairy, salt, and pepper. Non-dairy alternatives can be substituted with perfect results. In this recipe we use, butter, whole milk, cream cheese, salt, and black pepper. I prefer to use unsalted butter so I get to decide the amount of salt to season.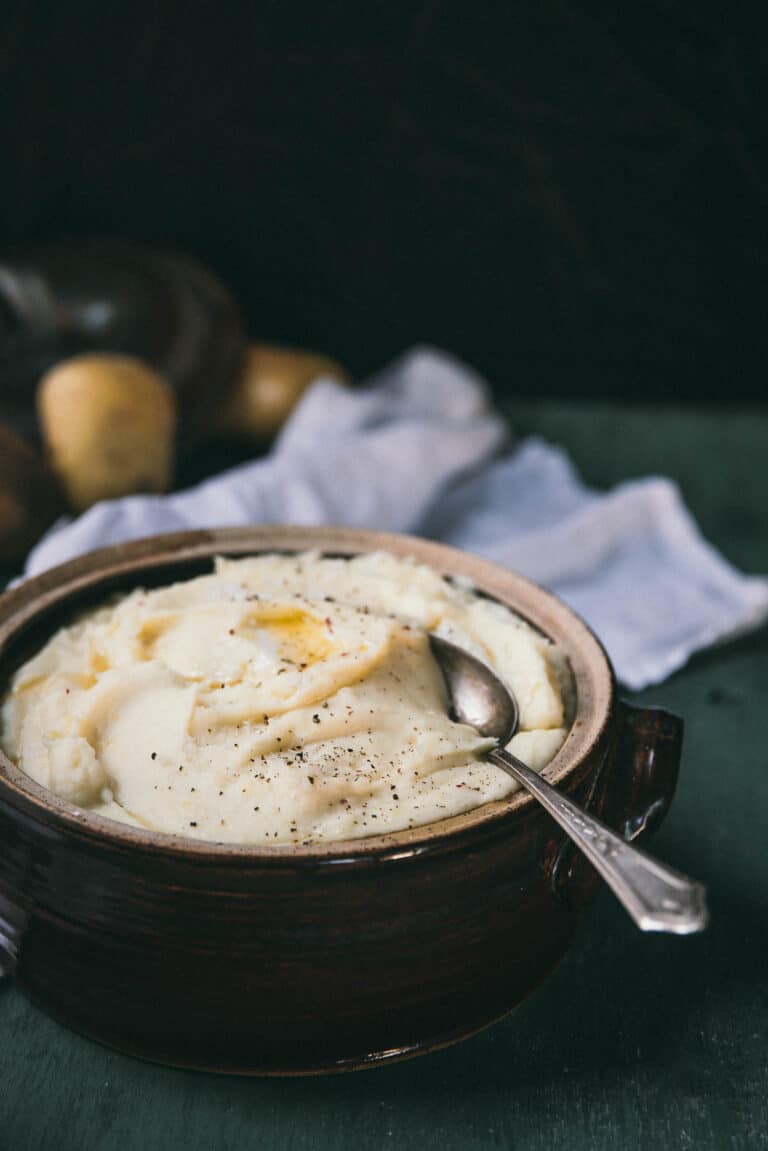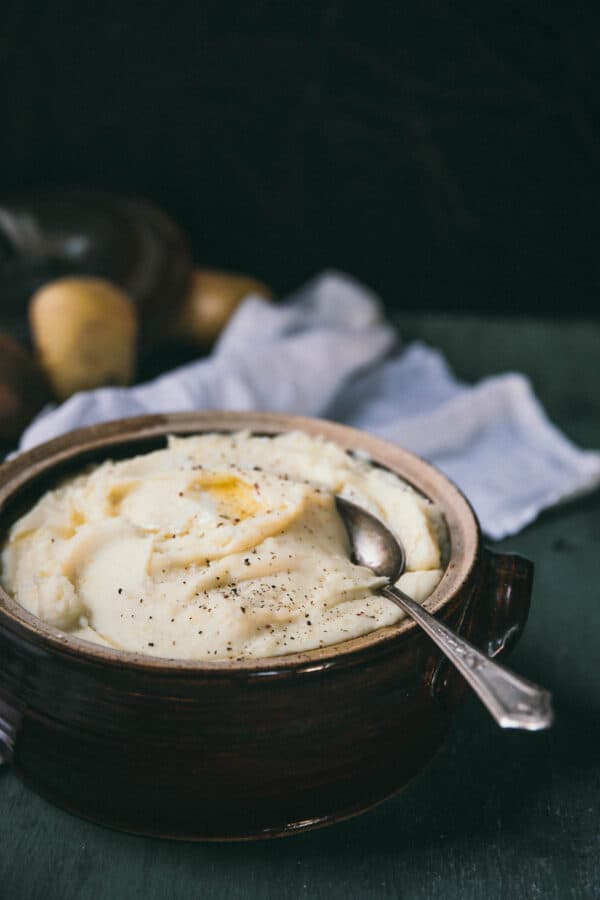 Salt the water. Just like pasta makers preach, salt the water before boiling. The same goes for boiling potatoes.
Less is more when it comes to mashing. Using the paddle attachment on the stand mixer is perfect and easy to mash the potatoes. If you don't have a stand masher, you can use a traditional potato masher or ricer. Beating the potatoes too much will overdevelop the starches and create a gummy texture.
Warm that milk. You just put in all that effort to cook those potatoes, don't cool them down by adding cold milk. Melt the butter and warm the milk until it's just steaming before mixing it into the mashed potatoes. This will also help keep them warmer for longer.
Soften the cream cheese! Make sure the cream cheese is brought to room temperature - or slightly warmer - well before making the mashed. If you forget to soften, just pop it in the microwave for 10-20 seconds. Cold cream cheese in hot potatoes will only get you clumps of dairy.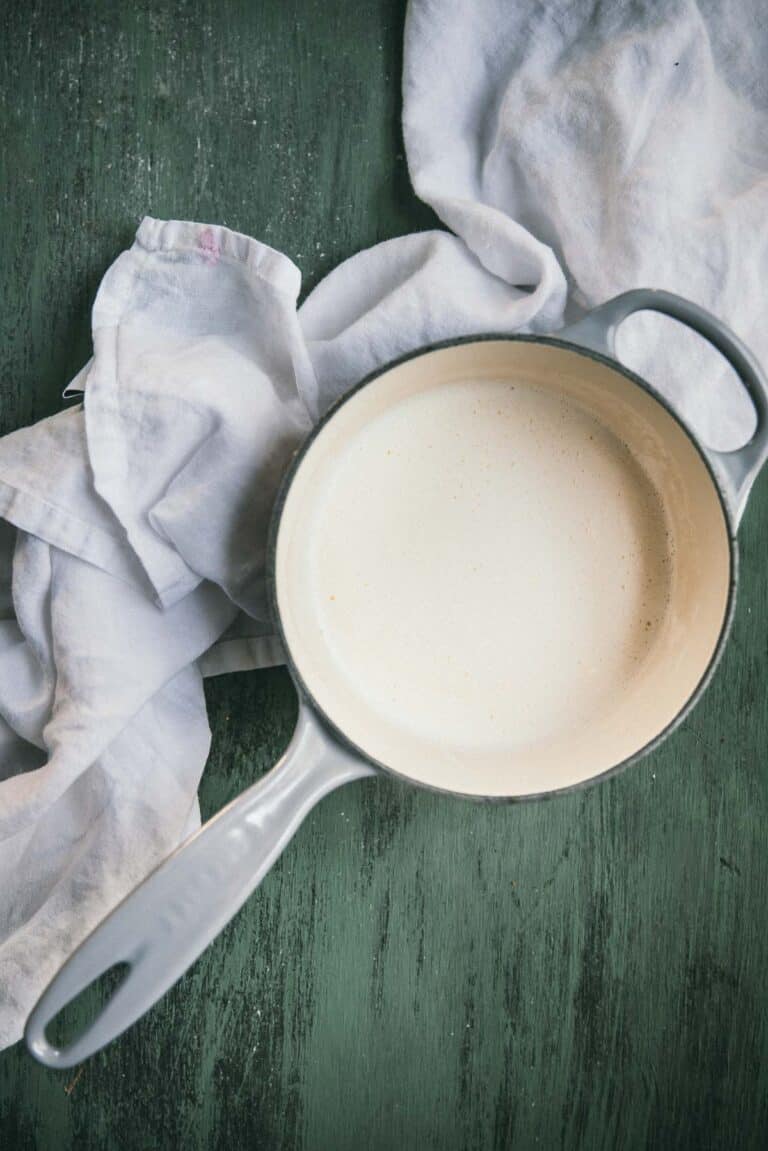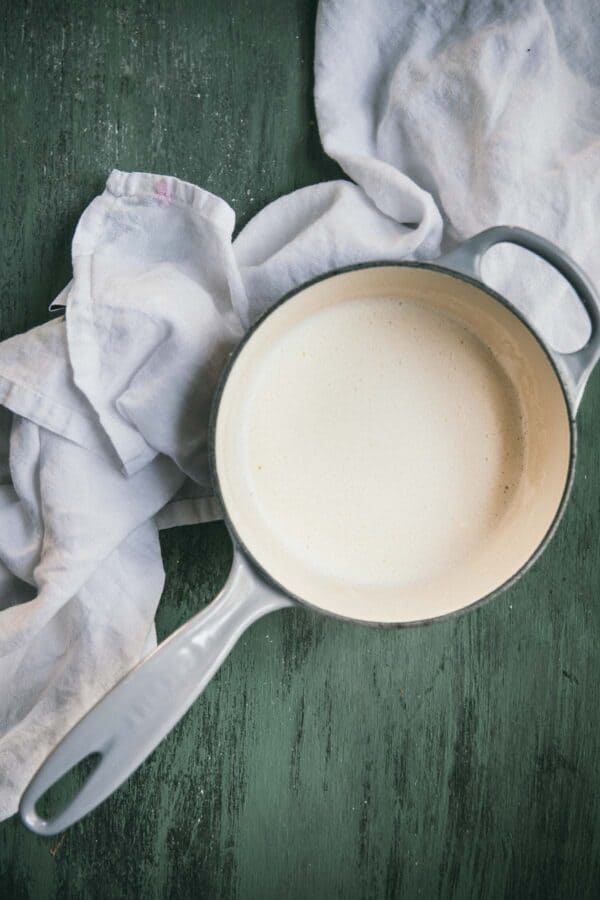 Another thing to love about these potatoes is they are so creamy and light, they hold really well. So you can make them close to when your turkey is done and hold them covered in a ceramic crock or in a slow cooker over low heat.
More potato and Thanksgiving side dish ideas...
If you're on Team all-the-potatoes, potatoes au gratin are a fancy, but easy, way to upgrade sliced cheesy starch. Lobster and leek potatoes gratin are fun and decadent to serve.
Honey and ginger roasted carrots are sweet with just a hint of zip. Another sweet and savory fan favorite are these pork belly and honey Brussels sprouts. They're crispy and meaty and will make a believer out of any sprout hater.
What are your go-to sides for Thanksgiving? What dishes do you serve with mashed potatoes throughout the year? Tell me your family must-haves below! If you made this recipe, please leave a rating and comment below.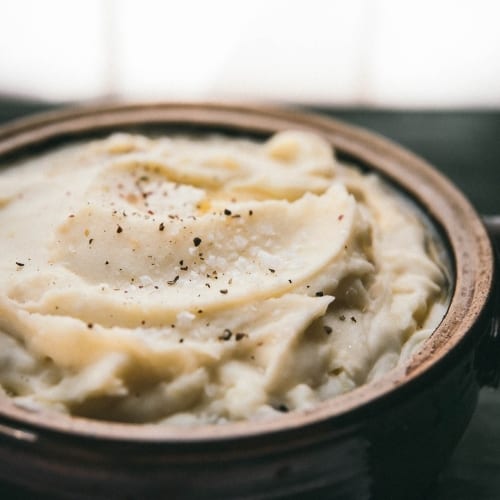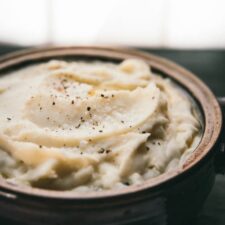 Classic Fluffy Mashed Potatoes
Creamy and the perfect texture! Classic fluffy mashed potatoes are a simple, easy, and crowd pleasing side dish to serve at your nect dinner!
Print
Pin
Rate
Ingredients
3 ½

pounds

russet and Yukon gold potatoes

(skinned and diced (about 6 medium size potatoes))

1 ½

cups

whole milk

6

tablespoon

unsalted butter

4

ounces

cream cheese

(softened)

salt and pepper
Instructions
Peel and dice. Peel all of the potatoes and dice into roughly 1-inch cubes for boiling.

Boil. Bring a large pot of salted water to a boil. Carefully add the potatoes and cook for 8 to 12 minutes or until the potatoes are easily pierced with a fork. When checking the done-ness of the potatoes check both the russets and the Yukon gold since the Yukon gold are a little denser.

Blend or mash. Drain the cooked potatoes well and transfer to a standing mixer. Beat on low speed with the paddle attachment until all the potatoes are smooth, about 2 minutes. If you don't have a standing mixer, transfer the potatoes to a mixing bowl and use a traditional potato masher

to press the potatoes until there are little to no clumps.

Make it creamy. In a saucepan, melt the butter. Once the butter is melted, add the milk and heat just until warmed. Transfer to the potatoes and mix. The potatoes may seem a little loose at first but will firm up as the ingredients combine. Lastly, mix in the softened creamed cheese on low speed or by hand until fully incorporated.

Season. Taste the potatoes and season generously with salt and a little black pepper, about 1 teaspoon salt, and ¼ teaspoon black pepper. Taste again to see if more seasoning is needed.

Serve. Serve the mashed potatoes immediately or hold them in a crockpot or dutch oven until you're ready to serve. Because these potatoes are super creamy and light, they can be reheated before serving without becoming dry or heavy.
Notes
If you forget to soften the cream cheese just pop it in the microwave for 10 to 20 seconds at a time until soft.
Nutrition
Calories:
405
kcal
|
Carbohydrates:
50
g
|
Protein:
8
g
|
Fat:
20
g
|
Saturated Fat:
12
g
|
Trans Fat:
1
g
|
Cholesterol:
57
mg
|
Sodium:
104
mg
|
Potassium:
1221
mg
|
Fiber:
6
g
|
Sugar:
6
g
|
Vitamin A:
705
IU
|
Vitamin C:
52
mg
|
Calcium:
120
mg
|
Iron:
2
mg