Crispy outside, slight sweet maple flavor, and pieces of salty bacon roasted into each bite of these cute little cabbages. A staple in our house for the colder months and surprisingly simple to make, these crispy maple bacon brussels sprouts will be the best you ever have!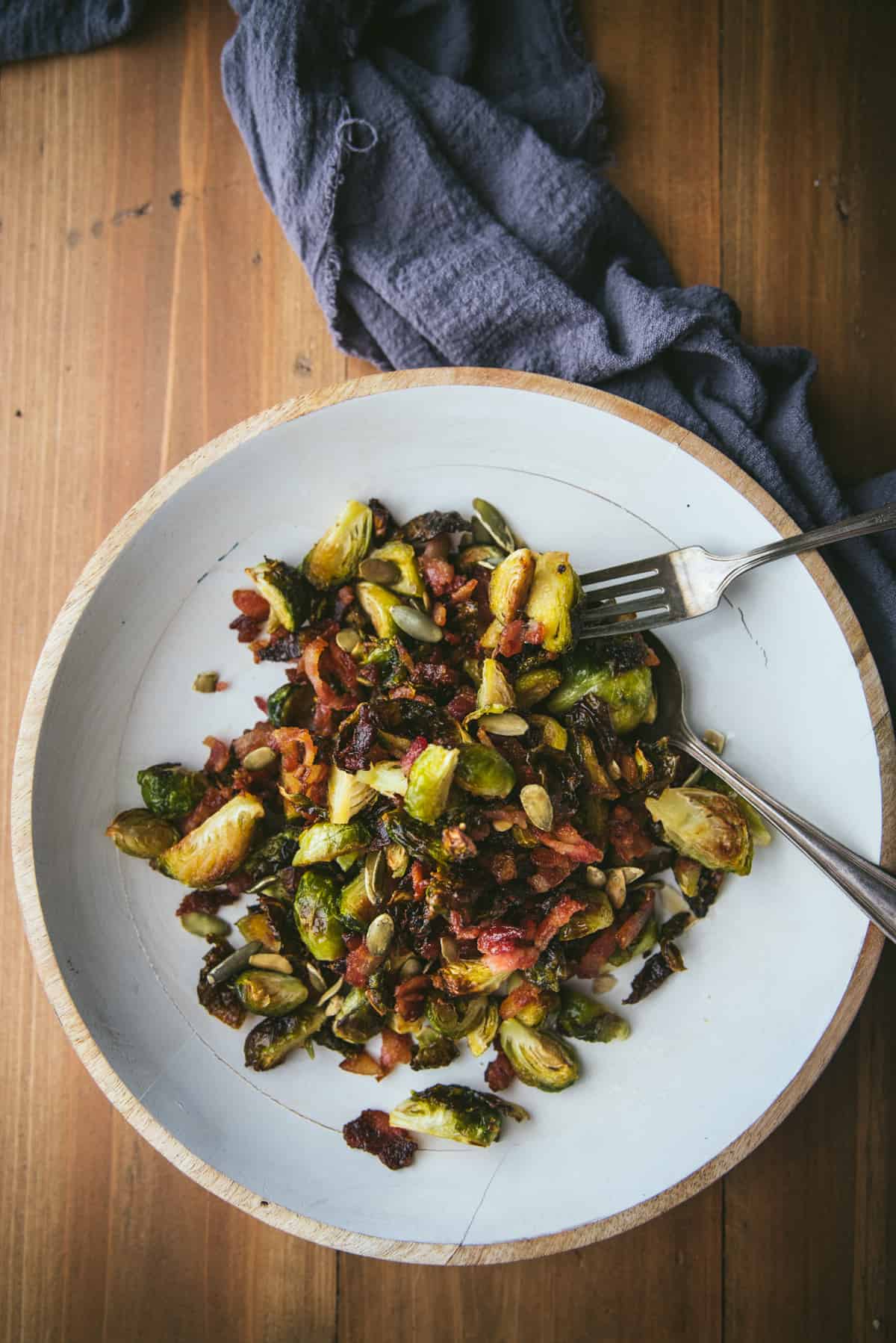 It's no surprise if you've been hanging out in the Hunger Thirst Play kitchen for a while, sprouts are easily in my top 5 of most liked vegetables.
Crispy and fried, cooked in cast iron, or oven roasted....as long as those outer leaves are crispy you can sign me up.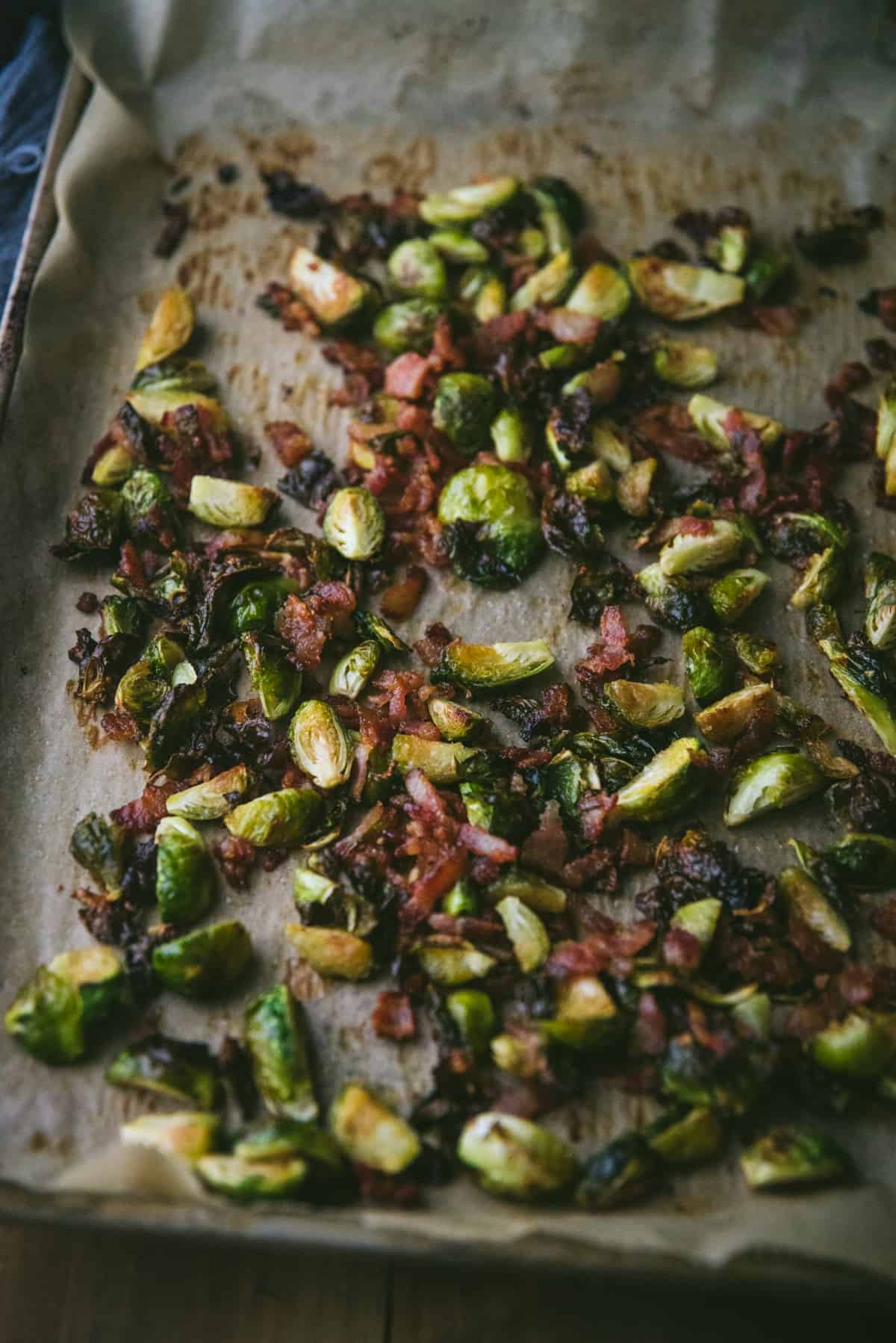 Once you know how to make them with the perfect combination of soft roasted centers and crispy outsides, you'll crave them as well!
Great news, this recipe is going to do just that.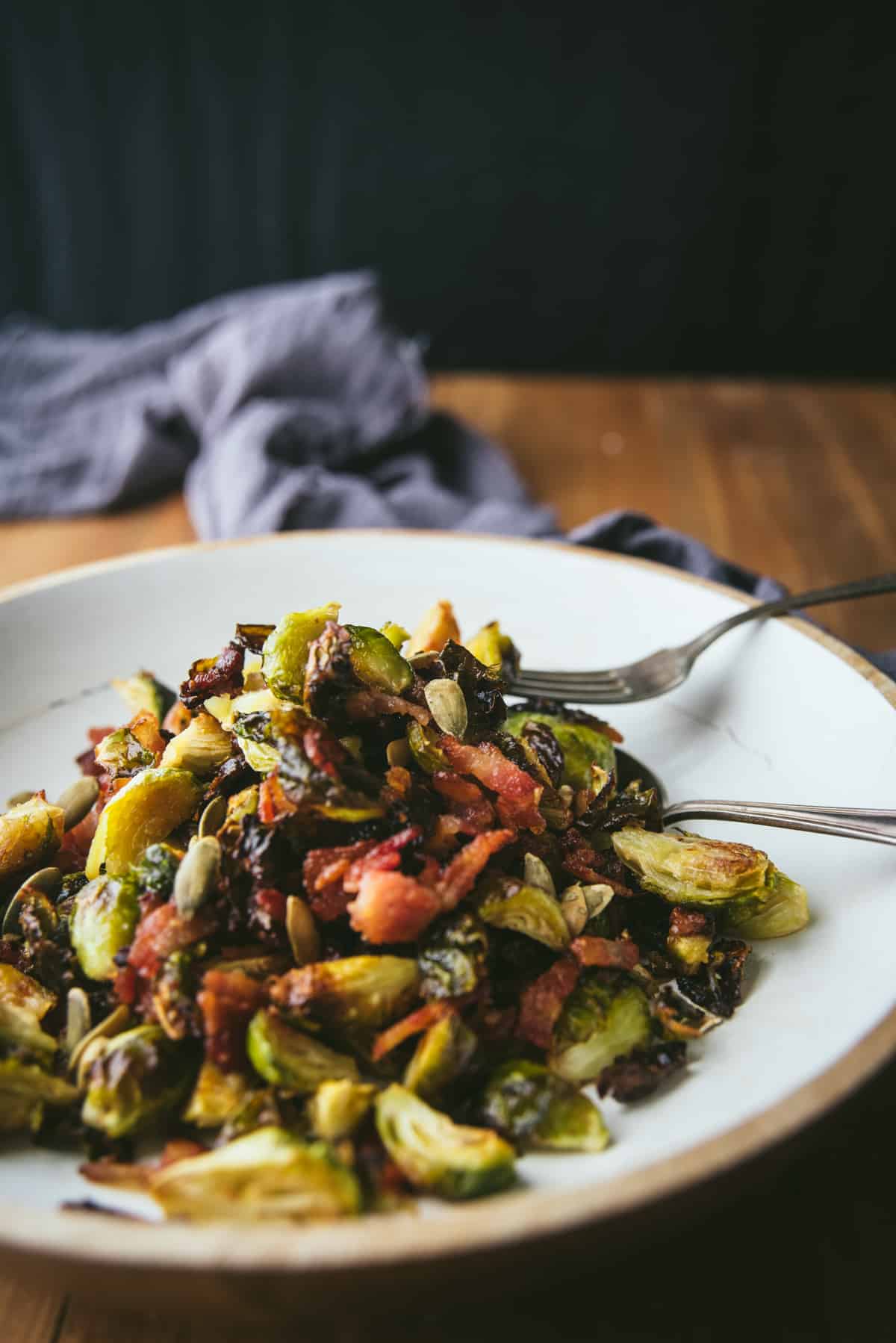 How do you roast brussels sprouts so they don't get soggy?
Getting these sulfurous veggies perfect doesn't take a miracle! Here are my go-to moves for wow-factor crunch and taste:
Go for the fresh over frozen sprouts.
If the sprouts are really big, cut them in quarters instead of just in half. At the very least always cut them in half. (More surface area in contact with the pan.)
Roast them at 400°F with a neutral oil (vegetable, canola, avocado, grapeseed, etc.). Truth be told, I also use olive oil as well, but have found a neutral oil works better for the crisp factor thanks to the higher smoke point.
Don't peel off all those leaves, but do discard any discolored or wilted leaves.
If you're buying bagged sprouts, those are usually ready to steam in bag so they shouldn't require a ton of prep.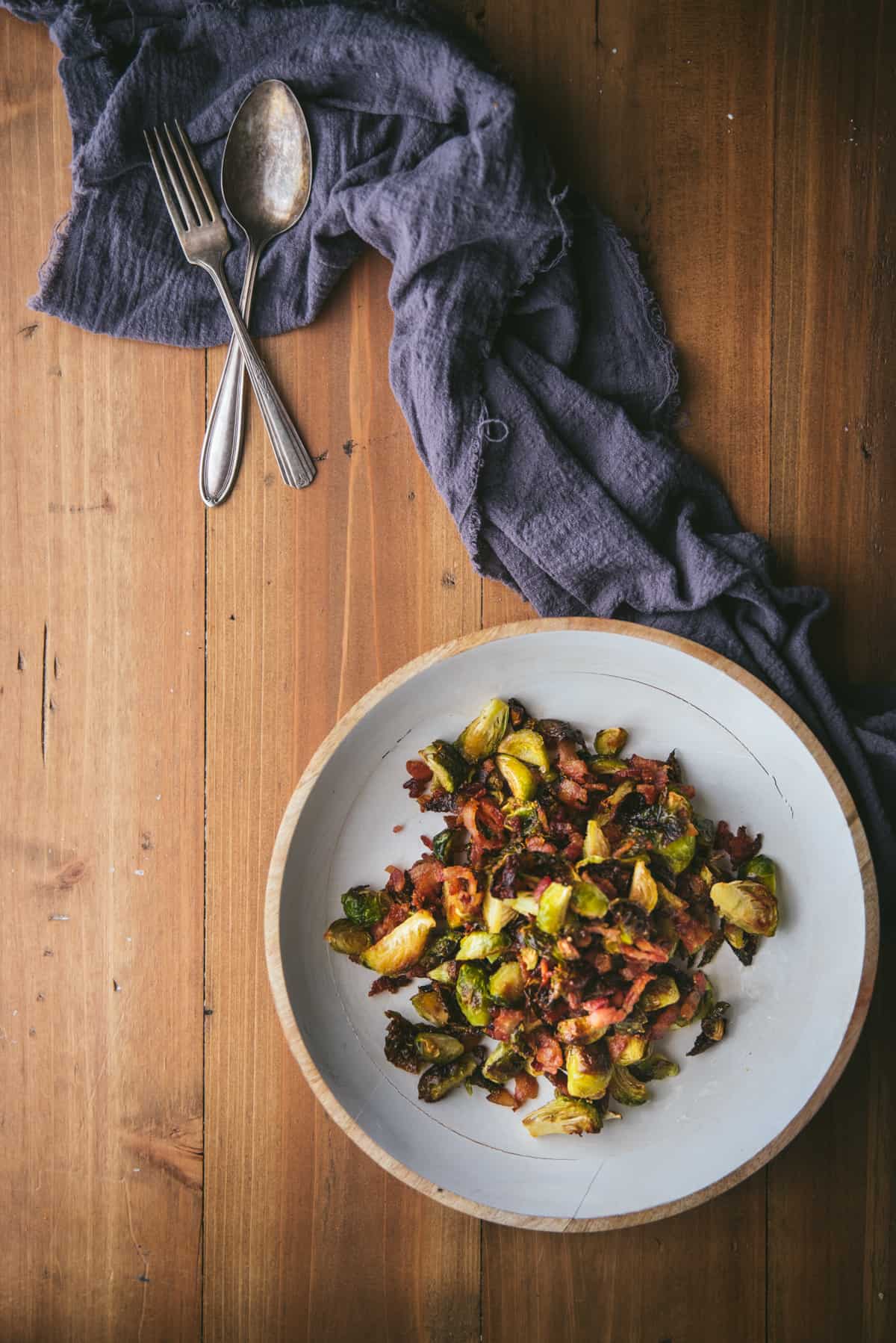 How to make Crispy Maple Bacon Brussels Sprouts
Preheat your oven and get those ingredients! We're going to be done in no time.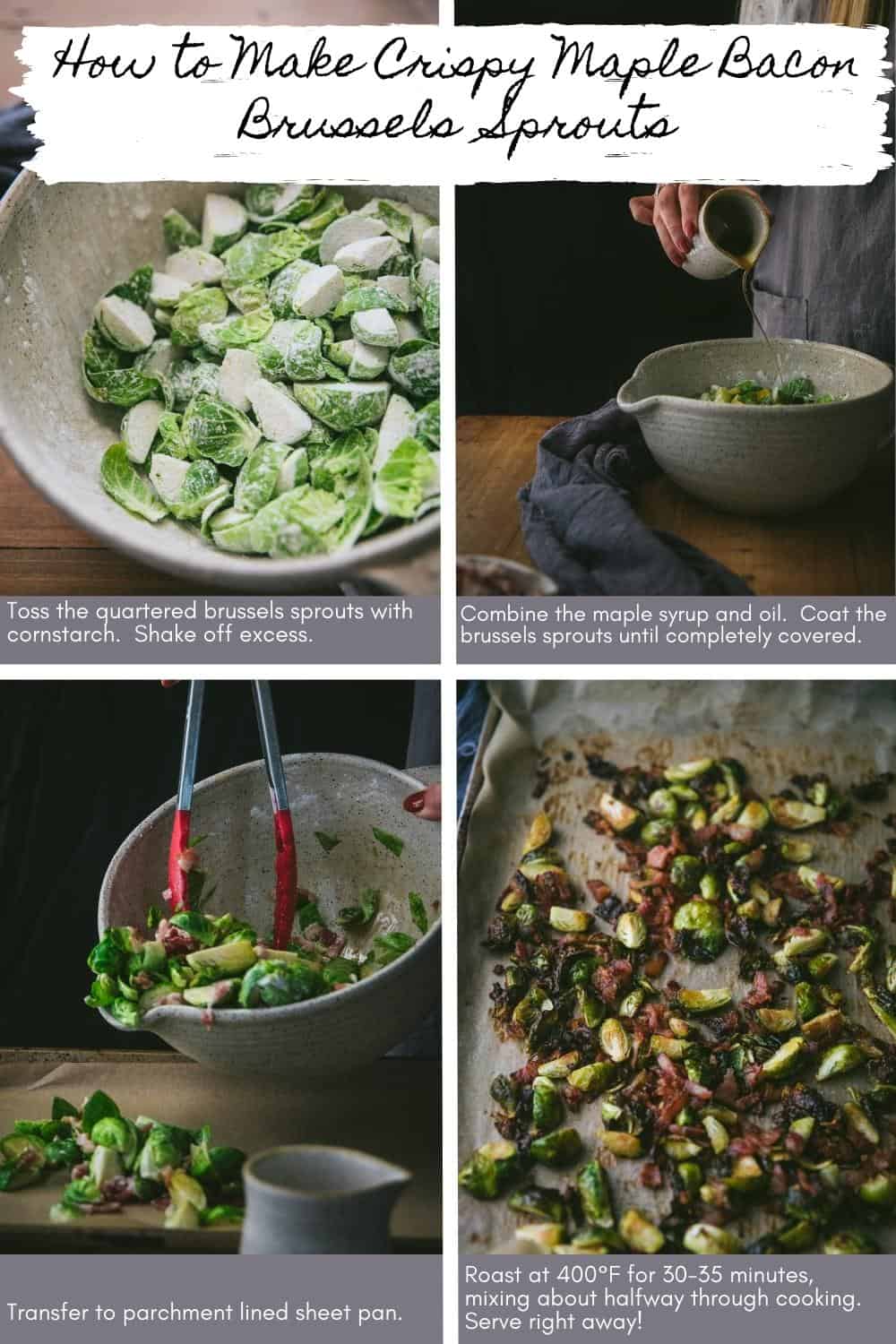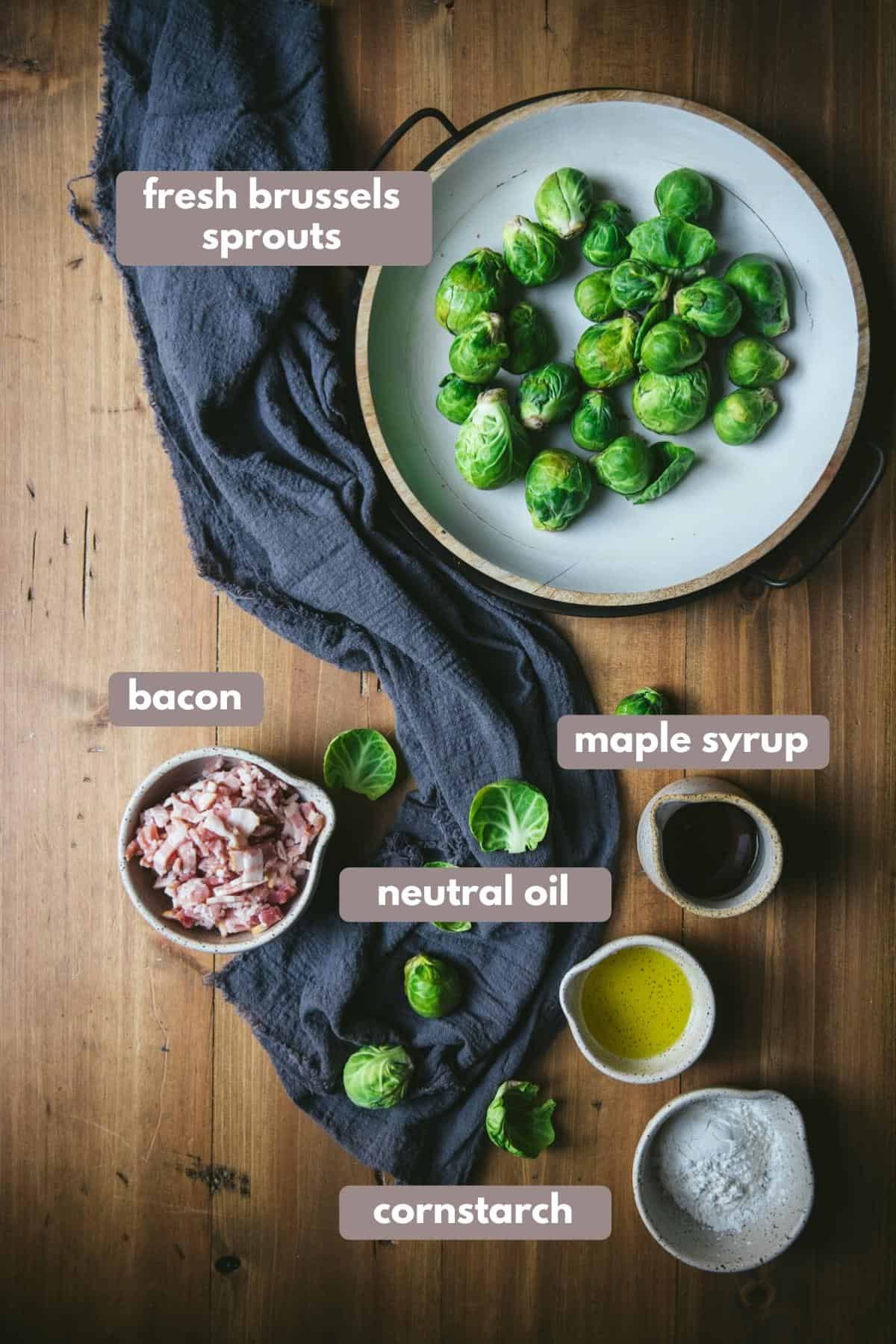 Preheat the oven to 400°F. Line a baking sheet with foil or parchment paper, optional but highly recommended. The maple syrup is going to cook down a little so lining the sheet pan will make clean up quick and easy.
Slice the bacon into small pieces, about ½ inch slices.
Cut the bottoms of the sprouts and cut them in halves or quarters depending on size. Remove any discolored or wilted leaves but you don't have to discard all the leaves that fall off - they get deliciously crunchy and are my favorite part!
Toss the sprouts with cornstarch and shake off excess - this will help with the final crunch factor. I like to do this in a storage container with a lid, then shake off the excess in a colander.
In a large bowl, combine the oil and maple syrup. Add the sprouts and bacon pieces and toss everything together. Spread the mixture into one layer on the lined baking sheet and season with salt and pepper. (I go pretty light on the salt because the bacon adds plenty on its own!)
Roast the sprouts for 30-35 minutes, mixing about halfway through, until the bacon is crispy and the sprouts have crisp leaves and caramelized centers. Enjoy right away!
What type of bacon should you use?
My recommendation is thick-cut bacon, but any style will work.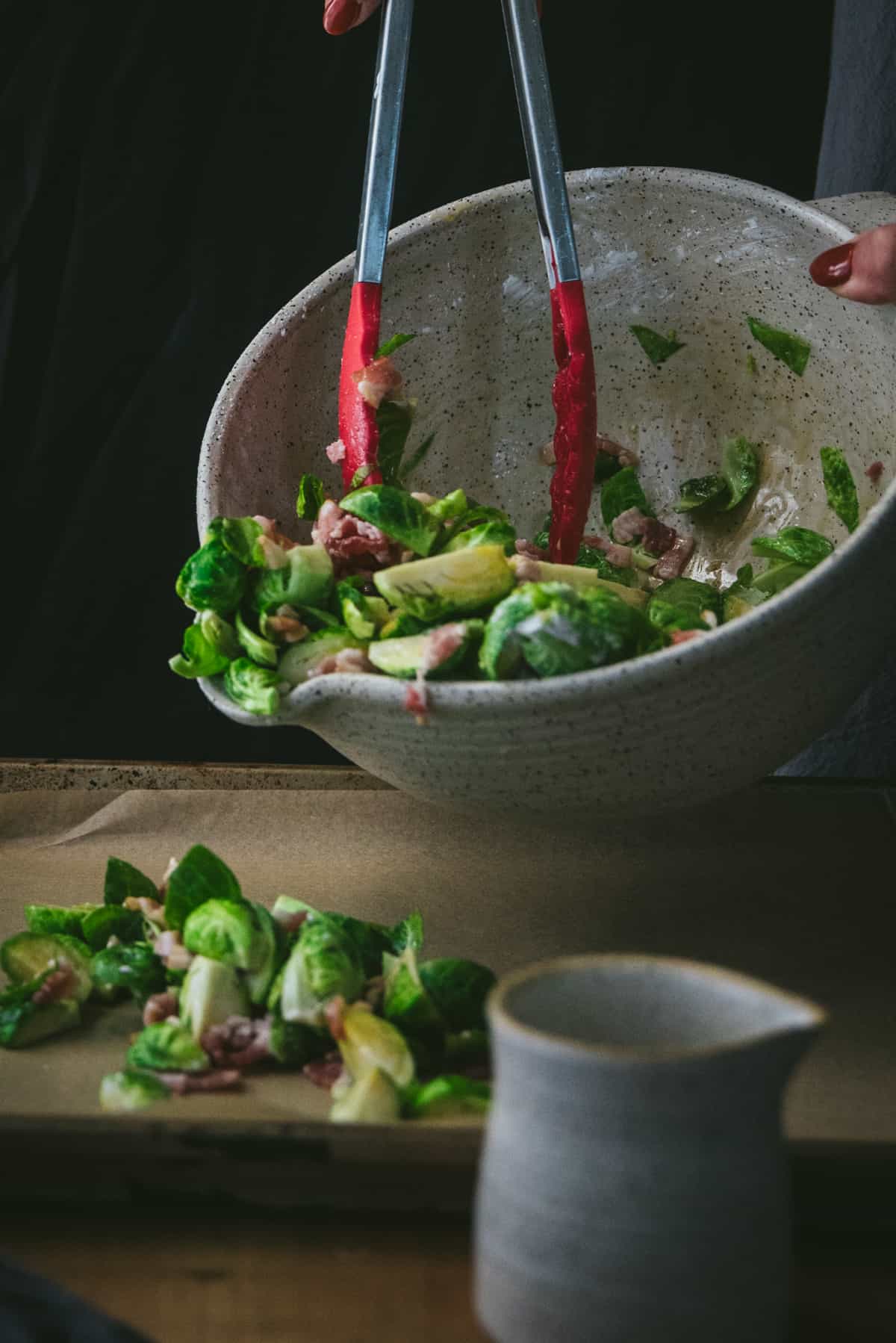 You can also use turkey bacon, although I would recommend waiting to add it to the sheet pan because it will cook much faster than regular bacon.
If using thinly sliced bacon, keep an eye on it as the cook time reaches about 25 minutes so it doesn't overcook. If you see it getting crispy just give everything a stir.
You can also substitute pancetta or prosciutto for the bacon or leave it out altogether!
Can you make this in advance?
You can definitely prep and par-cook brussels sprouts before roasting!
For easy prep, especially if you're cooking for Thanksgiving, cut the sprouts in advance so that's one less thing to do when you're ready to make them.
If you'd like to cook them in advance, take 15 minutes off the total cook time so you can reheat them in the oven without overcooking them.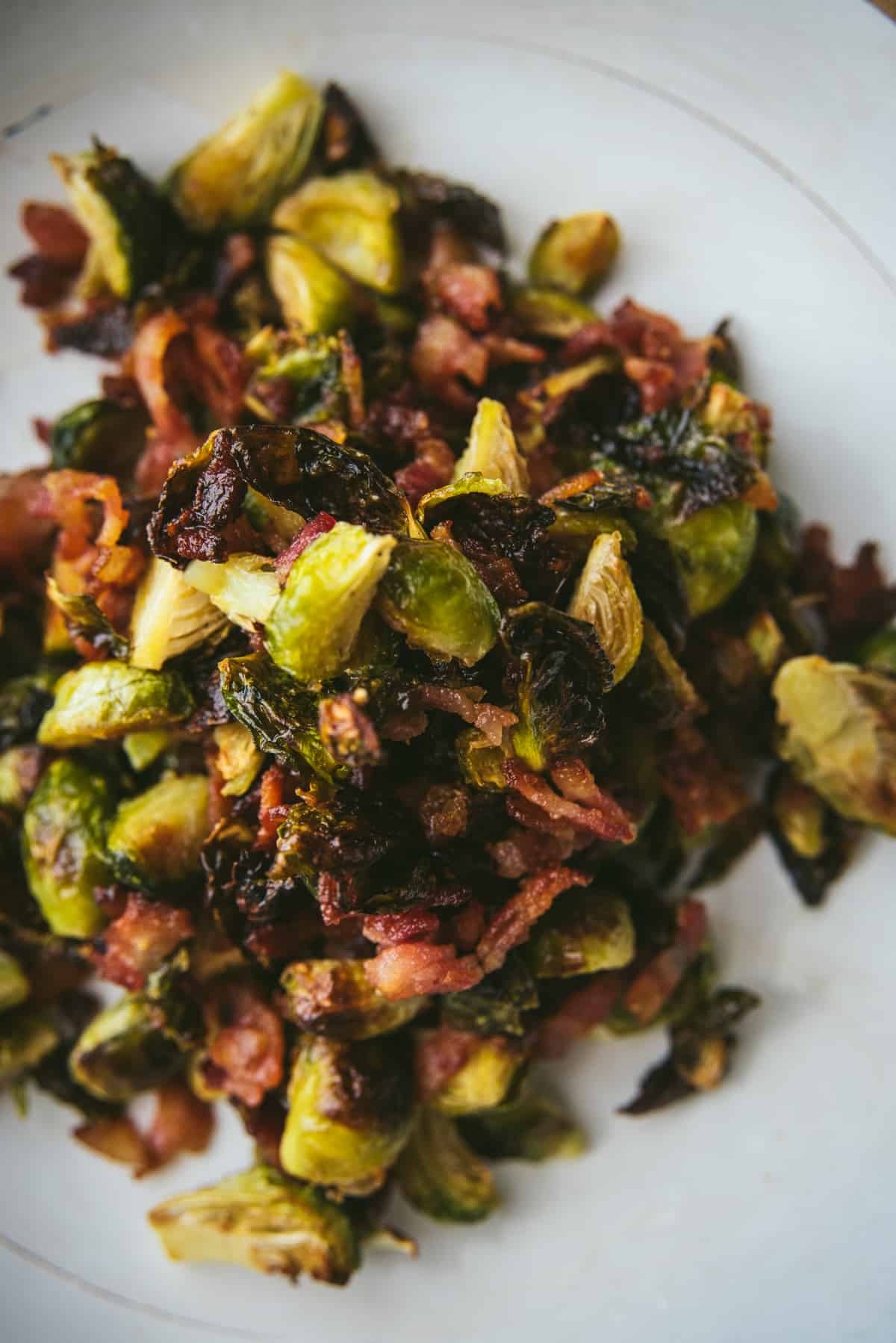 To reheat maple bacon brussels sprouts, spread out on a parchment or foil-lined baking sheet and heat at 400°F for about 10 minutes or until hot and crispy.
What meat pairs well with brussels sprouts?
Any roasted meat is a perfect pairing for sprouts - braised style roast like pot roast, roasted chicken, or Thanksgiving turkey! Salmon is a great choice as well and one I make often!
Pork is a personal favorite because the pork and vegetables can roast at the same temperature at the same time.
You can also add them to tacos and make a whole other meal out of the leftovers (if there are any)!
Puréed or mashed veggies also make a great pairing to serve alongside roasted Brussels sprouts. Truly, there's no bad way to serve these salty-sweet roasted veggies!
Here are some of my favorite dishes to serve with sprouts!
If you made this recipe, I'd truly appreciate a star rating below and would love to hear how you served them in the comments! Thank you for your support!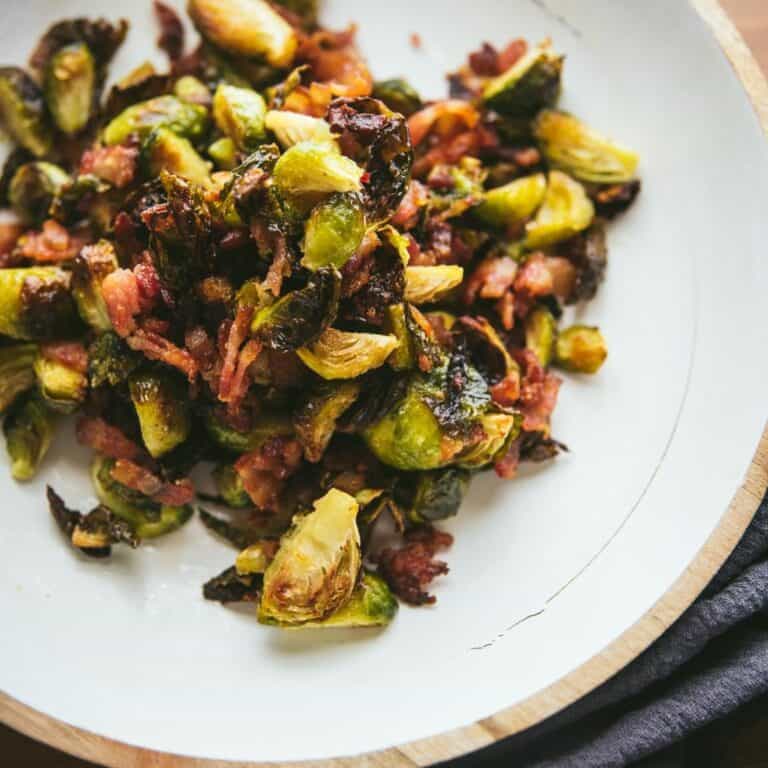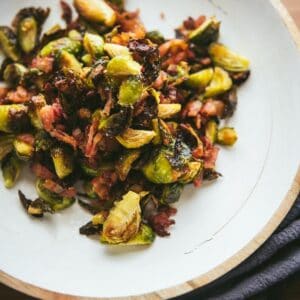 Crispy Maple Bacon Brussels Sprouts
Family favorite recipe coming in hot! Even my kids ask for these! Salty bacon and sweet maple syrup come together for crave-worthy flavor and the sprouts are roasted perfectly crispy.
Print
Pin
Rate
Ingredients
1

pound

brussels sprouts

6

slices

thick cut bacon

(chopped ½ inch pieces)

1

tablespoon

cornstarch

1

tablespoon

neutral oil

(like canola, avocado, coconut, etc.)

3

tablespoons

maple syrup

salt and pepper

(to season)
Instructions
Preheat the oven to 400°F. Line a baking sheet with parchment paper or aluminum foil and set aside.

Slice the bacon into ½ inch pieces.

Trim the bottoms off each of the sprouts and cut in half or in quarters depending on the size. If you like super crispy sprouts, cut all of them in quarters. More surface area of the sprout in contact with the pan will produce a crispier roast.

In a large bowl, toss the sprouts with cornstarch. Transfer to a colander and shake off excess.

Empty any leftover cornstarch from your large bowl. Combine the maple syrup and oil. Add the brussels sprouts and bacon and toss everything together until evenly coated.

Transfer to the lined baking sheet and season with a pinch of salt and pepper. Roast in the oven for 30-35 minutes, mixing the sprouts about halfway through cooking. Serve right away!
Notes
Go for fresh sprouts over frozen for maximum crisp.
If using regular cut bacon, stir more frequently - about every 15 minutes - so the bacon doesn't over cook.
Prep these in advance for holidays! Brussels sprouts and bacon can be cut in advance or you can partially cook the entire recipe. Remove 15 minutes from the total cooking time so they don't overcook when reheating.
Nutrition
Calories:
353
kcal
|
Carbohydrates:
23
g
|
Protein:
11
g
|
Fat:
25
g
|
Saturated Fat:
8
g
|
Polyunsaturated Fat:
5
g
|
Monounsaturated Fat:
12
g
|
Trans Fat:
1
g
|
Cholesterol:
36
mg
|
Sodium:
387
mg
|
Potassium:
582
mg
|
Fiber:
4
g
|
Sugar:
11
g
|
Vitamin A:
875
IU
|
Vitamin C:
96
mg
|
Calcium:
67
mg
|
Iron:
2
mg