Okay, so brussel sprouts may look like little baby cabbages. Turn off or turn on? Word on the street is that some people aren't big fans. But have you ever had Kung Pao Brussel Sprouts?! Instant fandom coming your way, whether your pro sprout or hanging with the nay-sayers.
A little crispy, a touch sweet and just the right amount of kick in the pants. Oh, and did I tell you?! There's wasabi. ranch. Pull up a seat because you're about to have a brussel sprout blow your mind.
So, a few months ago we did that thing. You know, the thing. Where we opened our restaurant. It's been a lot of work, but it's also been a lot of fun. There's a lot of cool things about owning and operating your own place. Collaborations are definitely one of them. While our Chef is killing it with the menu, he's also open to ideas and that's how these Kung Pao Brussel Sprouts ended up on the menu in a West Coast style fish shop on the north shores of Massachusetts.
Why share a recipe for something we're dishing out at the restaurant? Well for starters, I love you, you're rad and you deserve tasty things in your life. Secondly, we make them a touch different at Bonefish Harry's, but this is the easiest at home version for all you friends not local to New England. I was sitting with a friend of ours at the bar as she lamented that her sprouts never come out this crispy at home. Then it became clear...the world needs an at home recipe for Kung Pao Brussel Sprouts. I'll just be over here waiting for my culinary cape whenever you guys are ready.
Crispy Pan Fried Sprouts
Since we don't have access to an industry grade deep fryer at home (well I don't, if you do let me know so I can come over) we're going to have to go about this pan style. My best recommendation is a nice big cast iron skillet, but if you don't have one of those in your arsenal then a large sauté pan will definitely get the job done.
Besides the layer of oil for pan frying, the crispiness of the brussel sprouts comes from the light layer of corn starch. The easiest way to do this is to add your halved or quartered sprouts to a colander, sprinkle with the cornstarch, and shake over the sink to coat each sprout get rid of the excess.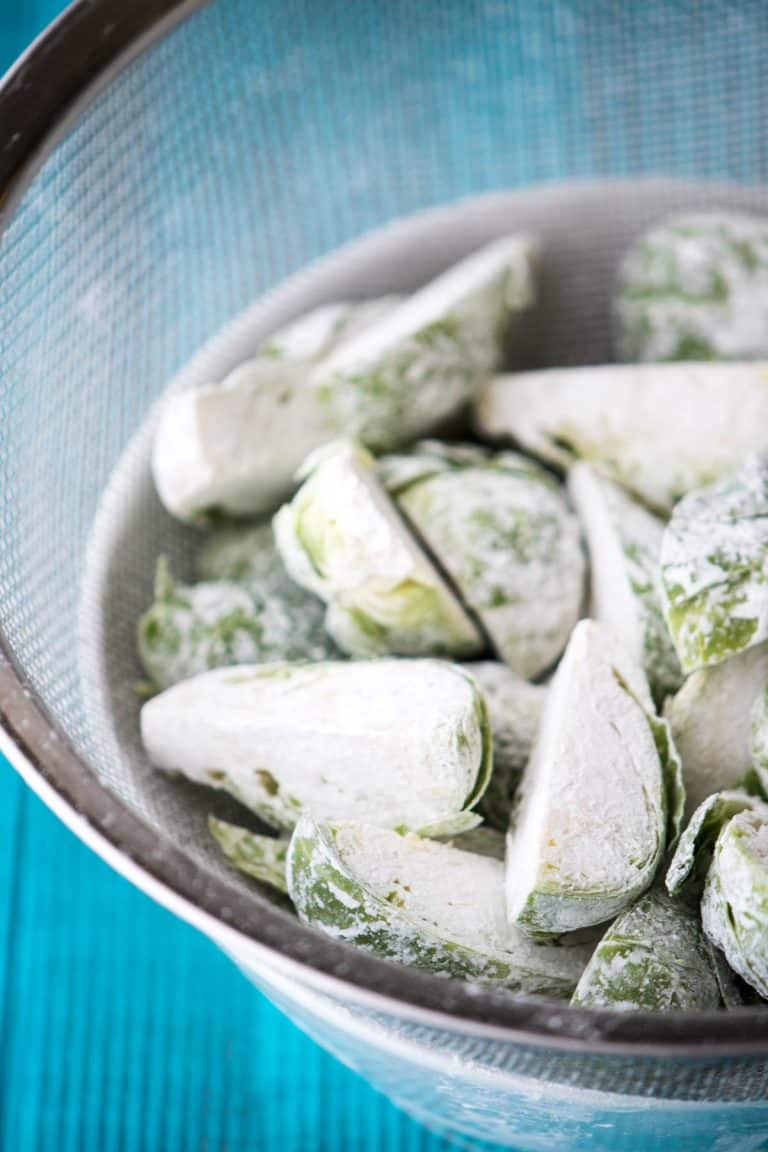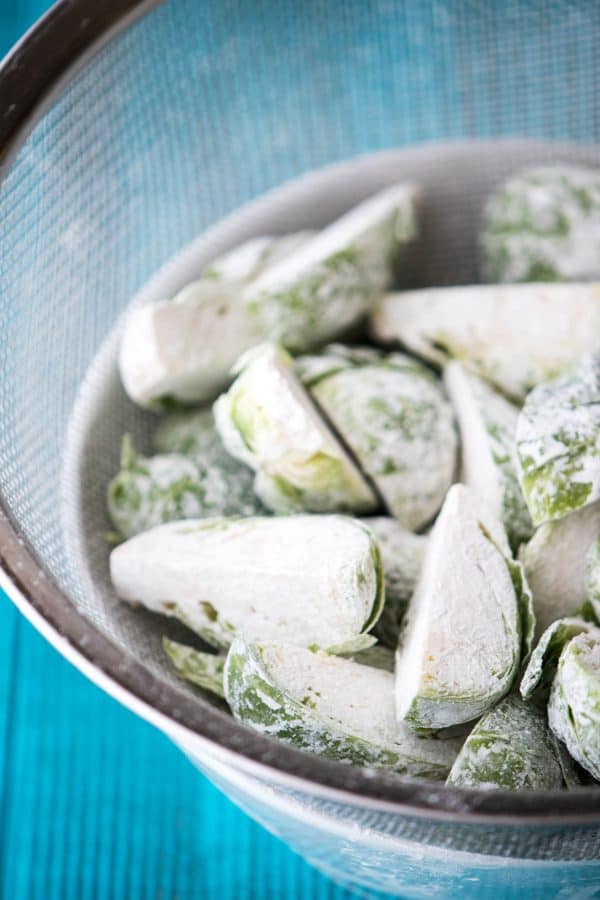 Once your oil is nice and hot add the sprouts to the pan, cook for 3 to 5 minutes each side and flip then cook again. SO EASY. Isn't that a beautiful thing? The sprouts should have a nice charr on them when you flip, meaning, they're not burnt but they're pretty well browned.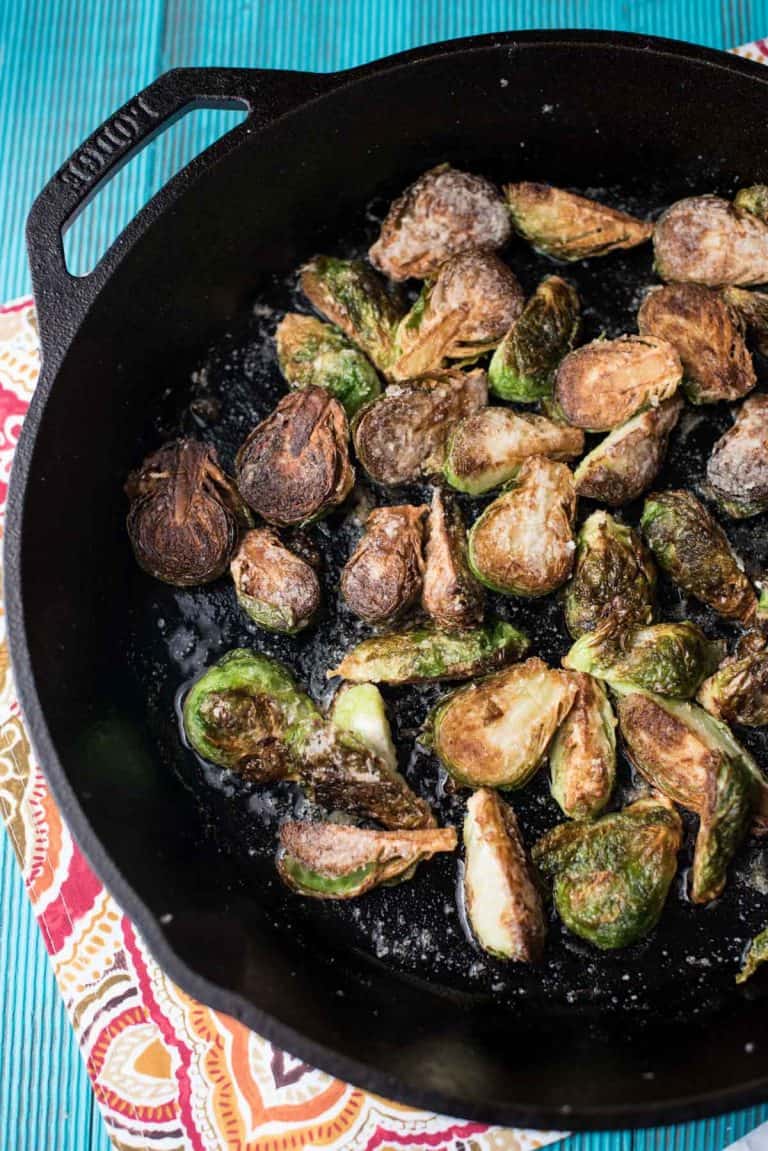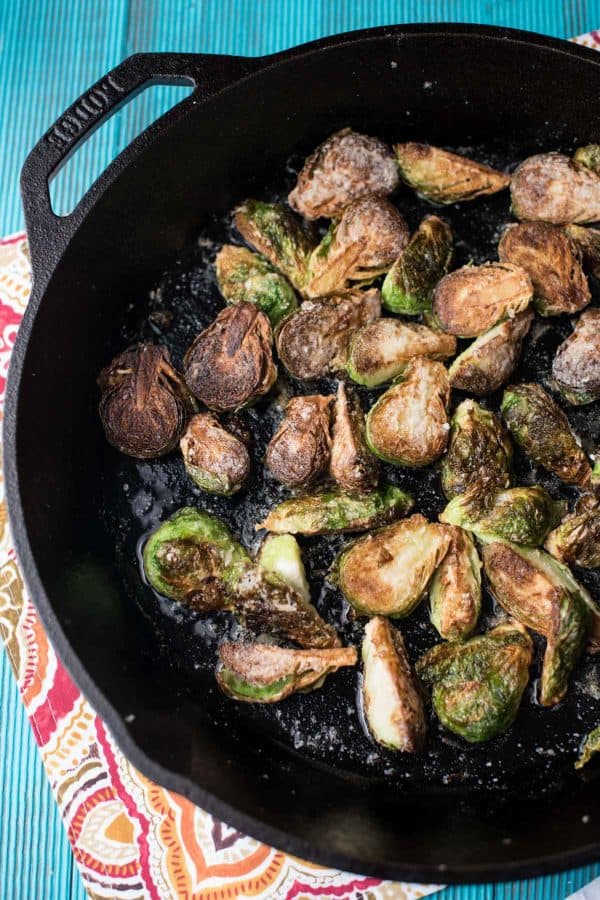 Delicious? YES. Finished? NOPE. Say hello to my new condiment friend, Wasabi Ranch. "Oh, heeeeey." A legit ninja of flavor, you're going to want to slather and dip this on all the things. Creamy with the familiar ranch seasoning of your youth with that pop of 'clear your sinuses' heat from the wasabi paste.
Serve it on the side of your Kung Pao Brussel Sprouts or drizzle it over the top, either way, you're winning on all fronts. And if you don't have the time to make these at home, swing on up to Bonefish Harry's and we can make them for you there while you sip on a Aloha Whiskey or Thyme for a Cocktail.
What's your favorite restaurant dish you make at home? Did you make this? Did you put the wasabi ranch on anything else? I want to know! Tell me about it in the comments!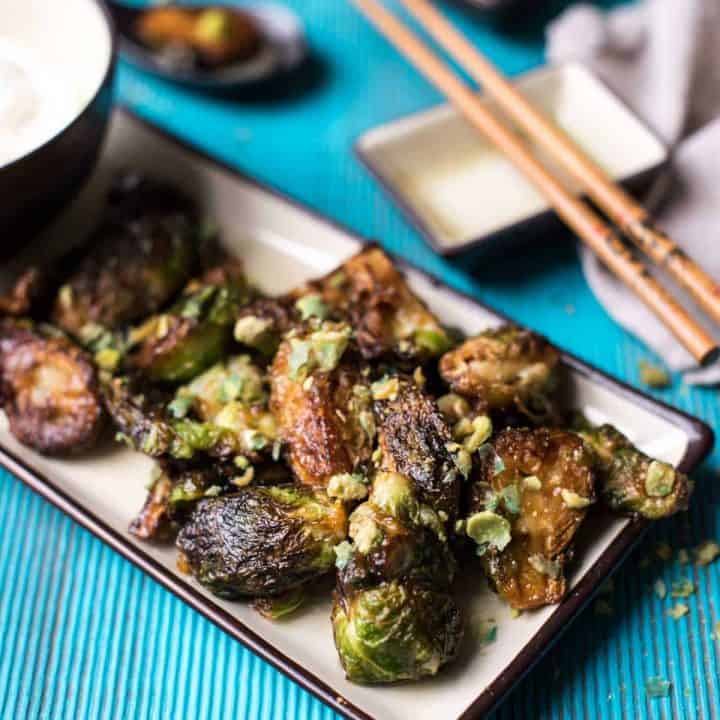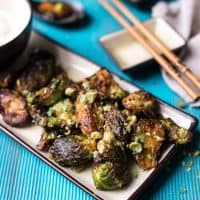 Kung Pao Brussel Sprouts
Crispy, pan fried brussel sprouts in sweet, spicy kung pao sauce and creamy wasabi ranch.
Print
Pin
Rate
Servings:
2
to 4 servings
Ingredients
1

12-ounce bag

brussel sprouts

(halved (quartered if very large))

¼

cup

cornstarch

½

cup

vegetable oil

¼

cup

kung pao sauce
Wasabi Ranch
1

cup

sour cream

1

tablespoon

ranch seasoning

1 ½

teaspoon

wasabi paste
Instructions
Kung Pao Brussel Sprouts
Toss the halved or quartered brussel sprouts with cornstarch. Shake off excess corn starch.

In a large cast iron skillet or sauté pan, heat the oil over high heat. Sauté 3-5 minutes on each side until well browned and slightly charred.

Turn off heat and toss the sprouts with Kung Pao Sauce.

In a small bowl, combine the sour cream, ranch and wasabi. Drizzle over the top or serve along side for dipping.

Optional: crushed wasabi peas for garnish.
Nutrition
Calories:
648
kcal
|
Carbohydrates:
44
g
|
Protein:
10
g
|
Fat:
50
g
|
Saturated Fat:
36
g
|
Cholesterol:
60
mg
|
Sodium:
2079
mg
|
Potassium:
927
mg
|
Fiber:
7
g
|
Sugar:
12
g
|
Vitamin A:
2000
IU
|
Vitamin C:
147
mg
|
Calcium:
212
mg
|
Iron:
3
mg