Pineapple Upside Down Cake for a Crowd is the perfect cake for that upcoming family gathering. Soft, moist yellow cake with caramelized sweet brown sugar topping and sweet citrus bite of sliced pineapple and cherries. No fuss, no frosting, all flavor. Just mix it up and bake it.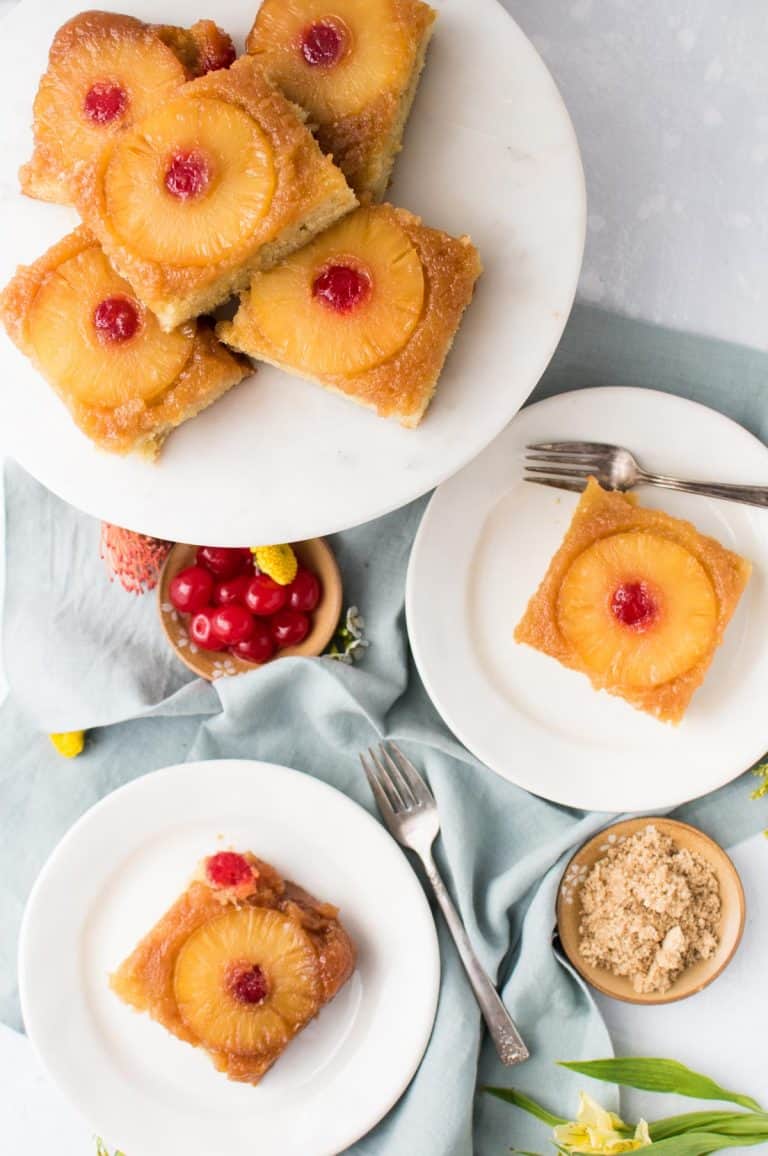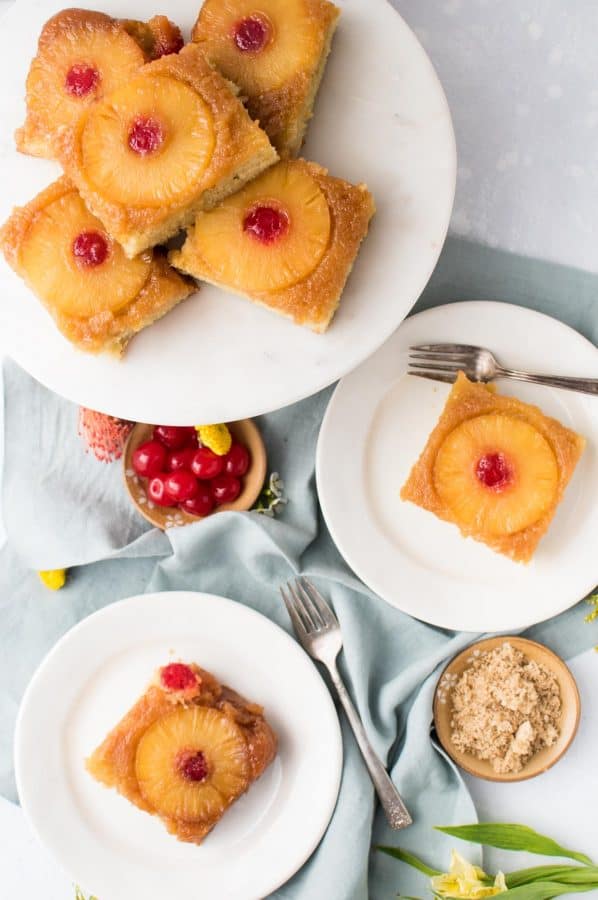 Food holidays are funny, right? Like, some of them are soooo exciting. An excuse to eat more tacos and margaritas?!?! I'll take any excuse for Carne Asada and Watermelon Basil Margs. YES PLEASE. Then some of them are super random, like National Raspberry Popover Day - not just popovers, raspberry popovers. Well, we're putting that all aside and celebrating food days because today is National Pineapple Upside Down Cake and we're celebrating in a big way.
By big, I mean a big ass cake. This pineapple upside down cake lives up to it's name 'for a crowd.' A double batch of yellow sheet cake will fill up our 12x18 in baking pan giving us 20 to 30 slices of tropical cake goodness. Why the difference in serving yield? Well, if you want to keep your pineapples intact you'll get 20 pieces of cake, but they're pretty sizable portions so if you're ok with cutting your pineapple slices, this cake will yield more servings.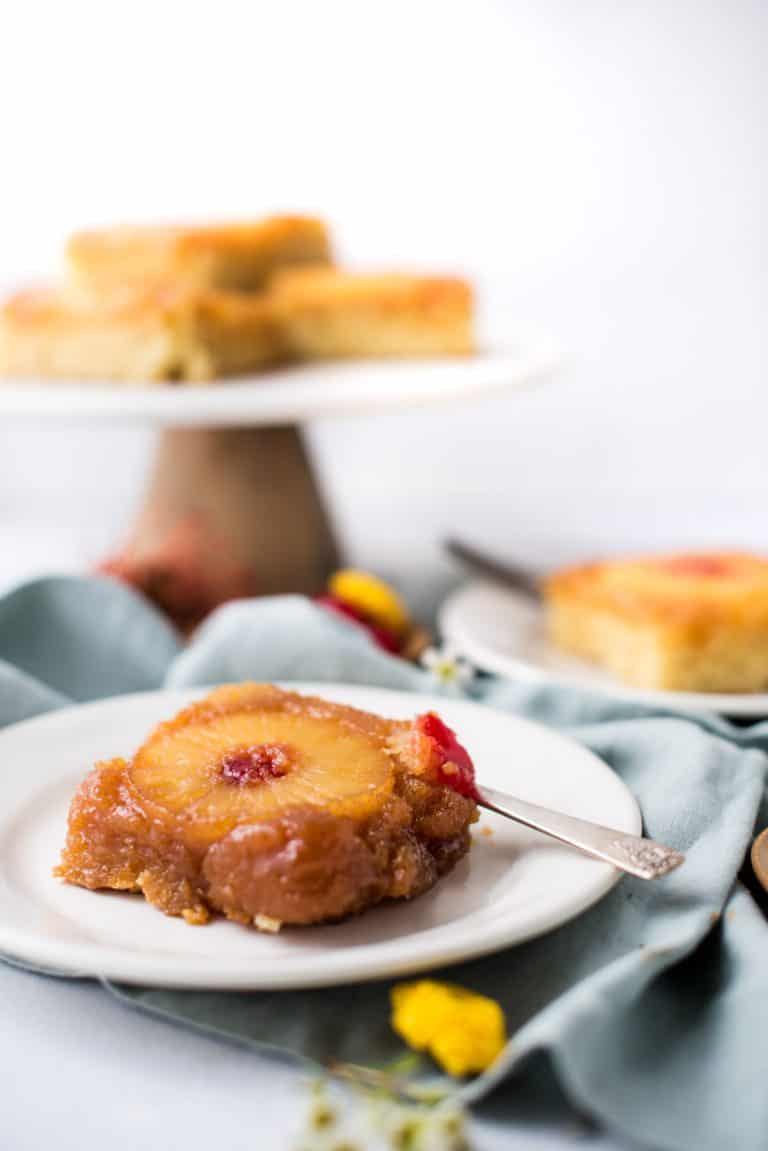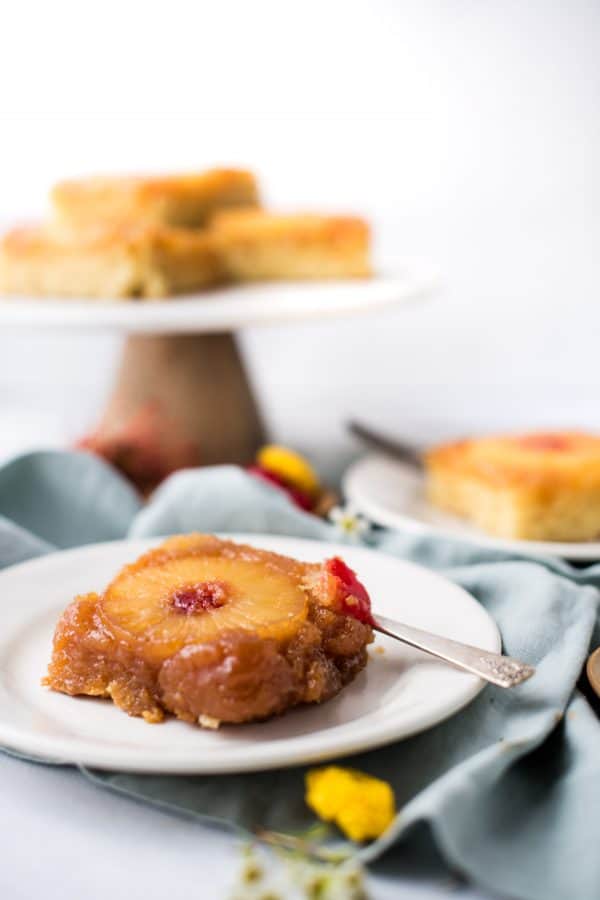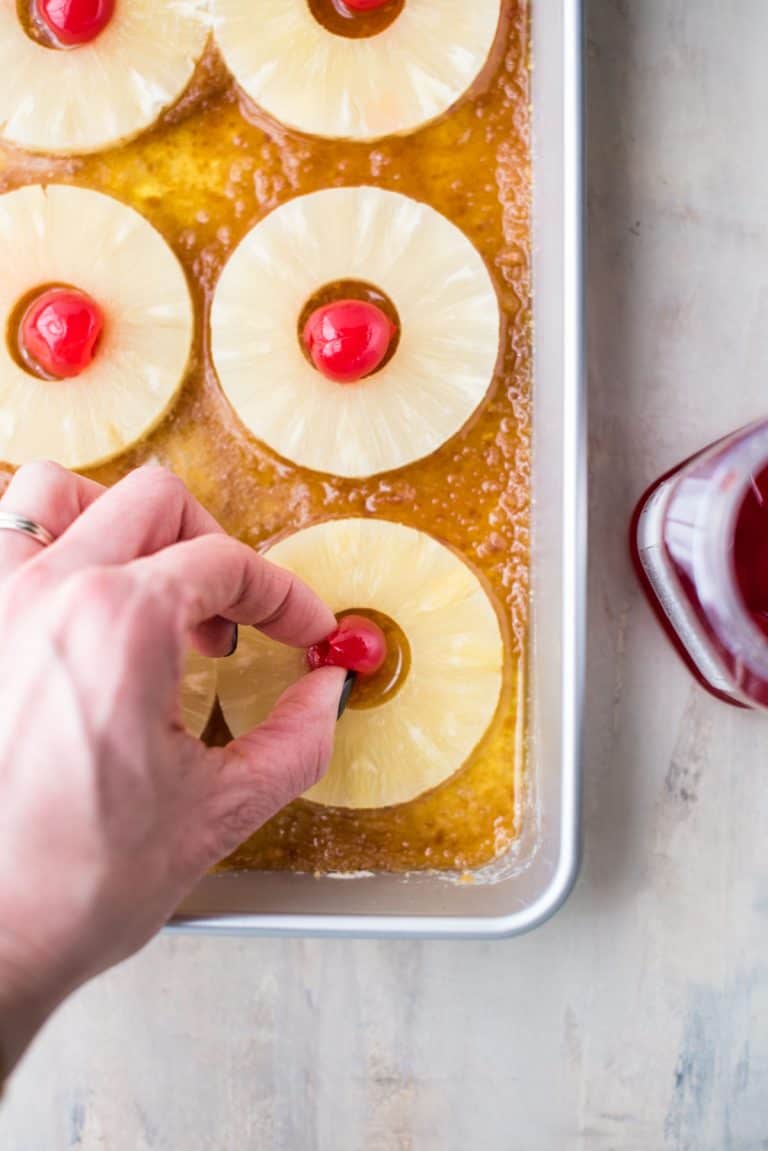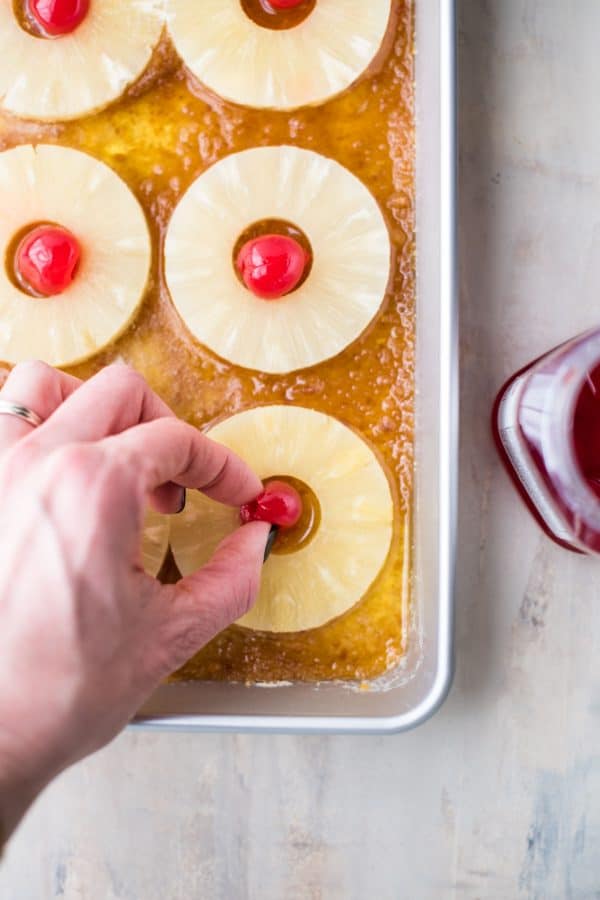 Is there a food from your youth that just makes you feel like you're home? Pineapple Upside Down Cake is that for me. My dad's favorite cake, it's the automatic go to for his birthday and every Easter. He gives up sweets for lent every. year. It warms every part of my heart to see the look on his face when this pineapple upside down cake walks in the door.
Sigh...doesn't it feel so good to bake for other people? No really, scientists say there are scientific reasons. You should get your dose of feeling good and make this Pineapple Upside Down Cake for a Crowd, then invite over your crowd to help eat it. They will feel good, you'll feel good, everyone's bellies will feel good and isn't that something the world could use a little more of?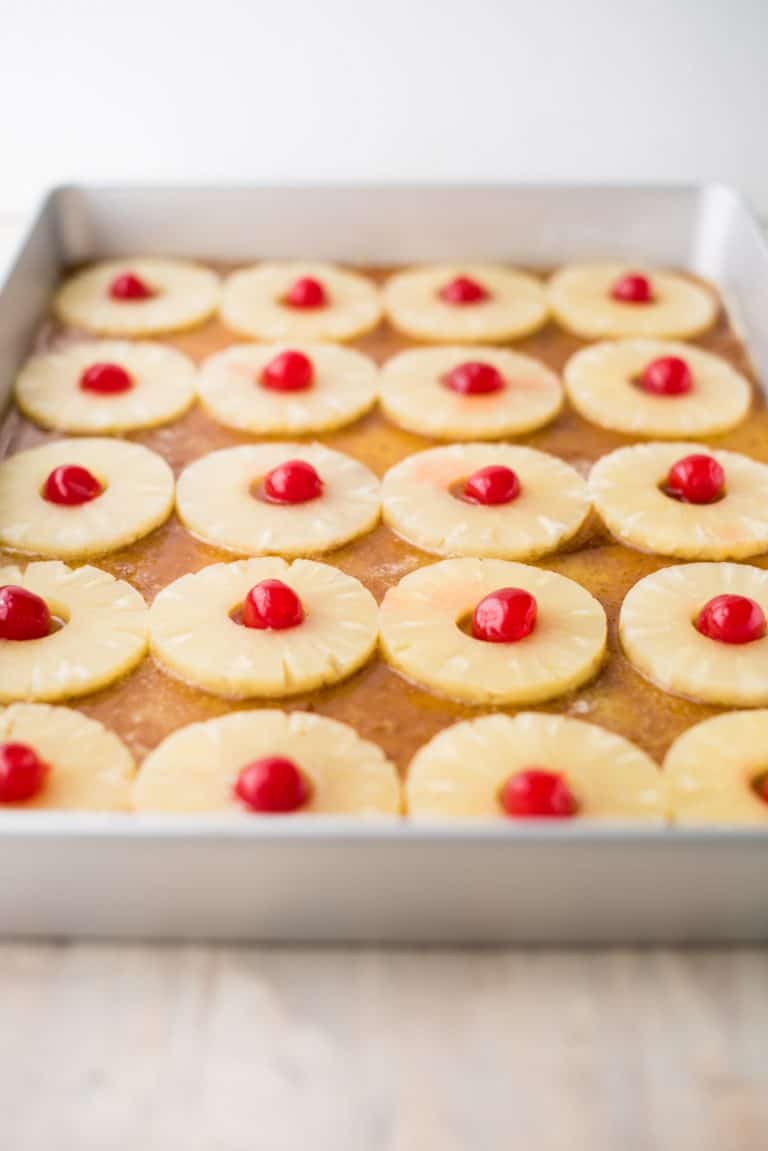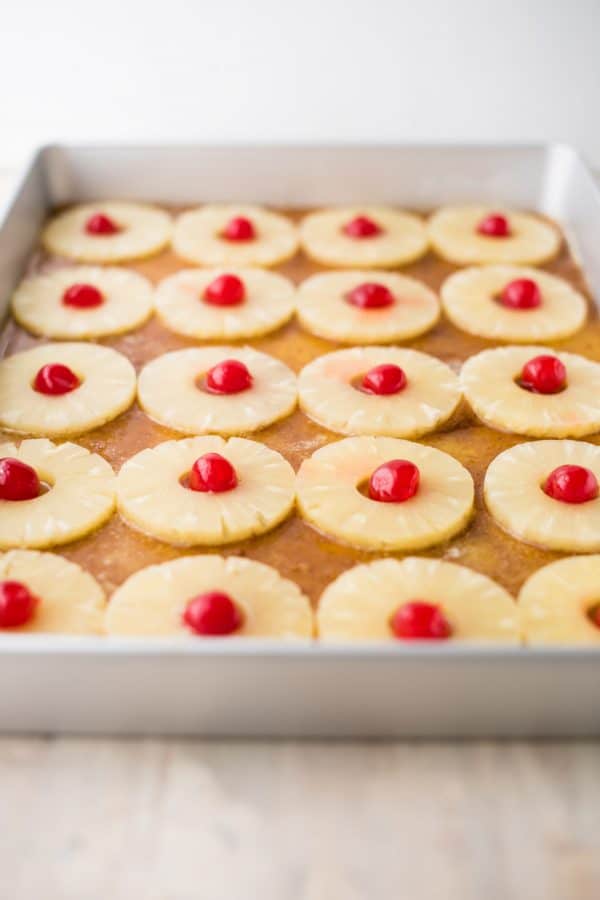 The other really great thing about Pineapple Upside Down Cake for a Crowd? It is ridiculously low maintenance. No frosting required, just bake it all in the pan. Just don't forget to let it cool fully before flipping the cake over to serve. Do you know what it looks like to have butter and brown sugar running all over your countertop and cabinets? YOU DON'T WANT TO, TRUST ME. I think the floor is finally loosing it's last layer of sticky.
If preparing in advance, you can definitely refrigerate it overnight just make sure you take it out a few hours before serving so you won't have an issue unmolding the cake. That's it!
What's your favorite sweet treat to make for big gatherings? Did you make this recipe? Tell me about it in the comments!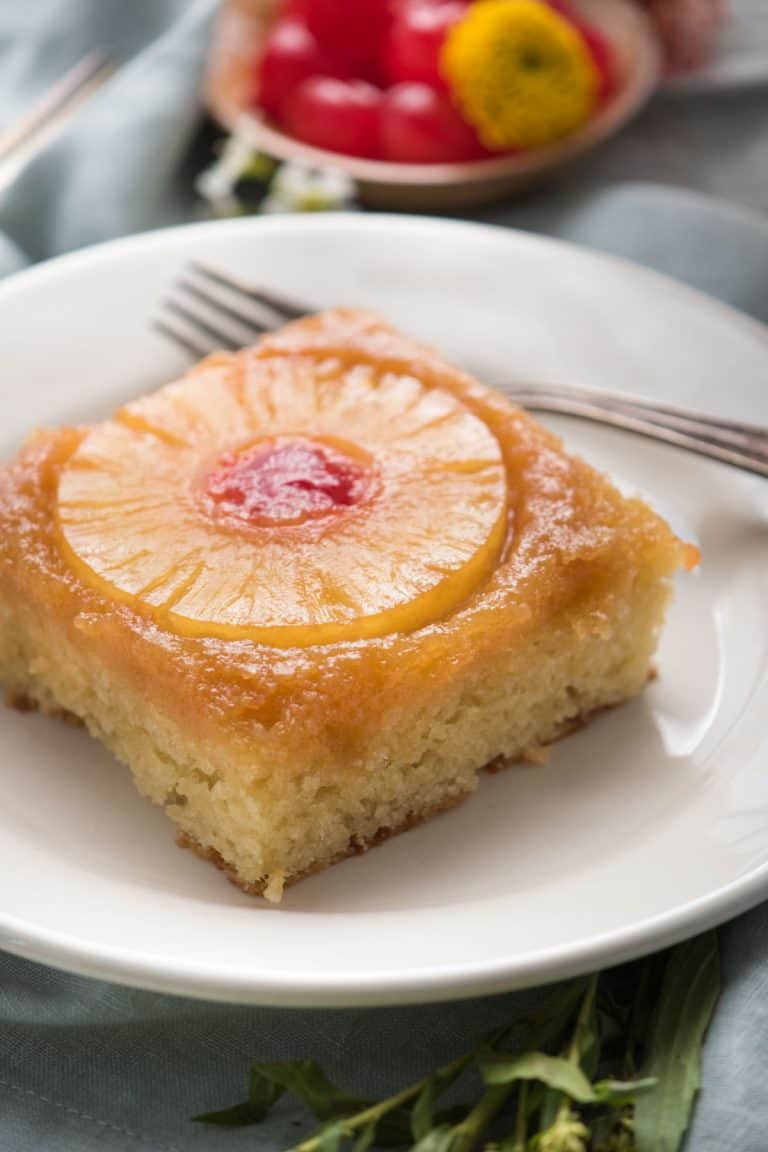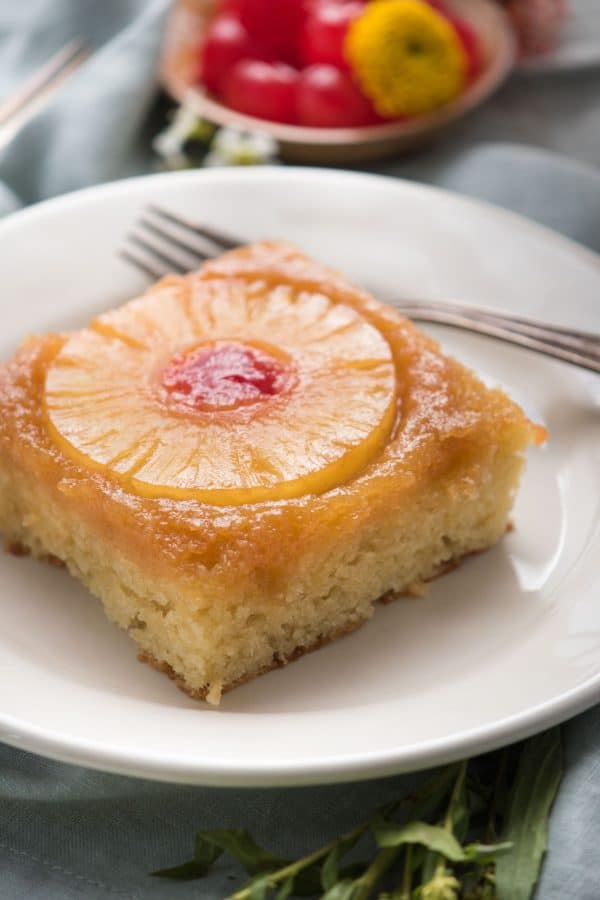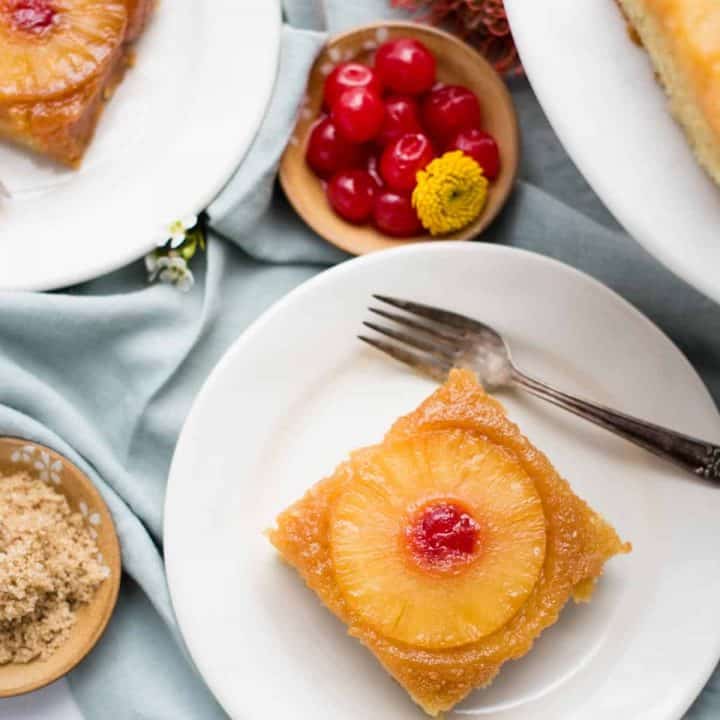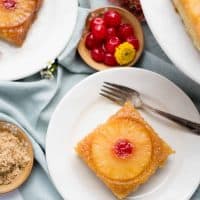 Pineapple Upside Down Cake For a Crowd
Soft, light vanilla yellow cake soaked with caramelized brown sugar, butter, pineapple slices and cherries.
Print
Pin
Rate
Servings:
20
to 30 servings
Ingredients
For the Cake
4 ½

cups

all-purpose flour

(570g)

2

teaspoons

baking soda

1

teaspoon

salt

2

cups

unsalted butter, softened to room temperature

(453g )

3 ½

cups

granulated sugar

(700g )

4

large eggs

4

teaspoons

pure vanilla extract

1

cup

sour cream

(240g )

2

cups

whole milk

(480ml )
Brown Sugar Fruit Topping
2

sticks

unsalted butter

(226g )

2

cups

brown sugar

(400g )

2

cans sliced pineapple

(drained)

1

jar marachino cherries

(without stems)
Instructions
Preheat oven to 350°F.

Prepare the pan: melt 2 sticks of unsalted butter and pour into a 12 x 18 x 3 pan. Spread evenly over the pan. Sprinkle the brown sugar evenly over the butter. Evenly distribute the sliced pineapple (5 rows of 4) in the pan with a cherry in the middle of each ring. Set aside.

Prepare the cake: In a medium bowl, whisk together all purpose flour, baking soda, and salt, set aside.

In a standing mixer fitted with the paddle attachment or in a large bowl with a hand mixer, beat the butter on medium high speed until pale and fluffy. Scrape down the bowl if needed and add the sugar. Beat on medium high until incorporated, about 1 minute.

With the mixer on low and eggs one at a time. Add vanilla and sour cream. Scrape down the bowl if needed and increase speed to medium, mix for 1 minute.

Working in two batches with the mixer on low, add ½ the flour mixture followed by half the milk. Mix until incorporated and repeat with remaining ingredients. Scrape down bowl if needed, increase speed to medium and mix until ingredients are smooth and incorporated (about 1 minute.)

Pour over prepared pan, spread evenly with spatula - some of the butter may pool up around the sides, if this happens spread more cake batter in that area but don't worry too much the edged of the cake should be buttery and gooey. Bake on the middle rack in the preheated oven for 45 minutes. The 'top' of the cake will brown slightly during baking and edges may crisp just a touch from the butter and brown sugar, but it is all part of the deliciousness!

Let cool 20 to 30 minutes before serving. To serve, turn cake over onto a large cutting board or serving platter. If the cake is turned over before the butter and brown sugar cool and thicken, it will leak all over the countertop.
Nutrition
Calories:
664
kcal
|
Carbohydrates:
92
g
|
Protein:
6
g
|
Fat:
32
g
|
Saturated Fat:
20
g
|
Trans Fat:
1
g
|
Cholesterol:
114
mg
|
Sodium:
269
mg
|
Potassium:
201
mg
|
Fiber:
2
g
|
Sugar:
69
g
|
Vitamin A:
1039
IU
|
Vitamin C:
5
mg
|
Calcium:
89
mg
|
Iron:
2
mg