Tender flank steak with the perfect balance of savory, fresh citrus and spicy heat. Sliced in bite-size pieces and grilled in 5 to 7 minutes, carne asada tacos are going to be your next go-to for taco night!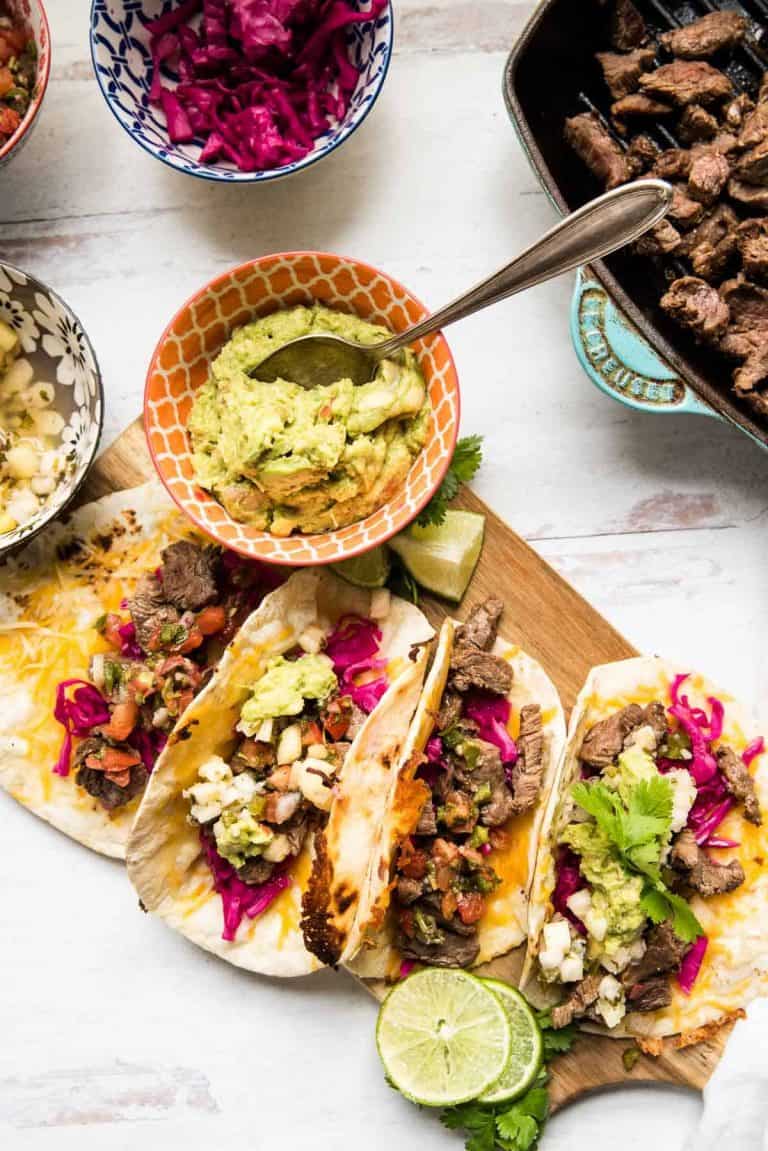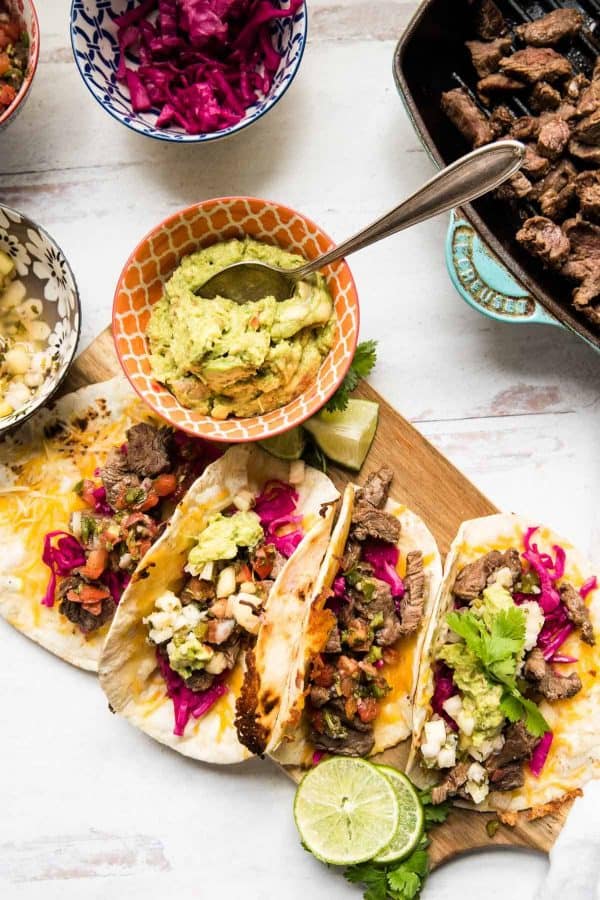 You haven't lived until you've eaten a carne asada taco or burrito in San Diego. There is really nothing else like it. As with most things, the locals all have their favorite places. For me, whether it's from OB, PB, Mission Beach, they're all freaking delicious in comparison to what is typically passed off as burritos on the east coast.
These tacos are that deliciousness with each bite but without needing a plane ticket to the West Coast.
The dedication to this carne asada is so legitimate our former roommate once pick up a few of these magically marinated beef burritos on the way to the airport in San Diego, zip-locked them up and flew them home to Boston for my husband.
The best part?? They were still warm on the inside - now that's a proper wrapping job.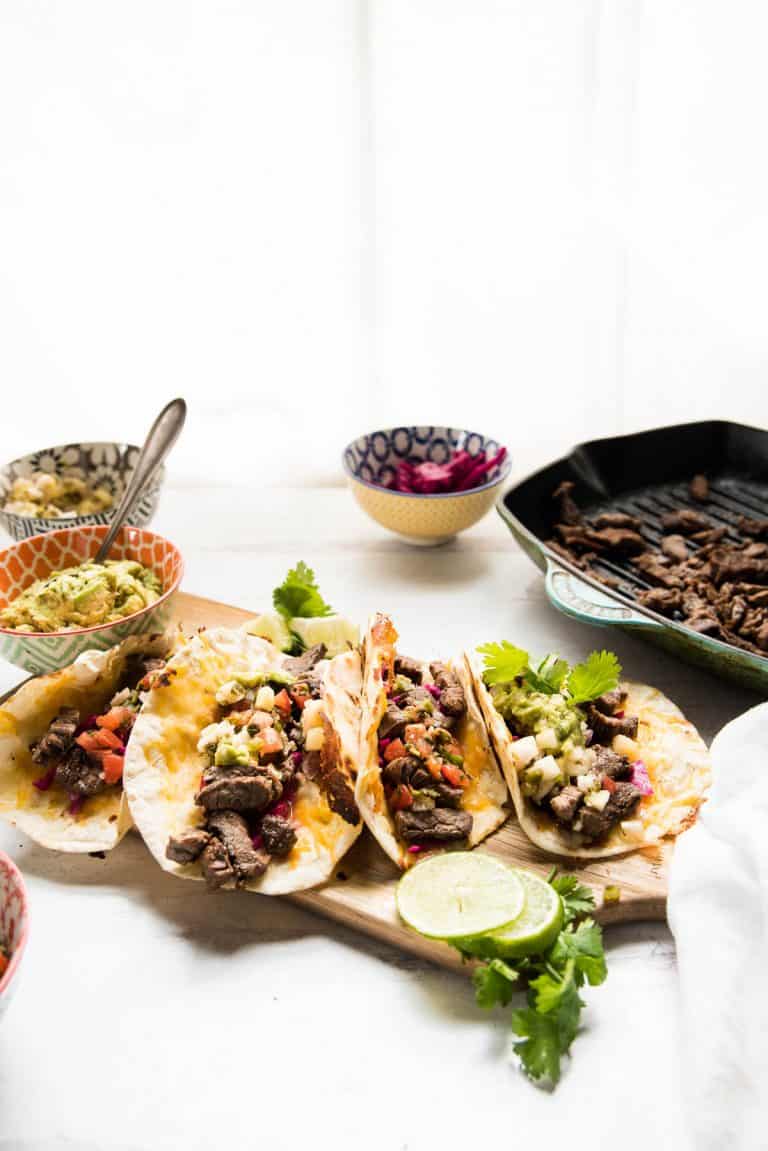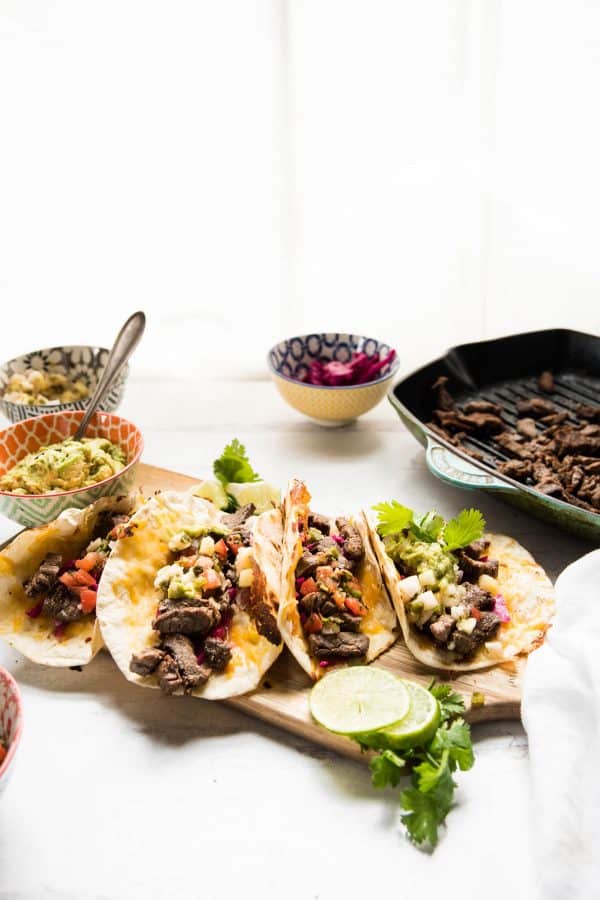 Bites of the West Coast
My husband lived in San Diego for over a decade before he moved back home and realized the love of his life was right here - hello, it me. Which was fantastic when all I craved during my entire pregnancy with Shea was west coast style Mexican food.
He's taught me his secrets here and there, but a piece of me believes part of enjoying a West Coast eats is actually being there. So in the midst of late winter, we're bringing a little bit of California to the kitchen.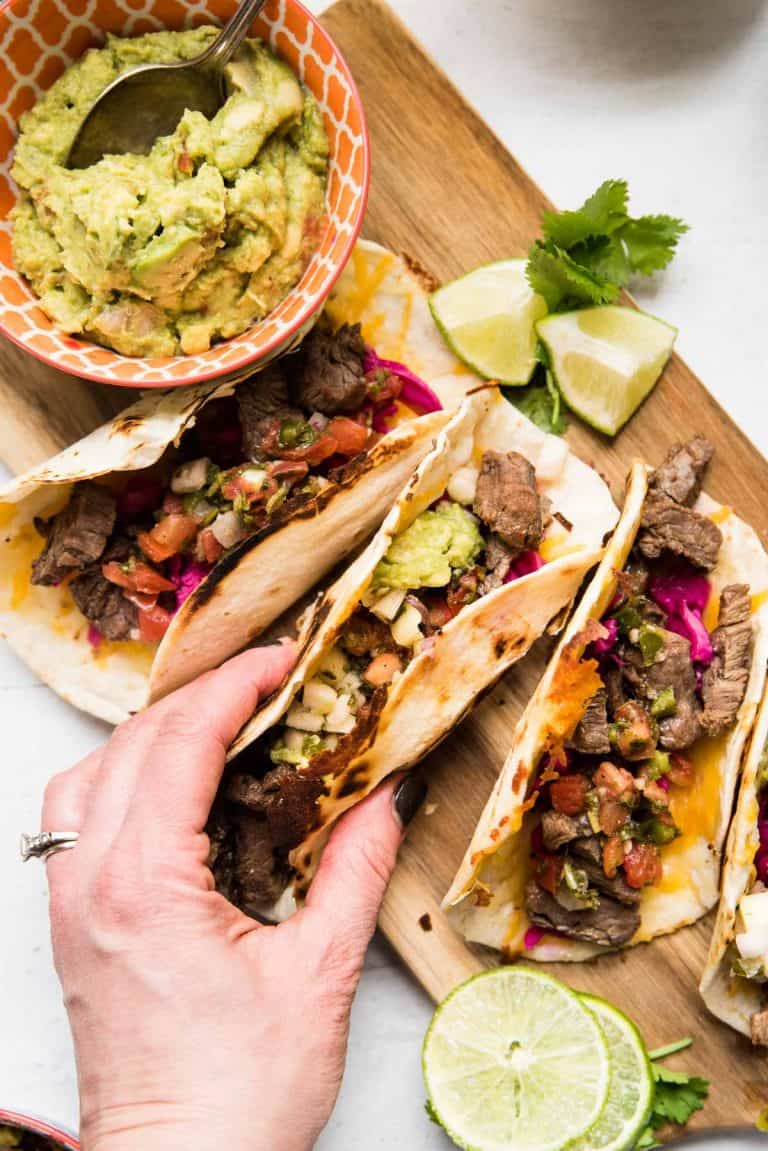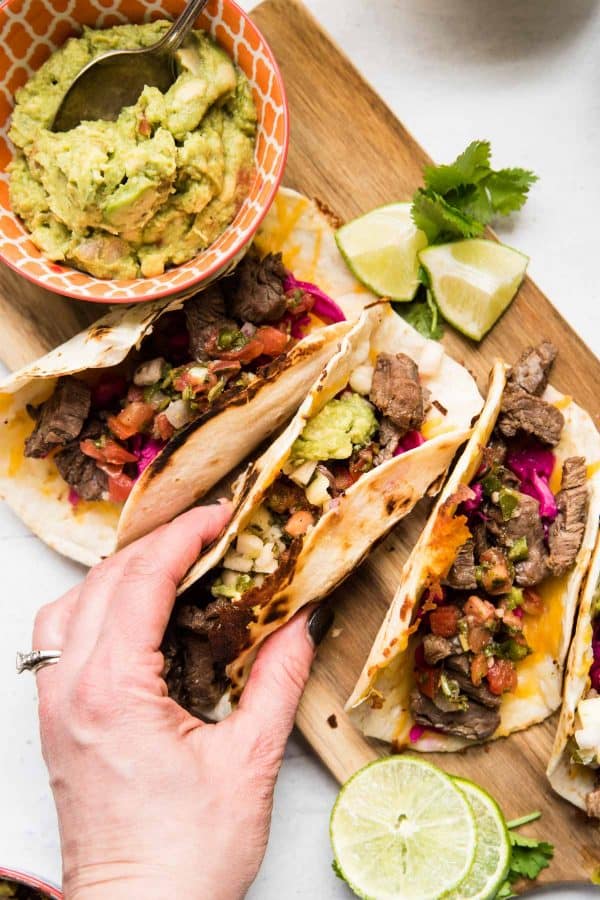 How to Make Carne Asada for Tacos
Marinate the meat, simply with savory, citrus and heat. Slice it, grill it, eat it.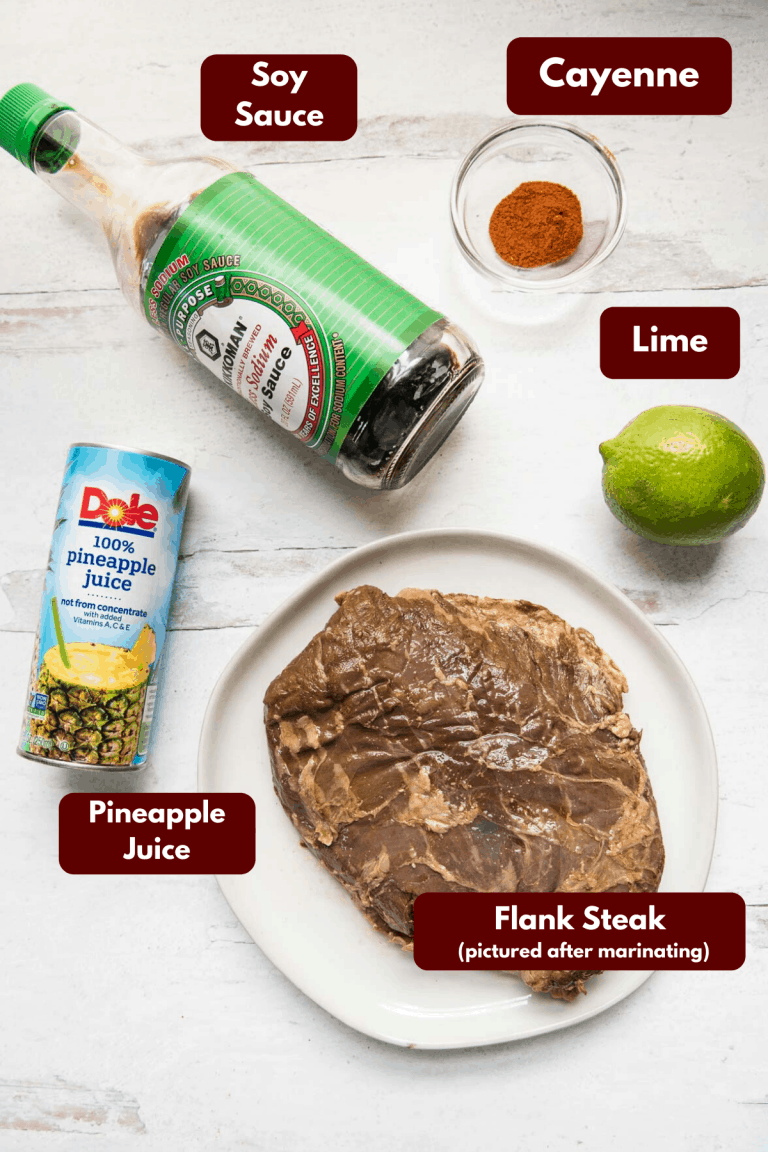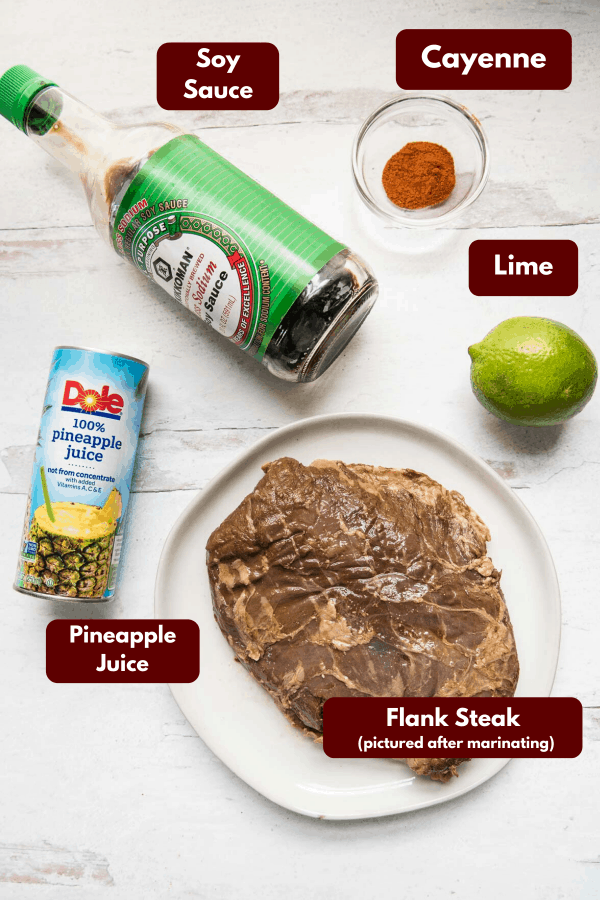 And yes, soy sauce isn't exactly what comes to mind when you're thinking tacos but just trust me on this.
Carne asada translates to grilled beef, so that's exactly what we're going to do. It's just going to sit in a tasty marinade, preferably overnight but at least 4 hours.
WHAT CUT OF MEAT SHOULD YOU USE?
Flank steak is my personal favorite. Skirt steak also works really well. For flank steak, if the cut is thicker, slice it in half before cutting it into bite-sized pieces.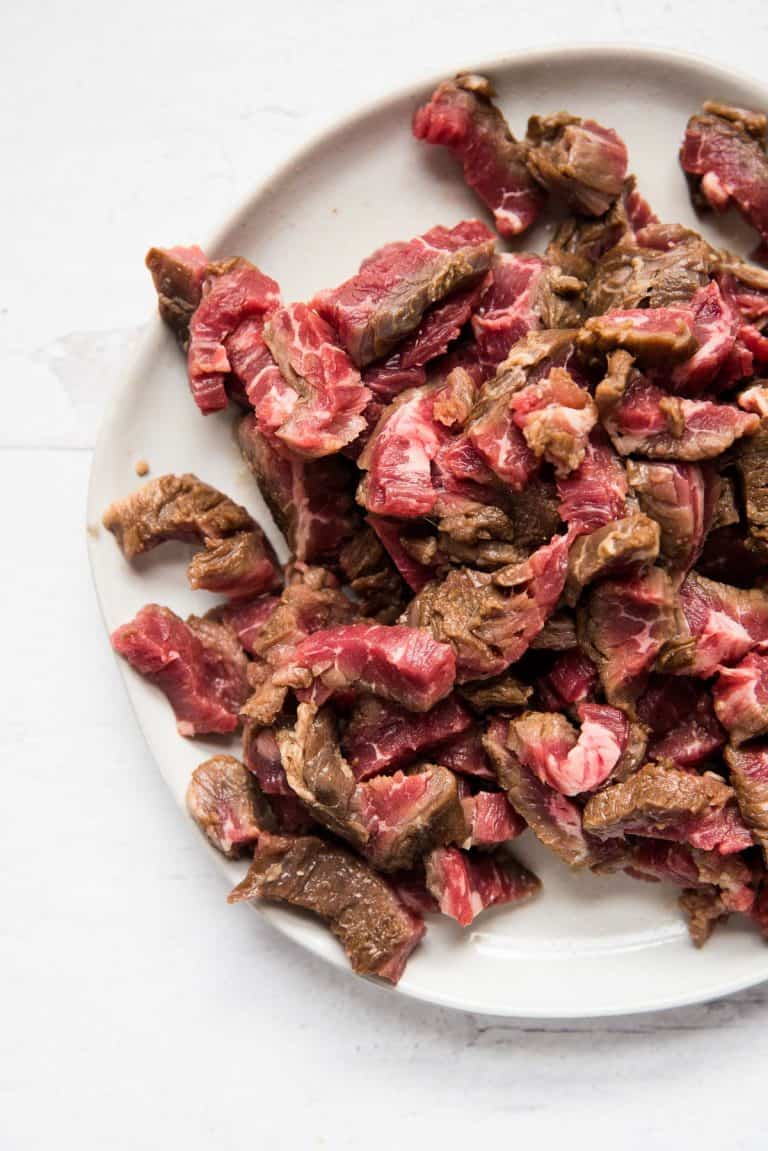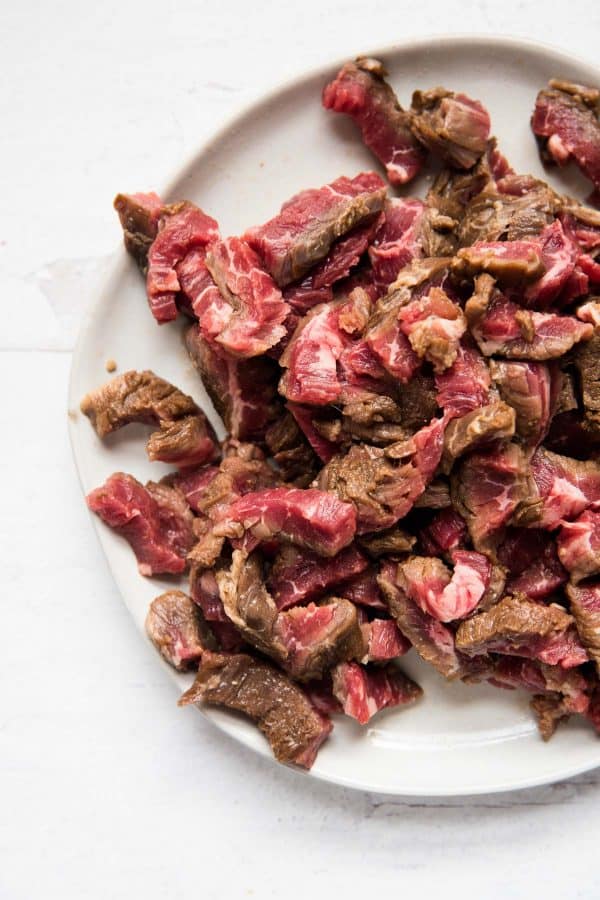 Flank steak is the most tender, while skirt steak comes in a thin piece already so it's less prep in the long run.
HOW TO GRILL THE MEAT?
You can grill the marinated flank steak on a regular grill, grill pan, or cast iron skillet. If using the outdoor regular grill, cook the marinated meat first, then slice it. For grill pan or cast iron cooking, slice the meat first.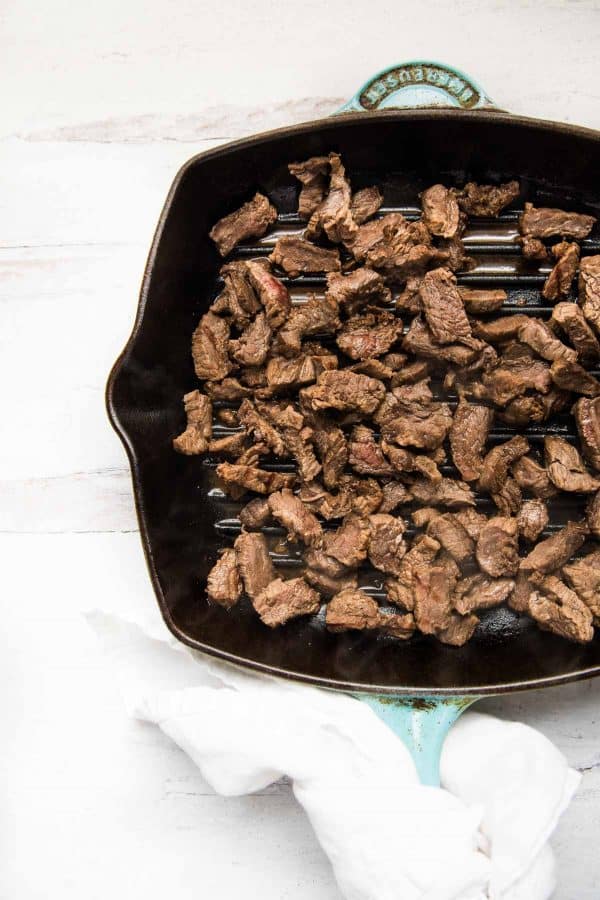 WHAT DO YOU SERVE WITH CARNE ASADA TACOS?
We're doing these tacos in Bonefish Harry's style. Warmed flour (or corn) tortillas with melty shredded cheese, pickled cabbage and pico - of course, there's pineapple mango salsa and guac if you're feeling fancy.
The key is to warm the tortilla in a small skillet cover it in cheese then put a lid on it so the cheese melts. The end result is a slightly crunchy, warm tortilla with epic melty cheese.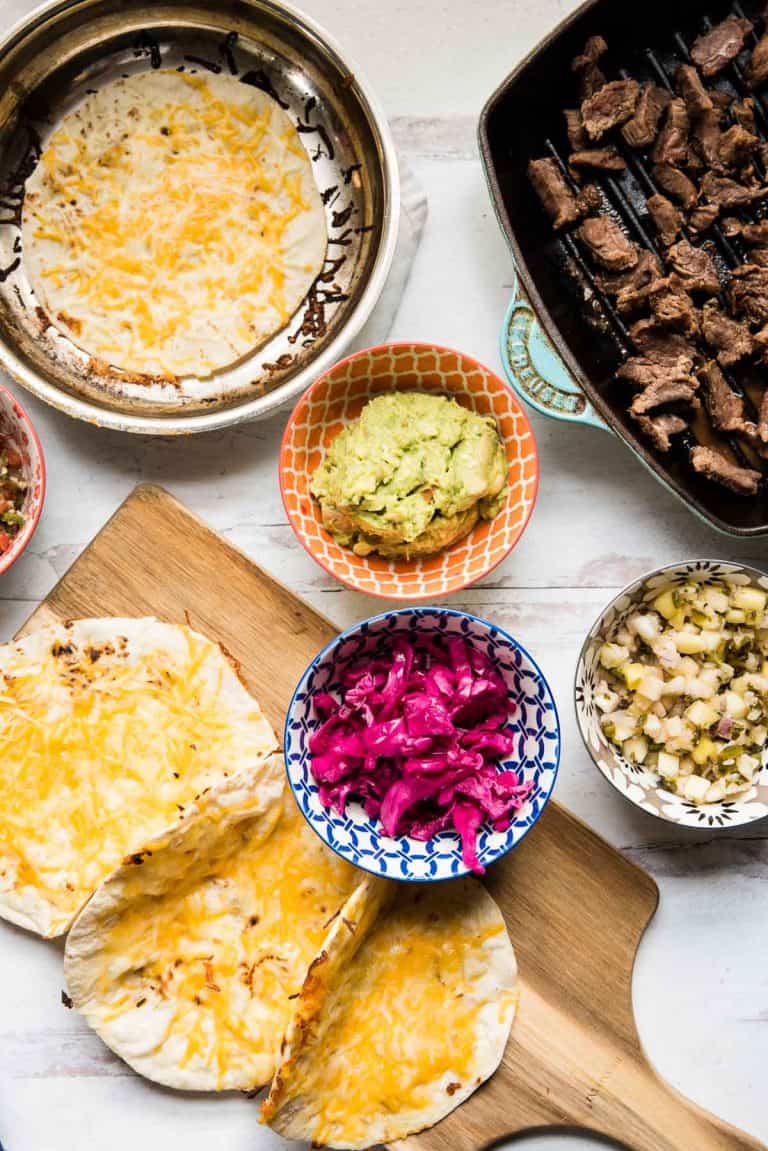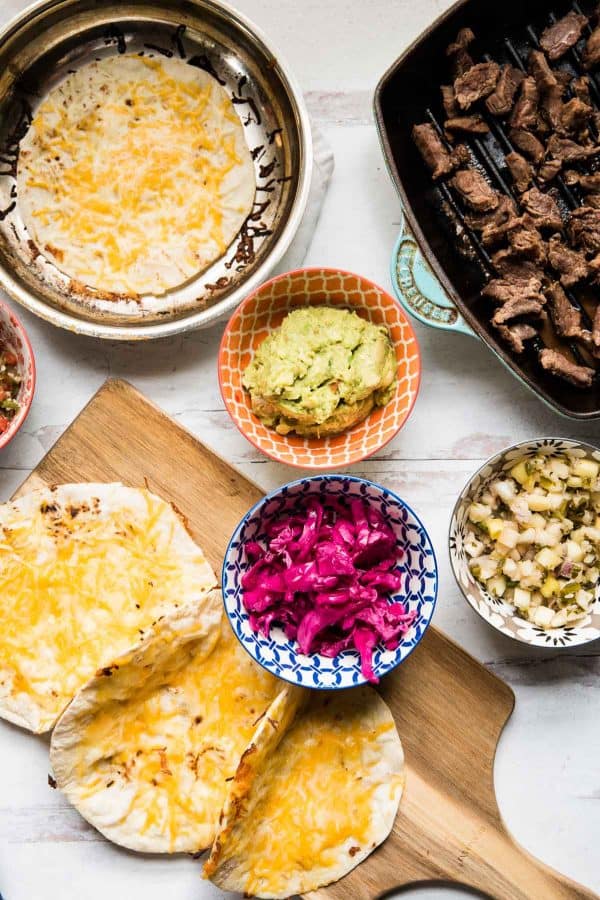 For this recipe, we used taco sized tortillas. What really matters is the carne asada, so build a burrito or taco, use flour or corn tortillas, however you prefer. This will make enough for 8 to 10 tacos depending on your appetite and tortilla size.
If you're loving carne asada and want more, give it a cilantro lime twist with chicken or steak. And if you usually reach for the sour cream on top of your tacos, sub it out for jalapeno avocado crema. For liquid pairings, this grapefruit thyme Paloma is my favorite for a non-margarita but still fruity tequila cocktail.
What are your other must-haves for taco night? Any must-have San Diego eats besides carne asada? Be sure to tell me in the comments and if you made the recipe, please leave a rating! And if you insta'd those eats of yours be sure to post the picture with the pin on Pinterest!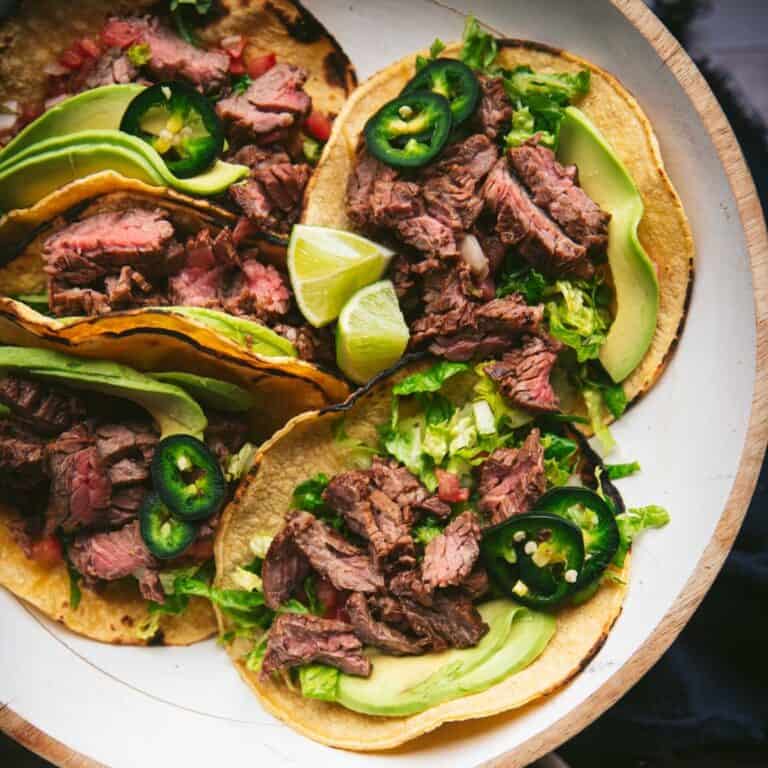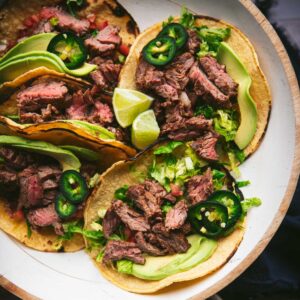 Carne Asada Tacos
Savory with bright acidity and just the right amount of heat, carne asada tacos are bringing the taste of California tacos to dinner. Easy marinade, quick cooking and super tasty!
Print
Pin
Rate
Servings:
8
to 10 servings
Ingredients
½

cup

reduced-sodium soy sauce

6

ounce

pineapple juice

1

lime

(juiced)

½

teaspoon

cayenne

1 ¼

pounds

flank or skirt steak

tortillas

your favorite taco toppings!
Instructions
Prepare the steak. Lay the flank or skirt steak flat on a cutting board. Cut into 1 to 2 inch strips with the grain of the meat (so the lines in the protein run long).

1 ¼ pounds flank or skirt steak

Prepare the marinade. In a ziplock bag or storage container, add the soy sauce, pineapple juice, lime juice, cayenne pepper and flank steak. Marinate overnight or at least a minimum of 4 hours.

½ cup reduced-sodium soy sauce,

6 ounce pineapple juice,

1 lime,

½ teaspoon cayenne

Remove the steak from the marinade. Heat the grill, grill pan, or cast iron skillet over high heat.

Once hot, sear the steak pieces about 4 to 5 minutes each side. Remove from the heat and let rest for 5 minutes before cutting. Slice into thin strips.

In a small skillet, warm the tortilla over medium heat, top with cheese and cover with a lid. Heat for 1 to 2 minutes until cheese is melted and tortilla is just slightly crispy. Top with you favorite taco toppings!
Notes
Marinate for a minimum of 4 hours and a maximum of 36 hours.
For super tender meat, remove the steak from the marinade and let sit at room temperature for about an hour before cooking.
Cooking 4 to 5 minutes on a hot grill should yield carne asada pieces with a medium to medium-well center. Adjust the cooking time about 2 to 3 minutes (less or more) depending on your preferences.
Nutrition
Calories:
224
kcal
|
Carbohydrates:
19
g
|
Protein:
19
g
|
Fat:
8
g
|
Saturated Fat:
3
g
|
Polyunsaturated Fat:
1
g
|
Monounsaturated Fat:
3
g
|
Trans Fat:
0.2
g
|
Cholesterol:
45
mg
|
Sodium:
842
mg
|
Potassium:
339
mg
|
Fiber:
1
g
|
Sugar:
3
g
|
Vitamin A:
63
IU
|
Vitamin C:
5
mg
|
Calcium:
59
mg
|
Iron:
3
mg