Are you ready for the sauce that is going to make all your taco dreams come true? Jalapeño Avocado Crema is bringing creamy avocado, perfect mellow heat with a punch of jalapeño flavor and a hint of subtle sweet pineapple. It's easy to make and even easier to enjoy!
Truly, I'm not sure what's easier....making this jalapeño avocado crema or eating all the things it turns delicious. Sounds like a win win to me either way.
This post contains affiliate links. The price you pay is unaffected, but I make a commission from the sale.
Have you been living your life just putting standard taco toppings on your tortillas? Yes? Maybe boring dressing on a taco themed salad?
Darling, sit down and let me tell you about it. Because while tacos are 100% always delicious, you NEED tacos that are going to change your life. NO! I take that back, you deserve tacos that are topped with Jalapeño Avocado Crema.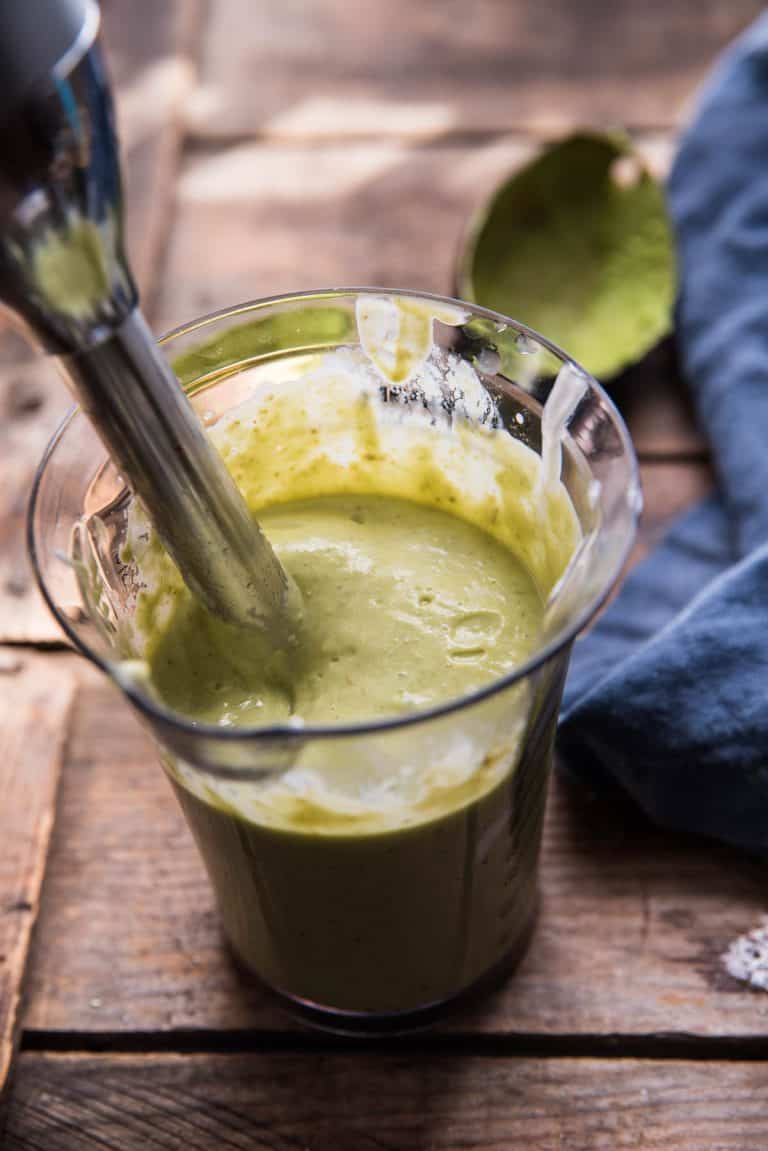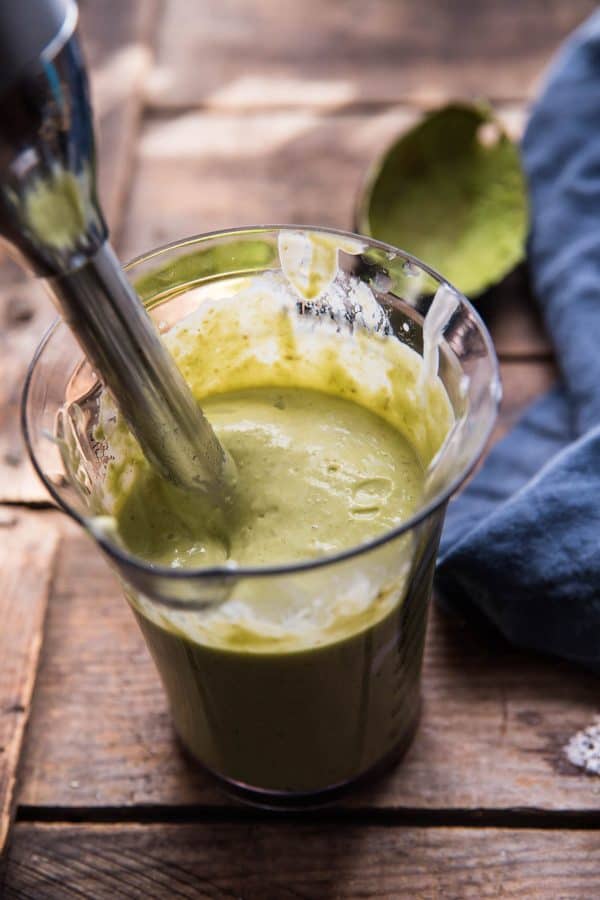 What is Jalapeño Avocado Crema
A crema is simply a thickened cream based food used to flavor or add richness to a dish. Here's the simple breakdown of what makes up Jalapeño Avocado Crema:
Roasted jalapeños
one good and ripe avocado
smidge of sour cream
the most perfect splash of pineapple juice
sprinkle of salt
Blend all those wonderful things in the blender, food processor, or my very favorite hand blender pictured above and that's it. You are ready to sauce the world in green, slightly spicy, slightly sweet goodness.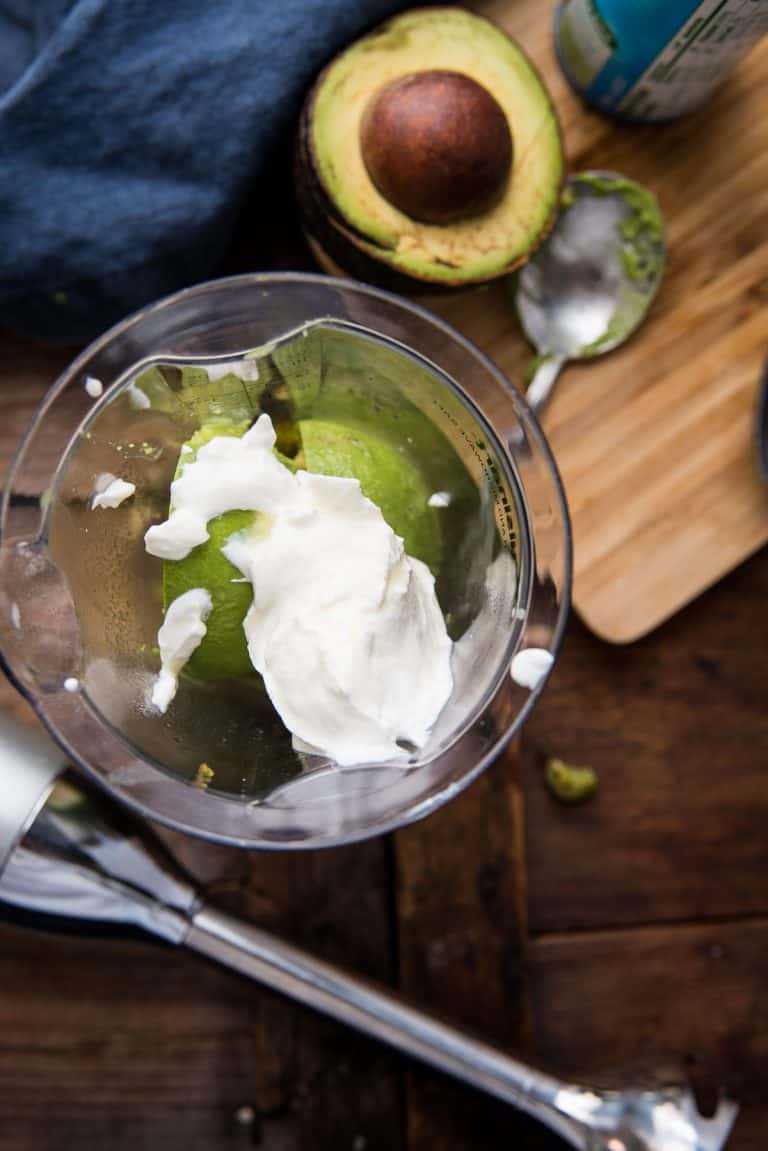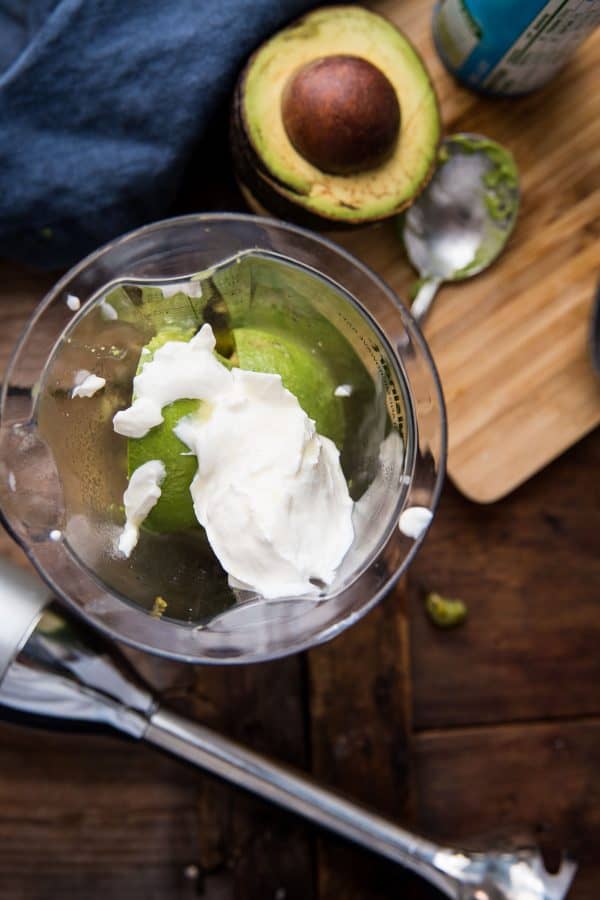 But wait...if you're new to non-traditional taco toppings - e.g. salsa, cheese, maybe sour cream, you might be at a loss with what to do with avocado crema. Here's a few ideas for how to sauce up your life....(side note: I really hope the Spice Girls "Spice Sauce Up Your Life" just started playing in your head.)
Sauce up a taco...like these Cilantro Lime Flank Steak Tacos
Use it as a dressing...like on this Grilled Corn Salad
Dip some crispy roasted brussels sprouts in it
Serve it alongside salsa and chips in place of guac
Slather a crispy waffle fry in it(!)
Put a dollop on top of some Chipotle Chicken Soup
Serve it with fresh cut veggies instead of hummus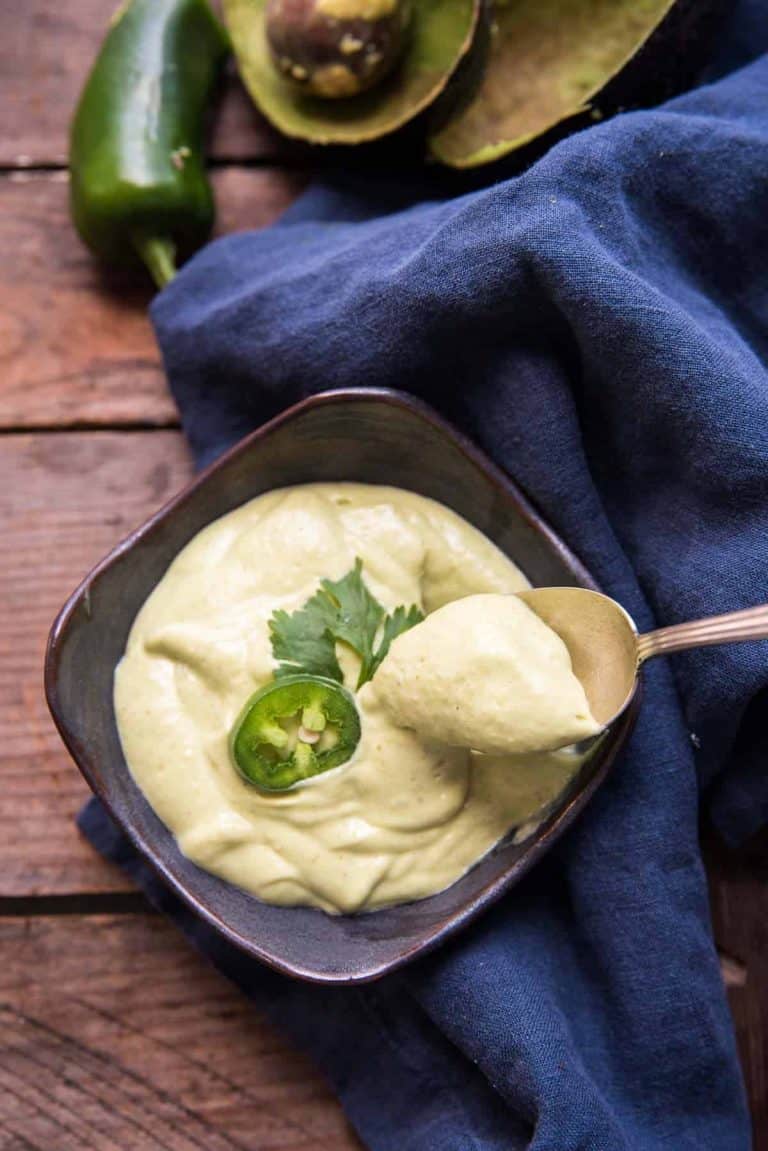 Tips for Making and Storing Jalapeño Avocado Crema
Avocado is fickle right? Like it's not ripe for a whole week and then you go and take a shower and when you get out it's rotting. What is the deal??
Some tips that might help you make the most of your ingredients:
If your avocado isn't ripe, leave it on the counter in a brown paper bag with a banana. There's some sort of science reason why this helps speed up the ripening process but I'm not seasoned on the details as to why, it just works.
If your avocado is almost ripe, I throw mine in the microwave, in the brown paper bag just enough to warm it and help release it from the shell.
The heat of a jalapeño pepper can vary pepper to pepper. To make a pepper less hot/spicy, remove all the seeds and the white ribbing.
A jalapeño with striations or what kind of looks like stretch marks on the outside (me too jalapeños, me too) will signify an older pepper and more likely to be hotter.
You can substitute low fat greek yogurt or even coconut yogurt for low fat or vegan avocado crema.
If you don't have pineapple juice on hand, you can substitute orange juice in a pinch. It's still on the sweet side, but I'd definitely recommend you try it with the pineapple.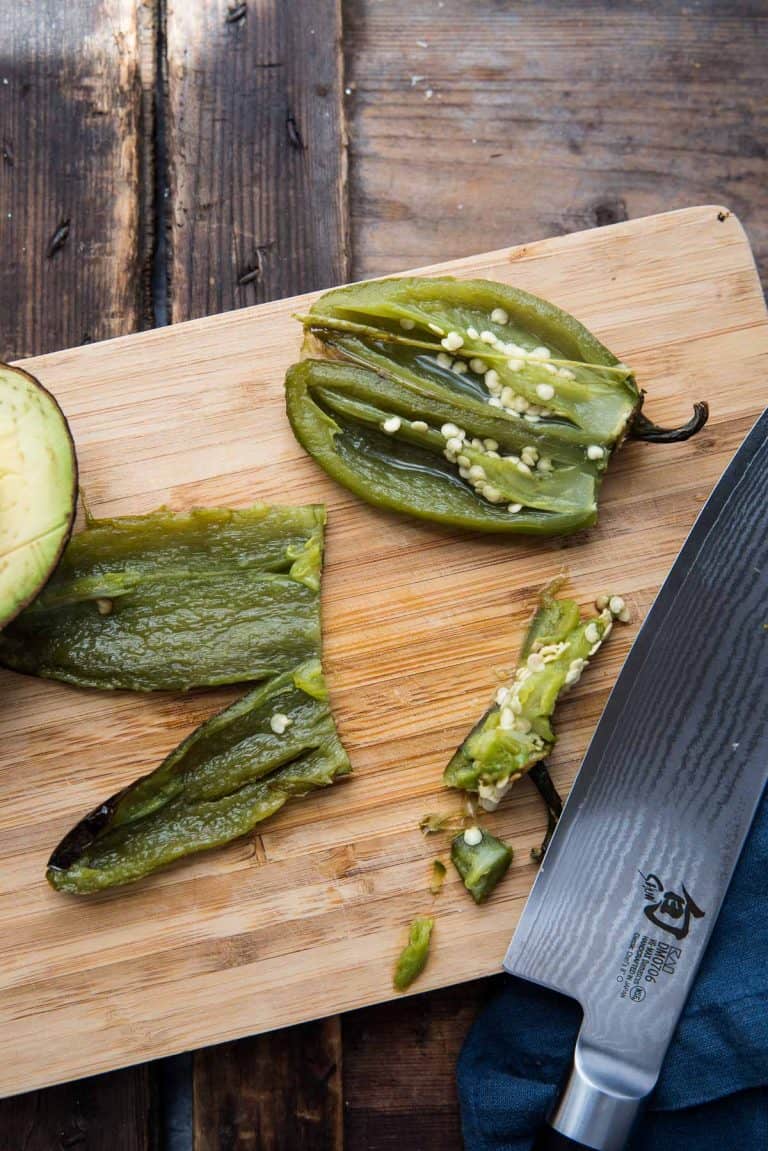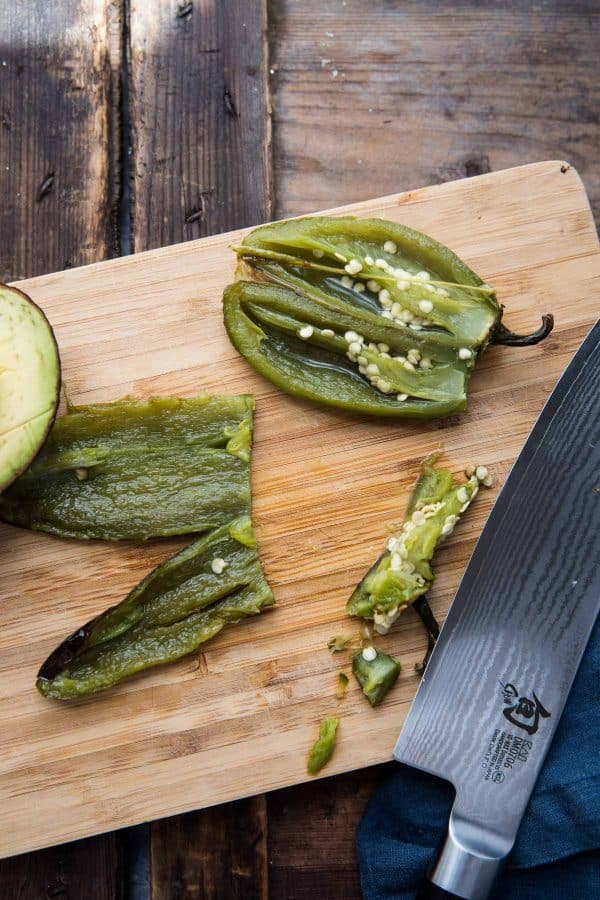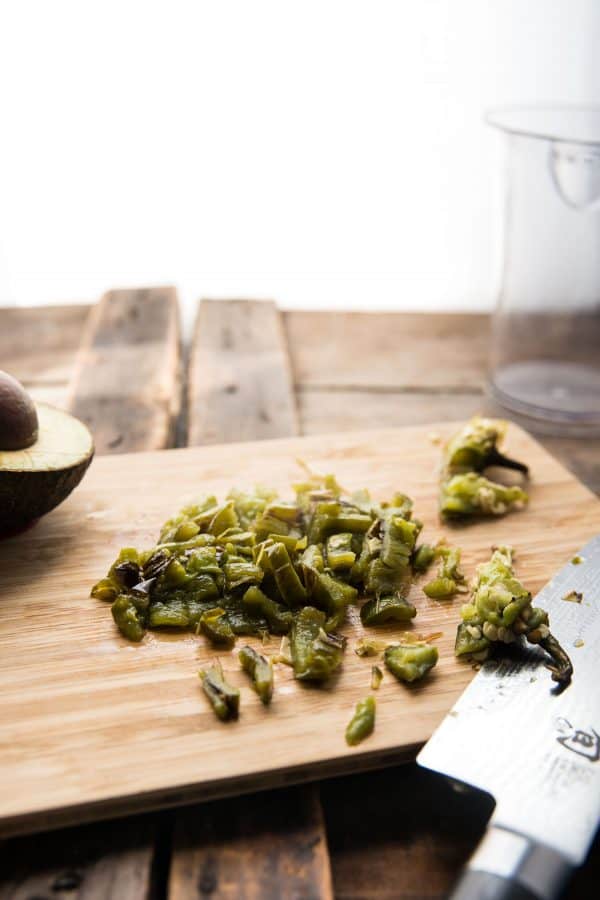 MADE THE PERFECT CREMA?! HERE'S HOW TO KEEP IT FRESH:
This is going to sound a little crazy, but pour a very thin layer of water over the avocado crema. The water will act as a barrier between the crema and the air, keeping it from turning brown.
If you get some cracks in the crema, just mix it with a fork before serving. Alternatively you can also just scrape the thin layer of brown off or just mix it in if you're lazy like me.
And if you need a tasty beverage to wash down your sauced up eats, considered some of these tequila based cocktails!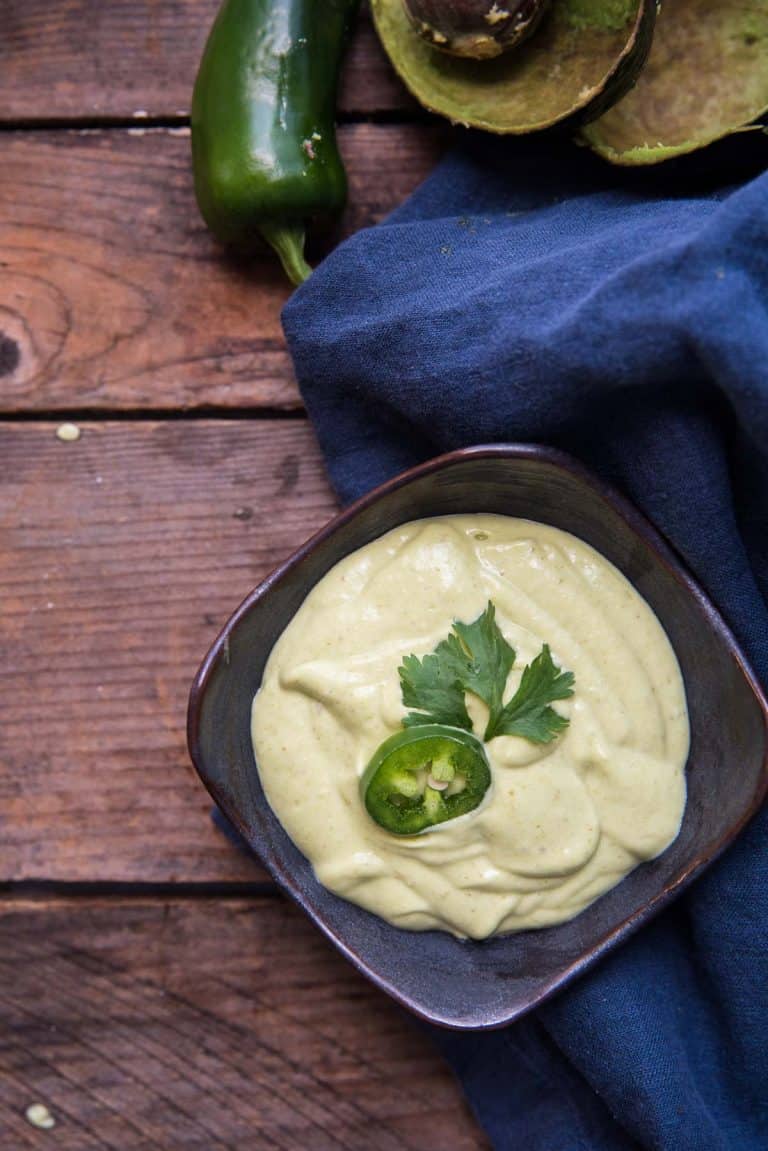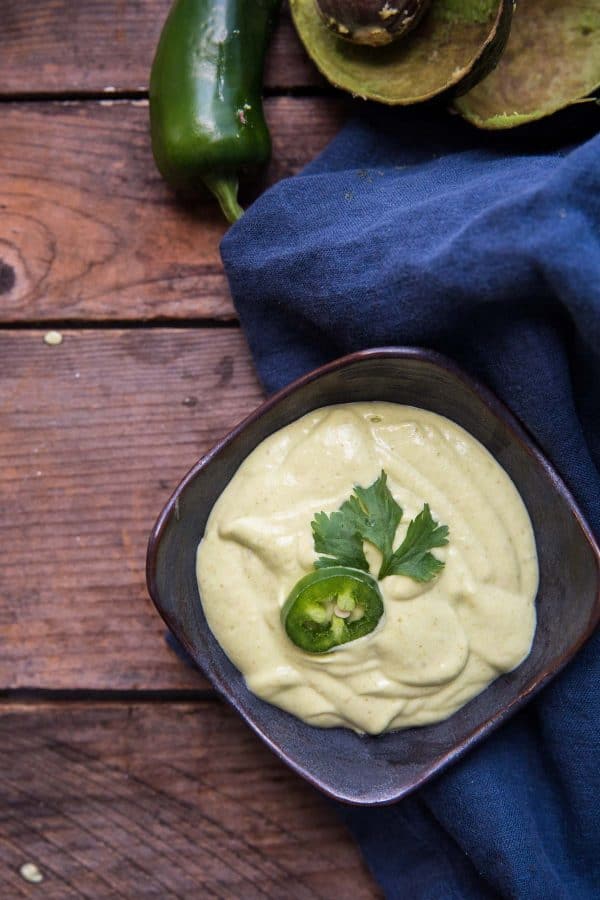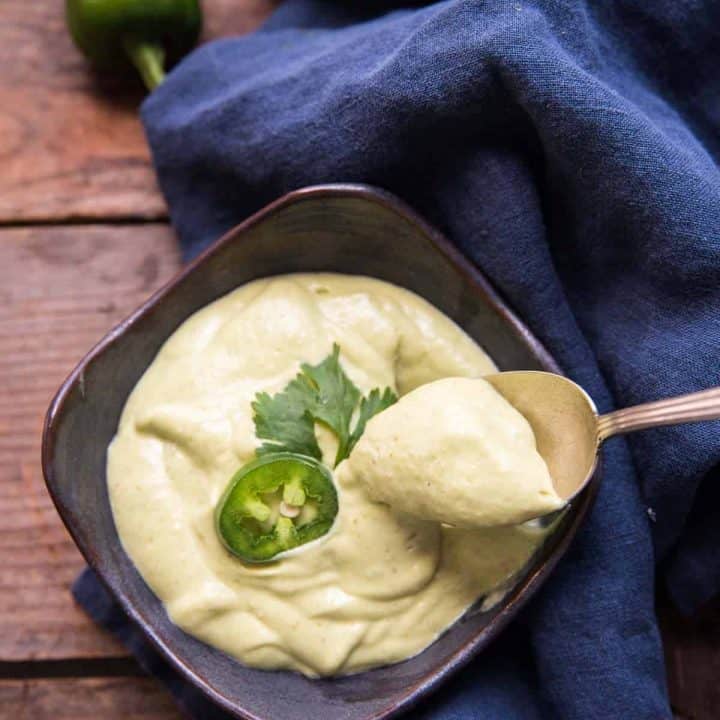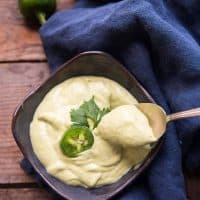 Jalapeño Avocado Crema
Creamy, spicy and just a little touch of sweetness, jalapeno avocado crema is the perfect sauce for tacos, salads or as a dip.
Print
Pin
Rate
Ingredients
2

jalapeños

1

tablespoon

canola or vegetable oil

1

avocado

6

tablespoons

pineapple juice

¼

cup

sour cream

⅛

teaspoon

salt
Instructions
Roast. Preheat the oven to 425°F. Coat the jalapeños with oil, sprinkle with a little salt, and place on a sheet pan. Roast in the oven for 15 minutes, turning about half way through. The jalapeños can also be roasted in a toaster oven without the need to preheat for the same time and temperature.

Dice. Let the peppers cool enough to handle. On a cutting board remove the tops and slice in half. Spread the peppers flat and scrape out the seeds and the white 'ribbing' inside. The spicier you want it, leave more of the white ribbing and a few seeds. Give the jalapeños a rough chop.

Blend. Remove the avocado from the skin and discard the pit. Place the jalapeños, avocado, pineapple juice, sour cream and salt to a blender or food processor. Blend on high until fully puréed, smooth and creamy.
Notes
For a thinner consistency, add pineapple or lime juice 1 tablespoon at a time.
Jalapeño avocado crema will keep for up to 3 days refrigerated. You may need to scrape the thin layer of oxidized avocado from the top before serving.
Nutrition
Calories:
51
kcal
|
Carbohydrates:
3
g
|
Protein:
1
g
|
Fat:
5
g
|
Saturated Fat:
1
g
|
Trans Fat:
1
g
|
Cholesterol:
2
mg
|
Sodium:
29
mg
|
Potassium:
104
mg
|
Fiber:
1
g
|
Sugar:
1
g
|
Vitamin A:
80
IU
|
Vitamin C:
5
mg
|
Calcium:
9
mg
|
Iron:
1
mg