If cauliflower can become pasta, you too, can become anything. Trader Joe's Cauliflower Gnocchi is here and TJ's can just have all my money because we're cooking it crispy and sautéing it with bright grapefruit pesto, crispy prosciutto and creamy burrata.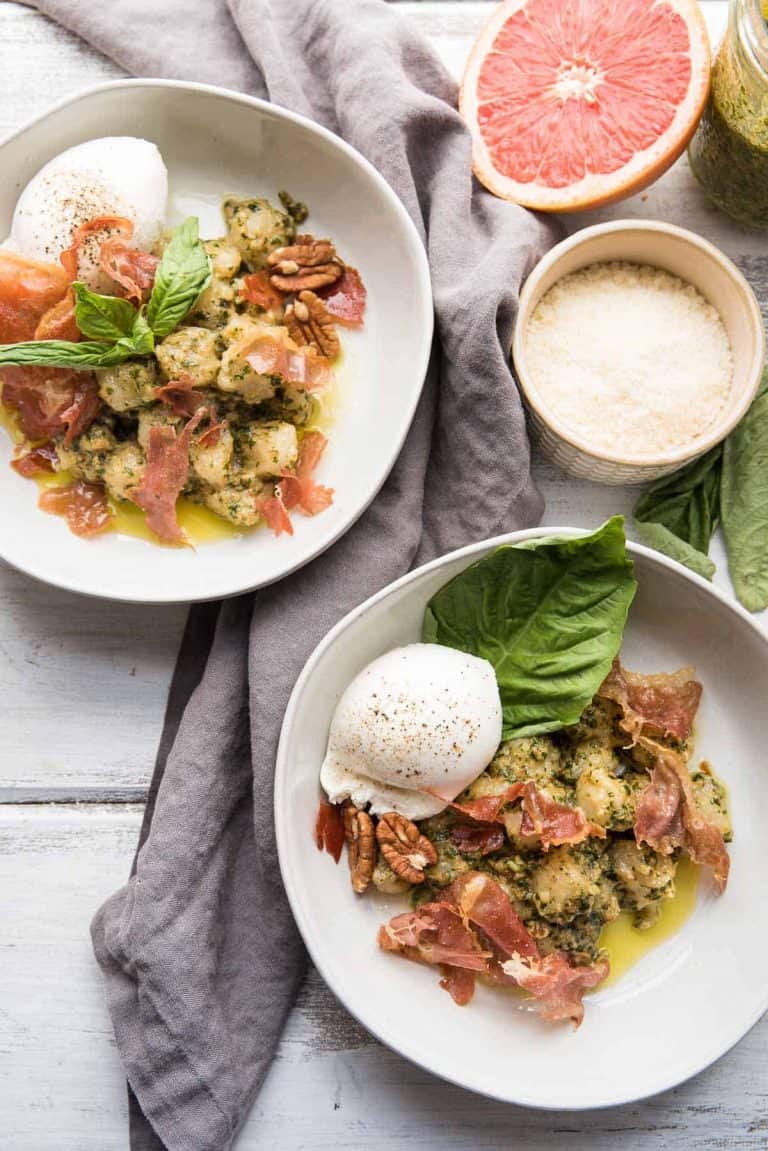 Welcome to pasta dreamtown, population you and your favorite fork. (Stop it, I know you have one.)
If you're looking for a way to incorporate more veggie into your pasta or to enjoy those pillowy Italian dumplings called 'gnocchi' but need a gluten free option, this Trader Joe's cauliflower gnocchi is showing up to whisk you off your feet. While delicious on their own, we're going to up the ante with a bright and citrus-y pesto among a few other delicious things.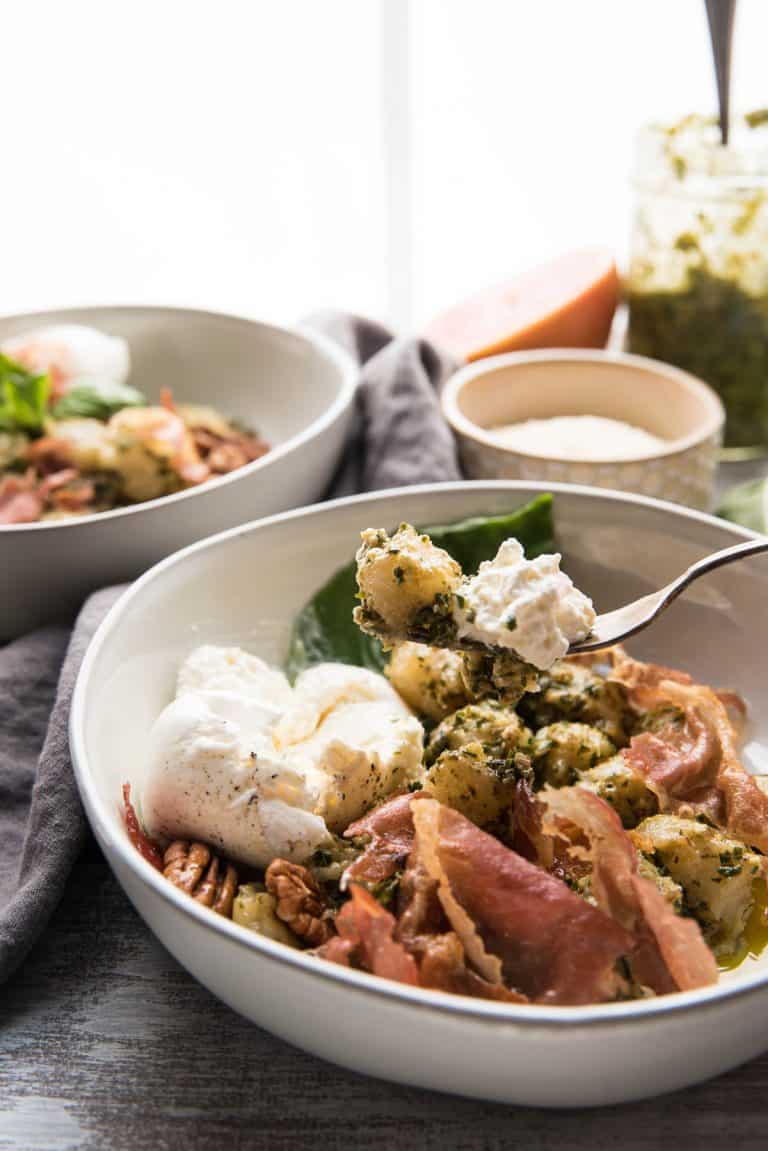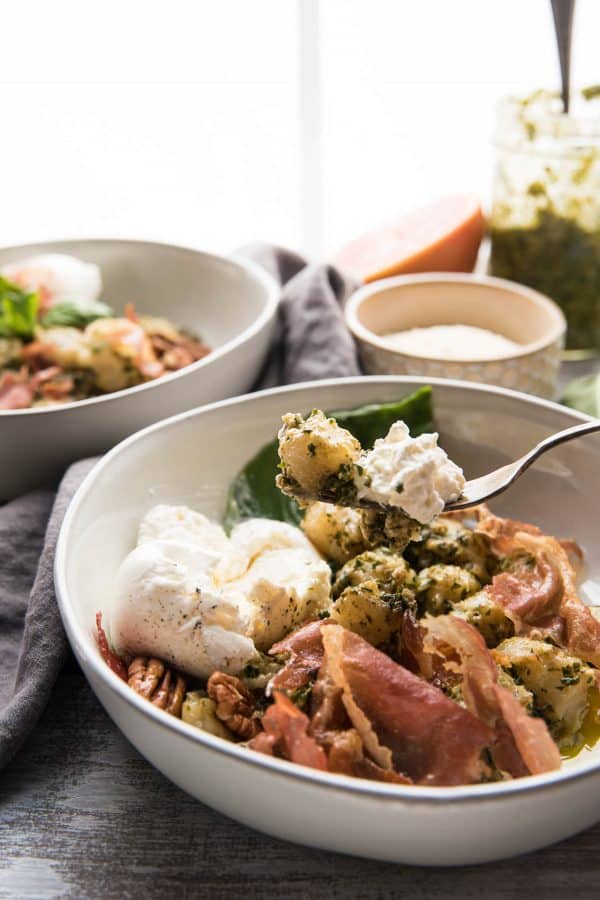 What is cauliflower gnocchi?
Trader Joe's brand of cauliflower gnocchi is made from 75% cauliflower, cassava flour (gluten free!), potato starch, olive oil and salt.
Regular gnocchi is a traditional Italian pasta made from potato, eggs, and pasta flour (not gluten free).
Is Trader Joe's Cauliflower Gnocchi gluten free? Yes! Because it uses cauliflower and cassava flour, as well as potato start, it is a gluten free pasta option. And it's vegan too, so if you want to keep this recipe vegan just omit the cheese and prosciutto - it'll still be ridiculously delicious.
What does cauliflower gnocchi taste like? Well....cauliflower, actually. I mean, per TJ's website its ¾ cauliflower, so yeah, it's gonna taste like cauliflower - and thus it shall taste delicatable. Listen, even if you're not cauli's #1 fan, we're going to make the most taste bud happy bowl of cauliflower pasta pillows between the sauce and the crispy prosciutto and melty cheese.
Can you make your own cauliflower gnocchi? Absolutely! How Sweet Eats has a great recipe.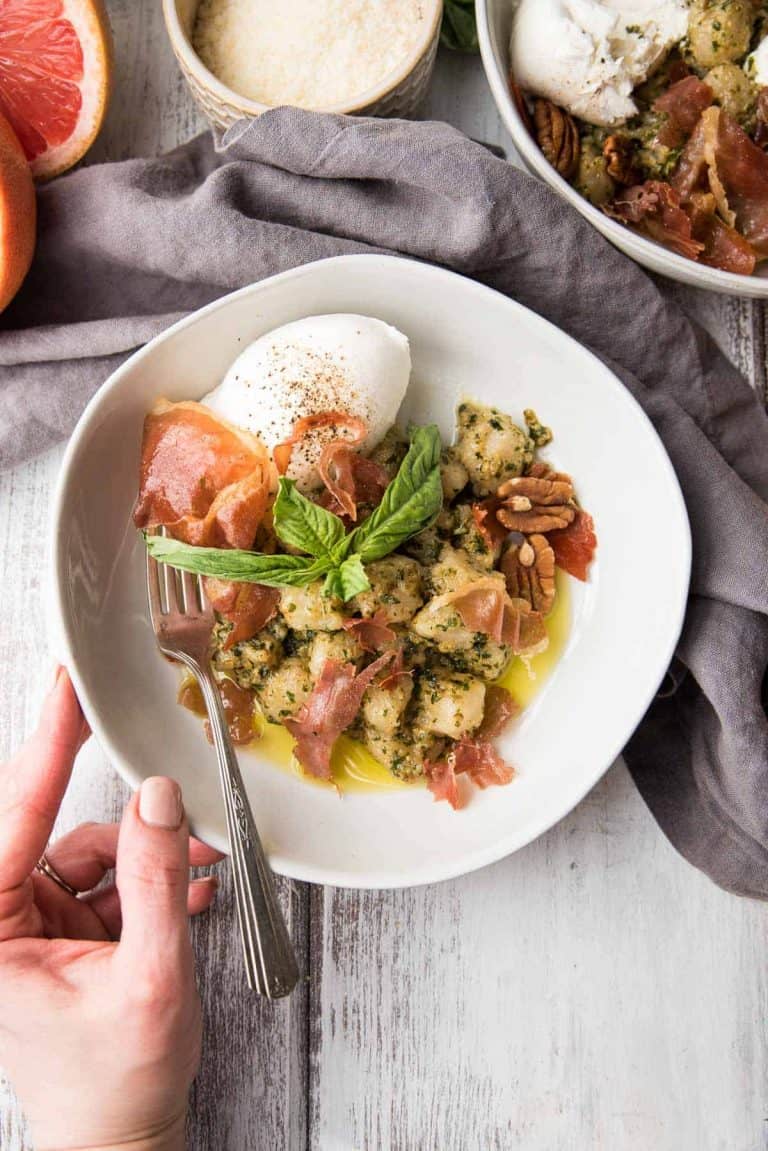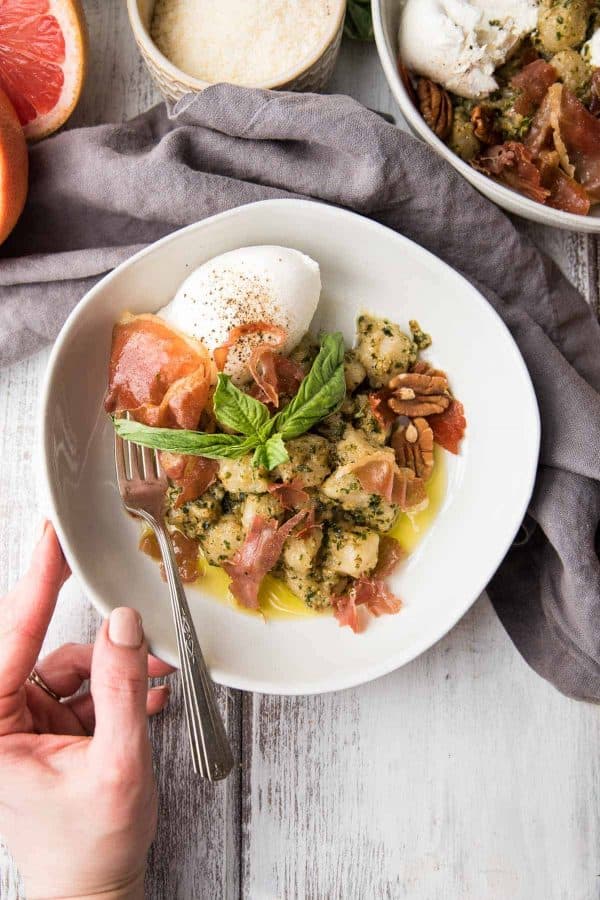 How do you cook cauliflower gnocchi?
Now, there's quite a bit of debate on the interwebs about the best method for cooking this. I like to throw those bad boys right in the pan from frozen and fry them up in a high smoke point oil - like avocado or canola. Truth, some of the gnocchi occasionally stick to the pan. If you want to avoid that altogether you can try roasting it on a sheet pan first, but it won't be as crispy.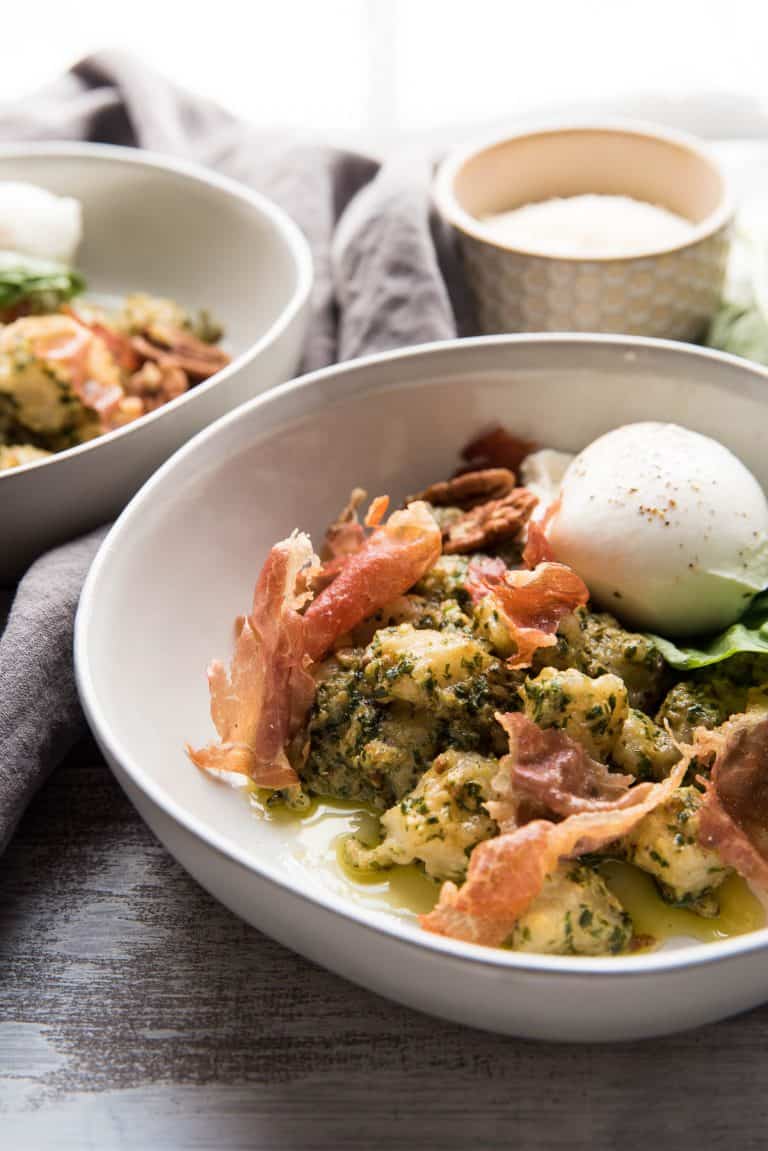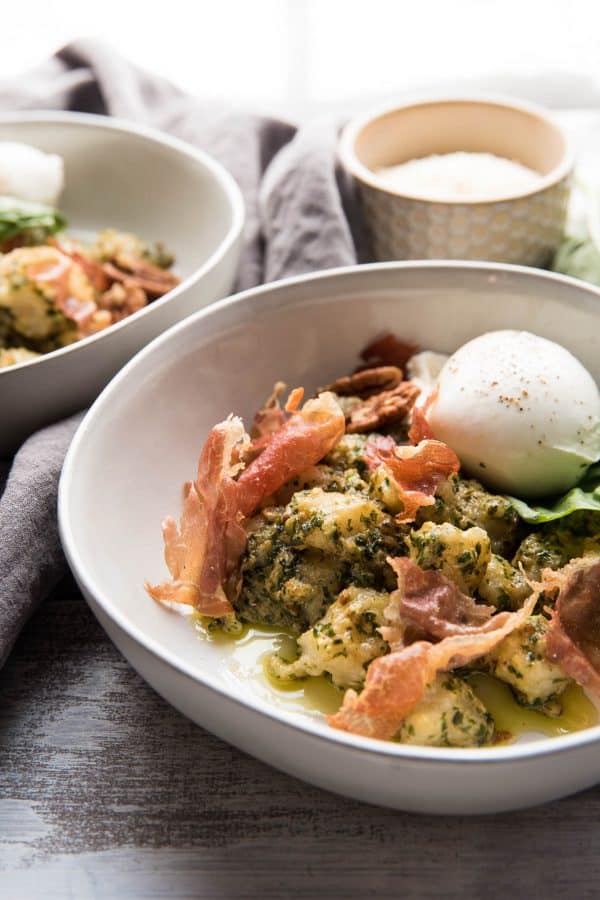 Tips for cooking your gnocchi:
Non stick skillet
Greased
Gnocchi do not have to be defrosted
Make sure the gnocchi are not stuck together or break them apart if they are - this usually is where they stick to the pan.
Sauté them up with other amazing tasty things and call it a day
The next best thing to cauliflower parading around as pasta is this grapefruit pesto. Like, I get it if you're skeptical because it's grapefruit in pasta but I'm imploring you to trust me. If you like a little bit of acidity in your sauces, YOU. WILL. LOVE THIS!
Just like that time we brought Meyer lemons and pesto together, this grapefruit pesto is packing that citrus punch to sweet basil, velvety olive oil, savory cheese and rich pecans.
OH, AND THEN THERE'S THE BURRATA.
Have you had it? Do you know what it feels like to be in love with a cheese? Well, go and grab yourself a tub and get ready to delete tinder because you're never going swipe again now that burrata is here.
It's fresh mozzarella, wrapped around more fresh mozzarella that was soaked in heavy cream. Bel-freaking-lisimo.
I'm not sure if I can pin point a 'favorite' way to enjoy burrata, but this cauliflower gnocchi is definitely up there. The heat from the pasta and sauce makes the cheese all melty. Then to really bring the flavor a little drizzle of balsamic vinegar over the top. So stinking good.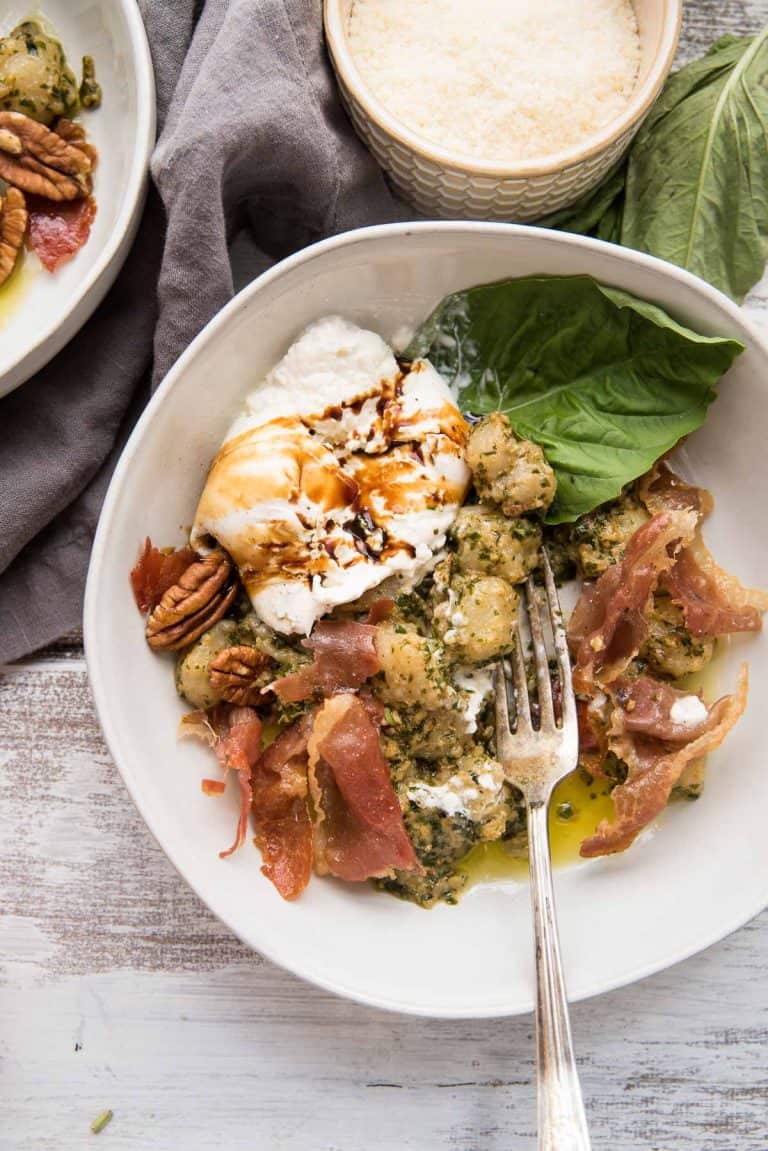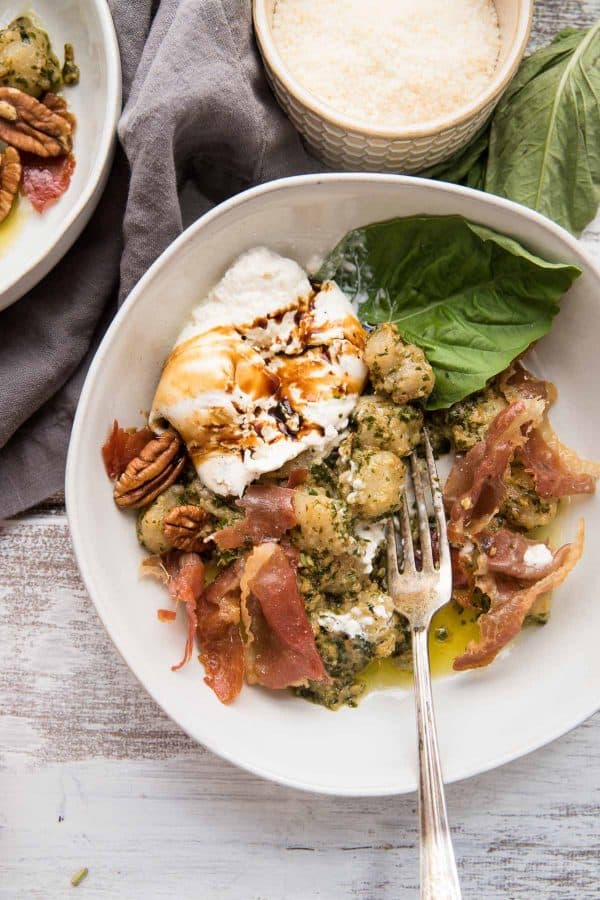 So hurry up, delete tinder, go get some burrata and cauliflower gnocchi. Hey, who knows, maybe you'll meet a new friend or potential date right there in the freezer aisle. Or maybe you tackle the other person and fight for the last bag...you never know, things get weird at the grocery store. Either way, let me know about it....and this cauliflower gnocchi recipe too!
Need more cauliflower gnocchi in your life? Try it with these sauces: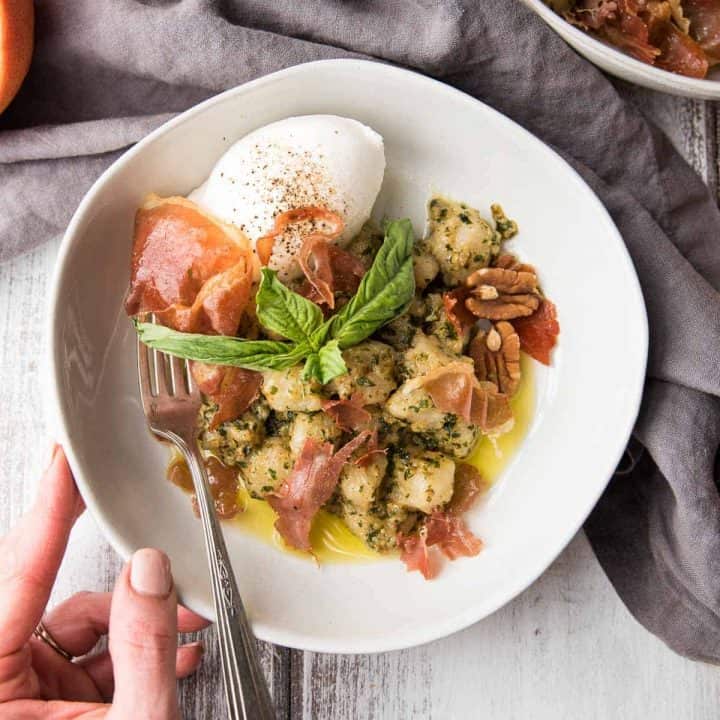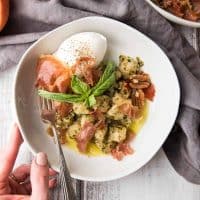 Trader Joe's Cauliflower Gnocchi with Grapefruit Pesto
A gluten free way to enjoy veggie packed pillowy Italian pasta! Trader Joe's Cauliflower Gnocchi are delicious, especially when cooked up with grapefruit pesto, crispy prosciutto and creamy burrata cheese!
Print
Pin
Rate
Ingredients
Trader Joe's Cauliflower Gnocchi with Pesto and Crispy Prosciutto
1

bag frozen Trader Joe's Cauliflower Gnocchi

2

tablespoons

canola

(vegetable or avocado oil)

4

slices

prosciutto

½

cup

grapefruit pesto

2

tablespoons

dry white wine

2

4-ounce balls

burrata cheese

optional: 1 ounce aged balsamic vinegar
Grapefruit Pesto
½

cup

pecans

(coarsely chopped)

¾

cup

parmesan cheese

(freshly grated)

2

cloves

garlic

(finely grated)

6

cups

basil leaves

(about 3 good sized bunches)

¾

cup

extra virgin olive oil

zest of 1 ruby red grapefruit

2

tablespoons

grapefruit juice

1

teaspoon

salt
Instructions
Make the pesto: Preheat the oven to 350F. Spread the pecans on a baking sheet into a single layer. Toast for 3 to 4 minutes until lightly browned and aromatic. Transfer to the food processor and let cool. In the food processor, add the garlic, grapefruit zest and parmesan cheese. Pulse for about 1 minute, until the ingredients are finally ground. Pack the basil into the food processor, add the grapefruit juice and sprinkle with salt. Close the lid and turn the food processor on. With the blade running, slowly add the olive oil into a steady drizzle until incorporated.

Crisp the prosciutto: On the stove top or in the oven, crisp up the prosciutto. For the stove top, cook the prosciutto for 1 to 2 minutes each side until crispy. For the oven, preheat to 350°F and cook for 5 to 10 minutes until crispy. Set aside.

Prepare the cauliflower gnocchi: To prepare on the stove, heat the oil over medium high heat. Pour the frozen gnocchi in the pan, breaking apart any that are stuck together first. Cook 2 to 3 minutes per side, until golden brown. To roast in the oven, preheat the oven to 375°F and cook on a lightly oiled sheet pan 20 minutes each side.

Sauté the gnocchi and pesto: Over medium low heat, add grapefruit pesto and white wine to the skillet the gnocchi was fried in. Let simmer 2 to 3 minutes until the wine reduces and blends with the pesto.

Plate the deliciousness: Divide the grapefruit pesto covered gnocchi between two bowls. Crumble two slices crispy prosciutto over each bowl and add 1 ball of burrata to each. Optional: drizzle the burrata with an aged balsamic vinegar.
Nutrition
Calories:
610
kcal
|
Carbohydrates:
32
g
|
Protein:
8
g
|
Fat:
48
g
|
Saturated Fat:
8
g
|
Trans Fat:
1
g
|
Cholesterol:
16
mg
|
Sodium:
1241
mg
|
Potassium:
297
mg
|
Fiber:
8
g
|
Sugar:
3
g
|
Vitamin A:
1263
IU
|
Calcium:
152
mg
|
Iron:
2
mg