Are you ready for the goodness and comfort of chicken pot pie without any of the hard work? Cast Iron Chicken Pot Pie has crisp vegetables and tender chicken in creamy rich sauce topped with flaky, buttery biscuits. This one pan recipe is so easy, and best of all it cooks in half the time of regular chicken pot pie!
I get that we're moving to warmer weather and all, but is there ever a season that chicken pot pie is not appropriate comfort food? Like those raining days of summer, or the out of the blue super cold days of spring, or literally anytime in the fall and winter. Maybe it's just this house, but if your house is like our house no one is mad when there is chicken pot pie.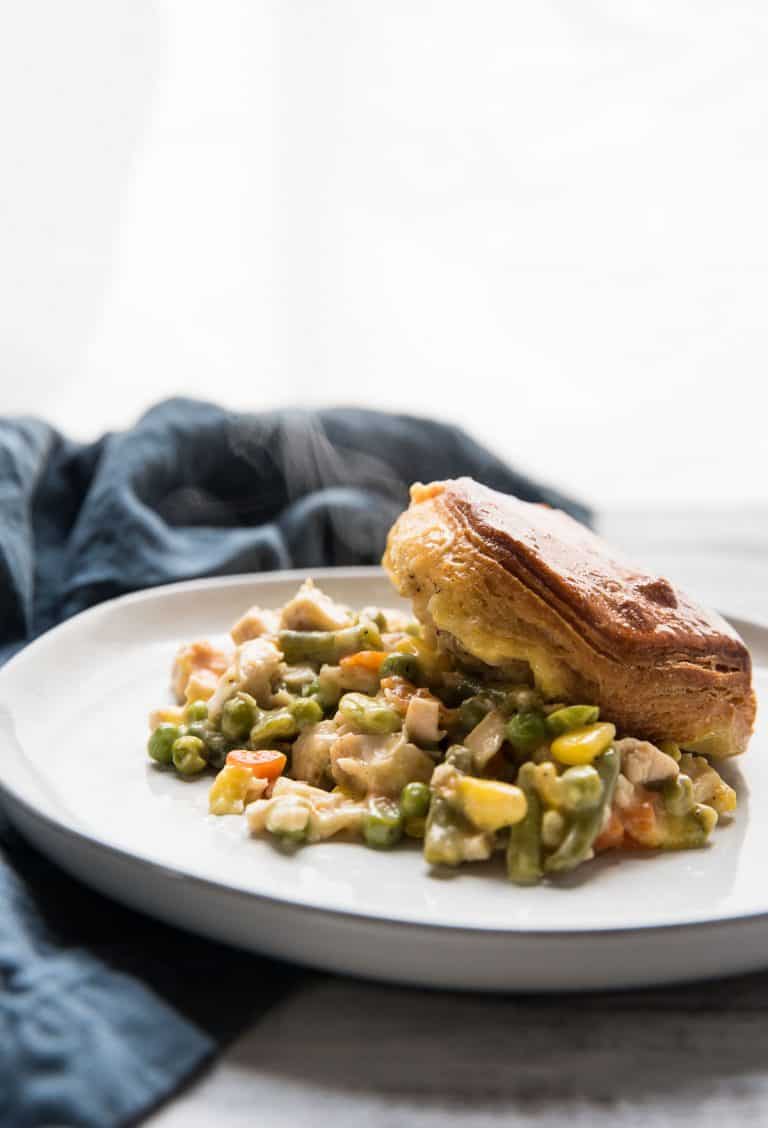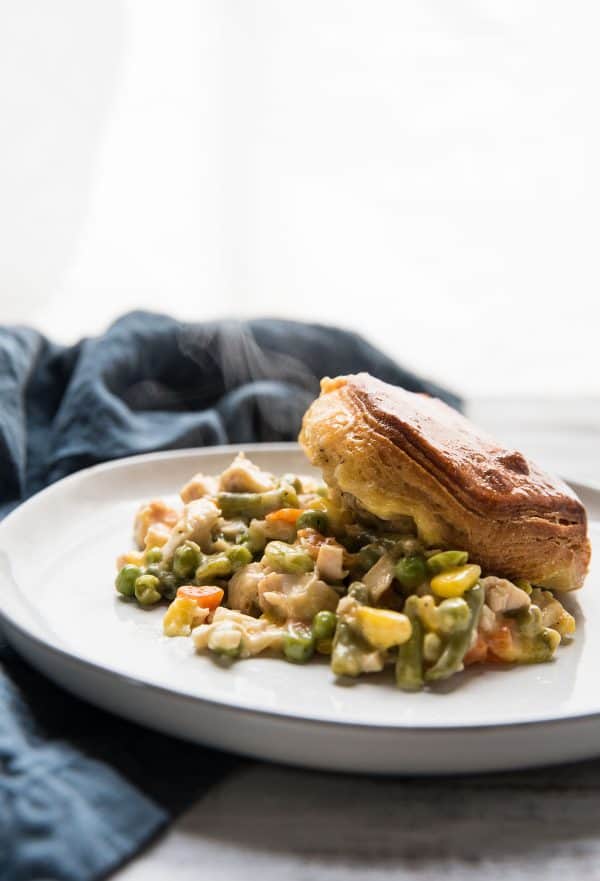 So not only is this cast iron chicken pot pie providing awesome comfort food eats, it's SO stinking easy. SO easy. You could probably do it with your eyes closed. Okay, maybe don't chop the chicken or handle the oven...you get the idea though.
Why this Cast Iron Chicken Pot pie is so easy + delicious
Depending on whose recipe you're using, chicken pot pie is going to vary. Traditionally, it involves chicken (duh), a mix of vegetables, sometimes potatoes, herbs, a creamy white gravy like sauce and pie crust (hence, the 'pie'.) To make Cast Iron Chicken Pot Pie you ditch the pie crust, grab yourself FOUR ingredients and a cast iron skillet - like this 12-inch skillet right here is my favorite (affiliate link!)
This cast iron version chicken pot pie is based off my go to super simple, regular chicken pot pie recipe. Same delicious filling but topped with no mess, take them out of the can biscuits for a fluffy, flaky topping that cooks in half the time of the traditional pie crust recipe.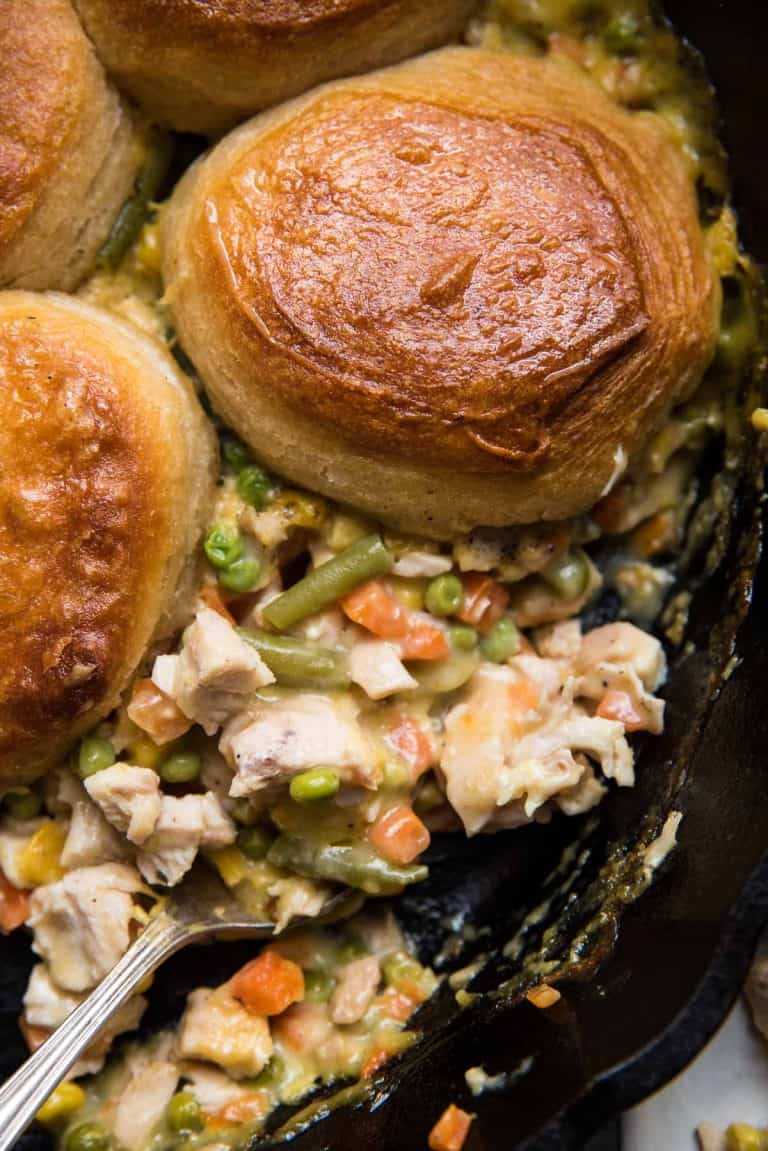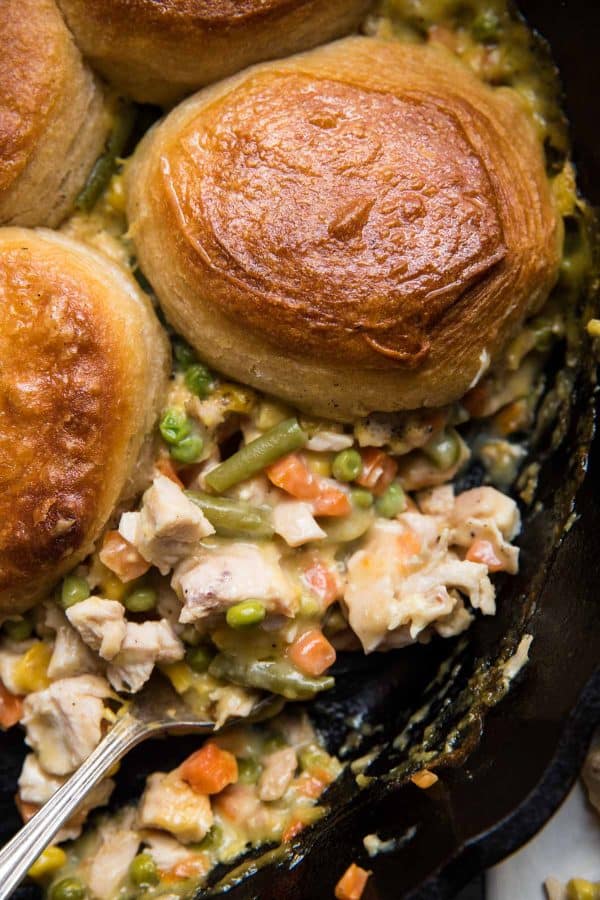 Here's why I love these simple, easy to find ingredients and tips for making your one pan chicken pot pie:
chicken - I usually cook this up either in the toaster oven while I preheat the oven OR you can just buy a rotisserie chicken from the store and pull the meat from half the chicken and chop that for an even faster fix.
cream of chicken soup - the Campbells brand always yields the best results for me, but I've used the Whole Foods brand too. Campbells is nice creamy and somewhat thickened sauce, the WF brand is a thinner sauce but still delicious. There's plenty of flavor already in the soup so I don't feel the need to add extra herbs.

Extra Tip: you can use the original version or the 98% fat free cream of chicken soup, they both yield the same results!

frozen mixed vegetables - keep these frozen when you add them to your bowl to mix! By cooking the vegetables frozen, they'll keep a nice crisp texture during cooking.
store bought biscuits - two kids and busy nights means short cuts are always appreciated, especially when delicious! Being able to just peel these biscuits out of the container (after terrifyingly waiting for it to 'pop' open of course) is so nice. No messy flour clean up!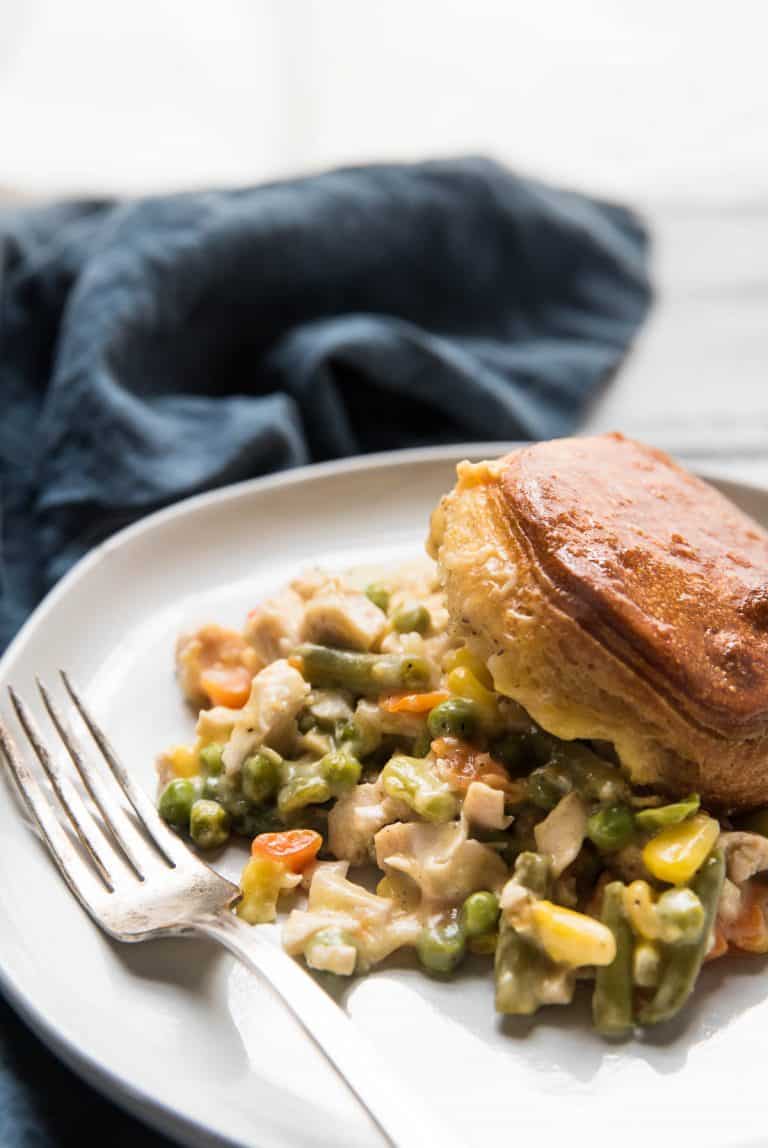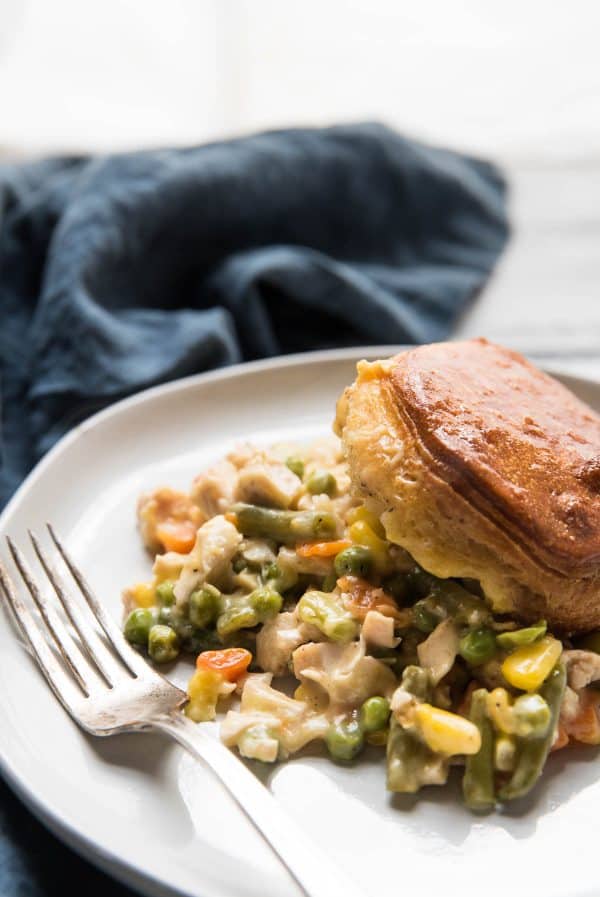 How do you make Chicken Pot Pie in a cast iron pan?
Ready for this? Put it in a bowl and mix it.
Okay, okay...there are just a few more steps but that's seriously the long and short of it.
Prep your chicken - store bought or bake it at home. Dice it into bite size pieces or pull it for a more rustic texture.
Combine the chicken, soup, frozen vegetables and a little salt and pepper in a bowl until all the ingredients are well mixed.
Spread into a 12-inch cast iron pan.
Top with biscuits and bake!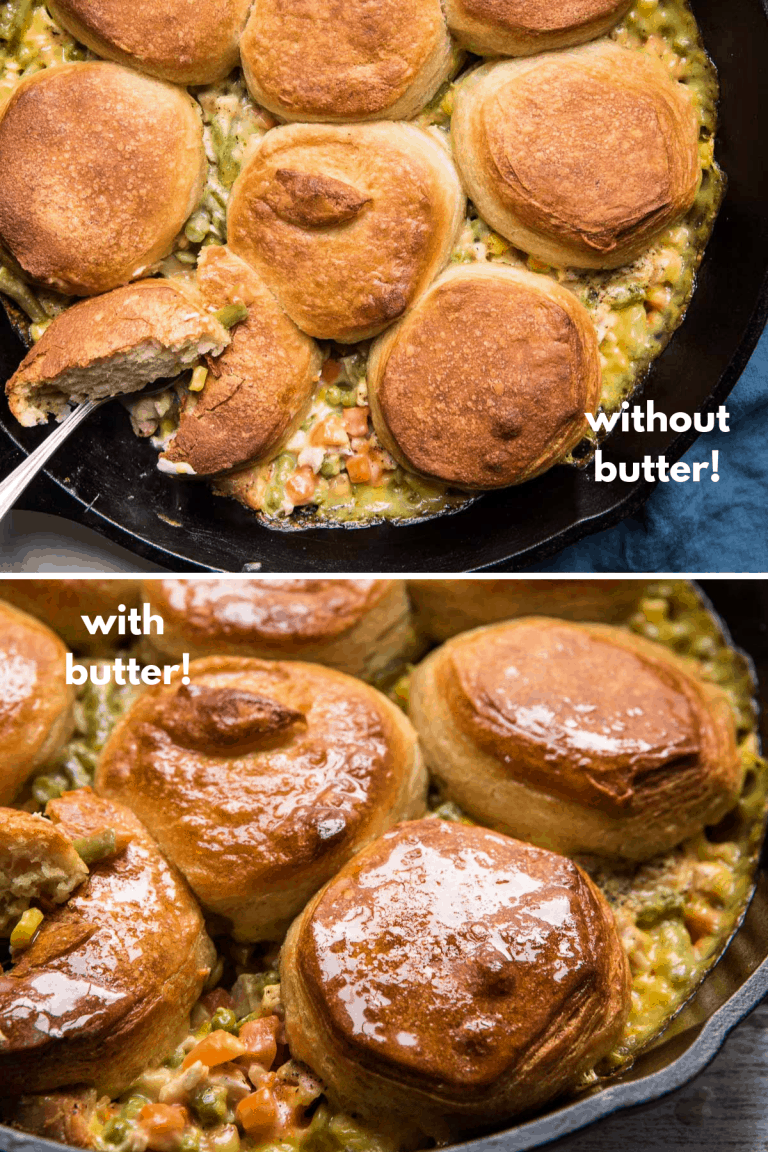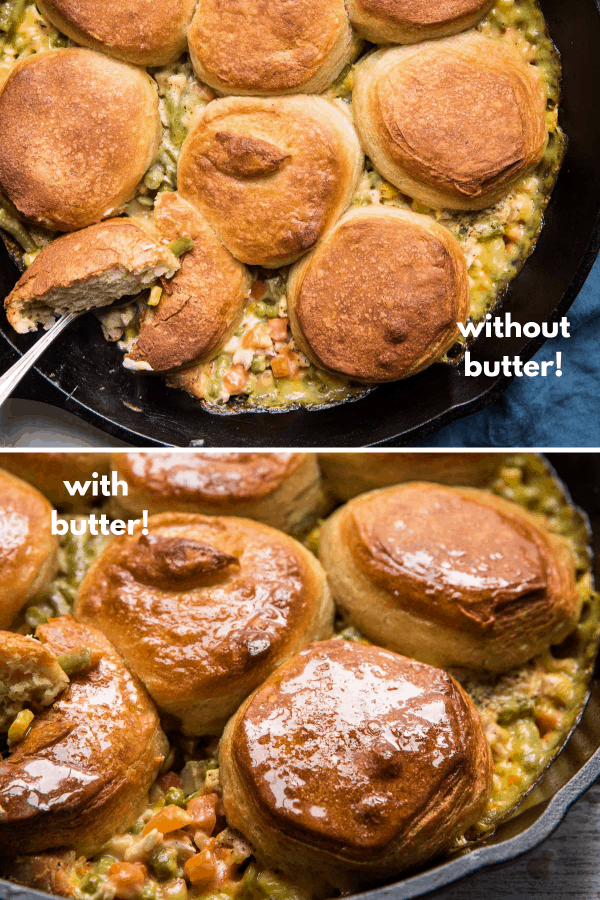 TIPS FOR PERFECT BISCUITS:
Tent the cast iron pan with aluminum foil for the first 20 minutes of baking. This will allow the chicken pot pie filling to get nice and bubbly hot without over cooking the biscuits.
Remove the tin foil and bake for another 5 to 10 minutes until nice and golden brown.
Optional: brush with melted butter for a beautiful shiny biscuit.
WHAT DO YOU SERVE WITH CHICKEN POT PIE?
In this house we usually just dish out chicken pot pie, because it's a quick dinner fix and we are hungrrrry. But if you can think of it there are some really great side dishes you can serve with it. Here are some ideas!
Ready to save the day with delicious, creamy, simple and quick (!!!) chicken pot pie?! Be sure to tell me how it goes in the comments or tag #hungerthirstplay on social media so I can drool over your tasty eats! Even better - post a picture of your cast iron beauty in our exclusive foodie tribe on facebook!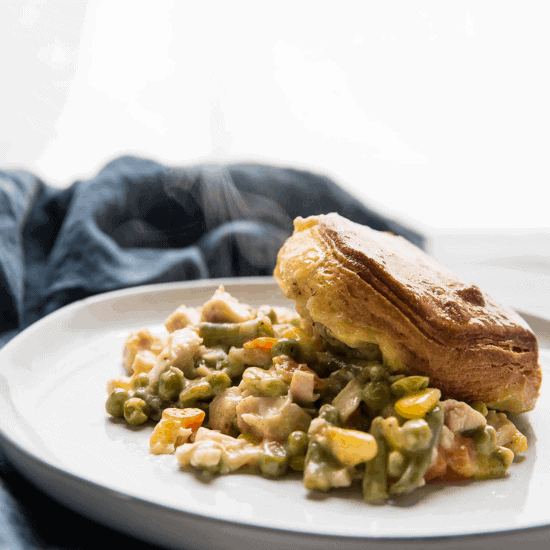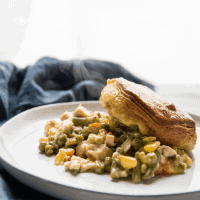 Easy Cast Iron Chicken Pot Pie
All the comfort of chicken pot pie without any of the hard work! Cast Iron Chicken Pot Pie has crisp vegetables and tender chicken in creamy rich sauce topped with flaky, buttery biscuits, but best of all it cooks in half the time!
Print
Pin
Rate
Ingredients
1 ½

pounds

chicken breast

1

16-ounce bag

frozen mixed vegetables

2

10.5-ounce cans

cream of chicken

½

teaspoon

salt

½

teaspoon

black pepper

1

can

(8 count flaky biscuits)

optional: 1 tablespoon unsalted butter

(melted)
Instructions
Cook the chicken. Preheat the oven to 375°F. Place chicken breast on a baking sheet and sprinkle lightly with salt and pepper (optional). Bake for 15 minutes or until the center of the chicken breast reaches 165°F. Let cool and dice into ½ inch pieces. After the chicken is done baking, reduce the oven temperature to 350°F.

Mix the ingredients. In a large bowl, combine the diced chicken, frozen vegetables, salt, pepper, and cream of chicken. Mix well so all ingredients are evenly coated with sauce.

Prepare the pan. Spread the filling into a 12-inch cast iron pan. Top with biscuits and tent with foil.

Bake. Place the cast iron skillet, tented with aluminum foil, in the center of the oven. Bake for 20 minutes, then remove the aluminum foil and bake for 10 more minutes. Optional: After removing from the oven, brush the tops of the biscuits with melted butter.
Notes
A 12 or 13 inch cast iron pan is perfect. If you opt to use a smaller pan, place a sheet pan on the rack below your skillet to catch any drippings that might bubble over.
For an even quicker fix, you can use about half the meat from a store bought rotisserie chicken.
Nutrition
Calories:
256
kcal
|
Carbohydrates:
14
g
|
Protein:
28
g
|
Fat:
9
g
|
Saturated Fat:
2
g
|
Trans Fat:
1
g
|
Cholesterol:
81
mg
|
Sodium:
1074
mg
|
Potassium:
575
mg
|
Fiber:
2
g
|
Sugar:
1
g
|
Vitamin A:
2615
IU
|
Vitamin C:
6
mg
|
Calcium:
33
mg
|
Iron:
2
mg