Warm spinach salad is chock full of healthy spinach greens tossed with goat cheese and roasted butternut squash with your favorite salad dressing. Glazed pecans add a little sweetness and crunch for a salad that bridges the gap between winter comfort food and healthy spring eats.
Do you feel like we're stuck in the in-between? Not the creepy in-between from Stranger Things, but this weird spot of what to eat when we still crave winter comfort food but we also want lighter, fresh spring food. If you do, then let's be in the in-between together because I am totally feeling those vibes.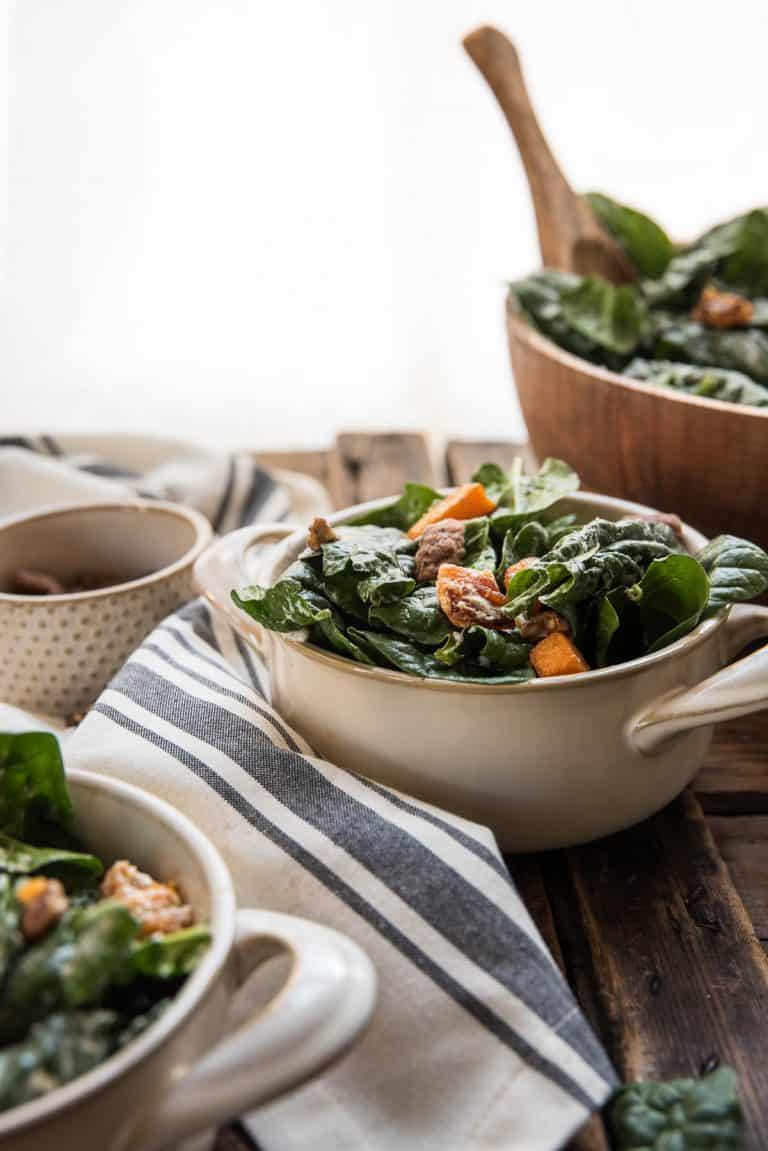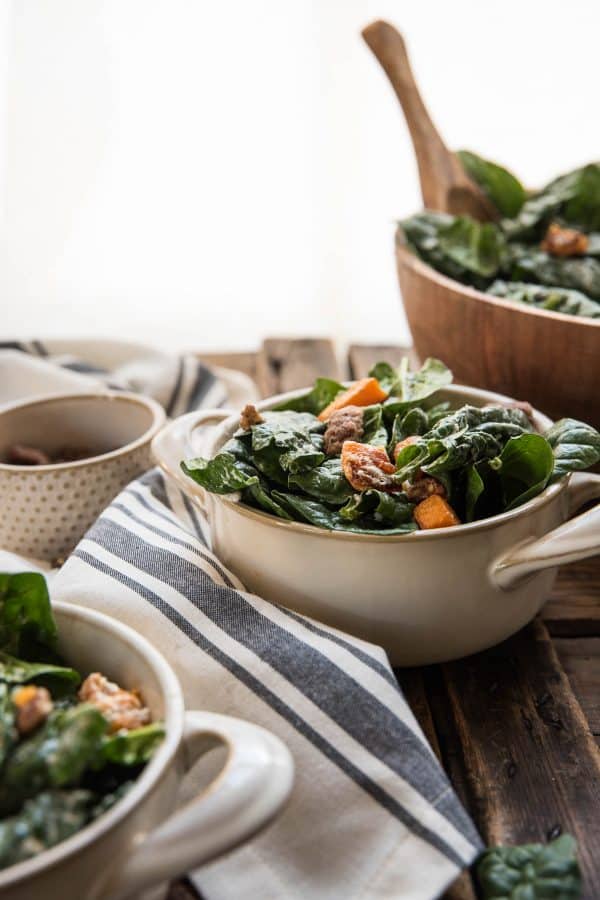 IDK, maybe it's because my children have picked up every illness possible this winter that has me craving the days and foods of spring. Or that I seriously can't wait for the farmers market produce to be back, but in the meantime let's make the best of it.
This warm spinach salad is the perfect balance of winter comfort food and getting the taste buds ready for spring. The warm and ever so slightly wilted spinach is cozy and comforting but the roasted butternut squash and leafy greens satisfy the veggie craving. The best part is it comes together so easily you almost don't even have to think about it.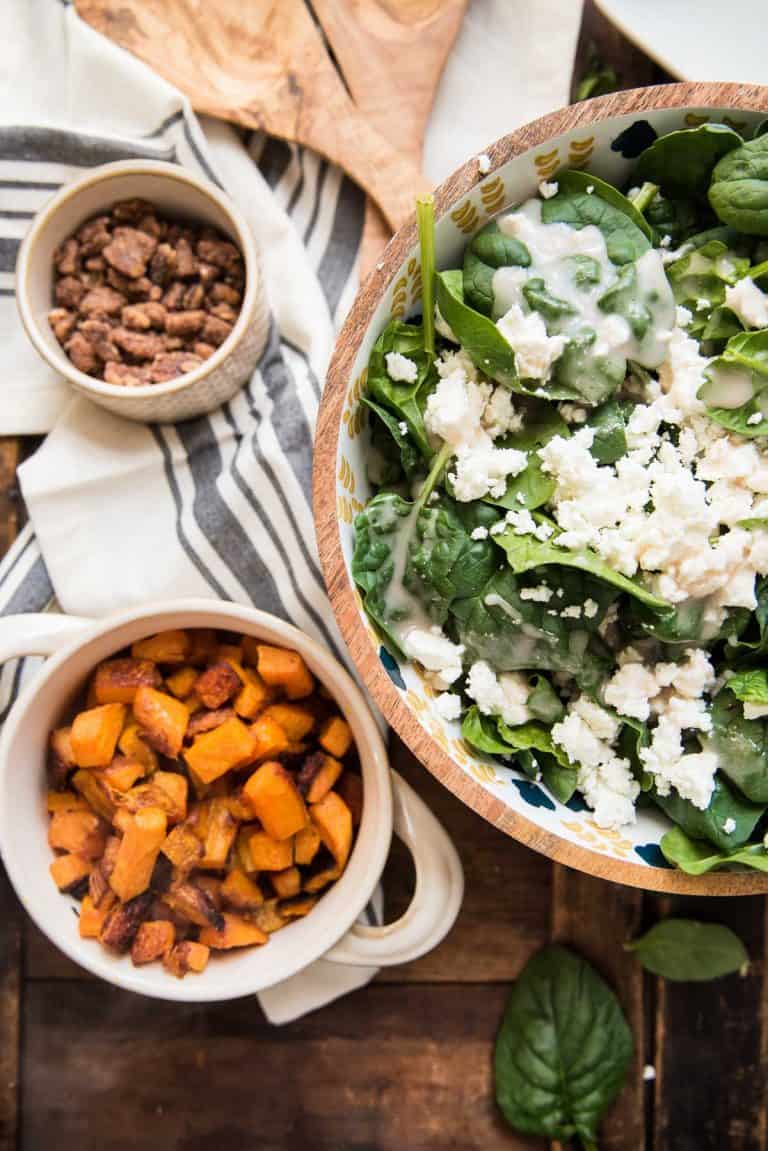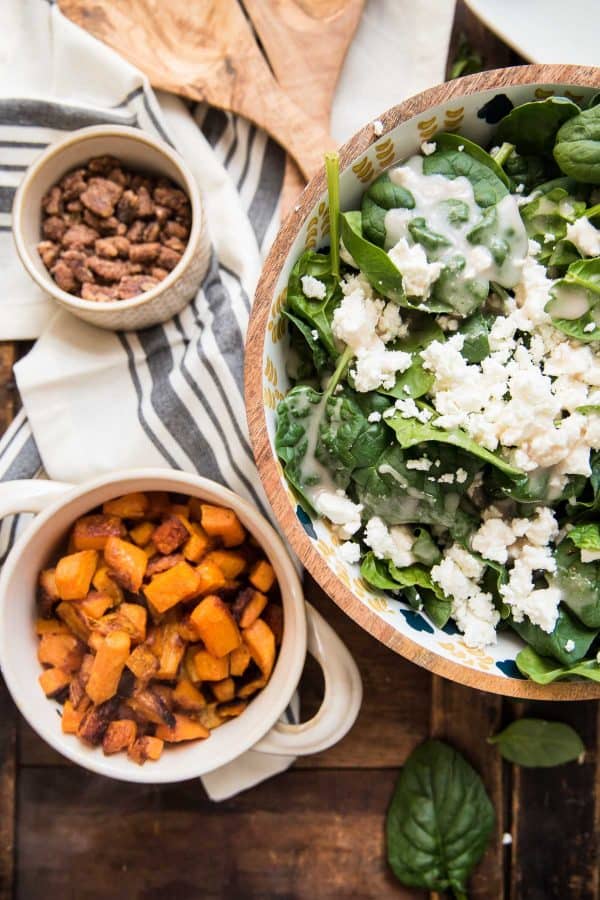 How to make warm spinach salad
The responsibility for making this warm spinach salad with goat cheese and roasted butternut falls directly on the butternut squash. It is the only labor intensive part of the recipe and that just requires dicing, drizzling, seasoning and roasting. Which you totally got in the bag.
While the butternut squash is doing its thing in the oven, you just need to assemble the salad so it's ready to go. That hot, roasted butternut squash is whats going to get the goat cheese to gooey perfection and slightly wilt the spinach.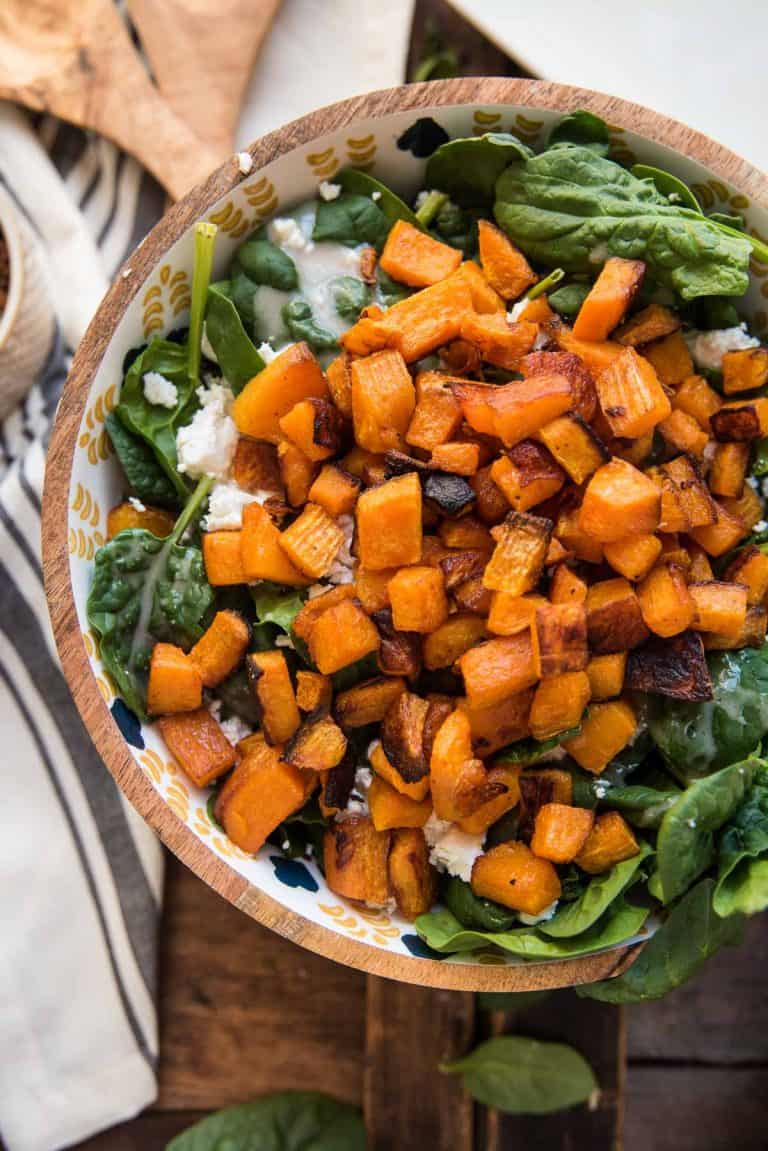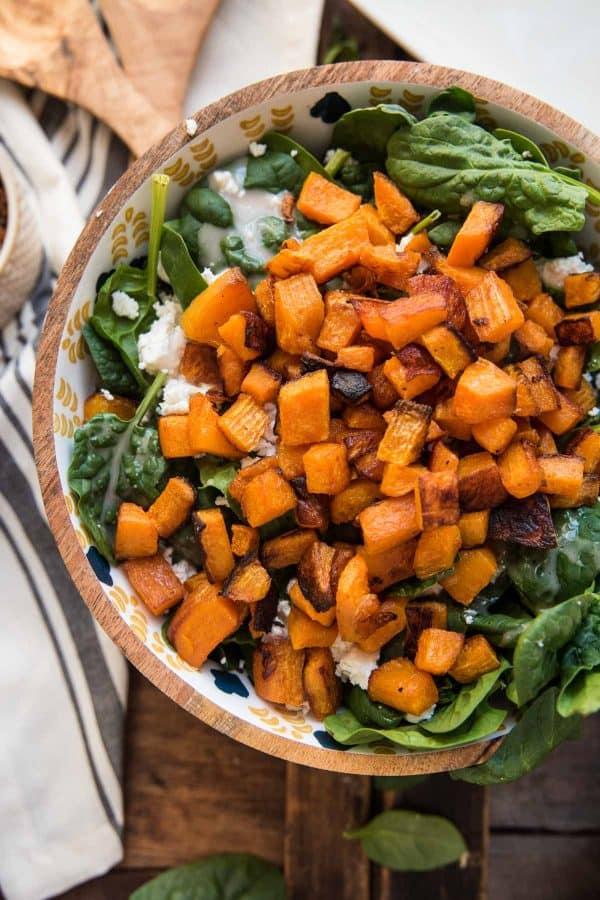 But before you fire up those ovens, just a few tips:
Tips for the best warm spinach salad with goat cheese and roasted butternut:
Use a BIG bowl to toss. This recipe is great for a dinner party or crowd since it makes a smidge more than most of the other salads on HTP. That being said you'll need lots of space to toss the spinach with the goat cheese and butternut squash without all the ingredients falling on the floor (sad face).
Your favorite vinaigrette is the best dressing for this salad, but keep in mind balsamic will turn the salad brown.
Opt for a salad dressing that is both acidic and savory. If you tend to lean towards sweeter dressings, some of my favorites are below!
The butternut squash will fall to the bottom of the bowl, so if serving for company transfer the warm spinach salad to a platter or smaller bowl. Any of the goodies at the bottom of the tossing bowl will end up on top.
Cheese amounts are subjective. My salad only uses 4 ounces of goat cheese, but if you want a really creamy salad use more.
Let the goat cheese sit out at room temperature so it melts under the hot squash better.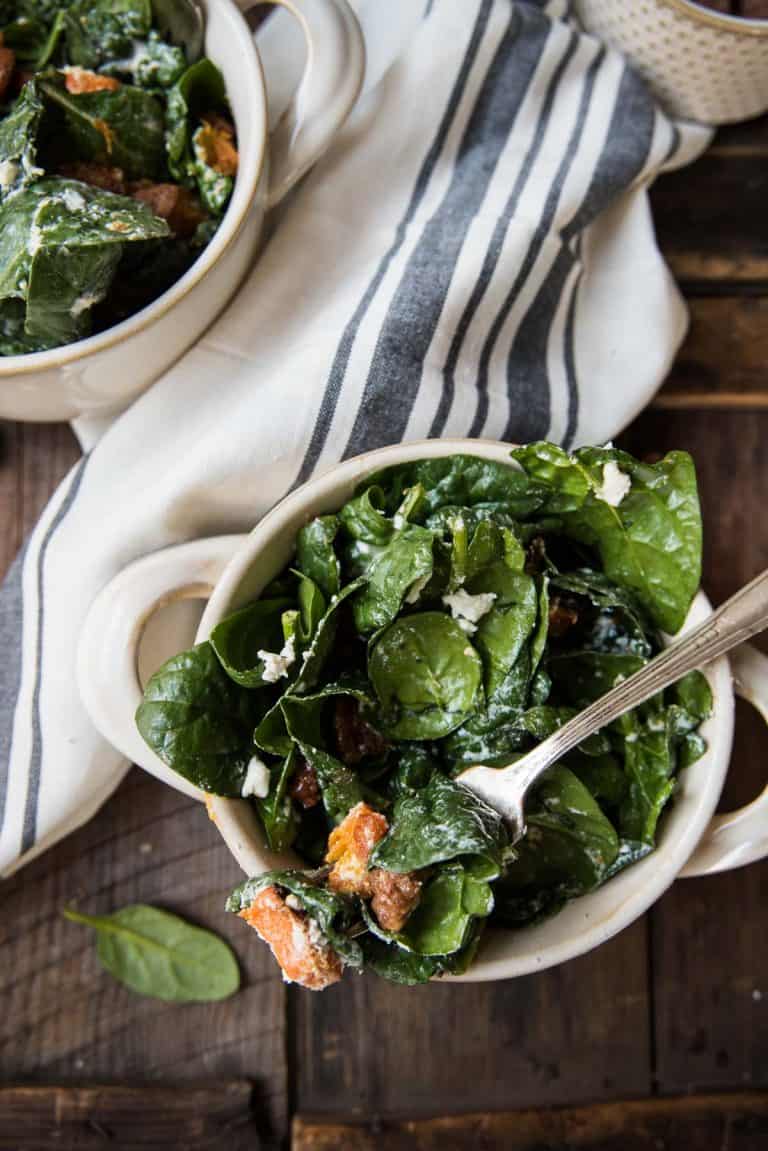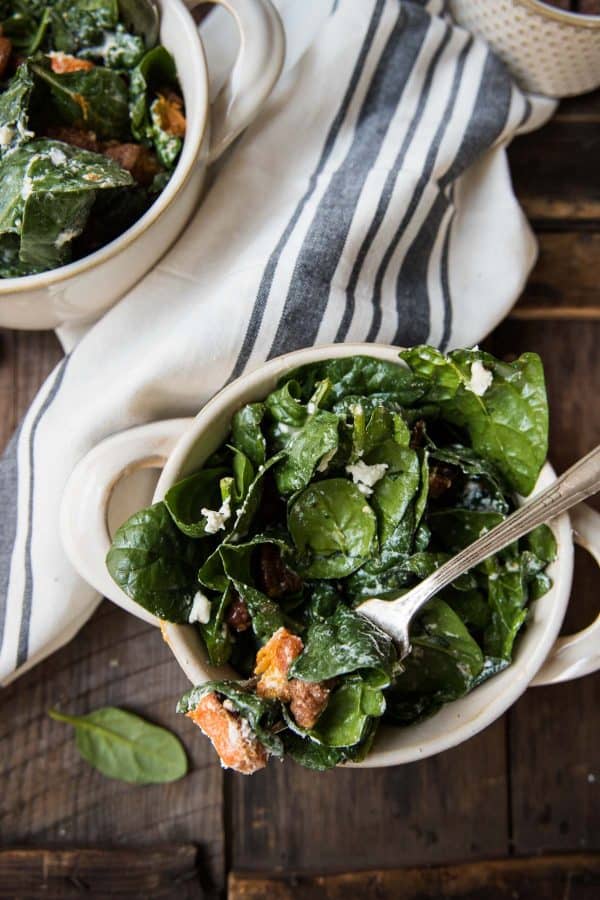 We can totally handle that right?! Yes, we can. So while we wait for Spring to come - didn't that groundhog make some promises or something? - we can at least start enjoying some lighter eats while still feeling warm and cozy.
Oh, and before we go...here are some of my favorite recipes to go to for salad dressings:
What's your favorite thing to eat as warmer weather approaches? Tell me in the comments or join our facebook recipe community and post it there!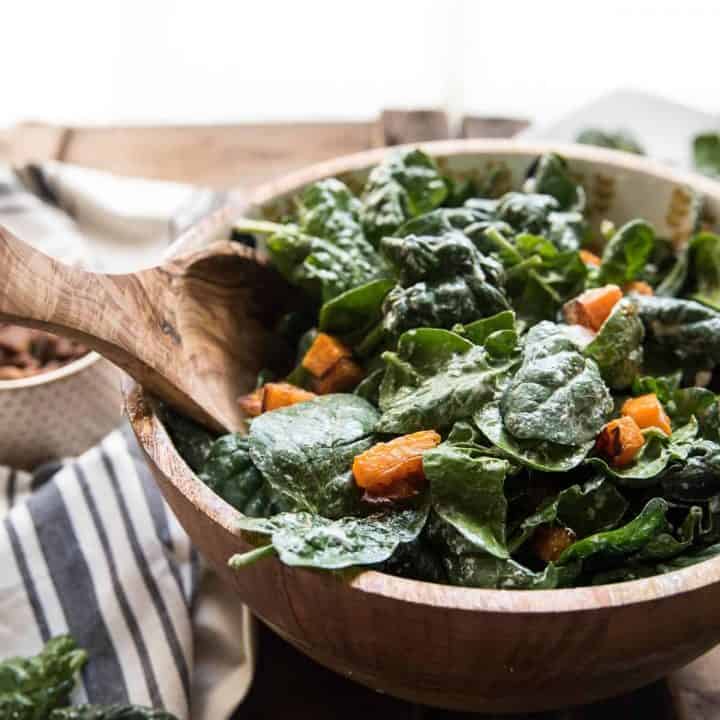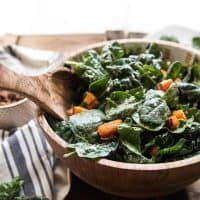 Warm Spinach Salad with Goat Cheese and Roasted Butternut Squash
Warm spinach salad is chock full of healthy greens tossed in warm goat cheese and roasted butternut squash with your favorite salad dressing. Glazed pecans add a little sweetness.
Print
Pin
Rate
Ingredients
1

pound

butternut squash

(diced, about 4 cups)

3

tablespoons

extra virgin olive oil

¼

teaspoon

salt

¼

teaspoon

black pepper

1

10-ounce bag

savoy spinach

(see notes)

4

ounces

goat cheese

(room temperature)

½

cup

glazed pecans

¼

cup

vinaigrette dressing
Instructions
Roast the squash. Preheat the oven to 375°F and cut the butternut squash into roughly 1" inch cubes. Toss with olive oil, salt and pepper and spread out in one layer on a sheet pan. Roasted for 30 to 40 minutes, stirring once, until squash is well cooked and browned on the outside.

Ready the salad. While the butternut squash roasts, prepare the salad ingredients. Select a very large bowl for tossing the salad so you will have room for all the ingredients. Mix the spinach with your choice of vinaigrette dressing. Crumble the goat cheese with your hands over the spinach.

Toss together. When the butternut squash is done roasting transfer it directly from the pan to the bowl on top of the goat cheese. The heat from the butternut squash will melt the goat cheese and slightly wilt the spinach. Toss together so the goat cheese coats the spinach, but gently so the squash doesn't clump together.

Transfer the salad to a platter or smaller bowl for serving. This will allow for any butternut squash that fell to the bottom to land on top. Sprinkle with glazed pecans.
Notes
Bagged savoy spinach is already washed and ready to go. If using fresh spinach, you'll need about 6 to 8 cups. Baby spinach can be substituted but will wilt more than the savoy spinach. Kale can also be substituted for spinach.
When selecting a vinaigrette keep in mind a balsamic will taste great but will color the salad brown. Try shooting for a white balsamic or something equally acidic with savory flavors. Check out the post above for more recommendations.
Nutrition
Calories:
243
kcal
|
Carbohydrates:
13
g
|
Protein:
5
g
|
Fat:
20
g
|
Saturated Fat:
5
g
|
Cholesterol:
9
mg
|
Sodium:
207
mg
|
Potassium:
274
mg
|
Fiber:
2
g
|
Sugar:
5
g
|
Vitamin A:
8247
IU
|
Vitamin C:
16
mg
|
Calcium:
70
mg
|
Iron:
1
mg