Crunchy, shredded collard greens, roasted squash and sweet, firm, honeycrisp apples coated in a simple apple mustard vinaigrette. This Fall Honeycrisp Collard Green Salad should be on rotation asap. Just because fall is here and we're indulging in cozy comfort food doesn't mean we have to give up on our health goals.
In a week filled with Salted Caramel Cookies and Coffee Milk Martinis, this salad served to balance the scales. And balance it did.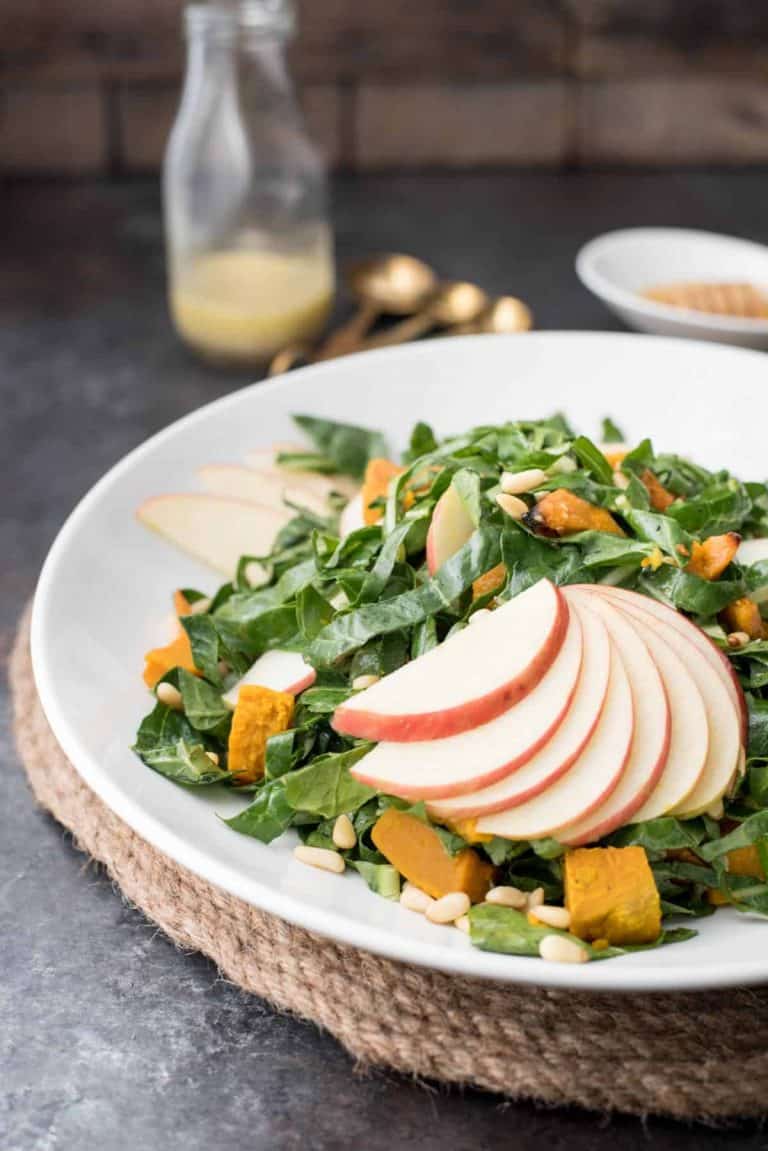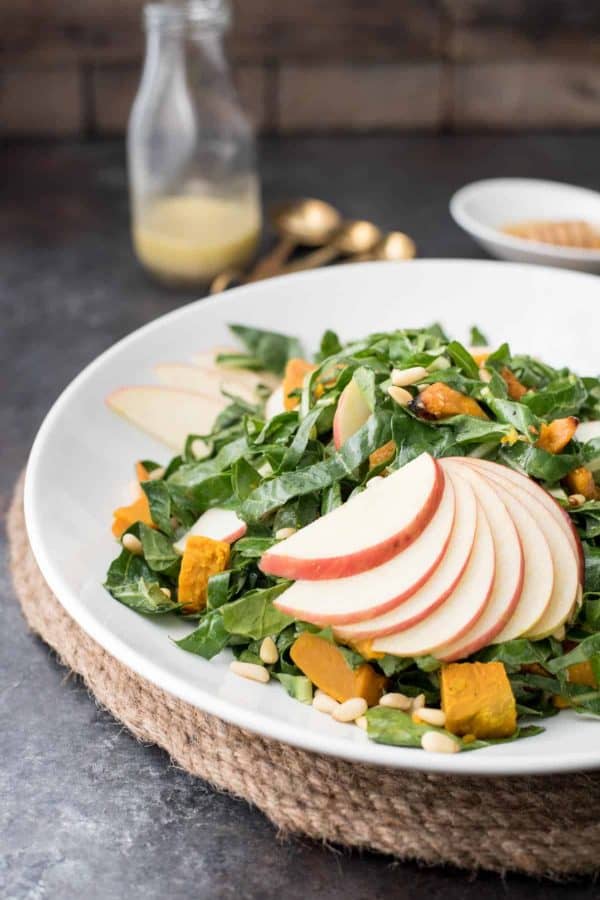 Can a salad be considered comfort food? If it can, Fall Honeycrisp Collard Green Salad has all the fall comfort you need while staying in line with your healthy eats!
Fall Honeycrisp Collard Green Salad
Real quick - can we talk about how awesome roasted squash is in salad? It's buying cheap tickets, seat jump to the good seats and don't get caught kind of awesome. It's like being able to use a coupon on top of a coupon kind of awesome. Like, if you woke up and ate Vintage Kitty's entire Chocolate Chip Cookie Cake, and it had the same calories as, I don't know, air.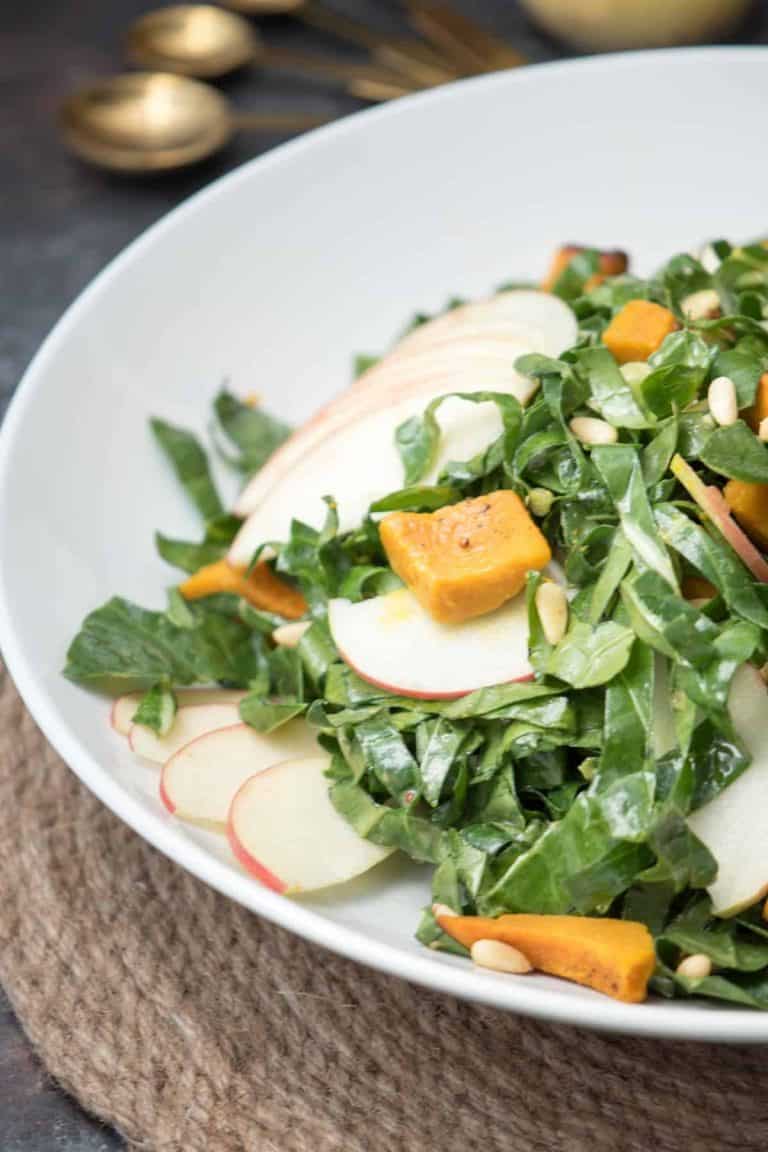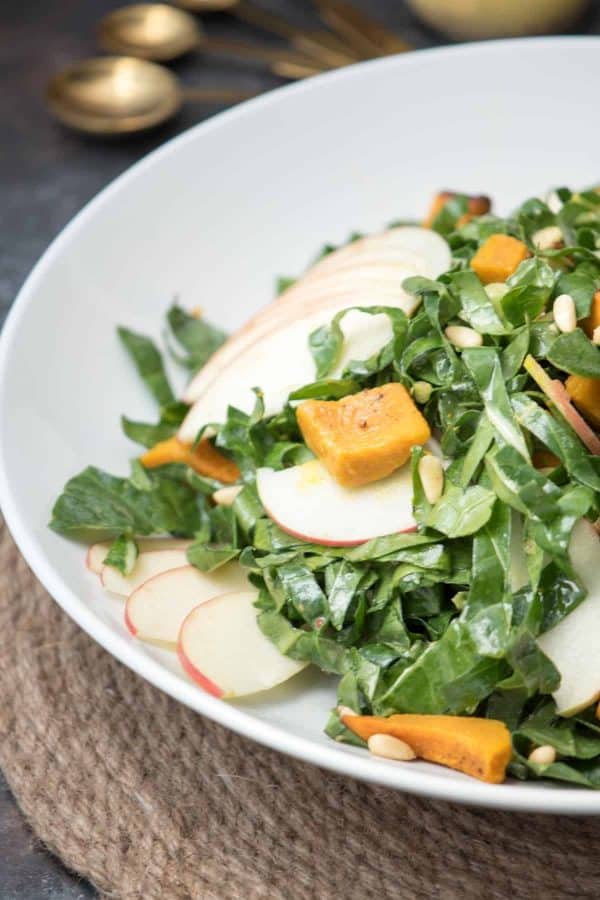 Hey roasted squash, I'm seriously crushing on you.
And it's easy enough to bake off for a salad. For this Fall Honeycrisp Collard Green Salad, one small buttercup squash will suffice. If you can't get your hands on a buttercup squash, try using half a butternut squash cubed in ½ inch pieces. A squash that will be slightly sweet but still a bit earthy with just a sprinkle of salt, pepper and oil before roasting. Not to mention, those pine nuts sprinkled on top around going to be full of satisfying, subtle nutty flavor.
Yum City, Population: You.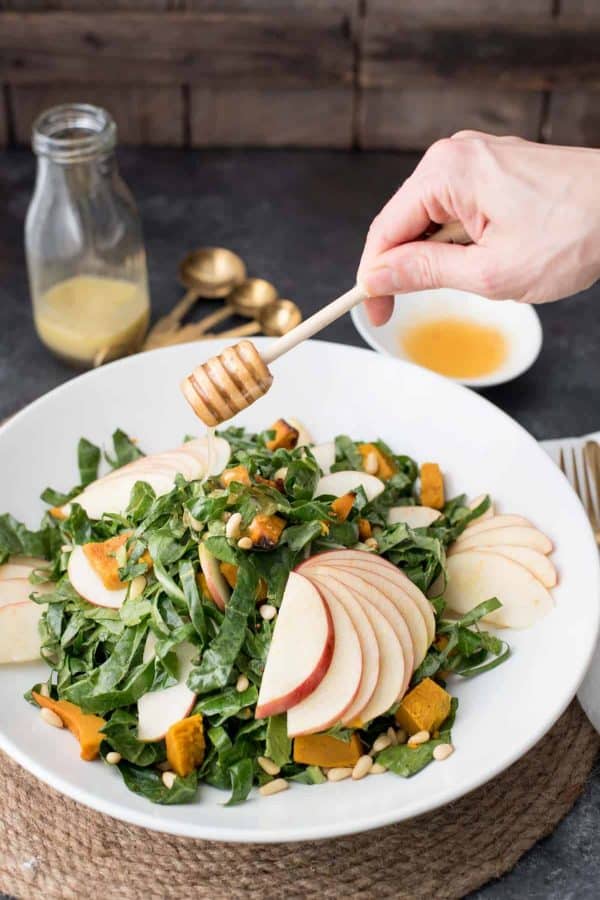 Why Collard Greens
Hear me out. If you like kale salads, you need to try collard greens. Though typically braised, when shredded nice and thin with the large stems removed, they serve as a substantial lettuce green totally packed with superfood nutrition.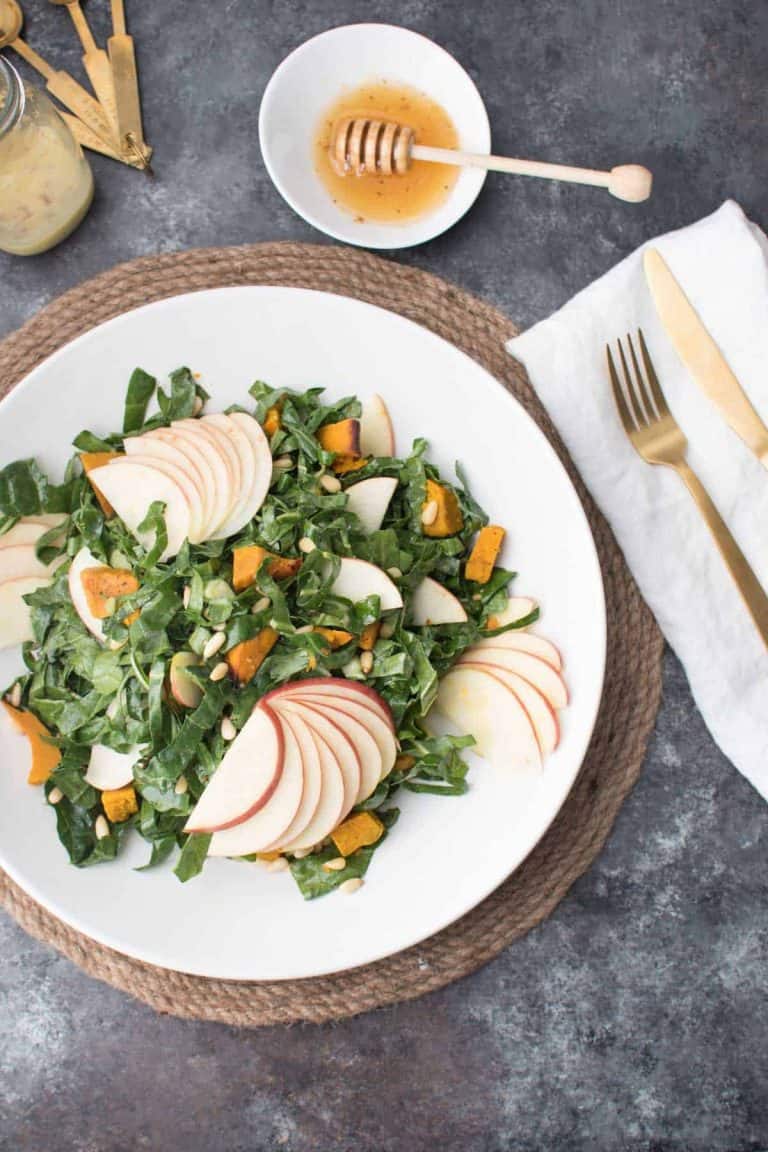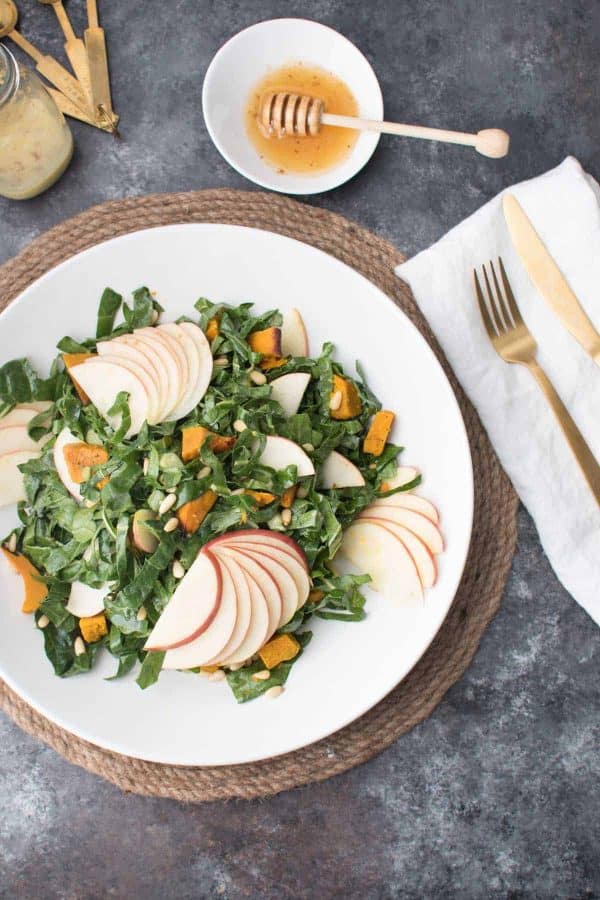 If you're an iceberg/romaine/mix green salad person, the collard greens may seem a little thick in comparison but they can't help it, they're just full of so much goodness. But the bonus of using a thicker green is sustainability. After dressing this salad, it stays fresh without getting soggy and limp for at least 24 hours. We're talking eating it 3 days in a row, still good without being slimy. So if you're in the market for a take to work already dressed salad or need to get something that can sit for a bit, this Fall Honeycrispy Collard Green Salad is for you!
Apple Mustard Vinaigrette
Sweet and tart apple cider vinegar and tangy whole grain mustard blended together to dress our fall salad. Raw honey adds the balance of sweetness and olive oil will bring the necessary fat to mellow out the sharp vinegar. The food processor or blender will be perfect to pulse this dressing together. If your kitchen gadget style is minimalist, a whisk and patience will do just fine.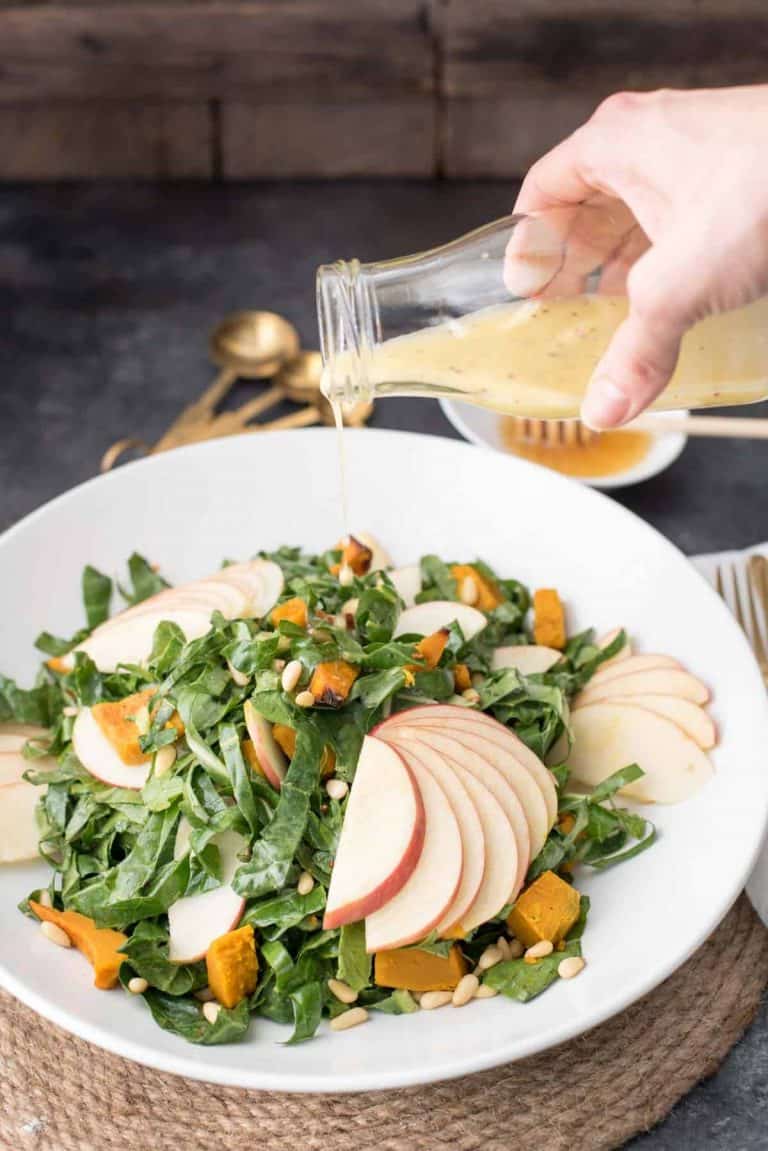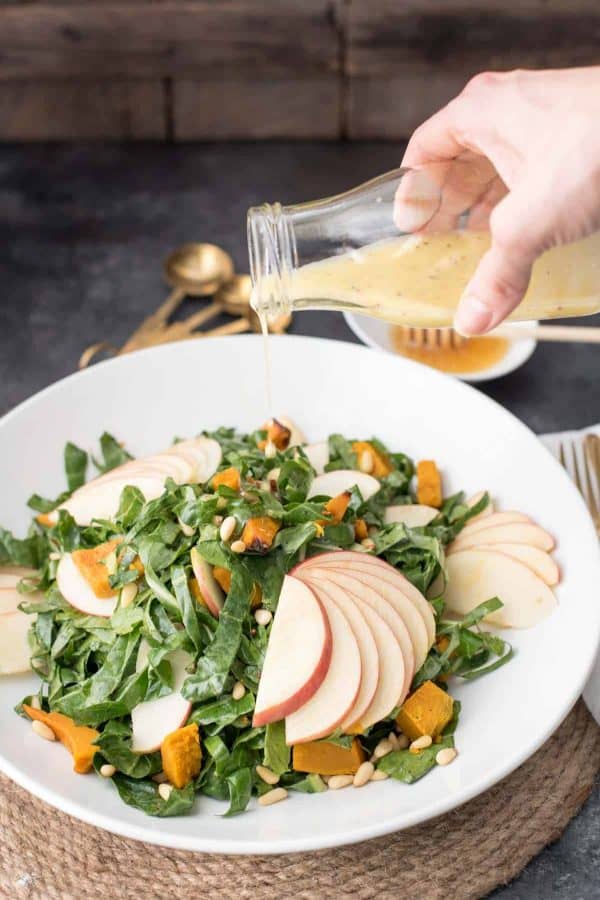 All the love for a fresh, enticing, homemade dressing that comes together easy and holds maximum fall flavors. Bursting with hearty fall flavors but light, fresh and without guilt. All the fall feels for Fall Honeycrisp Collard Green Salad. Oh and some love for this sneaky photo bomber, too. ????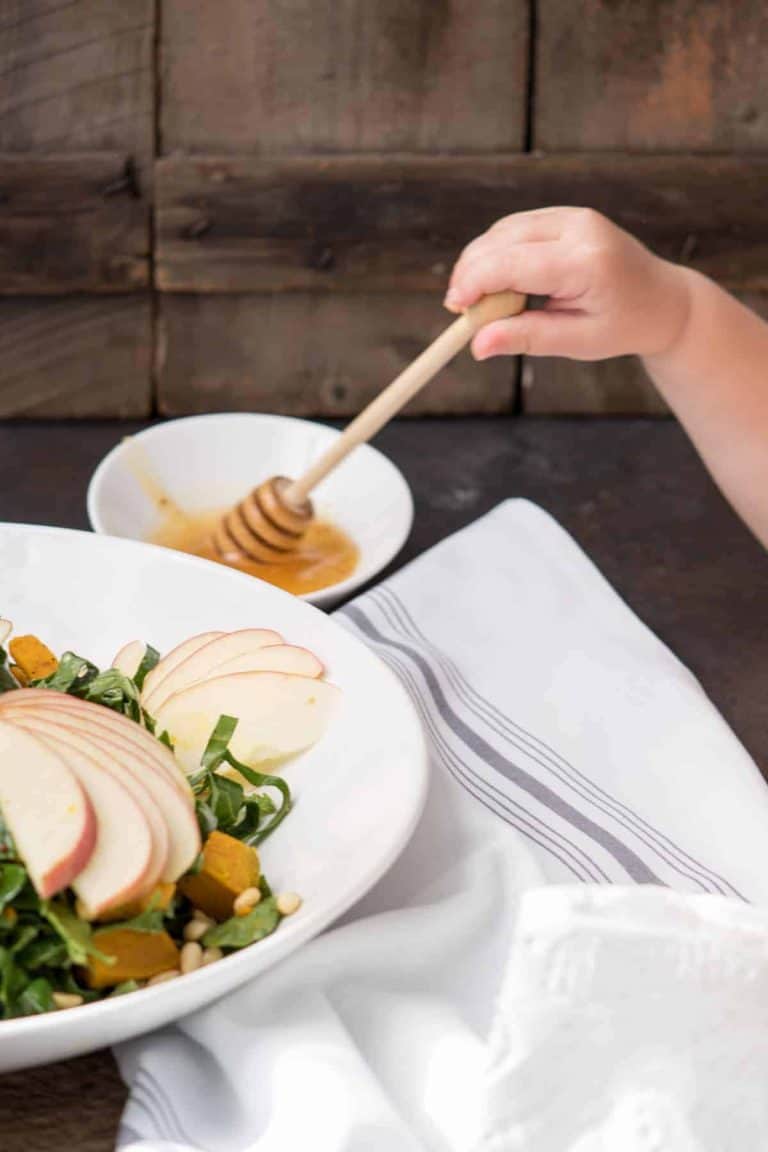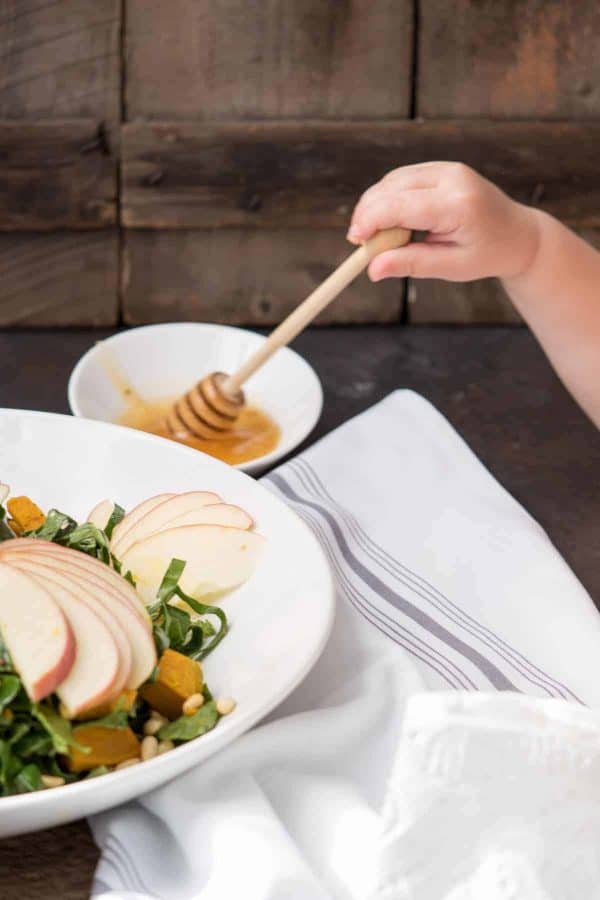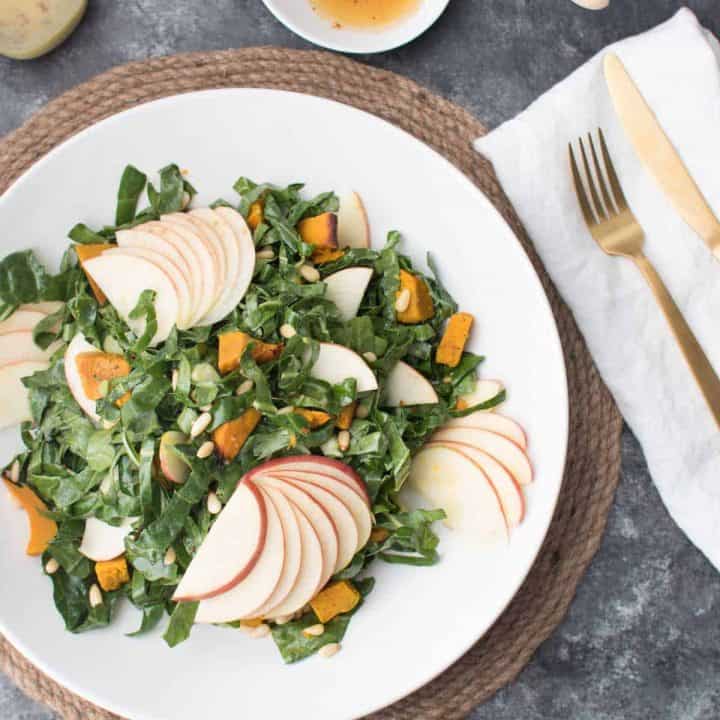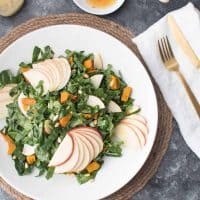 Fall Honeycrisp Collard Green Salad | Apple Mustard Vinaigrette
Crunchy honeycrisp apple with superfood, shredded collard greens and roasted squash cloaked in a subtle sweet apple mustard vinaigrette.
Print
Pin
Rate
Servings:
4
to 6 servings
Ingredients
Apple Mustard Vinaigrette
¼

cup

apple cider vinegar

¼

cup

extra virgin olive oil

2

teaspoons

whole grain mustard

1

teaspoon

lemon juice

2

tablespoons

raw honey

⅛

teaspoon

salt
Fall Honeycrisp Collard Green Salad
7

cups

shredded collard greens²

(large stems removed (about 1 head of collard greens))

1

honeycrisp apple

(cut in quarters and thinly sliced)

1

small buttercup squash

¼

cup

pine nuts
Instructions
Apple Mustard Vinaigrette
In a food processor or blender¹ add all ingredients except olive oil. Purée for thirty seconds until honey and vinegar are totally combined.

Add olive oil to the dressing mixture and blend on high for 15-20 seconds. Olive oil should be emulsified (shouldn't separate from the vinegar) but over processing will make the dressing thick.

Set aside while assembling the salad ingredients.
Fall Honeycrisp Collard Green Salad
Preheat the oven to 375°F. Cut the buttercup squash into quarters. Remove seeds and stringy pulp. Drizzle with olive oil and sprinkle with a pinch of salt and black pepper. Bake for 30 minutes until squash is tender. Let cool.

Wash collard green leaves thoroughly. Remove the large stem. Stacking the leaves on top of each other, slice in thin strips, about ¼-inch thick. Add to a large bowl and toss with the dressing and pine nuts.

Buttercup squash should be cool enough to handle. Peel the skin away and cut into rough ½-inch cubes. Add to the collard greens and toss lightly.

Plate the collard greens and squash on serving platter. Top with thinly sliced apple slices, distributing evenly.
Notes
¹ A whisk can be used in place of a food processor, it will just take a little more time to incorporate the ingredients.
² If pre-shredded collard greens are available at the store, opt for that time saving option.
Fall Honeycrisp Collard Green Salad will hold up for 3 days when stored in an air tight container and refrigerated.
Nutrition
Calories:
353
kcal
|
Carbohydrates:
44
g
|
Protein:
6
g
|
Fat:
20
g
|
Saturated Fat:
2
g
|
Sodium:
125
mg
|
Potassium:
1246
mg
|
Fiber:
8
g
|
Sugar:
20
g
|
Vitamin A:
7063
IU
|
Vitamin C:
60
mg
|
Calcium:
233
mg
|
Iron:
3
mg