Soft, fluffy doughnuts that can be baked or fried. These Gender Reveal Doughnuts are a cute and tasty way to show your sweet surprise to family and friends!
Today is all about baby (and doughnuts!) Okay, mostly the Gender Reveal Doughnuts, but babies and doughnuts? I hope you can get down with that because it's all things warm, snuggly, sweet and delicious. Erm, the doughnuts are the delicious part.
There is SO much pressure for expecting couples to top one another with their super awesome, mind blowing gender reveals. Seriously though. You know what blows my mind time and time again? Doughnuts. So we're combing the two to bring you Gender Reveal Doughnuts.
Soft, sweet, so tender and a socially acceptable way to eat dessert for breakfast. You can go ahead and sign me up for that. Bring your coffee, I'll make my matcha latte because this baby hates coffee, and let's have a fun little treat that says we're expecting a girl! (What was your guess?! Are you surprised? Tell me in the comments!!)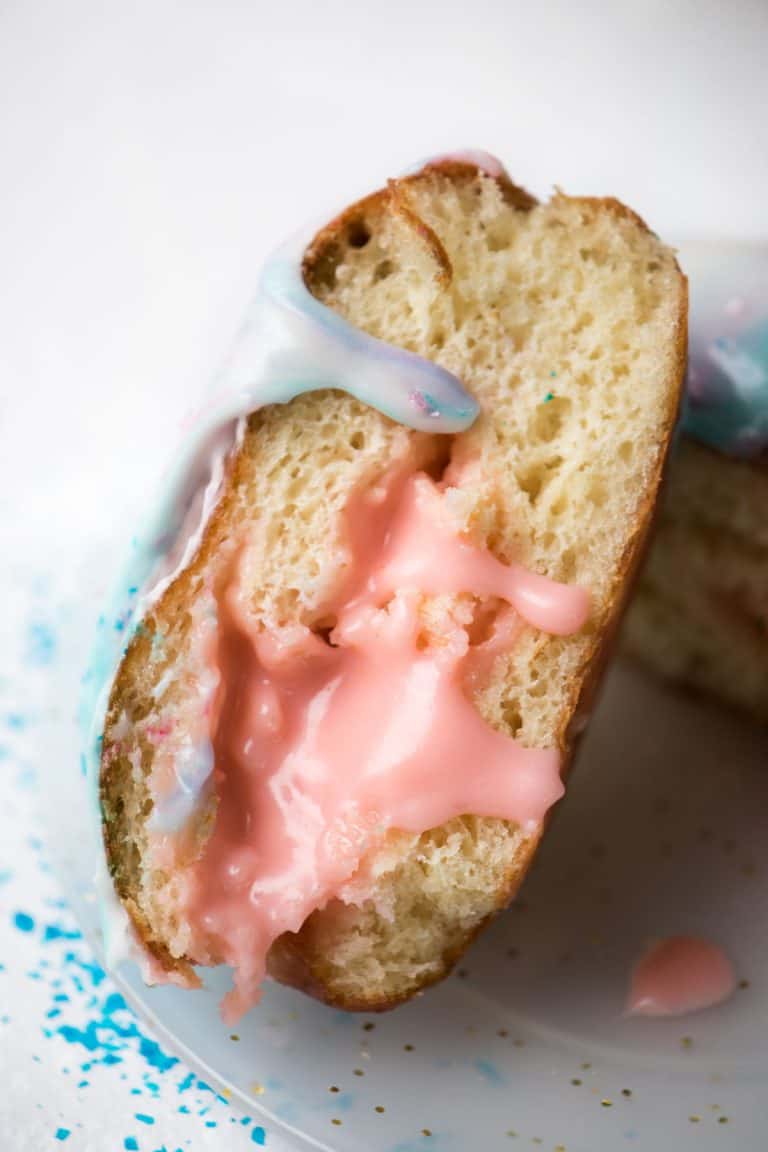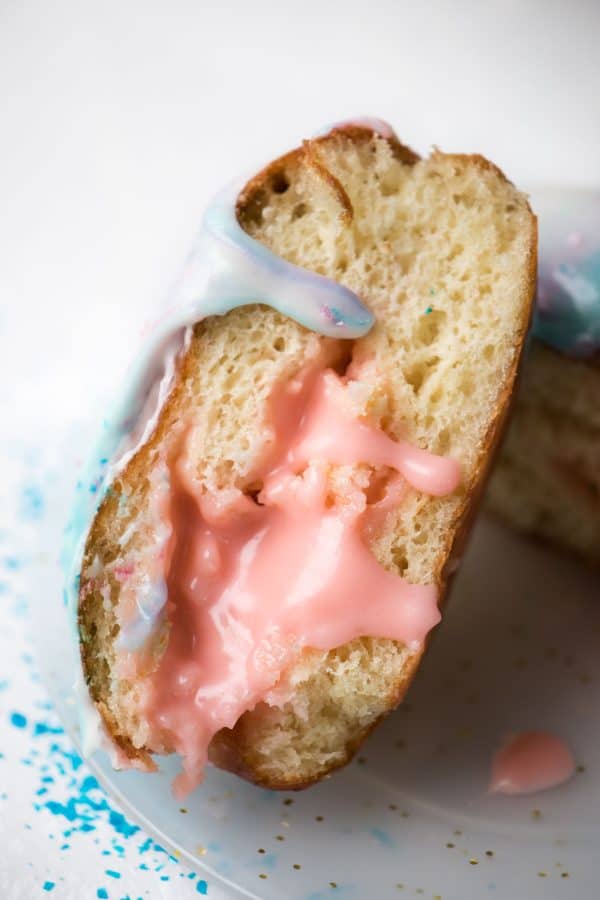 Heads Up: This post contains affiliate links to products I love and use frequently. The price you pay at the check out does not change, but I make a commission from the sale.
Baked or Fried
Never made a yeast based dough? Don't run away. Trust me, there are far scarier things than yeast doughs. Like teething or potty training or that first big boo boo. Save your stress for that.
This doughnut dough recipe first appeared on Hunger Thirst Play in the form of these Fluffy, Baked Gingerbread Doughnuts during Gingerbread Week. So let's not reinvent the wheel shall we? The dough is exactly the same, except without the spices and molasses. Honestly, the biggest challenge to these doughnuts are just rolling them out because it makes a mess and that's one more mess to clean up.
My tip? Use one of these Sewing Cutting Matts
anytime you need to roll out a dough or make pasta. It has a grid for cutting the perfect pasta and it cleans off in a snap. Personally, sewing was never my strong suit so the one I have might as well go to good use.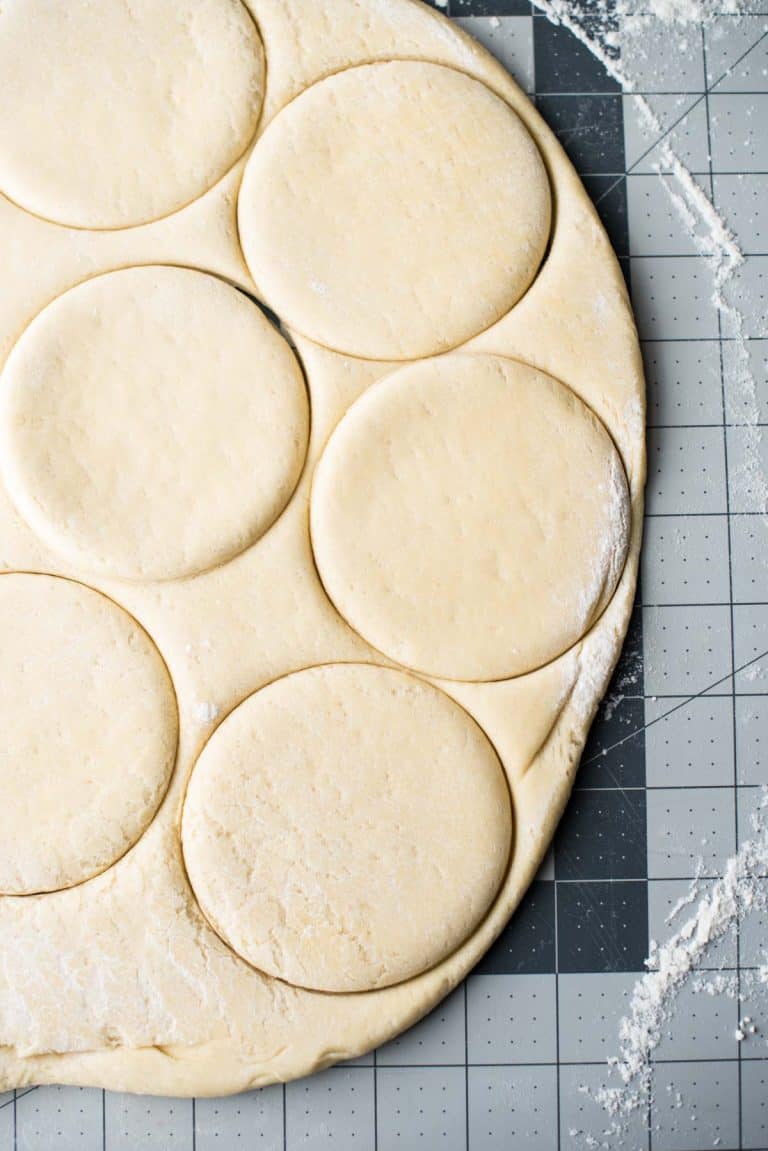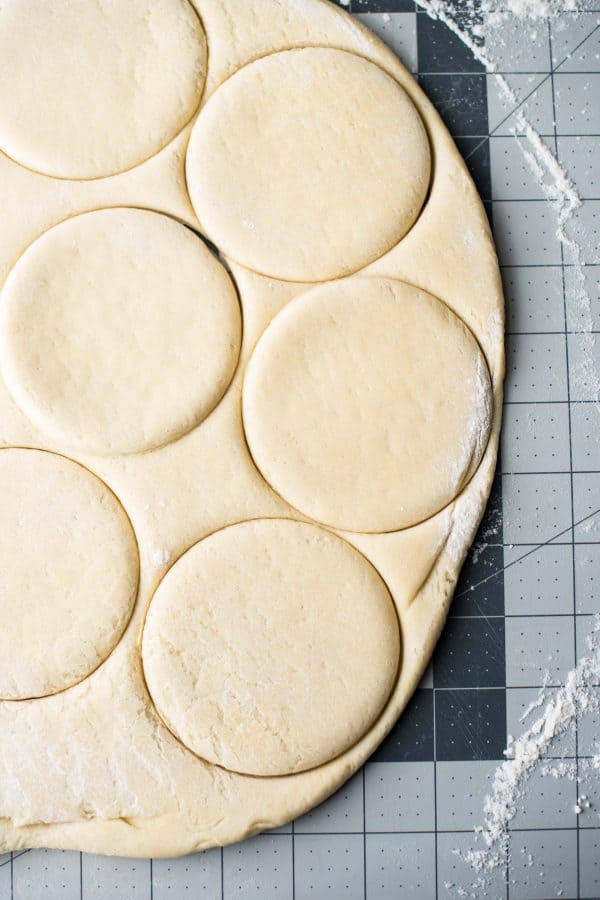 The dough rests overnight in the refrigerator (or at least for 8 hours) so you just need to whip it up in the mixer and then go to bed. The next day, roll it out to ½-inch thickness, cut, let rise again and then bake or fry them.
These gender reveal doughnuts are fried because I wanted them to last a few extra days to share with family, but personally I prefer the baked doughnuts most. The only downside to the baked doughnuts is they have less shelf life and get pretty hard. A quick zap in the microwave will soften them back up, but if you're not enjoying your Gender Reveal Doughnuts right away, I would recommend the frying method.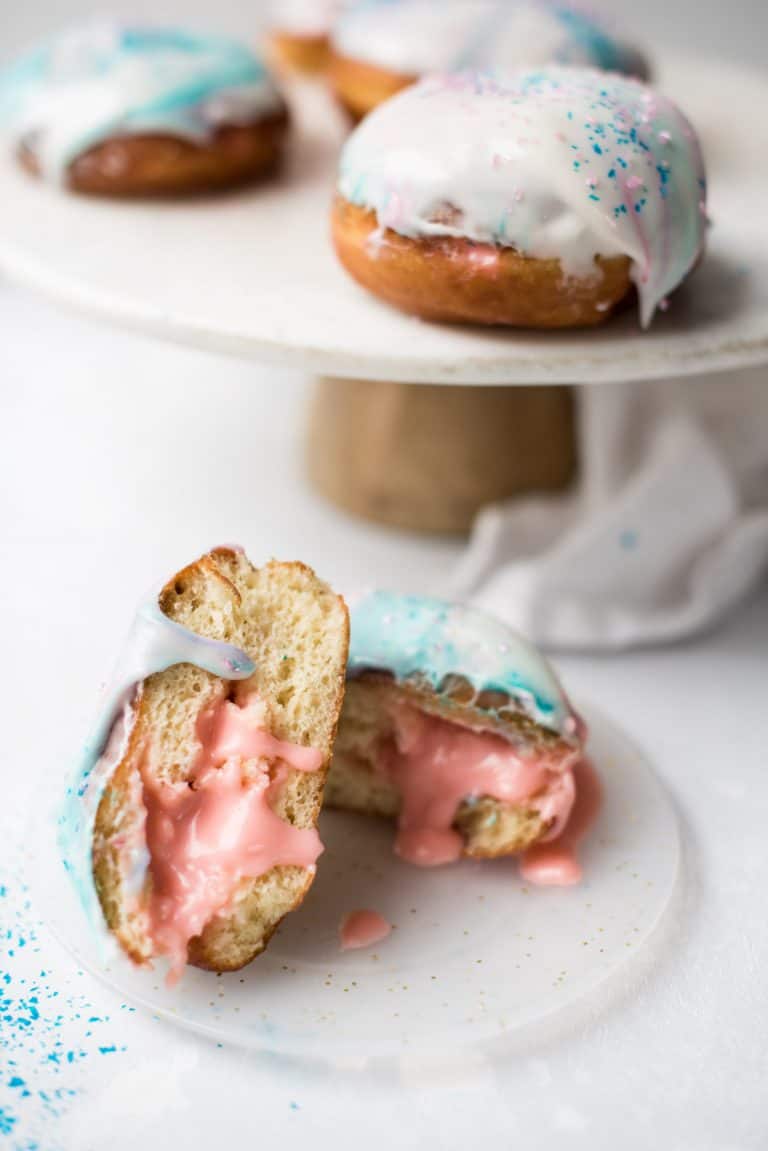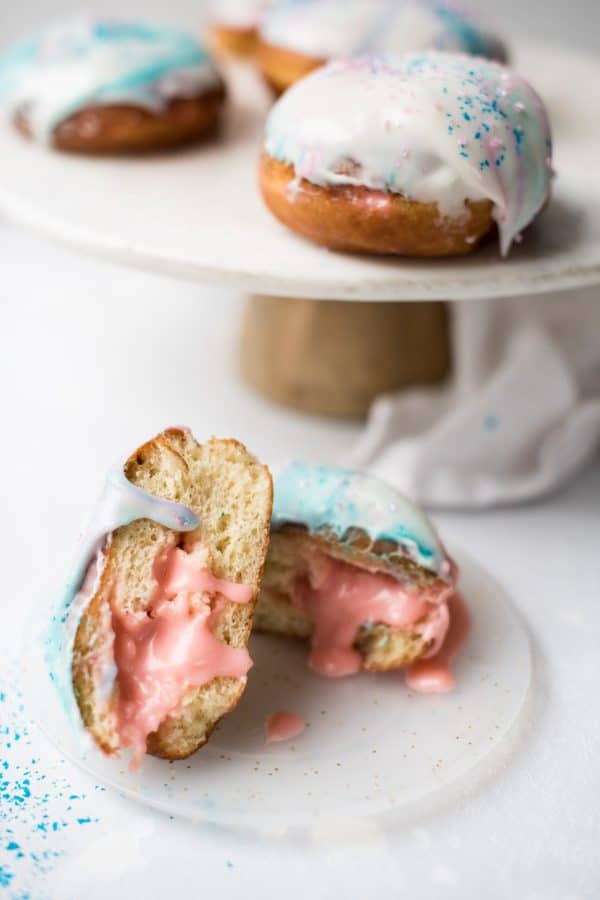 Filling and Glaze
For the inside of the doughnuts, we're whipping up a Boston Cream style filling. Because, hello, Boston❤️ ❤️ ❤️. Plus it has a great texture, light color and is just a touch of sweet but not too much because the glaze is very sweet.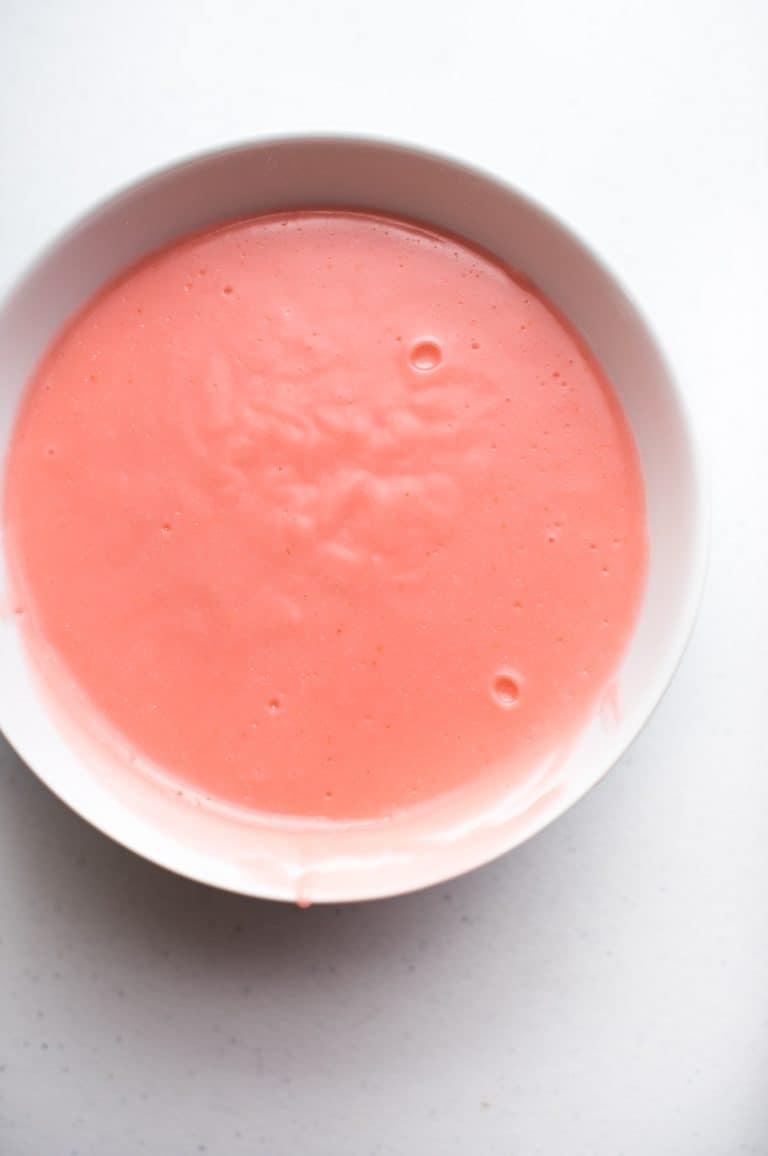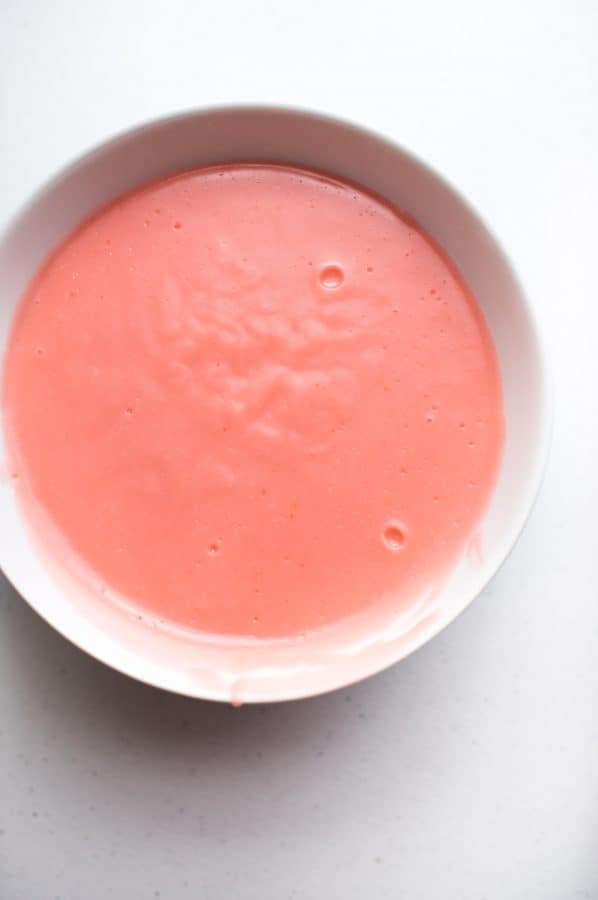 Do you need to choose pink and blue colors? NOPE. Maybe the couple has a gender neutral color scheme going on or are working with grays or yellows or greens. Find out what colors they would like if you're looking to branch out from the stereotypes.
If Boston Cream filling doesn't strike your fancy, try a few of these other options from some of my favorite friends from across the Internet:
For the glaze, swirling in the wilton cake gel colors creates this awesome swirly, marble design that makes you look pro without the culinary degree.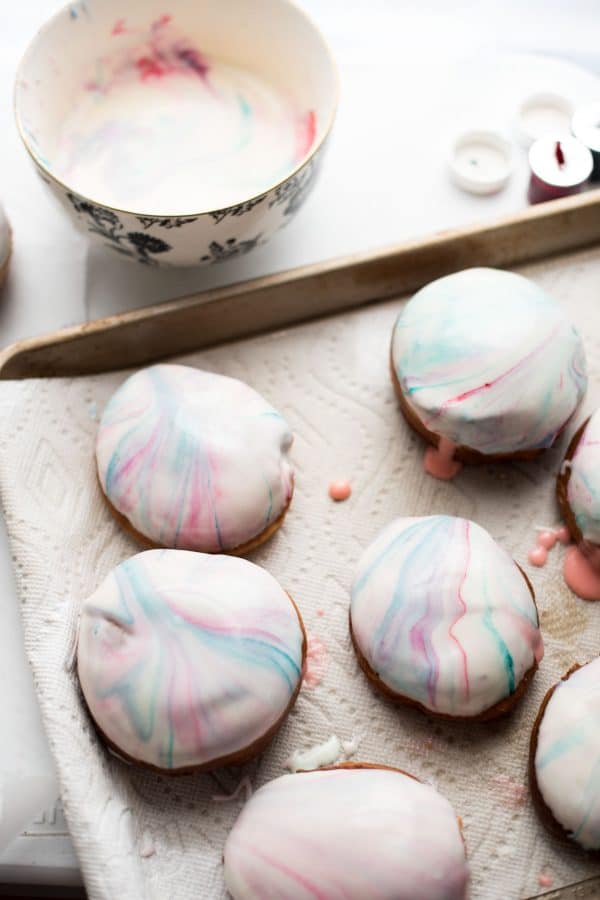 Optional choice is to add some sprinkles and/or glitter on top, because why. not. We're having sugar coated fried dough for breakfast, let's just go all the way. Note: the stacking photo of these doughnuts is admittedly deceiving. The glaze does not dry all the way through so it will rub off if you stack or cover them tightly with wrap. For storage, I would recommend an air tight container and for transporting, this 21 x 14 inch cake box
is great.
Gender Reveal Doughnuts - When you're truly surprised
When I tell you I was so sure this baby was a boy, I'm telling you money would have been put down. The feeling it in your bones kind of sure. Welp bones, you be wrong. This pregnancy has been incredibly different than my pregnancy with Shea. More morning sickness, more food aversions - I mean NO ONE loves coffee more than me and I cannot even smell the stuff - my heart hurts with longing.
In the end, we really didn't have our sights set on one or the other - just healthy. At the end of this fun reveal we're walking away with a closet full of hand me downs ready to be used again by baby #2 (yasssss!) and soft, tender, pink filled Gender Reveal Doughnuts. Can life get any sweeter?!
Did you do a cool thing for your gender reveal? Tell me about it in the comments! I want to know!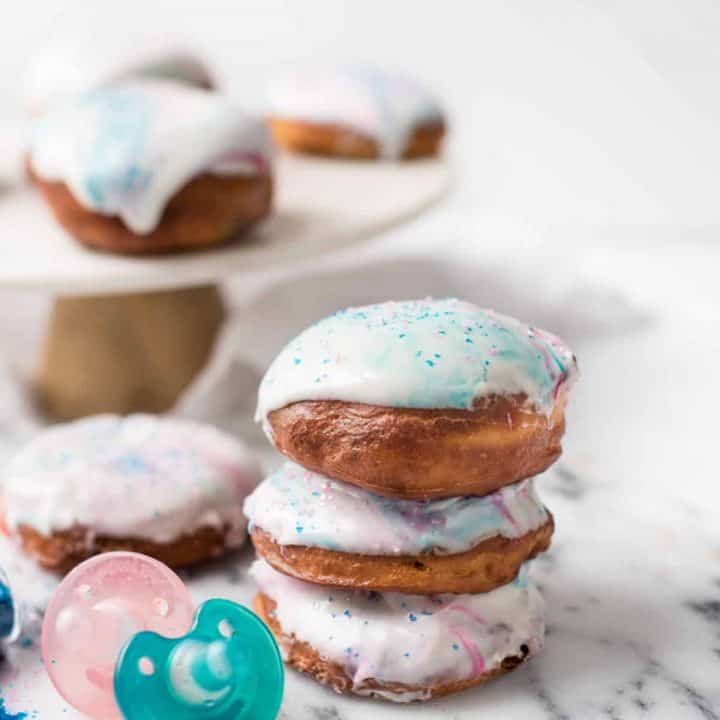 Gender Reveal Doughnuts
Soft fluffy doughnuts - baked or fried - with a sweet surprise filling! Gender reveal doughnuts are a fun treat to surprise your family and friends.
Print
Pin
Rate
Servings:
12
to 13 doughnuts
Ingredients
Gender Reveal Doughnuts
1 ⅛

cup

whole milk

(280ml)

2 ¼

teaspoons

active dry yeast

(7g )

¼

cup

granulated sugar

(50g )

2

large eggs

(lightly beaten)

10

tablespoons

unsalted butter, melted plus additional for greasing bowl

(142g )

½

teaspoon

salt

4 ½

cups

all purpose flour, spooned + leveled

(575g )

7 to 8

cups

vegetable oil for frying
Boston Cream Style Filling
⅔

cup

granulated sugar

(150g )

2

tablespoons

all purpose flour

(30g )

2

tablespoons

cornstarch

(25g )

pinch

of salt

2

large eggs

2

cups

heavy cream

(480ml )

2

tablespoons

unsalted butter

(28g )

2

teaspoons

pure vanilla extract

(9g )

pink or blue gel colors
Doughnut Glaze
2

cups

confectioner's sugar

(220g )

1

cup

heavy cream

(240ml )

pink and blue gel colors
Instructions
Gender Reveal Doughnuts
In a small saucepan, heat the milk over low heat to 105°F to 110°F. Do not overheat or you'll risk killing the yeast.

Transfer the milk to a standing mixer fitted with bread hook attachment. Add sugar and yeast and mix for 1 minute to dissolve. Let rest, without mixing, for 5 minutes.

Turn the mixer to low speed and add the eggs and melted butter. Slowly add the flour, in 2 to 3 batches. Once all the flour is added, increase speed to medium low for 1 minute.

The dough should be sticky to the touch, but it should pull away from the sides of the bowl. If it is not, add 1 to 2 tablespoons flour. Return speed to low and mix for a full 5 minutes. Let the dough rest in the bowl for 10 minutes.

Transfer the rested dough to a greased bowl, cover with plastic wrap and refrigerated for at least 8 hours or overnight.

Cutting the doughnuts: Transfer the dough to a lightly floured surface. Roll the dough to ½-inch thickness. Cut the dough with a 3-½ inch circular round, press down firmly without twisting.¹ Place cut doughnuts on a sheet pan lined with a floured piece of parchment paper. Reform the dough and roll out a second or third time until all the dough is cut.

Let doughnuts rise in a warm area until double is size, 45 minutes to 1 hour. This can be done by preheating the oven to 200°F, shutting the oven off and leaving it open a crack with the doughnuts inside (this will cut the rise time down to 30-45 minutes). Or if baking the doughnuts, preheat the oven to 400°F and let doughnuts rise on the stove top.

Directions for baking: Transfer the baking sheets with doughnuts to the 400°F oven and bake for 8 to 10 minutes.

Directions for frying: In a deep sided pan² bring 2 quarts of vegetable oil to 365°F to 375°F. While oil heats, prepare a flat surface or rack lined with paper towels to place the fried doughnuts. Carefully transfer a few doughnuts from the sheet pan to the hot oil - if the doughnuts rose in the oven you may need a spatula. Fry on each side for 45 seconds to 1 minute, until golden brown, removing with a slotted spoon.
Boston Cream Style Filling
Combine ⅔ cup sugar, flour, cornstarch and a spinach of salut in a small saucepan over medium heat. Whisk in eggs and heavy cream, continuously whisking until mixture just begins to boil and thicken, about 10 minutes.

Reduce the heat so the mixture gently bubbles and cook until thick enough to coat the back of a spoon (when you draw a line through the mixture the line should hold it's shape.)

Stir in butter, vanilla and desired food color to represent 'boy' or 'girl'. Strain through a mesh sieve to remove any lumps and let cool to room temperature before transferring to a pastry bag.

To fill the doughnuts: Insert a chopstick or straw inside the doughnut and wiggle it around to make room for the pastry cream. Cut a very small amount of the pastry bag tip, insert into the chopstick hole and fill with the pastry cream, stopping before it flows outside the doughnut.
Doughnut Glaze
In a shallow bowl, whisk together confectioner's sugar and heavy cream. Using a toothpick, swirl in the two 'boy or girl' colors. Gently dip the doughnut, turning slightly to create a swirl/marbling effect.

Let stand for 10 to 15 minutes for glaze to harden. Since the glaze is thicker, it will not dry all the way through but more like a traditional Boston cream doughnut glaze.

Serve immediately. Fried doughnuts will keep for up to 4 days in an air tight container, stored in the refrigerator. Baked doughnuts will stay soft for up to 1 day, after that they will need to be warmed to soften.
Notes
¹A doughnut cutter, cookie cutter or any random house hold object is good. I ended up using a cocktail shaker because it was the perfect size with a sharp edge. Try not to twist the cutter, this will prevent the doughnuts from rising fully during the second rise.
²For frying, my favorite is my cast iron enamel dutch oven. I got mine from TJ Maxx in the housewares section years ago. This 7 quart oval enamel dutch oven
is the most similar to mine. It sees A LOT of use, but they're pretty pricey. A heavy bottom round pot can get the job done too.
Nutrition
Calories:
823
kcal
|
Carbohydrates:
77
g
|
Protein:
10
g
|
Fat:
54
g
|
Saturated Fat:
37
g
|
Trans Fat:
1
g
|
Cholesterol:
168
mg
|
Sodium:
154
mg
|
Potassium:
172
mg
|
Fiber:
2
g
|
Sugar:
36
g
|
Vitamin A:
1340
IU
|
Vitamin C:
1
mg
|
Calcium:
84
mg
|
Iron:
3
mg