The unicorn of doughnuts. At first bite, you will be saying, "it's so fluffy!!" Festively flavored, airy, and topped with sweet and spicy gingerbread icing. Get the flour ready and break out the yeast, we're making fluffy unicorn dreams come true with these Fluffy Baked Gingerbread Doughnuts.
I go back and forth whether my favorite part about these doughnuts is that they are ridiculously light and fluffy...or that these bad boys go in the oven not the fryer....or maybe the sweet and spicy gingerbread glaze that coats them.
Ahh, my head might explode just trying to decide.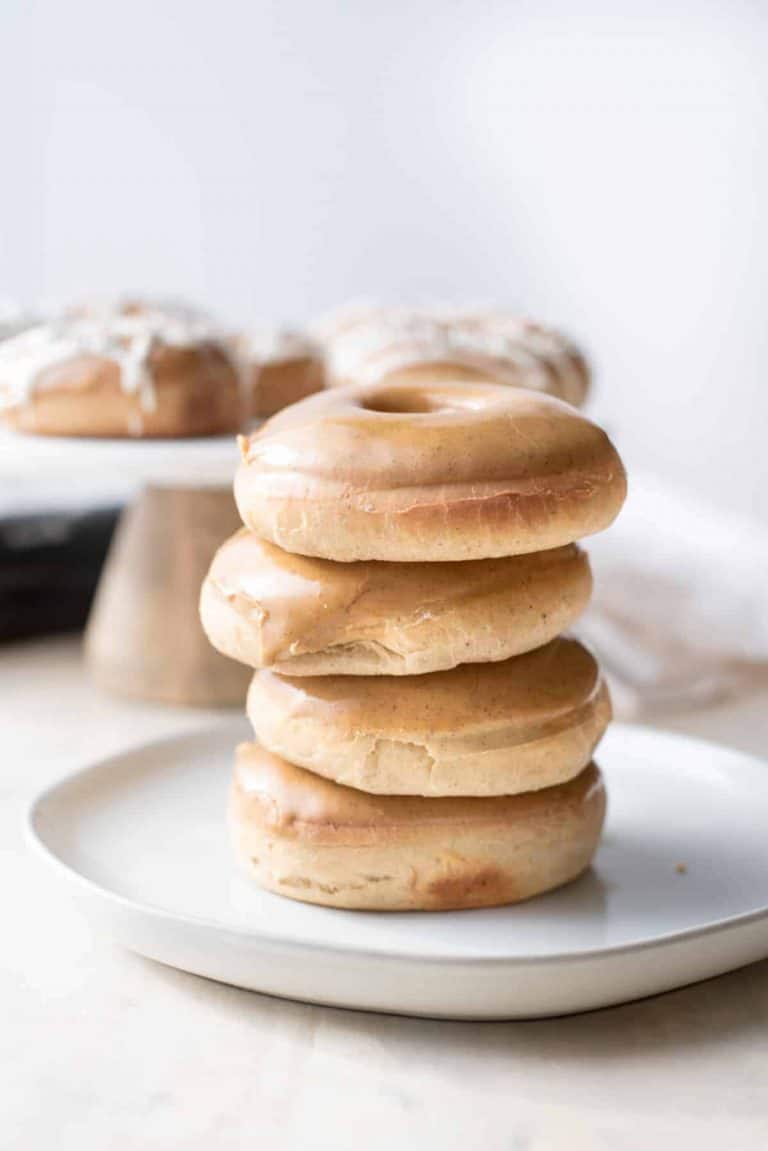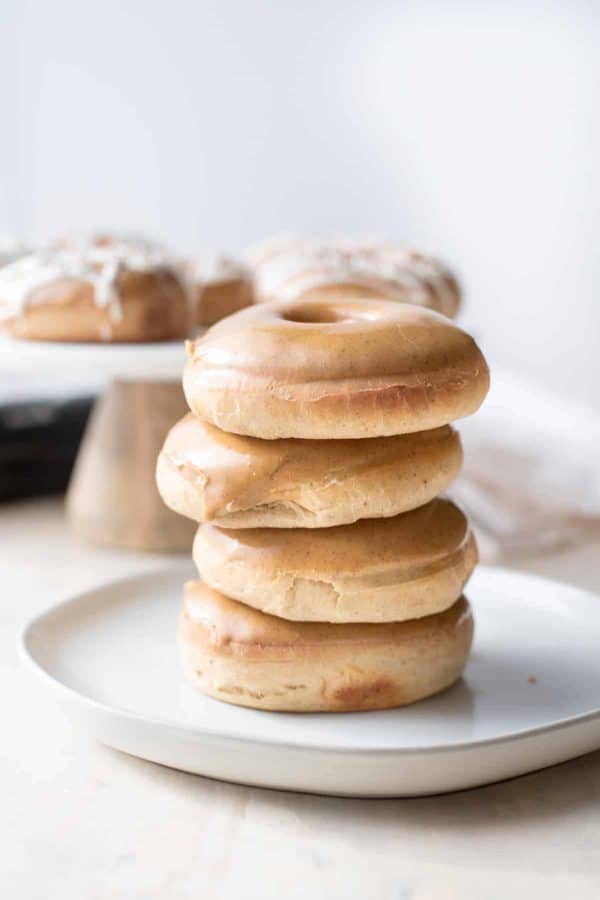 Yeast Doughs don't have to be scary
Really, all you're doing is making a nice, warm, happy environment for the yeast to thrive in. Getting the milk warm, but not too warm is the key. Yeast thrive in warm but if it's too warm you will kill the yeast. Don't be a murderer, just invest in a candy thermometer. Like this Candy Thermometer
here. It has a clip and is under $10.
Now that you are the proud owner of a candy thermometer you can make things like Buttercrunch Toffee and Penuche Fudge in addition to these Fluffy Baked Gingerbread Doughnuts. That just sounds like a whole lot of #winning to me.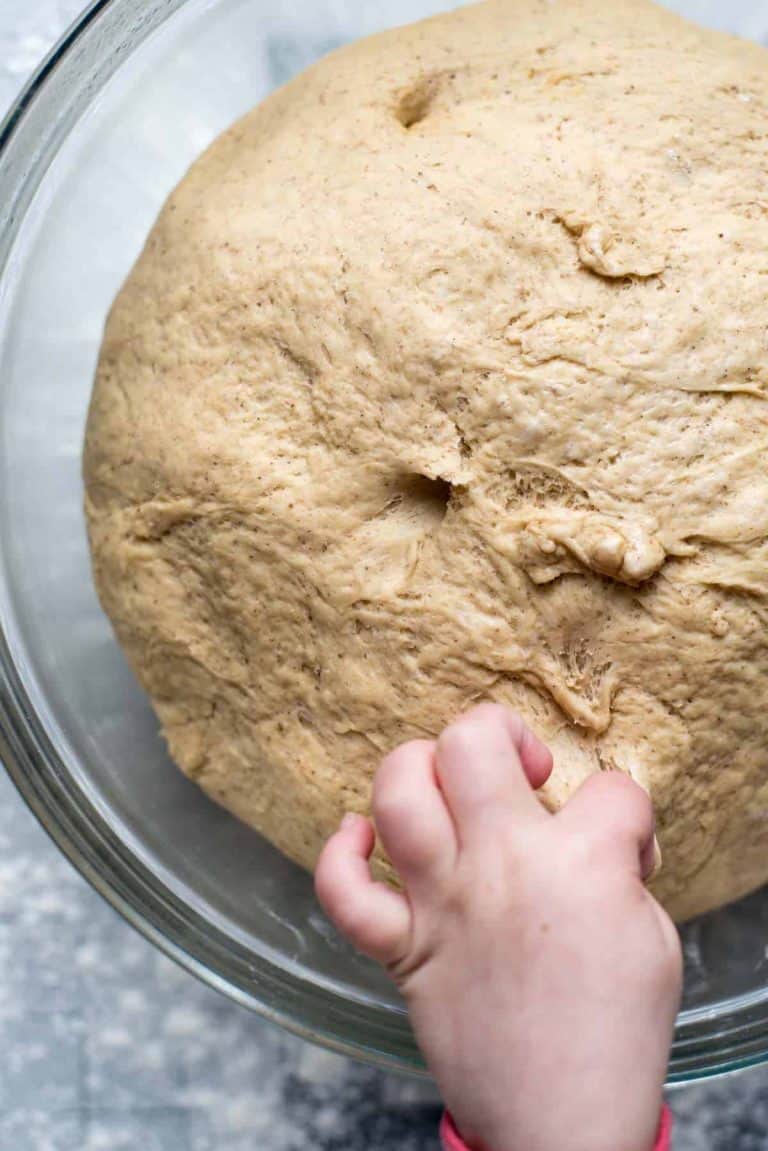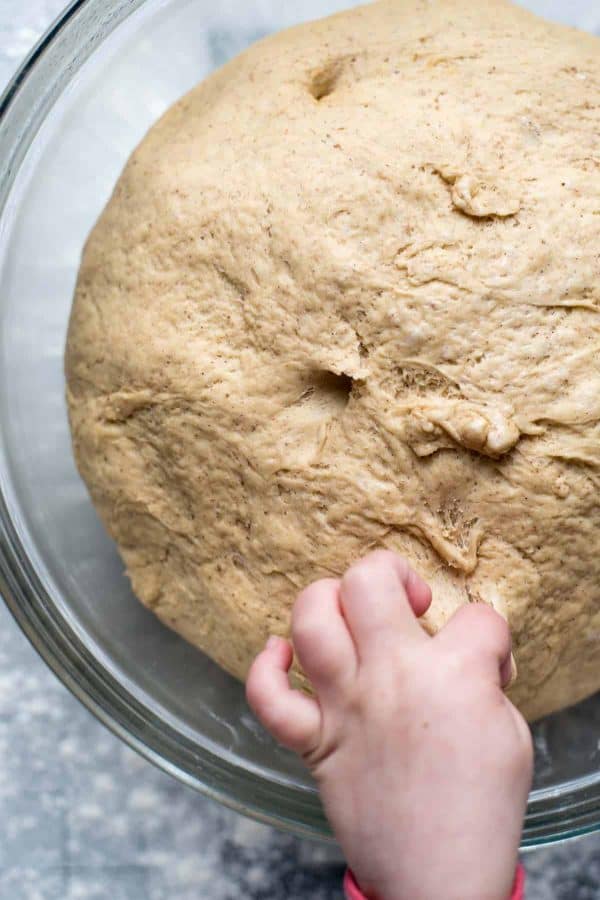 Warm milk + sugar. The warm milk is the environment and the sugar is the food. Sugar for yeast is like an all you can eat buffet when you're so hangry you can't even stand yourself. Eat up my little yeasties.
After the flour and spices and mixing, you just chill and let the yeast do it's job. That's really all there is too it. That wasn't so scary, right?
If you're planning on making these fluffy baked gingerbread doughnuts for Christmas morning (which I would highly recommend) prep the dough the night before then roll out and cut in the morning. Then the cutout doughnuts can rest while the unwrapping of Santa's goodies commences. A quick trip to a 400°F oven for 8 minutes and your family will be ooo-ing and aah-ing at your culinary delights and gift giving abilities.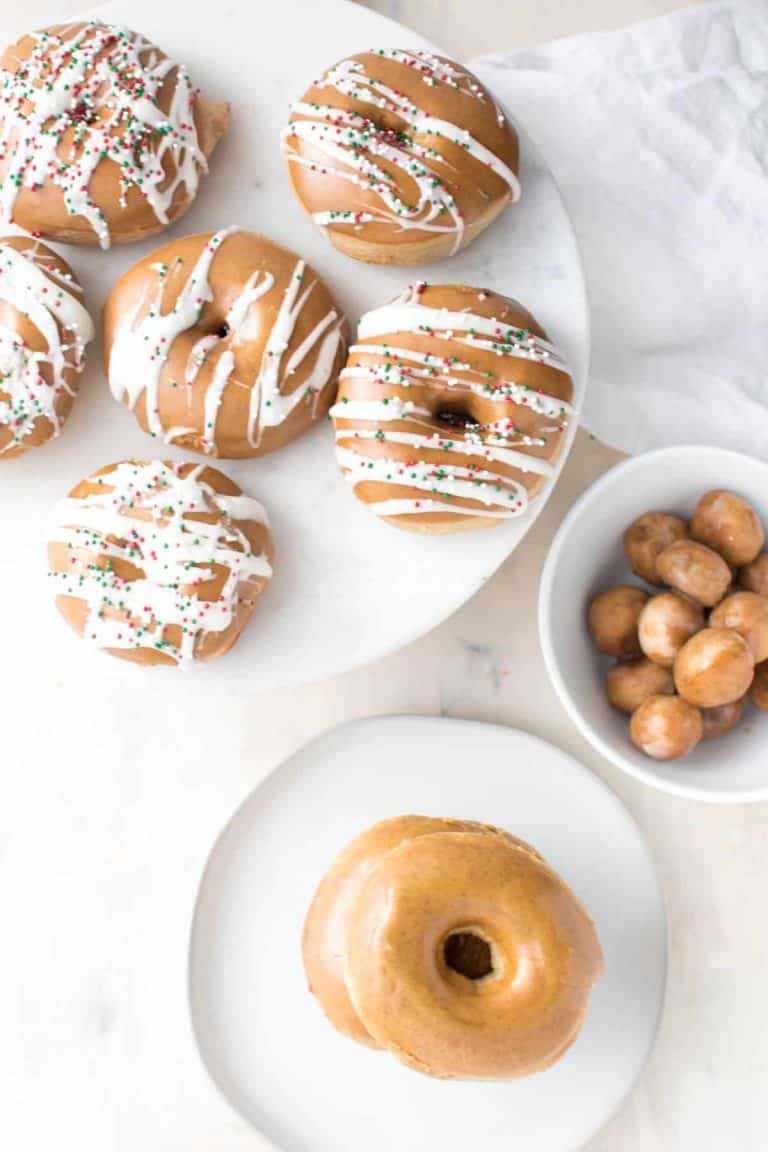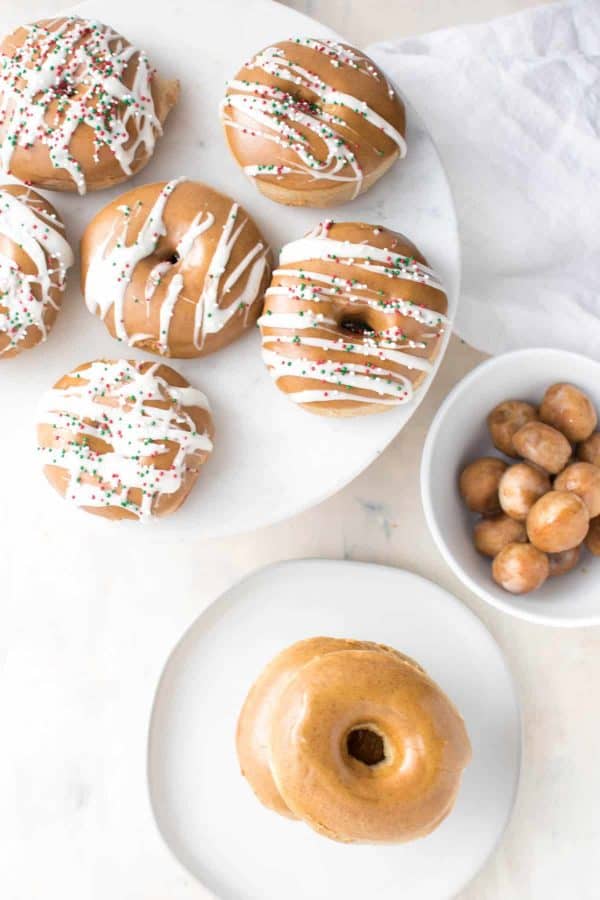 Fluffy Baked Gingerbread Doughnuts
While these doughnuts can be fried instead of baked, why would we if we don't have to? I mean, there's a lot of fried stuff I'll eat, but if its just as airy, fluffy, flaky good without saturating it in oil...well, imma gonna do that.
Unlike most baked doughnuts these Fluffy Baked Gingerbread Doughnuts have the airy texture of a regular fried glazed doughnut you might get at a coffee shop. I'm looking at you Dunkins. Most baked doughnuts are made in a pan with a cake like batter. Still delicious, but not the texture we want. We want these to be as soft and light as the clouds Santa is flying his sleigh through whilst we dream the night away.
You can purchase this 3-½ inch doughnut cutter here
.
Gingerbread Icing
Like the bow on top of the present, the star on top of the tree, these fluffy baked gingerbread doughnuts aren't complete without it. The icing packs that gingerbread flavor so reminiscent of the cookies we love. Sweet molasses, spicy ginger, warm cinnamon. It's like a hug of flavor for our mouths and the doughnuts.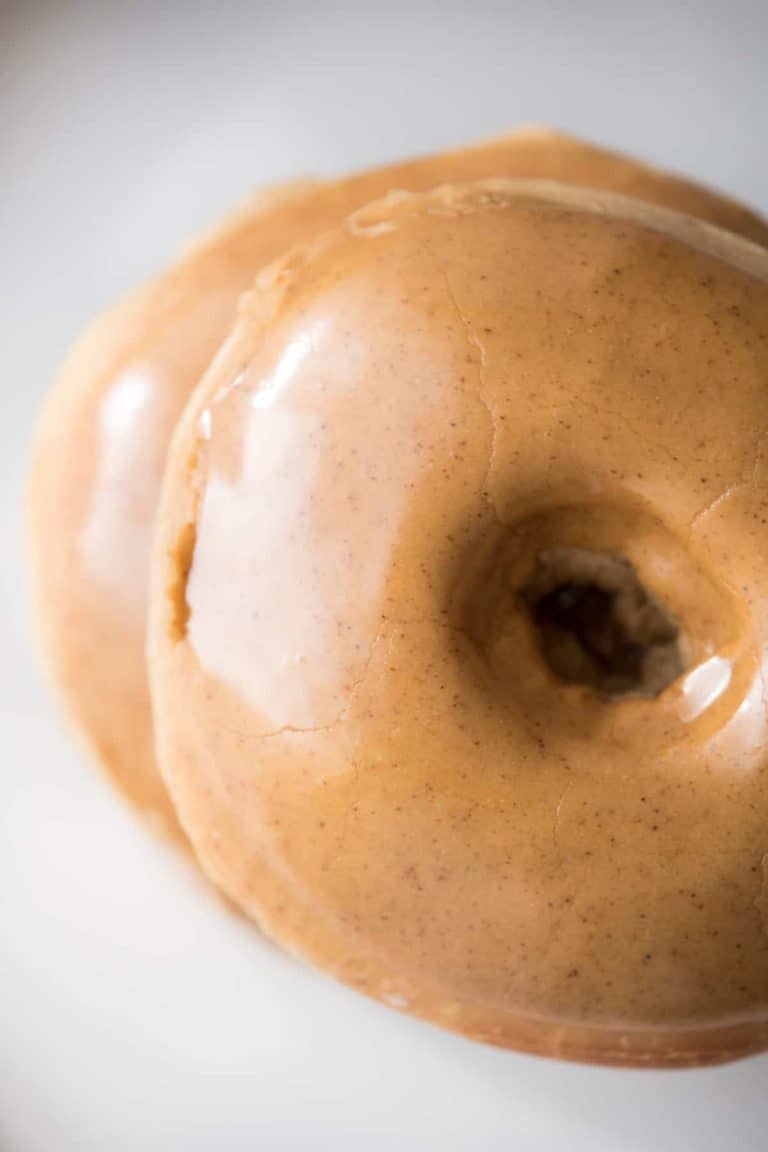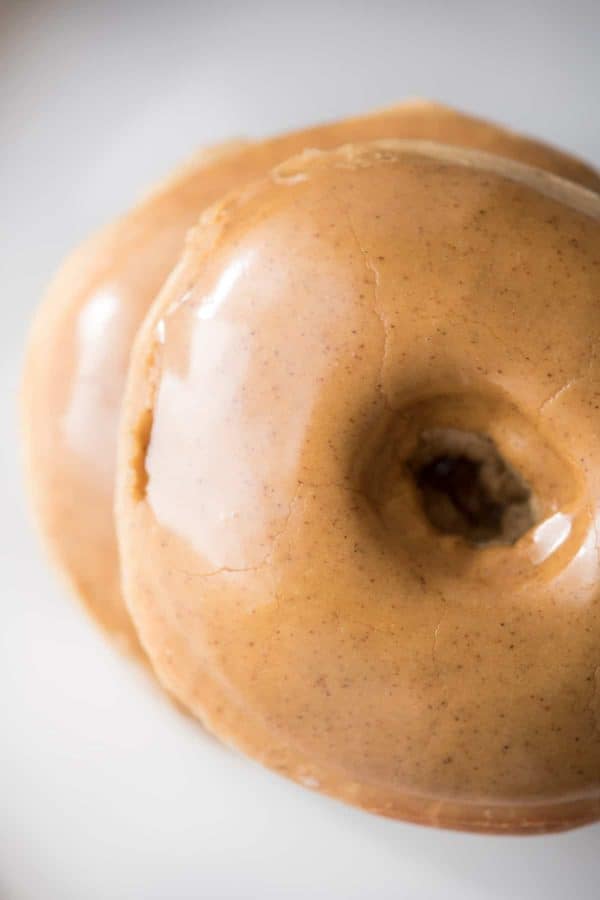 The easiest way to do this is to put together the icing while your doughnuts are resting, pre-bake. Then when the doughnuts are fresh out of the oven, and just cool enough to handle but still warm, dip into the glaze. Whether you trash it up with drizzles and sprinkles, that's on you. But when it comes to frosting and sprinkles, I don't know, I tend to let my inner Clark Griswold come out.
As for the doughnut holes, don't toss these babies aside! Like little burst of holiday cheer, they're great to have as a pre-breakfast munch or serve with coffee after dinner for a nice little sweet treat! Just toss the warm doughnut holes with the leftover glaze and call it a day.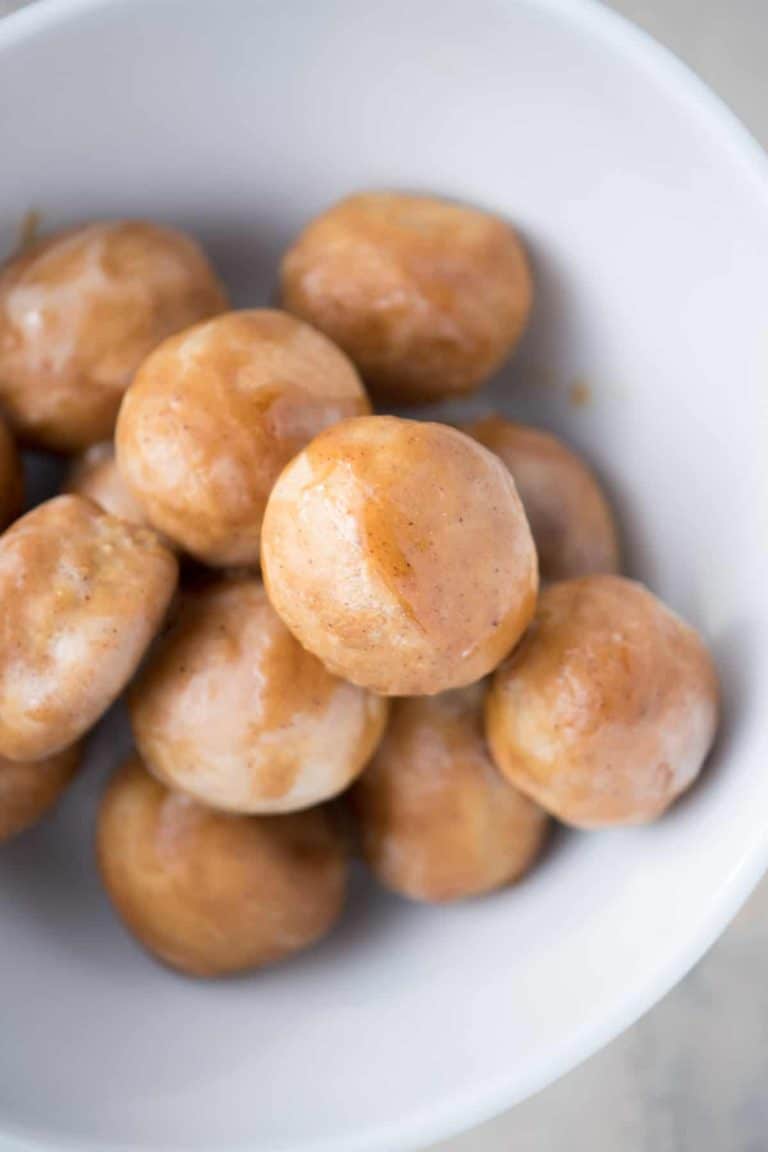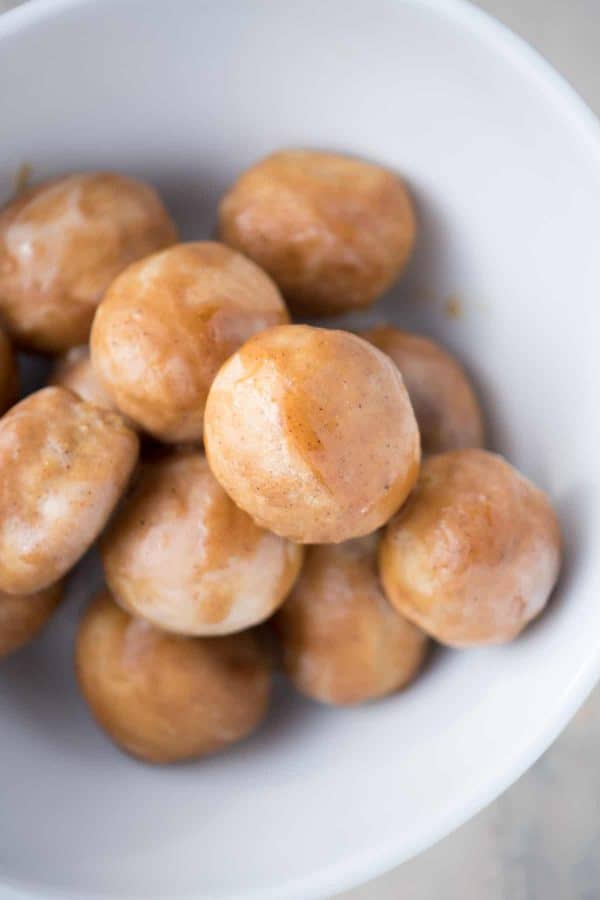 This post may contain affiliate links that won't change your price but I may earn a commission.
Shop this recipe: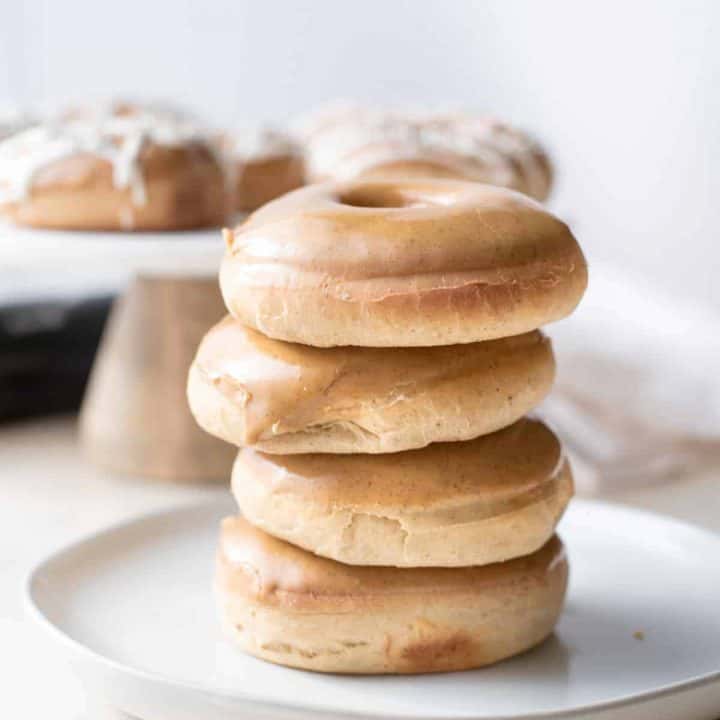 Glazed Gingerbread Doughnuts
Airy inside and golden outside, laced with spicy ginger, warm cinnamon and sweet molasses. These Fluffy, Baked Gingerbread Doughnuts are the perfect addition to your holiday breakfast.
Print
Pin
Rate
Ingredients
Fluffy Baked Gingerbread Doughnuts
1 ⅛

cup

whole milk

¼

cup

granulated sugar

2 ¼

teaspoons

or 1 package Active Dry Yeast

2

whole large eggs

(lightly beaten)

10

tablespoons

1 ¼ stick unsalted butter, melted

2

teaspoons

ground ginger

1

teaspoon

ground cinnamon

½

teaspoon

ground nutmeg

1

tablespoon

molasses

½

teaspoons

salt

4 ¼

cups

all purpose flour

(level and spooned¹)
Gingerbread Glaze
2

cups

confectioners sugar

4

tablespoons

heavy cream

2

tablespoons

molasses

1

teaspoon

ground ginger

1

teaspoon

ground cinnamon
Instructions
Gingerbread Doughnuts
In a small saucepan, heat milk over low heat to 110°F. A candy thermometer will work great to temp this. If you don't have a thermometer, the milk should be warm enough you can hold your finger in it for at least 30 seconds. If the milk is too warm it will kill the yeast.

Transfer the milk to a standing mixer fitting with bread hook attachment. Add sugar and yeast, mix to dissolve sugar, about 1 minute. Let rest, without mixing, for 5 minutes.

Turn the mixer to low and add the beaten eggs and melted butter. While mixer is running on low, add the spices, molasses, and salt.

Slowly add the flour, working in 2 to 3 batches is the easiest. Once all the flour is added, increase mixer speed to medium low to incorporate ingredients, 1 minute. The dough should be sticky to the touch, but most of the dough should pull away from the sides of the mixing bowl. Return speed to low and mix for a full 5 minutes. Let the dough rest in the bowl for 10 minutes.

After resting, transfer the dough to a lightly greased bowl, scraping the dough from the bottom of the bowl if needed. Cover with plastic wrap and refrigerate for at least 8 hours or overnight.

Cutting the doughnuts: Transfer the dough to a flat work surface lightly sprinkled with flour. Roll out dough to ½ to ⅓ inch thickness. Cut out doughnuts using a 3-½ inch doughnut cutter. Transfer doughnuts to a sheet pan lined with a silpat mat or parchment paper. Doughnut holes should be transferred to a separate sheet pan, as they will cook faster. Form the left over scraps into a ball, kneading if necessary, and repeat the roll out and cut out process as many times until all the dough is used.

Let it rest, again: Let the cut out doughnuts and doughnut holes rest for 1 hour before baking.². Pre heat the oven to 400°F. (See note for tips to get the best rise out of your doughnuts.)

Transfer the baking sheets to the oven. Bake full doughnuts for 8 to 10 minutes. They should be golden on top and on the bottom. Bake doughnut holes for 5 minutes.

Let doughnuts rest for 5 minutes, or until just cool enough to handle, and dip into glaze while still hot.
Gingerbread Glaze:
While the doughnuts are resting, prepare the glaze. In a medium sized bowl, combine confectioners sugar, heavy cream, molasses and spices. Whisk or stir together until smooth. The icing should be thick.

Icing the doughnuts:. With the doughnuts fresh out of the oven, dip into the glaze. Dip the doughnut top side down and gently press into the glaze. Give it a turn before gently removing. Place on a sheet pan or parchment paper to let icing set. If you wish to use sprinkles, apply or dip while the icing is still wet. If the doughnuts have cooled too much, heat the icing for 10 seconds in the microwave to thin it. Note: the white icing in the photos is a thinner version of the glaze using just confectioners sugar and heavy cream, drizzled over the doughnuts after the gingerbread icing is set.

Storing and reheating:. The doughnuts will be good for up to 3 days if kept in an air tight container. Reheat slightly before enjoying (about 10 seconds in the microwave.)
Notes
¹Spooned and leveled - scooping the flour with a small spoon into the measuring cup and leveling off is a common method for baking because in the United States we hate the metric system. If this sounds like too much of an extra step, go on with your usual scoop methods but cut out the last ¼ cup and just use 4 cups of flour.
Side note: These doughnuts are equally delicious if you substitute half the all purpose flour for whole wheat flour.
²Yeast loves warmth. During the hour of resting I preheat my oven with the sheet pans on or near the stove top. The heat from the preheating oven will help get the doughnuts to rise as much as possible. Also, if your house or apartment is generally pretty cold, this will help too.
What if I don't have a standing mixer? You can still have doughnuts! Prepare the doughnuts following the same directions but instead of using a bread hook, you'll be using a spatula to help work out the dough. You can also use your hands to help the dough come together, but it will be very sticky so just keep that in mind.
Nutrition
Calories:
270
kcal
|
Carbohydrates:
43
g
|
Protein:
5
g
|
Fat:
9
g
|
Saturated Fat:
5
g
|
Trans Fat:
1
g
|
Cholesterol:
41
mg
|
Sodium:
83
mg
|
Potassium:
131
mg
|
Fiber:
1
g
|
Sugar:
19
g
|
Vitamin A:
295
IU
|
Vitamin C:
1
mg
|
Calcium:
38
mg
|
Iron:
2
mg