Crisp, golden brown edges, chewy soft centers, rich chocolate chunks in each bite with nutty, velvety, toasted brown butter baked into each bite. Brown butter chocolate chunk cookies are the ultimate drop cookie and a lot easier to make than you might think!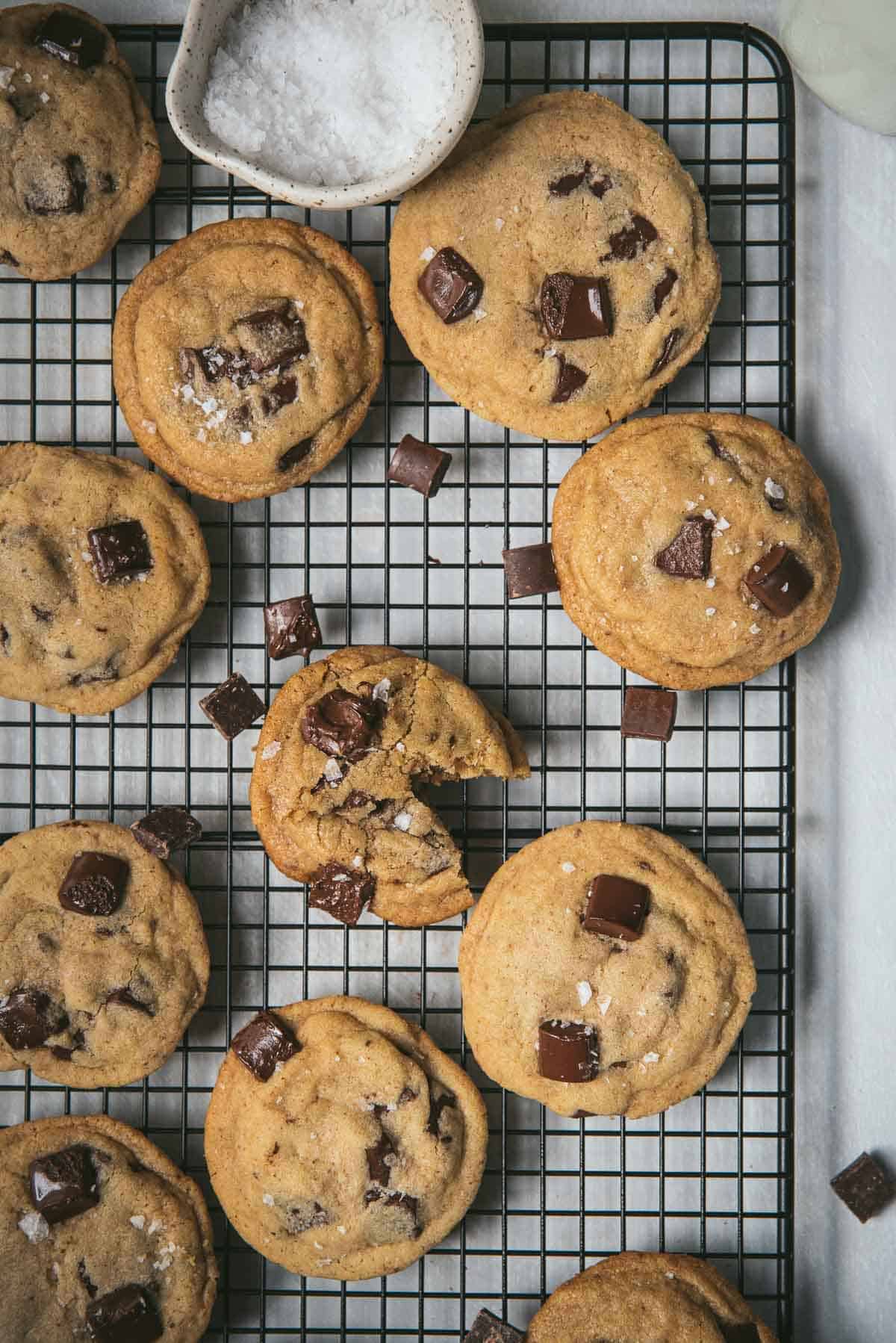 Dear world, I'd like you to meet someone very special to me...my ideal, perfect chocolate chip cookie. It's taken A LOT of testing, but I don't think I could ever make another chocolate chip cookie other than these.
It's just everything I've ever wanted...in a cookie.
What's so special about these brown butter chocolate chunk cookies? Grab a seat, let me tell ya. It's the...
crispy, brown edges
but mostly soft and chewy throughout texture
an entire bag of chocolate chunks
luxurious brown butter (so stinking delicious!)
perfect ratio of brown and granulated sugar
no chill option!
sea salt flake sprinkle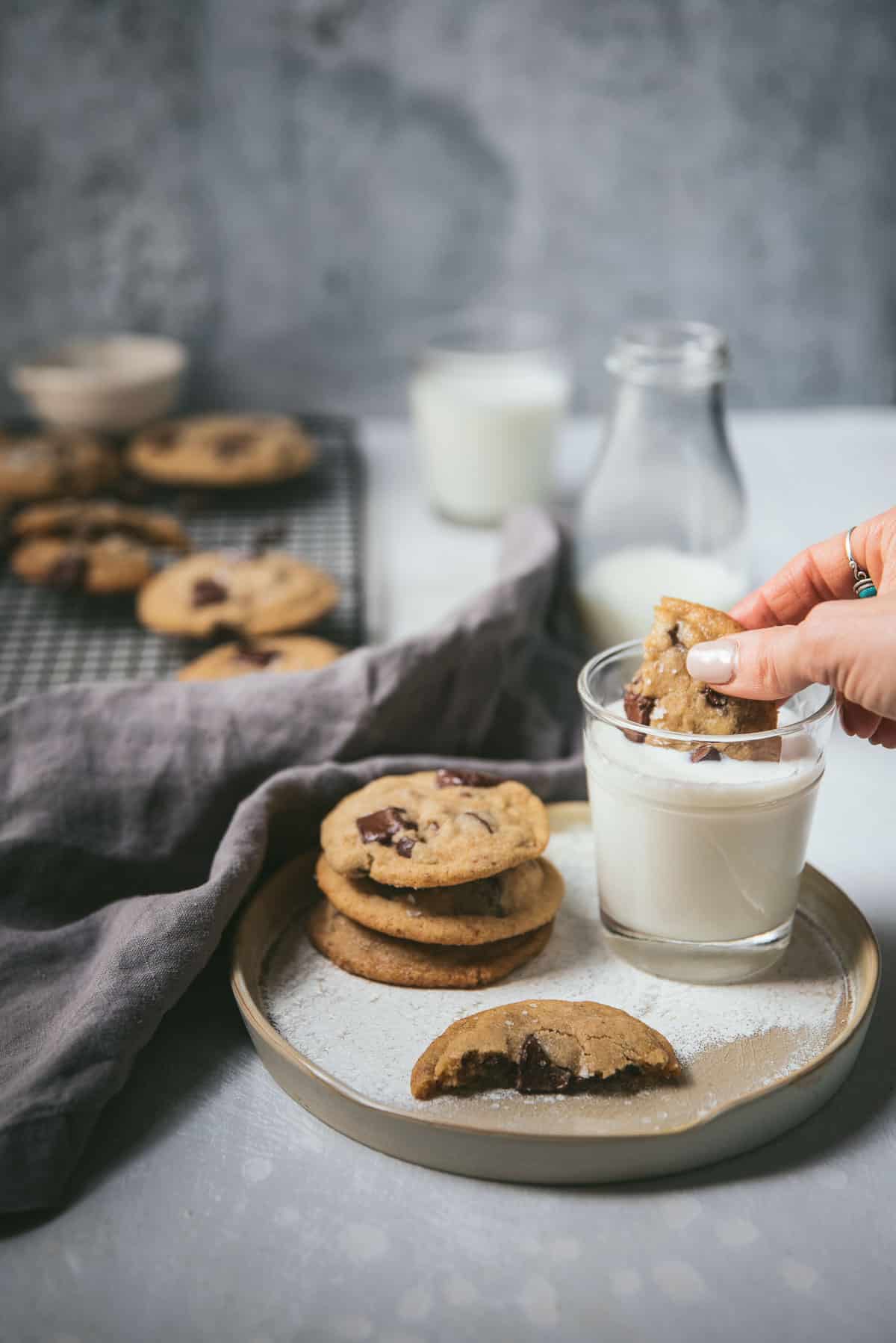 Okay, but what does brown butter do to cookies...
Makes. Them. Epic.
Replacing regular butter with brown butter is a simple way to take any baked goods to the next level. It adds richness, depth, and a warm nutty flavor without adding a ton of extra work.
I also really love using brown butter in cookies, because I never have my butter at the right temperature when the craving for cookies strikes. If you don't have softened butter available, no problem!
Since we're going to melt the butter anyway, it doesn't matter if the butter is too cold or too warm. Bliss!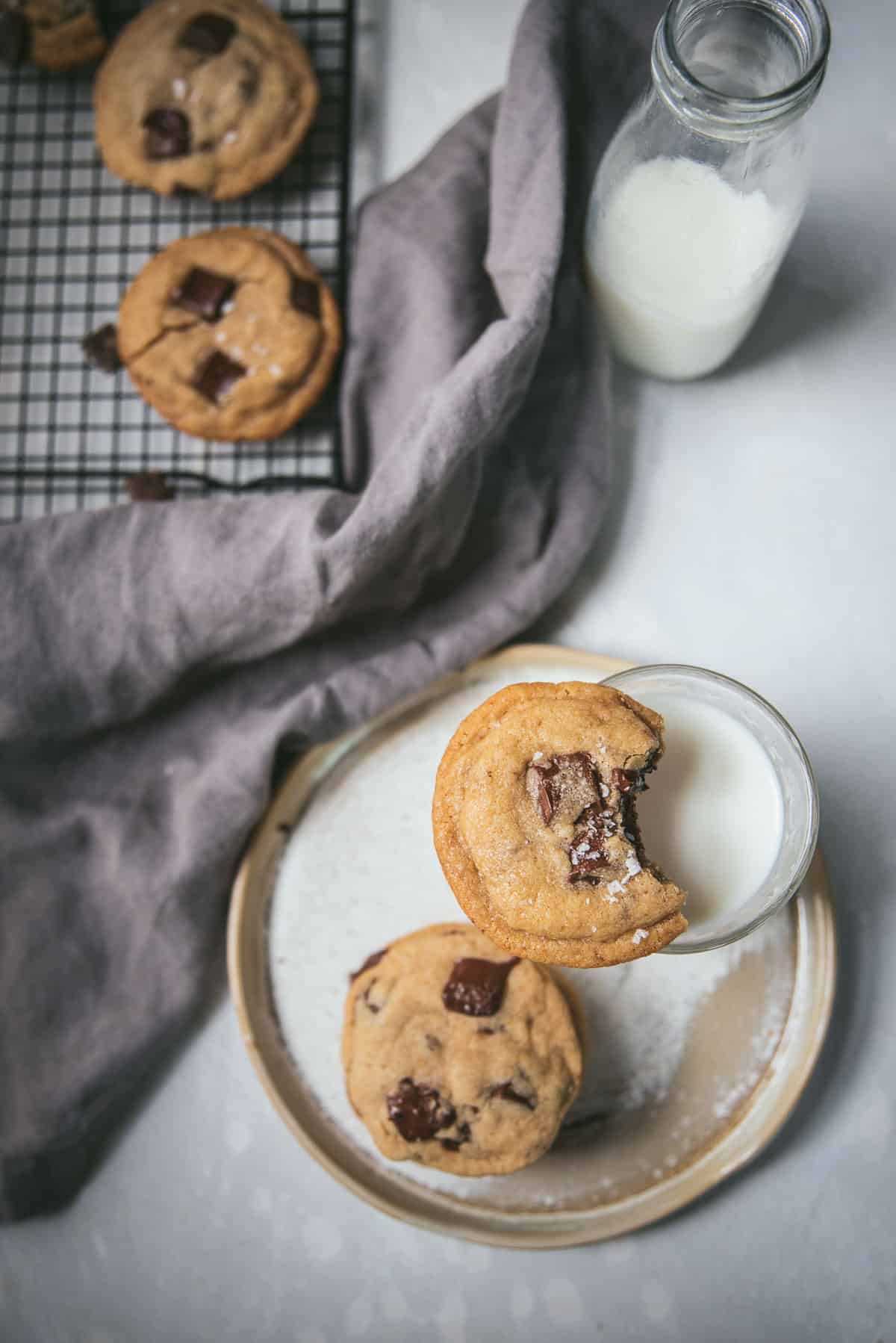 Tips for Making Brown Butter Cookies
So what's the big deal about brown butter anyway, right? If you've never tried it, you're in for a real treat.
Its great as a savory sauce for pasta, like these homemade basil noodles or butternut squash pasta, but can also be used in baking pretty much anywhere butter is required.
To make brown butter, you need to melt the butter over medium heat. Once the butter is melted it will separate. The milk solids will drop to the bottom of the pan and the clear yellow liquid on top is known as clarified butter.
Clarified butter is used a lot to make things like chicken piccata or any dish where the butter needs to cook at high heat and not burn, and of course, served alongside lobster.
You'll want to keep a close watch on the milk solids as they cook. Once they start to brown it goes very fast. Here are a few of my go to tips:
Use a rubber spatula to stir the bottom and sides of the pan so any clinging milk fats don't burn.
The spatula also helps to see the color of the butter using it to part the foam.
Once the butter begins foaming a lot, you're almost done.
Remove the brown butter to a heat proof bowl once they've just turned brown as the milk fats will continue to brown in the hot butter even after it's removed from the pan.
When making the brown butter chocolate chunk cookies, be sure to chill the brown butter in the freezer for 15-20 minutes, stirring every 5 minutes. This allows the butter to cool enough to be used, while keeping it from freezing to the sides of the bowl, but also letting it solidify slightly.
If you don't want to do the whole freezer butter process, you can make the brown butter in advance and just leave it on the counter until it's solid but still soft.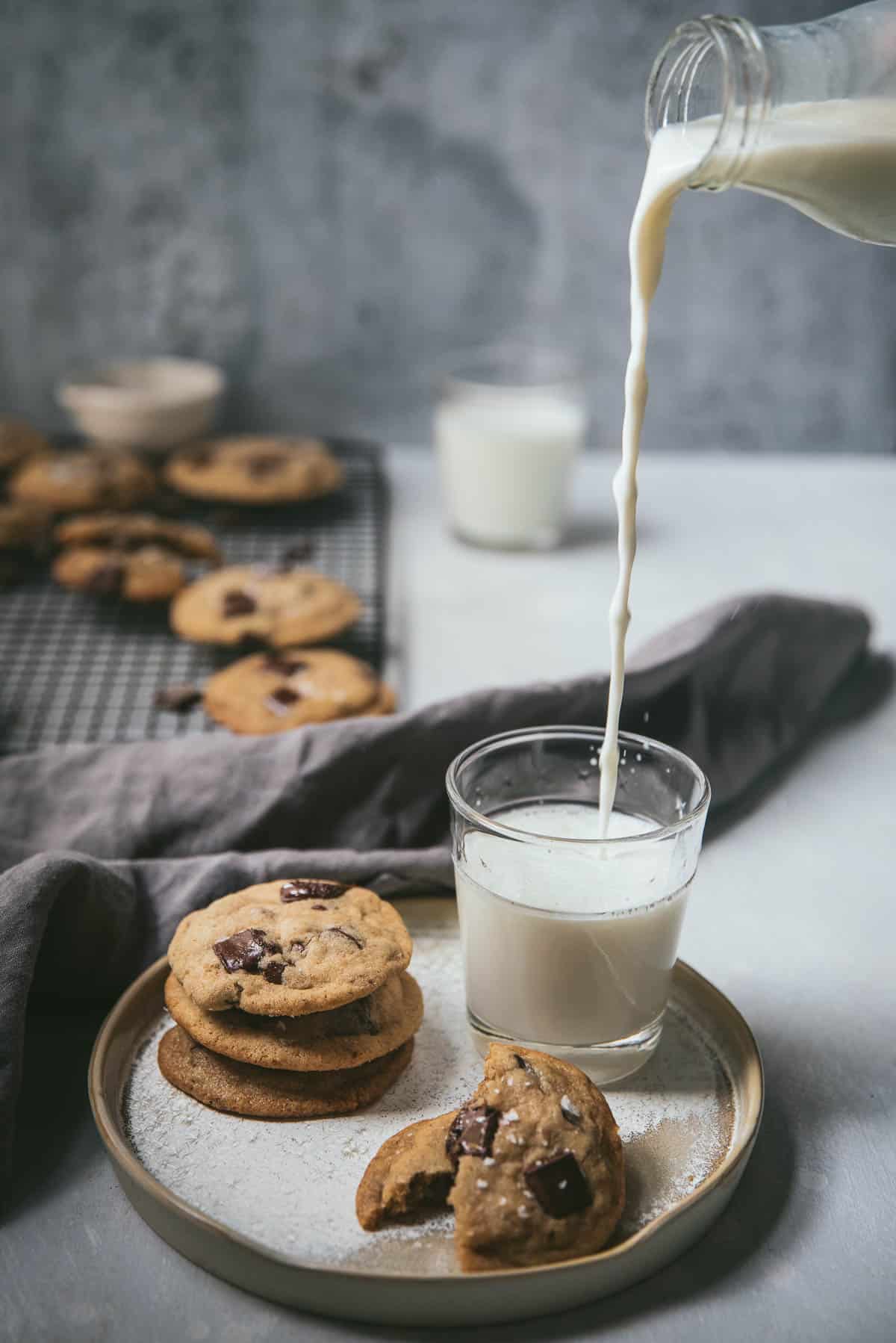 Chill vs No Chill Chocolate Chunk Cookies
If we're of the same mind, when that cookie craving strikes it's a 'need it now' kind of craving. So the need to chill a cookie dough batter can be a real drag.
Great news! If you have some of these silicone baking mats (affiliate link - It doesn't cost you anything, but I make a small commission from each sale) you can skip chilling the batter for 3 hours and bake them right away without the cookies spreading thin.
I've tested this batter every which way and this has yielded the best result.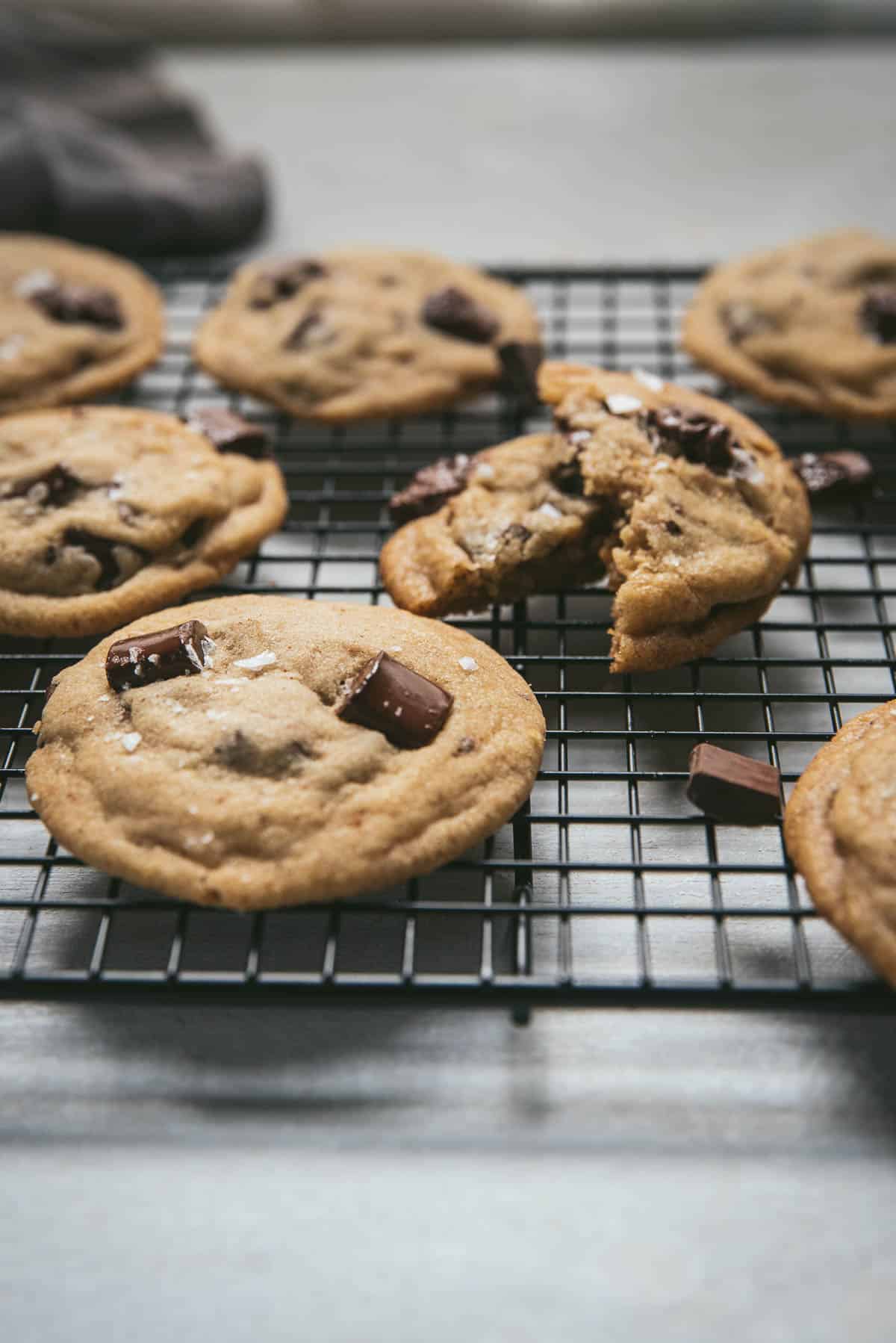 No mat? Don't sweat it, just have patience and tuck the batter in the fridge for 3 hours or more. Then you can bake the cold dough on parchment paper or straight on a baking sheet while yielding nice thick and chewy cookies.
TIP: If I'm going to chill a cookie dough batter, I scoop and roll the cookies first and refrigerate them ready to bake.
Bake the cookies for about 12 minutes. The edges should be just turning golden brown and the centers should look cooked but still very soft. If opting for a sea salt sprinkle, do it right after they come out of the oven so it sticks. Let the cookies cool for about 4 or 5 minutes on the mat before transferring them to cool on a baking rack.
That's it! We've reached cookie nirvana. Be sure to pack some milk!
Did you love this recipe? Let me know in comments! It would be amazing if you could leave a star rating below as well! Thank you for your support!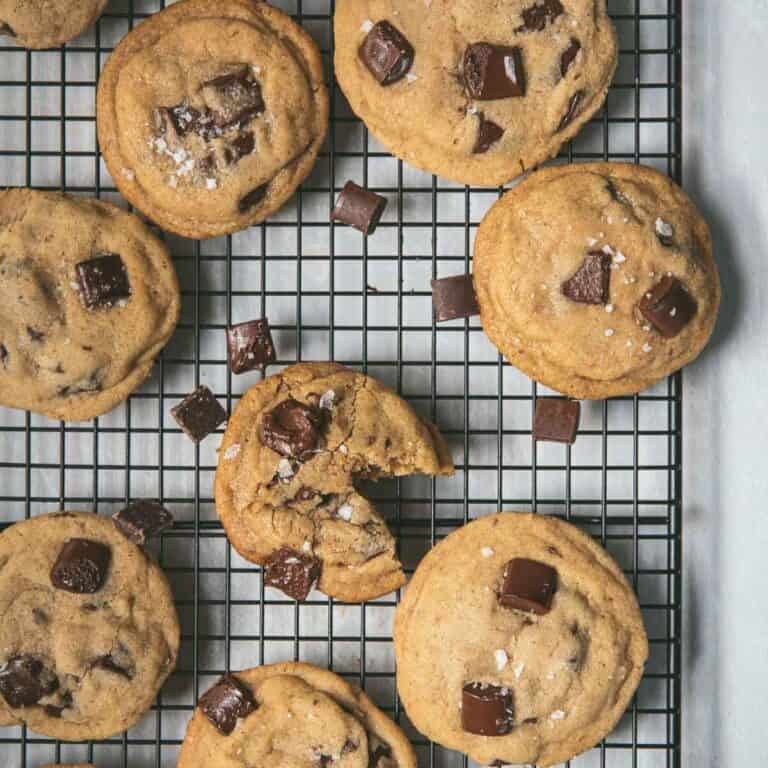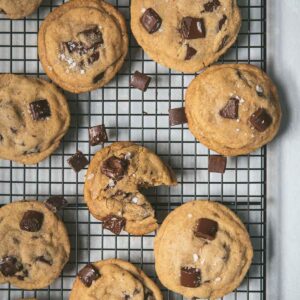 Brown Butter Chocolate Chunk Cookies
The ultimate chocolate chip cookie! Nutty, velvety brown butter makes for a perfect cookie with crisp edges, chewy centers, and rich chocolate chunks in each bite.
Print
Pin
Rate
Ingredients
1

cup

unsalted butter

(2 sticks )

¾

cup

brown sugar

(packed)

½

cup

granulated sugar

2

large eggs

2

teaspoons

vanilla extract

2 ¼

cups

all-purpose flour

(spooned and leveled)

1

teaspoon

baking soda

½

teaspoon

salt

1

bag

bag chocolate chunks

(12-ounce bag)

optional: sea salt flakes
Instructions
Make the brown butter. In a saucepan or medium saute pan, melt the butter over medium heat stirring occasionally. Once the butter is melted the milk fats in the butter will start to darken as it cooks, this takes about 3 to 5 minutes. The butter will start to foam and rise (this is a sign it's almost done). Use a rubber spatula to stir and move the foam to check the color of the milk fats. Once the butter is a toasted brown color transfer to a bowl.

Chill the butter. Place the bowl of butter in the freezer for 15-20 minutes, stirring every 5 minutes. The butter should be chilled and just starting to solidify once the time is up.

Preheat. About ½ way through chilling the butter, preheat the oven to 350°F. If using silicone baking mats, this cookie dough batter does not need to be chilled after mixing. If using parchment paper or baking directly on the baking sheet, chilling the cookie dough for 3 hours is highly recommended to prevent the cookies from spreading thin.

Mix the wet ingredients. In the bowl of a standing mixer or in a medium mixing bowl with a hand mixer, beat the butter, brown sugar, and granulated sugar on medium speed for 5 minutes. Add in the eggs and vanilla and mix for another minute on medium speed, scraping down the side and bottom of the bowl halfway.

Mix in the dry ingredients. In a small bowl, mix together the flour, baking soda, and salt. Add the dry ingredients to the batter and mix increasing the speed to medium as the flour incorporates. Beat for about 1 minute until everything is combined. Lower the speed and mix in the chocolate chunks. Note: reserve about ¼ cup of chocolate chunks for the top of the cookies if you want visible chocolate chunks on top like in the photos.

Bake the cookies. Scoop about 2 tablespoons of dough and lightly roll into a ball. Place on a silicone mat-lined baking sheet. (see note below about mats vs. parchment paper). Top each cookie with 2 or 3 extra chocolate chunks. Bake for 12 to 13 minutes, just until the centers are cooked and the edges have just started to turn golden brown. Optional: sprinkle with flaked sea salt right after baking. Let cool for 3 to 4 minutes before transferring to a wire baking rack to cool completely.
Notes
Silicone mats vs. parchments paper. I looooove me some parchment paper for easy cleanup, but I also really hate waiting for cookie dough to chill. Using a silicone mat to line the baking sheet will allow you to bake these cookies without chilling the batter and also prevent them from spreading. If you don't have silicone mats, I'd recommend chilling the batter for 3 hours before baking if you don't want the cookies to spread.
Spooned and leveled. Just scooping straight out of the bag of flour may lead to dense cookies because the flour to packed! To get the perfect amount of flour, spoon the flour into the measuring cup and level off with a knife. Alternatively, you can just weigh the flour. You'll need 270 grams of all-purpose flour.
This dough can also be made in advance and chilled up to 48 hours before baking.
Nutrition
Serving:
1
g
|
Calories:
86
kcal
|
Carbohydrates:
20
g
|
Protein:
1
g
|
Fat:
1
g
|
Saturated Fat:
1
g
|
Sodium:
96
mg
|
Potassium:
22
mg
|
Fiber:
1
g
|
Sugar:
11
g
|
Calcium:
8
mg
|
Iron:
1
mg