Simple and easy to make, vegetarian black beans are ridiculously tasty! Simmered in a veggie stock broth with spices, each bite is tender and flavorful.
Serve them as a side dish or on top of salads and tacos!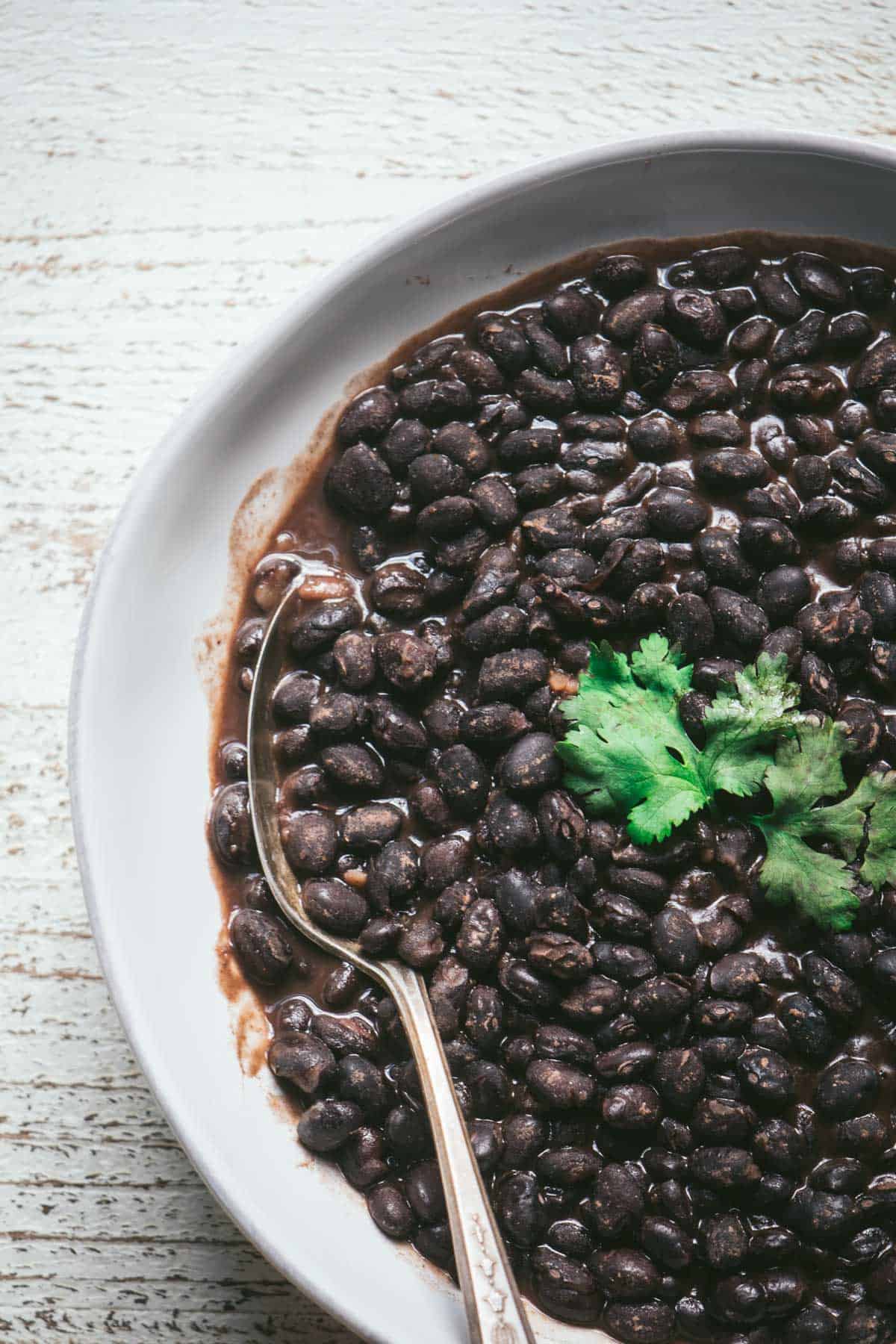 Welcome to my little island of Chipotle inspired recipes. Today's focus is on this lovely legume.
Hello black bean, you're just so great. You're hearty, full of protein, and soluble fiber, and you take on the taste of what you're cooked in.
Thanks for being you!
Really though. A few months ago I was in the middle of a pretty serious relationship with Chipotle's salads. So I've come up with a bunch of copycats to make it at home!
We've got Instant Pot chipotle style chicken thighs, super good honey lime dressing, and now these vegetarian black beans get to join the family too!
Personally, I'd recommend washing them down with some pineapple tequila, but that's just me.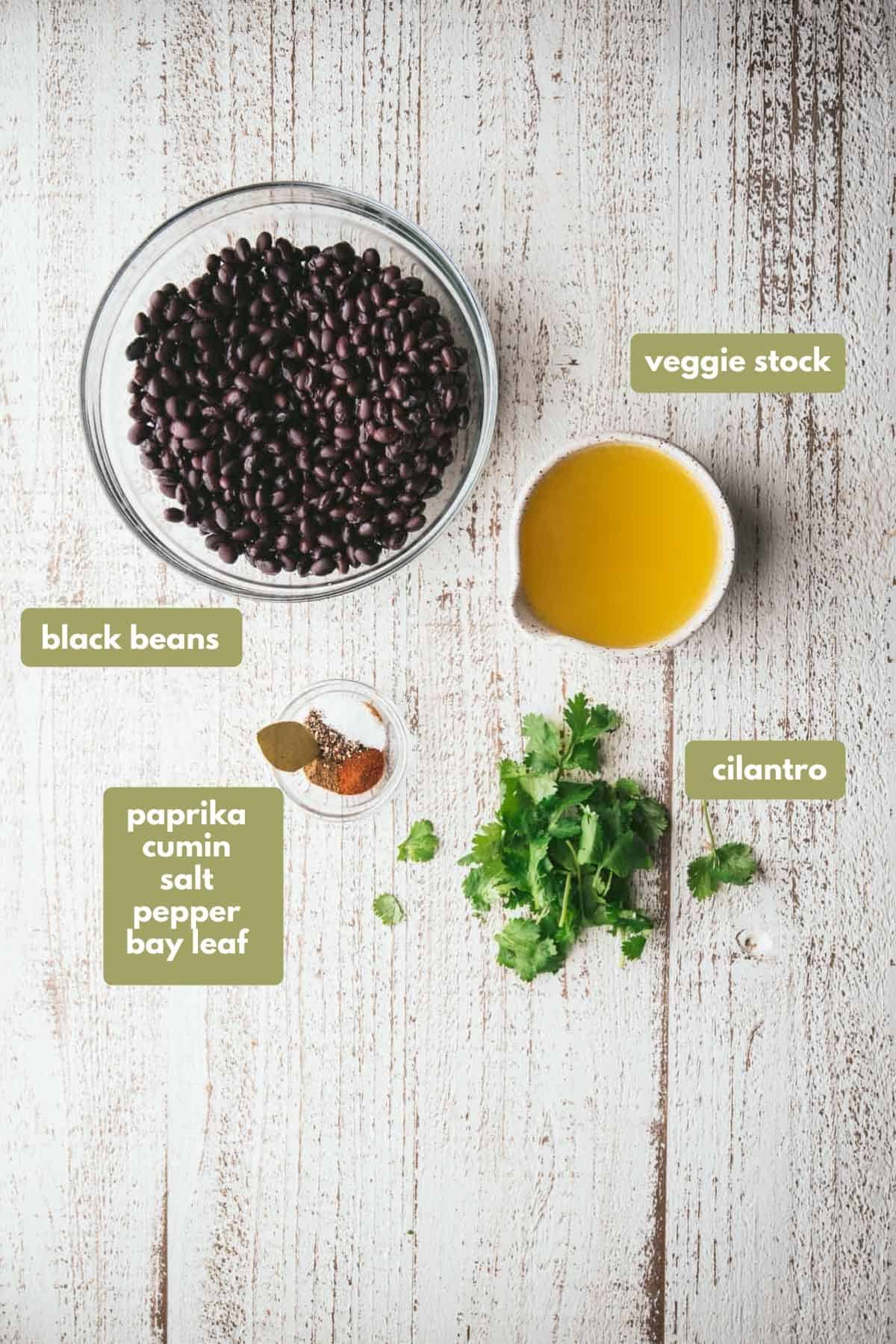 Here's what I am loving about these black beans:
we're using canned beans - so no soaking, quicker cooking
simple, pantry staple spices
vegetarian and vegan
they're still a little saucy - just like the restaurant!
How to make vegetarian black beans
We're heading to the stove top for this one! Grab a large sauce pan, a colander, and your ingredients.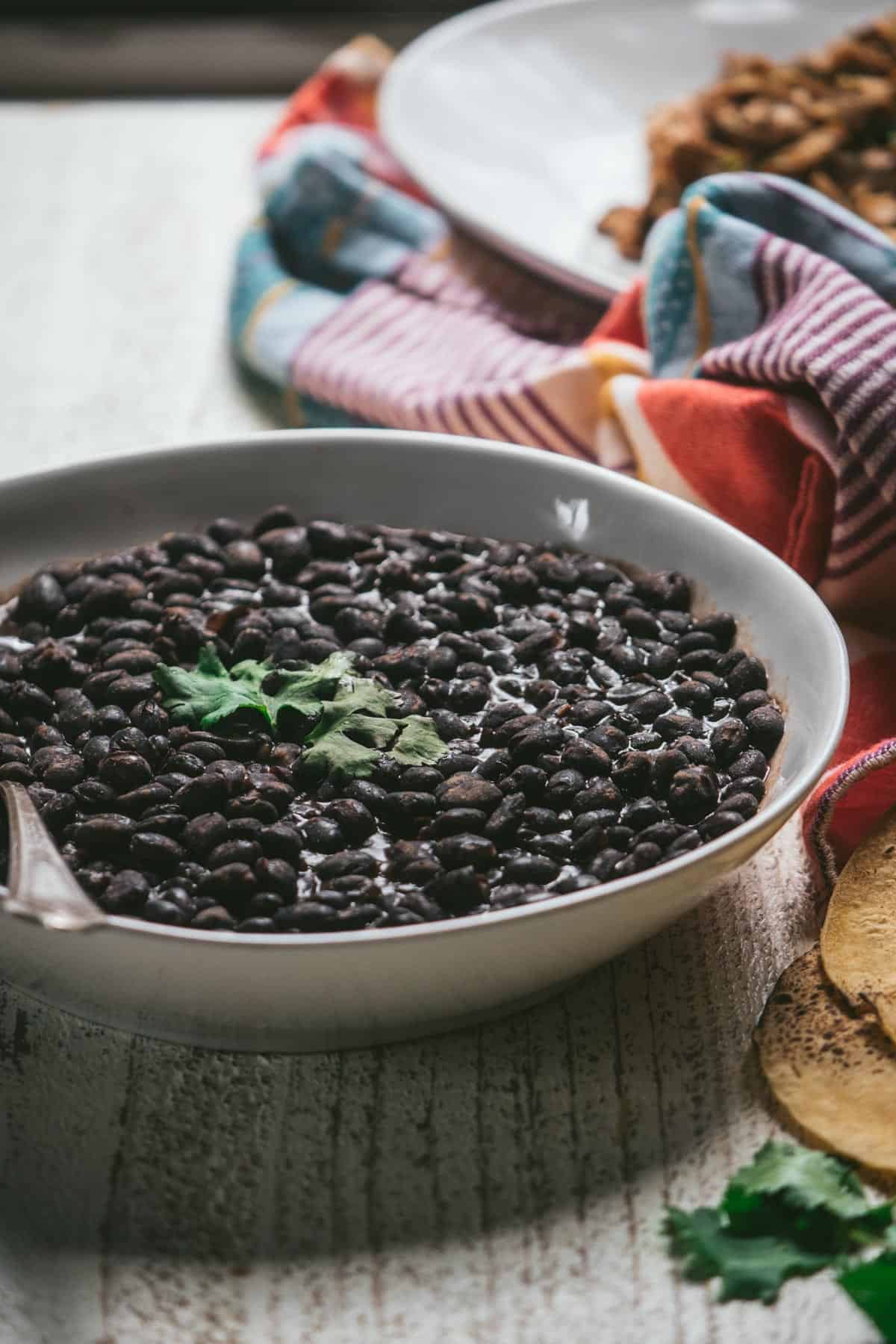 All we're going to do is combine the ingredients (except the cilantro) in the sauce pan, bring it to a boil, reduce the heat and let it simmer! Easy peasy, right?
Once they're done cooking pull out the bay leaf and give them a little sprinkle of chopped cilantro.
Do I need to drain canned beans?
Yes! Canned beans are packed in a water solution to preserve them and it has quite a bit of sodium. Drain the beans in the colander and give them a wash. This also makes it easier to grab the beans stuck at the bottom of the can because you can just use the faucet water to swirl them out.
Is there supposed to be liquid in the pan?
You betcha. After the beans are done cooking, most of the liquid will have been absorbed or cooked off but there will still be some in the pan. As the beans cool, they will keep absorbing that liquid, just getting more and more flavorful.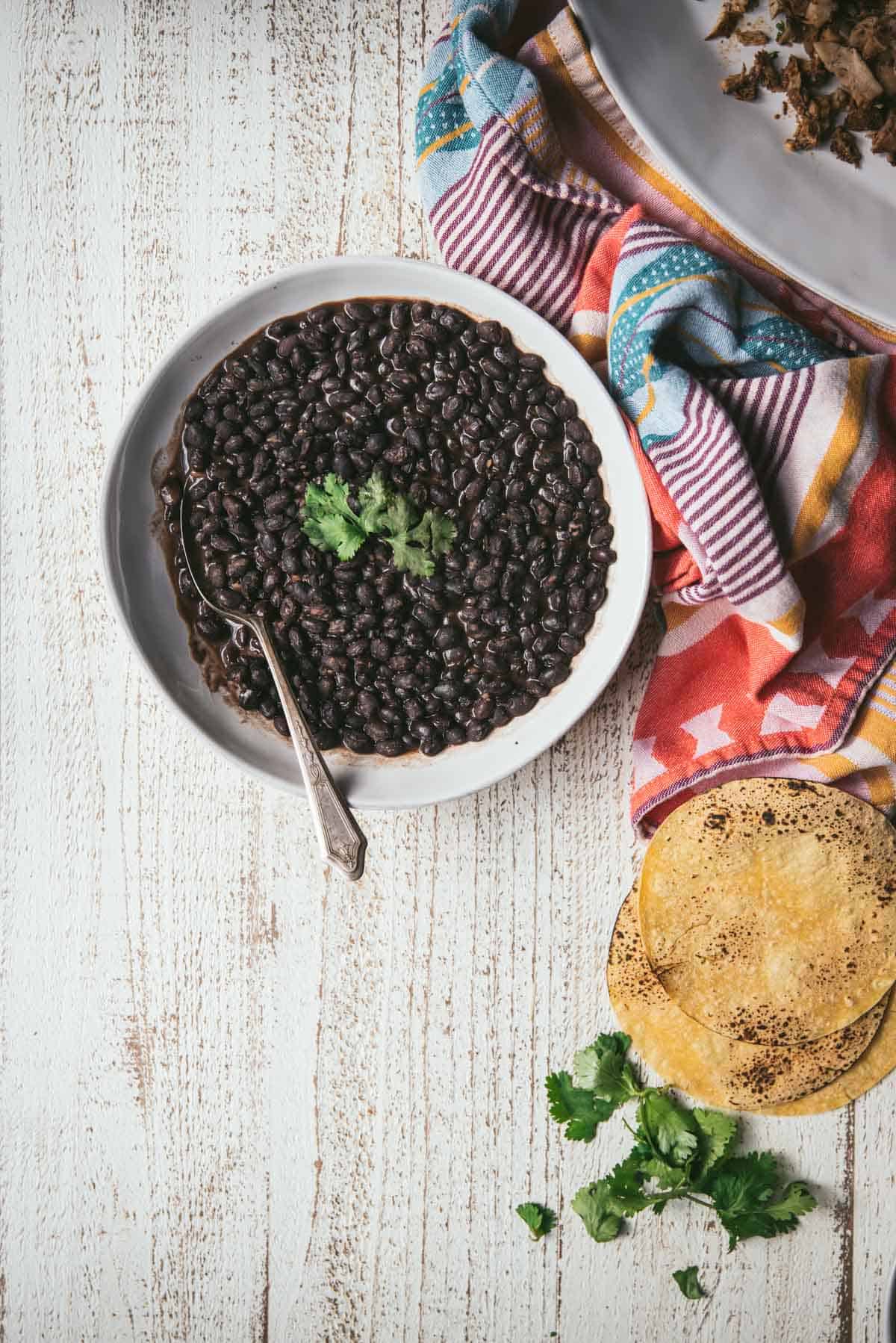 Are canned black beans vegetarian?
Yes! There is no animal product in regular canned beans.
The only case where this might not be true is if you're looking at canned refried beans or black bean soup. Be sure to check the label on any product if you're not 100% sure!
Are beans healthy?
Ya darn tootin'! Haha, get it? (Why am I like this?)
In all seriousness, these little legumes pack some mighty powerful plant protein, fiber, vitamin B, iron, and more. While I'm no certified nutritionist, my personal experience is that when I add beans regularly to my diet I feel better!
What to serve with vegetarian black beans
I'm going to start with tacos, because tacos are what literally pays the bills in our house (you know, because of Bonefish Harrys). But also because I don't think I've ever been disappointed by a taco.
Add these beans on top or serve them alongside rice. The choice is up to you. And if you need something to wash them down while, give one of these tequila-based cocktails a chance.

Be sure to let me know how you dish up your beans! If you make this recipe, I'd love for you to rate and review it below. Thank you for your support!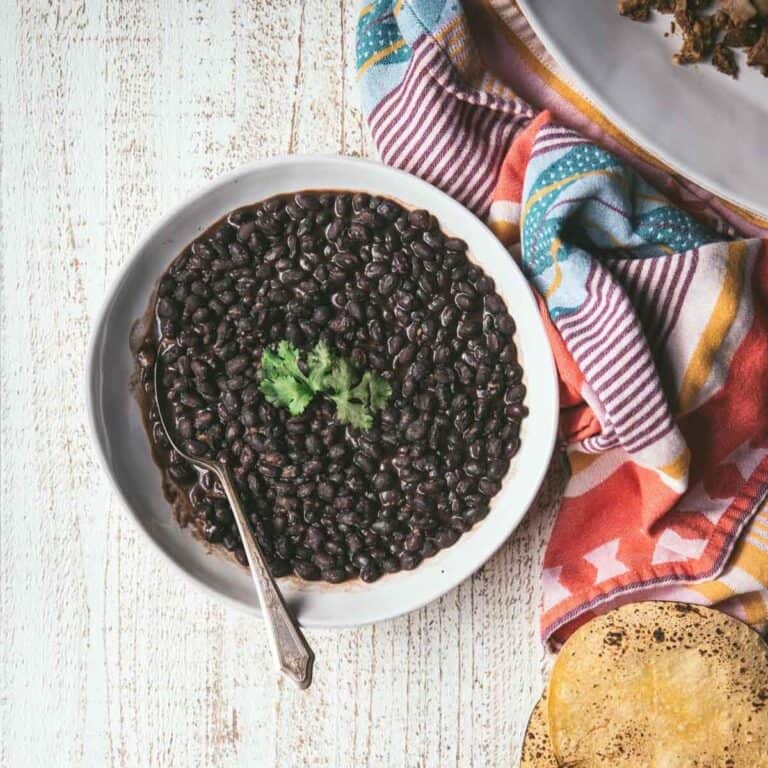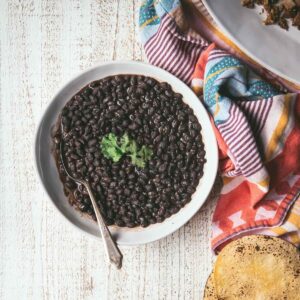 Easy Vegetarian Black Beans
Tender black beans simmered in stock and spices! Vegetarian black beans are a delicious and easy way to add protein to tacos, side dishes, or to enjoy on their own.
Print
Pin
Rate
Ingredients
1

large can black beans

(drained and rinsed (29-ounce can))

1 ¾

cup

vegetable stock

½

teaspoon

salt

⅛

teaspoon

black pepper

½

teaspoon

paprika

¼

teaspoon

cumin

1

bay leaf

1

tablespoon

fresh chopped cilantro

(optional)
Instructions
Rinse. In a large colander, drain the beans and rinse with cold water.

Combine. In a large saucepan, combine the beans, stock, salt, pepper, paprika, cumin, and bay leaf. Bring to a boil over medium-high heat (about 5-8 minutes).

Simmer. Reduce to low and simmer until reduced 20-25 minutes. There will be some liquid left in the pan but not much, beans will continue to soak up liquid as they sit. The beans will be tender and flavorful. Optional: top with fresh chopped cilantro before serving.
Notes
Let cool for 10 to 15 minutes before storing. Store in an air-tight container in the refrigerator for up to 3 to 4 days.
Nutrition
Serving:
1
scoop
|
Calories:
37
kcal
|
Carbohydrates:
8
g
|
Protein:
3
g
|
Fat:
1
g
|
Saturated Fat:
1
g
|
Sodium:
638
mg
|
Potassium:
3
mg
|
Fiber:
1
g
|
Sugar:
1
g
|
Vitamin A:
161
IU
|
Vitamin C:
1
mg
|
Calcium:
1
mg
|
Iron:
1
mg