Enjoy classic Irish cream liqueur in a whole new way! Super creamy, rich, and the perfect amount of sweet, Bailey's Ice Cream is a delicious way to enjoy homemade ice cream. Whether it's for a St. Patrick's Day celebration or just for fun, your family and friends will be asking for another scoop.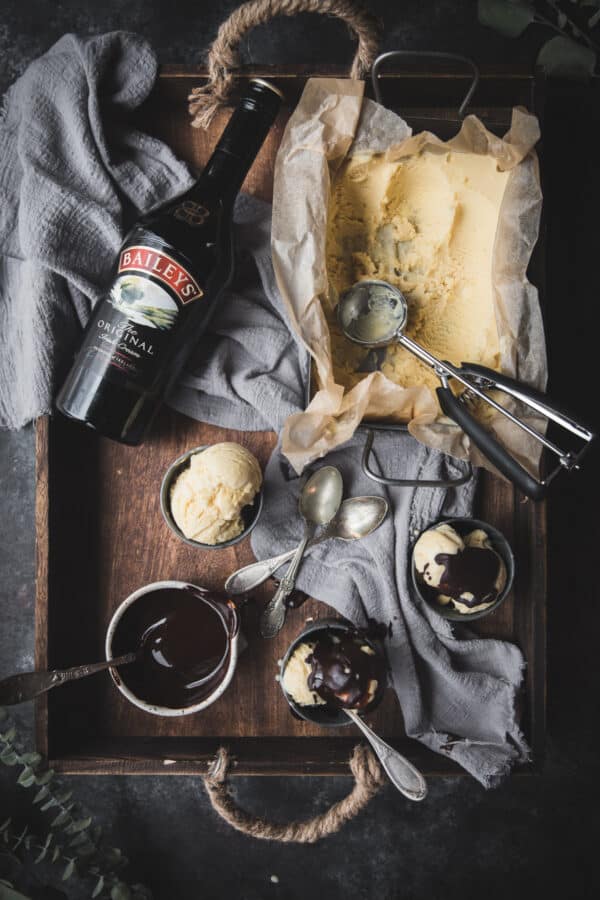 Wow wow wow! Hang on to your hats because this sweet treat is really going to hit the spot.
Homemade ice cream is 100% worth the effort, especially if its a little boozy!
You all know how much I love a boozy dessert. Bourbon Truffles, Whiskey Peach Shortcakes, and Guinness cupcakes stuffed with Whiskey and topped with Baileys Buttercream.
Let's just say we've got options. And to truly ring in St Patricks Day this year, let's celebrate with boozy ice cream and beer-infused chocolate sauce.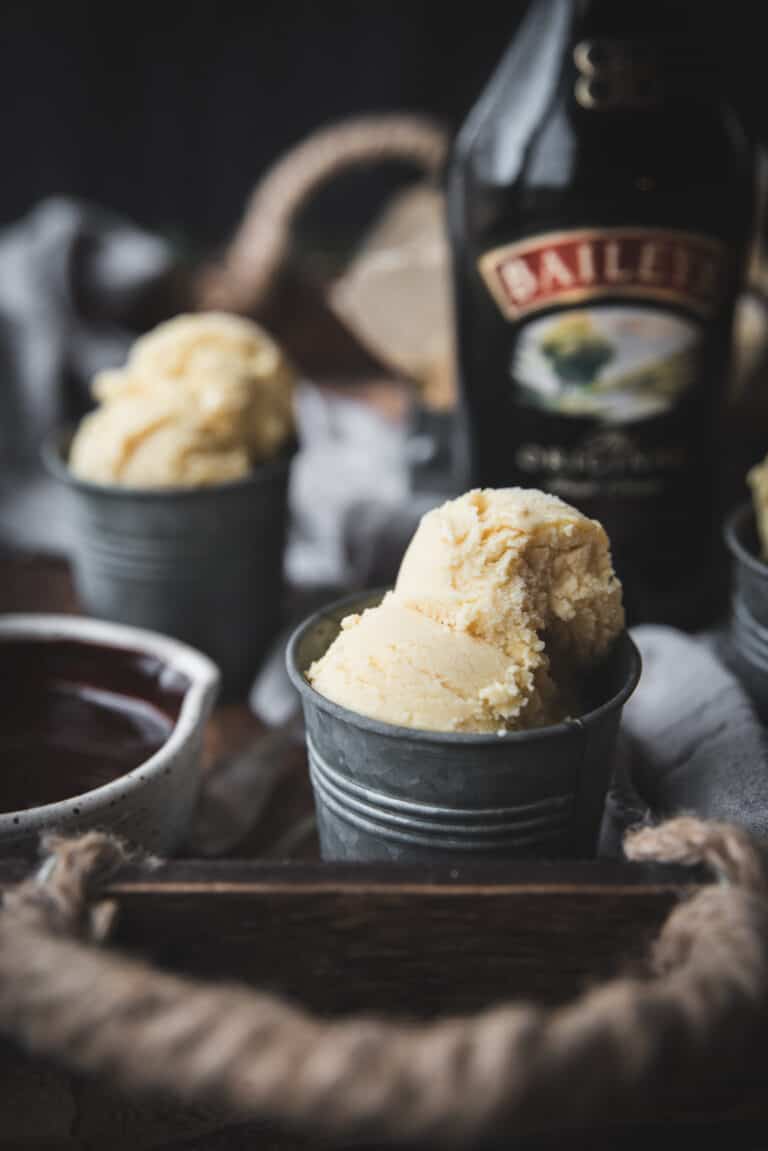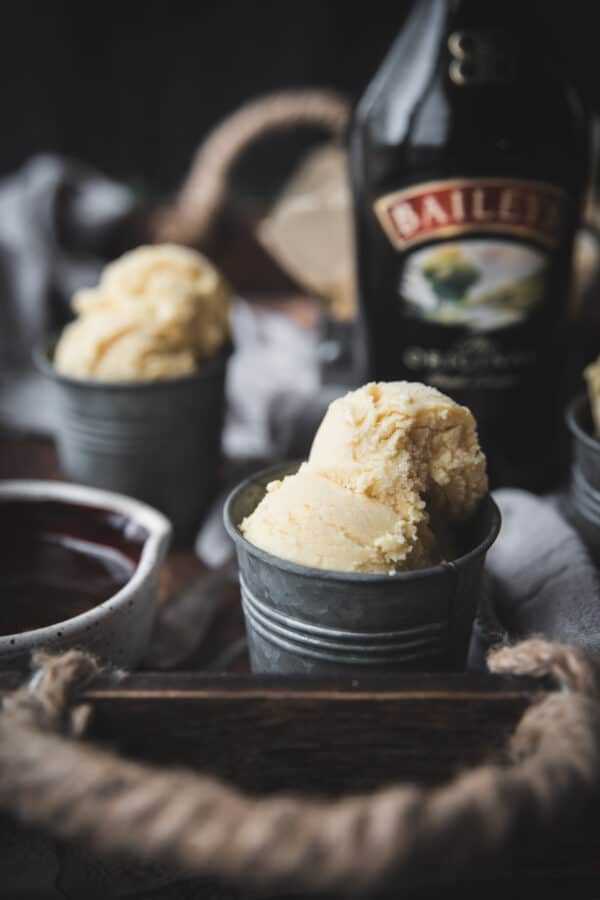 What do you need to make it?
For this ice cream recipe, you'll need some equipment and the typical ingredients for making ice cream.
Equipment
heavy bottom sauce pan
medium mixing bowl
whisk
spatula
ice cream maker
thermometer (optional)
Ingredients for the ice cream
Irish Cream Liqueur
heavy cream
whole milk
egg yolks
vanilla
sugar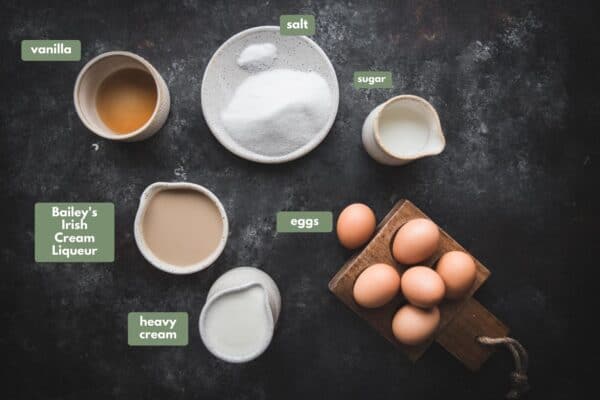 Optional: Ingredients for Guinness Chocolate Sauce
The chocolate sauce is optional, but simple to make and the reduced stout gives the chocolate sauce a great toasty flavor!
Guinness or another similar stout
heavy cream
good quality semi-sweet chocolate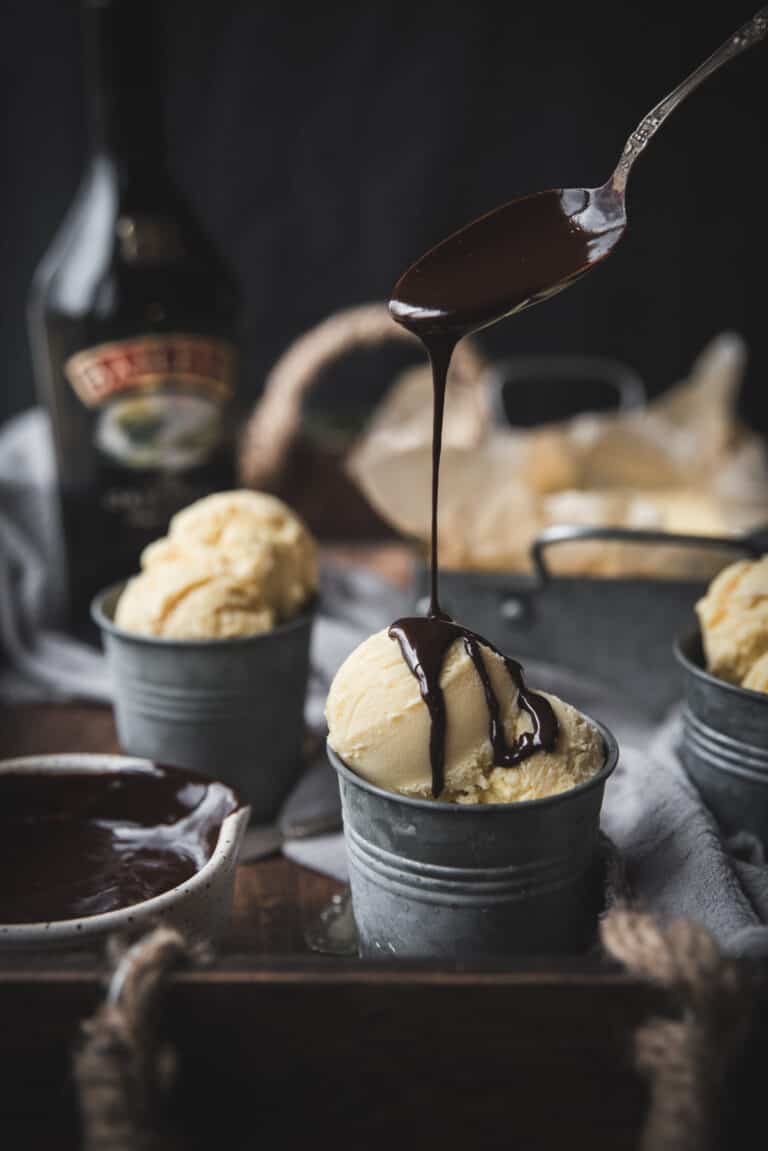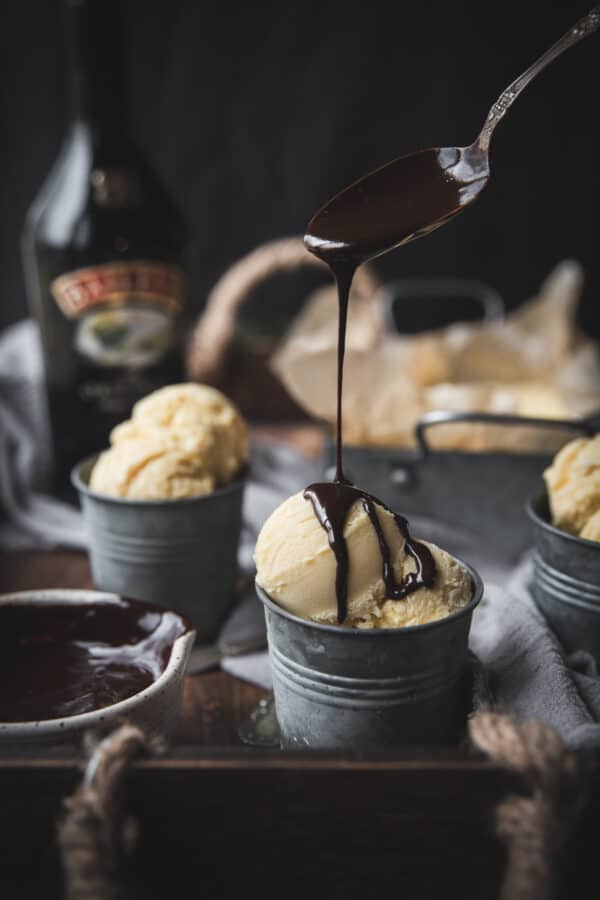 How to make homemade Baileys Ice Cream
We will be following all the same directions as if we were making regular vanilla ice cream with an egg base, up until the churning step.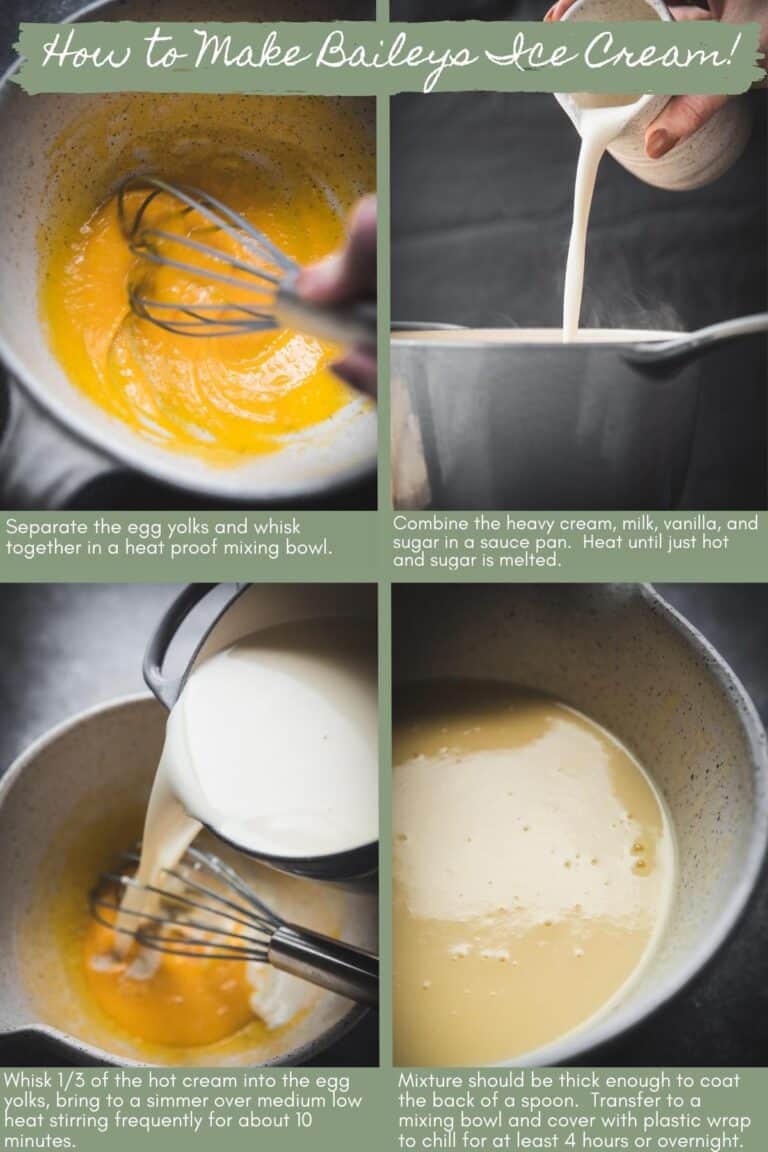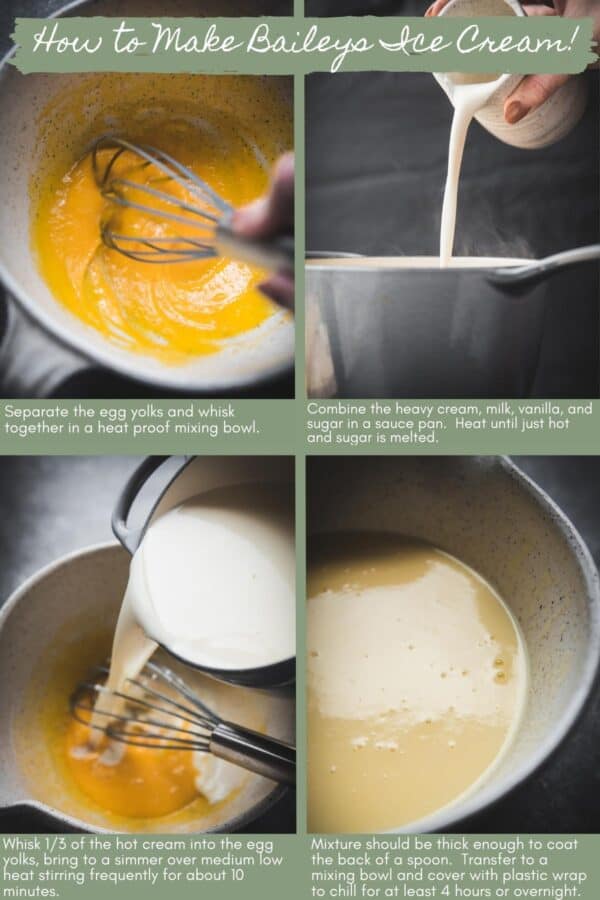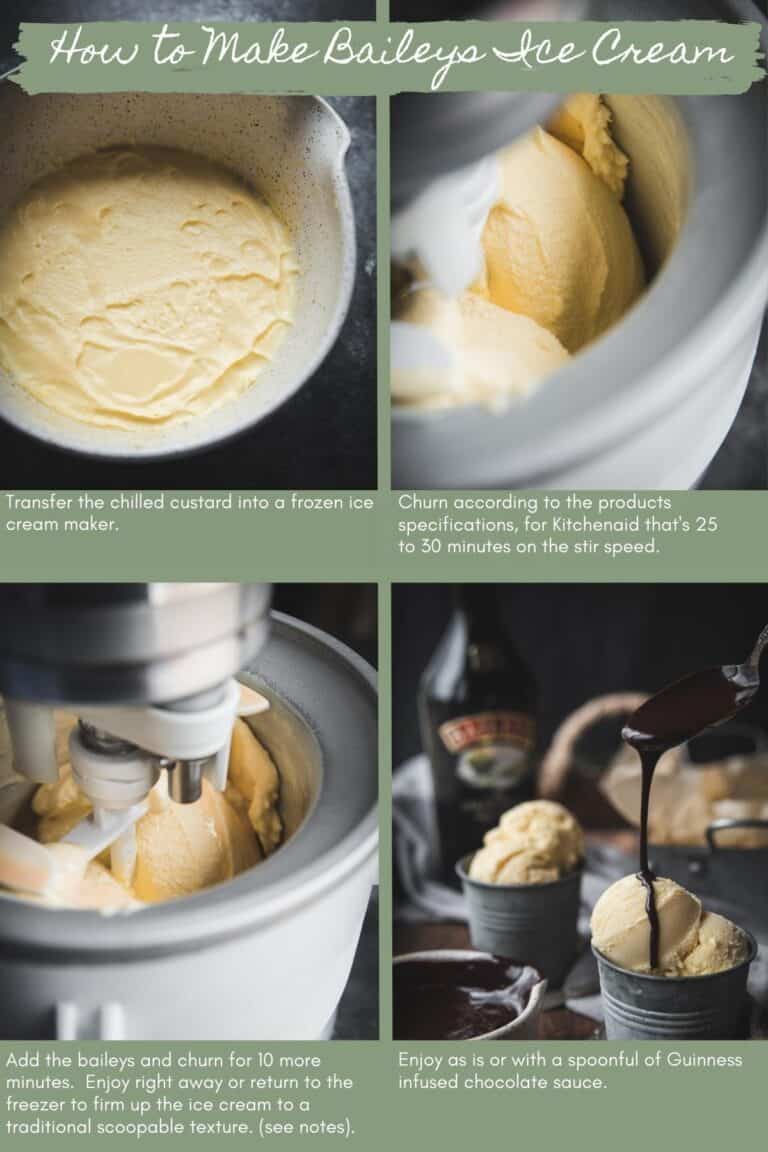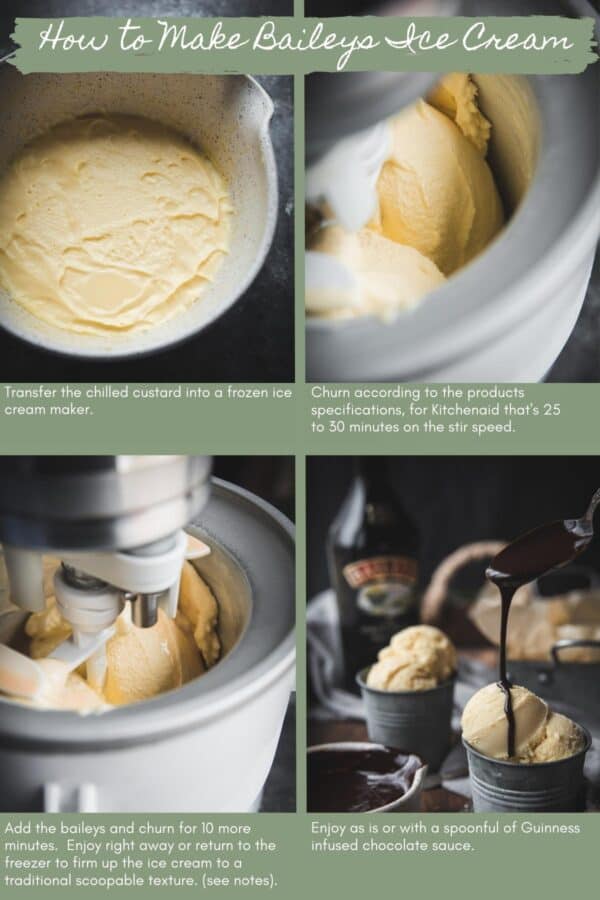 Step 1: Whisk the egg yolks together in a medium, heat-proof mixing bowl and set aside. Heat the heavy cream, milk, vanilla, and sugar over medium heat until hot to the touch (but NOT simmering yet) and the sugar is melted.
Step 2: Slowly add about ⅓ of the hot cream mixture to the egg yolks while whisking. You want to incorporate the hot cream mixture to the eggs without scrambling them. Once incorporated, add the egg yolk cream custard base back to the pan.
Step 3: Over medium-low heat, bring the custard base to just a simmer while turning very frequently. Once the custard base is thick enough to coat the back of a spoon and about 180°F, remove it from the heat and transfer it to a heat-proof mixing bowl.
TIP: slow and steady is the key to step 3! If you cook the mixture too hot the eggs will scramble and you'll need to start over.
Step 4: Let the custard cool for about 5 minutes, lightly press plastic wrap over the top of the custard, and freeze for at least 4 hours to overnight. Chill the baileys in the fridge during this time as well.
TIP: You want your custard base as cold as possible going into the ice cream maker!
Step 5: Once the custard base is super cold and the Bailey's is chilled it's time to break out the ice cream maker. Churn the custard base per the product company's recommendations.
I use a KitchenAid attachment so my guidelines are to churn on the lowest speed setting (stir) for 25-30 minutes. At 20 minutes, slowly pour in the baileys and churn for another 5 to 10 minutes.
Step 6: If you chose the fast method with less baileys (¼ cup) to eat right after churning, enjoy! If you chose the loaded Bailey's option (½ cup), you can enjoy it with a soft serve-like texture OR return to the freeze in a plastic wrap-lined bowl and let it refreeze for about 6 hours.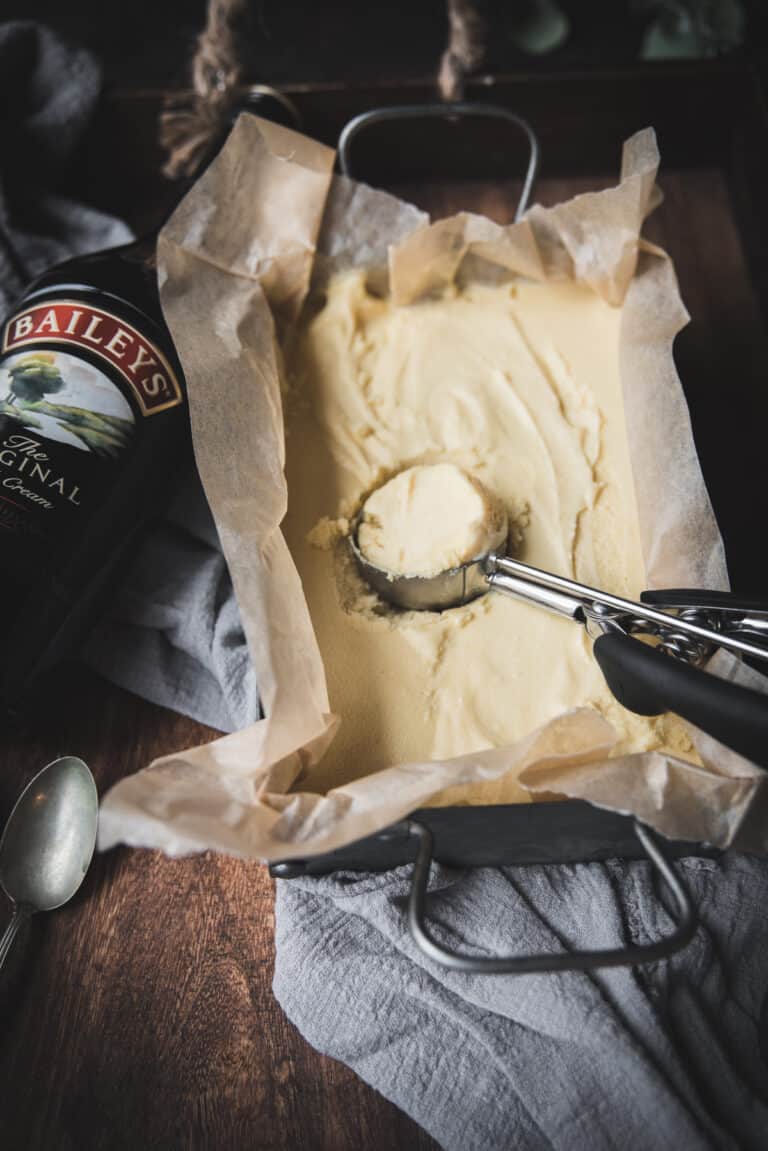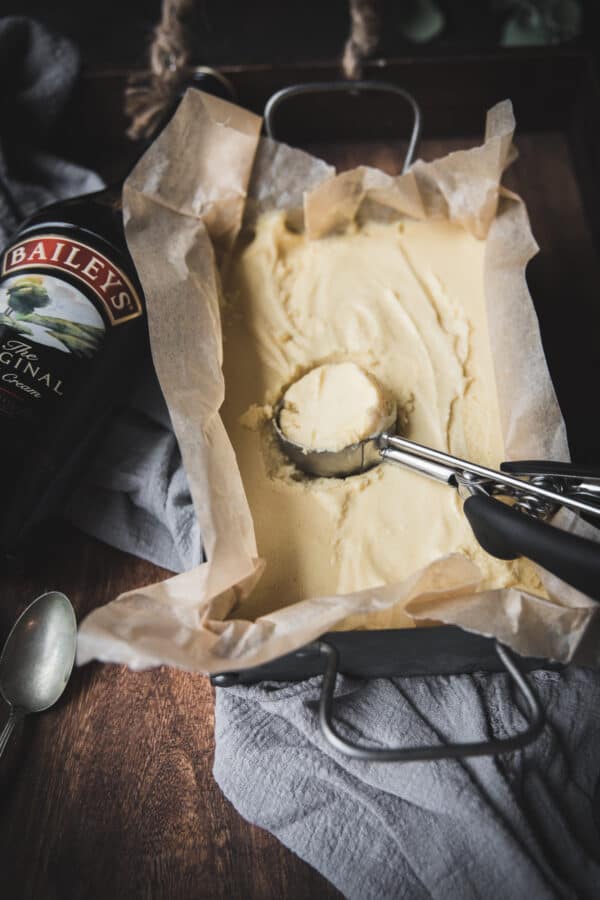 The sort of sciency bit…
The reason for the re-freeze step is to give the alcohol infused dairy in the Baileys time to freeze. The ice cream mixture won't be cold enough on its own to do that.
The more Baileys you put in the ice cream base the more the alcohol will be in the dairy-based mixture.
BUT because Irish cream liqueur is only 17% ABV and made of other ingredients besides spirits alone (heavy cream and whiskey), it will freeze more than pure spirits (for example, vodka that's 40% ABV and will not freeze.)
Lastly, if you choose to also make the Guinness Chocolate Sauce (which you 100% absolutely should) there's some science involved there too.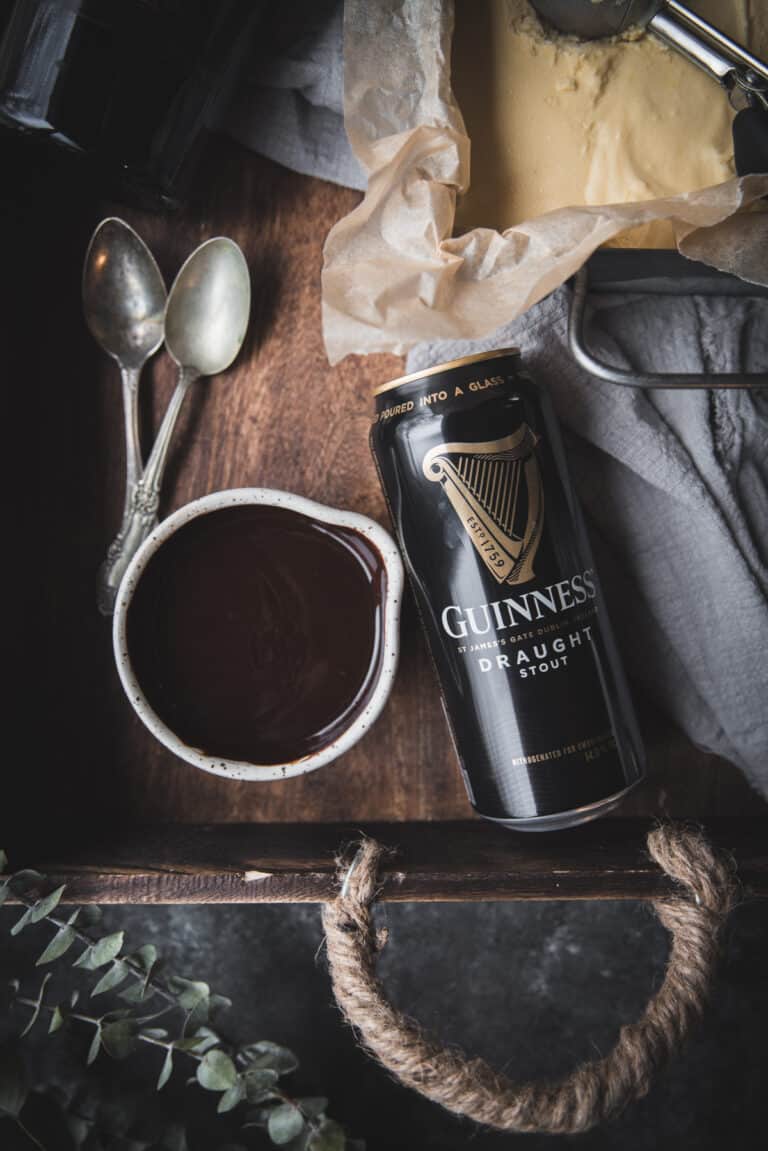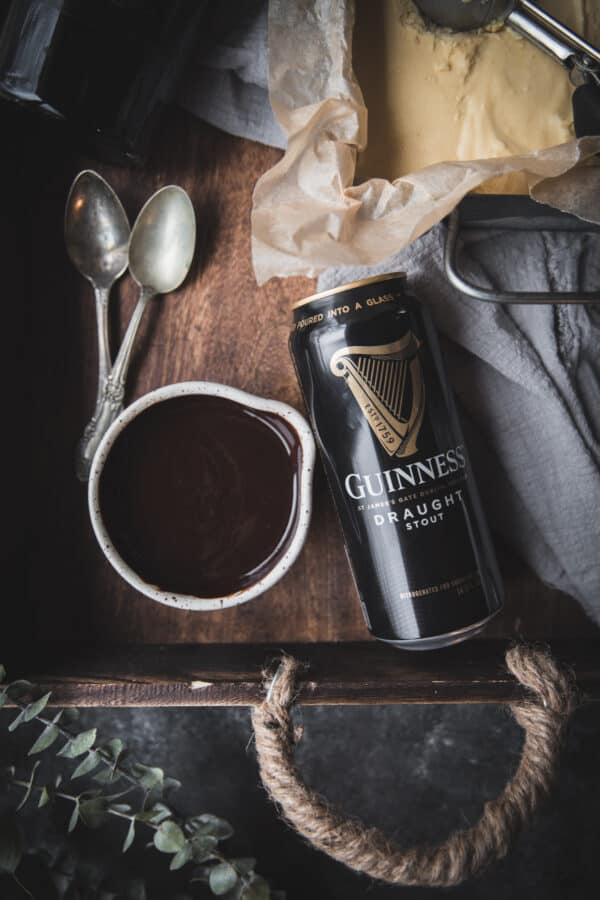 For the chocolate sauce, you'll need to reduce the Guinness in order to cook off as much water in it as possible. This will prevent the chocolate from seizing (when the fat and the cocoa separate) when you mix it together. It will also keep the heavy cream from curdling when mixed with the stout.
Can you make it without alcohol?
Yes! Simmer the liquor over low heat for about 15 to 20 minutes, only simmering - don't boil! - to cook off the alcohol. Chill completely and follow the same steps for churning.
How do you store it?
In an air tight container in the freezer. The ice cream will stay fresh for about 2 to 4 weeks.
Will Baileys liqueur freeze?
Yes! Because Baileys is not just pure spirit (like vodka or bourbon) and has a lower alcohol by volume (17% ABV) it will freeze and is perfect for adding to ice cream.
Ideas for serving your ice cream
Put it in a bowl and drizzle with your chocolate sauce! But if you want to up the ante, here are some other ideas:
Bake some browned butter chocolate chip cookies and make an ice cream sandwich!
Scoop it into a glass or mug and serve affogato style with a shot of espresso or cold brew coffee.
Top off some fudgy rich brownness with a scoop of creamy ice cream!
Really the possibilities are endless! Be sure to tell me how you served your Bailey's Ice Cream in the comments.
If you made this recipe, I'd love for you to leave a star rating in the recipe card below. Thanks for your support!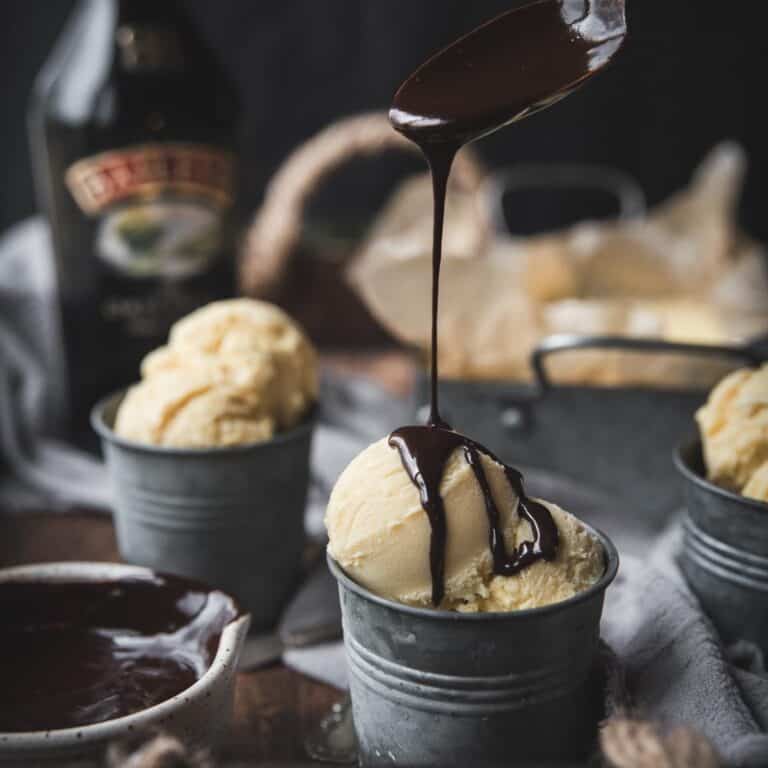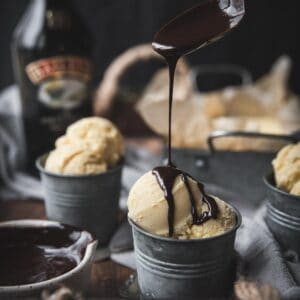 Baileys Ice Cream
Traditional ice cream with a boozy upgrade! Creamy, rich, with a velvety texture and lots of irish cream flavor this Baileys Ice Cream is the only dessert you'll want to eat on St. Paddy's Day!
Print
Pin
Rate
Equipment
ice cream maker

I use the Kitchenaid attachment

heat proof mixing bowl

heavy bottom sauce pan

plastic wrap
Ingredients
Baileys Ice Cream
¼ to ½

cup

Baileys Irish Cream

(*See notes)

2 ½

cups

heavy cream

½

cup

whole milk

½

cup

granulated sugar

2

teaspoons

vanilla extract or vanilla paste

½

teaspoon

kosher salt

6

large

egg yolks
Guinness Chocolate Sauce
1

cup

Guinness stout

¼

cup

heavy cream

4

ounces

semisweet chocolate

(chopped in small pieces)
Instructions
Chill the ice cream maker in the freezer for at least 8 to 12 hours.

Whisk the egg yolks in the mixing bowl until well combined, set aside. Pour the Baileys into a storage container and set in the fridge until the ice cream base is ready to be churned.

Combine the 2 ½ cups heavy cream, ½ cup whole milk, 2 teaspoons vanilla, and ½ cup sugar in the sauce pan. Heat over medium heat until hot to the touch (but NOT simmering) and the sugar is melted.

Slowly add about ⅓ of the hot cream mixture to the egg yolks while whisking. Once incorporated and mixed, add whisk the egg yolk cream mixture back into the remaining liquid in the saucepan.

Set over medium-low heat. Stir frequently and cook until just simmering or the custard has reached 180°F, about 10 minutes. The mixture should be thick enough to coat the back of a spoon. Do not let the mixture boil or cook over too high a heat or the eggs will scramble!

Transfer to a heat proof mixing bowl and cover the top of the custard with plastic wrap (to prevent a skin forming during chilling). Chill for a minimum of 4 hours, but overnight is best. The colder the base the more firm your ice cream will be!

Once the base has chilled, set up your ice cream machine and churn per the manufacturers guidelines. For a Kitchenaid ice cream attachment, churn on the stir setting for 25 to 30 minutes. After churning for 20 minutes, slowly pour in the chilled ¼ to ½ cup Baileys with the mixer running. Churn for an additional 10 minutes. Optional: serve with a drizzle of Guinness Chocolate Sauce!

Fast method: use ¼ cup Baileys and the ice cream will set in a scoopable texture during churning.Maximum Baileys method: use ½ cup Baileys and return the churned ice cream to the freezer for another 4 to 8 hours to set into a scoopable texture or eat as is in a soft serve style texture.
Guinness Chocolate Sauce
In a small saucepan set over medium-high heat, reduce the guiness from 1 cup to 2 tablespoons, about 15 minutes. Add the cream to the pan and bring to just a simmer.

In a small mixing bowl, pour the hot guinness cream over the chopped chocolate. Let sit for about 5 minutes then stir until smooth. Serve right away or chill for later use. Use the double boiler method to reheat.
Notes
Sometimes making boozy desserts can be tricky because the alcohol messes with the fat content and certain percentages of alcohol will not freeze. Because Baileys is has a lower ABV than most spirits it's great for making ice cream but the more you use the 'soupier' your end result will be. I found ½ cup of Baileys to be the best flavor, but it needed to refreeze a little longer to be scoopable like traditional ice cream. You do not need to do this step, but the final result will be a softer style ice cream. OR you can use less Baileys - ¼ cup - to achieve the traditional texture without extra chill time.
Be sure to chill your ice cream maker base in advance, as well as, chill the egg custard base.
Swap vanilla bean paste for vanilla extract to make a whiter ice cream base with those delicious vanilla bean specks in each bite!
Nutrition
Calories:
991
kcal
|
Carbohydrates:
52
g
|
Protein:
12
g
|
Fat:
80
g
|
Saturated Fat:
48
g
|
Polyunsaturated Fat:
4
g
|
Monounsaturated Fat:
21
g
|
Trans Fat:
1
g
|
Cholesterol:
466
mg
|
Sodium:
362
mg
|
Potassium:
393
mg
|
Fiber:
2
g
|
Sugar:
45
g
|
Vitamin A:
2837
IU
|
Vitamin C:
1
mg
|
Calcium:
197
mg
|
Iron:
3
mg