Buttery, flaky chamomile-infused biscuits surrounded by juicy whiskey-soaked peaches. Honey Whiskey Peach Shortcakes is a summer dessert you absolutely do not want to miss! The peaches are so easy to make and the chamomile shortcakes are absolutely divine!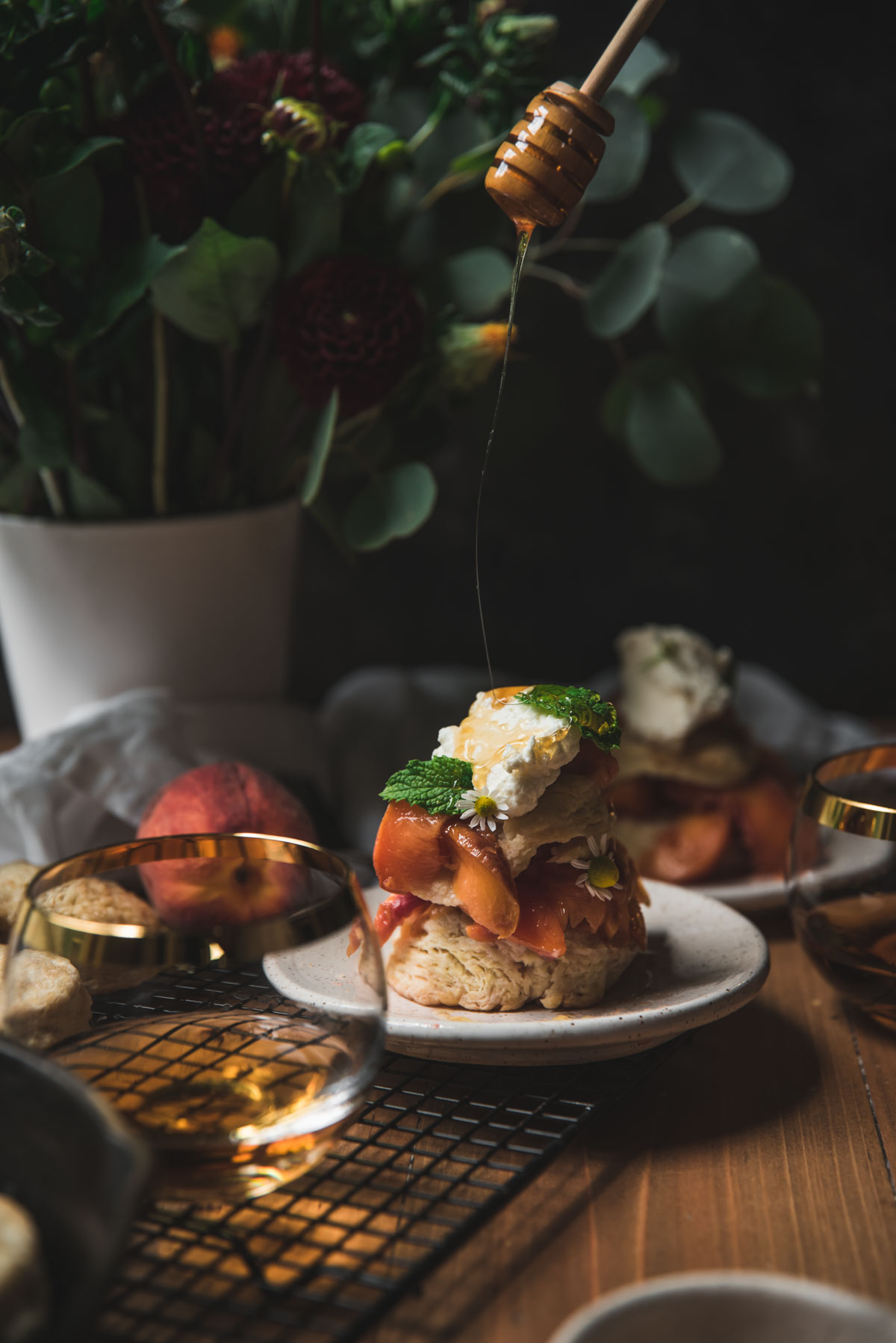 Could I BE any more excited about this dessert?!
No. No, I could not.
I took all the recipes in my drafts folder and told them to just shut it and wait because these peach shortcakes need to be out in the world. It is peach season after all.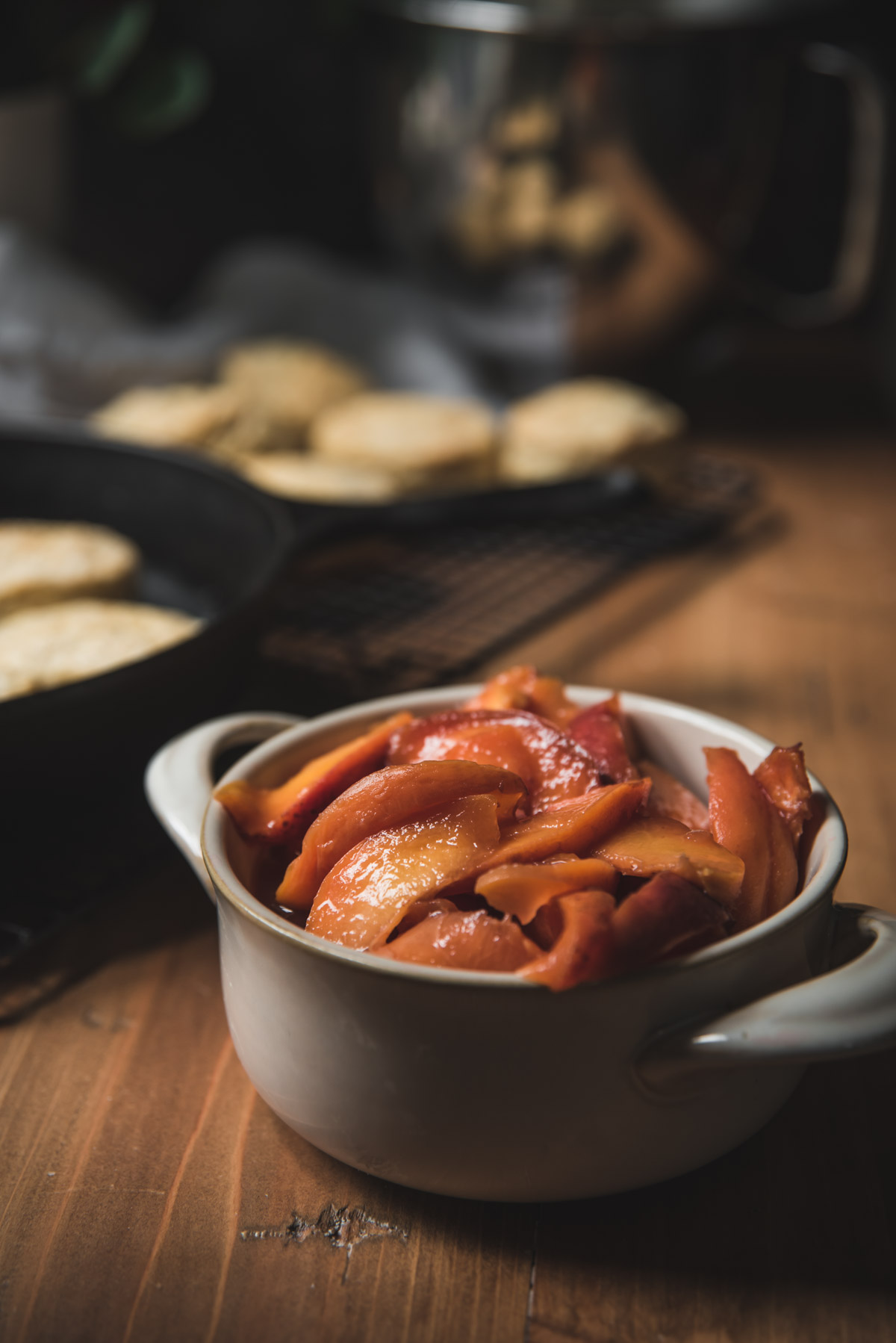 Here's why you're going to want to make this stat:
ripe peaches
WHISKEY
just a little honey adds the perfect amount of sweet
easy to make biscuits...
infused with chamomile (mindblowing and yet oh so subtle)
If you haven't made your own biscuits, I would highly recommend doing it. If you've made pie crust before, biscuits are pretty similar, and being able to infuse them with different flavors - like the mellow, flowery flavors of chamomile - makes the possibilities pretty endless.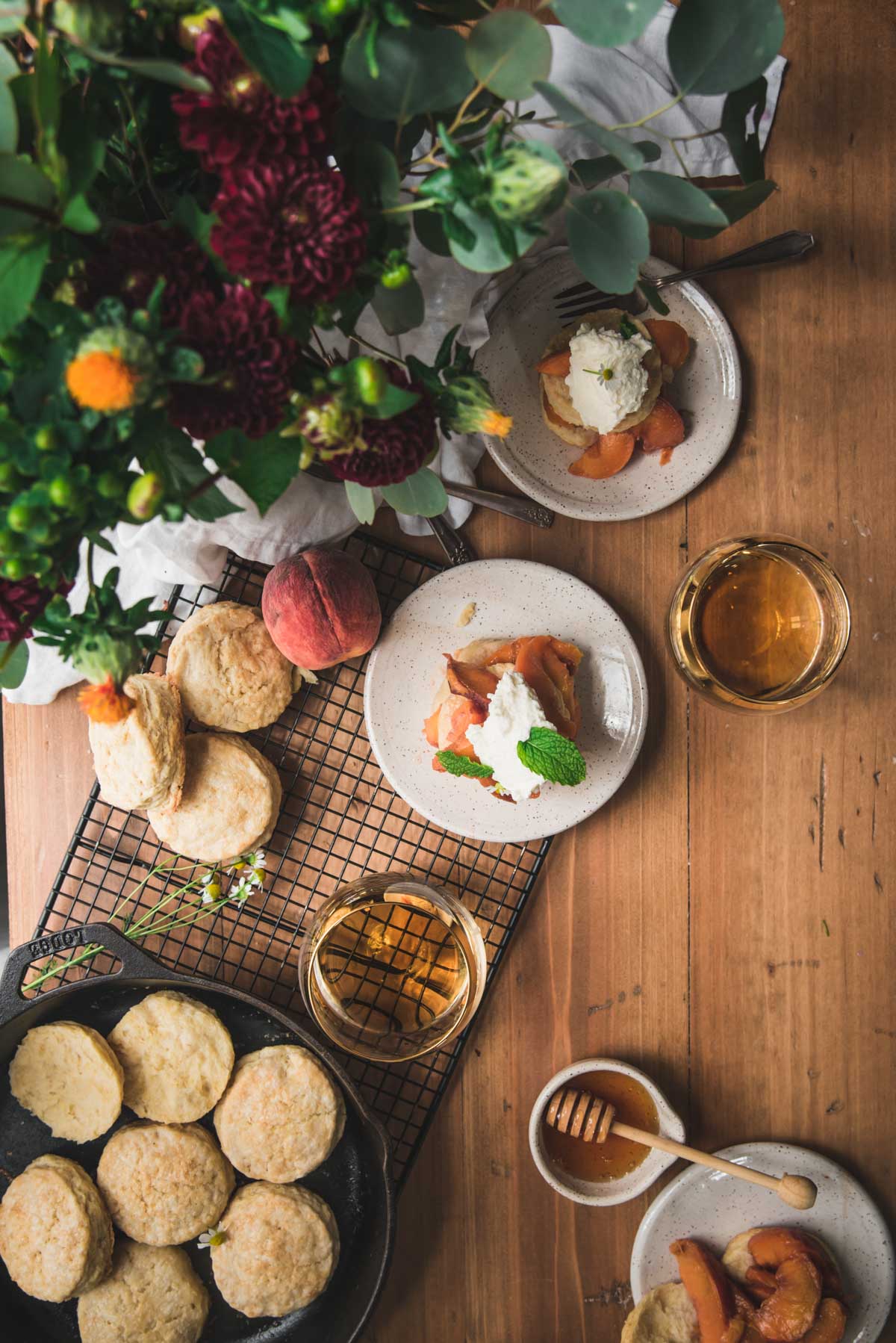 Do you know what else I adore about this summer dessert? You don't just have to eat it for dessert.
Weekend breakfast or brunch I'm looking at you. And technically I ate mine for lunch after photos and for this, I have zero regrets.
Anyways, let's chat about what you need to know to make these peachy delights so you can be on your way to happy belly city.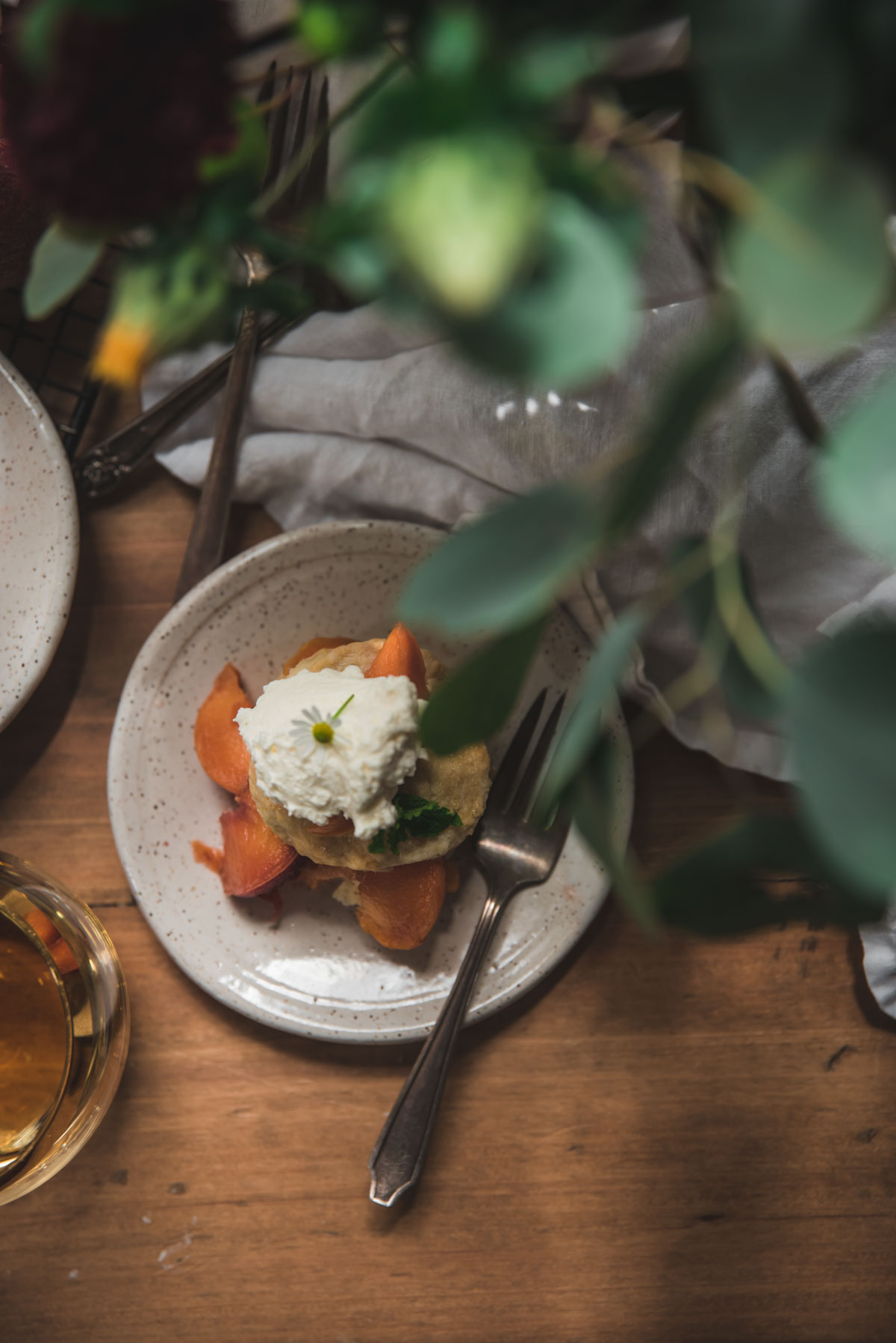 Can you make peach shortcakes in advance?
Yes! The shortcakes can be made the day before. I would highly recommend warming them up in the toaster or oven before serving. Just wait until you are going to eat the shortcakes before assembling them.
Why do they call it a shortcake if it's a biscuit?
Well, it depends on where you are. If you're in the United States, our biscuits are layers of flakey dough and butter that are a bit crumbly. Biscuits across the pond are what most Americans would call scones.
Shortcake refers more to the fats used to create the dough than the small stature of the pastry. Most baked goods were made using some sort of shortening or butter - hence, short cake.
But the term 'shortcake' does get its roots from England with the first shortcake recipe being dated as far back as 1588. So you can truly consider this a 'classic'.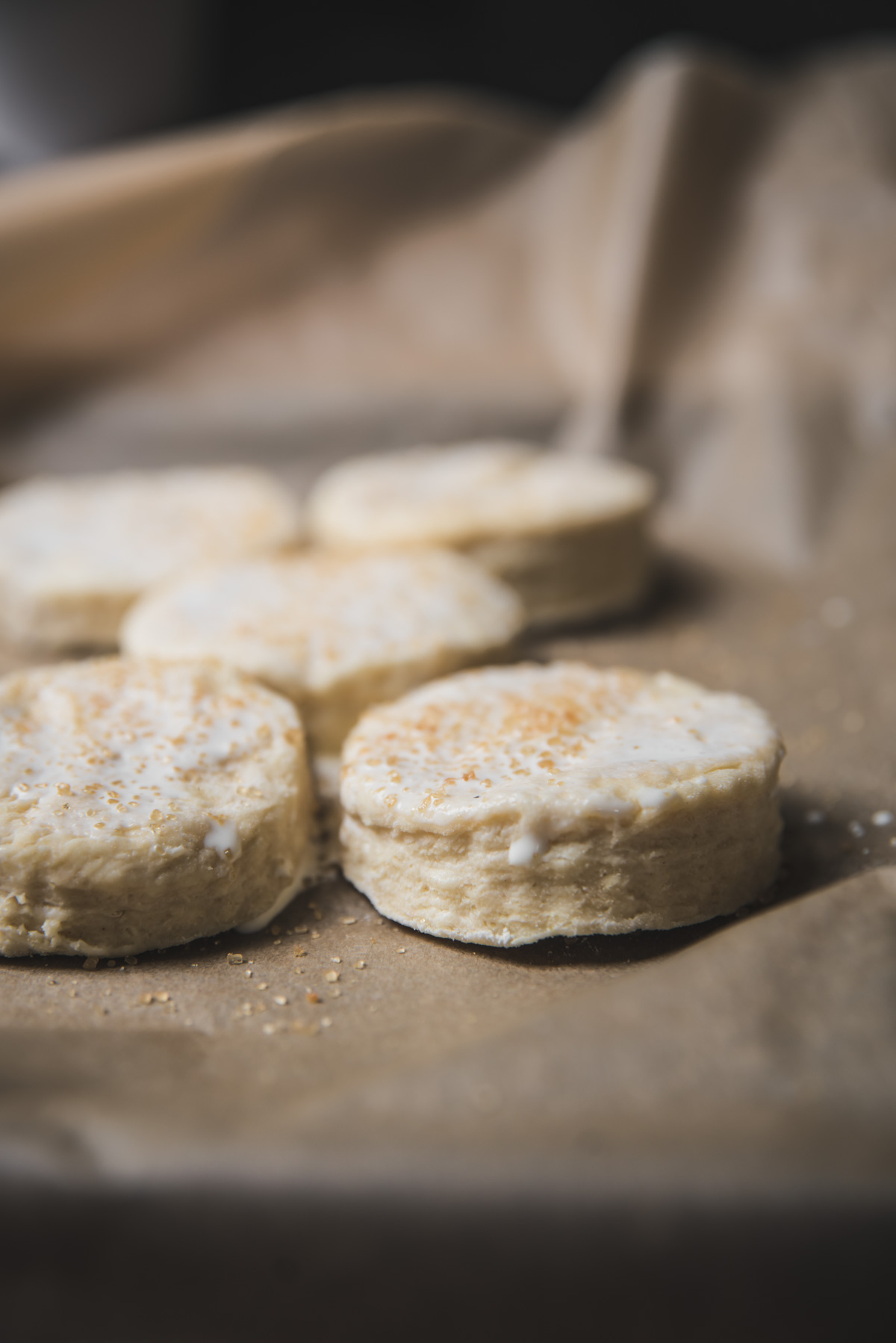 How to make tea infused biscuts...or just make them regular
They are soooooo good, but if you're not a fan of chamomile you can just use regular milk. Or if there's another tea you like, go ahead and substitute that for the chamomile. Chai would be an excellent option!
If you do decide that the tea infusion is not for you, combine 1 scant cup of milk (so 1 cup of milk with 2 tablespoons removed) and 2 tablespoons lemon juice - this will make your own buttermilk. OR substitute the milk and lemon juice with 1 cup of already prepared buttermilk.
The only extra step to making the chamomile shortcakes is that you need to steep the milk and the chamomile. I like to use loose dried chamomile flowers (affiliate link) rather than bags. Just bring the milk to a simmer and steep for about 5 to 10 minutes before straining.
Tips for infusing teas and baking:
when you can, use loose leaf tea for a more robust flavor rather than tea bags
bring the milk to just a simmer, do not bring to a boil
the longer you steep the more flavor you get, but you'll lose more milk to the flowers/leaves in the tea
be sure to strain into a measuring cup to be sure you have the correct amount of liquid for the recipe
Making the biscuit dough
I like to approach my biscuit making the same way I make pie crust. I grate the frozen butter, usually using the grating attachment on my food processor because it is *chefs kiss* easy.
In a bowl combine all your dry ingredients, add the grated butter. Dig your hands into the bowl under the flour and lift up like in the video. It's more of a tossing motion.
Once the butter and dry ingredients are mostly combined, just add the chamomile milk and repeat the process until you have a shaggy dough.
Turn out the dough onto a well-floured surface and press into a rectangle that's about ¾-inch thick.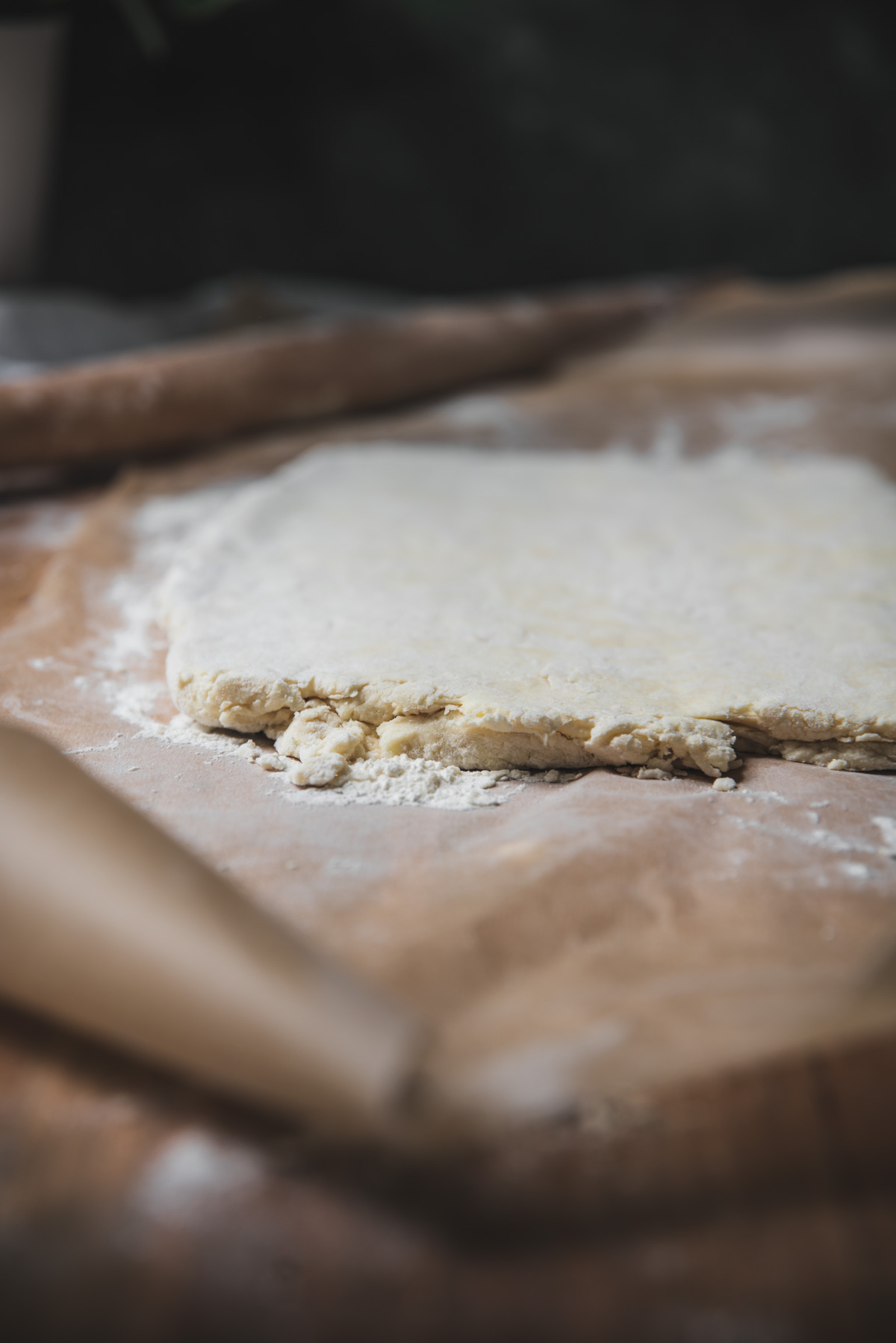 Fold the rectangle into thirds, press out into a ¾-inch thick rectangle again, and repeat the process a third time before cutting the biscuits. You'll want about a 3-inch biscuit cutter.
Tips for making biscuits:
Don't twist the biscuit cutter! It keeps the biscuits from rising as much as they can.
Brush the tops lightly with cream - again for the reason of rising biscuits
You can bake them in a cast iron pan or baking sheet.
If using cast iron, melt some butter in the bottom if your pan isn't well seasoned.
Place the biscuits close together and touching - again, rising biscuits.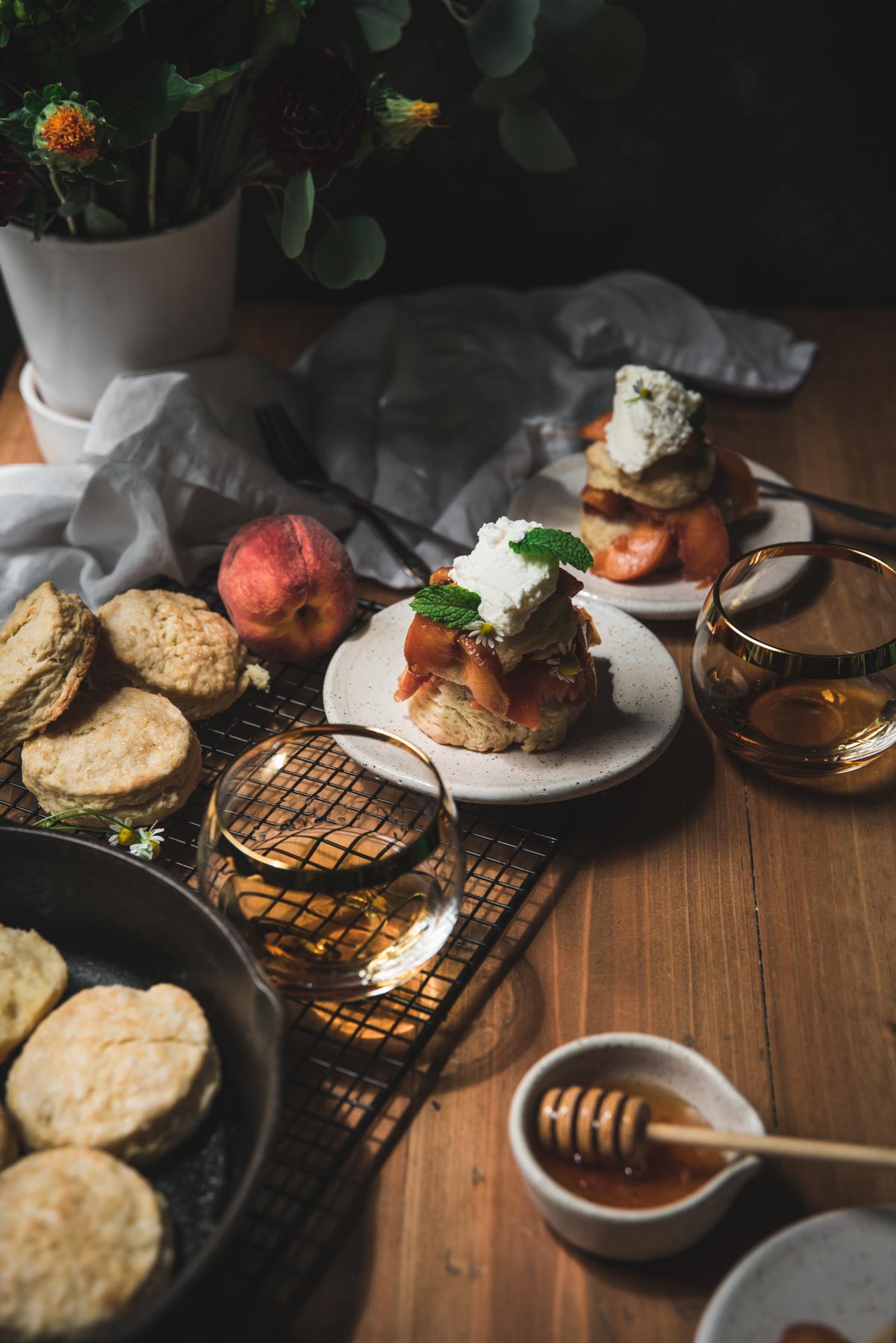 Making the Honey Whiskey Peach Shortcakes
While the chamomile shortcakes are a delightful part of this summer dessert, the whiskey peaches are the true show stopper here.
Slightly boozy and the honey adds just the right amount of sweet without being too much. The natural sweetness of the peaches really shines.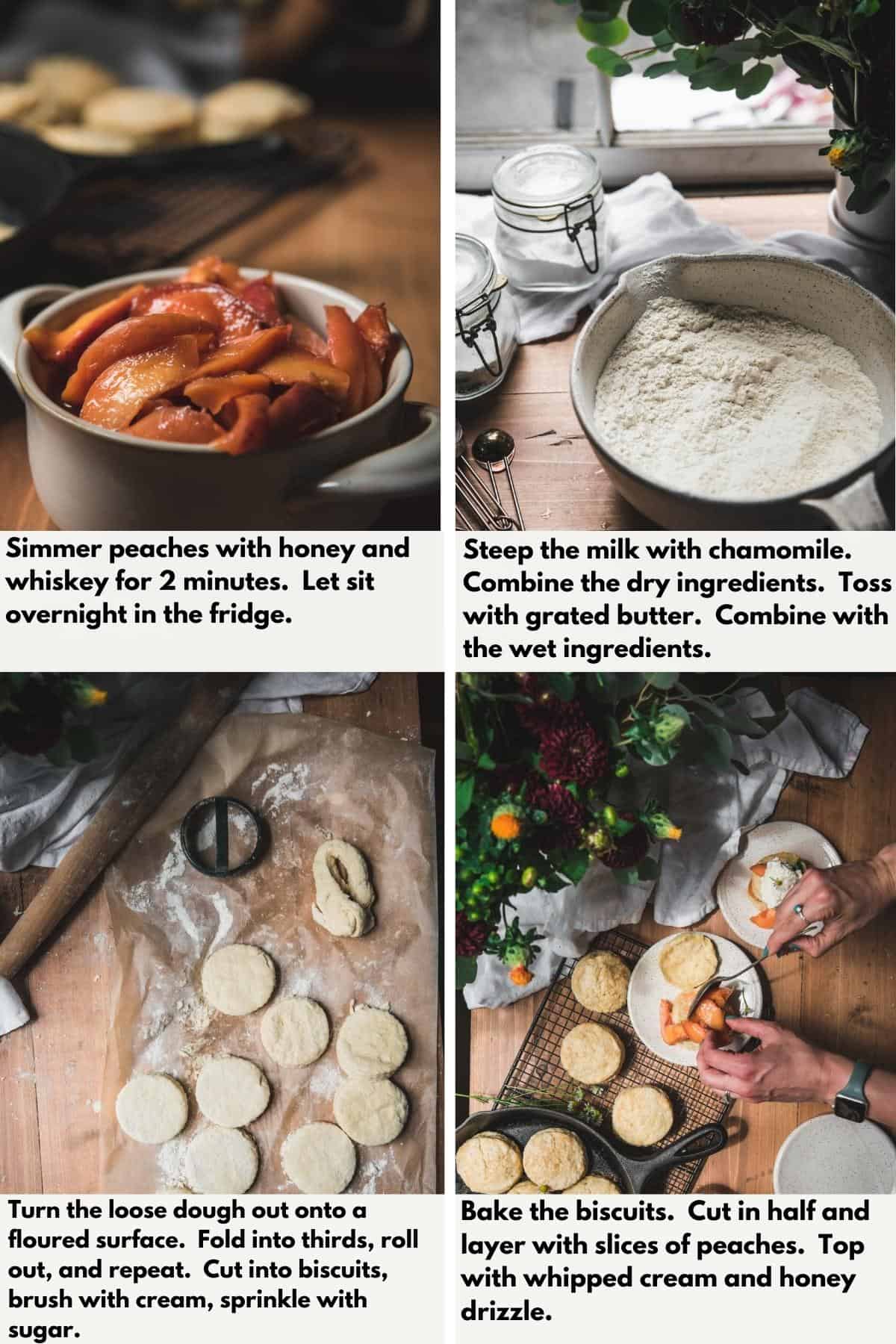 Tip: You can simmer the peaches for longer to ensure the alcohol in the whiskey cooks off.
The only thing better than how delicious these peaches are is that it seriously just takes a few minutes to come together. Combine the peaches, honey, and whiskey in a large saucepan.
Tip: If you cook on a gas stove, be sure to use a high-sided saucepan so you don't catch the alcohol in the whiskey on fire.
Simmer the ingredients for 2 minutes and then let them soak overnight. That's it! So easy!
Looking for more peach deliciousness this summer? Try a grilled peach Caprese salad, peach and burrata toasts, or a refreshing peach gin float cocktail!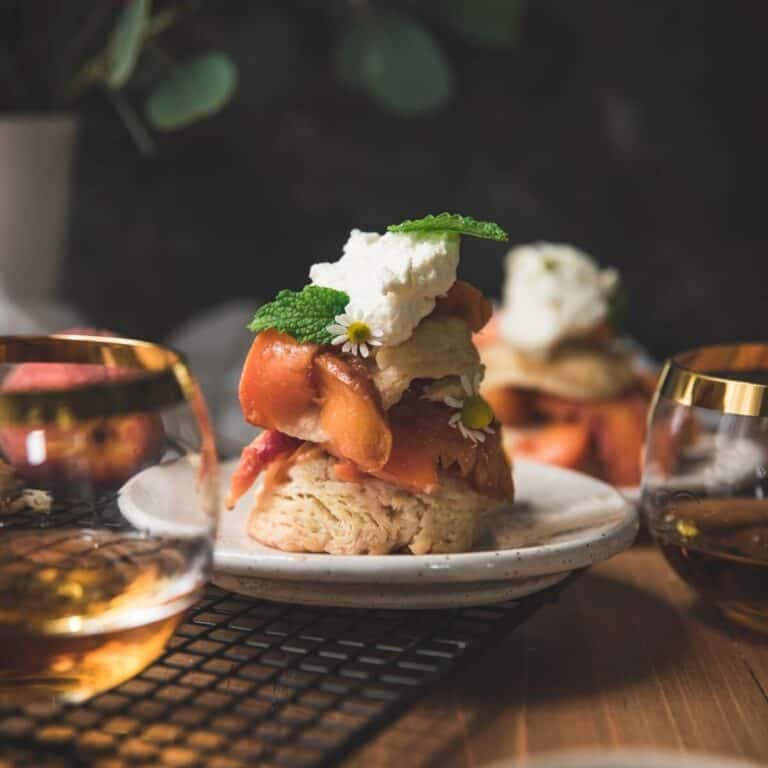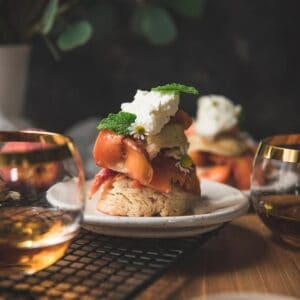 Honey Whiskey Peach Shortcakes
Bring on peach season! Juicy, sweet whiskey marinated peaches layered over flaky chamomile infused bisbuits and fluffy whipped cream.
Print
Pin
Rate
Ingredients
Honey Whiskey Peaches
4 to 5

large ripe peaches

(¼" slice)

3

tablespoons

honey

½

cup

whiskey
Chamomile Shortcakes
1

cup

milk

4

tablespoons

loose chamomile

(or 4 tea bags)

2

tablespoons

lemon juice

3 ½

cups

all purpose flour

1

tablespoon

baking powder

½

teaspoon

baking soda

¼

teaspoon

kosher salt

1

cup

frozen unsalted butter

(grated)

2

tablespoons

heavy cream

1

tablespoon

turbinado sugar

(optional)
Easy Whipped Cream
1

cup

heavy cream

1

teaspoon

vanilla extract

¼

cup

confectioners sugar
Instructions
Honey Whiskey Peaches
Cut peaches in half. Remove the pit. Slice into ¼" slices.

In a medium saucepan, combine the peaches, honey, and whiskey. Bring to a just simmer over medium heat. Reduce to low heat and cook for 2 minutes. Remove from heat and transfer to a heatproof container. Let sit overnight, up to 2 days in the refrigerator.
Chamomile Shortcakes
Combine the milk and chamomile in a saucepan. Bring to a low simmer over medium low heat. Once the milk reaches just a simmer remove from the heat and let steep for 5 to 10 minutes. Train into a measuring cup. Steeping the tea leaves will remove some of the milk - about 2 tablespoons. Mix in the lemon juice. If you've lost more than 2 tablespoons of liquid, add enough milk to the chamomile, milk and lemon mixture to make 1 cup.

Grate the frozen butter on a cheese grater or using the grating tool on a food processor.

Preheat the oven to 400°F. In a large bowl, combine flour, baking powder, baking soda, and salt. Add the grated frozen butter and combine by scooping your hands under the flour and tossing with the butter. Once the butter pieces and well combined with the flour, Add the milk and repeat the process until a shaggy dough forms.

Turn the dough out onto a floured work surface and press into a rectangle with well floured hands until the dough is about ¾ inch thick. Fold in thirds and press down into a ¾-inch thick rectangle. Repeat the process one more time. Cut the biscuits using a 3 inch cutter. Do not twist the cutter - this will affect the rise of the biscuits during baking. Reform the scraps into a rectangle and cut more biscuits until almost all the dough is used.

Arrange the biscuits in a well-seasoned or buttered cast iron pan or on a parchment lined sheet pan. The biscuits should be close together and touching. Brush the tops with heavy cream, try not to let it drip over the edges. Optional: sprinkle with coarse sugar. Bake for 22 to 25 minutes.

Use either one biscuit cut in two or two biscuits¼ to build your dessert. Cover one layer of biscuit with about ⅓ cup honey whiskey peaches. Top with the second layer of biscuit, then a few slices of peaches and some of the sauce. Finish with a scoop of fresh whipped cream on top.

To make the whipped cream, combine the heavy cream, vanilla, and confectioners sugar in a bowl. Whisk on hgih using a standing mixer, hand mixer, or whisk until fluffy.
Notes
You can skip the chamomile and make regular biscuits if that appeals more to you. Just measure out 1 cup of milk, remove 2 tablespoons, then add the 2 tablespoons of lemon juice. Alternatively, if you're skipping the chamomile infusion you can just substitute buttermilk for the milk and lemon.
The amount of milk the chamomile soaks up varies depending on the brand. I use loose chamomile flowers (affiliate link) because the taste is fantastic and stronger than tea bags.
For a sweeter shortcake, add ¼ cup granulated sugar to the dry ingredients.
To cook off all the alcohol in the whiskey peaches, just extend the simmer time to about 5 minutes.
If making the whiskey peaches on a gas stove, be sure to use a high-sided saucepan with enough space so you don't catch the whiskey on fire.
Nutrition
Calories:
851
kcal
|
Carbohydrates:
81
g
|
Protein:
11
g
|
Fat:
50
g
|
Saturated Fat:
31
g
|
Polyunsaturated Fat:
2
g
|
Monounsaturated Fat:
13
g
|
Trans Fat:
1
g
|
Cholesterol:
147
mg
|
Sodium:
707
mg
|
Potassium:
378
mg
|
Fiber:
3
g
|
Sugar:
22
g
|
Vitamin A:
1994
IU
|
Vitamin C:
9
mg
|
Calcium:
220
mg
|
Iron:
4
mg