Do you ever rediscover a thing that you forgot you loved? Then when you find it all over again it's like the time apart never passed at all? Is it awkward that's how I feel about sorbet?
I mean ice cream is still great, but I am sorbet obsessed this summer. Fresh, light, sweet - just enough to quench that sweet tooth. Kind of like these Summery Peach Basil Gin Floats, but also quenching your need for a summer cocktail.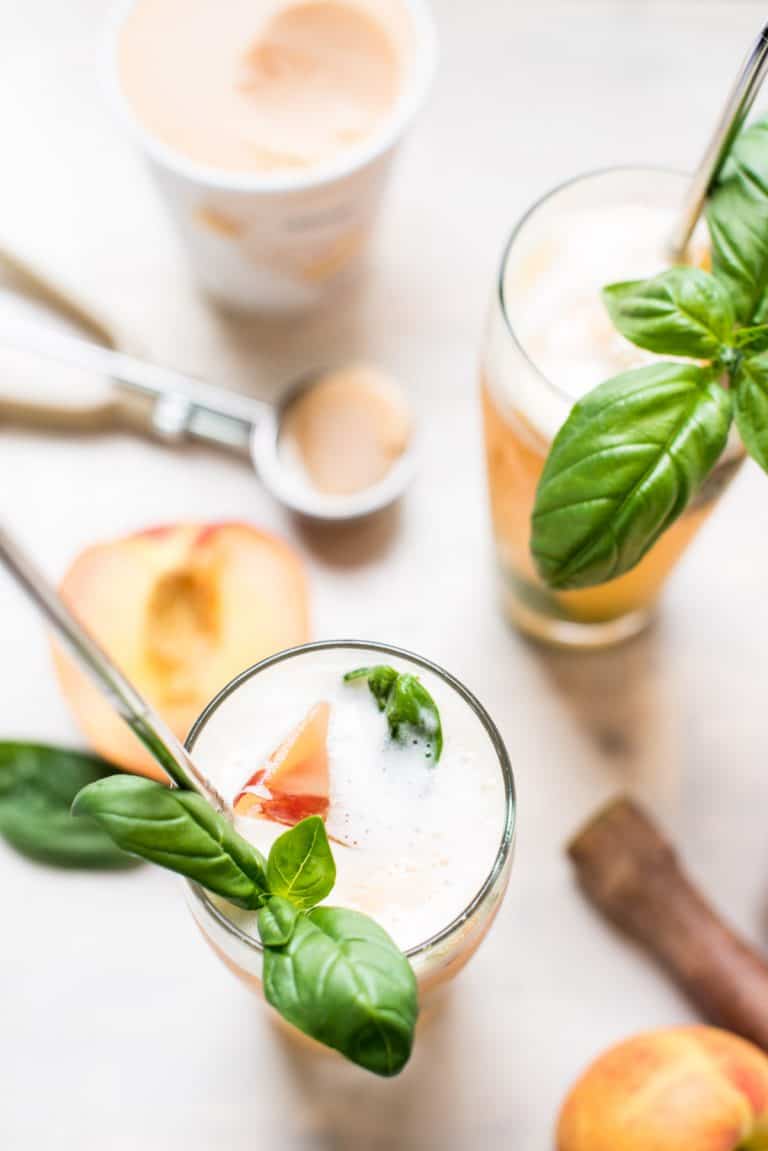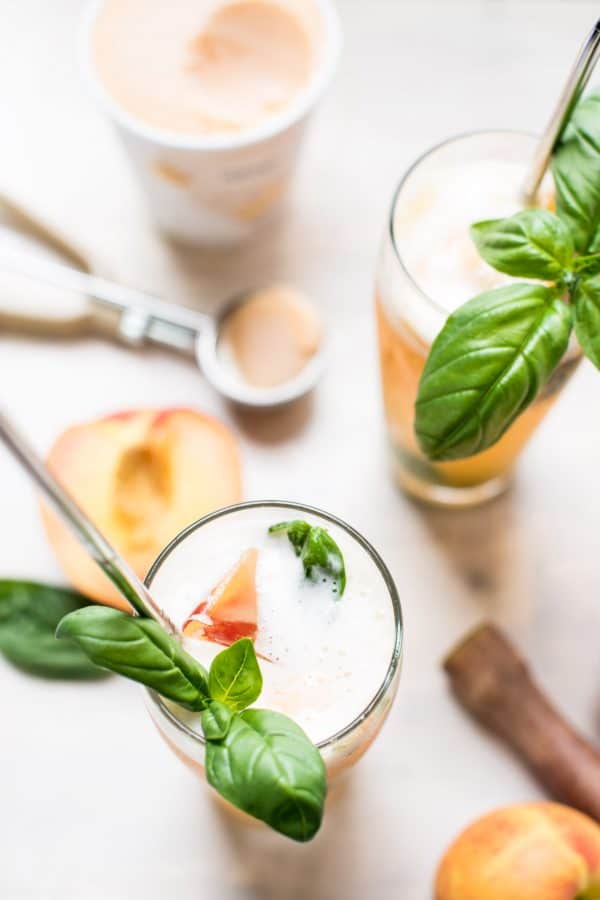 This post contains affiliate links. The price you pay at check out does not change but I make a commission from the sale.
Peach Basil Gin Floats
One part boozy, one part slushy, one part fizzy, all parts summer. Peach Basil Gin Floats are a simple way to beat the heat with a summertime cocktail. Like, porch sitting, bare feet, taking in a little breeze kind of feeling.
Or when its one of those hooooot days and the air is thick and seems to stick to you in the super gross way. Sound the alarm because these adult sorbet floats are coming to the rescue and here's the simple list:
Gin
Fresh Basil
Peach Sorbet (Hellloooooo Haagen-Dazs)
Something Fizzy - either club soda (less sweet, still bubbly) or tonic water (a touch sweeter, more gin and tonic-y)
Personally, I'm team club soda. I'd rather eat my sugar - like in these cheesecake bars - than drink it. SO the sorbet adds just the right amount of sweet. But if gin and tonics hold a dear place in your heart, this peach-y spin will do you right.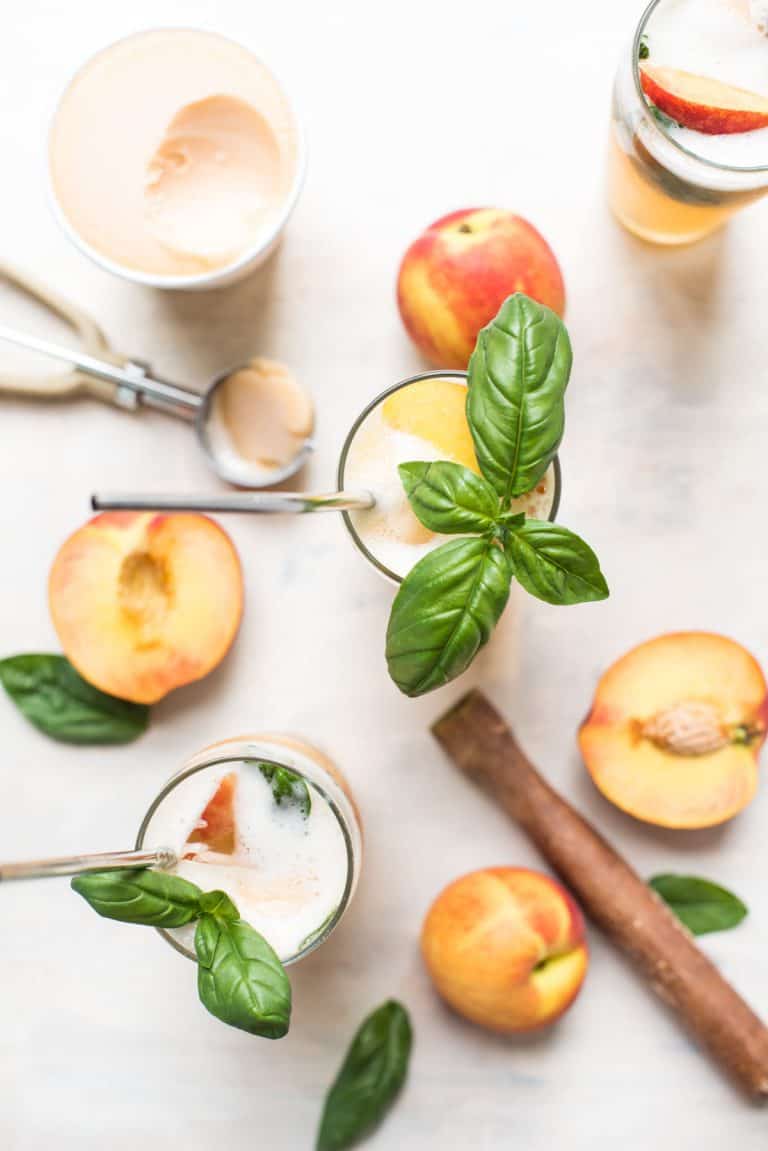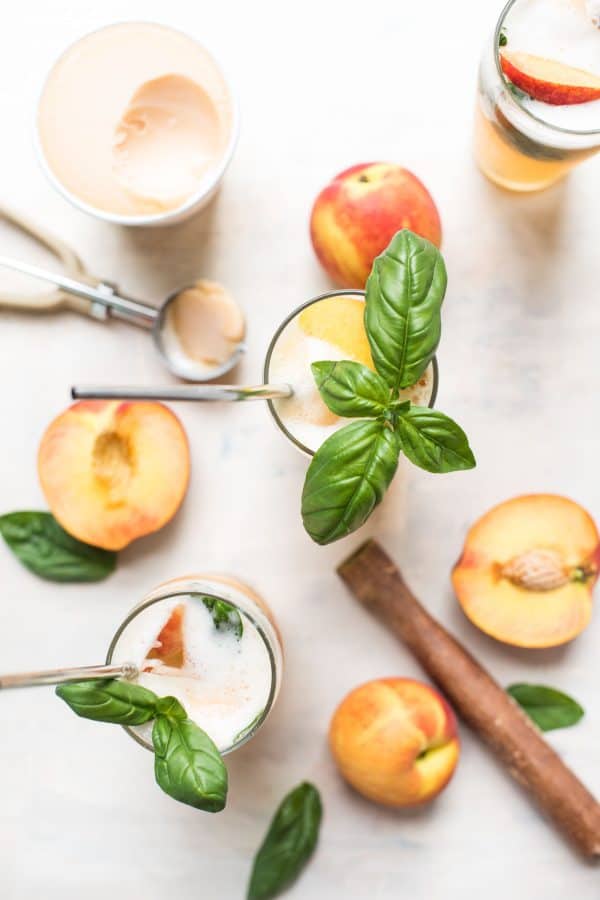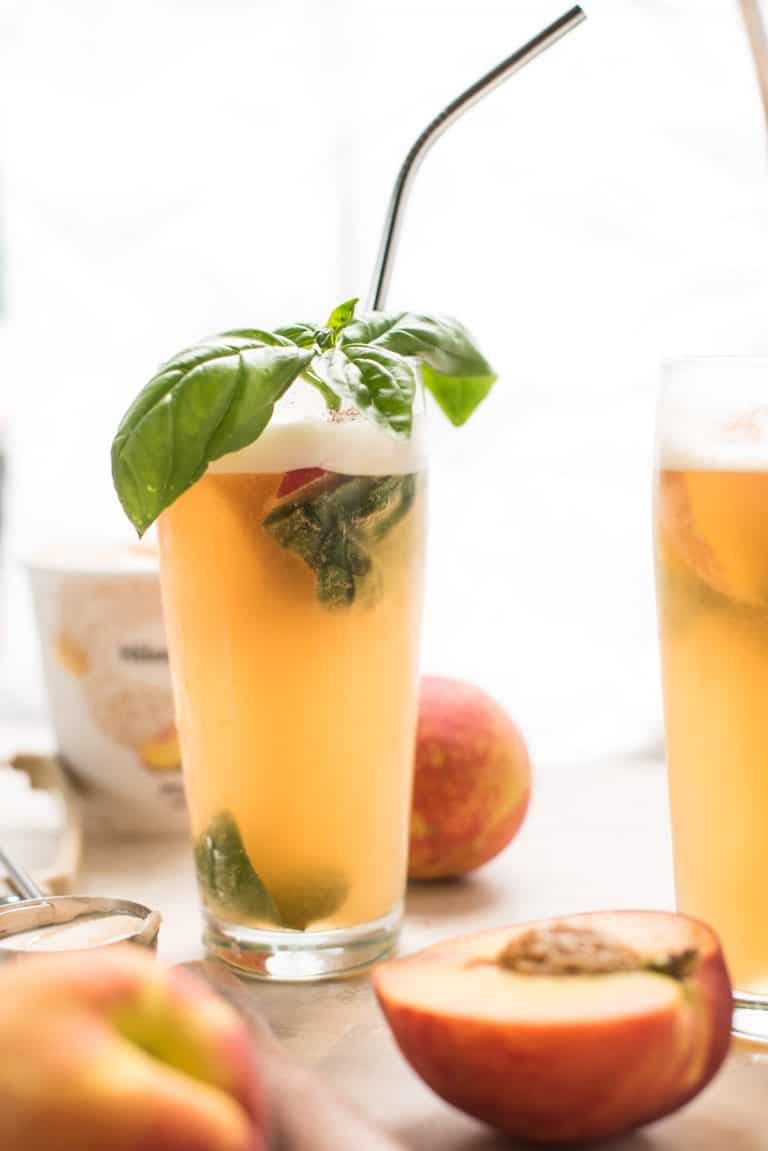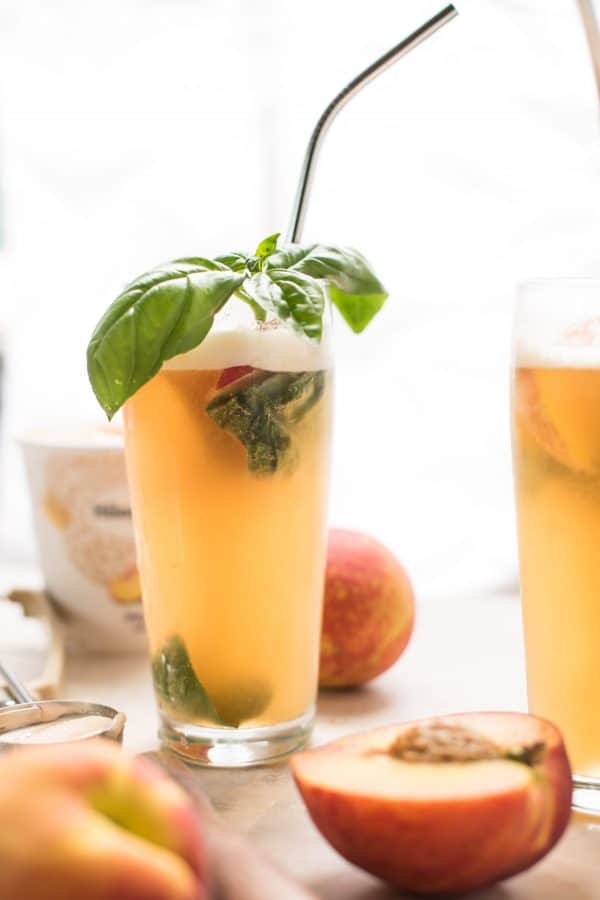 Picking your gin
I'm a big believer in using what you've got. For us, we're not big gin drinkers so that usually means a bottle of something that someone brought over 3 years ago for some random get together. Might as well make space in the cabinet for something else.
BUT.
If you're not a a frequent gin drinker, the herbaceousness of the juniper that gives gin it's characteristic 'Christmas Tree' taste can be overwhelming. For this cocktail, I'd highly recommend a brand that is a little less spice, like Hendrick's Gin. It's distilled with Cucumber and Rose so its lighter and fresher and a little easier to adjust to. Plus it won't overpower the basil and peach.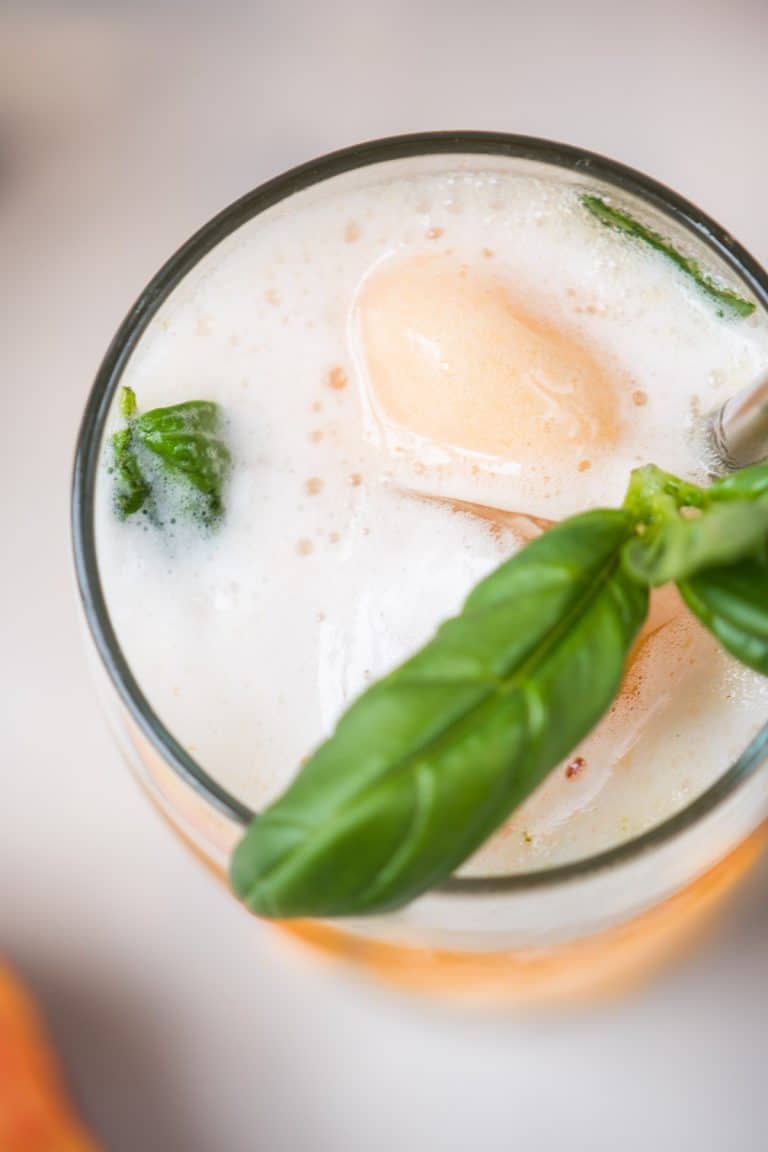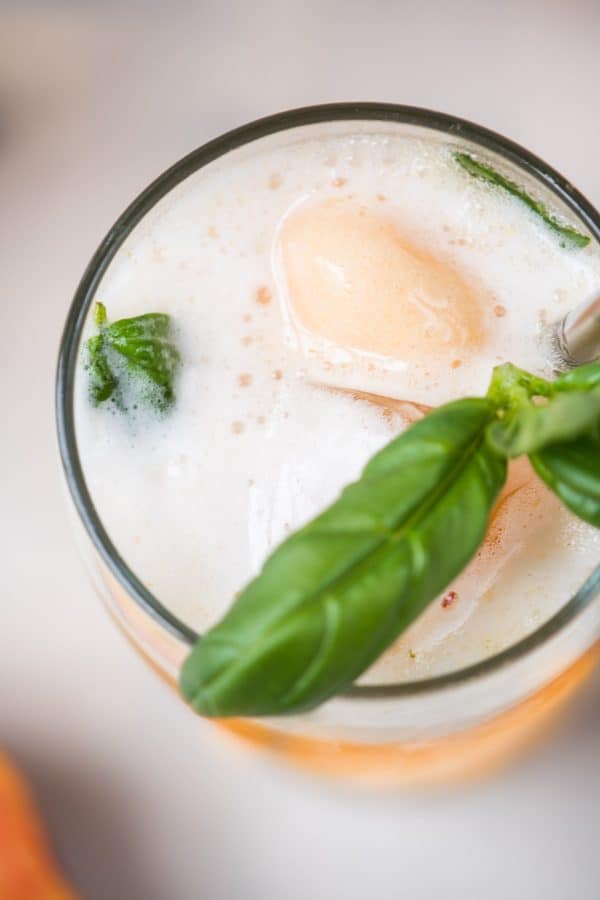 That being said it tends to run on the higher side of the price point, so if the well brand is what's in your budget - have at it my friend.
Make ahead tips
You'll get about four floats from one pint of sorbet. If you're looking for insta-worthy cocktails to make your friends swoon, here are a few pointers:
Let the sorbet sit out about 5 minutes to soften
Scoop with an Ice Cream Scoop into evenly sized balls
Place in a storage container lining each row with parchment paper and refreeze (these Pyrex Storage Containers are my favorite and worth the investment)
Peach slices and extra basil for garnish (and after drink snacks)
Chill the soda or tonic to keep the sorbet from melting too quickly
Stainless Steel Drinking Straws to sip on, because let's all do our part to use a little less plastic
Whether you're in it for the 'grams or just looking for the perfect summer sipper these Peach Basil Gin Floats have got you covered!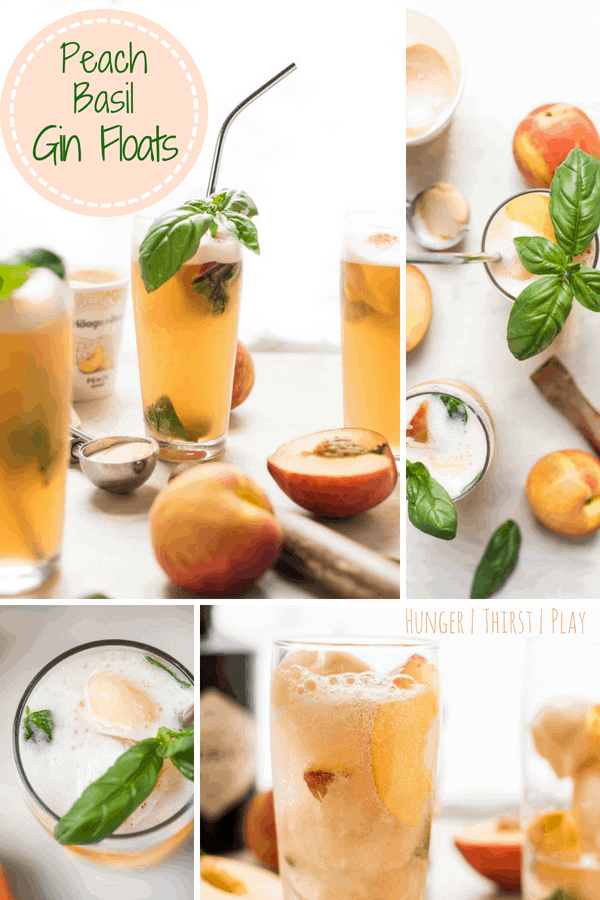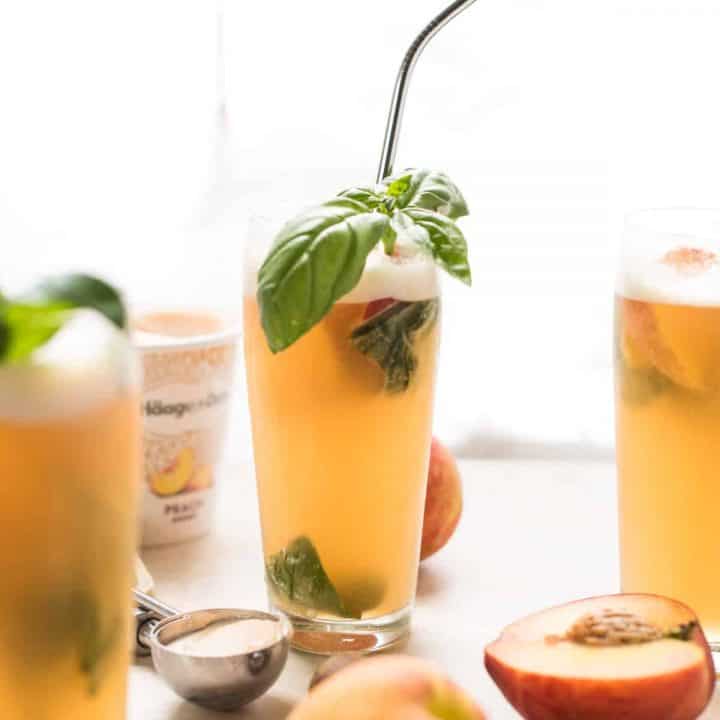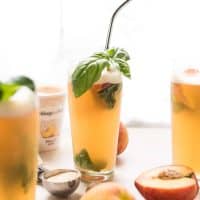 Summery Peach Basil Gin Floats
Beat the heat this summer with a refreshing beverage that's part sorbet part cocktail. Summery Peach Basil Gin Floats have fresh muddled basil, sweet frozen peach sorbet, herbaceous gin and a fizzy topper.
Print
Pin
Rate
Ingredients
8

ounces

gin

1

bunch basil

1

pint

peach sorbet

2

cans club soda or tonic water

optional: extra basil and peach slices for garnish
Instructions
Muddle: In each glass, muddle 3-4 basil leaves.

Scoop: Add three scoops, about ⅔ cup, peach sorbet per glass.

Add Booze: Pour 2 ounces of gin over sorbet in each glass.

Top Off: Top with soda or tonic water.
Notes
You may need to let the sorbet sit on the counter for 5 minutes to soften enough to scoop. This part can be done in advance and then frozen in glasses or a storage container until you're ready to serve your Peach Basil Gin Floats.
Nutrition
Calories:
193
kcal
|
Carbohydrates:
42
g
|
Protein:
3
g
|
Fat:
1
g
|
Saturated Fat:
1
g
|
Sodium:
136
mg
|
Potassium:
246
mg
|
Fiber:
3
g
|
Sugar:
23
g
|
Vitamin A:
106
IU
|
Vitamin C:
3
mg
|
Calcium:
24
mg
|
Iron:
1
mg