Smooth rich flavor, the perfect balance of acidity and natural sweetness with that beautiful zip of caffeine, and all you need are two ingredients - water and coffee beans! Cold brew coffee is a super simple, easy, and delicious way to up your coffee game during the warmer months or even year-round!
Hi, I'm addicted to cold brew coffee and I'd really love to share that passion with you.
The second the weather starts to get warmer in April grab a container, coffee grinder, and favorite beans because it's time to start brewing that liquid gold.
It's so so so easy to make and the coffee is just chefs kiss.
Best of all, what you're actually making is cold brew concentrate so you can adjust the caffeine/boldness of the coffee just by adding water.
When you're running around after 2 small kids and juggling 2 restaurants and 1 food blog…that adjustable caffeine strength is a serious bonus.
Also, coffee that's brewed cold is waaaaaaaaaay better than hot coffee turned cold.
Are you the kind of person that loves a cup of hot coffee but the second it gets cold it's garbage? Trust me, I've tried microwaving my cuppa but it's just not the same after that. So if you're on that team you are absolutely going to love this method of brewing.
What's the difference between iced coffee and cold brew?
Iced coffee is hot brewed coffee that's then cooled off and poured over ice. Cold brew coffee is cold water, coffee beans, and time then strained and served over ice.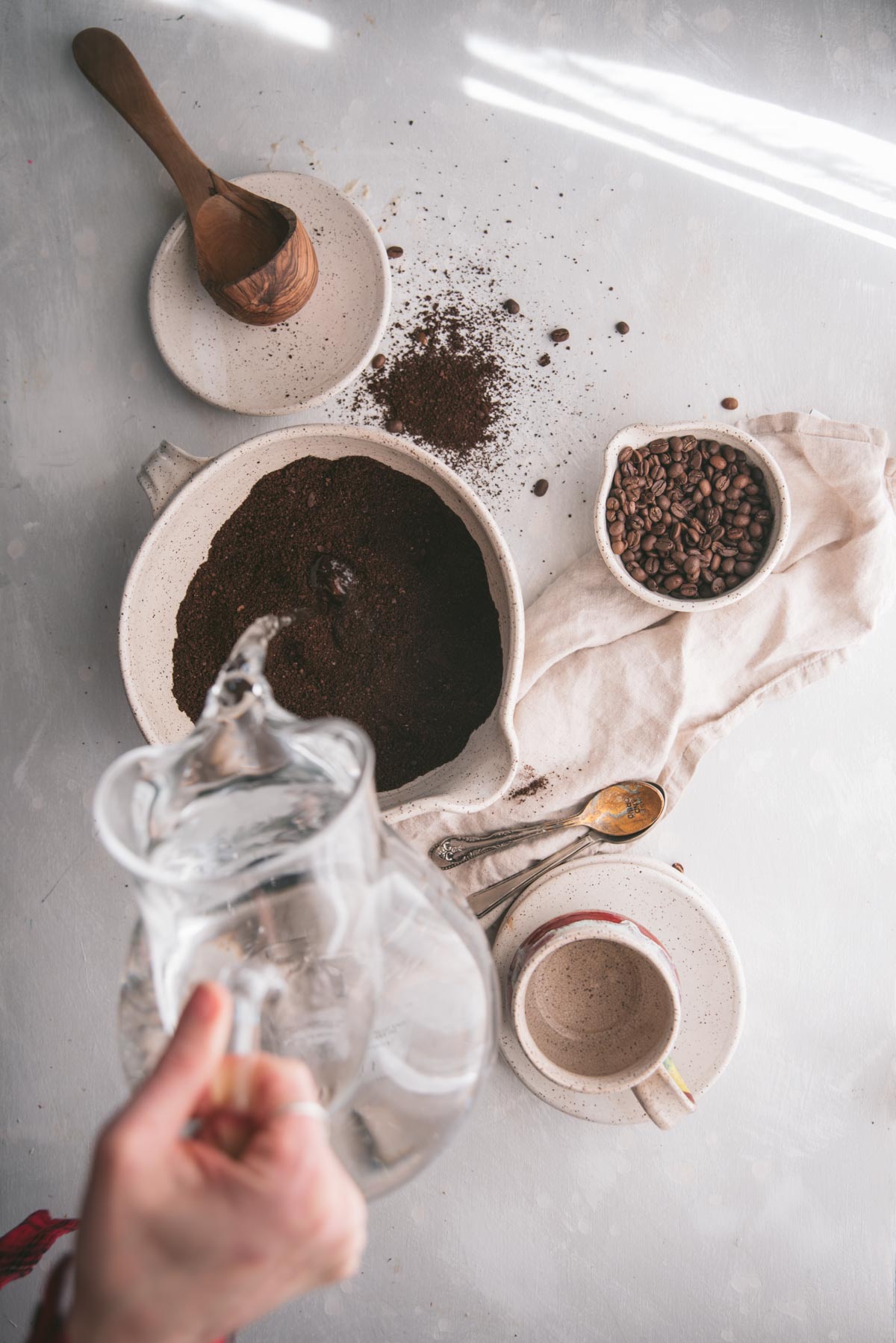 Why is cold brew coffee special?
The number one reason is that the quality of the coffee is superb thanks to the gentle brewing of time and cold water.
Because the beans aren't subjected to harsh boiling water, the coffee that's produced is less acidic and has a more natural sweetness.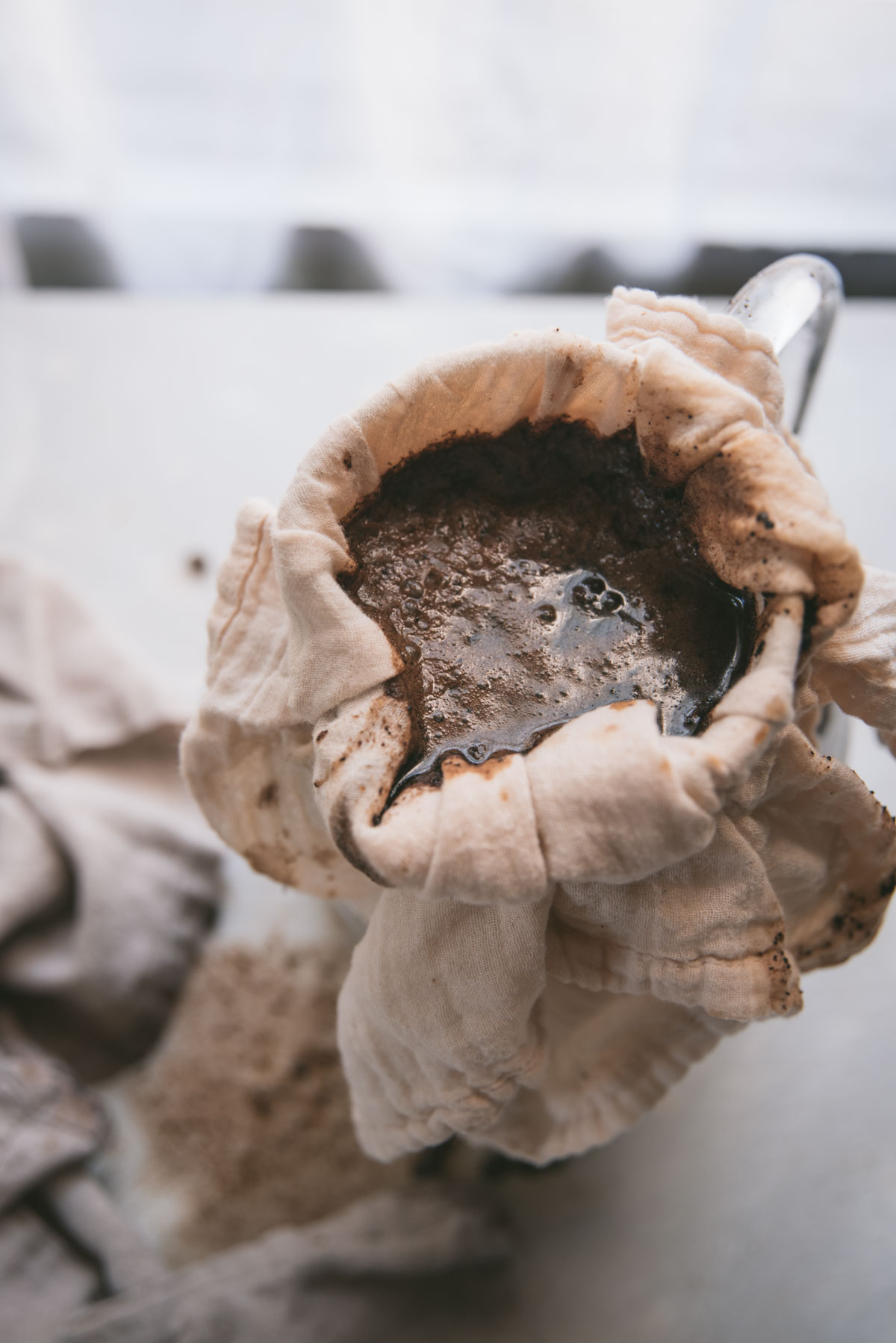 The number two reason you're going to love is that you just pour water over grinds and shove it in the fridge.
The number three reason is that gives a little bit more boost in the caffeine department.
Tips for brewing
The grind of the beans matters.
For cold brew coffee, you want a coarse grind on your beans.
Too fine of a grind will lead to a bitter brew because the beans are over-extracted. The coarse grind also helps after straining so you don't end up with a ton of sediment on the bottom of your batch even after it's strained.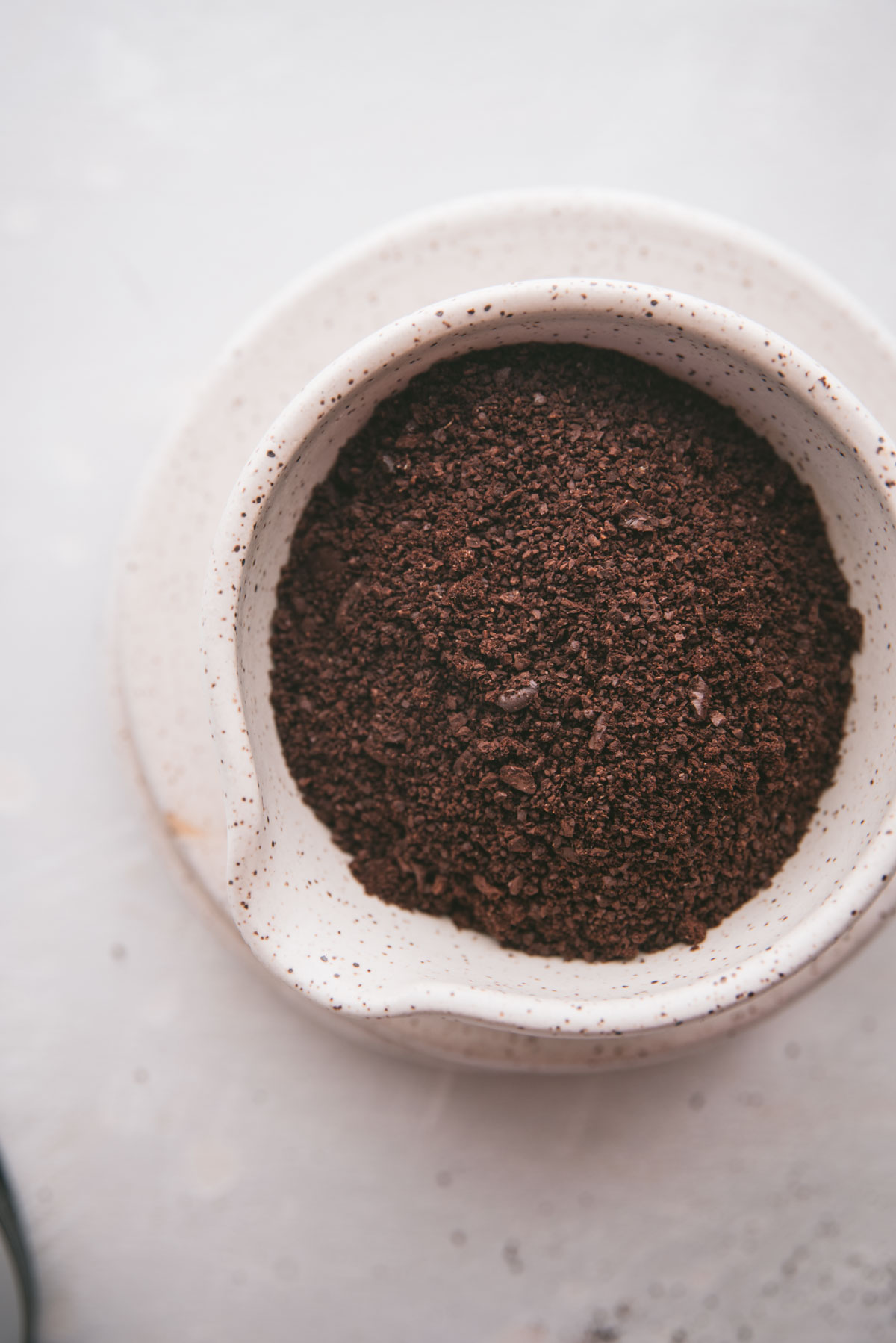 Reach for the fresh beans!
Pick up a bag at the store to brew rather than those old beans you found in the back of your cabinet that definitely belonged to the last person who lived there.
Use the right ratio of beans to coffee - don't worry it's not rocket science! I've broken it all down in the recipe card below.
Use room temp to cold water unless you're in a rush.
You'll need 12 to 14 hours to steep the beans but if you don't have time for that you can kick start the process by using hot water then sticking the batch in the fridge for about 6 to 7 hours. I don't love this method because the hot water can bring a little acidity but it's a nice option if you got a late start on your brewing and need it for the morning.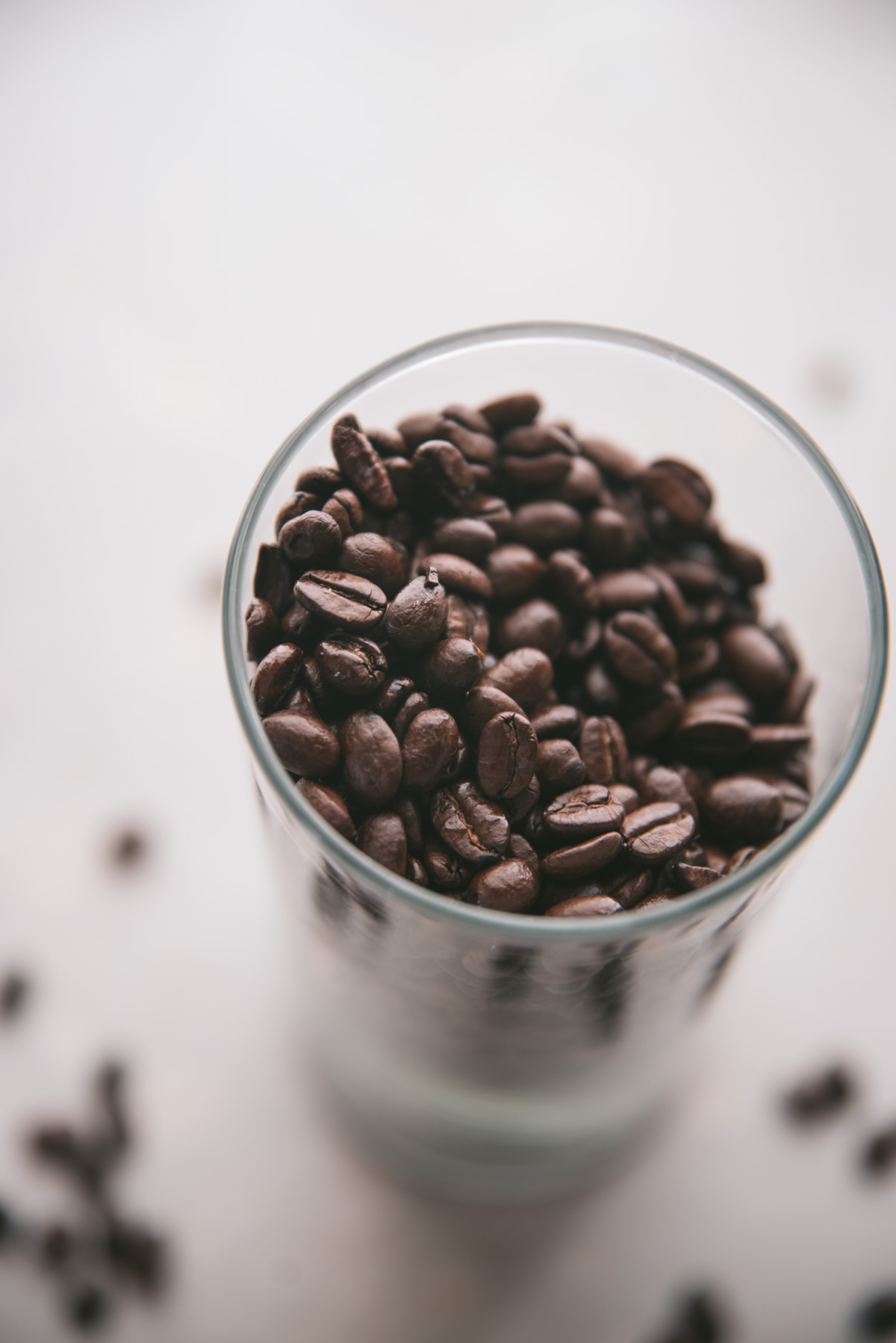 How to make cold brew coffee
In a large container pour cold or room temp water over your grinds. Give them a mix and store in the fridge for 12 hours. Strain it and you're done. You've got cold brew concentrate.
From there, when you go to pour yourself a cup you can add water or add water to the concentrate batch. Then just make your coffee the way you normally do - I'm a little milk and a touch sweet kinda gal - drop in the ice and sip on your brewed beans.
Once you have your cold brew concentrate you can make things like nitro cold brew or Vietnamese cold brew - they're both ridiculously tasty!
And with it almost being cherry season, I would like to highly encourage you to make these chai cherry muffins to munch on with your morning coffee!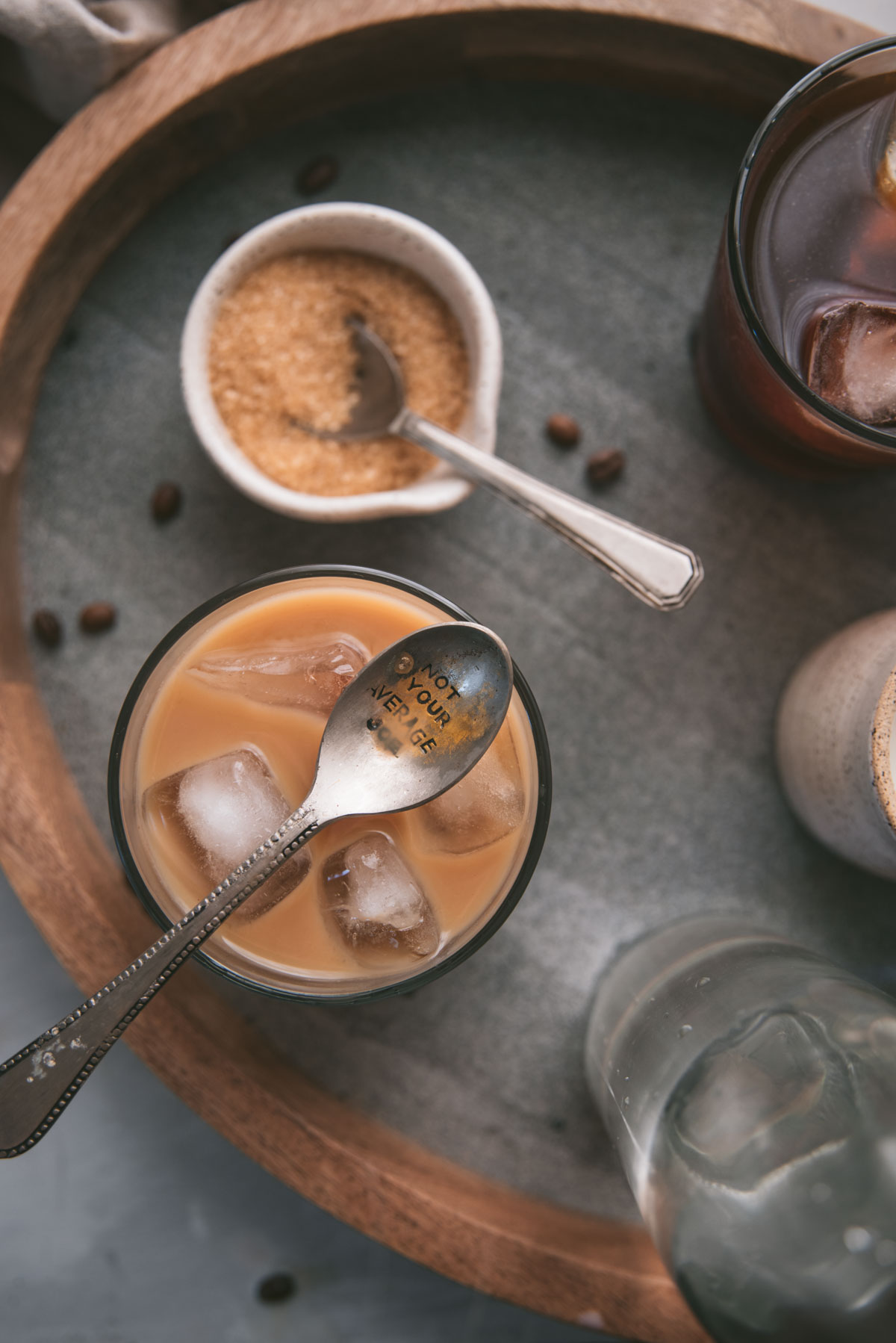 What's your favorite way to drink your cold brew? What beans did you use?
If you made this recipe I would love to hear about it in the comments below and don't forget to leave a star rating!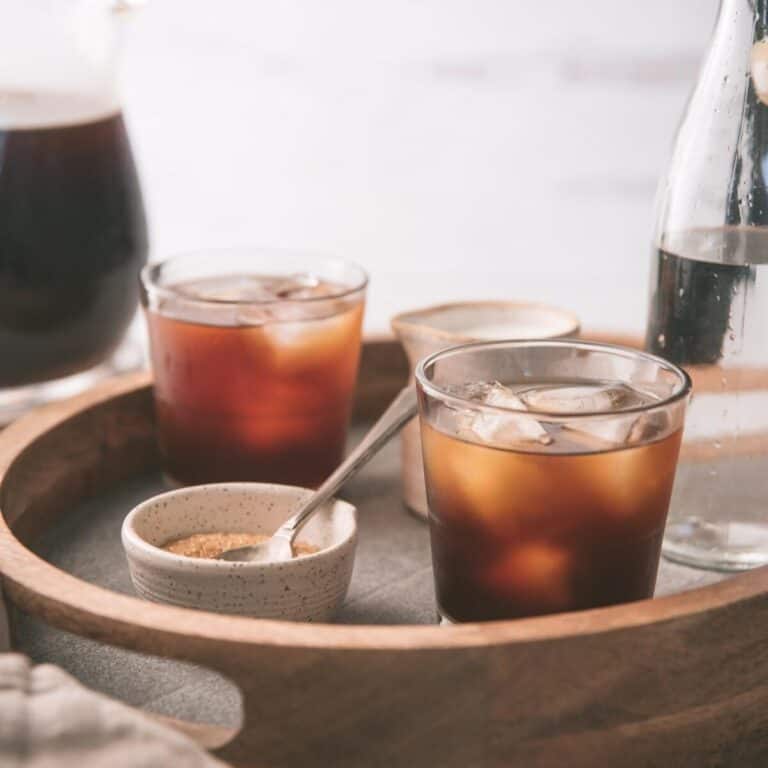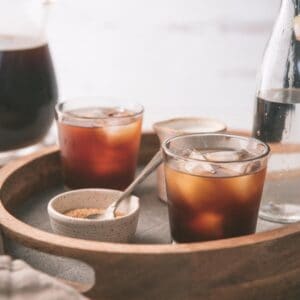 Cold Brew Coffee
Skip the coffee shop and make your cold brew coffee at home for a smoother, less acidic, and more flavorful iced coffee.
Print
Pin
Rate
Equipment
cheesecloth

container for brewing
Ingredients
12

ounce bag

coffee beans

(whole beans)

12

cups

water

(96 ounces, cold or room temp)
Instructions
Find your ratio. The amount of coffee beans you need varies depending on how much coffee you want to make in one batch. The general rule is 1 pound of coffee beans to 1 gallon of water, but most whole bean coffee comes in 12 ounce bags. A large batch is a great option if you have a container large enough and there are 2 to 4 people in the house drinking the coffee. Here is a list of ratios to follow. Just remember, you will need space for both the water AND the coffee beans.

-16 ounces coffee beans (1 pound): 1 gallon water/128 ounce/16 cups

-12 ounce coffee beans: 96 ounces water/12 cups

-8 ounces coffee beans: 8 cups water/64 ounces

-4 ounces coffee beans: 32 ounces/ 4 cups water

Grind the beans. Use a coarse grind for the beans. I set my grinder to the 'percolator' setting. The beans should resemble kosher salt after grinding.

Make the cold brew. Place your ground coffee in the bottom of a large container. Pour cold or room temp water (filtered is best!) over the grinds, give it a stir, cover it and place it in the fridge.

Let it steep. Your beans and water should steep for 12 to 14 hours. It doesn't have to be exact.

Strain and drink. Strain the cold brew concentrate through a fine cheesecloth strainer. You can add water to the concentrate batch or leave it as concentrate and add water when you make a glass. My recommended ratio is 2 parts cold brew concentrate, 1 part water, then add your preferred milk and sweetener if desired.

Store. Keep your cold brew concentrate in an air-tight container in the fridge for 7 to 10 days.
Nutrition
Calories:
1
kcal
|
Sodium:
14
mg
|
Calcium:
9
mg