Bring on the summertime veggies with a loaded salad! Chipotle Cobb Salad has all the crunch and freshness of a summer salad combined with lots of add-ins like grilled corn, tomatoes, cheddar, bacon, avocado, and eggs all tossed with creamy, vibrant avocado green goddess dressing!
It's a salad that will leave you stuffed for sure.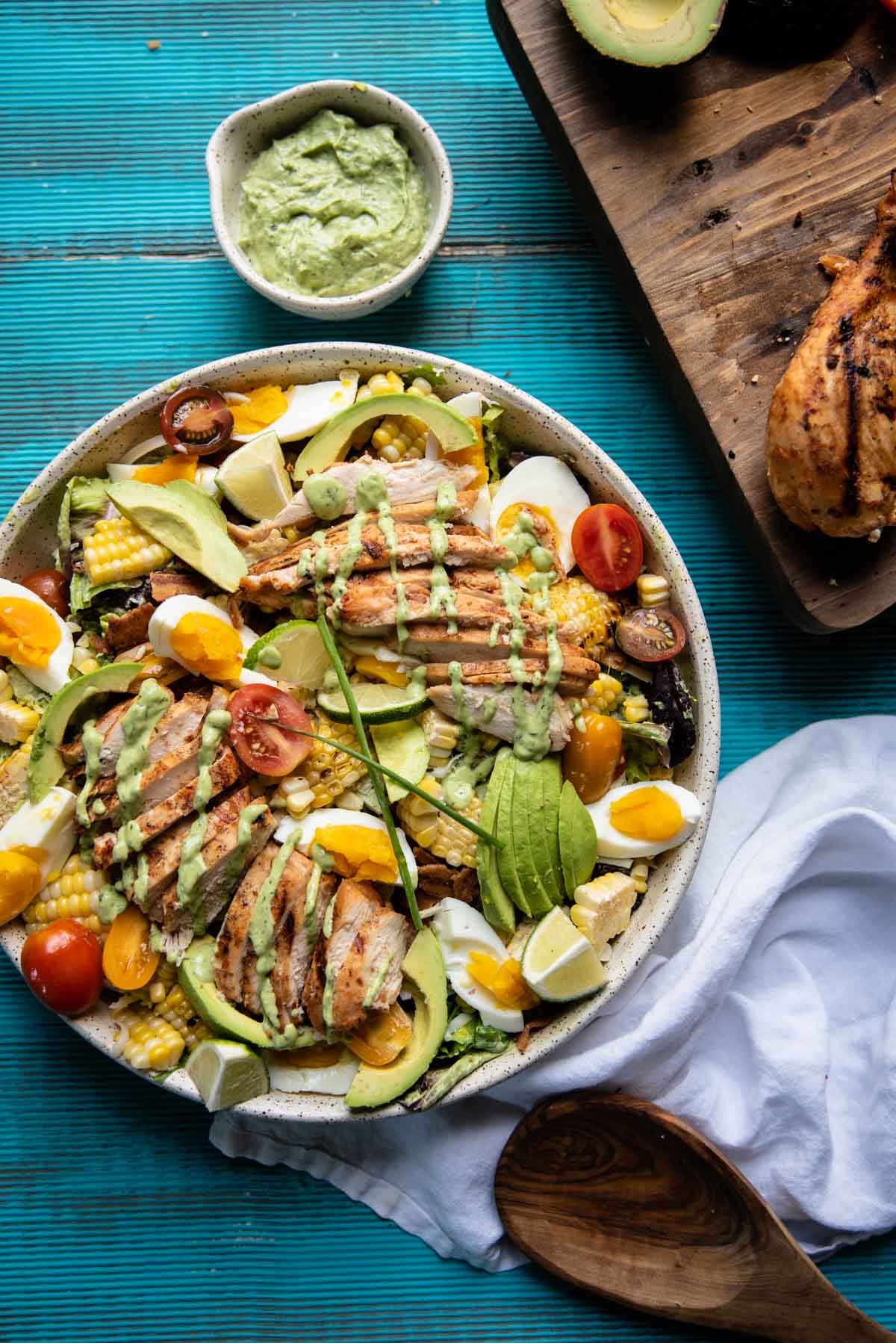 Salads that are meals are our favorite kind of salads, yes?
We're talking lots of stuff going on, that all works together and has all the flavor components like rich, meaty, cheese, savory, sweet, crunchy.
You know the ones, the salads that you can have for lunch or dinner and don't leave you wanting for a little something else after.
This Chipotle Cobb Salad is just that kind of salad.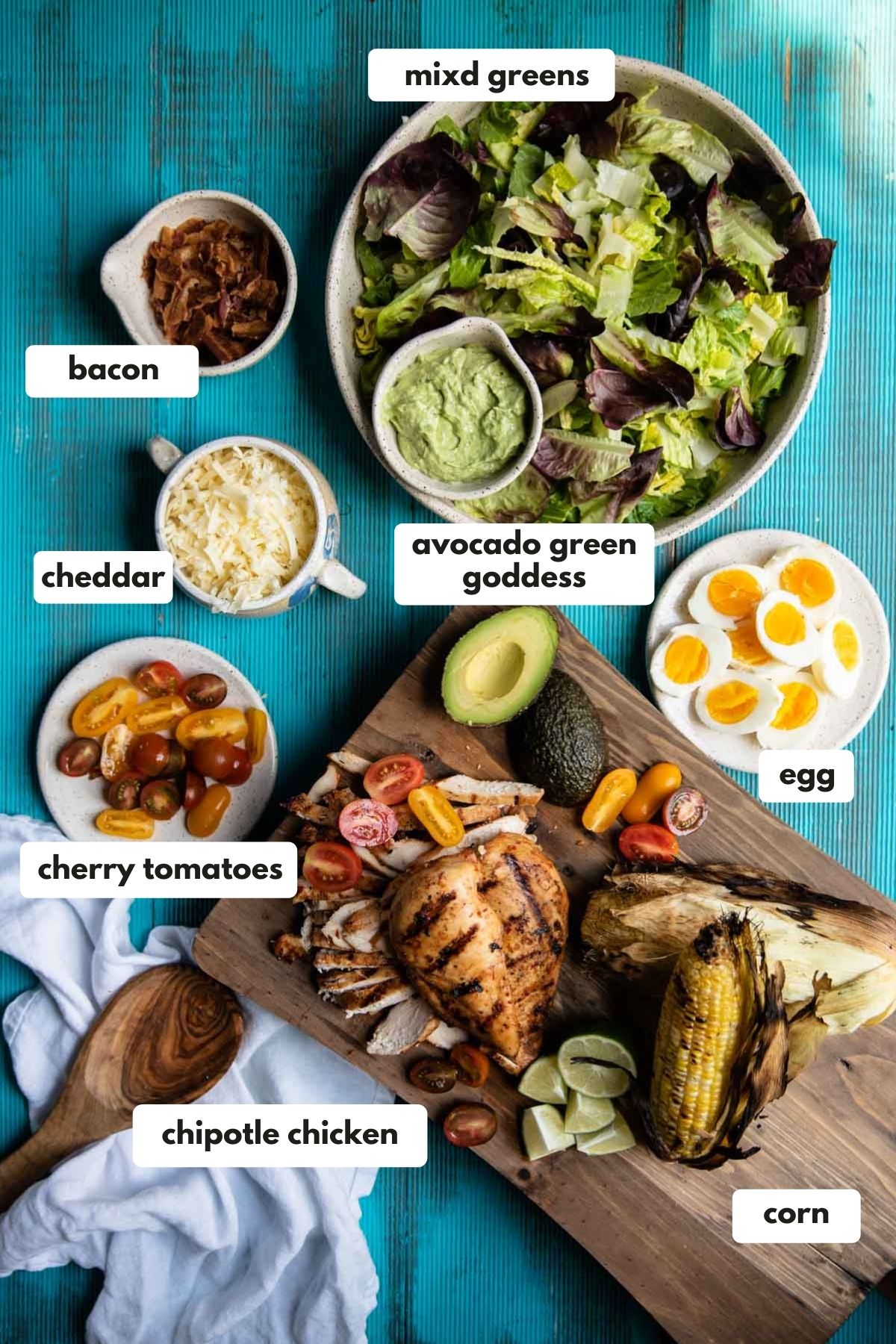 Here's all the goodness packed in with the greens:

savory bacon
chipotle marinated chicken
crisp grilled corn
rich cheddar
juicy cherry tomatoes
hard boiled egg
creamy, herbaceous avocado green goddess dressing
There's a lot going on, but everyone is getting along just fine! Deliciously well you might say.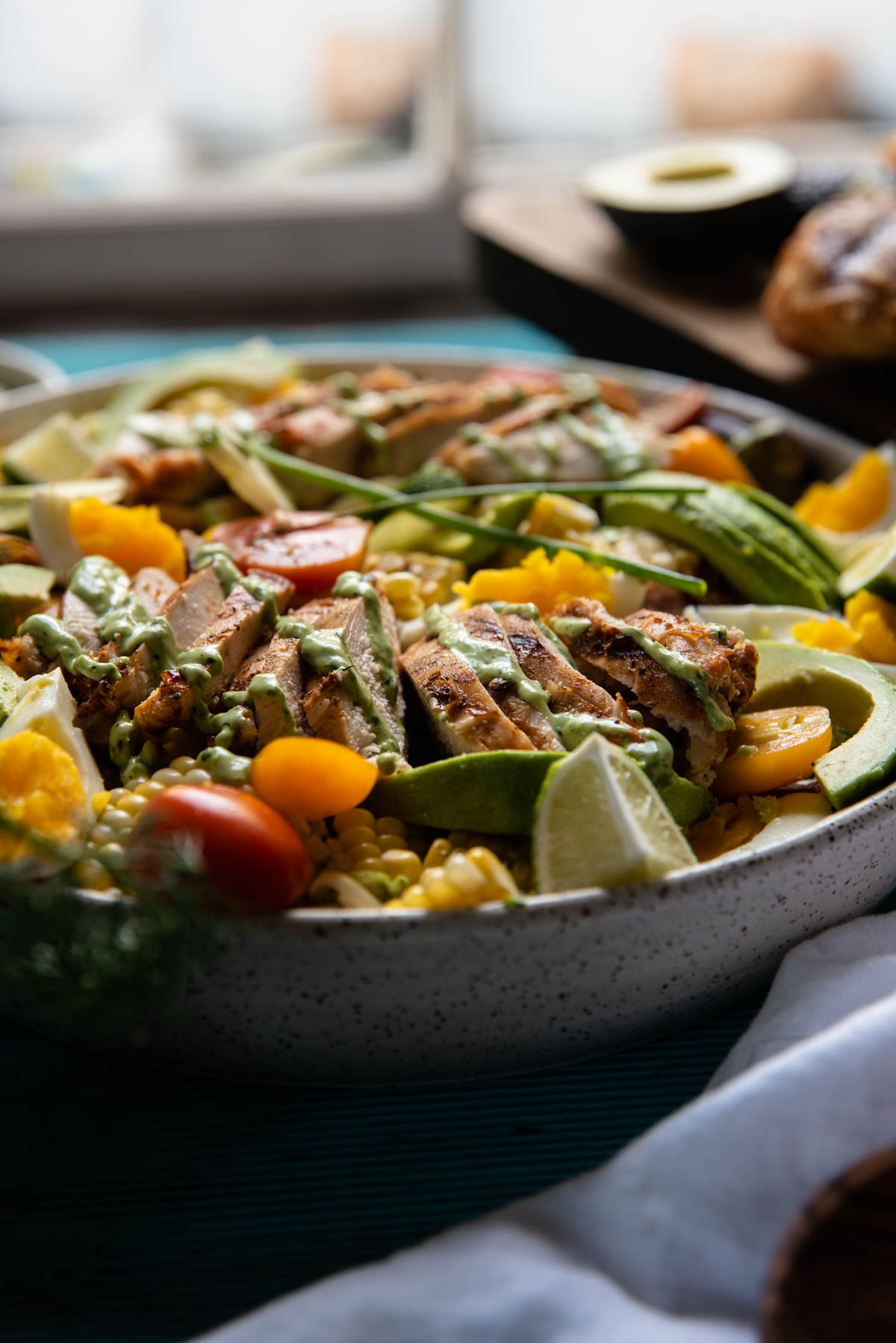 Why is it called a cobb salad?
This story is too close to my heart not to share with you all. The cobb salad is named after its creator, Bob Cobb - which is a fabulous name, in my opinion. Go ahead, say it out loud.
The part that really hits home for me though is that the cobb salad originated in the wee hours of the morning at a California restaurant with what I'm assuming were leftover items on the cold line that would be a decent meal that wouldn't require turning the hoods on over the saute line.
I've been there. I am Bob Cobb. Just a restaurant manager trying to scrounge a meal now that everyone is gone.
So now I'm going to give you my chipotle spin on this green goodness work of art.
How to make a Chipotle Cobb Salad
As we previously discussed, this salad has quite a few elements to it. Some need to be cooked, some don't, but they're all super easy to prepare.
We will start by marinating the chicken in chipotle honey lime dressing. It's both a dressing and a marinade that adds just the right amount of sweet, acidic, and subtly smoky spicy flavor.
The marinade is best if done overnight, but even on the morning of or even as close to just a couple of hours, it will add a hint of flavor and seasoning.
When it's time to start your salad prep, get the grill going! Grill up the chicken and the corn (this is my favorite way to use up leftover corn on the cobb!)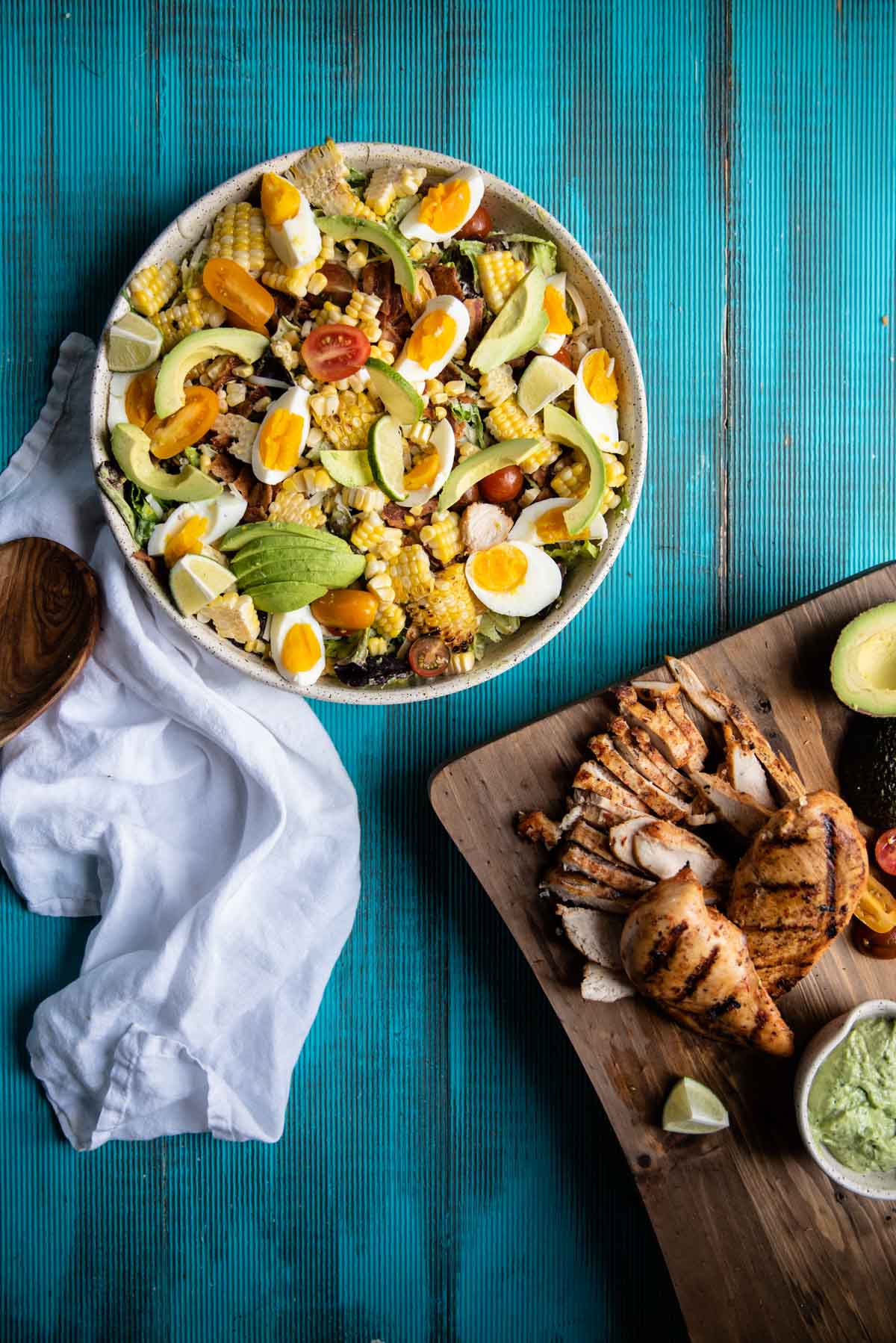 Cook the bacon using your favorite method. Personally, I'm on team oven for bacon but if the skillet is your thing, you do you.
The hard-boiled eggs can be prepared during all of this or make them up to a few days in advance. They just need to be cut in quarters and sprinkled on the salad.
Before we go assembling all our pieces, we need to make one of the most important parts of a salad. It's the thing that really ties all the flavors together - the dressing!
Avocado Green Goddess Dressing
We're skipping the mayo and the oil without losing any of the richness that makes a salad dressing tasty. Instead, we get the superb freshness of green goddess dressing balanced with the creamy richness of Greek yogurt and avocado.
Perfect for summer! Or spring or fall really. Heck, eat this all year round.
In the summertime though when the herbs are growing right alongside my driveway and I can just snip what I want instead of shelling our $3 for a small package of each herb. We should take advantage of this summertime herb love.
The best part of this dressing is it's a breeze to make, you just whip everything up in the food processor! A blender would definitely work too!
Just pulse the herbs until they're finely chopped before repeating with the garlic and combining with the other ingredients.
Can I make green goddess without a food processor?
Yes! It will take a little more time, but you can definitely make green goddess without any equipment.
The trick is to dice the herbs as finely as you possibly can, mimicking what the food processor would do. Then just whisk all the ingredients together until combined.
Tip: When it comes to building your chipotle cobb salad, mix the salad greens with the dressing first. Then add your toppings and if you tend to go heavy on the condiments (like yours truly) add a little drizzle of extra dressing over the top.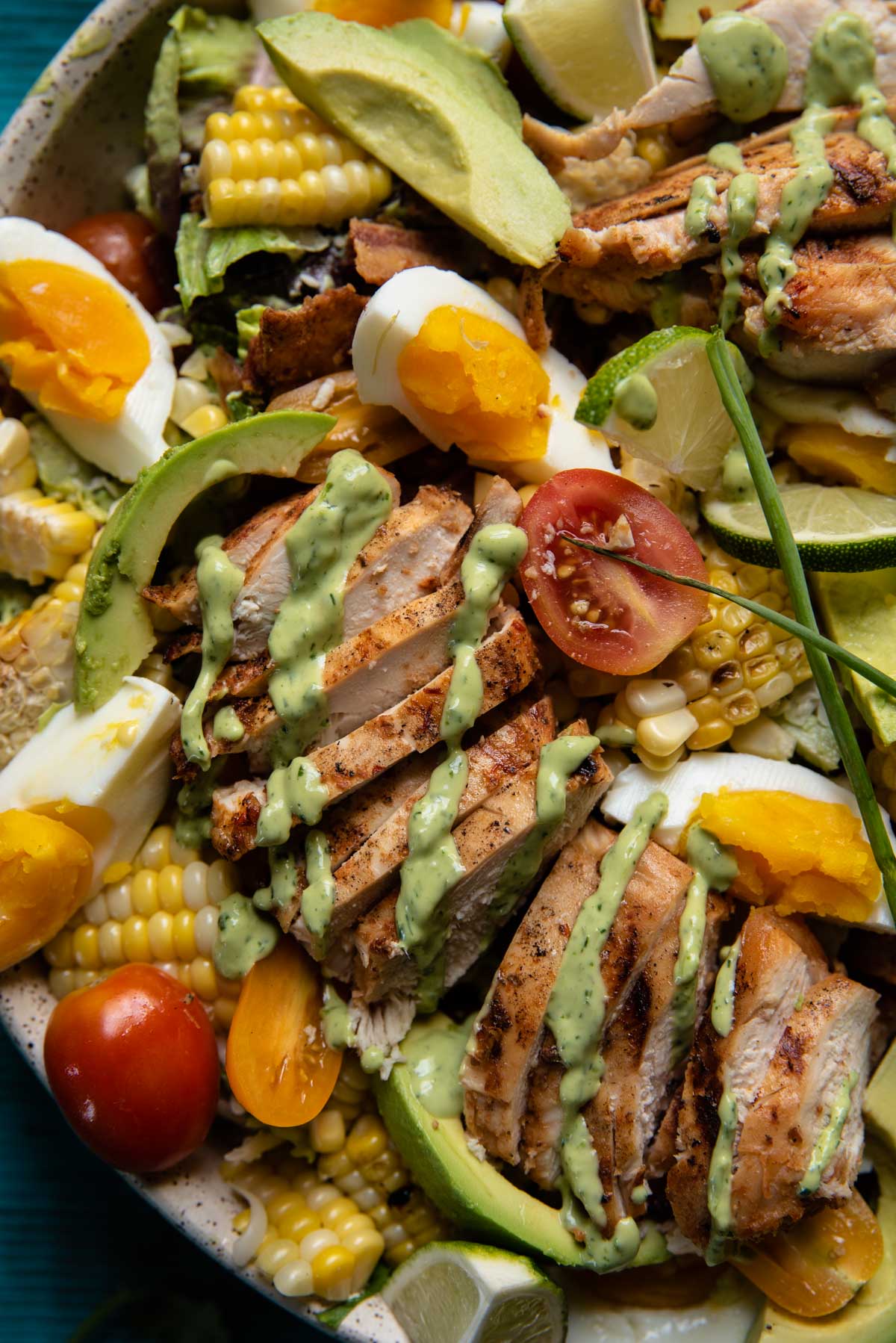 I like to do this so that the texture of all the 'add-ins' doesn't get lost in the creamy dressing and it just makes for a prettier salad.
Be sure to let me know how the recipe went for you in the comments! I'd love for you to leave a star rating below!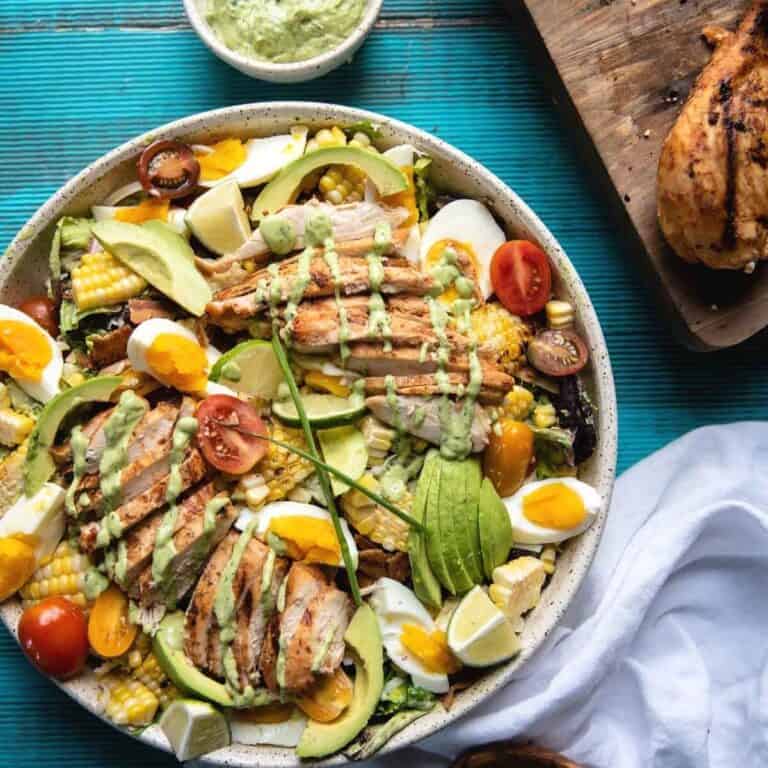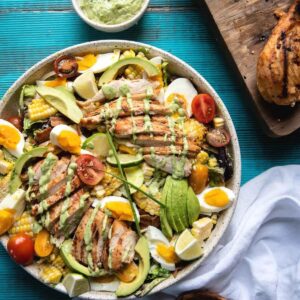 Chipotle Cobb Salad with Avocado Green Goddess
Fire up the grill for a salad that doesn't disappoint! Chipotle cobb salad is my go to summer salad because its packed with so many fresh flavors and crunchy summer veggies.
Print
Pin
Rate
Ingredients
Chipotle Chicken Cobb
1 ¼

pounds

chicken breast

1

cup

chipotle honey lime marinade

5

ounce package

mixed greens

½

cup

cherry tomatoes

(cut in half)

2

ears

corn

(grilled and cut from the cobb)

4

ounces

cheddar cheese

(grated)

8

slices

thick cut bacon

1

avocado

(sliced)

¾

cup

avocado green goddess dressing

4

hard boiled eggs

(quartered)
Avocado Green Goddess
¾

cup

Greek yogurt

1

ripe

avocado

1

cup

mixed herbs

(parsley, cilantro, tarragon, dill)

2

tablespoon

chives

1

clove

garlic

2

tablespoons

lemon juice

½

teaspoon

Worcestershire sauce

(optional, about 2 splashes)

½

teaspoon

salt

⅛

teaspoon

white pepper

¼

cup

water
Chipotle Honey Lime Marinade
6

tablespoons

red wine vinegar

¾

cup

extra virgin olive oil

2

cloves

garlic

2

chipotles in adobo + 1 tablespoon sauce

3

tablespoons

honey

2

tablespoons

lime juice

1

teaspoon

salt

½

teaspoon

oregano

¼

teaspoon

paprika

¼

teaspoon

cumin
Instructions
Chipotle Chicken Cobb
Make the marinade. In a food processor or using a hand blender/emersion blender, combine the marinade ingredients. Pour about 1 cup of the marinade over the chicken. Let the chicken sit in the marinade 2 to 24 hours prior to cooking. Cooking all the ingredients except the chicken makes this super easy to put together the following day!

Boil the eggs. Bring a pot of water to a boil over high heat. Reduce the heat to low, then add your eggs and cook 7 to 8 minutes for medium boil, 8 to 10 for hard boil. Drain, cool in ice water and peel. Cut each egg into quarters.

Make the dressing. In a food processor, pulse the herbs until finely chopped. Repeat with the garlic and chives. Add the remaining ingredients and run the food processor on high until smooth, about 30 to 60 seconds, slowly add water until desired thickness achieved.

Cook the chicken. Grill the chicken until cooked through and internal temperature of 165°F is reached. Depending on the thickness of the chicken breast this can be 3 to 6 minutes per side. Let the chicken rest for 4 to 5 minutes before slicing for maximum juiciness.

Grill the corn. While the chicken is cooking, grill the corn as well. My favorite method for this is using leftover corn on the cobb so that it's already cooked and you just need to warm it and get grill marks. If the corn is not cooked, shuck the corn and grill for 10 minutes rotating frequently. Let the corn on the cob cool enough to handle and cut the charred kernels from the cob.

Cook the bacon. Prepare the bacon by cooking in a skillet over medium high heat until crispy or in a 400°F preheated oven on a sheet pan for 12 to 15 minutes until crispy. Transfer the bacon to paper towels to drain off some of the grease. Chop into small pieces.

Assemble the salad. Toss the greens with avocado green goddess dressing. Either sprinkle the remaining ingredients - cherry tomatoes, cheddar cheese, grilled corn, hard-boiled eggs, sliced avocado, bacon pieces, sliced grilled chicken over the whole top of the salad or add in rows for visual presentation. Optional: finish with a drizzle of green goddess over the top. Enjoy!
Notes
All the items in this salad can be prepared in advance. Serve the chicken hot or cold.
Nutrition
Calories:
862
kcal
|
Carbohydrates:
19
g
|
Protein:
57
g
|
Fat:
62
g
|
Saturated Fat:
20
g
|
Polyunsaturated Fat:
8
g
|
Monounsaturated Fat:
28
g
|
Trans Fat:
1
g
|
Cholesterol:
356
mg
|
Sodium:
1841
mg
|
Potassium:
1267
mg
|
Fiber:
5
g
|
Sugar:
10
g
|
Vitamin A:
2718
IU
|
Vitamin C:
45
mg
|
Calcium:
314
mg
|
Iron:
4
mg