Tender beef meatballs are getting a gooey makeover! Cheesy mozzarella and parmesan laced meatballs baked in the oven and served bite-sized for maximum deliciousness. Perfect alongside fresh pasta for a family-style meal or ditch the pasta and serve as an appetizer at your next party!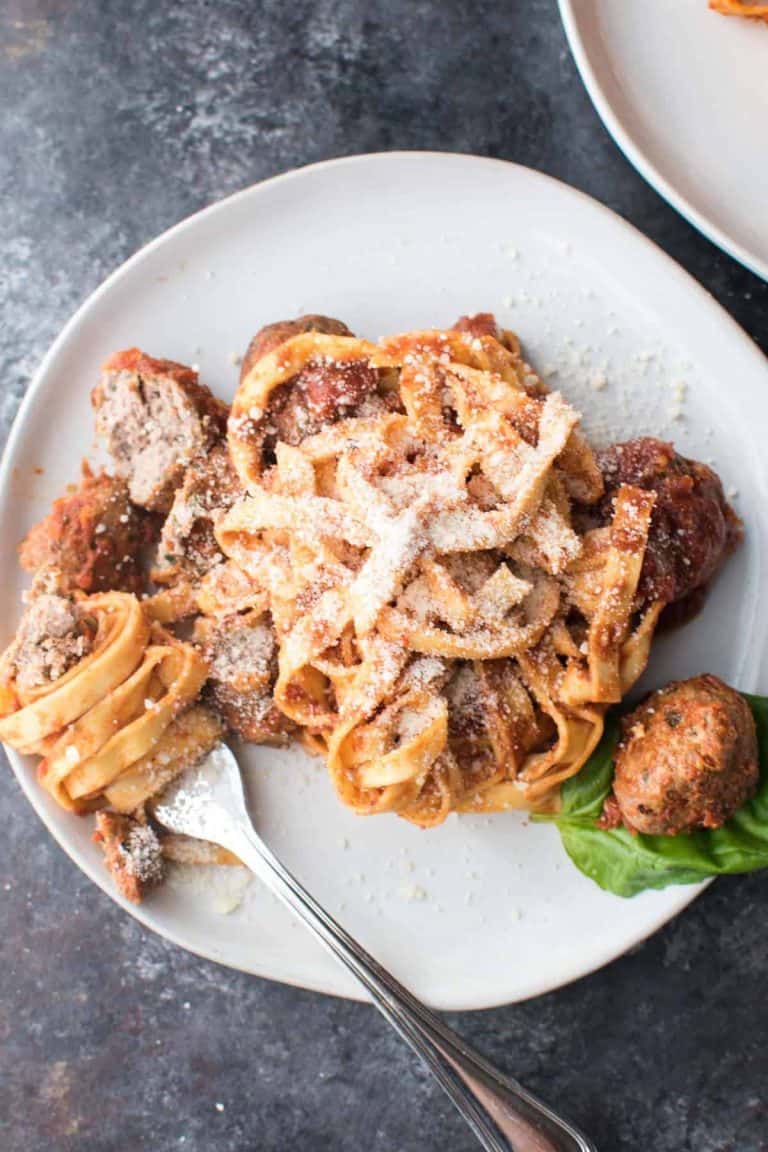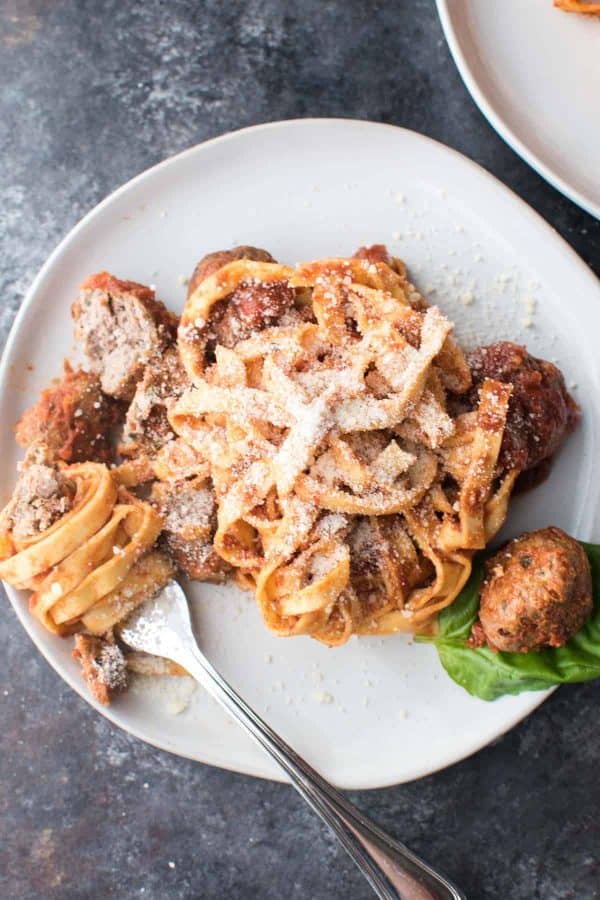 Warning: serious comfort food coming at ya.
What is it about pasta that makes it so cozy? Alongside our favorites like tomato soup and chicken pot pie, a big bowl of pasta with fresh mozzarella meatballs or bolognese sauce just makes me want all the comfy things. While the jury is still out on the why it's so good, we might as well test taste to make our own conclusions. Get on your house pants, we're eating dinner in pajamas.
Okay, you don't always have to eat pasta in your pajamas. It's just a recommendation.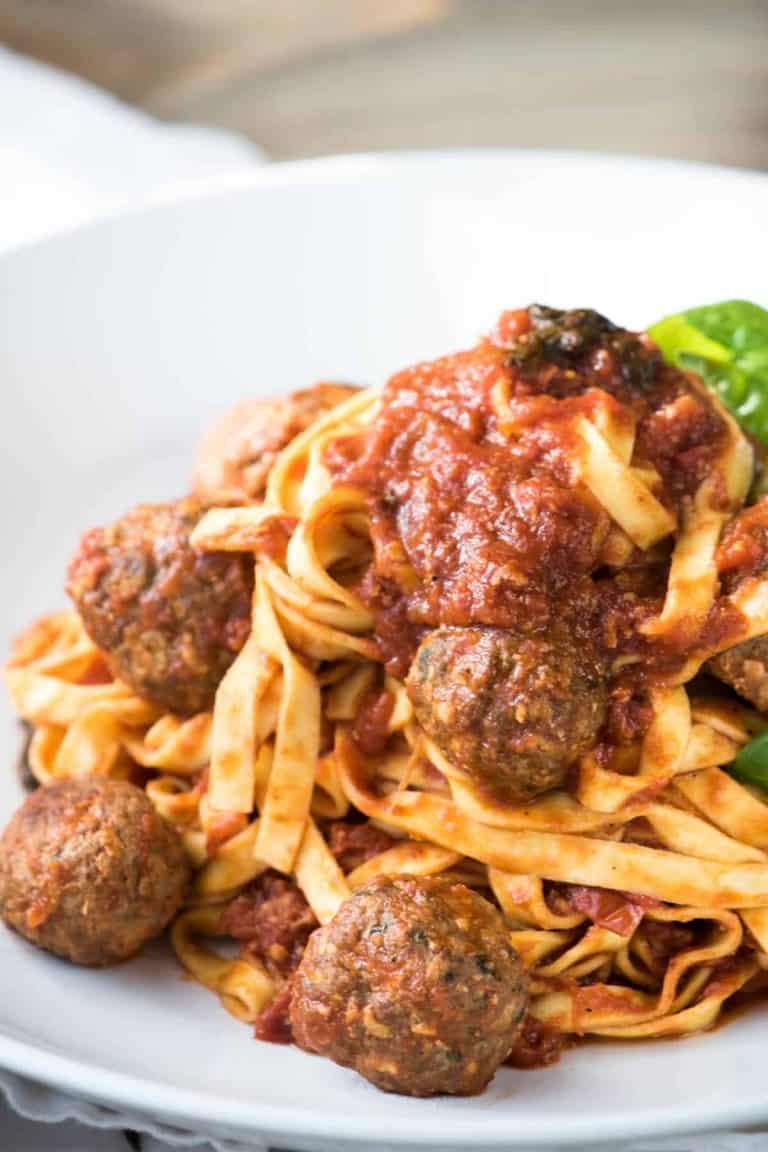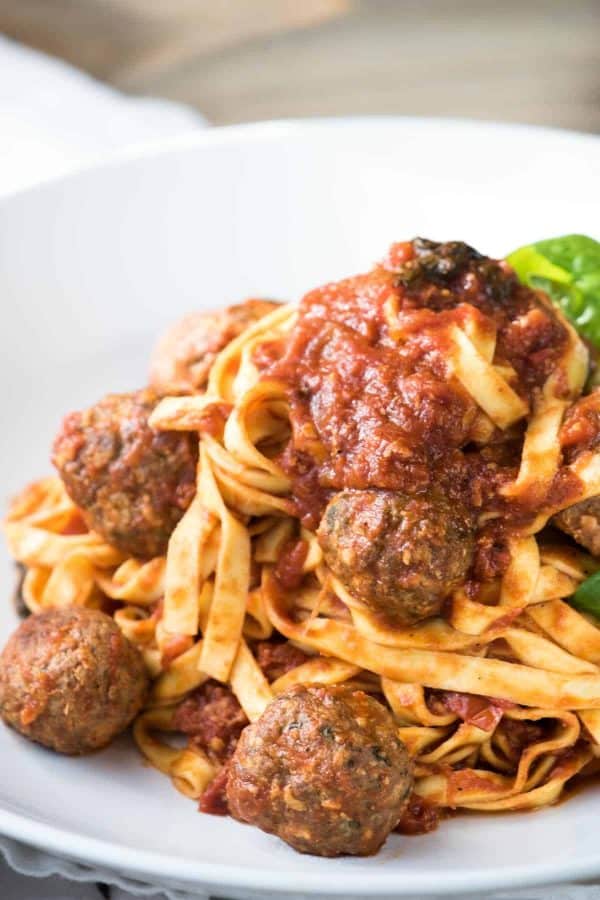 Cheesy meatballs that are great for a crowd or as an appetizer. They are purposely made on the smaller side, so you could toothpick it if you want to. The recommended way to dish out these little round bites of cheesy, meaty bliss is to splurge on some of that fresh pasta in the deli section. Not only does it take less time to cook (bonus) it's so wonderfully tender and soaks up the sauce in the most beautiful way (double bonus).
You can always up the ante and make your own pasta. While I love freshly made pasta, most times I prefer to pass on the mess. If you're ready to roll up your sleeves and get an arm work out in, this squid ink pasta is super fun in color and adds the perfect slightly salty taste to the pasta!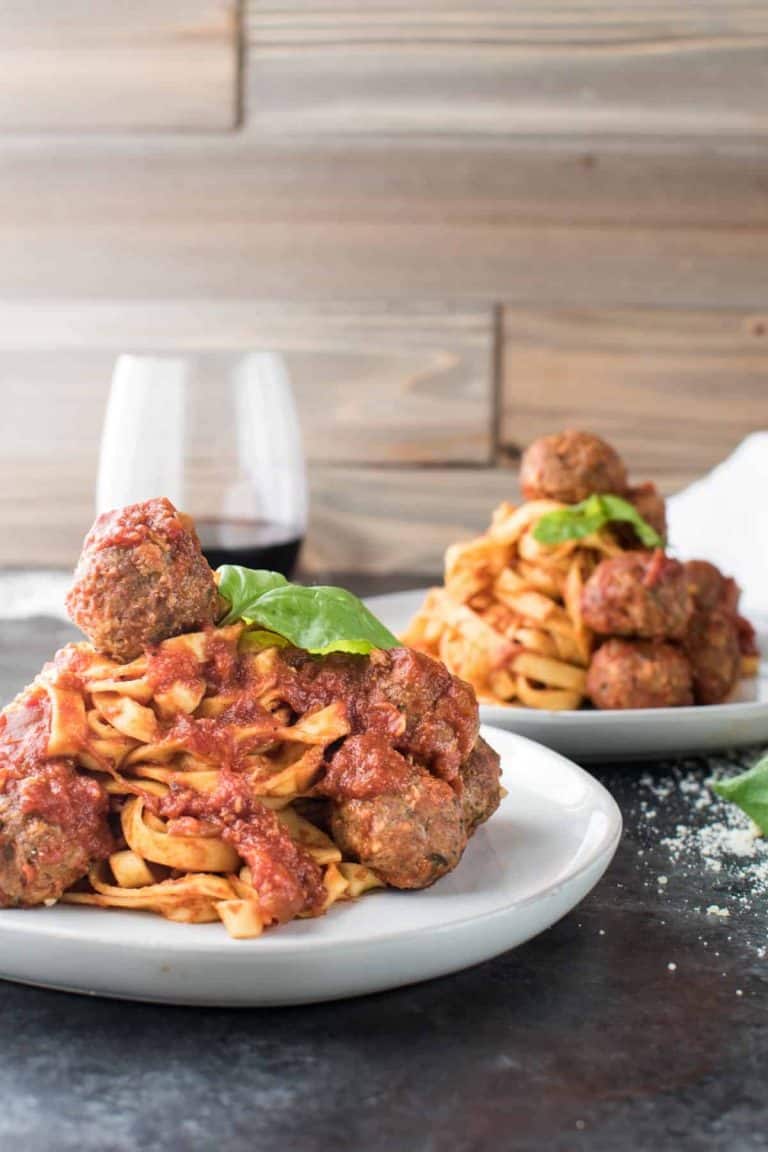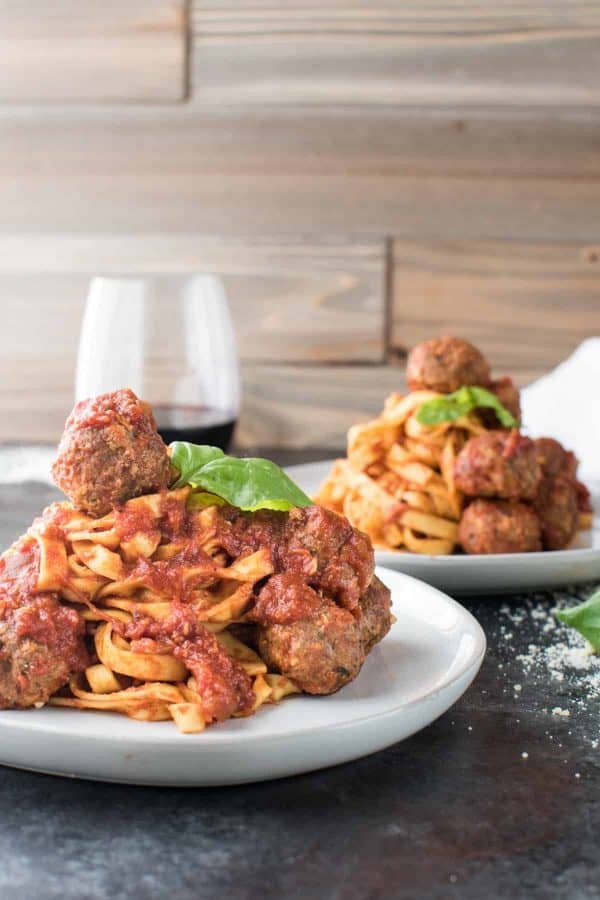 Making gooey mozzarella and parmesan meatballs
Ok, nuts and bolts time. The meatballs. This is now the only way I shall make meatballs for pasta. If you love cheese, why would you not add cheese?!
Did I mention these beefy bites of gooey goodness are gluten-free? Yep. Because we've got all that cheese in there we don't have to worry about a binder like breadcrumbs. And with all the options for pasta like brown rice, chickpea, black bean and more, we can share this recipe with our gluten-free friends too!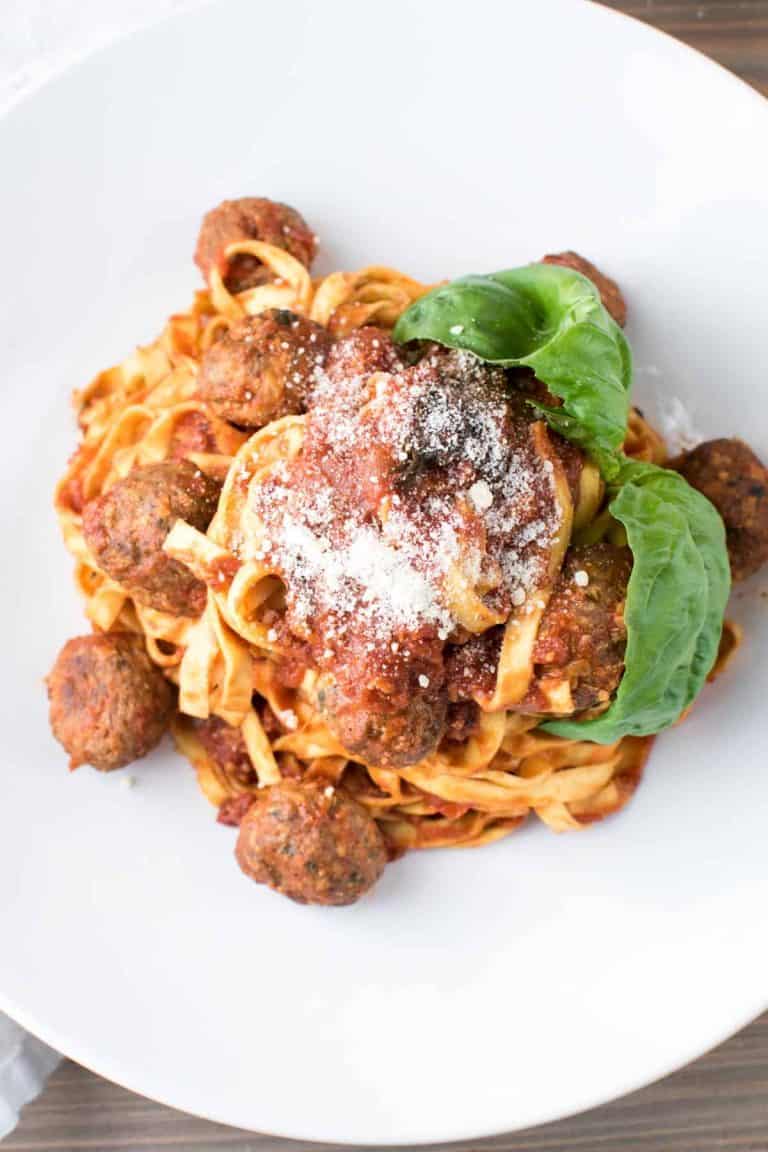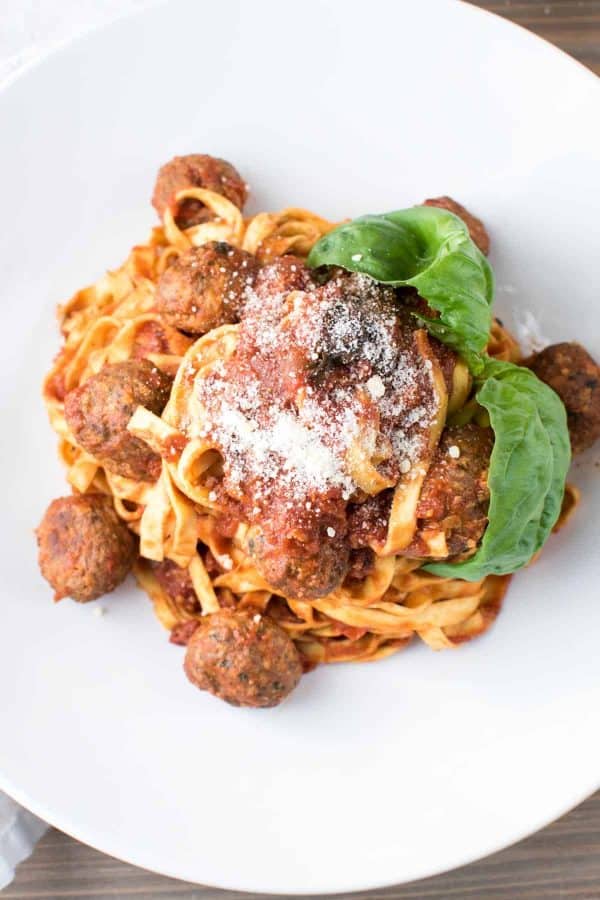 The best thing about making homemade meatballs? The simplicity of it all.
Simple ingredients, easy to prep, throw in a bowl. Don't want to chop garlic? Me either. Let's use that cheat garlic from a jar. Fresh chop parsley too much hassle? They make paste now! You can usually find it over by the herbs. Mix it, scoop it, roll it, bake it. Call. It. A. Day.
Because we're making these meatballs on the smaller side, you'll want about 1 tablespoon of the beef mixture to roll into a ball. Place it on a parchment paper-lined sheet tray so you can easily slide it into the oven after prep. A cookie scoop is an awesome way to make this efficient.
The meatballs will be done baking when the internal temperature reads 165°F on a meat thermometer.
For the saucy folks out there, I like to lean more towards 6 cups of sauce but you can start with 4 and then go from there. Whether you light coat or drown them, these cheesy beef meatballs with be a hit.
I'm ready to kick up my feet and dig in. Don't worry, I'll bring an extra fork for you.
Did you make this recipe?! Be sure to tell us about it in the comments and leave a rating! If you snapped a pic of your masterpiece post it in Pinterest alongside the pin! If you're in the mood for a lighter meatball or to try turkey meatball style of this recipe check this out!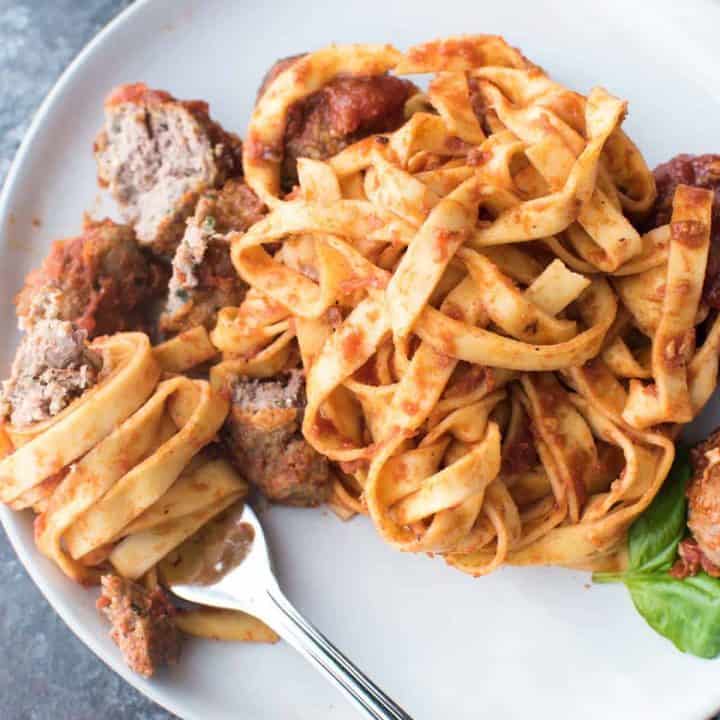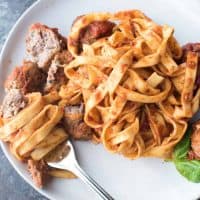 Cheesy Mozzarella Meatballs with Fresh Linguine
Fork tender cheesy mozzarella meatballs are easy to prepare and gluten free. A gooey twist on a traditional classic that's perfectly paired with pasta or can be served as an appetizer.
Print
Pin
Rate
Ingredients
1 ½

lbs

ground beef

1

cup

whole milk mozzarella freshly grated

½

cup

parmesan cheese grated

1

tablespoon

garlic minced

1

teaspoon

salt

½

teaspoon

pure ground black pepper

¼

cup

parsley chopped

2

large eggs

4 to 6

cups

marinara or pomodoro sauce

1

pound

linguine pasta

(fresh or gluten free)
Instructions
Preheat oven to 375°F and line a baking sheet with parchment paper, set aside. In a large bowl, combine all ingredients. Mix throughly using a rubber spatula or your hands.

Using a cookie scoop or spoon, scoop about 1 tablespoon of mix and roll into a ball. Place on parchment paper, about ½ inch apart.

Bake in the preheated oven for 20 minutes or until meatballs reach 165°F internal temperature.

If serving alongside pasta, prepare the pasta per package instructions while the meatballs bake. In a sauce pan, warm pomodoro sauce (or your favorite pasta sauce) over low heat - 4 cups will lightly coat the sauce and meatballs, 6 cups will provide extra. Once meatballs and pasta are both cooked transfer to the sauce and sauté together. Serve family style or plate on individual plates.
Notes
It's highly recommended to freshly grate the mozzarella. While you can definitely substitute the pre-shredded mozzarella it doesn't get quite as melty and gooey as the stuff you grate yourself.
I always, always salt my pasta water. It add flavor and depth to the pasta. About 1 to 2 teaspoons is sufficient.
Nutrition
Calories:
742
kcal
|
Carbohydrates:
71
g
|
Protein:
42
g
|
Fat:
32
g
|
Saturated Fat:
13
g
|
Trans Fat:
1
g
|
Cholesterol:
157
mg
|
Sodium:
2017
mg
|
Potassium:
1336
mg
|
Fiber:
6
g
|
Sugar:
13
g
|
Vitamin A:
1338
IU
|
Vitamin C:
18
mg
|
Calcium:
266
mg
|
Iron:
6
mg