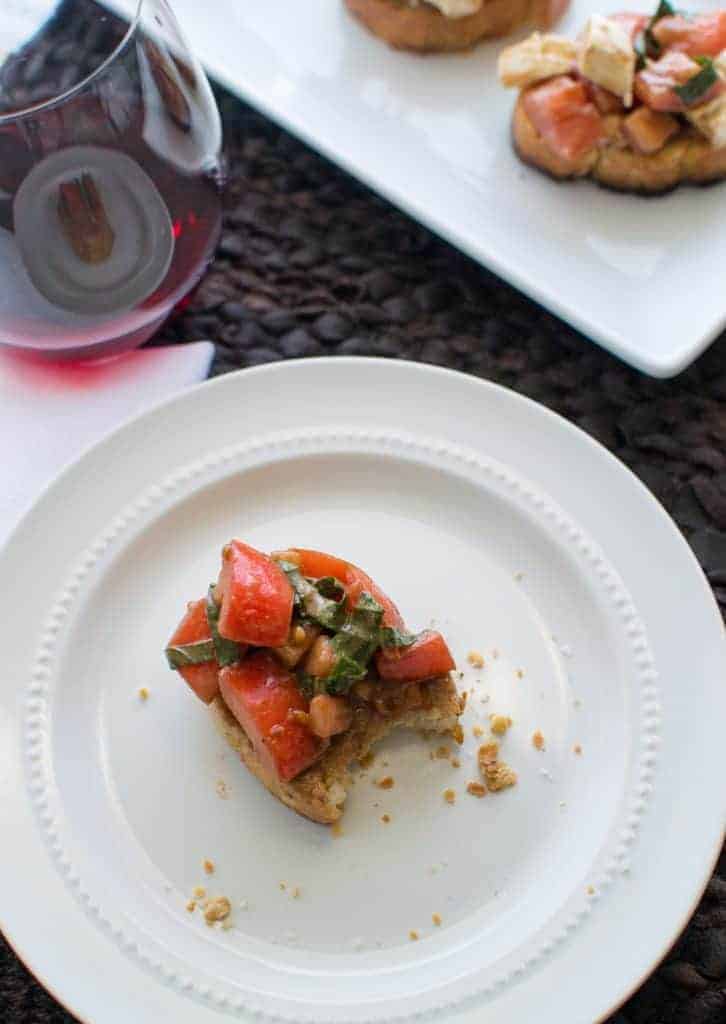 It's official. In the two days left before Christmas, Shea and I had our first grocery store walk-out-with-nothing experience. While standing in front of the meat department, trying to decide if I'm making lamb, ham, or beef, Shea had her mind made up that she was absolutely over being in the grocery store.
In that moment I decided I wanted to maintain my sanity more than what was sure to be failed attempts to entertain my squirming 18-month old. So we returned our two items to the shelf - where they belong, because you just should - and we walked back to the car.
Needless to say, guess who's going grocery shopping this morning?
Have you been there before? Down to the wire with lots to do and plans don't go as expected? All. the. time. over here. You're stressed, you're busy, you've got things to do. You also need an appetizer and like 13 more hours in the day. It's all part of being in the 'I've got so much on my plate I could probably use another plate' tribe. It's a lifelong membership and I'm sure all the members in this tribe wouldn't want it any other way.
Though you're probably not much one for help, but let me help you with this appetizer you need...you want it to taste good, to be light and fresh, and not take an afternoon sweating the equivalent of a 5K in the kitchen.
Oh hey there. Let me introduce my friend, Homemade Balsamic Bruschetta.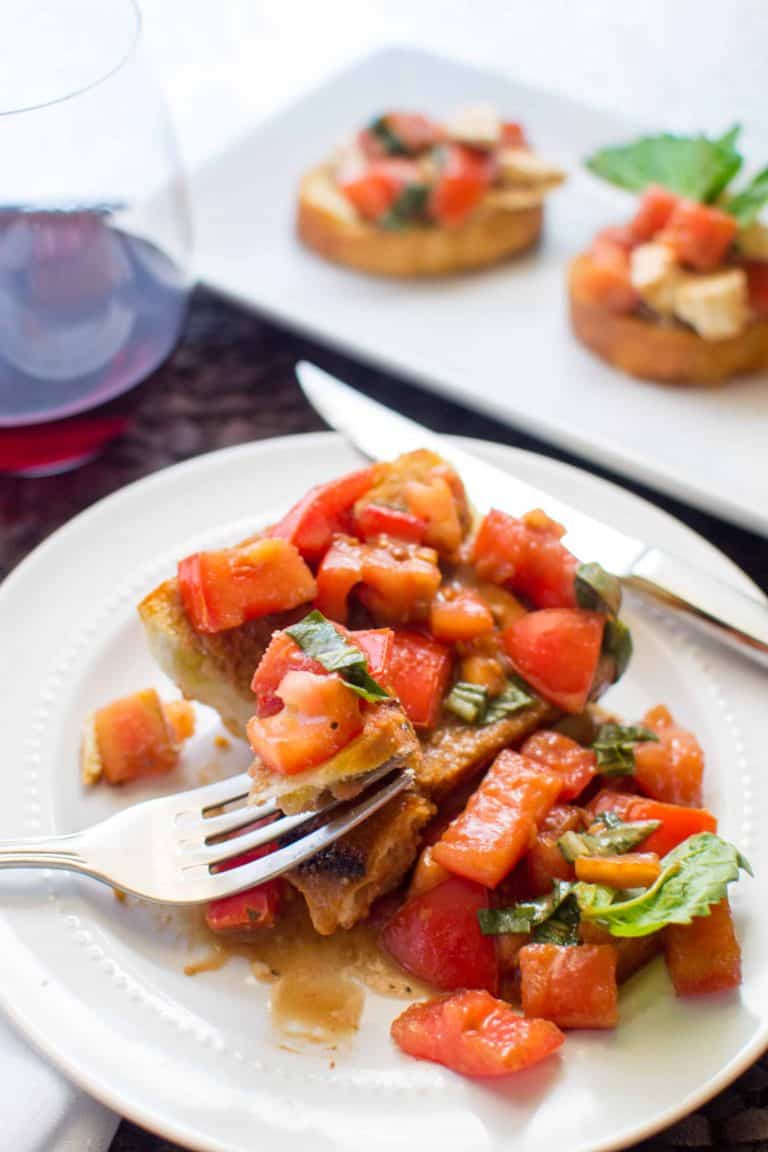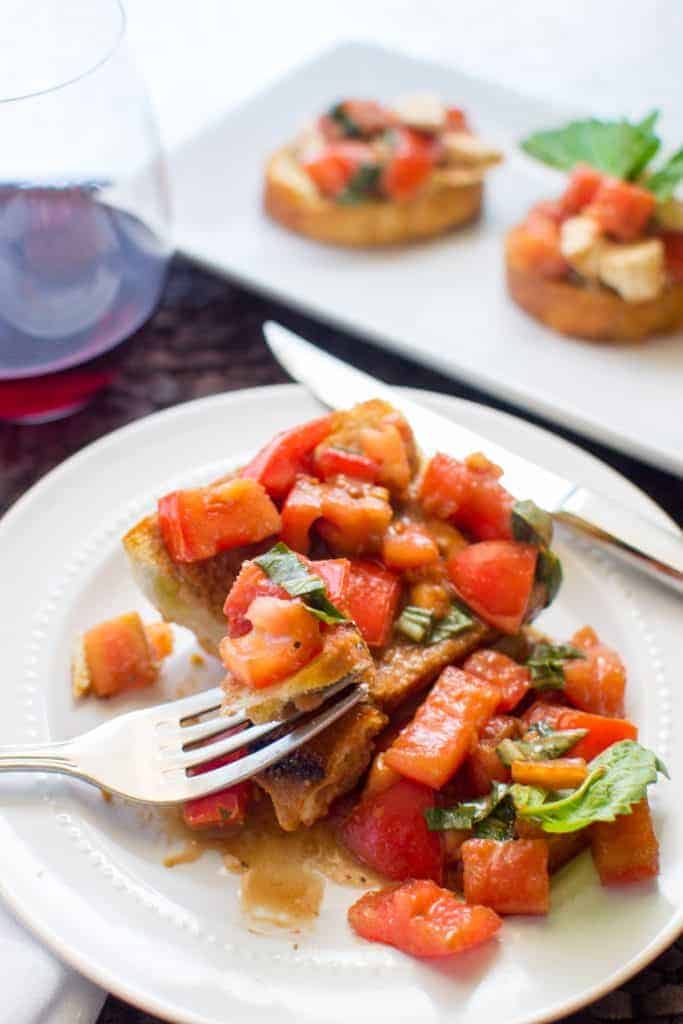 Plum tomatoes are the perfect tomato for this dish. The texture is still firm after being diced and there aren't a lot of seeds. Sprinkling the diced tomatoes with salt will extract a lot of water naturally in the fruit and replace it with the balsamic vinaigrette, so each tomato bite is bursting with tangy, fresh flavor. The addition of fresh chiffonade basil is simple and small, but just a small bite for the fresh herb simply adds like 1,000% more flavor. Like they're two little flavor soulmates that finally found each other in a crazy world. If you don't know what chiffonade means, don't sweat, it only sounds fancy pants. Basically, just stack your basil leaves on top of each other, roll them up, and slice them in thin strips.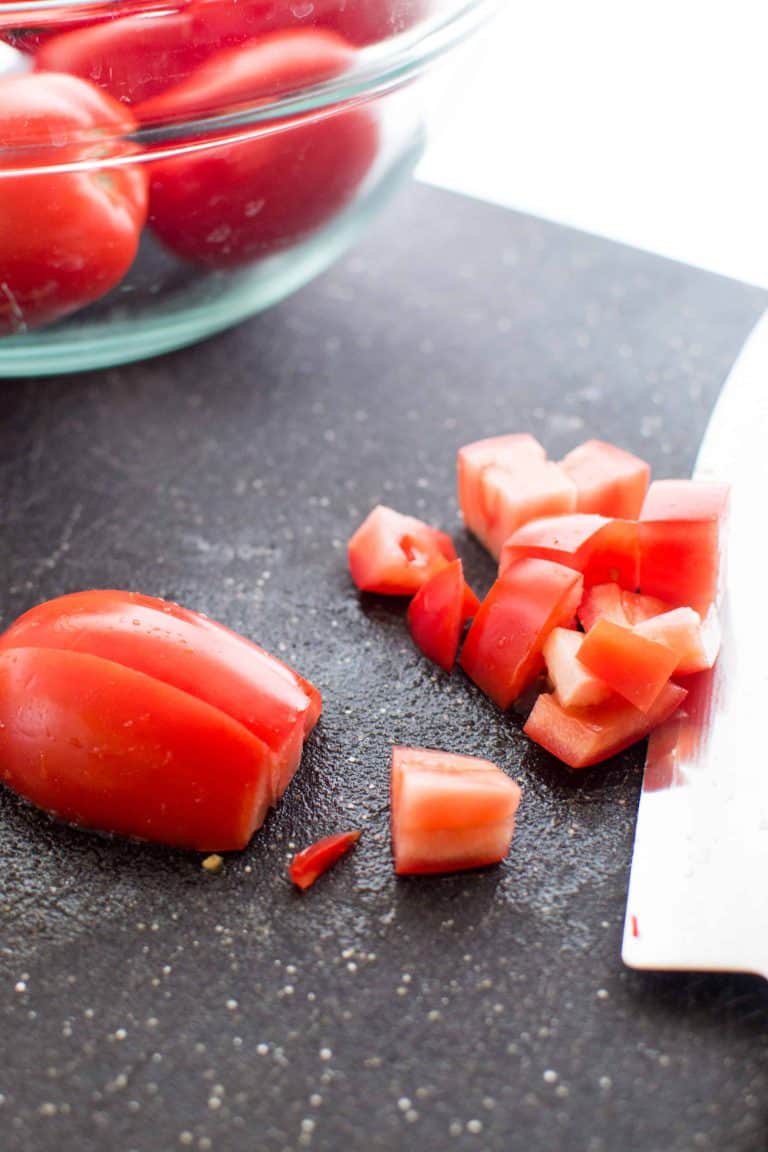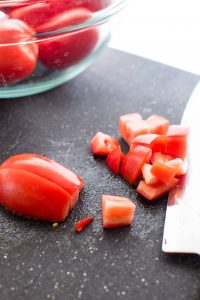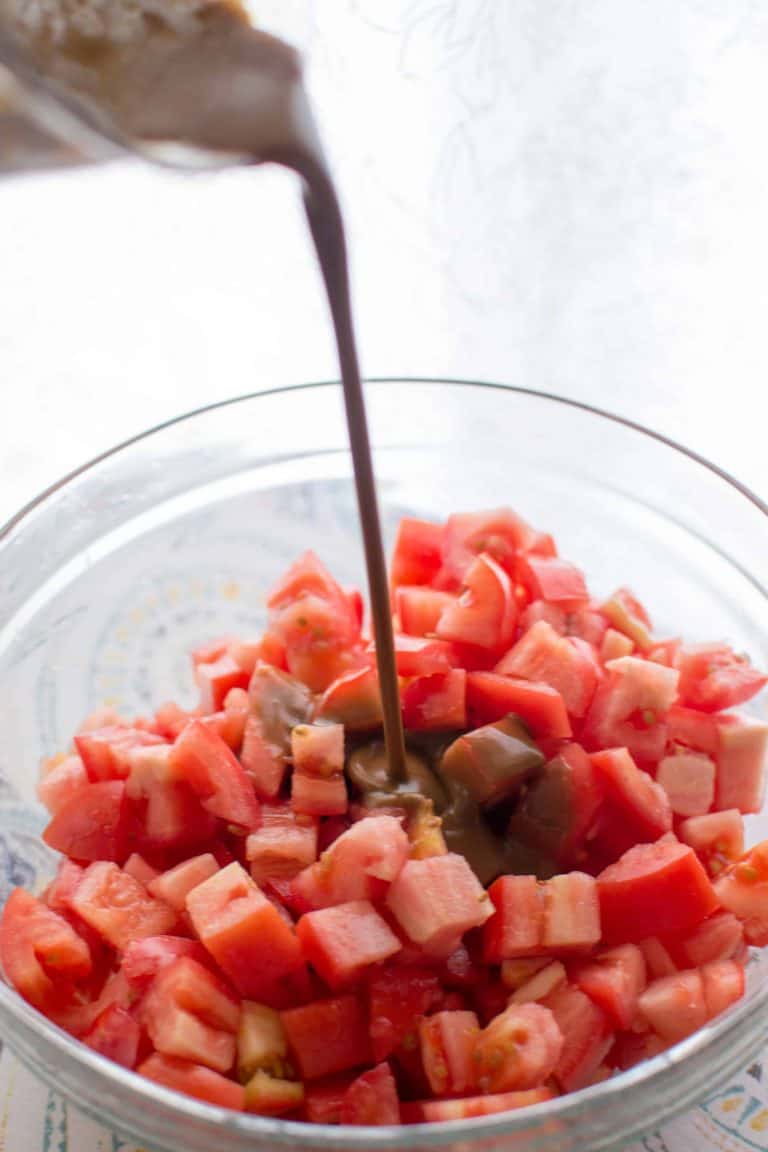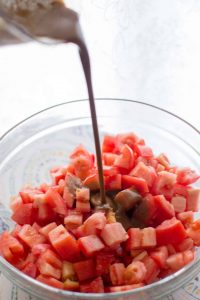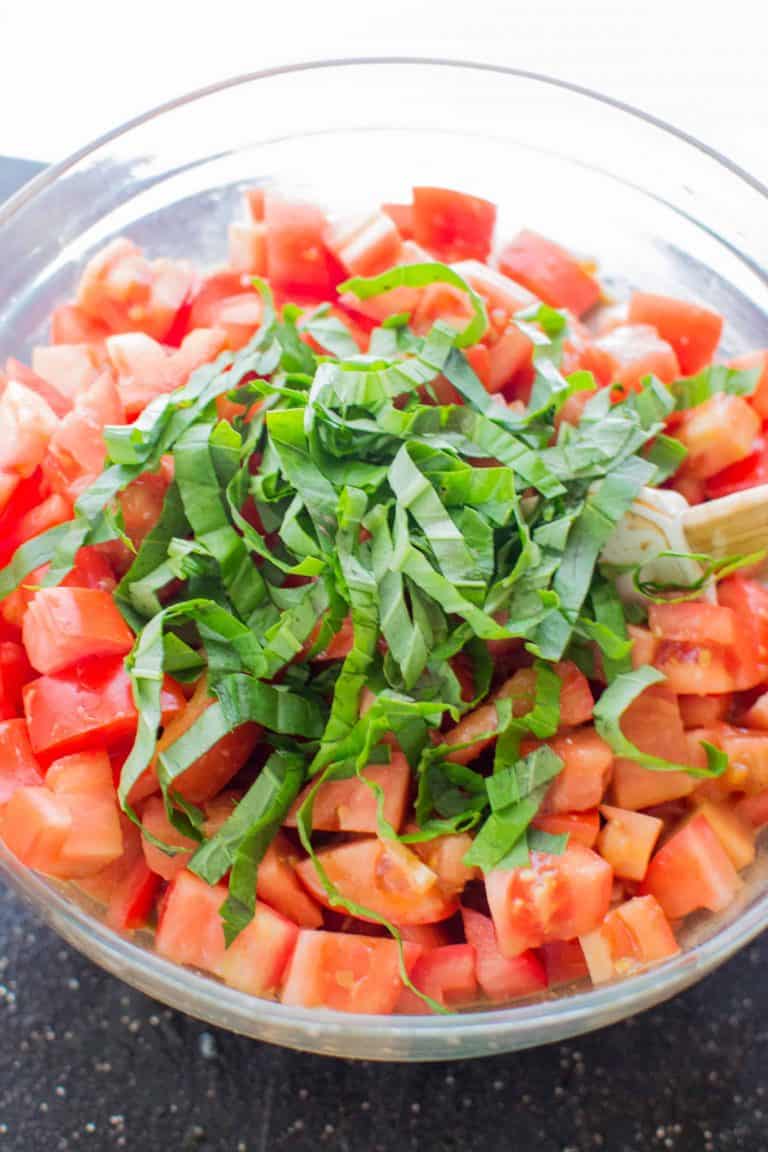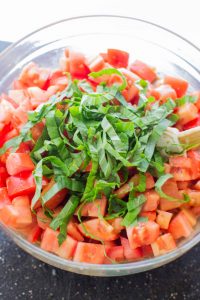 On the topic of being busy - because what's the holidays without being a little nutty - did I mention how easy this is to throw together?
Throw the ingredients for the balsamic vinaigrette in the food processor and pulse until it thickens slightly, about 5 to 6 times - check. Dice plum tomatoes about ½" thick, remove tops, slice down the bias, cut in 3 rows and then 4 rows across - check. Sprinkle with salt - check. Add basil - check. Add balsamic vinaigrette - check. Cut and toast bread - check. Eat bruschetta - done.
In 30 minutes you'll have a restaurant quality appetizer, whether or not you share is completely up to you. And if you're feeling real fancy, dice up a little fresh buffalo mozzarella and toss it in with the tomatoes or top with thin slices of prosciutto to please all your carnivorous relatives.
Now, I have a slight disclaimer. You can 100% get this recipe all up in your mouth after making it, but it's truly better if left to soak up all that vinaigrette deliciousness overnight. Each tomato is just beautifully absorbed with the slightly acidic balsamic vinaigrette with just the right amount of tomato sweetness. But if life predicts that you literally 'ain't got time for that' dish it up and enjoy!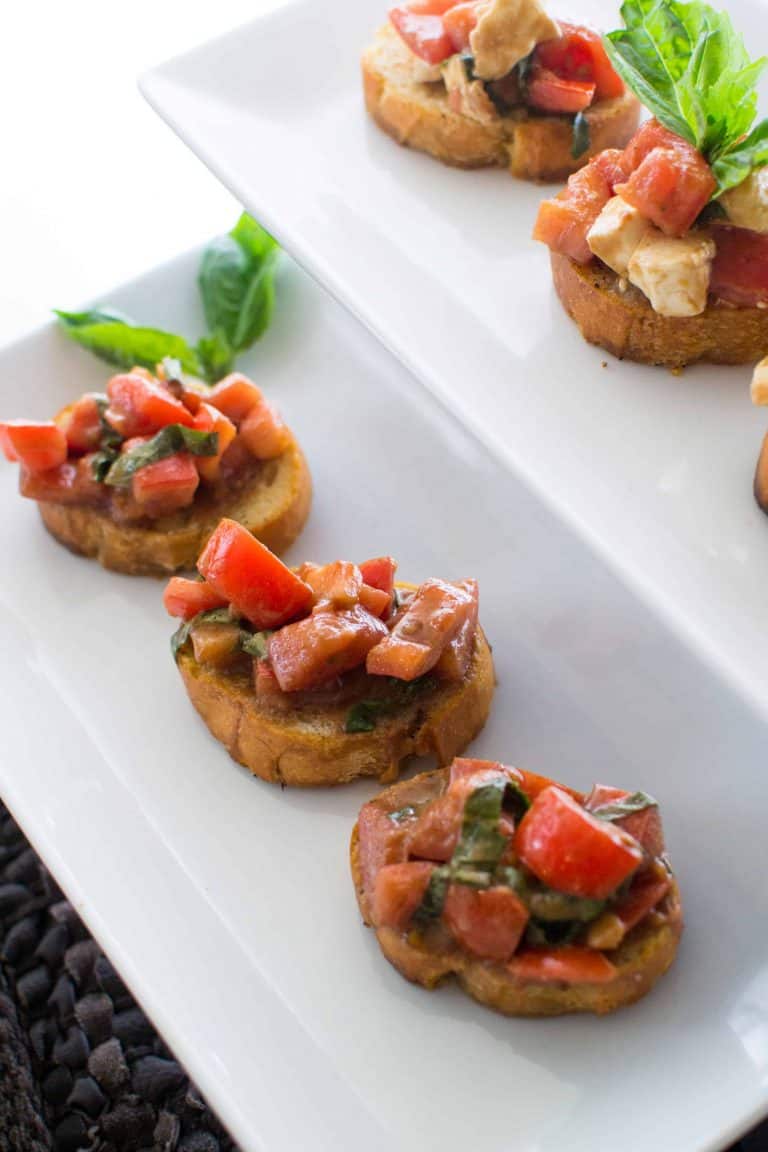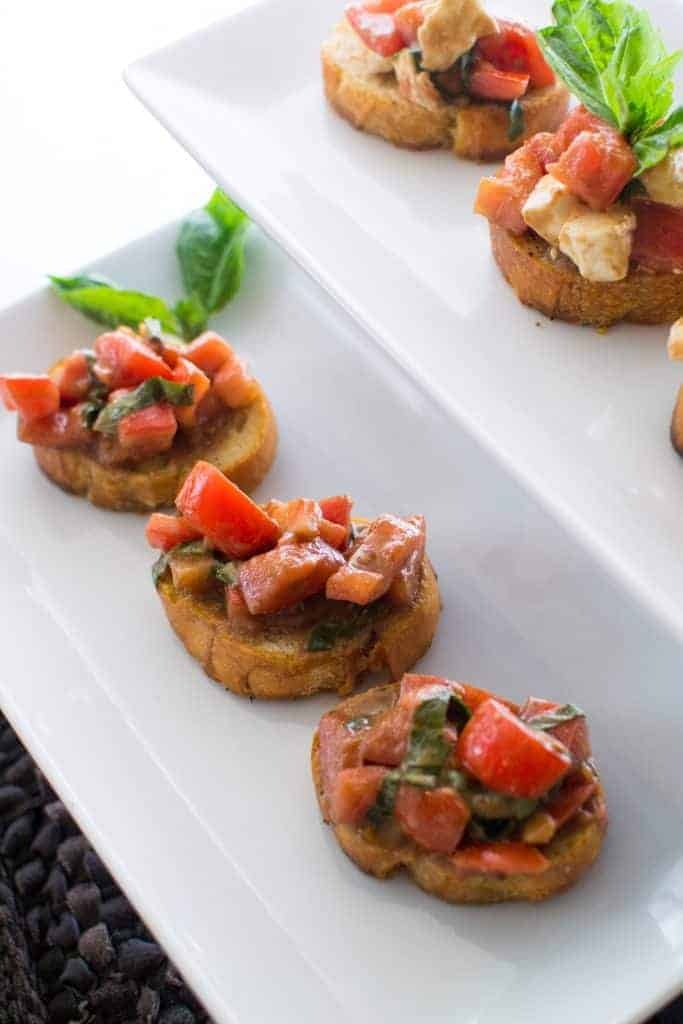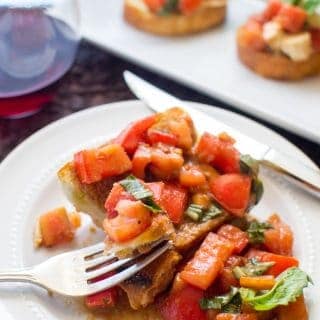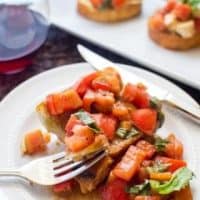 Homemade Balsamic Bruschetta
Bites of fresh plum tomatoes soaked in homemade balsamic vinaigrette with fresh basil over crunchy, toasted baguette - your guests will stay for the entree but leave talking about the appetizer!
Print
Pin
Rate
Ingredients
¾

cup

extra virgin olive oil

(plus extra for bread)

½

cup

balsamic vinegar

1 ½

teaspoons

shallots

(minced)

1

garlic clove

(minced)

½

teaspoon

dijon mustard

1

teaspoon

salt

(divided)

¼

teaspoon

fresh black pepper

3

pounds

plum tomatoes

(diced)

¼

cup

fresh basil

(chiffonade)

1

baguette

(sliced ½" - ¾" thick pieces)

Optional: 8-ounce ball fresh mozzarella

(diced in bite sized pieces)
Instructions
Balsamic Vinaigrette:
In a food processor, combine olive oil, balsamic vinegar, shallot, garlic, dijon mustard, ½ teaspoon salt and black pepper. Pulse to combine. Pulse 5 to 6 additional times to emulsify the olive oil and dressing begins to thicken just slightly.
Tomatoes:
In a large bowl, add tomatoes and sprinkle with remaining ½ teaspoon. Let sit while you assemble the vinaigrette.

Add balsamic vinaigrette and fresh basil to diced tomatoes. Stir to combine, making sure all tomatoes are coated with vinaigrette. Tomatoes are ready for consumption once put together, but flavor and texture is best if left to sit refrigerated overnight.

Optional: Add diced fresh mozzarella when combining vinaigrette and tomatoes.
To assemble:
Slice baguette in ½" to ¾" inch pieces. Arrange pieces on a baking sheet. Brush with extra virgin olive oil and season with salt and pepper.

Toast bread at 350°F for 10 to 12 minutes until outside edges are golden brown.

Using a slotted spoon, scoop tomatoes onto each piece of toast so tomatoes are slightly stacked on top of each other. Bread should absorb some of the vinaigrette, but not so much it becomes mushy.

Fresh basil leaf garnish optional.
Notes
To save time toasting the bread, each slice of bread can be lightly dipped in a shallow bowl of olive oil then sprinkled with salt and pepper rather than brushing each individual piece.
Nutrition
Calories:
103
kcal
|
Carbohydrates:
8
g
|
Protein:
1
g
|
Fat:
7
g
|
Saturated Fat:
1
g
|
Sodium:
166
mg
|
Potassium:
154
mg
|
Fiber:
1
g
|
Sugar:
2
g
|
Vitamin A:
486
IU
|
Vitamin C:
8
mg
|
Calcium:
16
mg
|
Iron:
1
mg