Crunchy, sweet corn and creamy avocado tossed with juicy cherry tomatoes, spicy arugula, and tangy feta cheese drizzled with vibrant lemon-mint dressing. Simple and easy pan-seared halibut makes this a quick meal that's packed with delicious, healthy protein!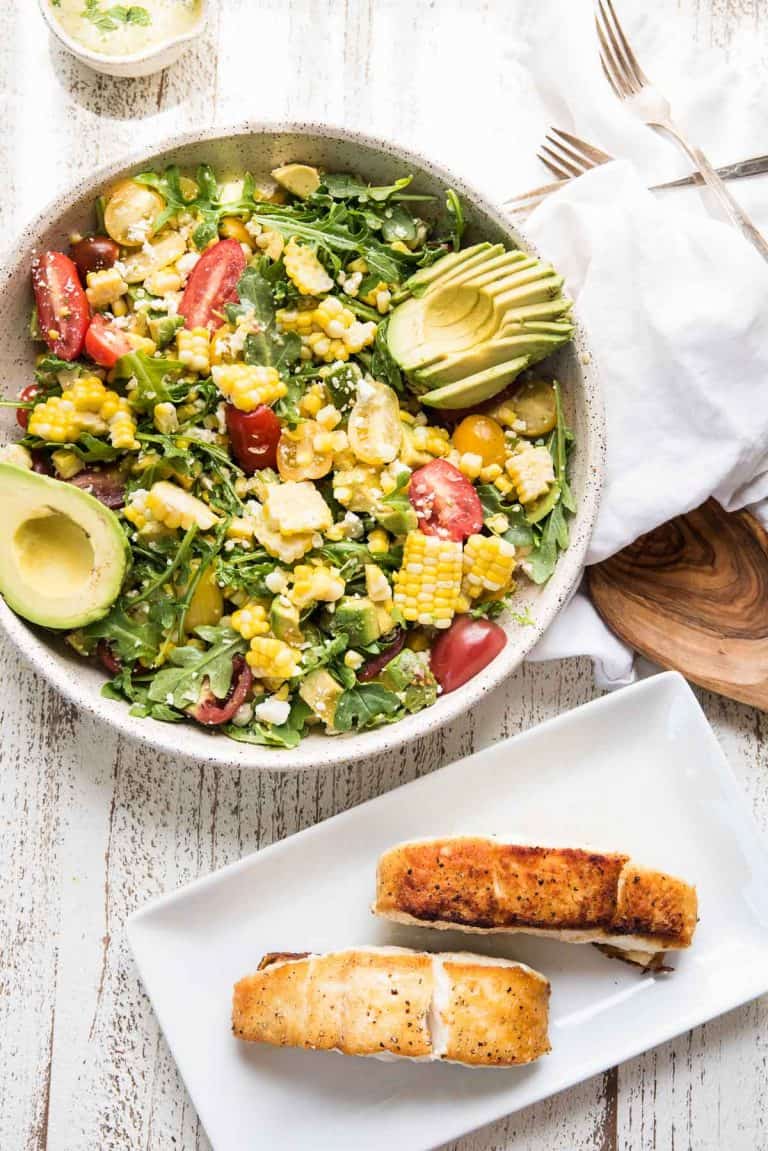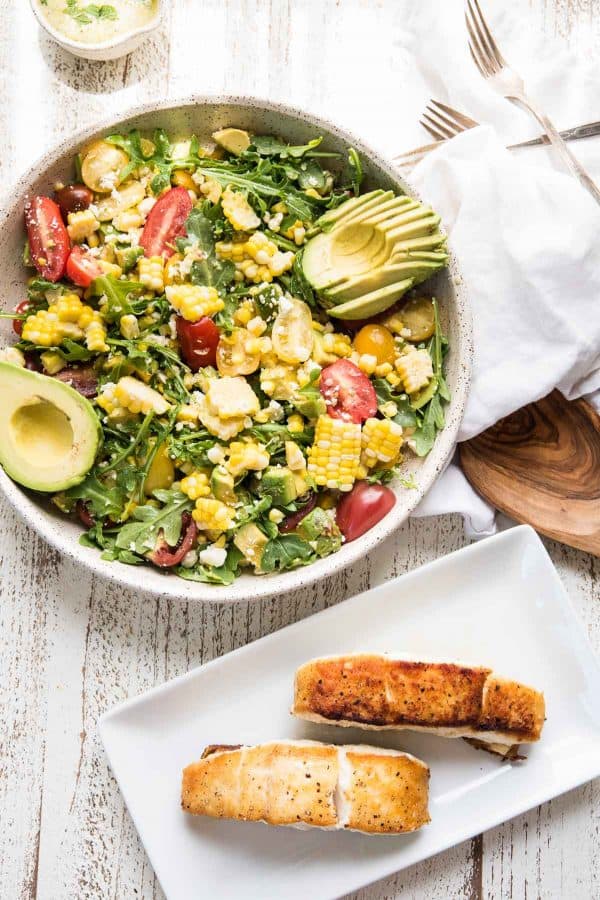 If you've ever wanted salad for dinner but also didn't want to be hungry 10 minutes later, here it is! Corn and avocado salad is everything a light fresh salad needs to be but with filling, creamy avocado and protein packing, satisfyingly crisp yet tender pan-seared halibut.
Best of all, it's ridiculously easy to throw together. If you've got leftover corn on the cob hanging around, this is a great use for it! Here are some of the best parts we're loving about this salad:
super easy to throw together
lime mint dressing is fresh, zippy, and just a touch sweet!
great for a crowd or a quick week night dinner
sub out the halibut for any other protein and it's still delicious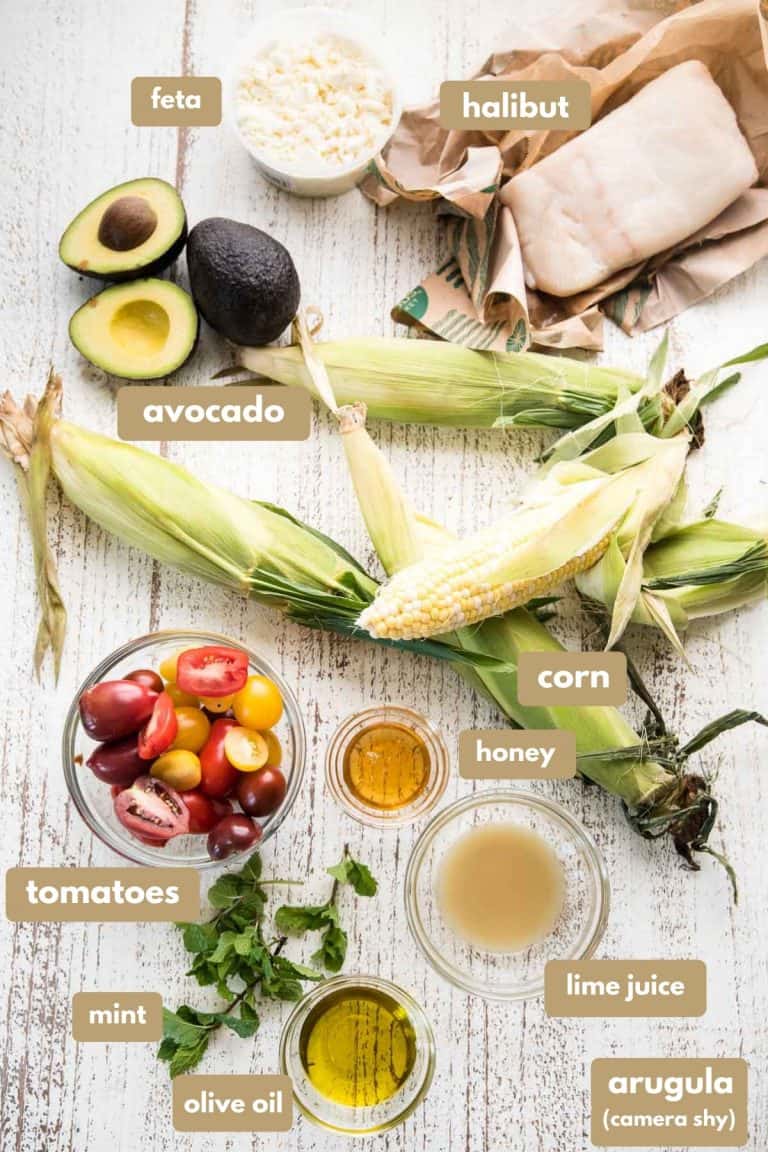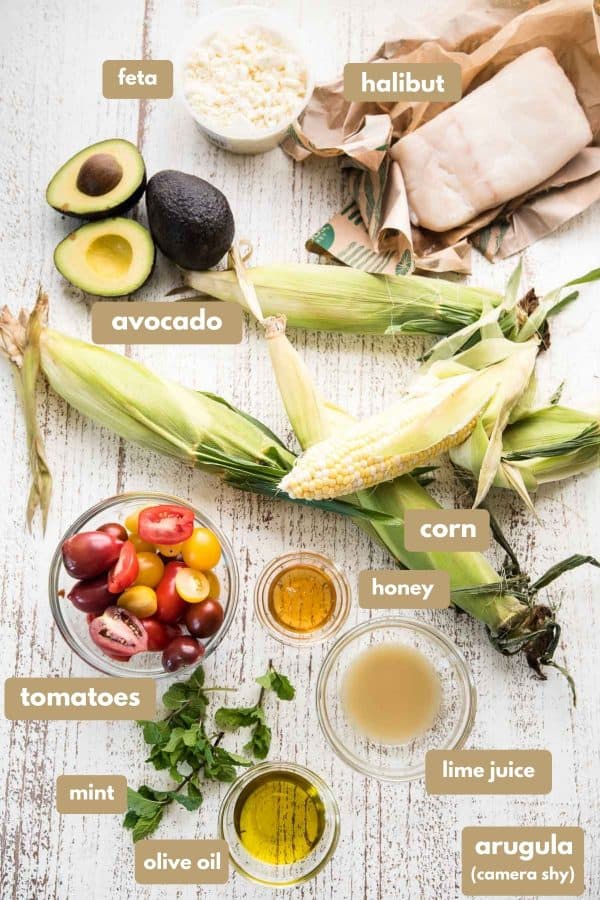 Way to prepare the corn
The general go-to approach is to shuck the corn of the husk and silk then boil it in lightly salted water. Pretty standard, pretty stress-free minus getting all that corn silk into the trash can, especially when you have two small kids trying to "help" you.
Anyways, there's more than one option when it comes to the cooking the corn!
Leftovers. Use up leftover corn on the cob
Grill it. Grill the corn on the cob. You can grill it in the husk then let it cool and shuck it or shuck it first then grill it to get a nice light char on some of the corn.
Cast iron. Cut it off the cob then toasted it in a cast iron pan with about 1 tablespoon oil.
Oven. Cut if off the cob and roast it at 400°F for 5 to 10 minutes.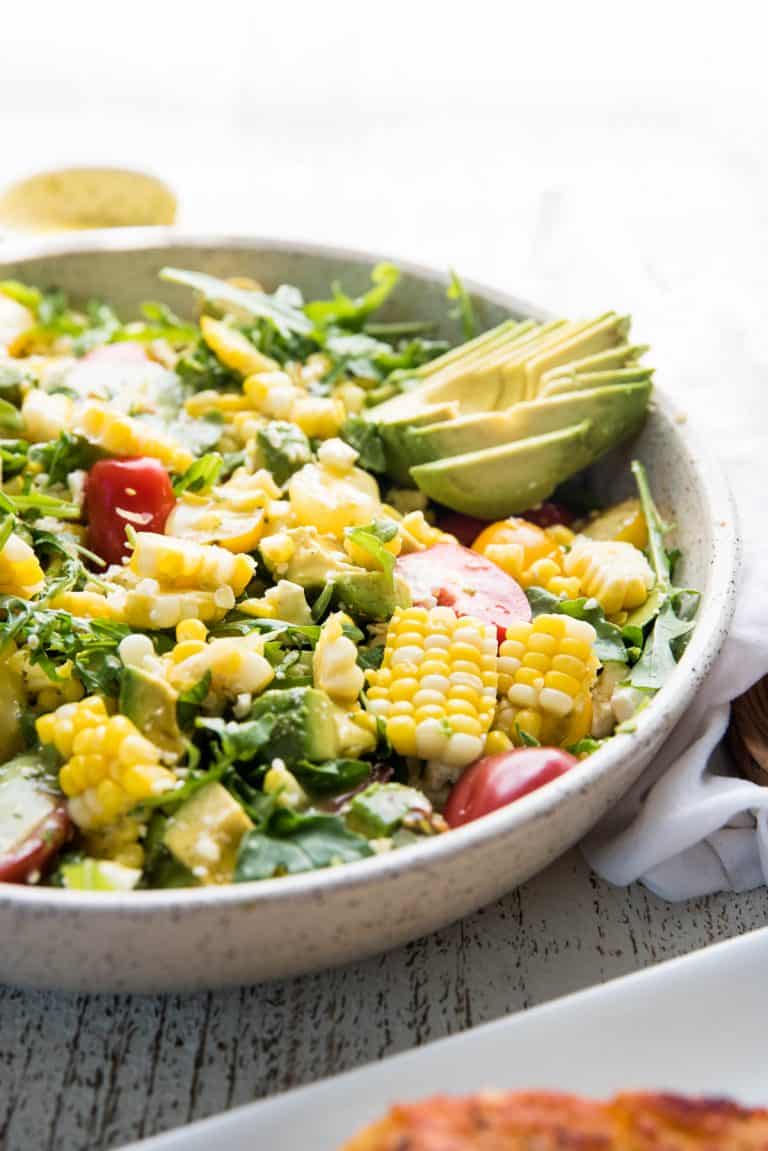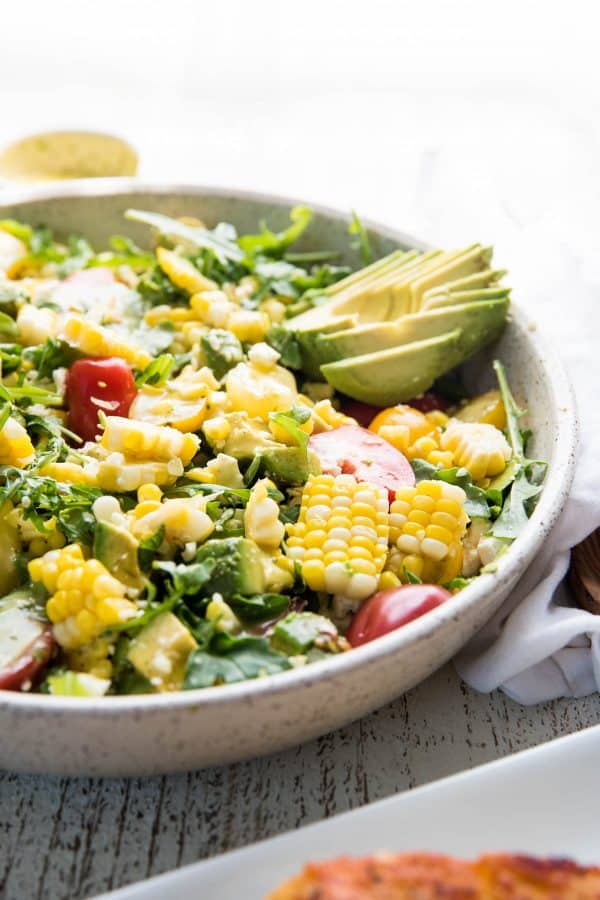 Lime Mint Dressing
Oooooooh Baby. Let me just go down this small rabbit hole real quick. This dressing is a back pocket wonder of deliciousness. If you're like anyone who has ever grown mint, there's is a plethora of mint taking over your herb garden.
A girl can only drink so many mojitos, or so I'm told. Let's use it up in this salad.
While it doesn't take a ton of mint, just a few tablespoons of the fresh herb adds such a pop to both the salad and the dressing.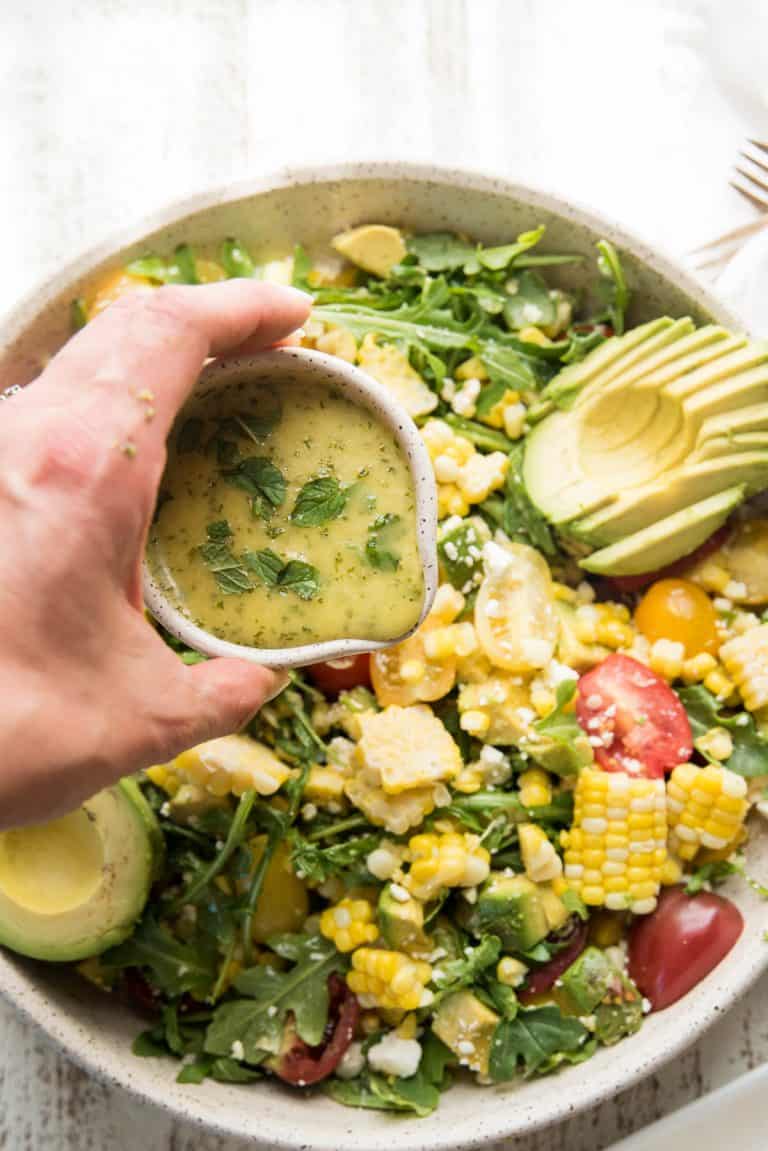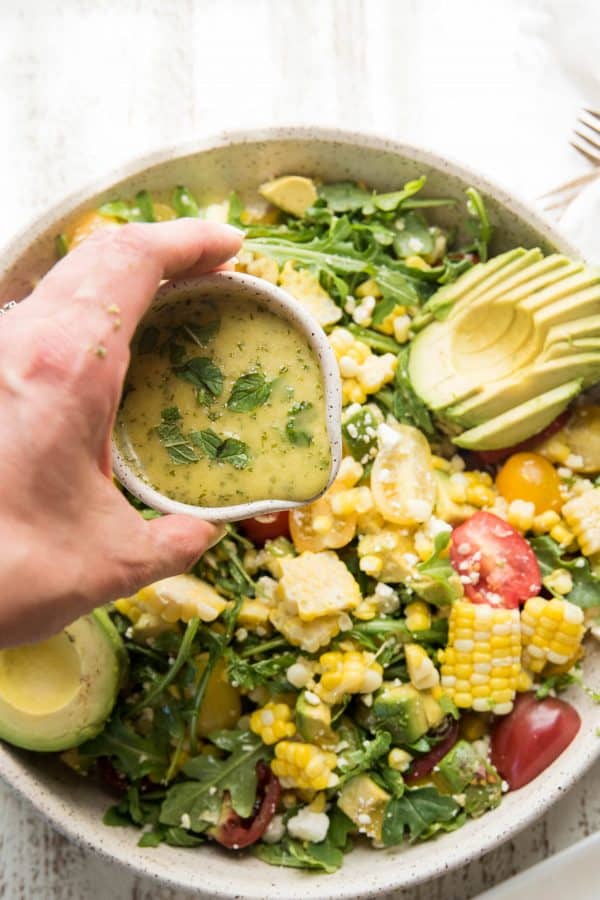 The combo of the lime juice - which can be fresh squeezed or not - with the sweet honey and pop of mintiness. SO. GOOD.
It helps to keep the salad tasting like while adding necessary acidity, sweet, and fat.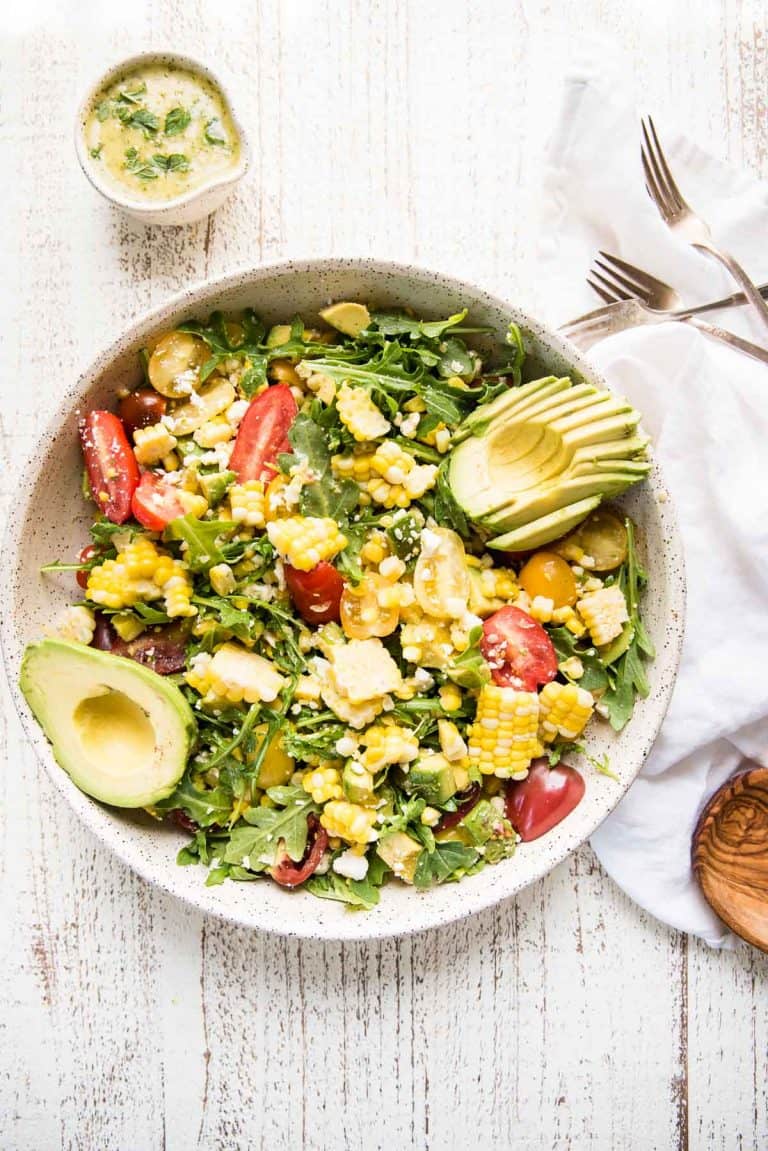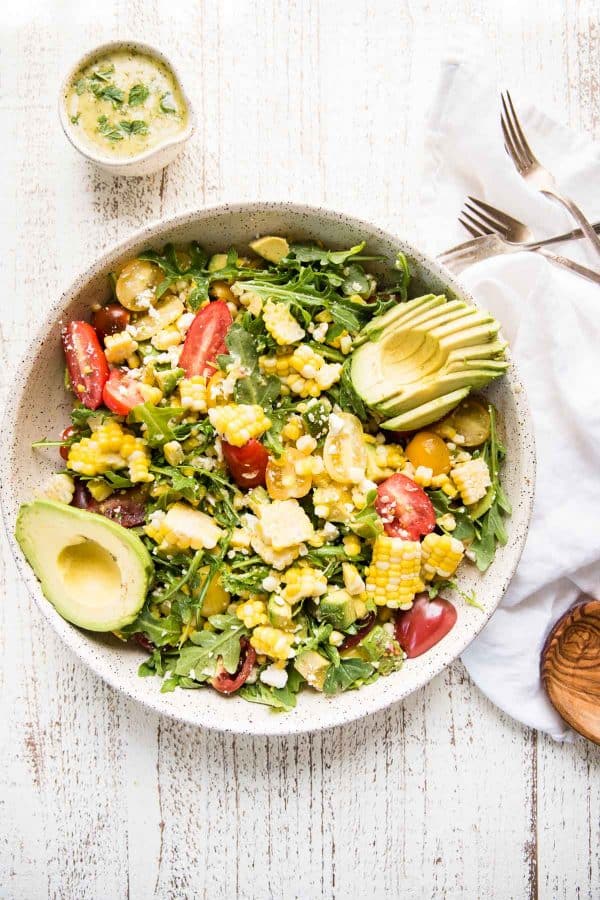 Pan-Seared Halibut
Please, let me introduce to you my favorite white fish indulgence. Dear halibut, I'm a BIG fan.
In my opinion, pan-seared is the only way to eat this flaky white fish. It's like a marriage between indulgent fried fish and baked. So the top of the fillet ends up crisp and a little crunchy and the inside is decadently soft, flaky, and tender.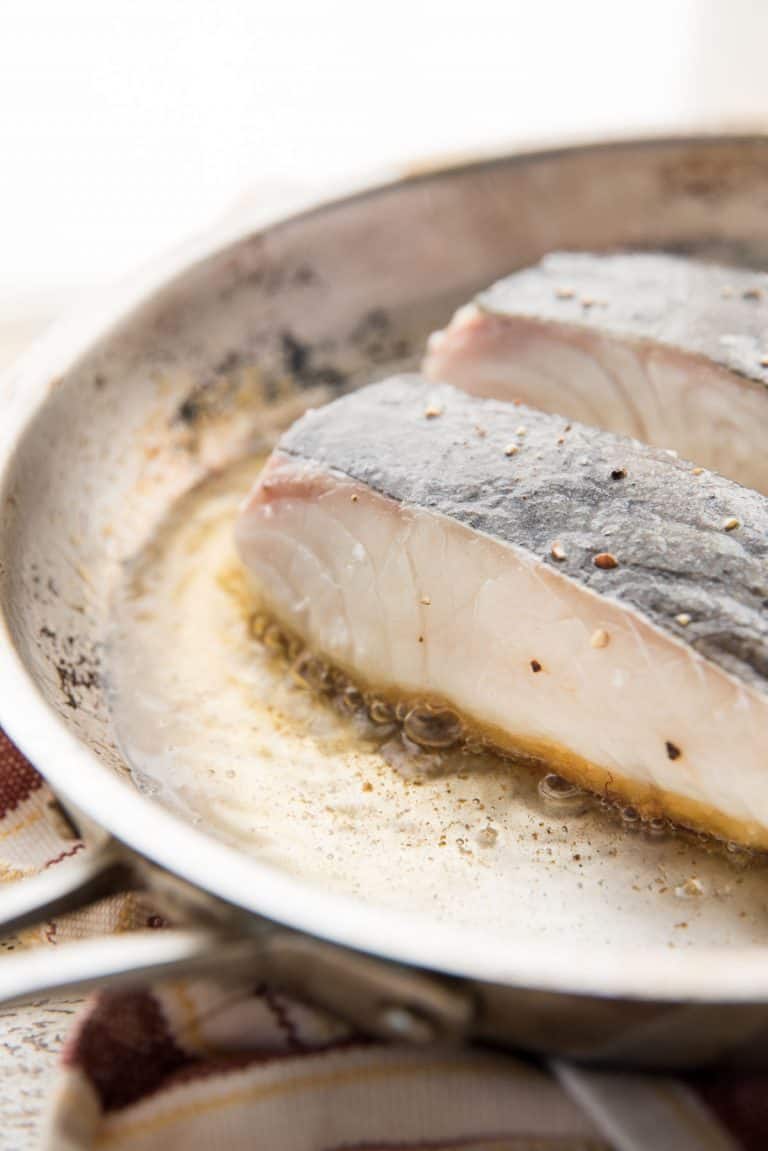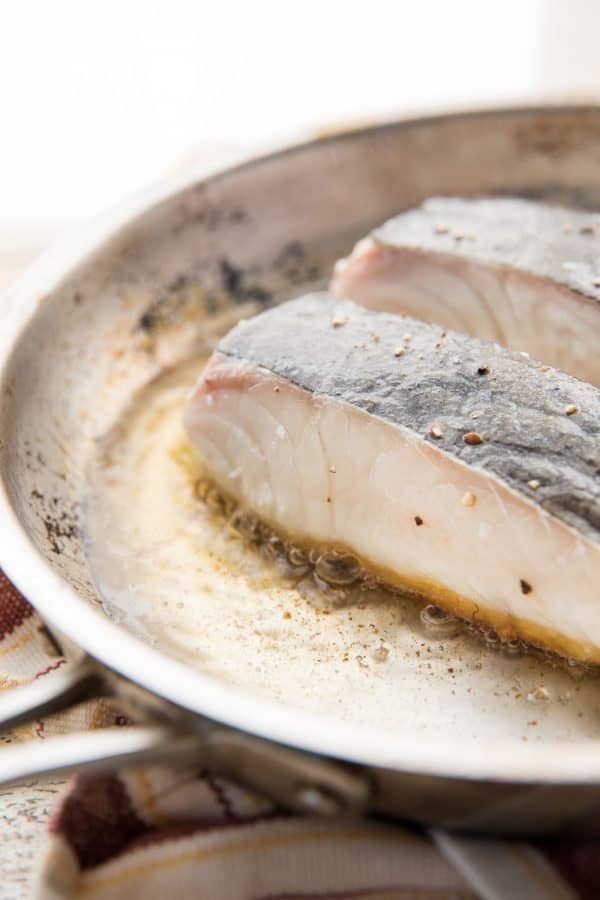 Tips for pan-searing fish:
heat the oil over high heat, but cook over medium-high
try to remove excess moisture but blotting with a paper towel or refrigerating uncovered for 1 hour before cooking
don't overcrowd the pan, this will lead to poaching the fish instead of searing
use a wide, thin spatula versus tongs to flip the fillets.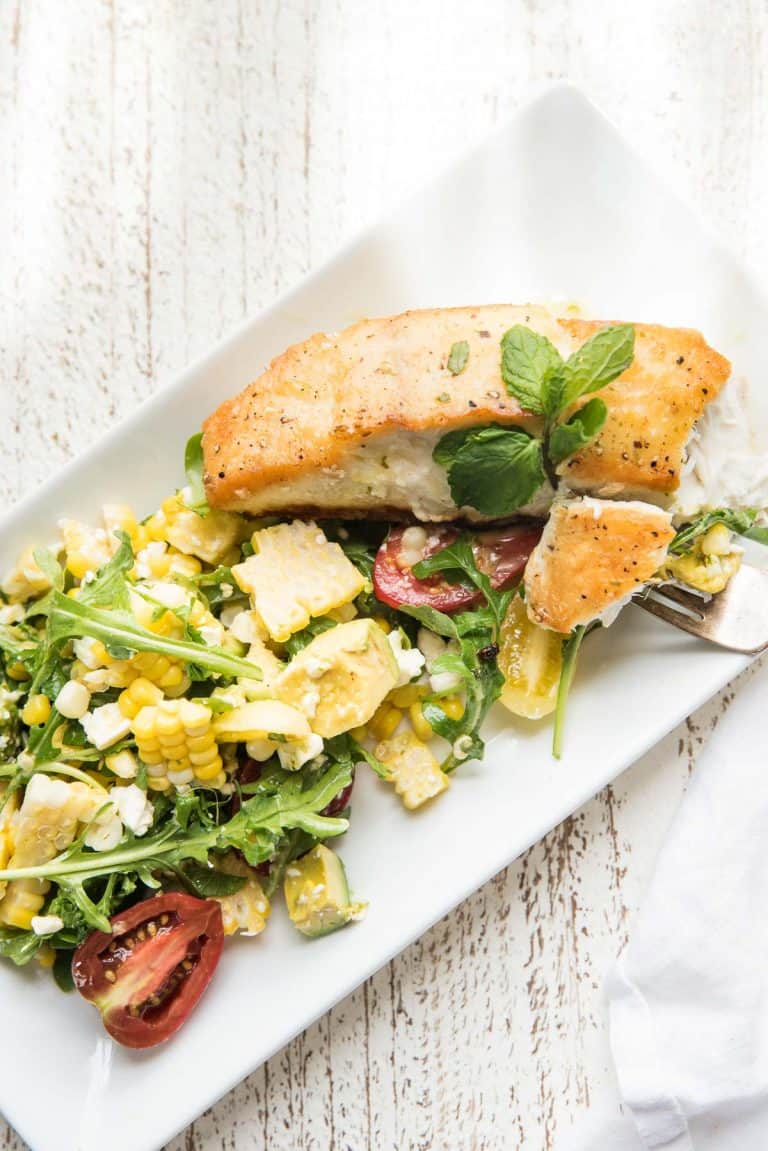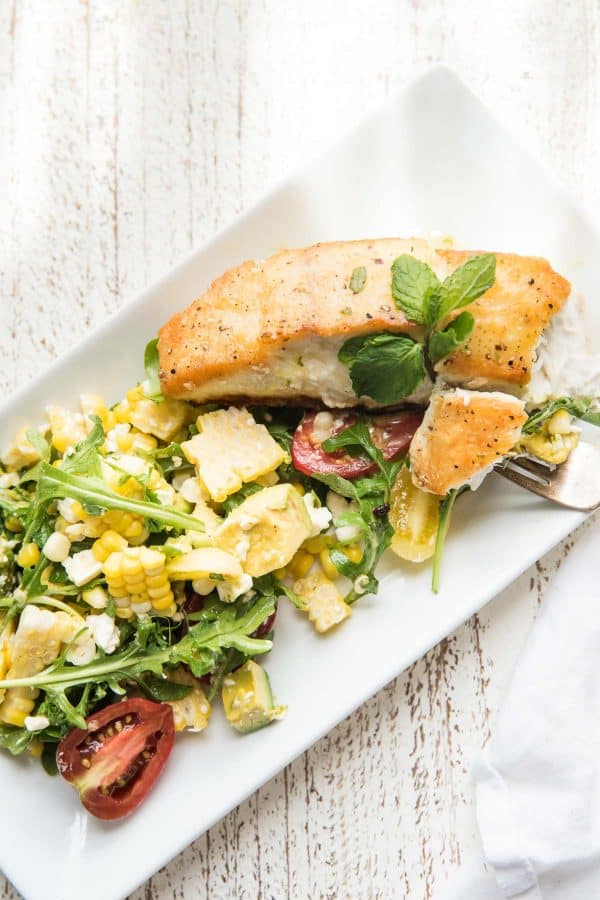 Can't stop loving on corn? Us too! Here are some other tasty ideas for that crisp, sweet produce:
If you made this recipe, please tag us on social media or leave us a rating and comment below! Don't forget to share the photo with the pin on Pinterest so everyone can see you delicious eats, too!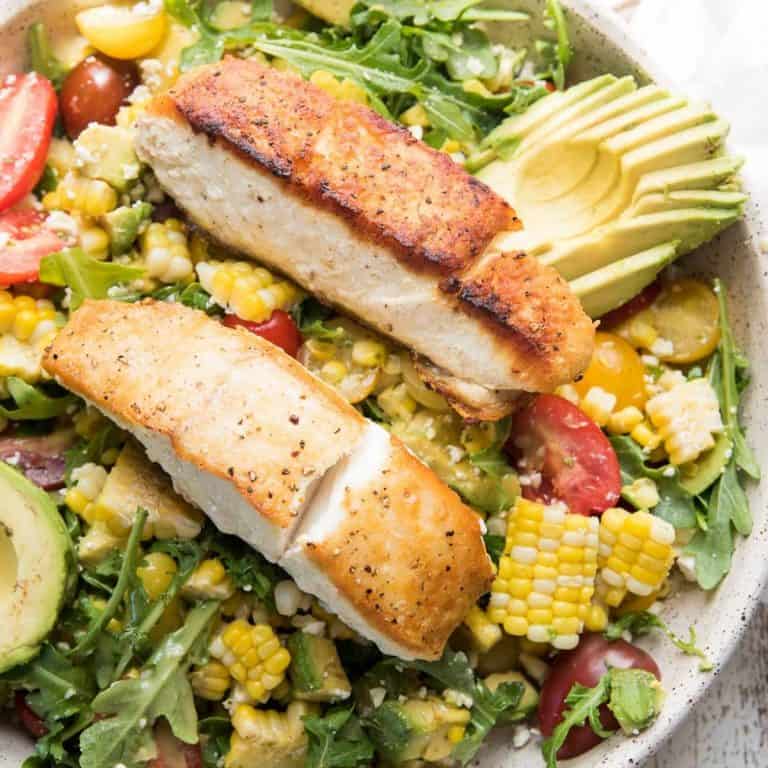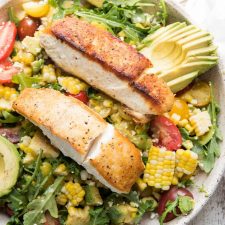 Corn and Avocado Salad with Pan Seared Halibut
Corn and avocado salad is so full of light and fresh flavors and goes perfectly with easy pan-seared halibut for a meal that's healthy and filling!
Print
Pin
Rate
Ingredients
4

ears

corn on the cob

2

avocados

(diced)

2

cups

arugula

2

cups

cherry tomatoes

(halved)

½

cup

feta cheese crumbles

1

tablespoon

fresh mint leaves

(roughly chopped)

lime mint dressing

(to taste)

2 to 4

halibut fillets

(6 to 8 ounces each)
lime mine dressing
¼

cup

extra virgin olive oil

2

tablespoons

lime juice

1

tablespoon

honey

pinch

of salt less than ⅛ teaspoon

pinch

of white pepper less than ⅛ teaspoon

1

tablespoon

mint leaves
Instructions
Prep the corn. Bring a large pot of lightly salted water to a boil. Shuck the corn of the husk and silk. Carefully add to the pot of hot water and cook for 5 minutes. Drain and let cool. Once cool, cut the corn off the cob and set aside.

Make the dressing. In a bowl, whisk together the ¼ cup olive oil, 2 tablespoons lime juice, 1 tablespoon honey, pinch of salt and white pepper, and 1 tablespoon fresh mint. For an emulsified dressing, combine all the ingredients except the olive oil using an immersion blender or food processor. Then add the olive oil in a slow steady stream while the blender is running.

Make the salad. In a large bowl or platter, spread the arugula over the bottom. Top with halved cherry tomatoes, diced avocado, feta, corn, and fresh mint. Drizzle the dressing over the salad the ingredients.

Sear the halibut. Pat the fillets with a paper towel to absorb any excess moisture. Season generously with salt and fresh black pepper. Heat ¼ cup canola oil in a sauté pan over high heat. When the oil is hot, carefully place the fillets skin side up and lower the heat to medium-high. Cook for 5 minutes, lower the heat again to medium and flip the halibut to skin side down. Cook for another 4 to 5 minutes or until the center of the fish reaches 140°F. Serve the fish on top of the salad or alongside.
Notes
This salad is a great way to use up leftover corn on the cob!
Alternatively to boiling the corn, you can grill it or cut it off the cob and toast it in a cast iron pan with a little drizzle of oil.
Want a little more savory? Try adding crispy bacon or prosciutto!
Because of the avocado, this salad does not make for great leftovers so we recommend eating it the day you make it!
Nutrition
Calories:
520
kcal
|
Carbohydrates:
35
g
|
Protein:
25
g
|
Fat:
35
g
|
Saturated Fat:
7
g
|
Trans Fat:
1
g
|
Cholesterol:
58
mg
|
Sodium:
300
mg
|
Potassium:
1337
mg
|
Fiber:
9
g
|
Sugar:
14
g
|
Vitamin A:
1163
IU
|
Vitamin C:
38
mg
|
Calcium:
144
mg
|
Iron:
2
mg