Lobster is always in style no matter the season! Seafood paella is packed with scallops, shrimp, mussels, chorizo, and tender lobster with seasoned rice and crisp sweet peas. Simple ingredients, one pan, and delicious results!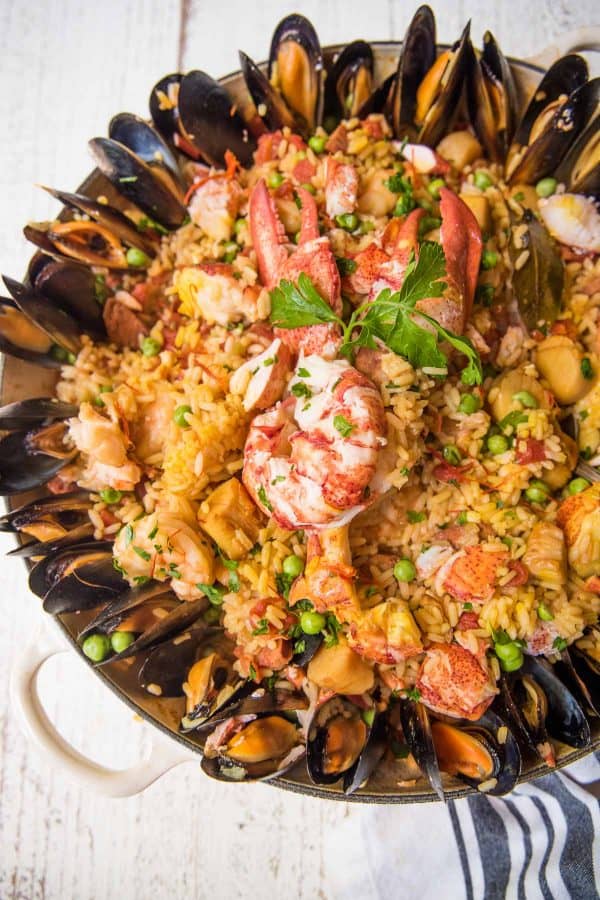 Craving seafood? Need to feed a crowd? Want to step it up from burgers and hot dogs at the next barbeque or holiday gatheriing? Paella is here for you!
tender, saffron-infused rice
sweet mussels
seared scallops
soft lobster pieces
spicy chorizo
succulent shrimp
and here's my favorite part....One Pan Meal.
It's easy and oh so tasty, with all that seafood and flavor your friends and family will only think you spent all day on it.
Henry and I traveled to Menorca, Spain last September thanks to this trip-winning lobster gratin. The first night there, we searched out paella and it did not disappoint! It was giant, full of seafood and meat and each bite was perfectly flavored. Lobster seafood paella is my way to trick myself into thinking we're there if I can just close my eyes while savoring each bite.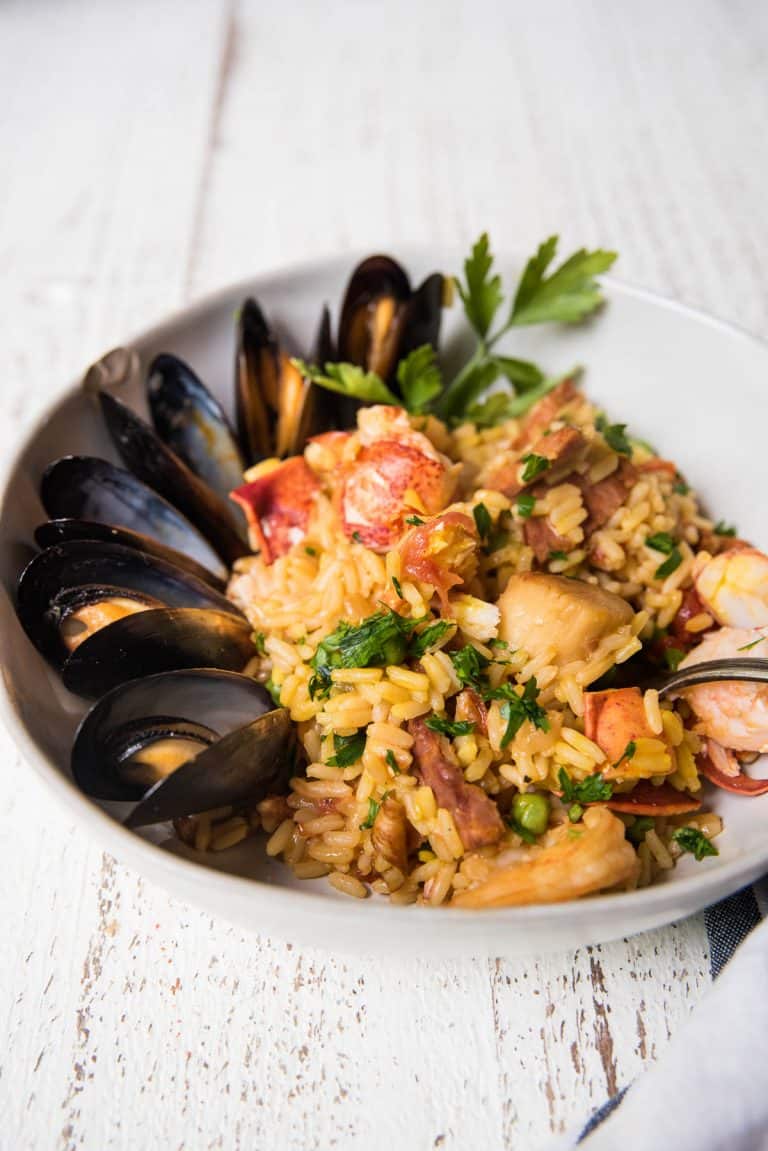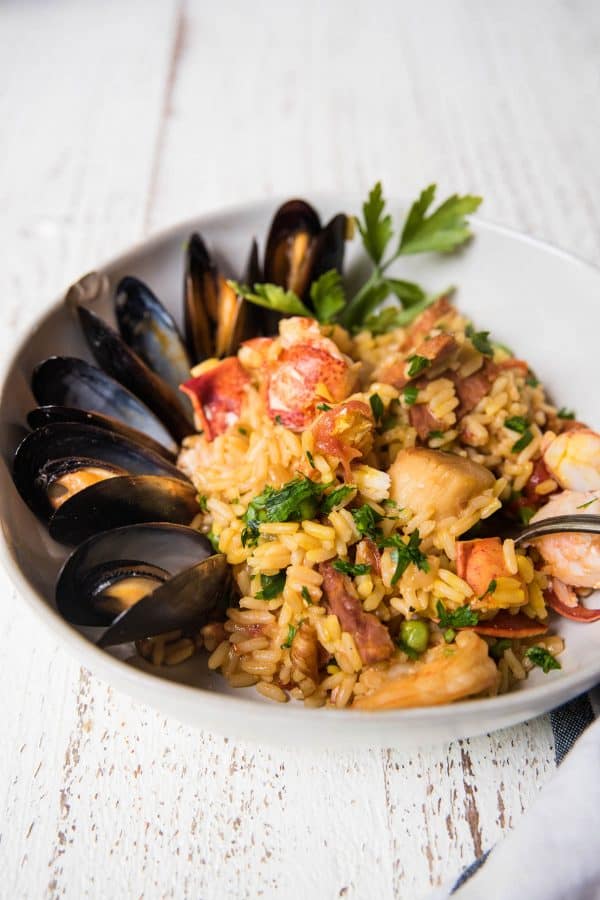 What is paella?
Paella is a traditional Spanish dish, typically made with seafood, chicken or rabbit, rice, and some variety of green beans. This lobster twist on paella puts the emphasis on the seafood with a little bit of sautéed chorizo to add pleasant heat and a little fat. The addition of frozen peas at the end of the cooking process gives a sweet green legume snap to each bite.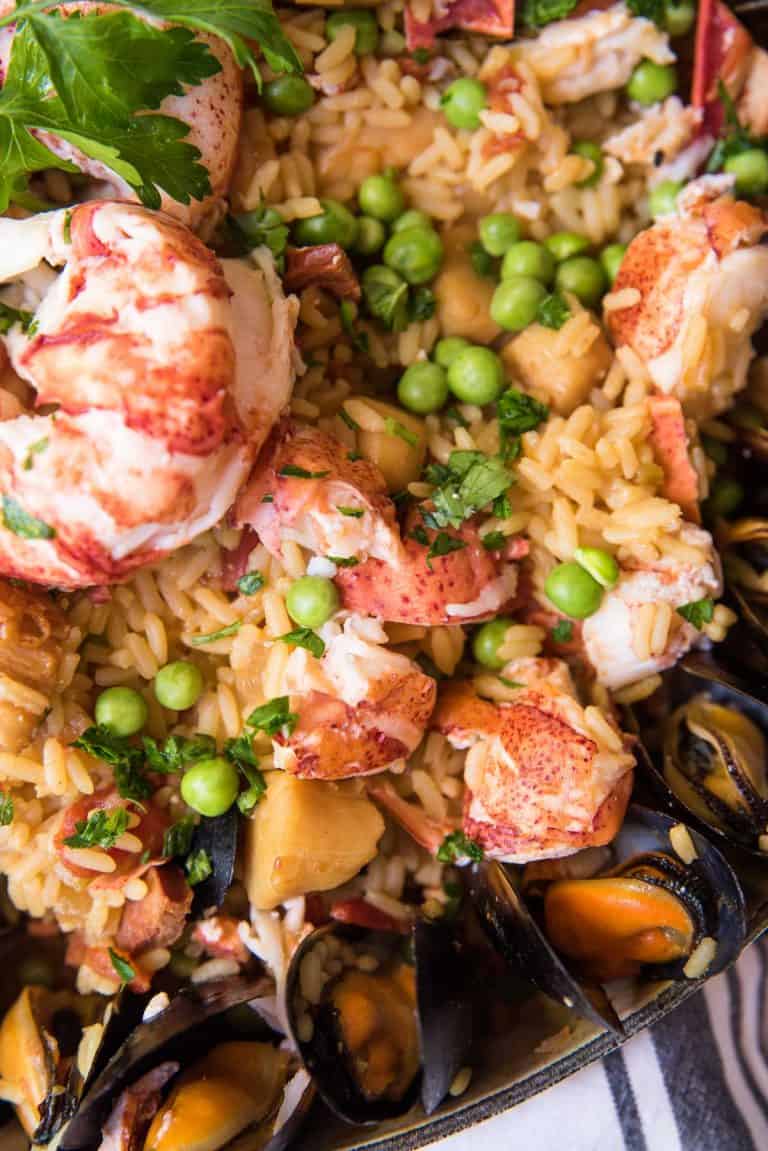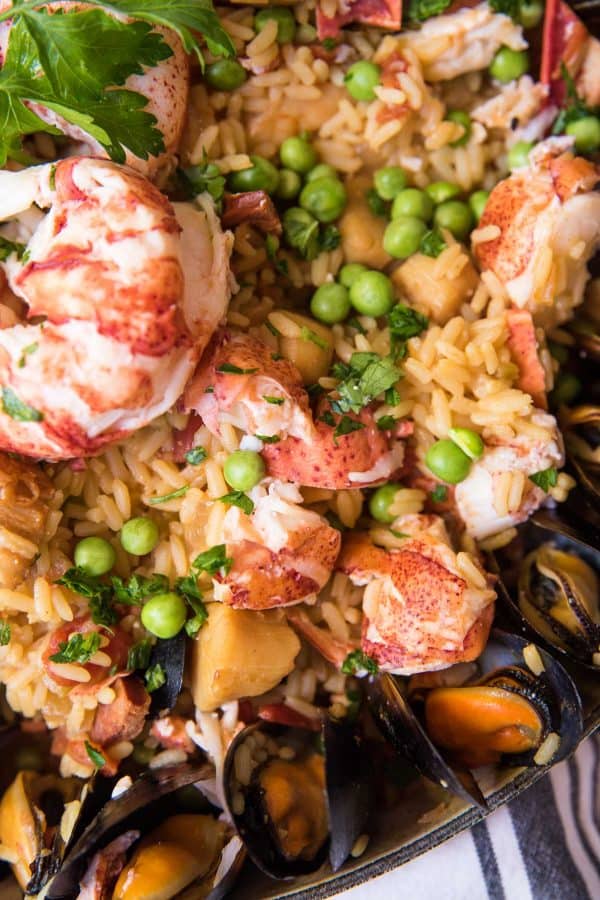 The very best part is you can make this recipe in one pan!
What pan should you use?
My personal go-to is my extra-large braiser pan from Le Crueset. Full honesty, the price tag is a little hefty but I've definitely used it so many times (chickpea sausage pasta, one-pan chicken broccoli alfredo, etc.) that it's made it worth it.
If that's not an option, a large, heavy bottom, deep-sided skillet or dutch oven is the next best thing. While it's not as wide as a braising pan it has a nice thick bottom to sear the proteins and avoid burning the rice.
How to make lobster seafood paella
Grab a pan. Say hello. You guys are going to be in this together from start to finish. But isn't that kind of the bliss of a one-pan meal?
(Well, if you're cooking the lobsters the same day then technically it's not a one-pan meal. I'd highly recommend preparing the lobster meat the night before or buying it already shelled ready to go.)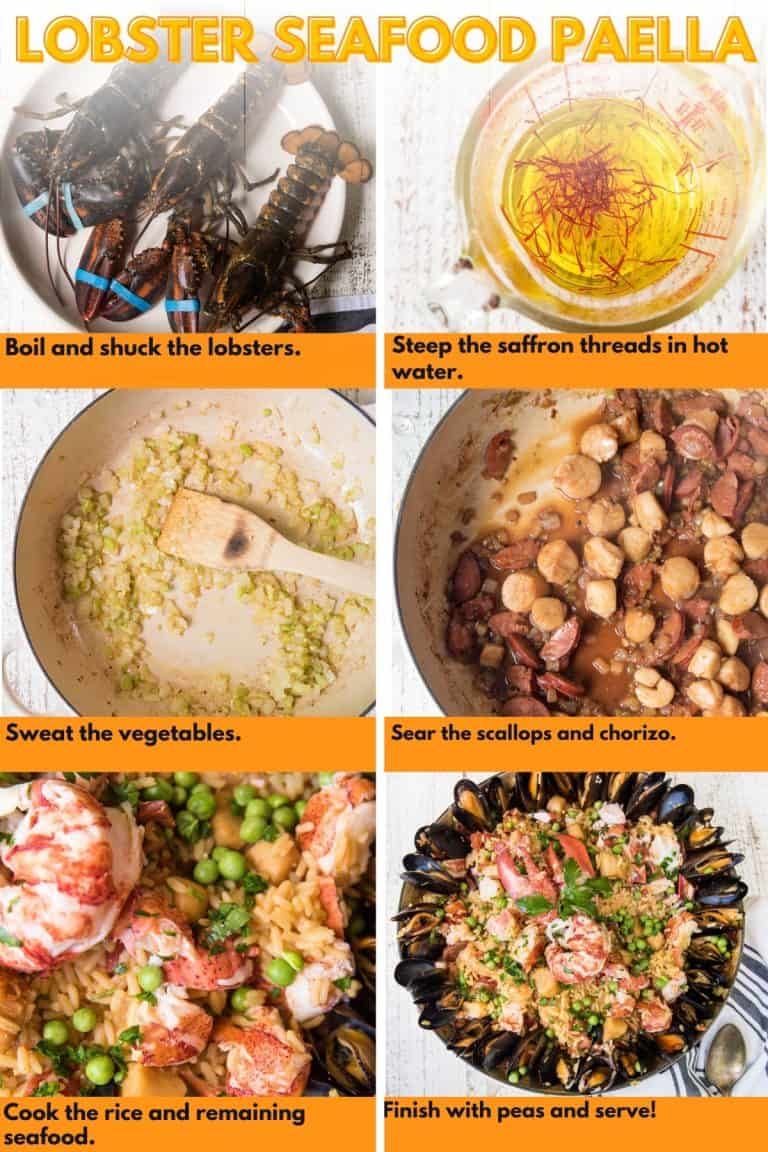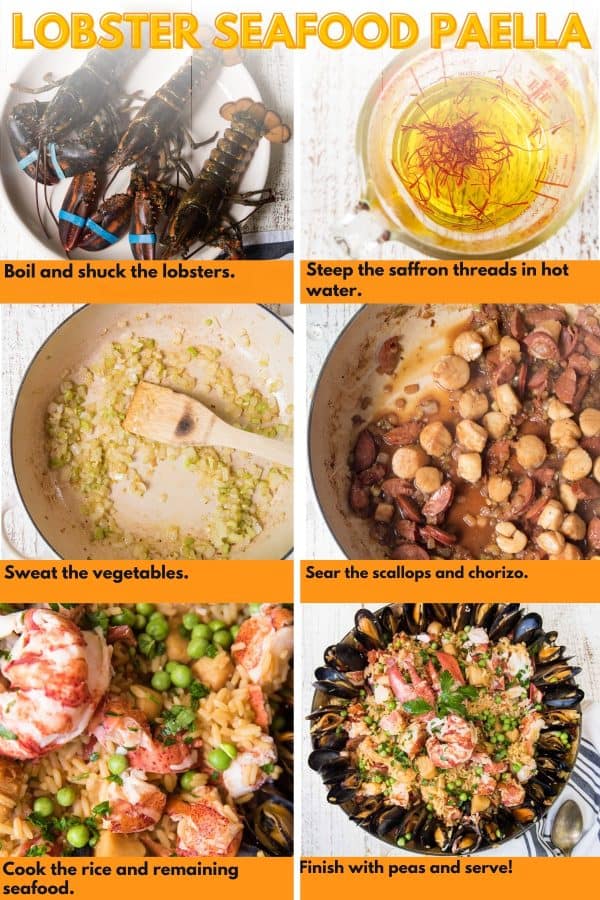 Like any other mirepoix/protein/grain-based dish, this seafood paella is going to require the same amount of effort.
Sweat the vegetables
Sear the scallops and chorizo
Cook the rice in the stock and saffron water
Add the mussels and shrimp until cooked
Return the lobster and scallops to the pan along with the peas until heated through
Enjoy!
When you look at paella, it seems like there's a lot of moving parts but it's truly a simple meal with big flavors that can feed a crowd!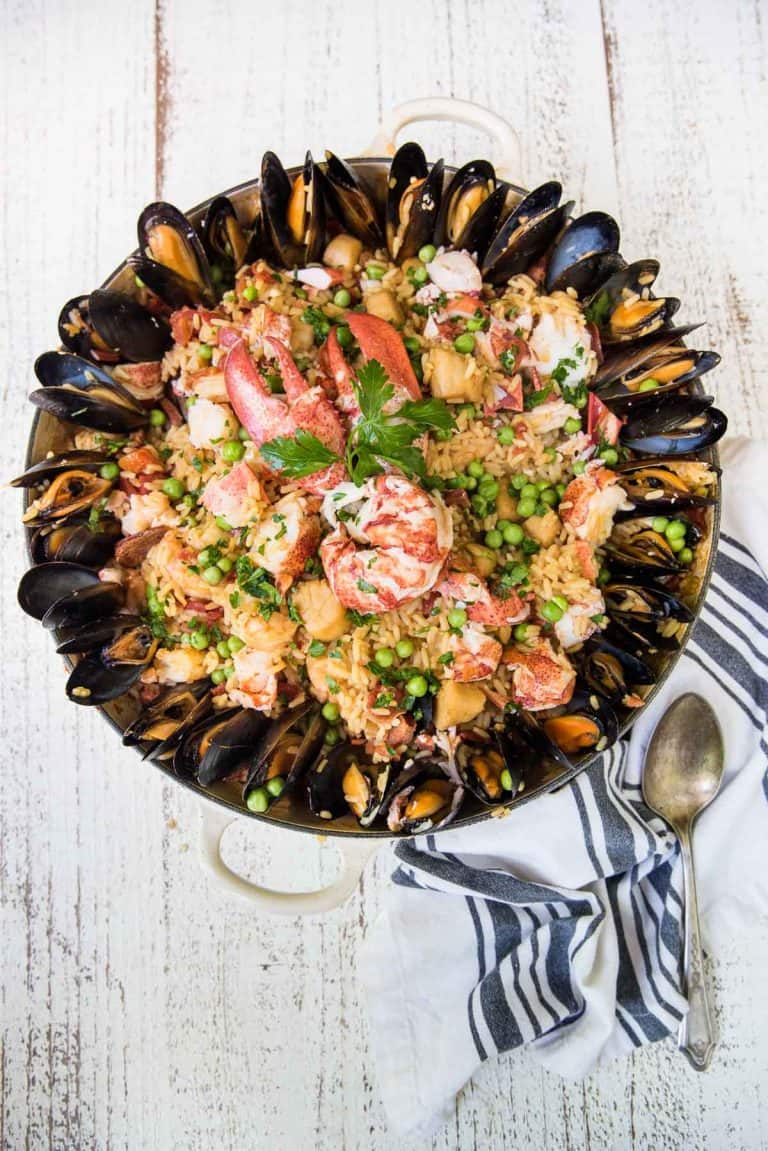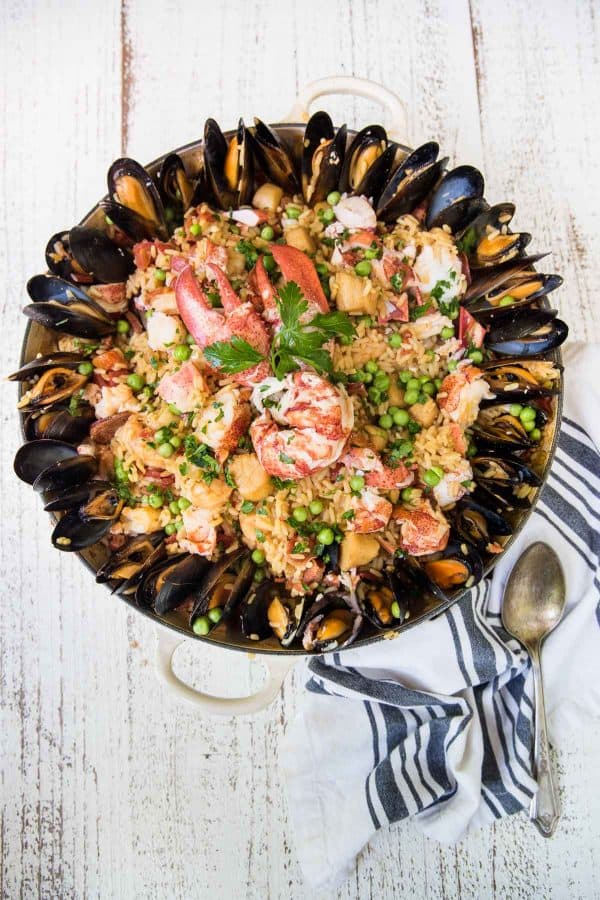 Can I cook the lobsters in advance?
Absolutely. In fact, I highly recommend it! If you're not familiar with how to get all the meat from a lobster, check out this post about how to cook and eat lobsters for all the tips. Preparing the lobster meat in advance can be done the day before. Be sure to keep it nice and cold in the fridge until you're ready to add it to the pan.
Can I buy lobster meat ready to go?
You betcha. The seafood department at our grocery stores often has nice deals for pre-cooked lobster meat after a holiday weekend. That's my favorite time to snatch it up because you get beautiful claw and tail chunk meat at a sale price. If you can't use it right away (like more than 1 to 1.5 days) you can always freeze it until you're ready.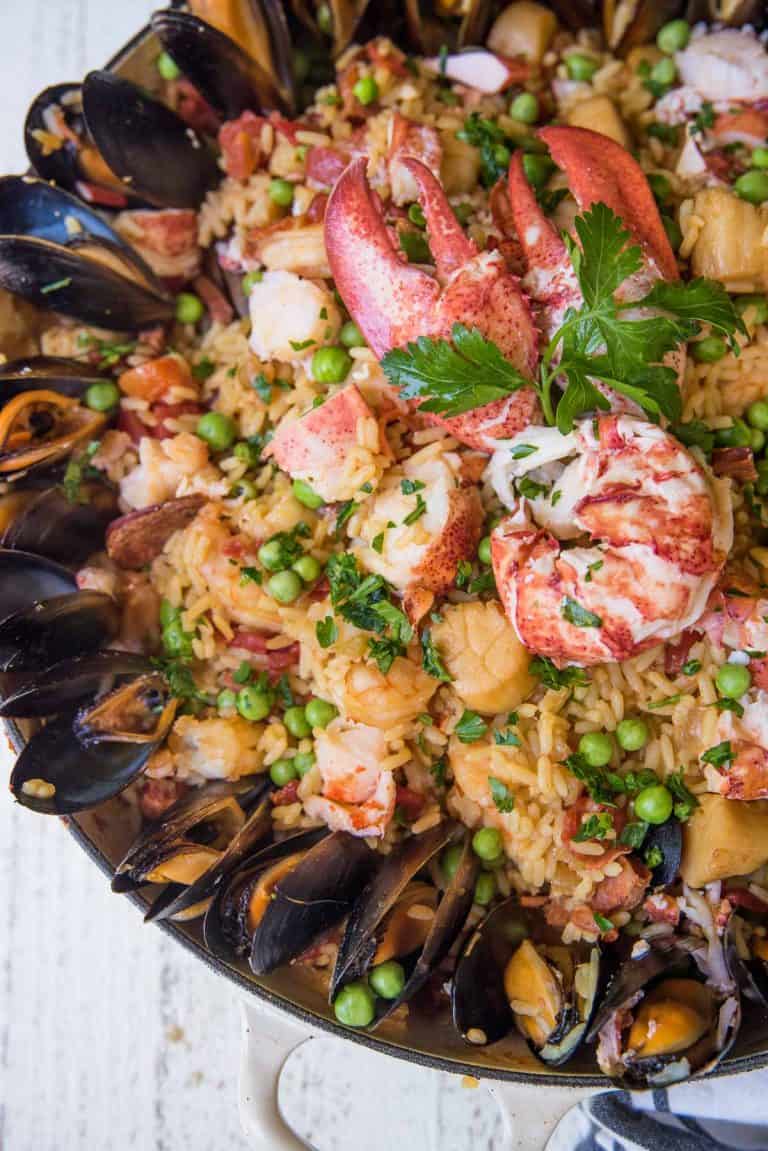 What do you serve with paella?
Paella can be served as the stand-alone dish on the table, and there will be plenty to go around. Because it's a soul comforting dish, my favorite pairings are buttery garlic bread with a soft inside and crunchy outside, as well as a simple crisp salad. This broccoli kale caesar fits the bill for me.
If hosting a gathering, ask friends to bring tapas inspired appetizers to kick things off. Something that's a one toothpick grab and snack item. A cheese board with thinly sliced serrano or prosciutto is a compliment to the meal to come as well!
Whether you want tapas to start or you're just planning on digging into gloriously lobster and seafood filled paella, you are coming out on the winning side!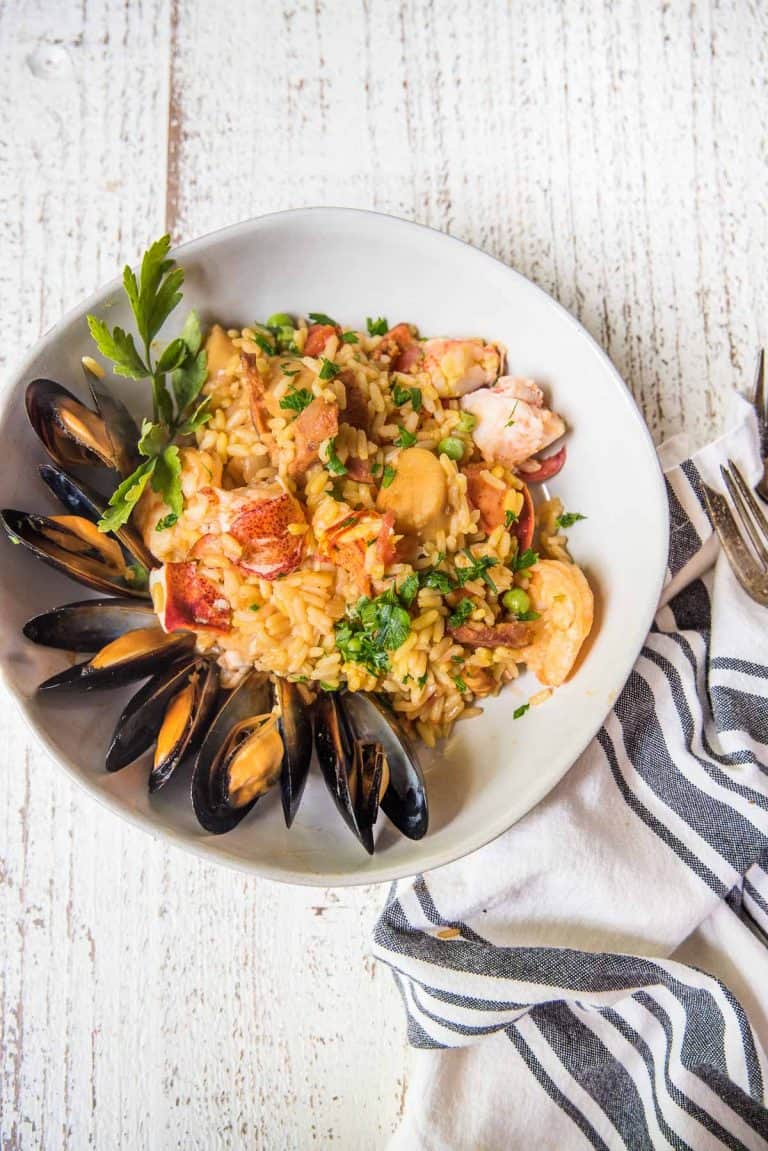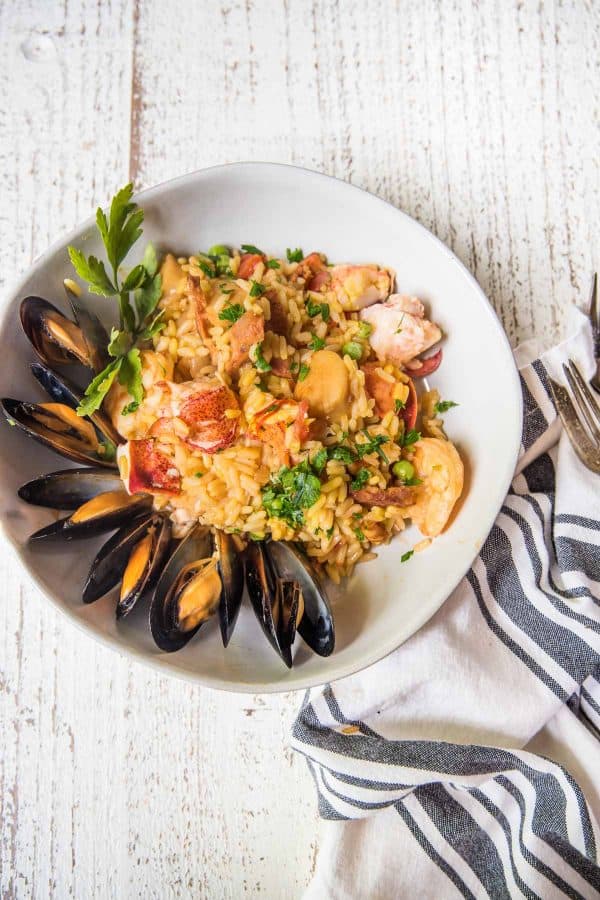 Did you make this recipe? Leave us a rating and a comment below! Don't forget to share your photo of your eats alongside the pin on Pinterest so others can see your beautiful eats too!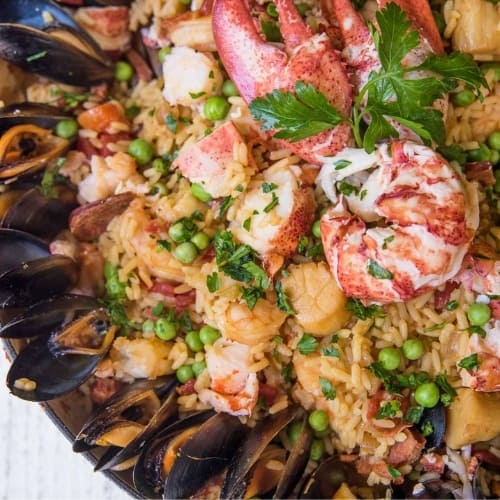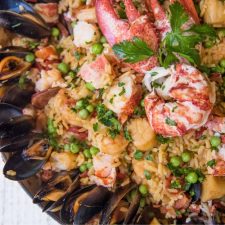 Lobster Seafood Paella
A delicious feast of lobster, scallops, shrimp, mussels, and chorizo big enough to feed a crowd, yet simple enough for just one dish! Lobster seafood paella is a great meal for outdoor gatherings, summer cookouts, and holiday celebrations.
Print
Pin
Rate
Ingredients
1 to 1 ½

pounds

lobster meat

(about 3 each 1 ¼-pound lobsters)

1

pound

large shrimp

(peeled and deveined)

1

pound

sea scallops

1

pound

mussels

½

pound

chorizo

(diced)

½

cup

hot water

½

teaspoon

saffron

3

tablespoons

extra virgin olive oil

1

yellow onion

(diced)

1

rib celery

(diced)

3

cloves

garlic

(minced)

¼

teaspoon

salt

¼

teaspoon

black pepper

1

cup

lobster broth

(or substitute seafood stock)

3

cups

rice

4 to 5

cups

chicken or vegetable stock

½

cup

white wine

1

bay leaf

½

teaspoon

paprika

1

can diced tomatoes

(14.5-ounce can)

½

cup

frozen peas

fresh chopped parsley for garnish optional
Instructions
Cook the lobsters. Bring a large pot of salted water to a rolling boil over high heat. Leave at least two inches from the top to avoid boiling over. Add each lobster to the boiling water head first. Optional: You can freeze the lobsters for 10 to 15 minutes before boiling to limit the amount of kicking.

Cover the pot and return to a boil. Stir the lobsters halfway through cooking. Cooking times will vary depending on size, about 10 minutes for 1.25-pound lobsters to 15 minutes for 2-pounders. Save 1 cup of water from the pan for the seafood paella.

Prep the lobster meat. Let the lobsters cool until able to handle. Remove the meat from the tail, claws, knuckles, and legs. Give the claw and tail meat a rough chop or leave some whole for presentation on the finished dish.

Prep the saffron. In a small bowl combine hot water and saffron. Set aside to steep.

Sauté the veggies. Heat the oil over high heat in a large deep-sided, heavy bottom pan or a dutch oven. When the oil shimmers add the onion and celery. Season with salt and pepper, cooking about 2 to 3 minutes until translucent. Reduce the heat to medium-high and add the garlic, continuing to cook for about 1 minute. Remove the veggies from the pan, leave any leftover oil in the pan.

Cook the scallops. Return the pan to the heat and sear the scallops 2 minutes on each side until browned. Add the chorizo and cook for about 2 minutes. Optional: Remove the scallops to a plate to avoid overcooking. Deglaze the pan with white wine, scraping the bottom with a wooden spoon or spatula.

Cook the rice. Stir the rice into the wine and chorizo allowing it to soak up any liquid in the pan. Cover with the lobster broth and enough chicken (or vegetable stock) to reach about 1 inch over the rice, about 4 and ½ cups. Stir in the sautéed vegetables, bay leaf, paprika, and diced tomatoes including any juices. Bring to a boil, then reduce the heat to medium-low. Partially cover with a lid and cook for 15 to 20 minutes. Add more chicken stock and reduce heat if the liquid is absorbing too quickly.

Cook the seafood. About 7 or 8 minutes before the rice is done (there should still be about ¼ inch of liquid in the pan) stir in the saffron water and add the mussels and shrimp to cook. After the shrimp has turned pink and the mussels are open add the scallops and any juices on the plate, the cooked lobster, and frozen peas to the rice to heat. Optional: Garnish with fresh chopped parsley.
Notes
Cooking the lobsters the day before will save you a ton of time and is my favorite method for making this paella. Remember to save 1 cup of the lobster broth water to add to the paella.
You can also buy frozen or fresh lobster meat out of the shell. If using frozen lobster meat, I like to sauté it with a little butter to add some moisture and flavor.
Nutrition
Calories:
589
kcal
|
Carbohydrates:
64
g
|
Protein:
44
g
|
Fat:
14
g
|
Saturated Fat:
4
g
|
Trans Fat:
1
g
|
Cholesterol:
282
mg
|
Sodium:
2082
mg
|
Potassium:
595
mg
|
Fiber:
2
g
|
Sugar:
4
g
|
Vitamin A:
501
IU
|
Vitamin C:
13
mg
|
Calcium:
212
mg
|
Iron:
4
mg