Just when you think your standard caesar salad can't get any better....it does! Roasted Broccoli and Kale Caesar Salad boasts crunchy, tender tuscan kale, roasted and crisp broccoli, cast iron toasted sweet corn, shaved parmesan cheese and easy truffle oil croutons. It's your standard kale caesar salad but on level 'epic.'
You guys, listen. I'm terrible at pranks. A natural born 'whatever I'm thinking is on my face' awful liar. So when I say that this Roasted Broccoli and Kale Caesar Salad is divine, it is not an April Fools prank. File this under 'delicious things to hide in the fridge.'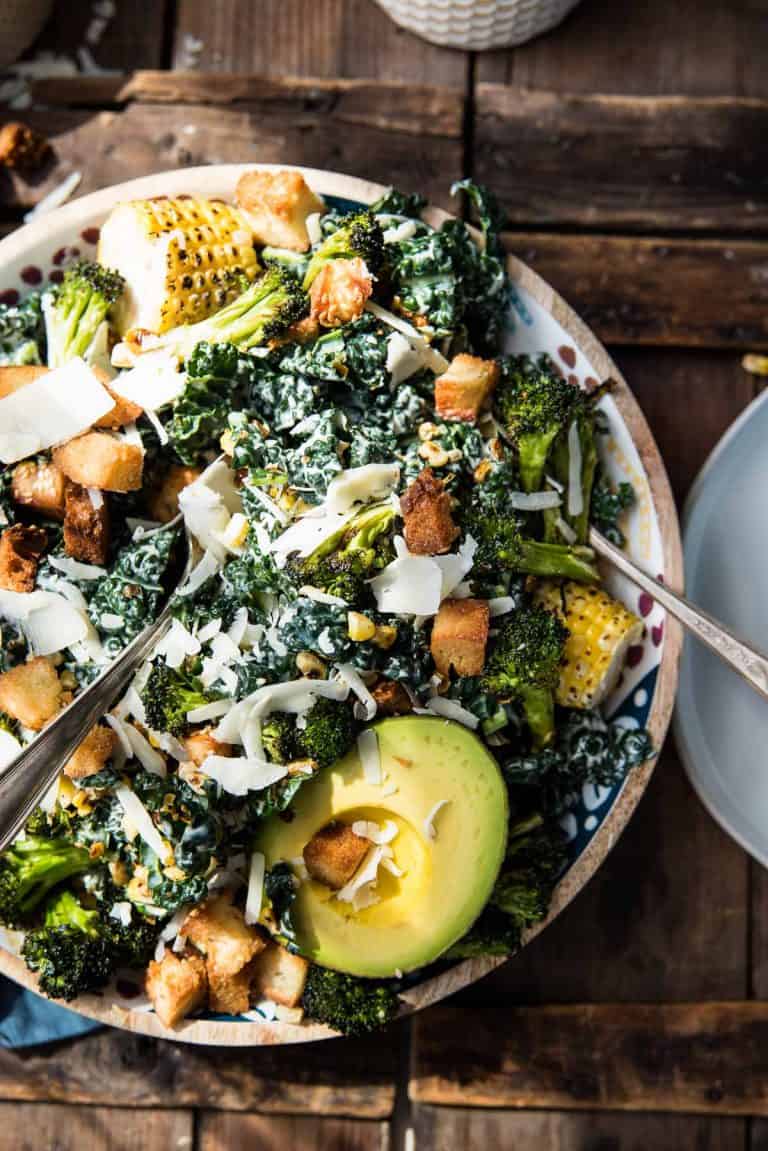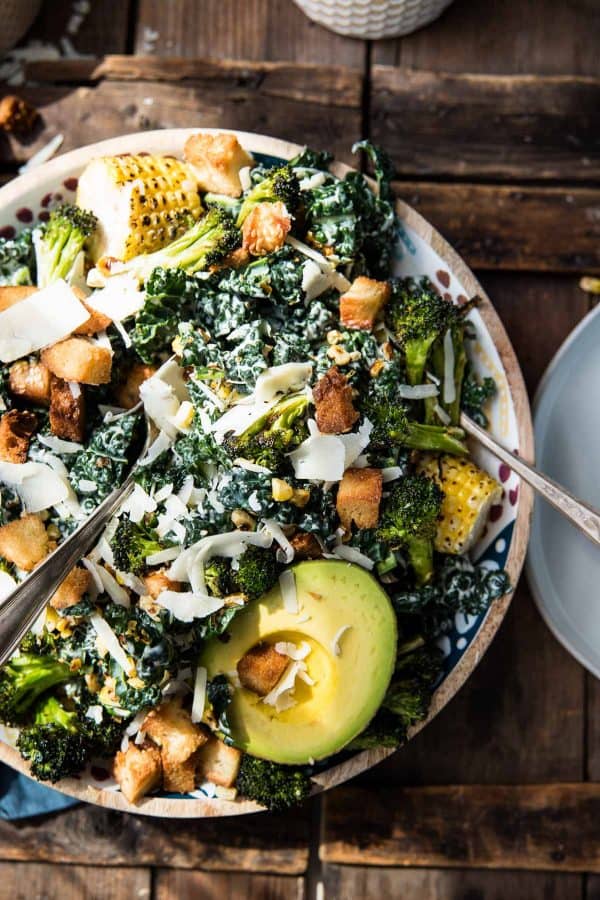 That's right, we've got another kale salad on the books and I am not one iota sorry about it. I'll just be over here eating Roasted Broccoli and Kale Caesar salad, happy as a clam that I've made three meals out of this and it is still delicious every time.
While the Autumn Kale Salad will always hold my heart in its clutches (it's the dressing!!), this kale caesar salad is in a serious tooth and nail fight for first ranking.
Why this kale caesar salad is going to change your caesar salad game:
tuscan kale is more tender than standard curly kale (plus we will talk about a tip for making your kale less bitter!)
roasted broccoli provides crunch
cast iron roasted corn is here for the 'you didn't know you need it' touch of sweetness
TRUFFLE OIL CROUTONS - cause you fancy AF without having to put in the work - or the dollar bills!!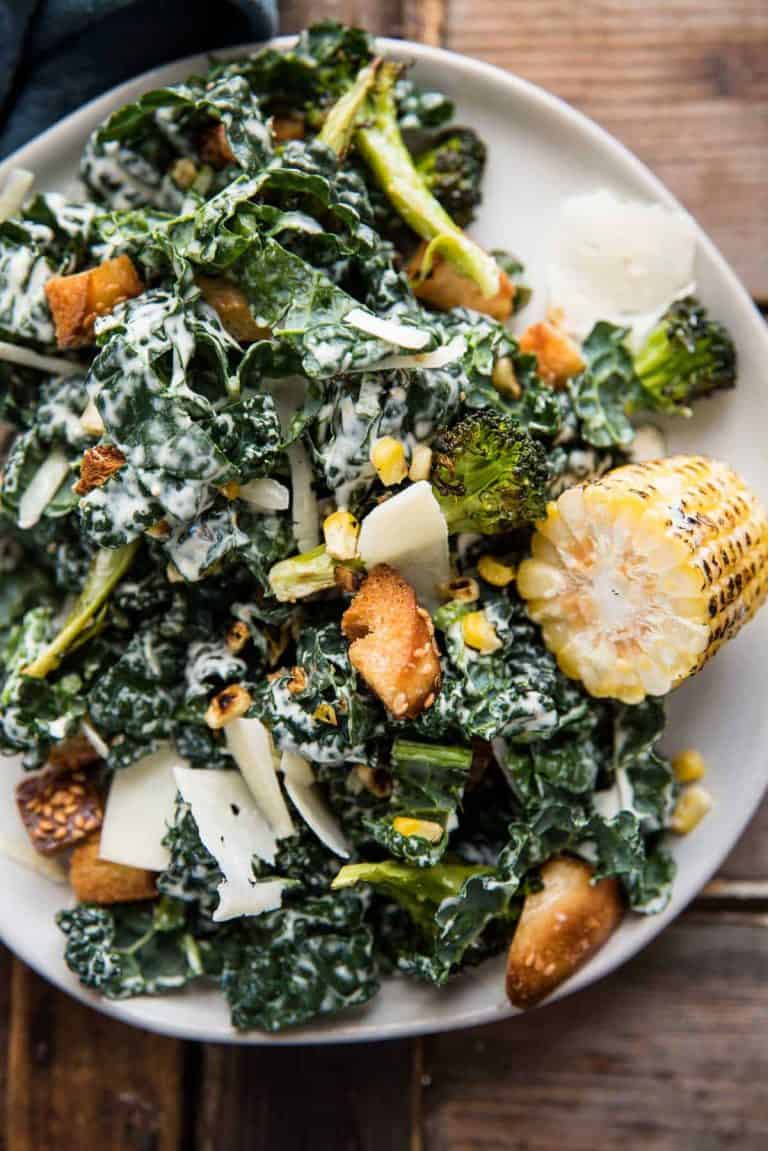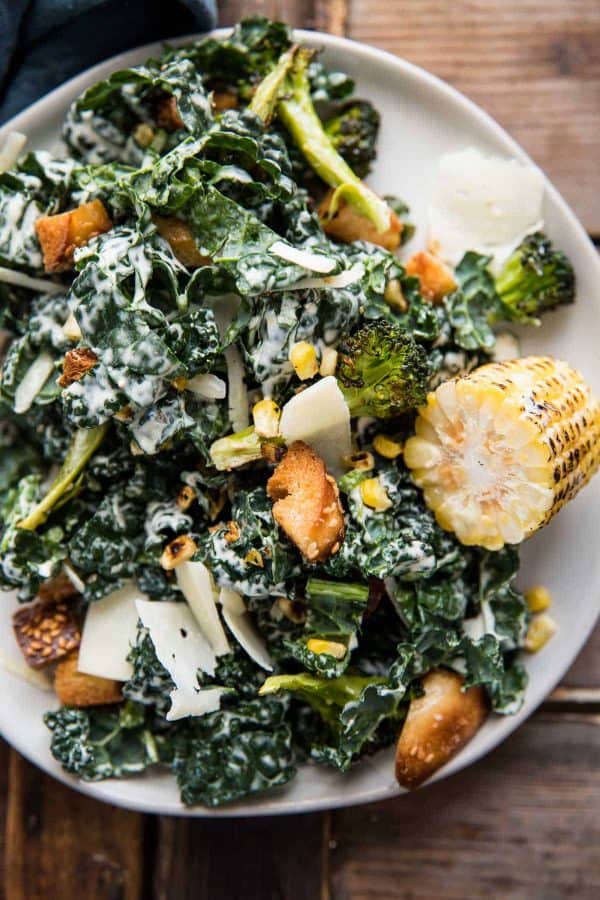 Tips for the Best Roasted Broccoli and Kale Caesar Salad
Prepping the kale
Just a few quick tips makes this caesar salad upgrade better than your average salad. Let's start with at the very beginning, with our green and mighty friend...the kale.
If you can find tuscan kale, I would highly encourage you to give that type of kale a try - especially if you're skeptical. It's texture is much more similar to savoy spinach than it is to curly kale. More tender, less bitter - better for first time kale salad triers or veterans like you and me.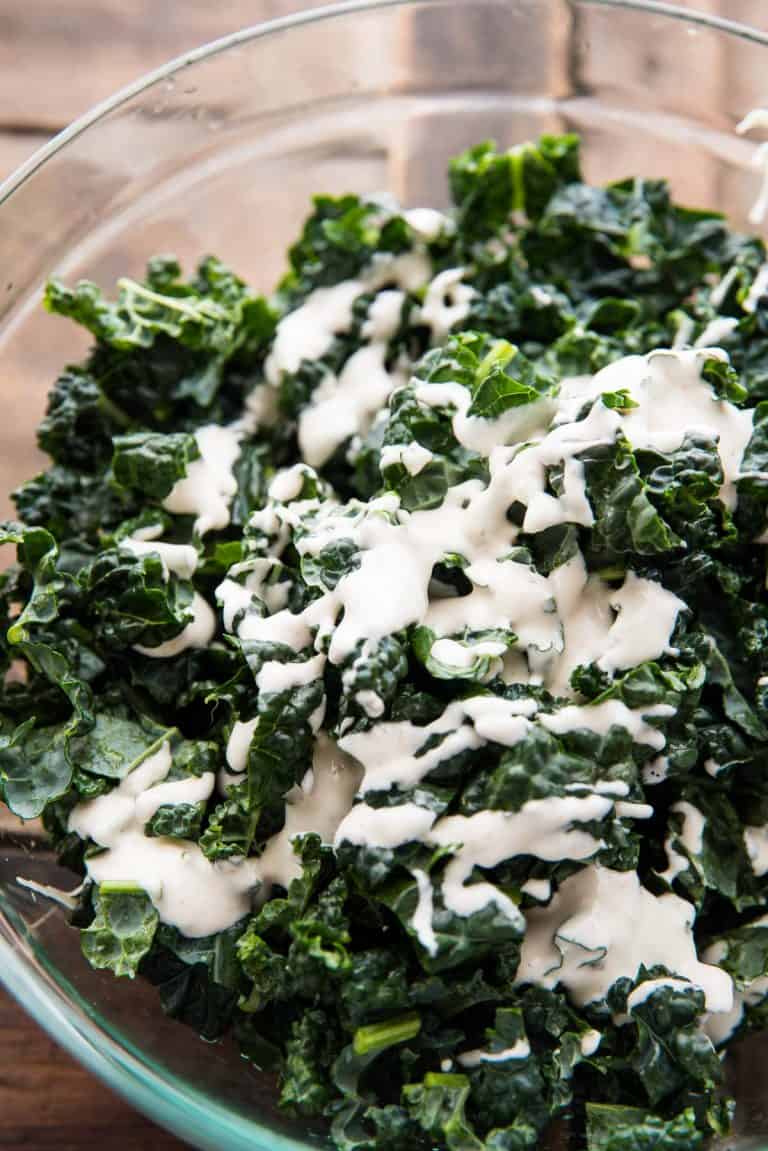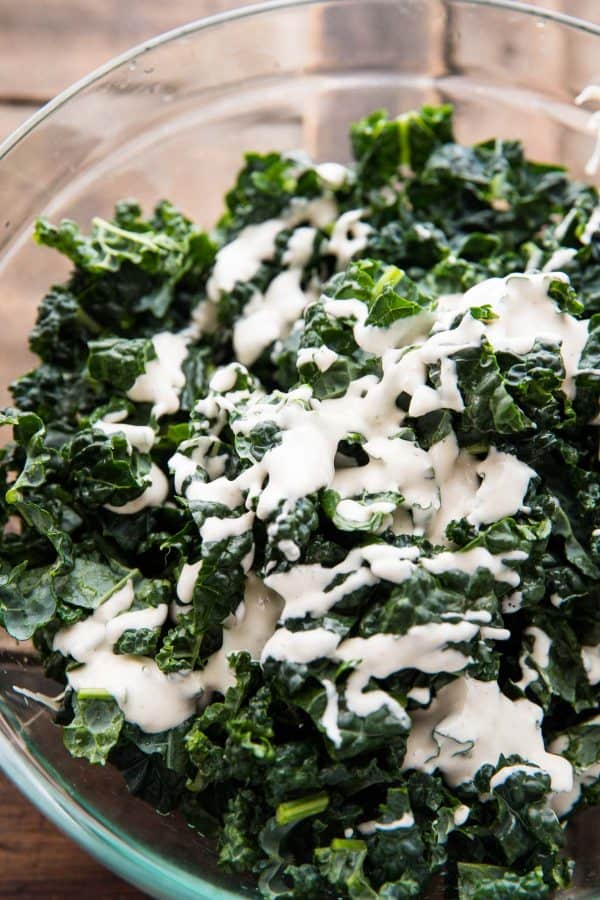 Second go to step for your kale is all in the prep. Remove the kale from the stem (the most bitter part), chop into bite sized pieces and then soak in cold water. This step doesn't just clean the leaves, it will make the chopped greens less bitter. There's a chemical reaction that happens between the structure of the kale leaf and the cold water that breaks down some of the fibers that typically make the leaves tough.
Okay, now that we have tender greens, time to bang out the rest of our kale caesar salad prep.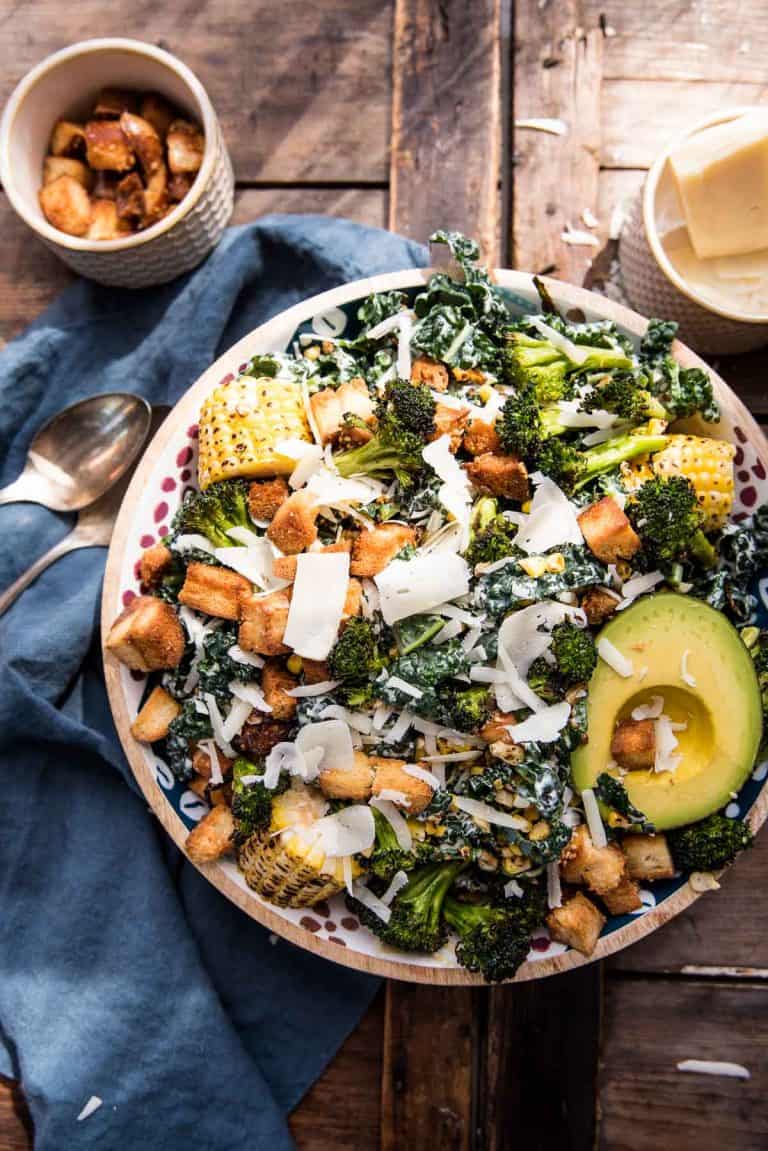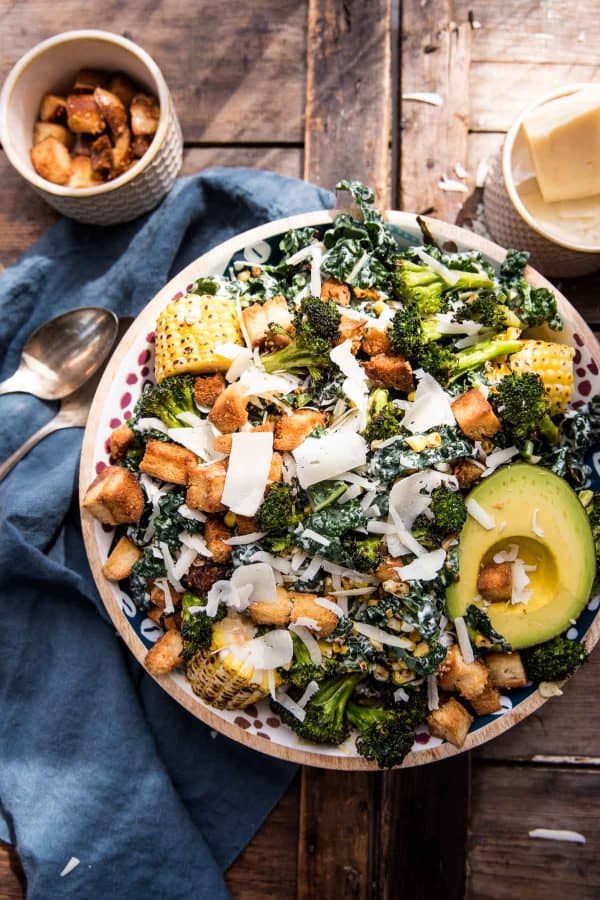 Roasted the veggies
Preheat your oven to 425°F. This high heat is going to get you that crispy, slightly charred, perfectly roasted broccoli. Be sure to have enough space between each of the florets.
While your broccoli is in the oven, get that grilled corn taste and appearance with this cast iron hack.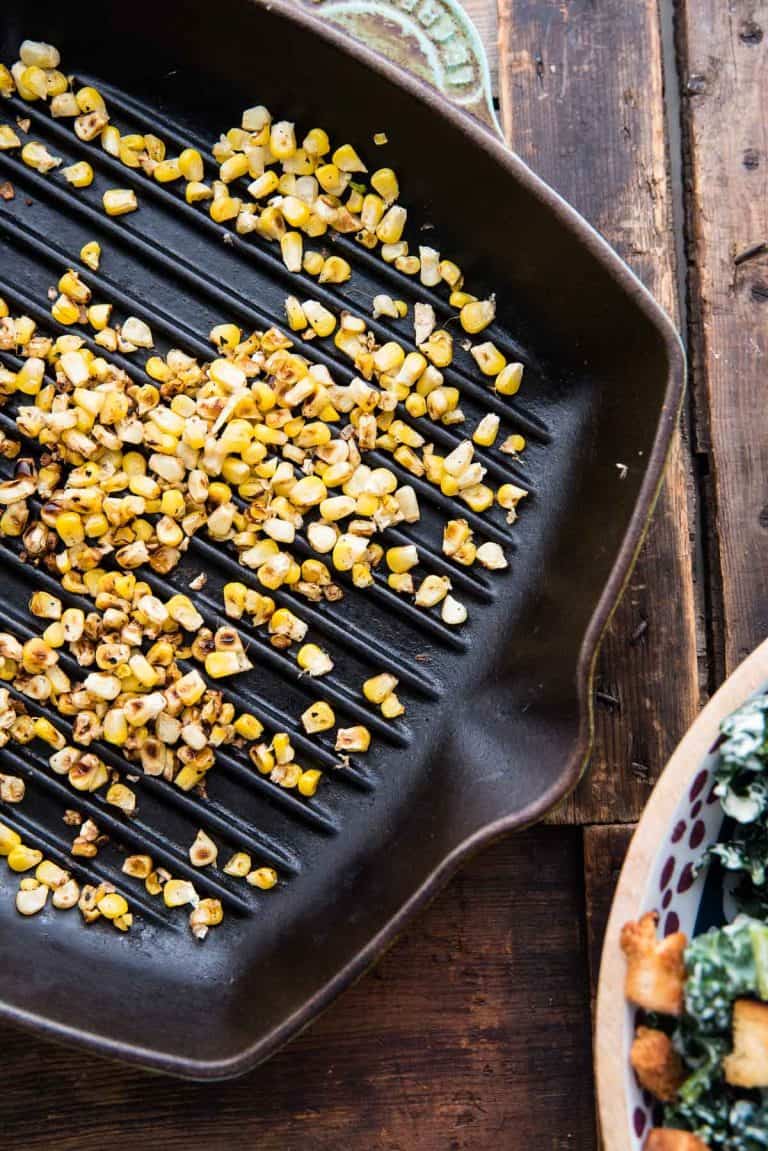 I used a cast iron grill pan, so I could grill a whole ear of corn too, but you can also achieve the same results with a regular cast iron pan. Alternatively, you could cut the kernels from the cob and roast in the oven as well but you'll get the most 'fresh off the grill' likeness in a cast iron pan.
Truffle Oil Croutons
On to the not so secret ingredient of this kale caesar that is a sneaky pop of luxurious flavor. A touch of white truffle oil brings a fancy savory flavor without having to drop mucho moolah for actual white truffles. I mean, the real thing would be pretty rad, but not practical for an every day salad.
White truffle oil is easy to find in the grocery store, but you can also grab it here (this is an affiliate link). A little goes a long way too, but I've found that it does loose a little gusto during the baking process. So I'd recommend tossing the cut sesame bagel cubes with half of the oil before baking and the remaining half after.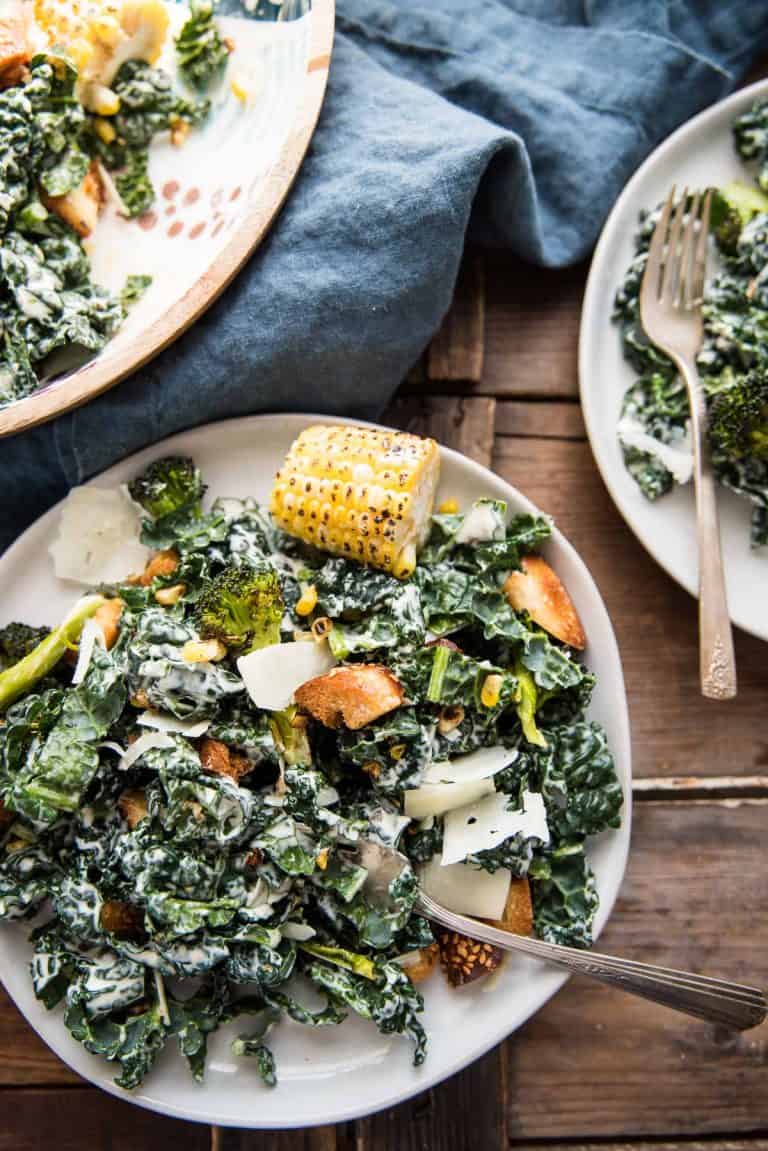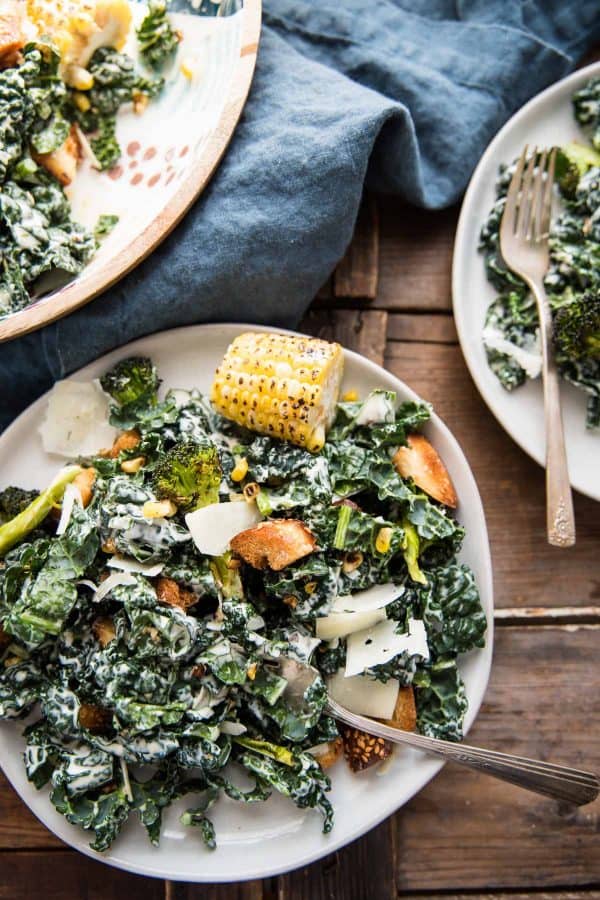 Tips for Assembly and Beautiful Presentation
If planning to serve for a crowd, there are a few tricks to have up your sleeve.
Toss kale leaves with caesar dressing in a large bowl before platting in a large bowl or on a platter
Top with croutons, broccoli, corn then the cheese
Measure the amount of cheese with your heart
Add sliced avocado for a pop of bright green and texture
Use your favorite creamy caesar dressing for an easy time saver
You can toast up an additional ear of corn and cut in 4 pieces, as seen in these photos, to add a little more vibrant yellow to your presentation
Simple, yet super flavorful. A great combo of crunchy, savory, sweet and fresh. Impress your friends with your salad skills, trick your family into eating more greens, or just enjoy by yourself with a nice glass of fumé blanc. Cheers my kale lovers!
Did you make this recipe? Tell me about it in the comments!
Want to pin it for later? Grab it here.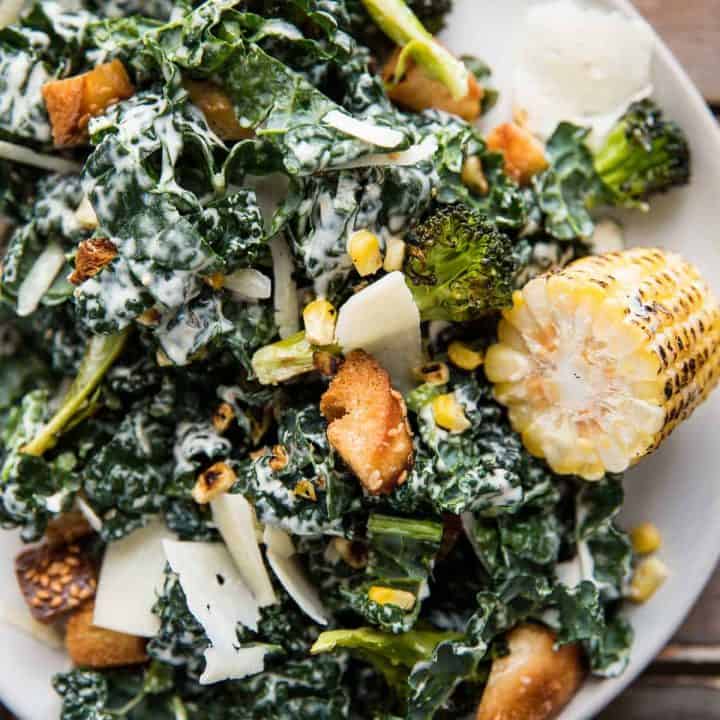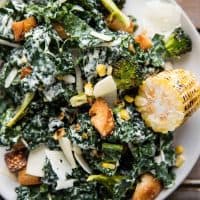 Roasted Broccoli and Kale Caesar Salad
Just when you think your standard caesar salad can't get any better....it does! Roasted Broccoli and Kale Caesar Salad boasts crunchy, tender tuscan kale, roasted and crisp broccoli, cast iron toasted sweet corn, shaved parmesan cheese and easy truffle oil crouton. It's your standard kale caesar salad but on level 'epic.'
Print
Pin
Rate
Servings:
4
to 6 servings
Ingredients
1

large head

lacinato kale

(about 6 cups after prep)

1

broccoli crown

1

sesame seed bagel

1

ear of corn

(kernels cut from the cob)

3

teaspoons

canola oil

(divided)

3

tablespoons

white truffle oil

¼ to ⅓

cup

creamy caesar dressing

¼

cup

parmigiano reggiano

(shaved)

1

avocado sliced

(optional)
Instructions
Prep. Remove the kale leaves from the stem. Chop into bite size pieces and soak in a bowl of cold water for 5 minutes. Strain and dry completely.

Roast. Preheat oven to 425°F. Cut the florets of the broccoli into smaller bite sized pieces. Toss with 2 teaspoons of canola oil and salt. Spread onto half of a sheet pan so there is plenty of room between pieces.

Cut the bagel into small cubes and toss with 1 ½ tablespoons of white truffle oil and salt. Spread onto the remaining half of the sheet pan. Roast the broccoli and croutons for 10 to 15 minutes, until broccoli is well roasted and slightly charred on the 'leaves' and croutons are golden brown (see note.) After the croutons are golden brown, drizzle with the remaining 1 ½ tablespoons truffle oil.

Toast. Heat a cast iron pan over medium high heat. Cut the kernels of corn off the cob. Drizzle the remaining 1 teaspoon of canola oil over the pan. Add the corn and stir to coat with the oil. Cook for 5 to 7 minutes, stirring occasionally, until the corn is bright yellow and slightly charred.

Assemble. In a large bowl toss the kale with the caesar dressing. If serving in a different bowl or platter, transfer the dressed leaves first before topping with the croutons, broccoli, corn and shaved parmigiano cheese. If preparing ahead, wait until serving to add the croutons.
Notes
The croutons may be done before the broccoli. You can either cook the broccoli and croutons on separate sheet pans or have a bowl nearby to scoop the croutons into before returning the broccoli to the oven.
You sholud be able to find white truffle oil in the oil and vinegars isle at the grocery store. It will most likely be 'truffle flavor' which will work just fine.
Nutrition
Calories:
447
kcal
|
Carbohydrates:
33
g
|
Protein:
11
g
|
Fat:
32
g
|
Saturated Fat:
5
g
|
Trans Fat:
1
g
|
Cholesterol:
10
mg
|
Sodium:
475
mg
|
Potassium:
823
mg
|
Fiber:
8
g
|
Sugar:
5
g
|
Vitamin A:
1141
IU
|
Vitamin C:
142
mg
|
Calcium:
164
mg
|
Iron:
2
mg