These delicious feta stuffed lamb burgers will have you rolling up your sleeves! Juicy, melty and savory ground lamb patties are stuffed with feta cheese, seared and served over tangy pickled brussels sprout and jalapeño slaw topped with creamy tzatziki sauce.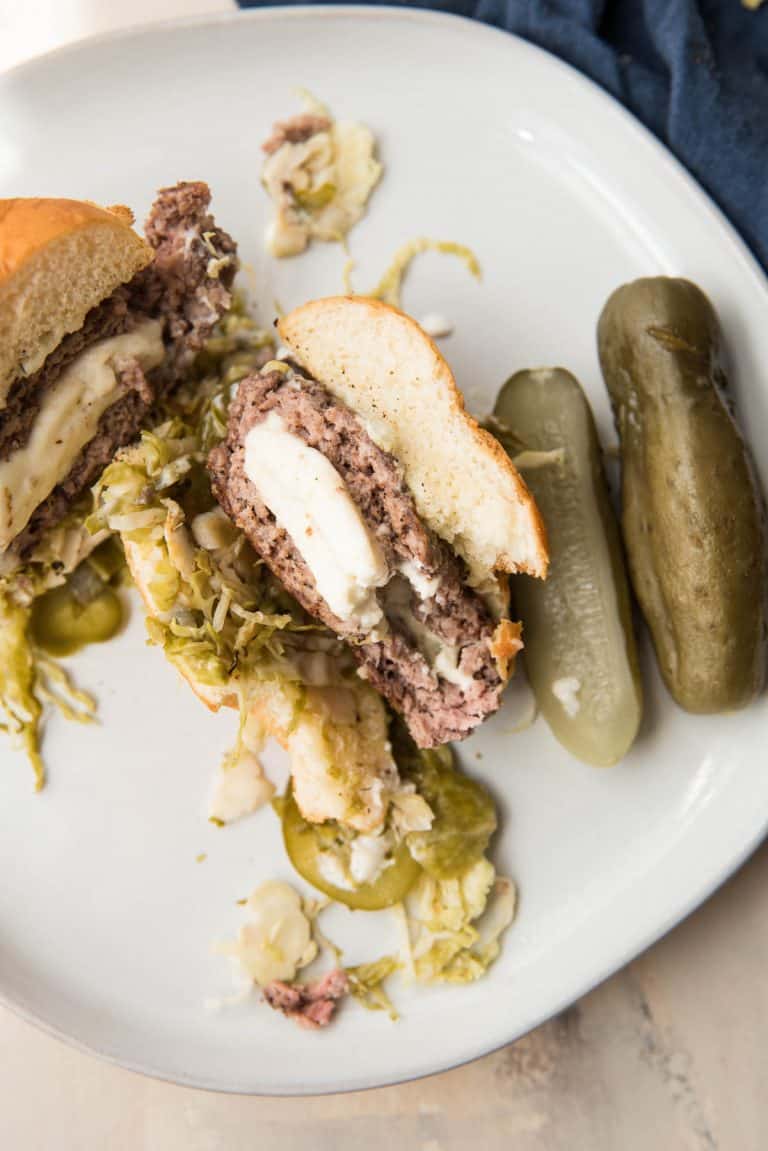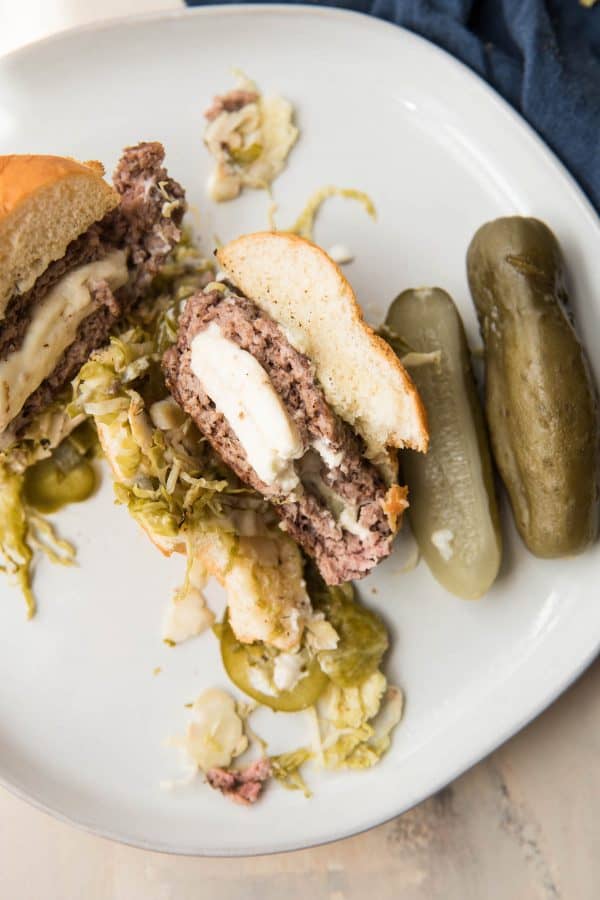 The end of summer is almost here and if you haven't gotten your burger fix yet, this is the way to do it.
All the good things about a lamb burger times 10! We're taking ground lamb, stuffing it with cheesy, salty feta and grilling (or pan searing!) them to melty, juicy goodness and added just the right amount of tangy crunchy and creamy cool toppings.
How to make feta stuffed lamb burgers
Promise it's not complicated! It's very, very simple. All we're doing is making two patties per burger, one just a smidge smaller than the other.
Then you layer:
big patty
thin sliced feta pieces (2 to 3 per burger)
smaller patty
Then fold over and smooth the edges.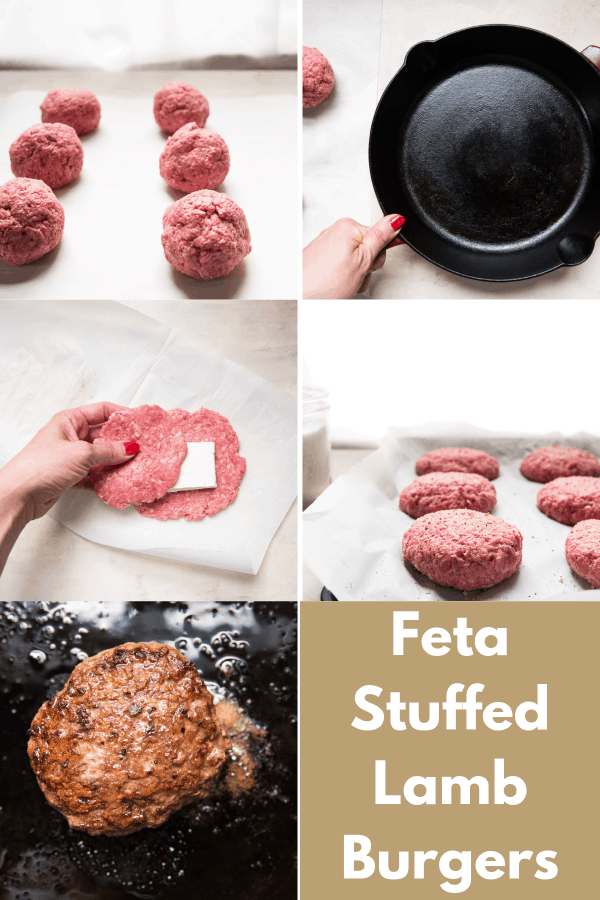 That was pretty painless right? But just in case you need some a little extra guidance, here are some troubleshooting tips.
TIPS FOR THE BEST STUFFED LAMB BURGERS:
Let the feta sit at room temp for about 30 minutes before you make the patties (like when you're making the slaw.) Working with room temp feta will help it get meltier during cooking.
When flattening the patty, place the meat in between plastic wrap or parchment paper, then smush it with a cast iron pan or skillet. Because the burgers are stuffed, you want the meat nice and thin.
Make sure there are no gaps! Be sure to smooth the edges of the patties so the cheese can't escape during cooking.
Let the patties rest for about 2 minutes after cooking. This will give the cheese a little time to get melty.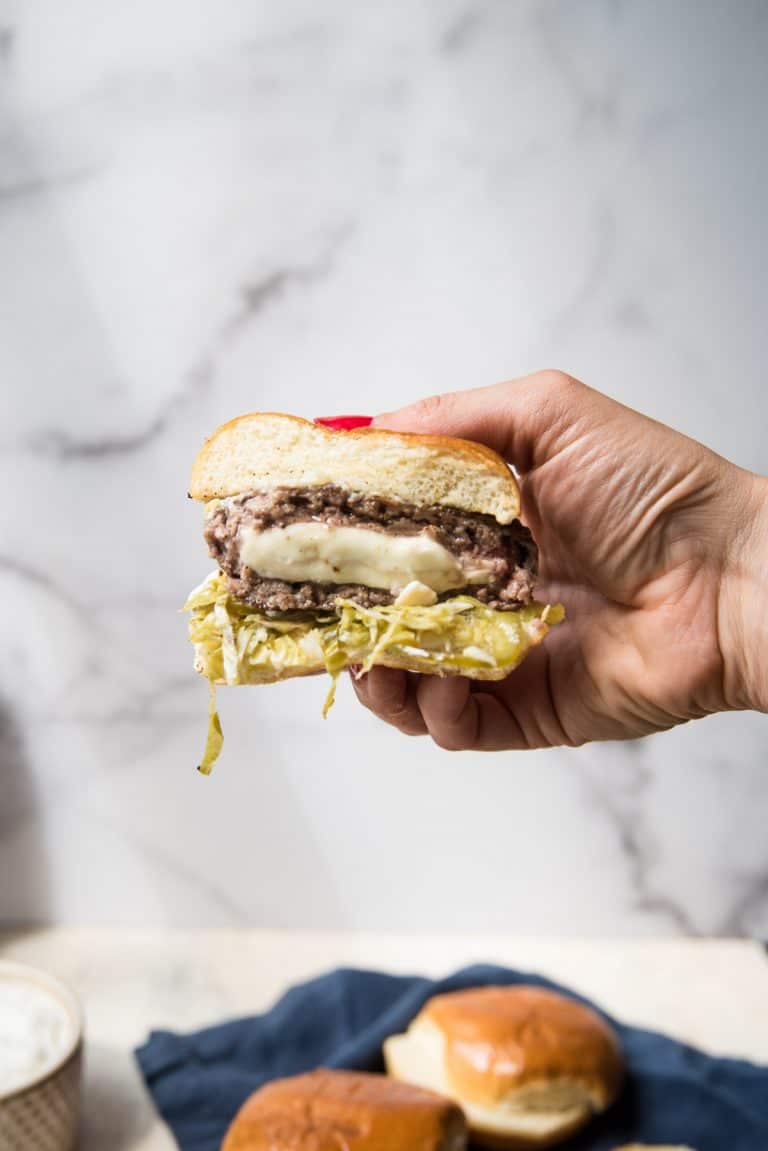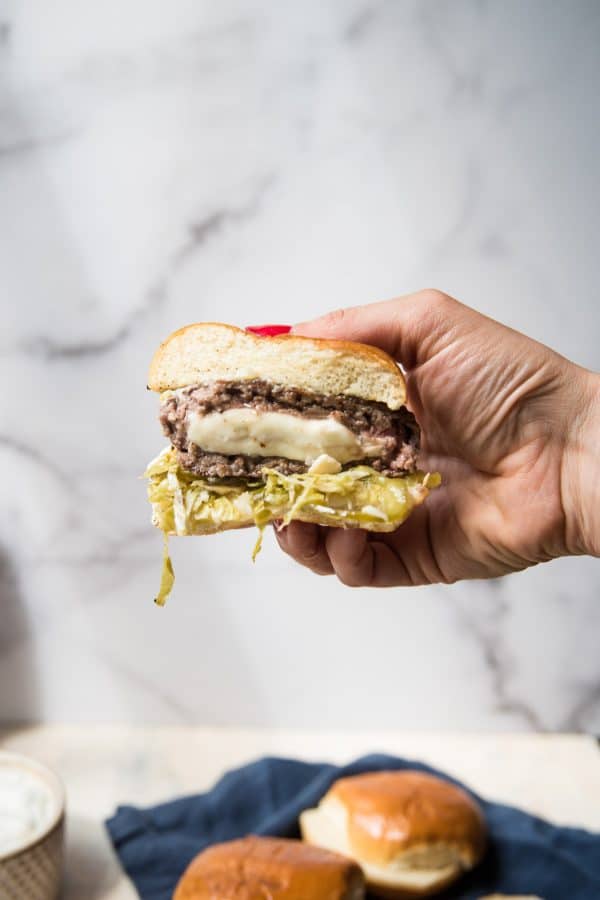 Cooking lamb burgers
Do we grill or do we pan sear? Decisions. Decisions.
Personally, a flat top, griddle or this 10 inch cast iron skillet is my favorite way to make burgers. It lets all the juices stay right in the pan and creates the perfect crust. The downside being that your house stinks like cooked meat and you have grease splatter to clean up.
So the grill is also a beautiful option. Keep that meat smell outside and clean up minimal. The choice is up to you!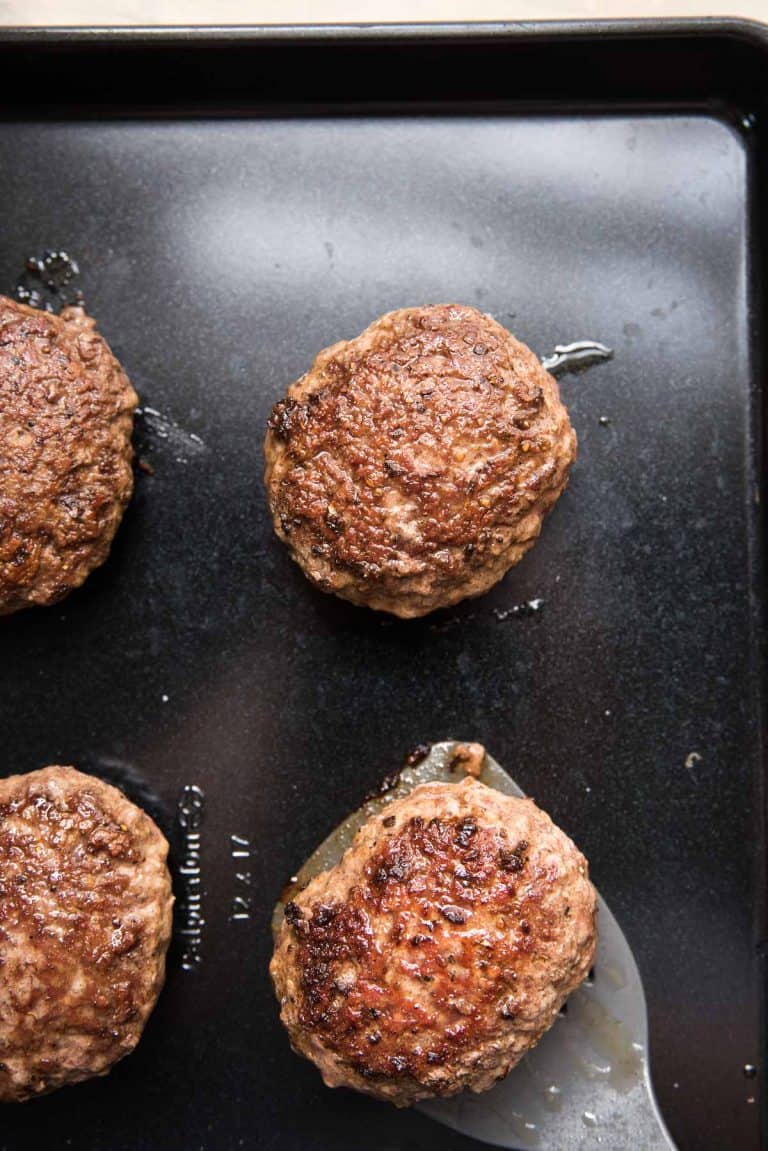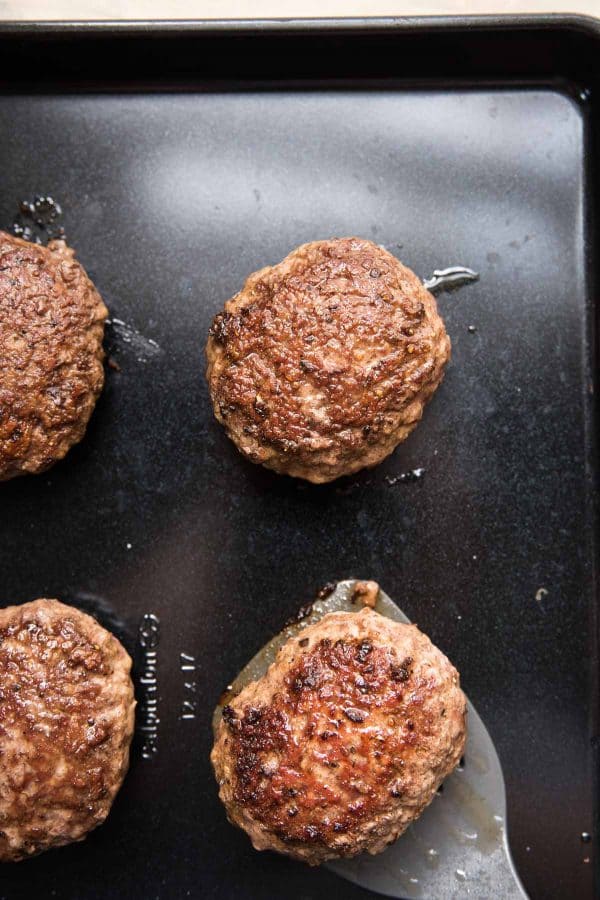 WHAT TEMPERATURE SHOULD YOU COOK A LAMB BURGER?
Whichever way you decide to do it, you're going to want to cook the ground meat to 160°F, somewhere between medium well and well done. Ground lamb is a bit different than beef in that you really want to cook it more than medium.
The meat still stays tender and juicy, plus you want to make sure the feta warms and get melty.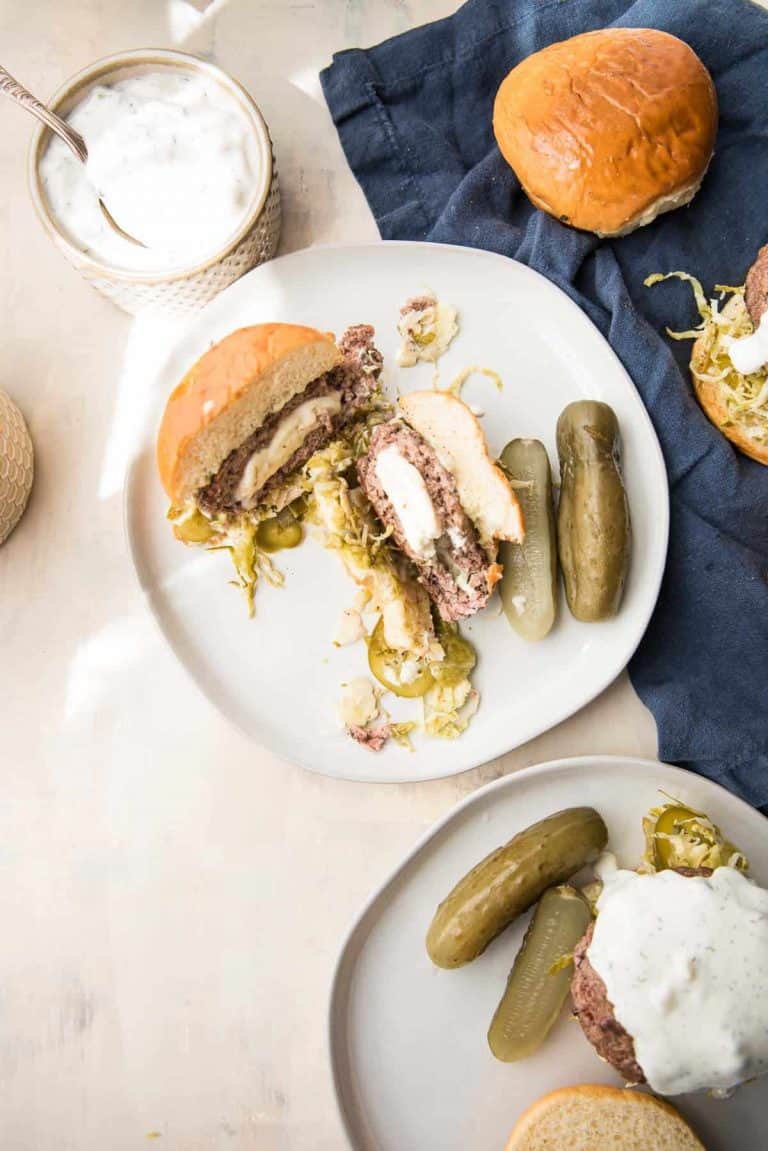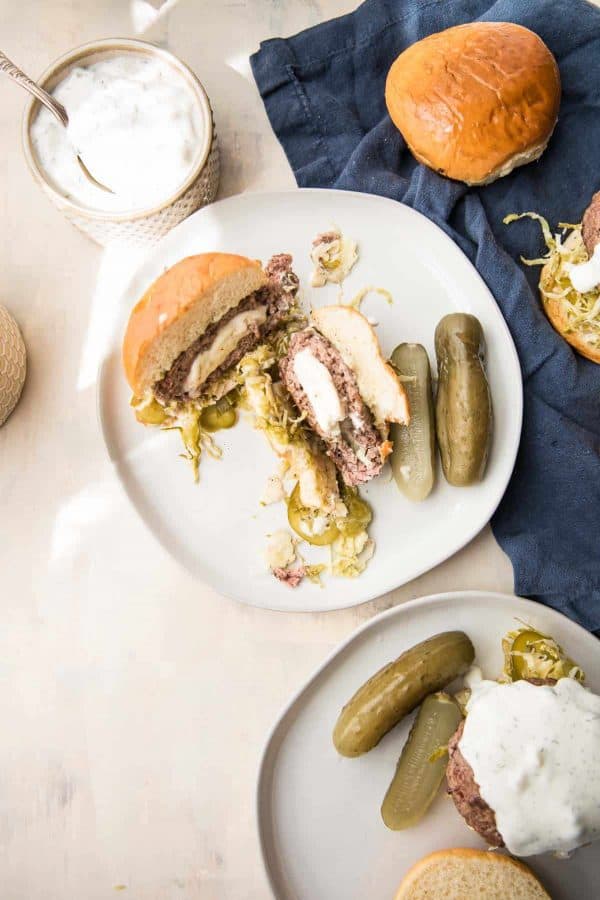 CAN I USE DIFFERENT CHEESE?
Absolutely! If feta is not your thing, this stuffed lamb burger will be equally delicious with cheddar, pepper jack, American, or goat cheese.
Really, when it comes to cheese, there's no wrong way right?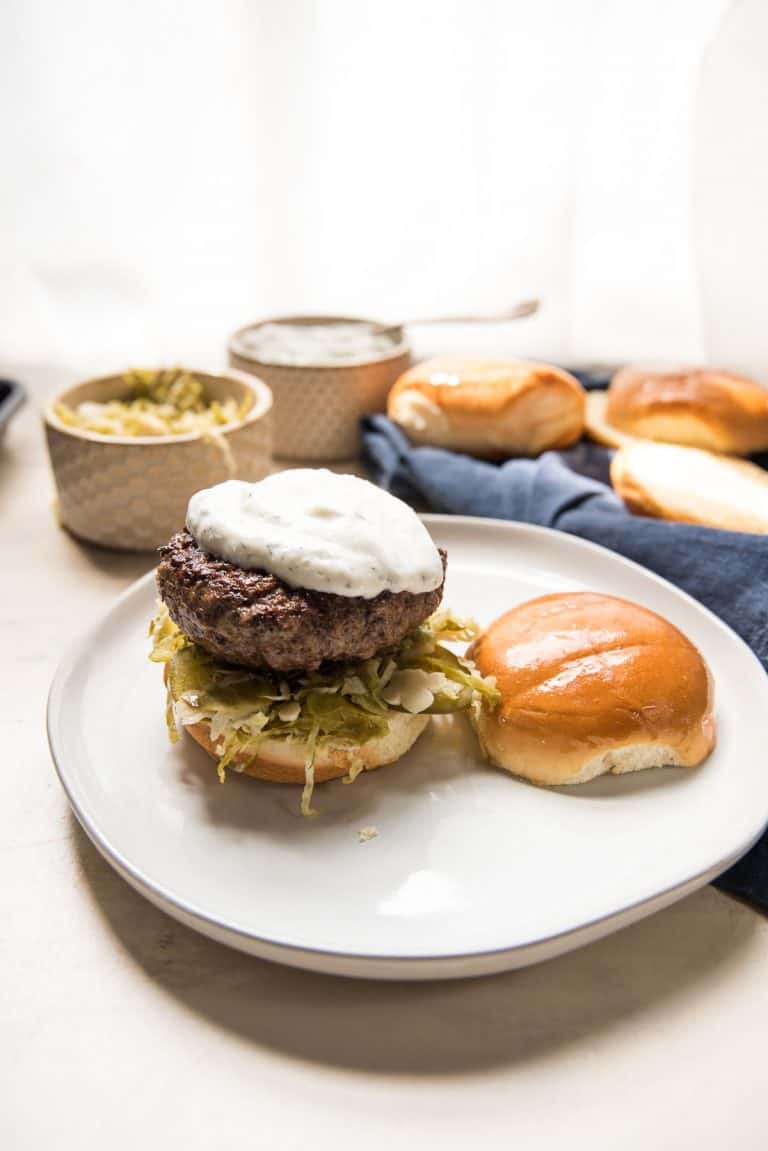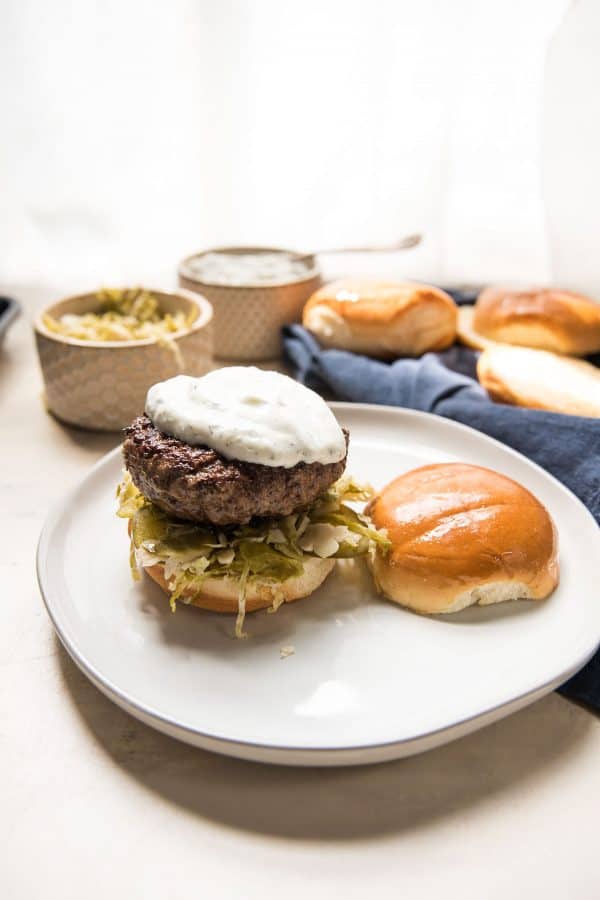 WHAT SAUCE SHOULD YOU USE ON A LAMB BURGER?
There's a few different ways to go here, but for these savory cheese stuffed beauties we're going traditional gyro flavor route with a little bit of crunchy heat.
Cool and crisp tzatziki sauce is perfect to go on top of lamb burgers. Traditionally the sauce is made from yogurt, fresh cucumber, olive oil, garlic, salt and fresh herbs. It's bright and light which makes it the perfect pairing to rich and savory lamb.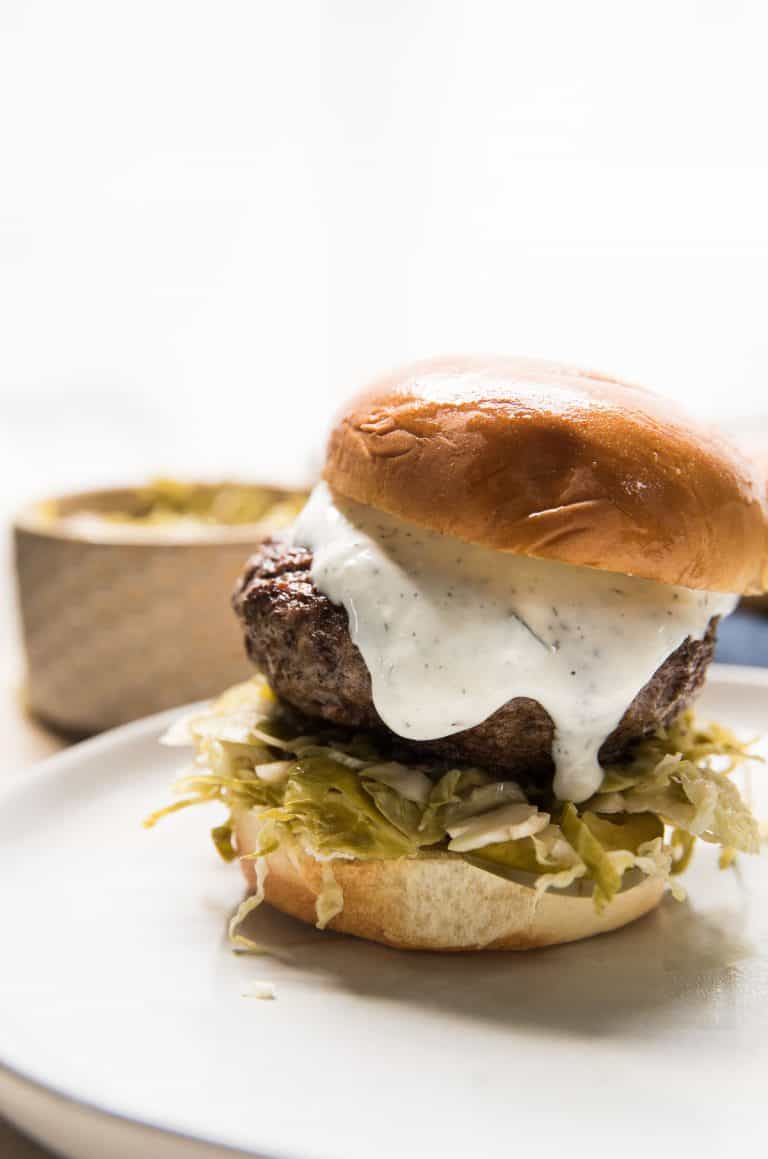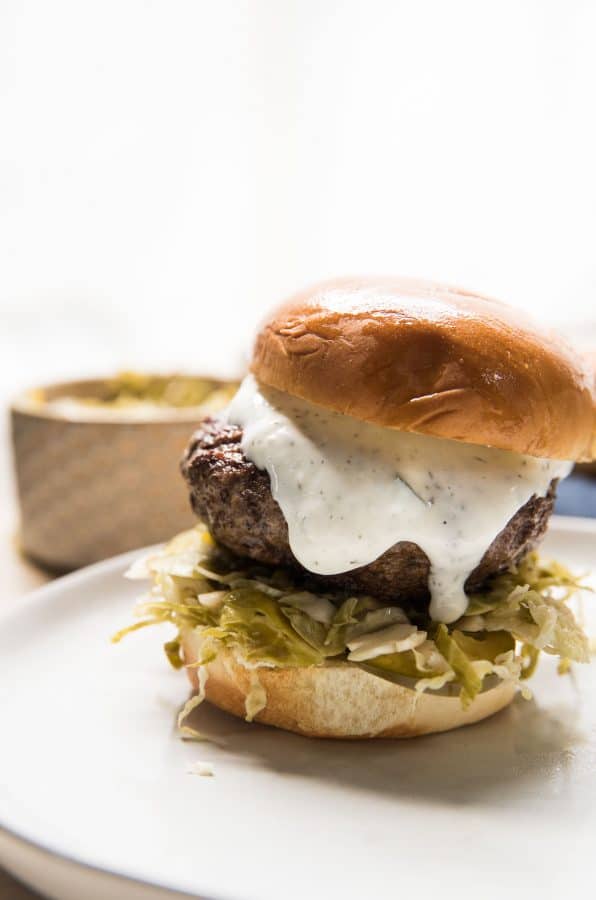 Crunchy brussels sprout and jalapeño slaw
The slaw you didn't know you needed is right here and it is SO good!
Got some sprouts not looking so fresh in the produce drawer? This is a perfect use for those! Or even if they're fresh out the shopping bag, brussels sprout and jalapeño slaw is still a great destination.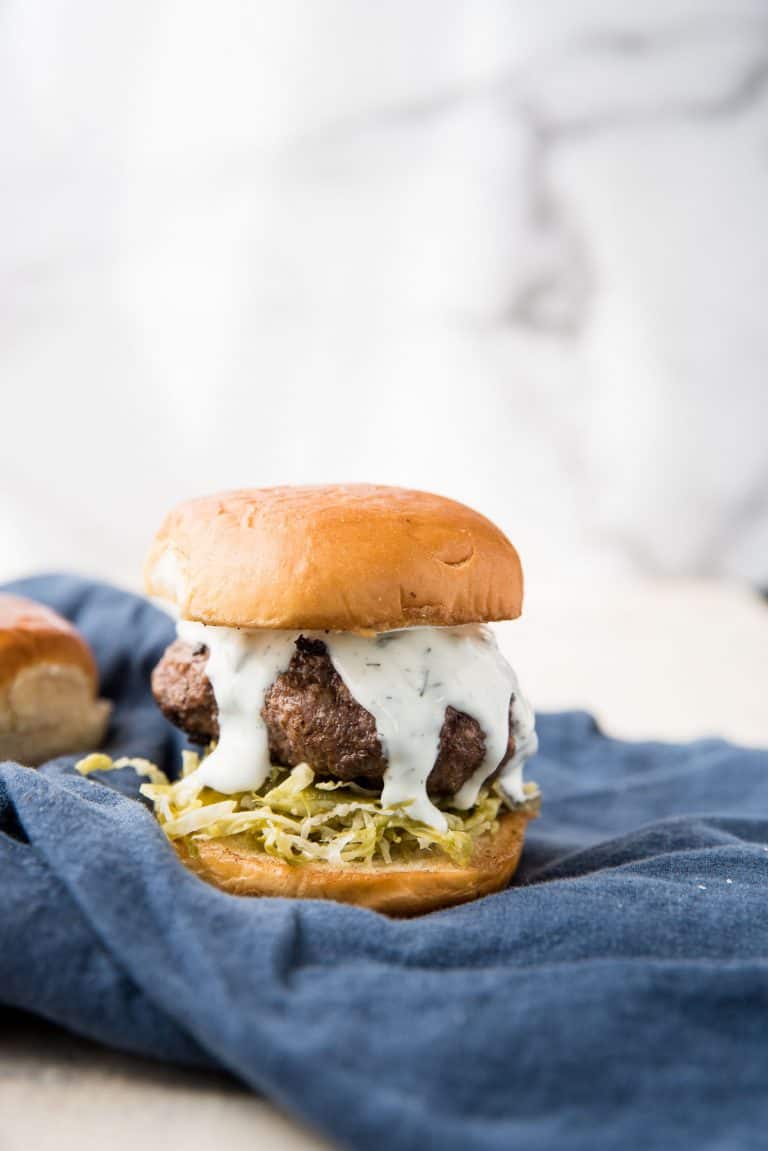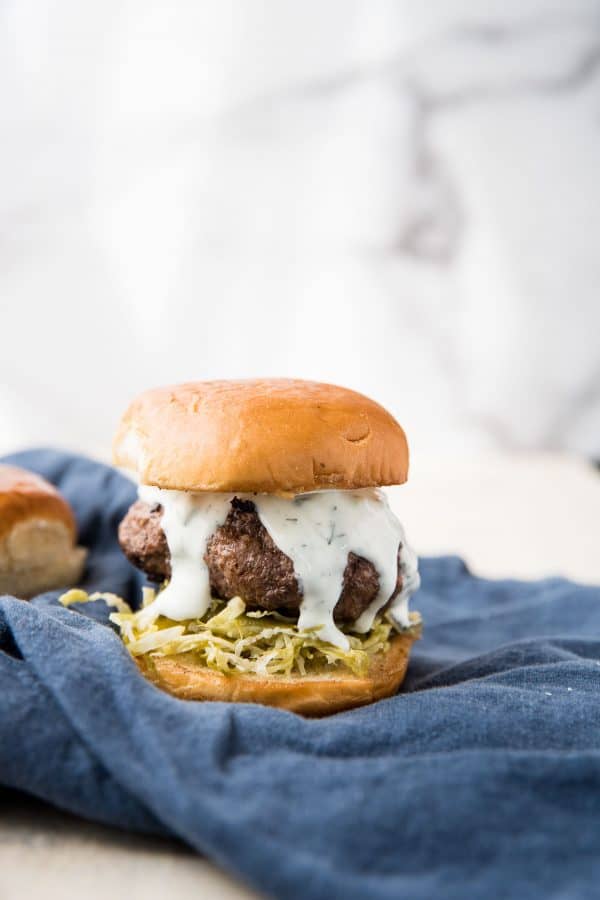 The brussels sprouts are tangy, vinegary, but not harsh with just the right amount of crunch. Then the slivers of jalapeño are giving just the right amount of kick-in-the-pants heat.
When stacked on feta stuffed lamb burgers it is a killer combination! The feta and tzatziki keep the jalapeño from being too spicy and the crunchy sprouts adds needed texture.
What to serve with Feta Stuffed Lamb Burgers:
Need more lamb in your life? Try these Hunger Thirst Play classic recipes!
Make this recipe? Tell us about it below and tag #hungerthirstplay on your social media!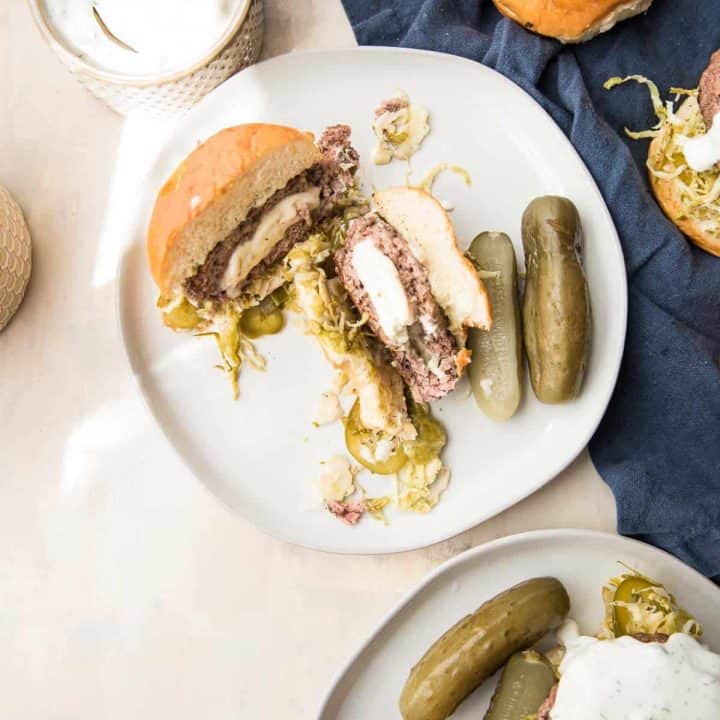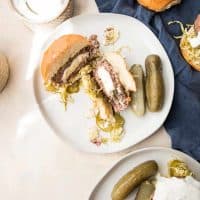 Feta Stuffed Lamb Burgers
Savory feta stuffed inside juicy ground lamb patties and served to perfection. These lamb burgers are served over tangy brussels sprout jalapeño slaw with creamy tzatziki sauce.
Print
Pin
Rate
Ingredients
2

pounds

ground lamb

8

ounces

feta cheese

(sliced thin and room temperature)

1

jalapeño

(sliced thin)

2

cups

brussels sprouts

(slice very thin or shaved)

1 ½

cup

apple cider vinegar

1

tablespoon

granulated sugar

½

cup

tzatziki sauce

6

hamburger buns
Instructions
Brussels Sprout and Jalapeño Slaw
Slice or shave brussels sprouts very thin and slice the jalapeño into thin rounds, set aside. Set 2 to 3 cups of water to boil in a kettle or a sauce pan. In a container with a lid, like a mason jar, add vinegar and sugar. Stir to combine.

Place the sliced sprouts and jalapeño in a colander. Once the water is boiling, pour slowly over the cabbage until all the water is gone. This can be done over the sink or over a large bowl.

Transfer the hot sprouts and jalapeños to the container with the vinegar mixture. Let sit for 30 minutes before using. Flavor will develop and the harshness of the vinegar will mellow the longer it sits. Store covered in the refrigerator up to 3 days.
Feta Stuffed Lamb Burgers
Separate the lamb into 6 even sections, a little over 5 ounces each. Remove about ⅓ of the meat from one section and flatten into a disk. Repeat with the remaining half of the section so you have two lamb patties, one smaller than the other. The easiest way to flatten the lamb into patties is to place it in between parchment paper or plastic wrap and press it this with something heavy - like a cast iron pan or sauté pan.

Layer slices of feta on top of the larger patty. Top with the smaller patty and fold the ends over to seal in the cheese. Smooth out any gaps so the cheese doesn't escape during cooking. Repeat for the remaining ground lamb.

Season eat side of the burger with salt and pepper. Grill or pan fry for 5 to 6 minutes per side. You want the lamb to be cooked to 160°F, about med well and the center to get hot enough for melty cheese. Let the cooked stuffed lamb burgers rest for 2 minutes while assembling the toppings for your burgers.

Layer each bun with Brussels sprout and jalapeño slaw, juicy feta stuffed lamb burger, then top with creamy tzatziki sauce.
Nutrition
Calories:
709
kcal
|
Carbohydrates:
30
g
|
Protein:
36
g
|
Fat:
48
g
|
Saturated Fat:
22
g
|
Cholesterol:
147
mg
|
Sodium:
835
mg
|
Potassium:
577
mg
|
Fiber:
2
g
|
Sugar:
8
g
|
Vitamin A:
472
IU
|
Vitamin C:
28
mg
|
Calcium:
328
mg
|
Iron:
5
mg