Tender, rich peanut butter laced cake pieces with gooey peanut butter filling topped with fluffy chocolate buttercream frosting. This peanut butter sheet cake with chocolate frosting is easy to make, frost and serve!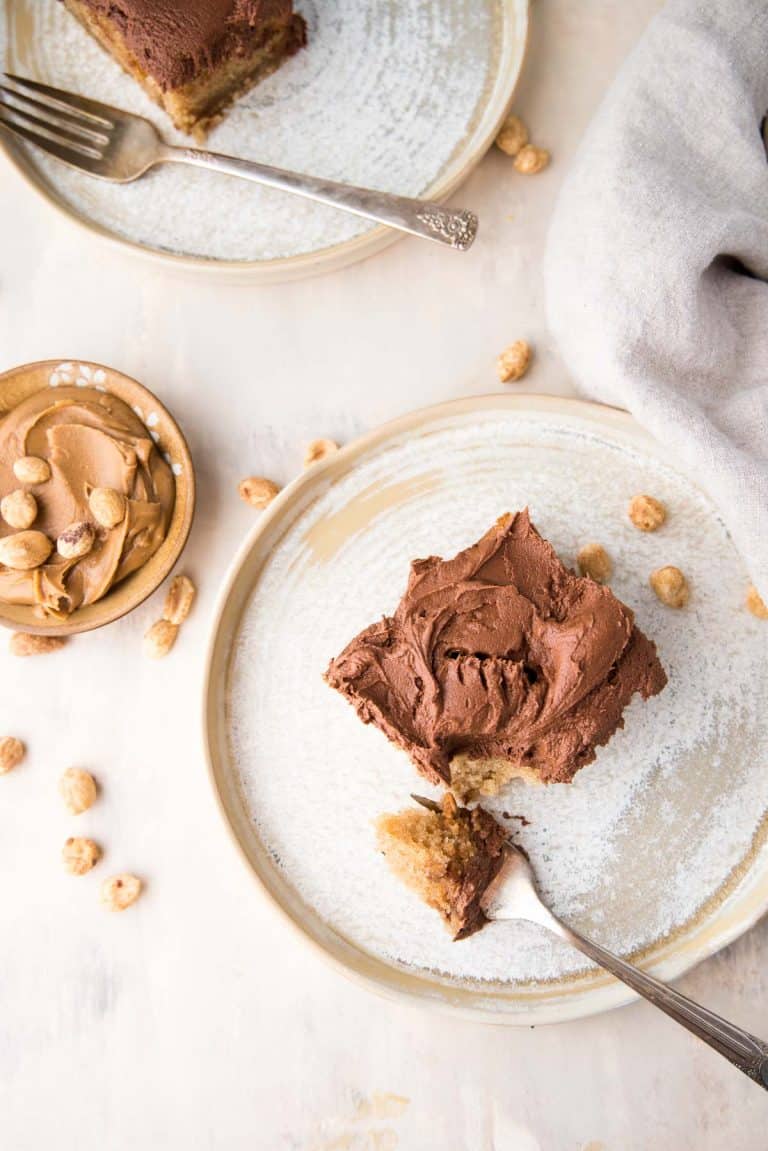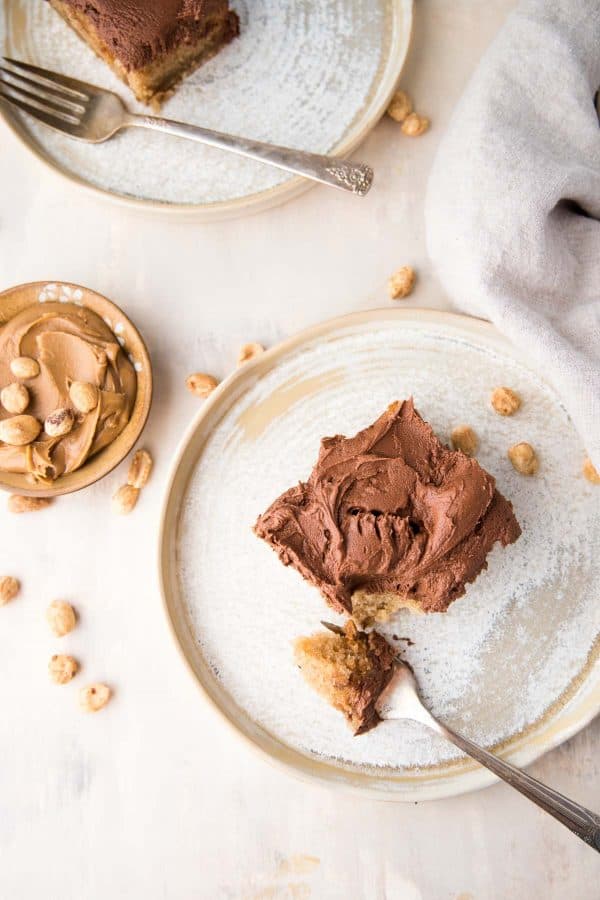 Hi friends. It's me. There's this thing we need to talk about. It's this cake, and it is going to change all the peanut butter loving lives everywhere.
We're talking about rich peanut butter laced cake that's fudgy in texture and not too sweet. Then we're going to poke holes in the cake and smother it in more peanut butter so it gets all gooey and dreamy in the peanut butter valleys.
And for the ultimate finish, we're making fluffy, cloud-like chocolate buttercream.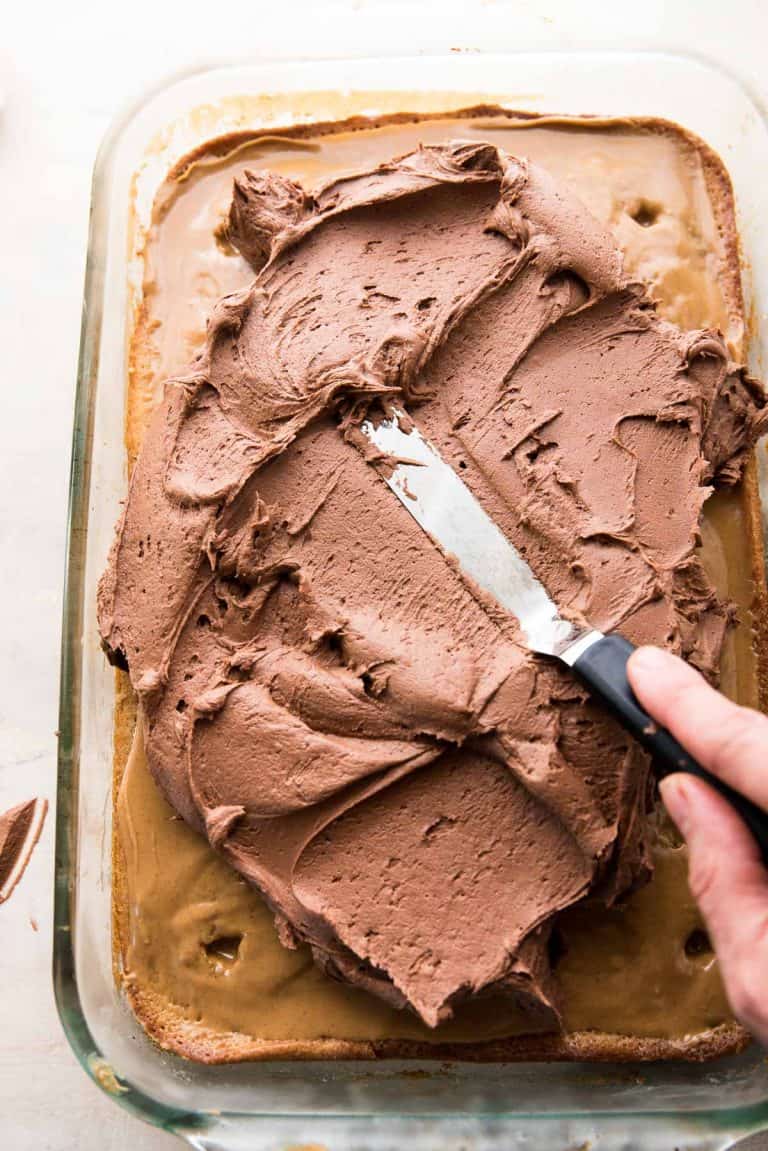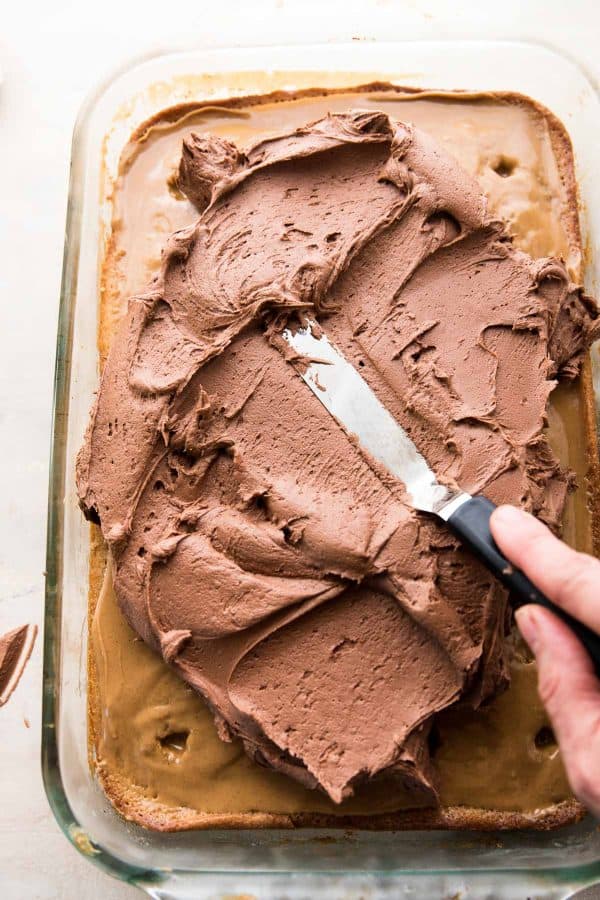 And that's just the taste folks. This cake recipe is so simple and no fuss. It only looks kinda fancy.
One of my favorite parts is that you can just cut those squares out of the 9x13 pan and dish em out. So it makes transporting super easy, too.
While this cake doesn't come from a box, it's still simple to put together that even a first time baker can pull off Pinterest perfect results.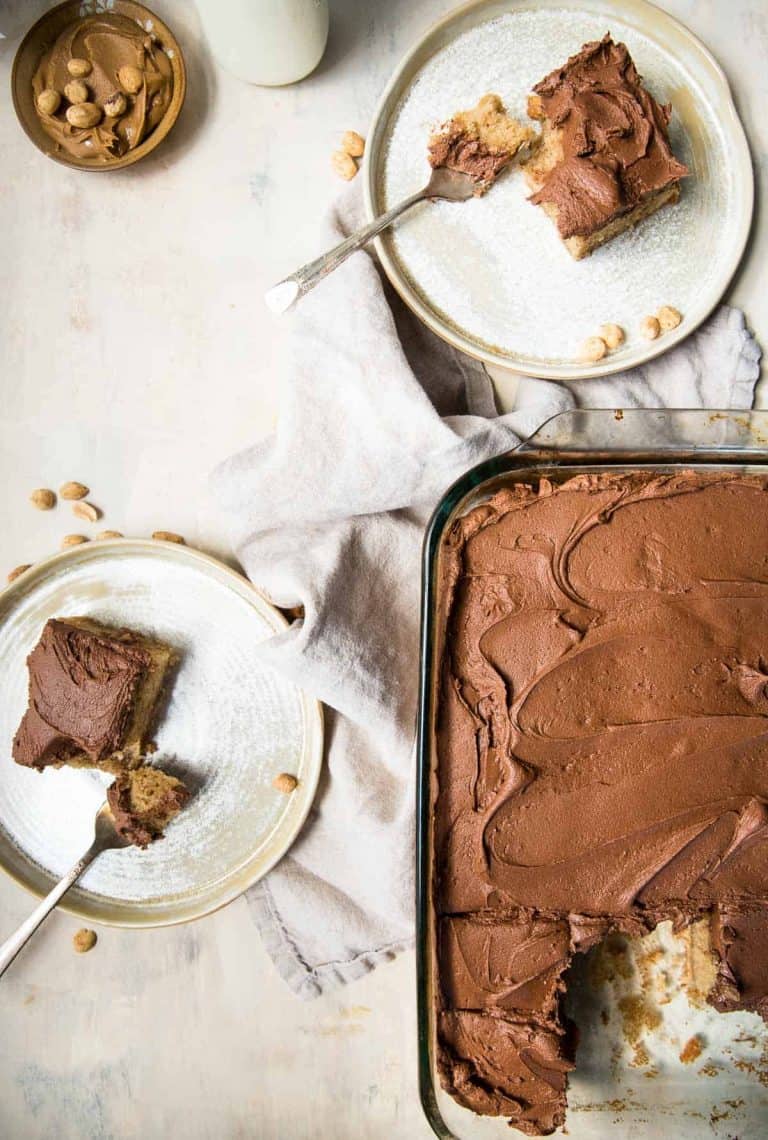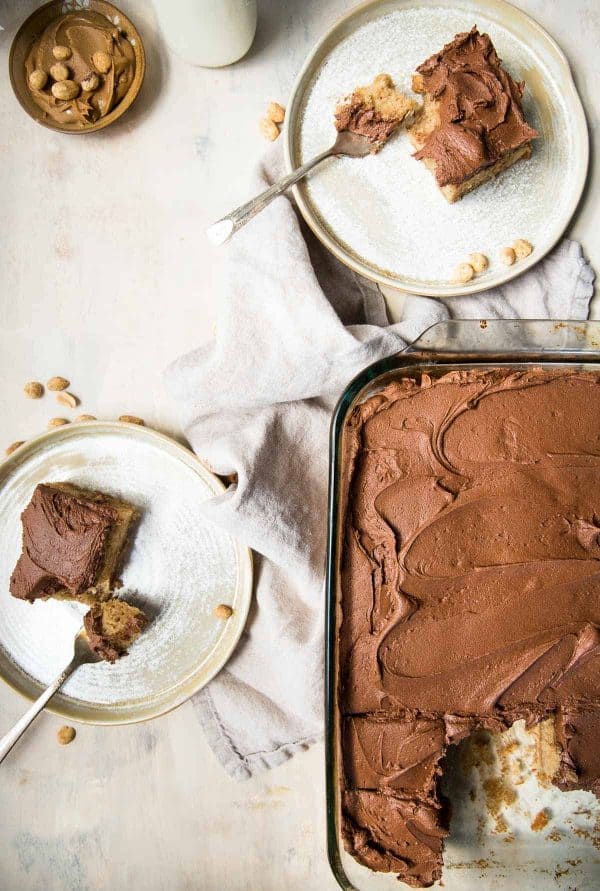 How to make peanut butter sheet cake
Sooo this is a peanut butter sheet cake that's also a poke cake. By calling it a sheet cake, I mean that it's baked and served in a 9x13 pan. A bakery style sheet cake is way way bigger, and while more cake is usually a good thing that is also A LOT of cake.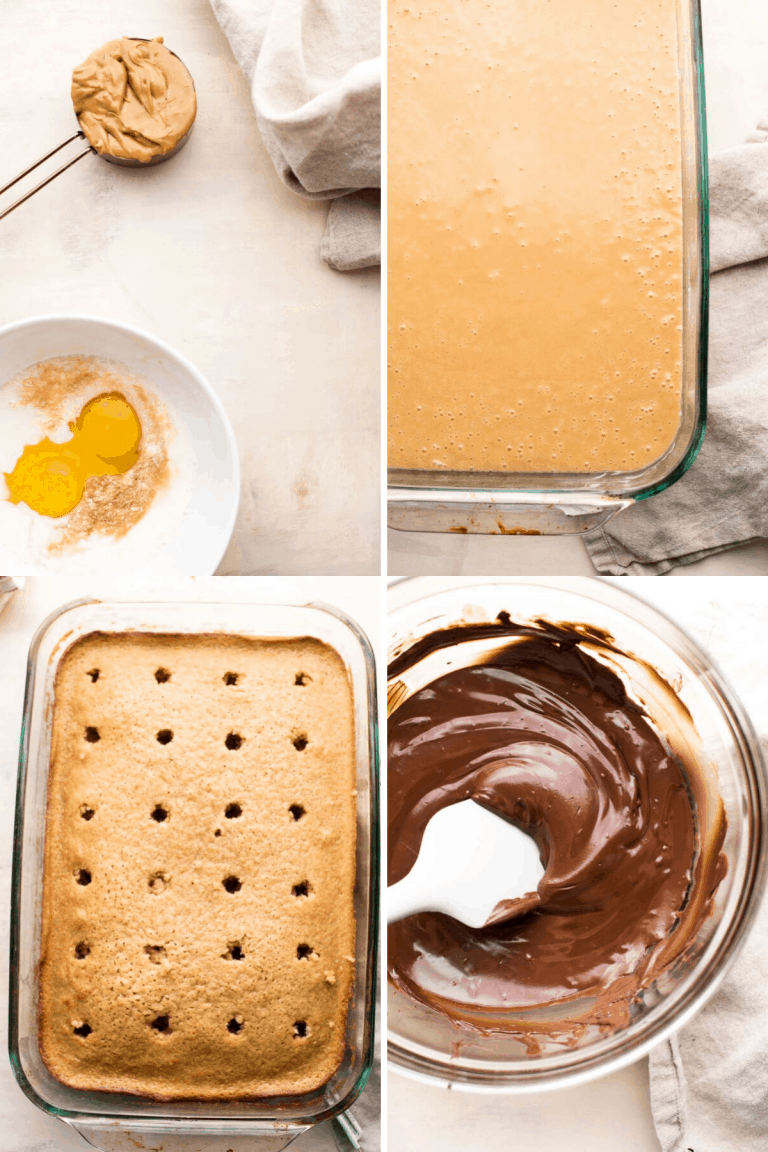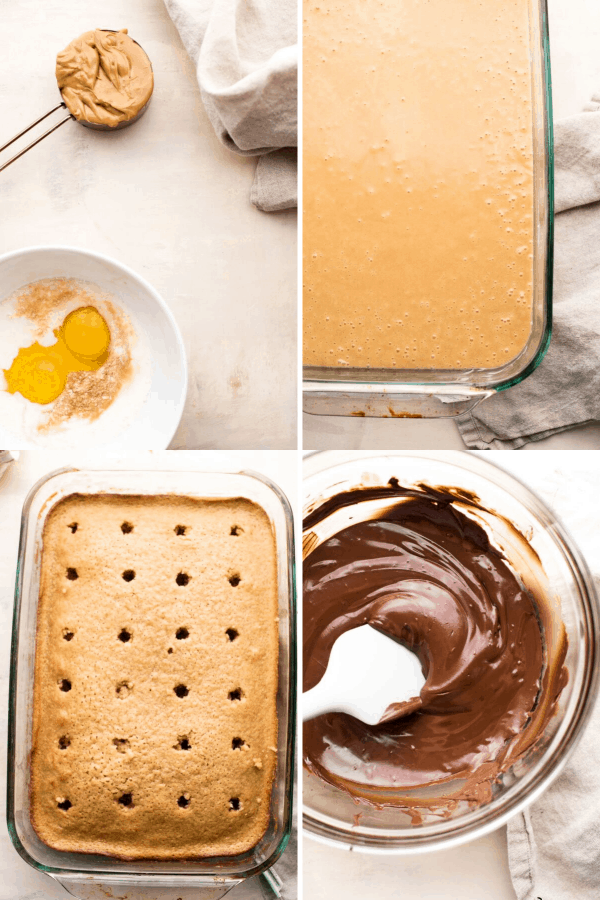 How many people does this peanut butter cake serve?
As mentioned just above, this cake is made in a tradition 9x13 pan. The best part about that is you can serve it right from the pan, so the serving size is really up to you.
Because the cake is pretty rich, smaller pieces are generally recommended. I like to cut this cake in 24 pieces (4x6), but you could go smaller if you wanted to. The crumb texture on peanut butter cake is very moist so it will stick together well while serving.
What's a poke cake?
Bake a sheet cake. Let it cool 15 minutes. Poke holes in it. Cover it with something yummy - like peanut butter - that seeps into the holes.
Bam! You've got a poke cake, but more importantly you have cake.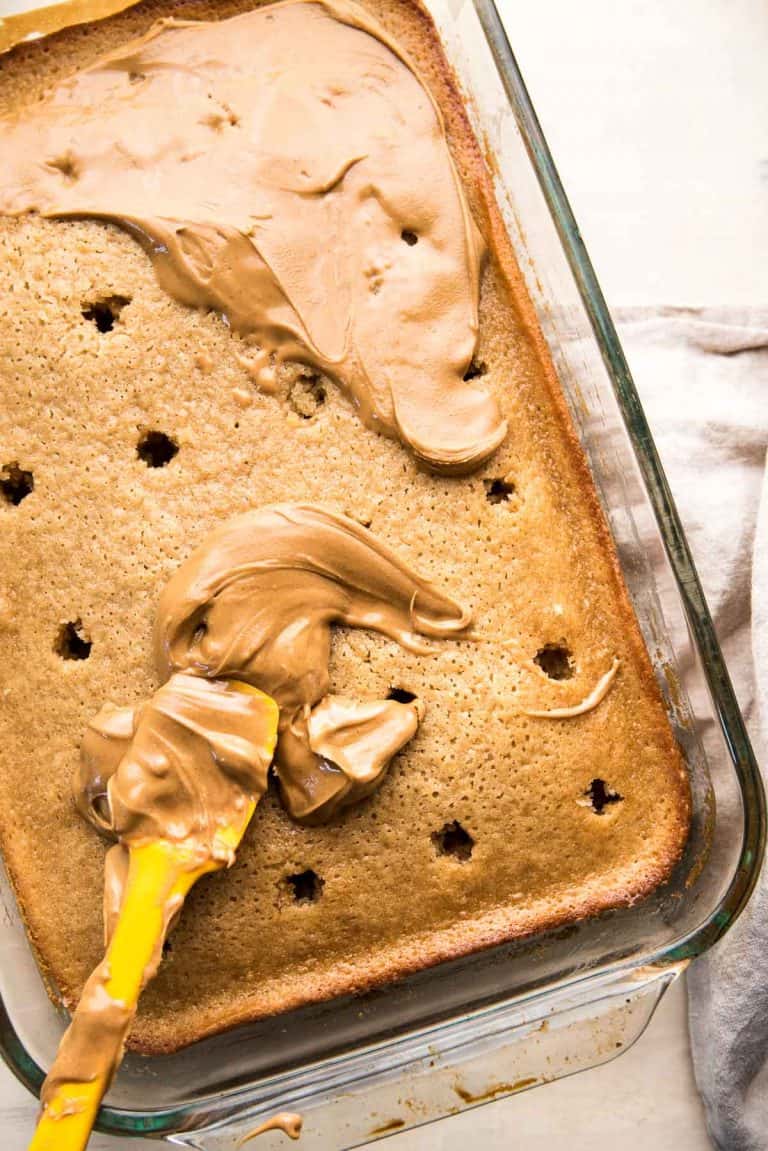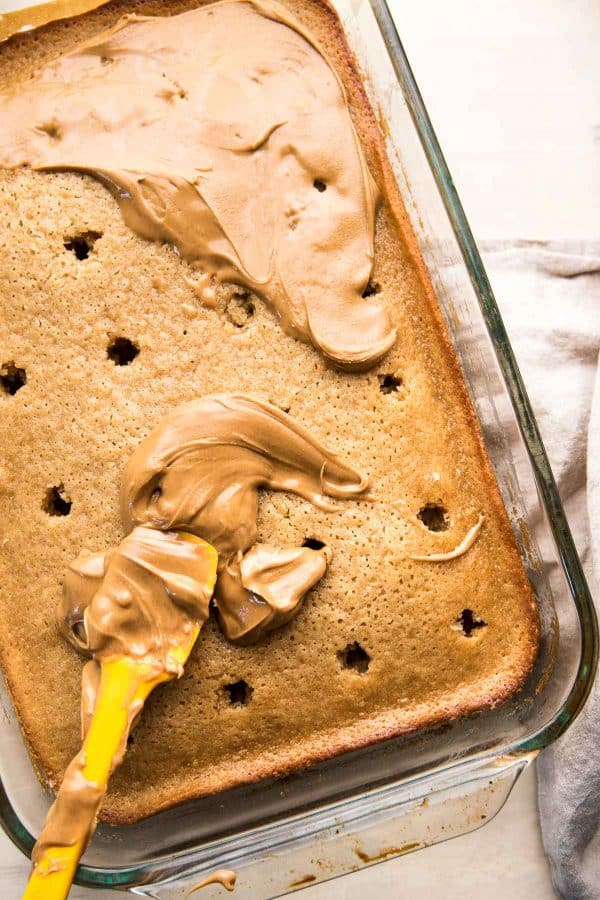 To poke the holes, my favorite thing to use is a strawberry huller.
What type of peanut butter should you use for peanut butter cake?
THIS is an important question. Peanut butter is super personal. Well, at least it is in this house.
It's like the Romeo and Juliet of peanut butter. I'm over here on Capulet island with my father-in-law loving one kind and there's all those other PB Montagues over there.
Personally, I'm team fresh ground PB (e.g. brands like Teddie's). Where literally everyone else is team creamy smooth PB (e.g. brands like JIF, Skippy, etc.)
However, when it comes to PB cake we can put the feud to rest without tragedy because the only love story here is cake.
To get the best results in texture and uniform baking you're going to want to use a smooth, creamy style of peanut butter where the only doesn't separate.
We like the JIF all natural best. It melts without getting greasy and will bake without adding a gritty texture to the cake.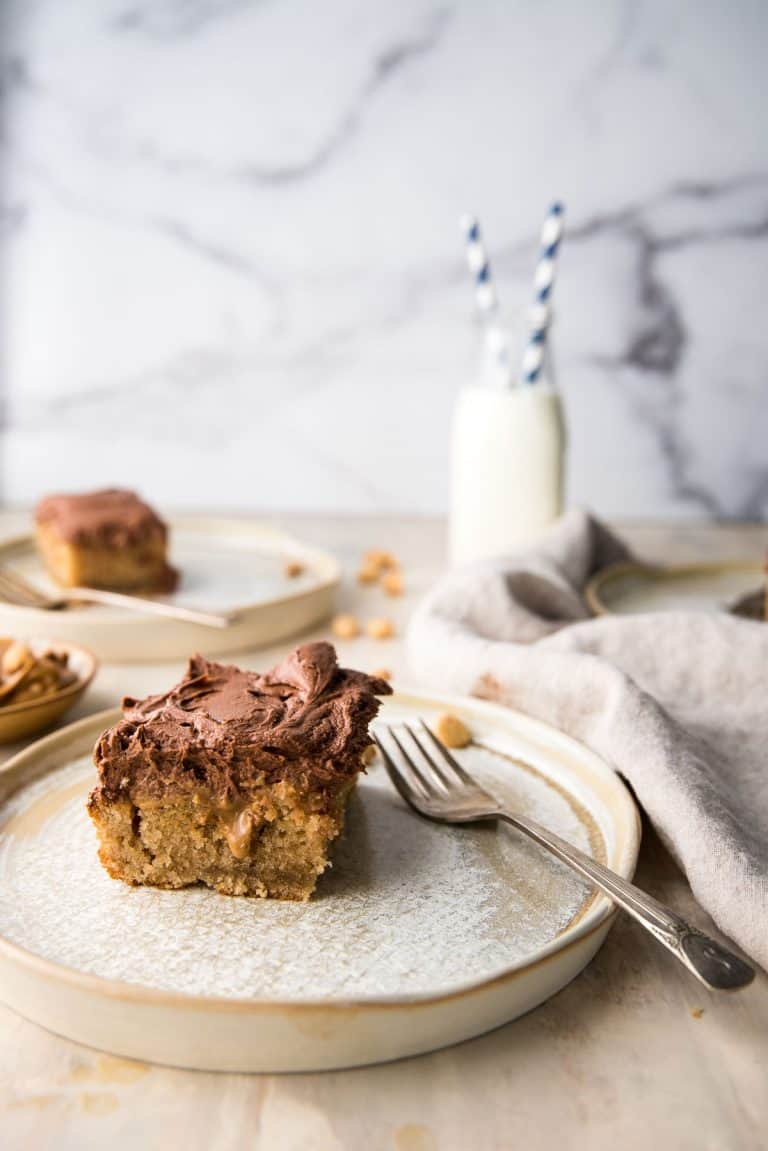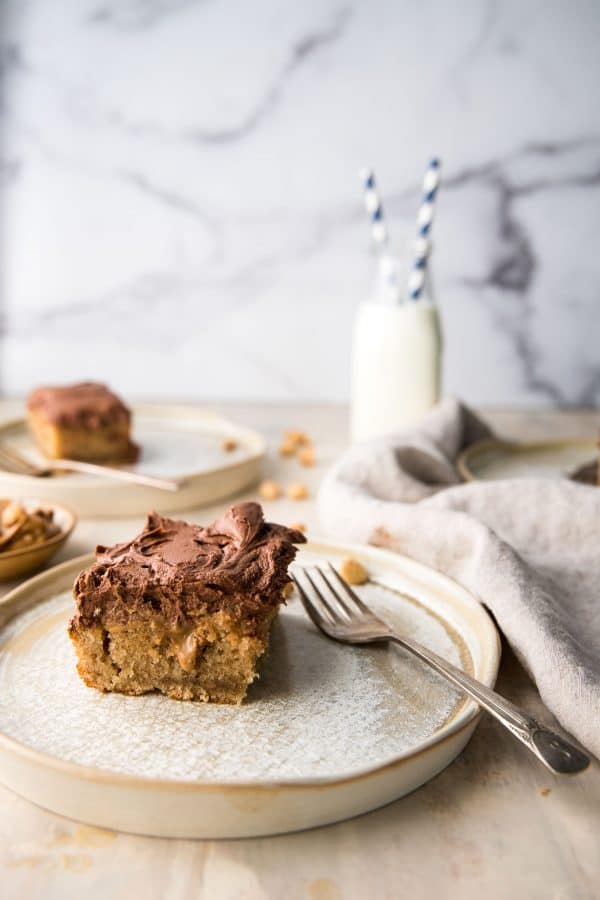 Tips for making peanut butter sheet cake
Besides opting for a smooth peanut butter, there are a few tips that will help you avoid any bumps in the road on your journey to peanut butter and chocolate perfection.
If you don't have buttermilk, you can make some real easy. Just check out the recipe notes.
Scrape down the bowl. This recipe has a decent amount of liquid, so scrape down the sides of your mixing bowl halfway through mixing.
LET IT COOL.
For the people in the back...LET IT COOL.
The cake needs to cool at least 15 minutes before you spread the peanut butter on top so it doesn't melt into the actual cake. It will also need to completely cool before spreading the frosting. To do this you can just pop it in the refrigerator or even the freezer while you prepare the frosting.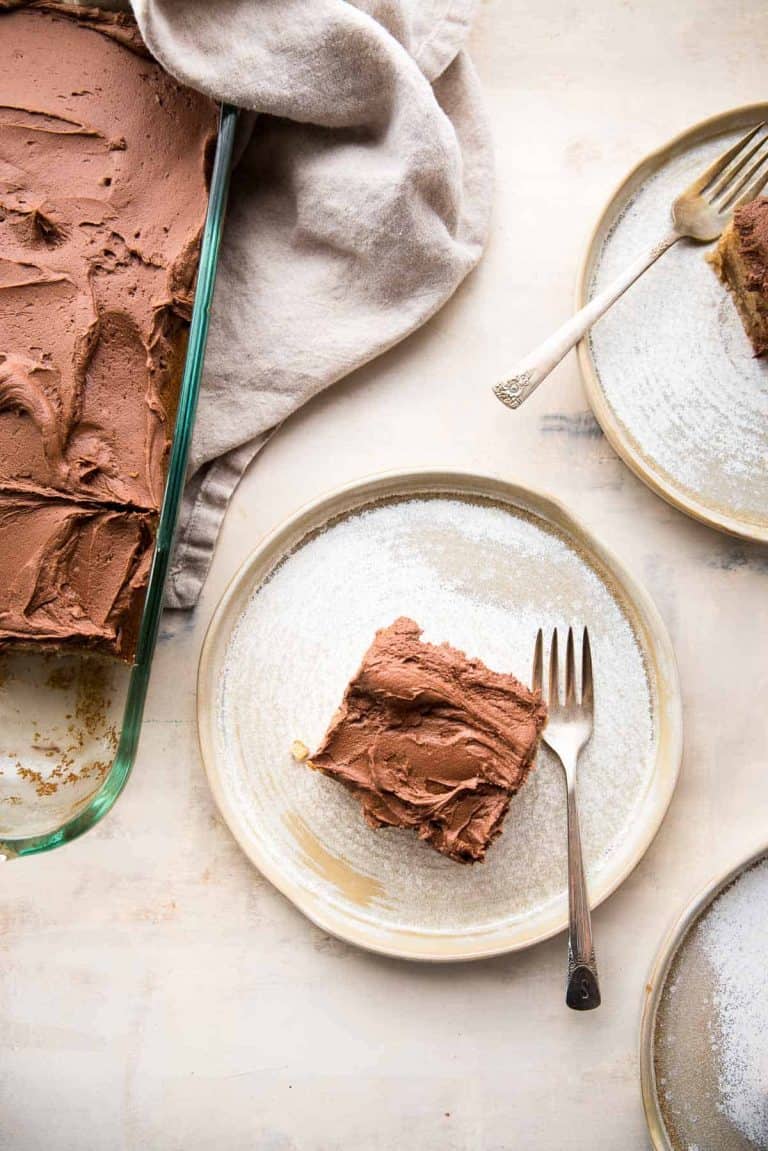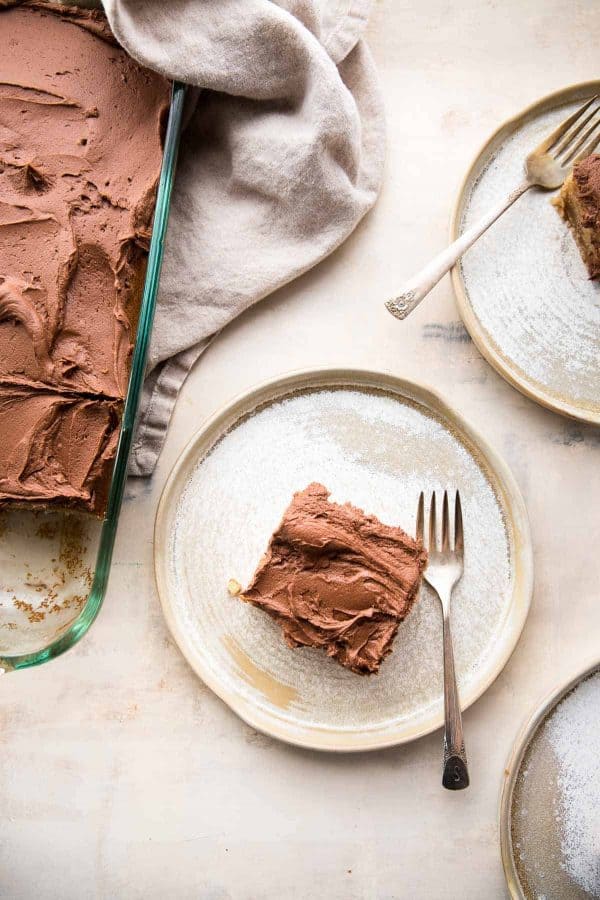 If you only have 45 minutes to make a cake for a party, this might not be the best time to try to bang out a new recipe. While it's faster than a layer cake recipe, you still need a little patience.
Take your time with this one, she's worth it.
The fluffiest chocolate frosting
It's weird right, 1 ¼ stick butter? I know. But it's the perfect amount for this frosting.
This chocolate buttercream leaves the cake frosted with about ¼ to ½ inch of pillowy chocolate frosting. The chocolate and the peanut butter is quite the butt kicking combination.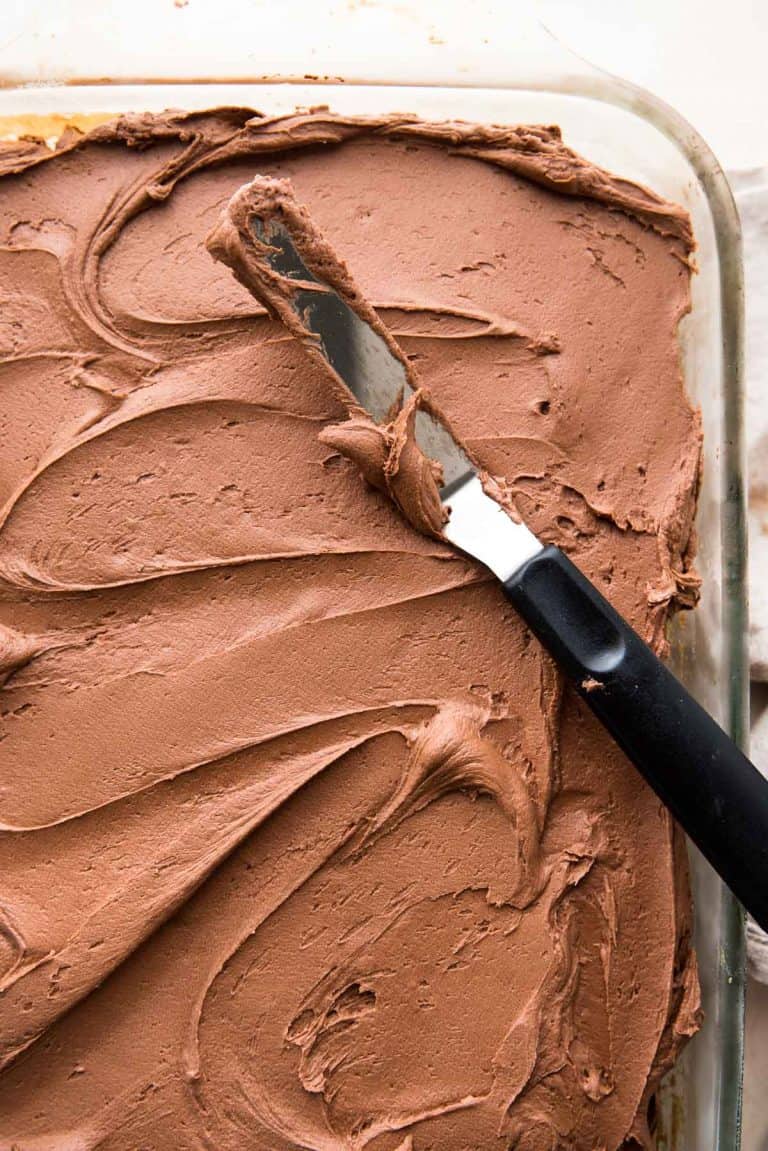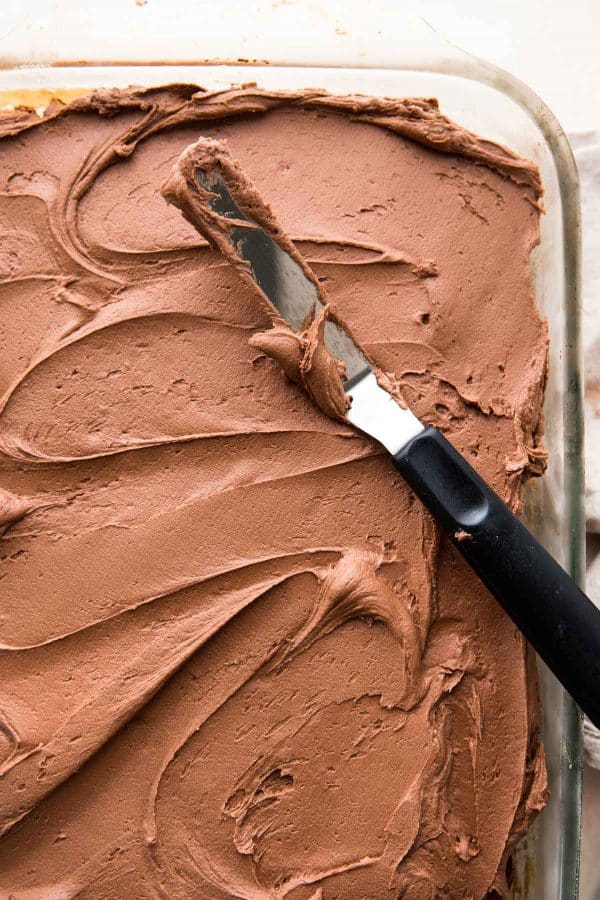 By cutting back on butter and increasing the heavy cream, you're balanced between a whipped cream frosting and a buttercream frosting. The beauty of it is that it will hold the great frosting texture of buttercream - meaning you can pipe with it - but the mouthfeel texture is fluffy like a whipped cream frosting.
It's the best of both worlds.
What type of chocolate do you use for chocolate frosting?
Whatever type floats your boat darling!
For this recipe, I used semi sweet, because that's what I like. If you prefer milk chocolate, that will work the same, the final color of the frosting may be a touch lighter. If you prefer dark chocolate, same deal but the final color will be darker.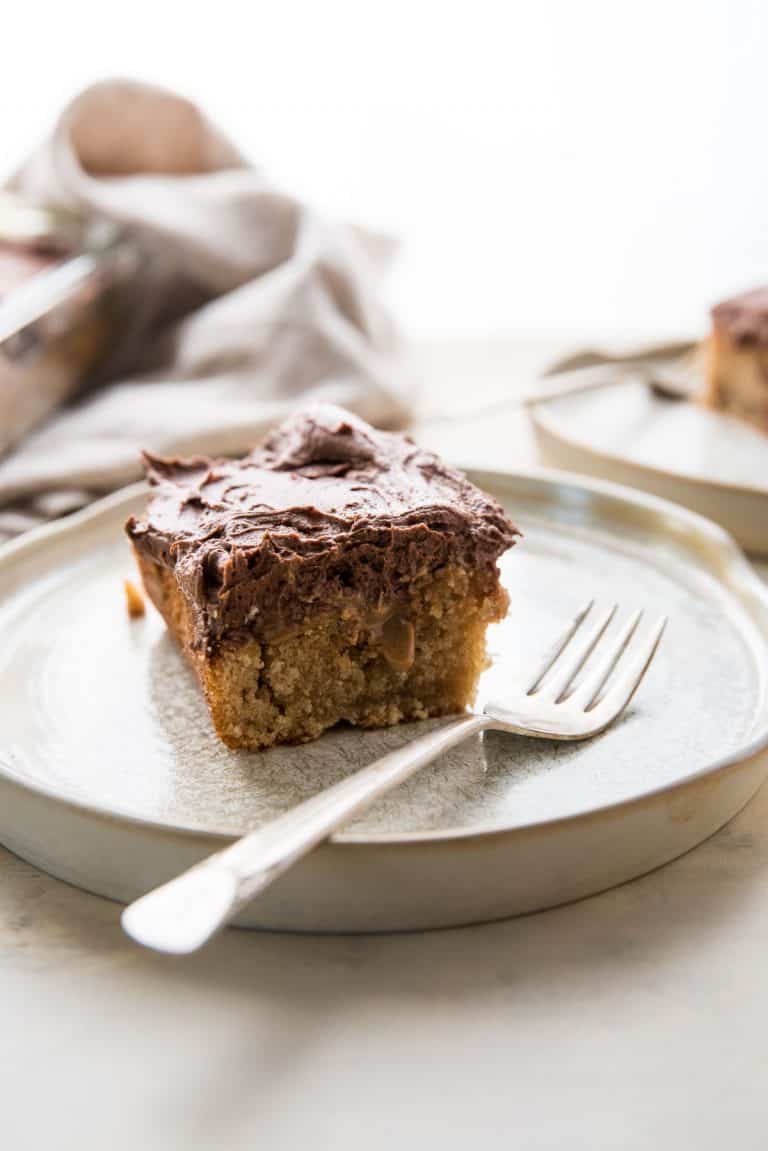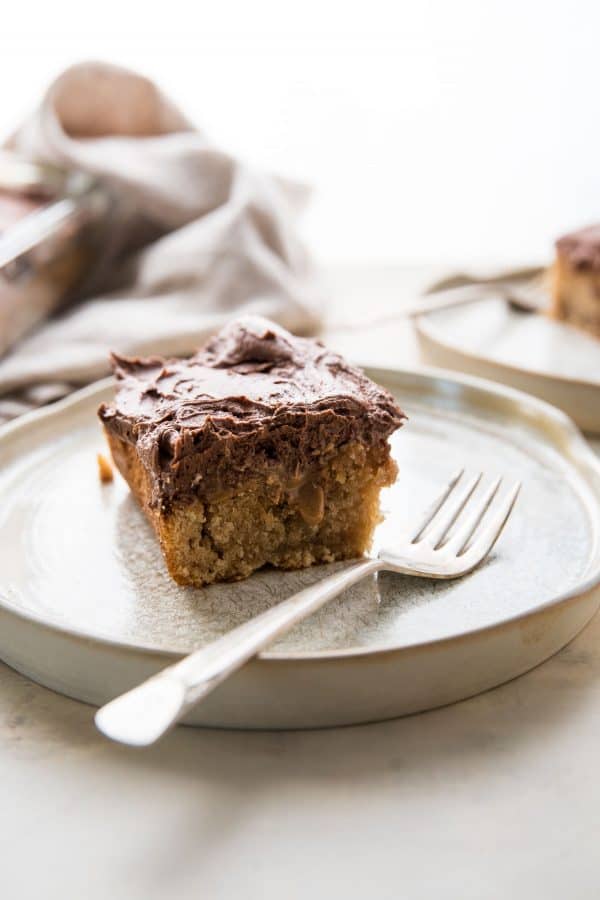 Tips for fluffy chocolate frosting
Let it cool. (OMG is there an echo in here or something?)
But, no, really. I melted the chocolate for this, then took my dog for a quick walk.
The key to adding chocolate to frosting is that you need it to be melted but not hot. Otherwise, you'll soften the butter too much.
You want to add the chocolate last. By building the rest of the frosting, you're stabilizing the ingredients.
Lastly, make sure you give the sides of the bowl a good scrape and a final mix before taking the frosting out to to spread on the peanut butter sheet cake. This will prevent getting a random streak of gold/white frosting.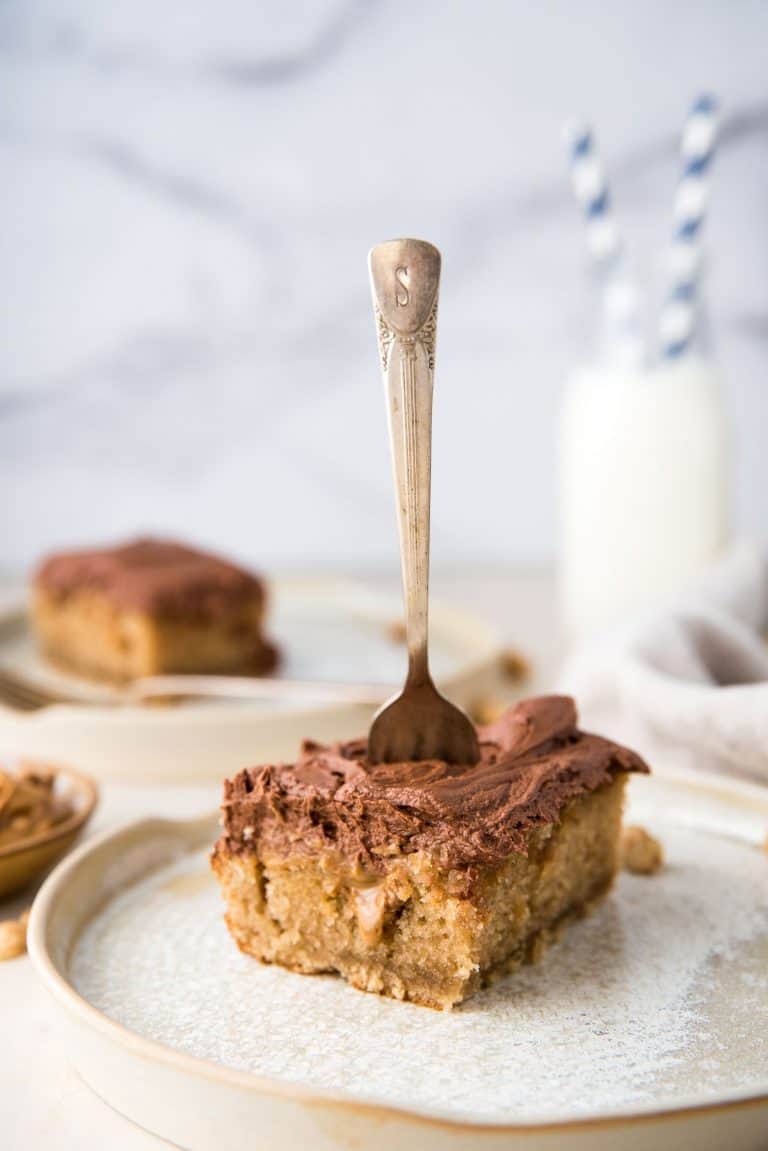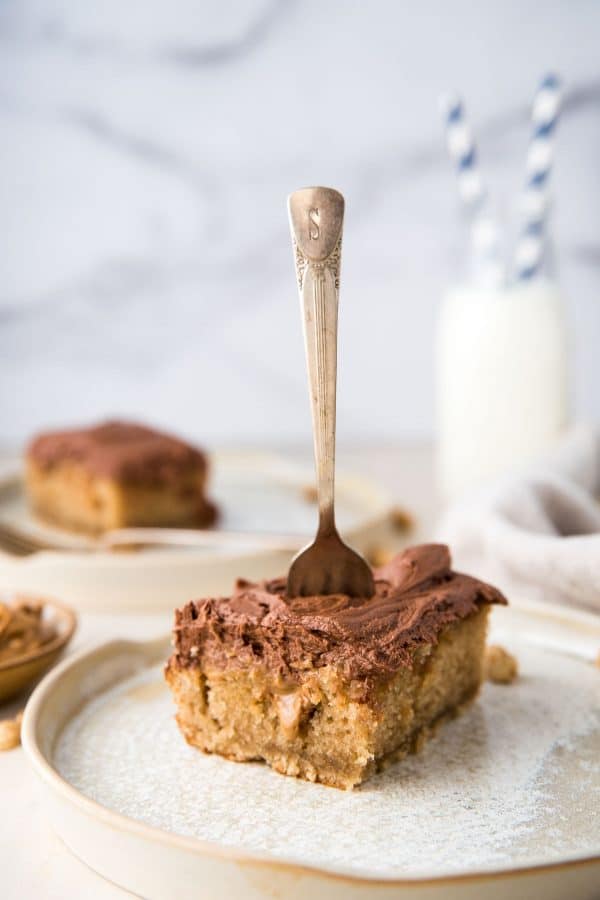 More peanut butter and chocolate ideas
Are you obsessed with peanut butter? It's pretty great! Here are some other recipes that might strike your fancy!
Did you make this recipe? Tell us about it in comments or tag #hungerthirstplay on social media with your pics!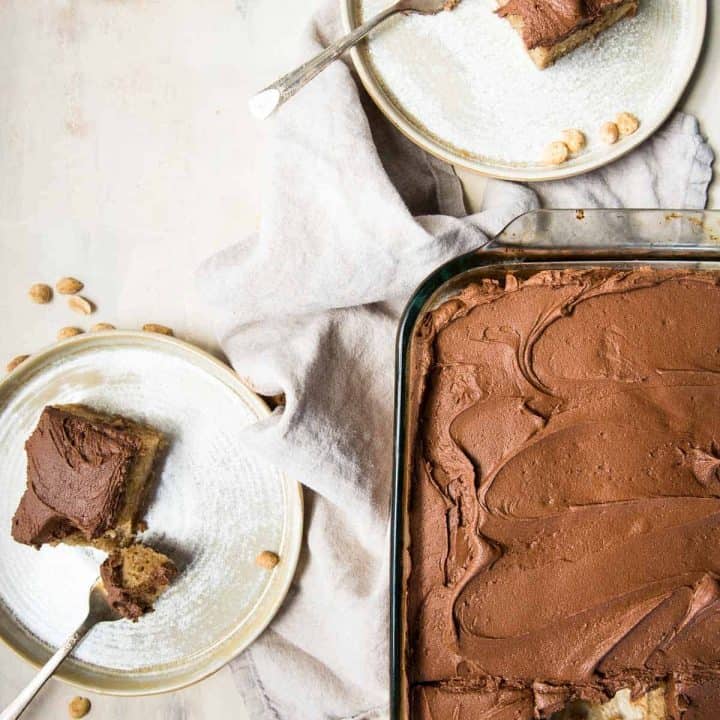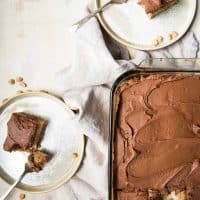 Peanut Butter Sheet Cake with Fluffy Chocolate Frosting
Rich peanut butter laced cake pieces with gooey peanut butter filling topped with fluffy chocolate buttercream frosting. This peanut butter sheet cake is for all the peanut butter and chocolate lovers!
Print
Pin
Rate
Ingredients
Peanut Butter Sheet Cake
2

cups

all purpose flour

(298g)

2

cups

granulated sugar

(396g )

½

teaspoon

baking soda

¼

teaspoon

salt

1

cup

water

(250ml)

1 ½

sticks

unsalted butter

(170g, divided)

¼

cup

canola oil

(60ml )

1

cup

creamy peanut butter

(250g, divided)

2

eggs

½

cup

buttermilk*

(120ml )

1

teaspoon

pure vanilla extract
Fluffy Chocolate Buttercream Frosting
1

12-ounce bag

chocolate chips

1 ¼

stick

unsalted butter

(176g)

2

cup

confectioners sugar

(250g )

1

teaspoon

pure vanilla extract

¼

cup

heavy cream

(60ml )
Instructions
Peanut Butter Sheet Cake
Preheat the oven to 350°F and grease a 9x13 pan.

In a large bowl or the bowl of a standing mixer, whisk together the flour, sugar, baking soda, and salt. In a small bowl, whisk the eggs, buttermilk and vanilla together, set aside.

Bring the water and 1 ½ sticks unsalted butter to a simmer in a medium sized sauce pan. Stir in ½ cup peanut butter and oil. Stir until the peanut butter is completely incorporated then remove from the heat and add to the dry ingredients on low speed. Increase the mixer speed to medium as the wet ingredients mix.

Slowly add the remaining wet ingredients to the batter and beat on medium-high speed for 1 minute, scraping down the sides of the bowl half way through. Pour the batter into the prepared 9x13 pan and bake for 33 to 36 minutes or until a toothpick inserted in the center of the cake comes out clean.

Let the cake cool for 15 minutes, then evenly spaced poke holes ¾ of the way through the cake. I did 4 holes across the width of the cake and 6 holes down the length. (See notes for tools ideas to poke the holes.)

Spread the remaining ½ cup peanut butter over the cake while the cake is warm but not hot. You need a little bit of warmth for the peanut butter to melt into the holes but you do not want it to melt into the cake. Let the cake cool completely before frosting with chocolate buttercream - this can be done in the refrigerator to speed up the process.
Fluffy Chocolate Buttercream Frosting
While the cake is baking, melt 1 bag of chocolate chips in a double boiler* on the stove top. Let cool for 15 to 20 minutes. You want the chocolate to still be melted but not too warm so it will melt the butter in your buttercream.

In a standing mixer or with a hand mixer, beat the 1 ¼ stick butter on high speed until pale and fluffy. Add the confectioners sugar and vanilla, slowly increase speed to medium-high as sugar incorporates.

Repeat with the heavy cream. Once incorporated, increase speed to high and beat for 45 to 60 seconds until cream is fluffy like whipped cream - you will see the texture of the frosting change. Add the chocolate and increase speed to medium-high as ingredients incorporate, scraping down the sides of the bowl when needed.

Using a spatula or frosting knife, spread the chocolate buttercream frosting over the cooled peanut butter sheet cake.
Notes
For the best texture and results use a traditional smooth, creamy peanut butter where the oil does not separate. We like the JIF all natural peanut butter. Other fresh ground brands (e.g. Teddie's - which I love, just not for this cake) will leave a gritty texture and you may get oil separation during baking.
If you do not have buttermilk, you can make it! Pour ½ cup milk into a bowl, remove 1 tablespoon of the milk and add 1 tablespoon of lemon juice. Stir and let it sit for 5 minutes.
Some tools you can use to poke your cake - strawberry huller, the round end of a wooden spoon or spatula, the handle of a piece of flatware and just spin it in a circle, a piping tip, or a very wide straw.
A double boiler system is easy to set up. Add 1 to 2 inches of water to a medium size sauce pan and set a heat proof bowl over the pan. The water should not touch the bottom of the bowl. Add the chocolate chips to the bowl and bring the water to a simmer. Stir until the chocolate is smooth and melty. This system prevents burning the chocolate.
Nutrition
Calories:
336
kcal
|
Carbohydrates:
37
g
|
Protein:
5
g
|
Fat:
20
g
|
Saturated Fat:
9
g
|
Trans Fat:
1
g
|
Cholesterol:
45
mg
|
Sodium:
110
mg
|
Potassium:
99
mg
|
Fiber:
1
g
|
Sugar:
28
g
|
Vitamin A:
388
IU
|
Vitamin C:
1
mg
|
Calcium:
19
mg
|
Iron:
1
mg