Fried. Cheese. This day just keeps looking up. In a rebound from a very Monday-ish Monday, this fried halloumi and cherry salad is full of good time feels.
Fresh juicy cherries, crisp kale salad leaves with tender baby spinach, hearty multigrain croutons and nutty pine nuts all waiting for the perfect, briny, savory golden brown cheese.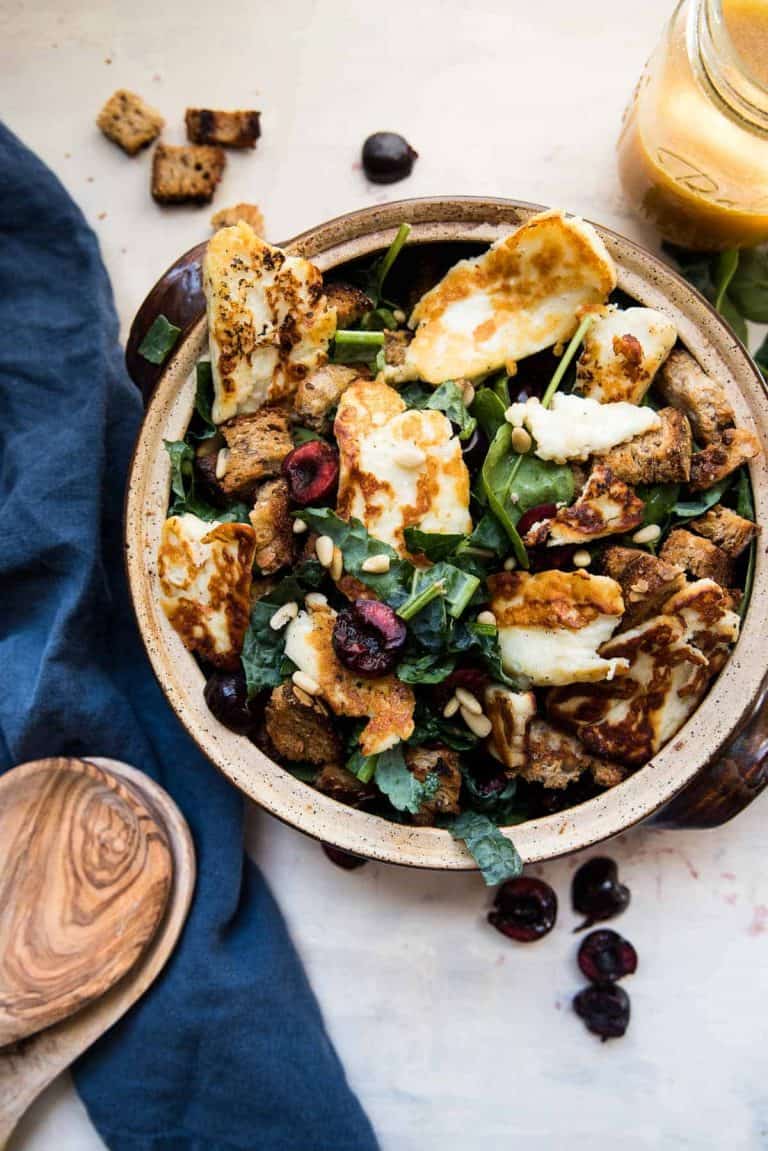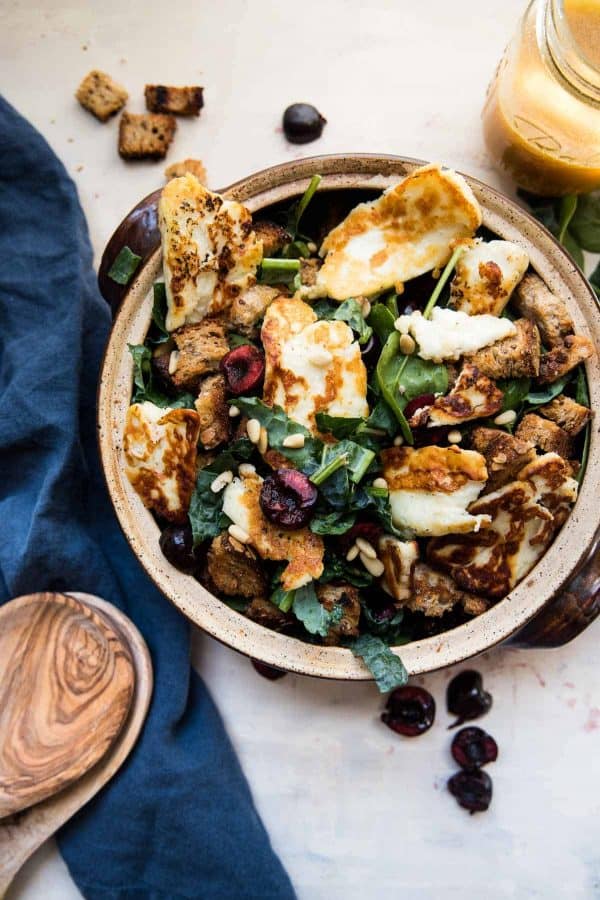 All of these good things drizzled in the easiest, most delicious bright and sweet lemon honey dressing.
This salad right here is one of those, repeat until you can't find more ingredients kind of goodness.
What is halloumi cheese?
Have you had this delicious thing called halloumi? It's here to bring a ray of salty, briny cheesy light to salad greens.
Don't get me wrong, I heart vegetables all day every day. But sometimes a salad is unsatisfying because it lacks a little oomph. Well your new friend halloumi is here with both oomph and a some va va voom.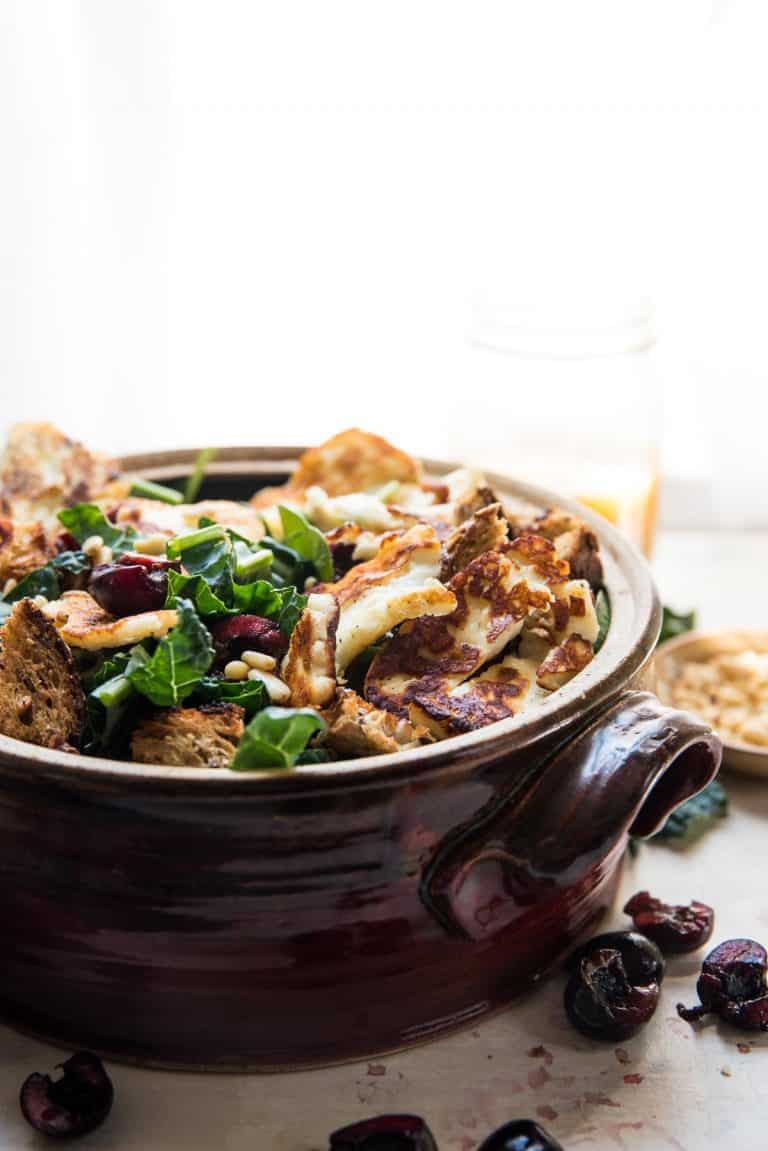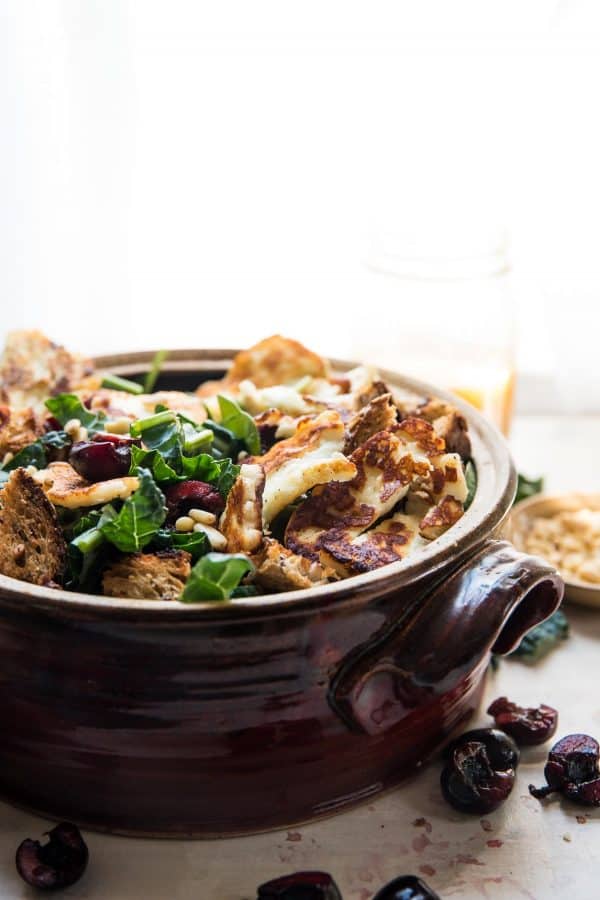 Halloumi is traditionally from the island of Cyprus and made from sheep's milk or a combination of sheep and goat milk. It's brined with a high fat content which gives the cheese a higher melting point. That's what makes it perfect for frying or grilling.
The texture of halloumi is a little spongy, but in a pleasant way, with a crunchy exterior thanks to your pan frying skills. This sturdy cheese is best when prepared and served alongside other ingredients.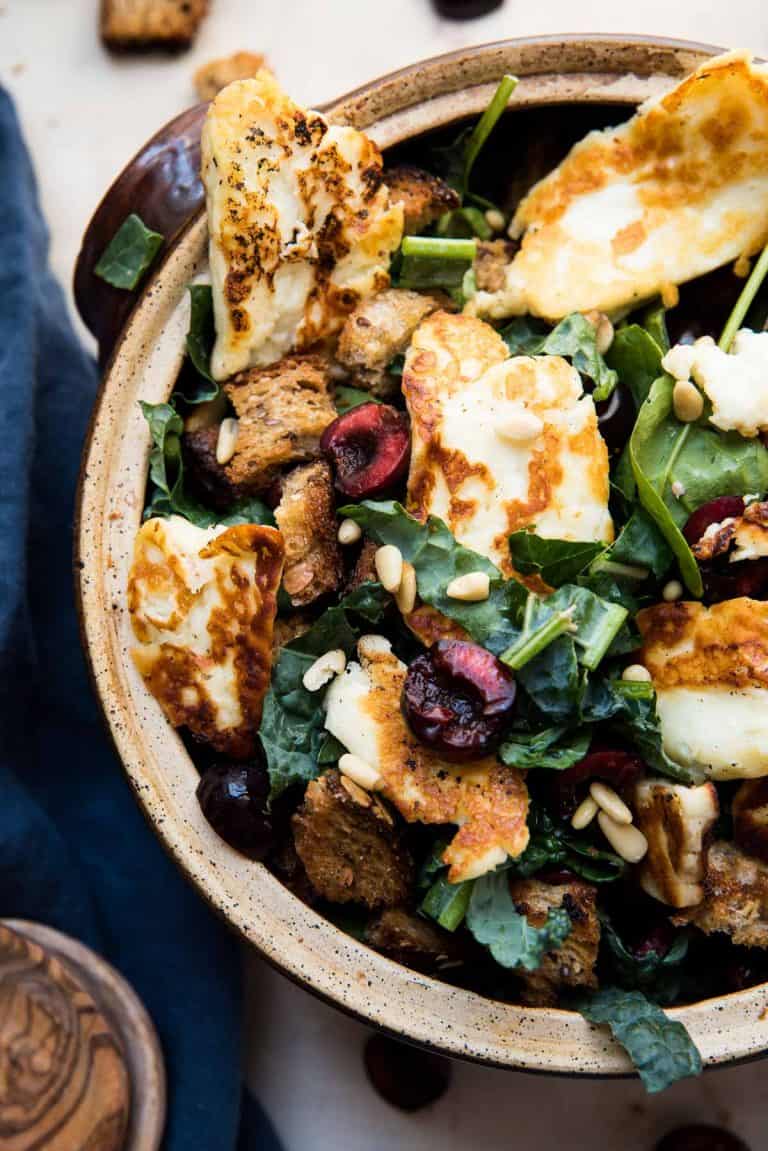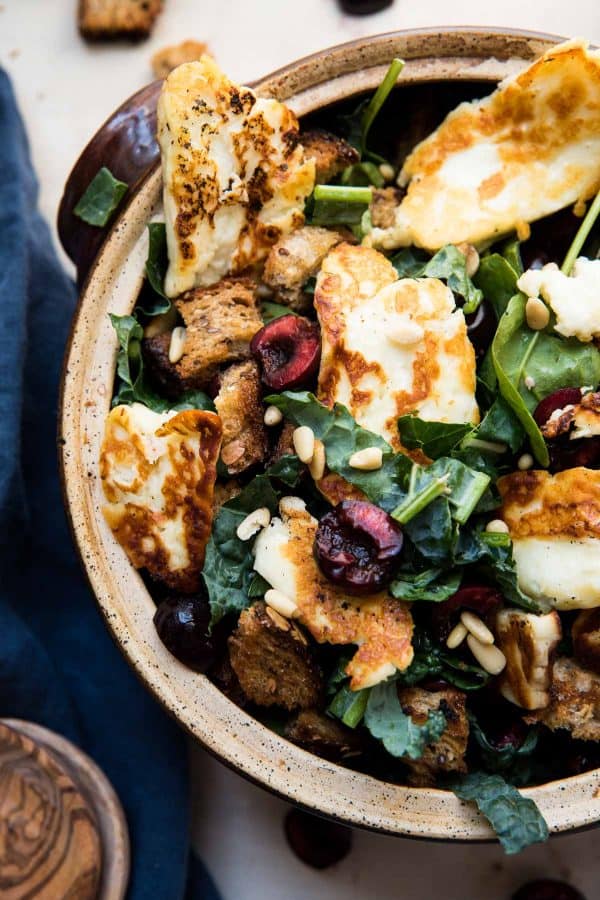 Tips for frying halloumi
Because the cheese is brined, it's usually packaged in a little liquid. Drain and pat the cheese dry with paper towels.
A well seasoned cast iron is like a life long best friend and a great option for frying up halloumi, you'll just need a touch of olive oil. If you opt for a non stick pan, you can skip the addition of oil to the pan.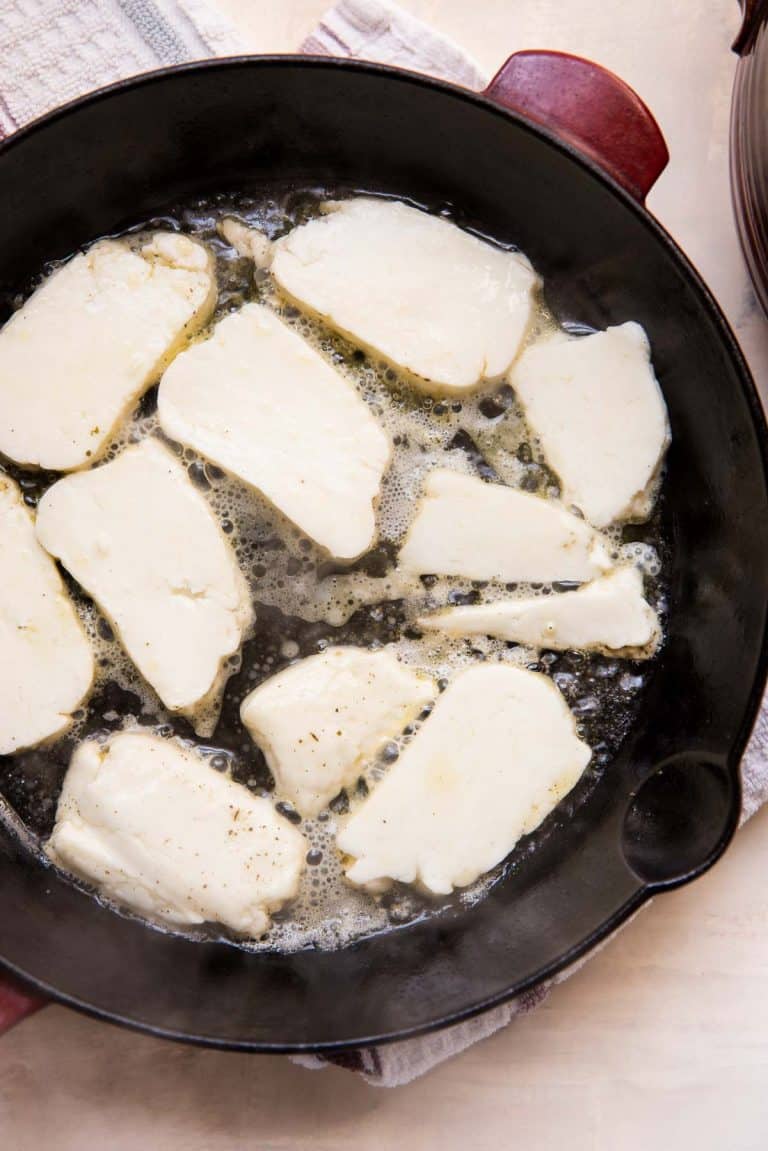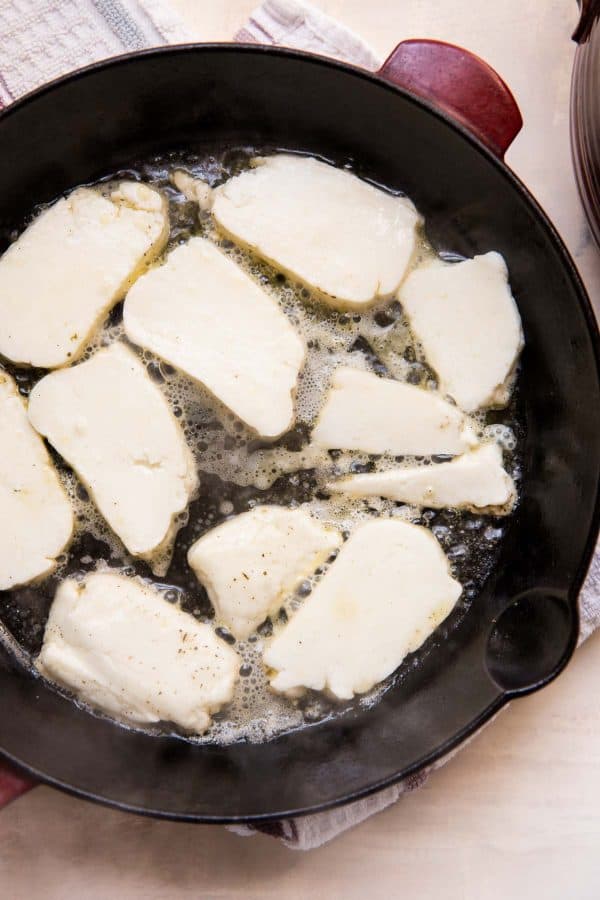 Fry until golden brown on each side. Depending on the pan this will take about 2 to 4 minutes. Just check the color before flipping.
Use a pair of tongs to flip the cheese and fry on the other side.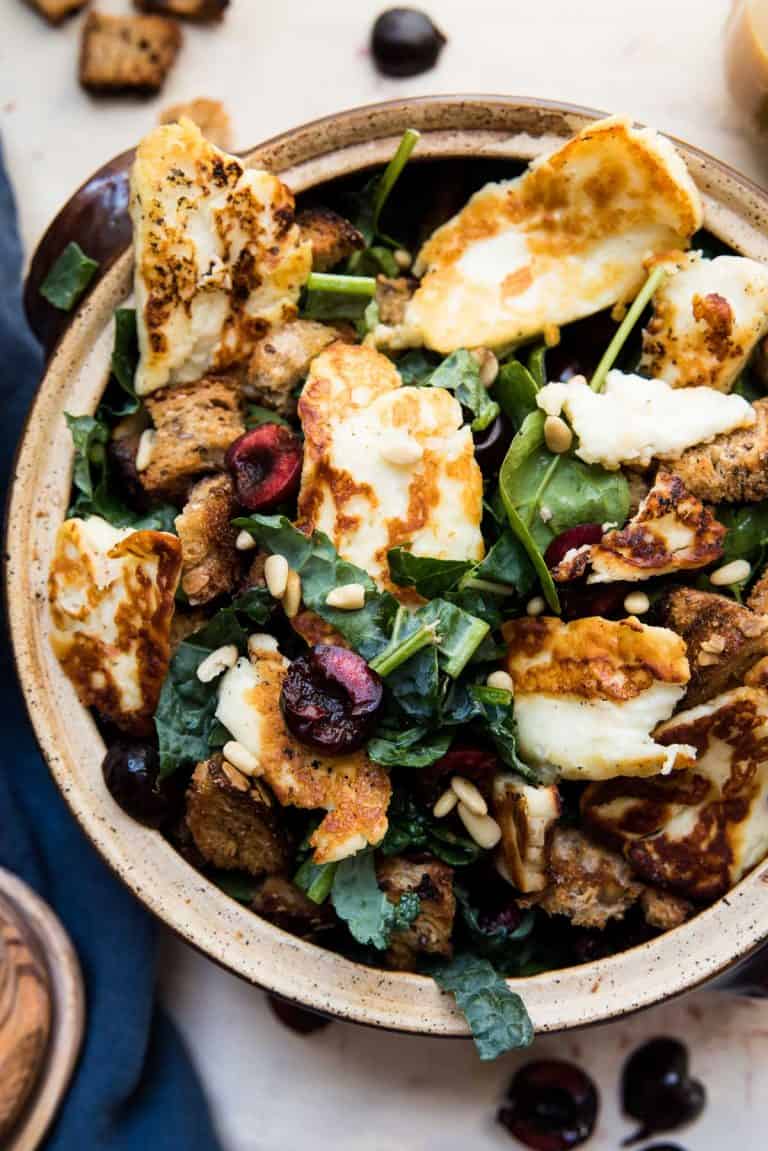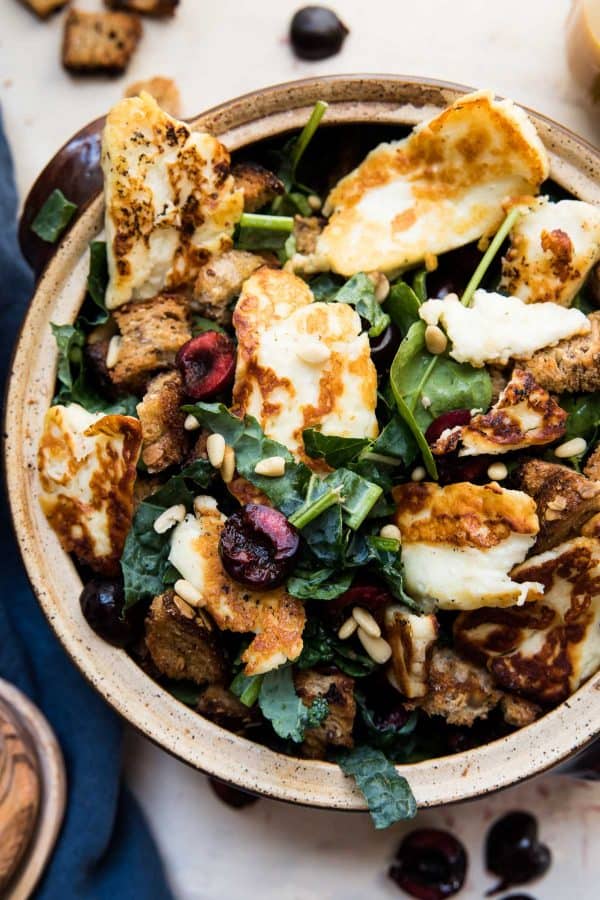 Making the cherry salad with lemon honey dressing
you guys. THIS SALAD IS EVERYTHING RIGHT NOW. Here's why this is a winner for all parties involved:
It's got both kale and baby spinach to satisfy the kale salad lovers and the skeptics.
If you've been here before you've know all my favorite tips for making kale more attractive to the skeptics, but here's a quick review:
remove the stem, it's bitter and tough
chop the lettuces and soak in cold water (this softens the leaves!)
to further soften the kale leaves, toss with the dressing while preparing the rest of the salad ingredients
Fresh, juicy cherries are in the peak of season right now and are like little sphere kisses from Mother Nature. If I may, I'd highly recommend investing in a cherry pitter. It'll save you from looking like you were soaking your finger tips in blood.
Can we talk about croutons for a hot second? They're the thing you usually don't need to add to a salad, but once they're there you're super happy about it. Kind of like when you go over for a play date and there's wine....wait, is that just me? Hmm, any ways, croutons are good especially when they're easy.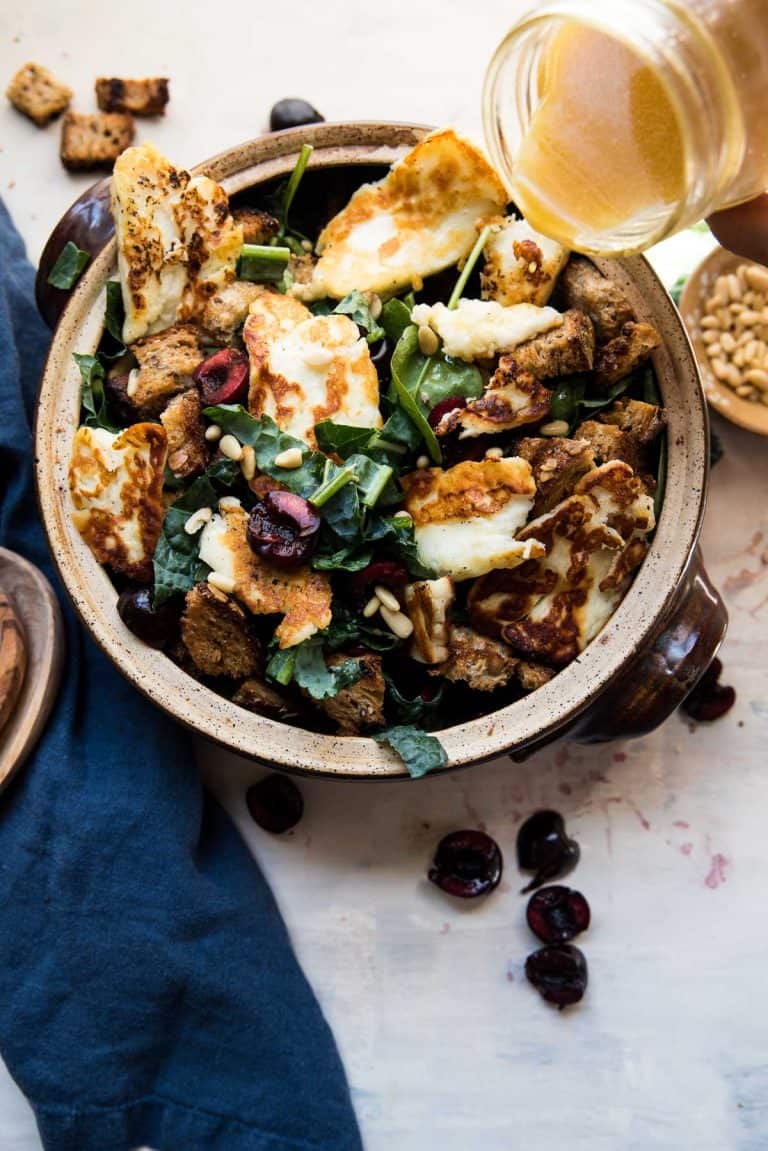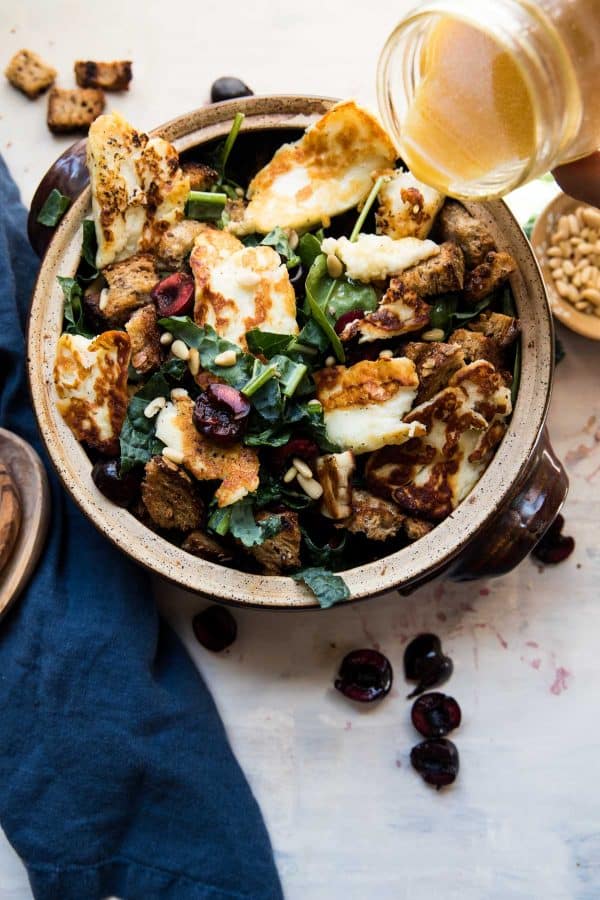 If you want to be the king of croutons, go the extra mile and whip up this honey wheat brown bread to make your croutons from. It's like that brown bread from the cheesecake factory and so so so delicious. Tender and sweet. But if time isn't on your side or bread making is out of your range then a nice hearty multigrain bread is easy and perfect for quick toasted croutons.
The Lemon Honey Dressing is so good I'm looking for ever excuse to put it on anything and best of all, it is the easiest to make. No really, it's easy to find, simple ingredients that are just a shake away from being done.
Fried halloumi and cherry salad is perfect for all the occasions....brunch, picnic, lunch, dinner, meal starter....you really can't go wrong. If you're looking for more salads like this, you will love these!
For more fabulous cherry recipes, check these out: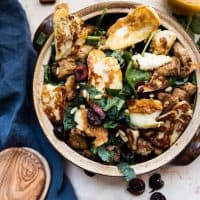 Fried Halloumi and Cherry Salad with Lemon Honey Dressing
Bring on cherry season! Fresh juicy cherries are the perfect pop of sweet to pair with tangy, savory fried halloumi with crunchy multigrain croutons and sweet lemon honey dressing.
Print
Pin
Rate
Ingredients
For the salad:
4

cups

chopped lacinato kale

(about 1 small head)

2

cups

baby spinach

5

thick sliced multigrain bread

(cut into cubes)

3

tablespoons

olive oil

(divided)

1

8-ounce package

Halloumi cheese

1 ½

cups

fresh cherries

1

tablespoon

pine nuts
For the dressing:
½

cup

extra virgin olive oil

¼

cup

apple cider vinegar

3

tablespoons

honey

1

teaspoon

dijon mustard

½

teaspoon

salt

2

tablespoons

lemon juice
Instructions
Prepare the lettuces: Remove the leaves of the kale from the stem and chop into bite sized pieces. Soak in cold water for about 5 minutes, then drain and dry well using either a salad spinner or clean kitchen towel. In a large bowl combine the kale and baby spinach.

Make the croutons: Preheat the oven to 375°F. This step can also be done in a toaster oven, in which case you do not need to preheat the toaster oven. Toss the bread with 2 tablespoons of olive oil and season with salt. Spread into a single layer on a sheet pan. Bake for 5 to 7 minutes, stirring about half way.

Prep the cherries: Remove the stems and pits from the cherries. Slice each cherry in half and set aside.

Fry the cheese: Slice the halloumi into 8 to 10 rectangular slices. Heat a medium size, heavy skillet over medium-high heat. Once hot, add the remaining 1 tablespoon of olive oil. Fry the cheese until golden brown on each side, about 2 minutes.

Make the dressing: In a mason jar, combine the dressing ingredients. Cover and shake vigorously for 10 to 15 seconds to combine.

Prepare the salad: Drizzle the salad with the lemon honey dressing and toss well to combine. Sprinkle the croutons and halved cherries over the leaves. Top the salad with fried halloumi pieces and a sprinkle of pine nuts over the top.
Nutrition
Calories:
357
kcal
|
Carbohydrates:
26
g
|
Protein:
5
g
|
Fat:
27
g
|
Saturated Fat:
4
g
|
Sodium:
313
mg
|
Potassium:
288
mg
|
Fiber:
3
g
|
Sugar:
15
g
|
Vitamin A:
2360
IU
|
Vitamin C:
24
mg
|
Calcium:
65
mg
|
Iron:
1
mg