Kale citrus salad is here to warm our taste buds into fresh spring flavors! Grilled Meyer lemons and basil dressing massaged into chopped tuscan kale topped with juicy grapefruit and blood orange, creamy goat cheese, savory shallots and sweet honey drizzle.
Ready for fresh spring flavors? This time of year is one of my favorites because you can start to see the change in the produce. The shelves are popping with all sorts of citrus goodness and we are here for it!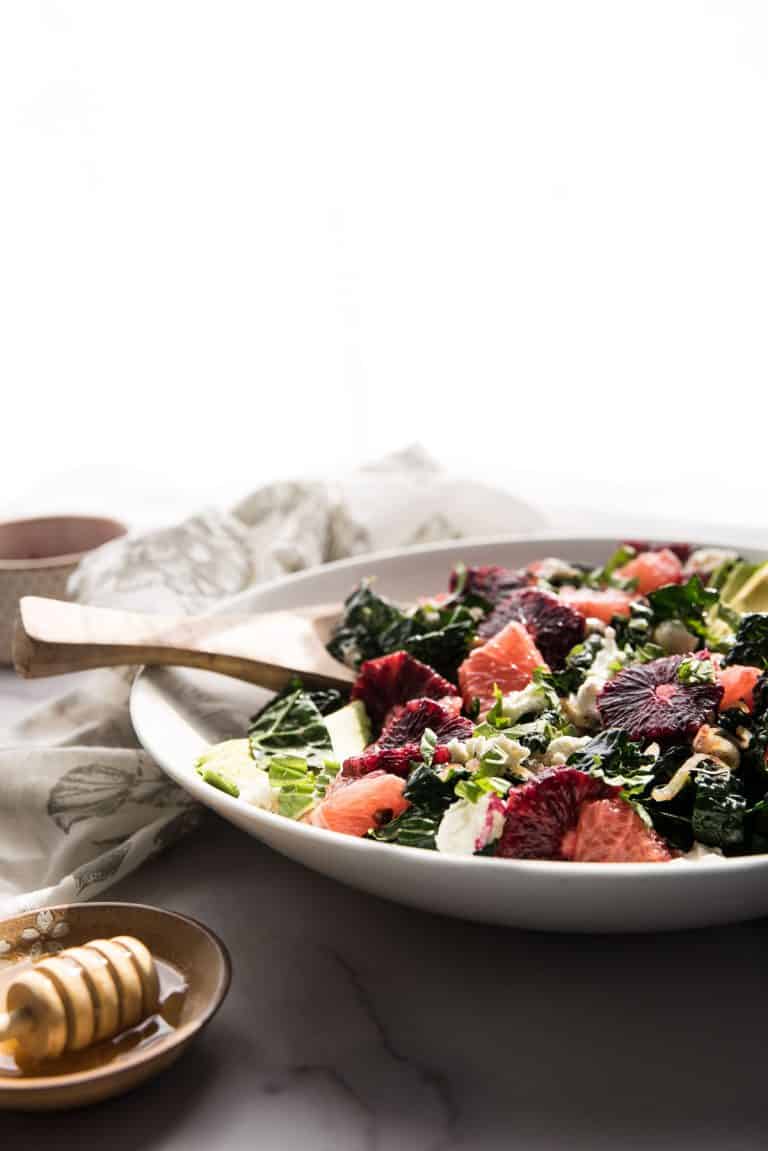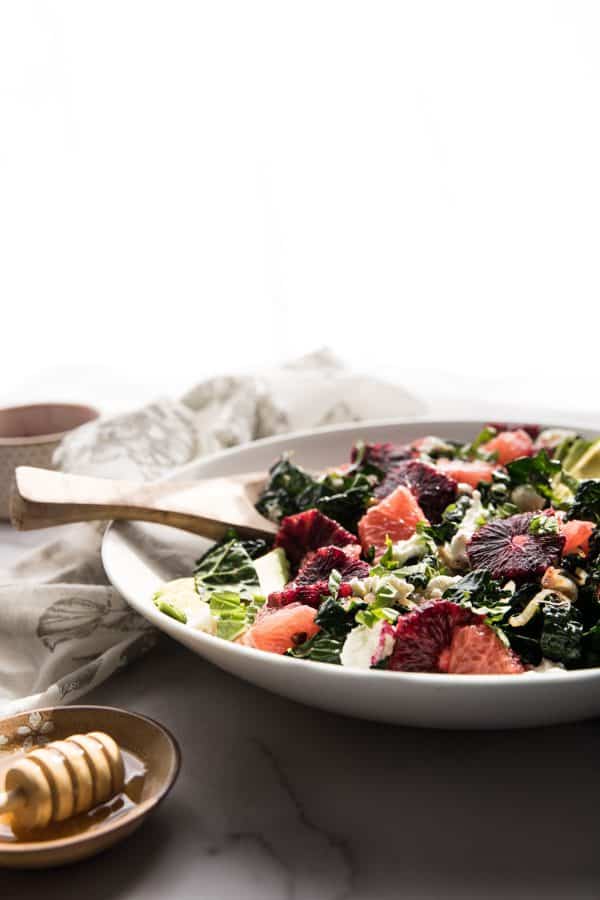 This post may contain affiliate links that won't change your price but I may earn a commission.
What are your favorite spring citrus fruits? Meyer lemons are always my go to when I can find them, but blood oranges are so vibrant and sweet. Of course there's always grapefruit on stand by being underrated, and if you haven't tried Cara Cara oranges yet I have two words. PLEASE DO.
But in the meantime, go to the store. Get yourself some kale (or some other leafy green!), some bright and sunny citrus and make this Kale Citrus Salad because its going to brighten your day!
Lemon Basil Dressing
A salad is only as good as it's dressing right? Like finding the perfect dress but not having the right shoes, you need your leafy greens with a little sparkle of dressing. This lemon basil dressing has alllll the spring mojo going on.
Bright lemon
sweet caramelization
fresh basil
touch of honey
rich olive oil
spicy garlic
The perfect balance to the pop of juicy, acidic fruit and the crunch greens. I wish I looked this good all dressed up.
The key here is the grilling of the lemons. As much as I try to be a recipe purist, here are a few truths. 1.) You can substitute regular lemons for Meyer lemons. Meyer lemons are naturally sweeter, so your dressing might have a bit more zing if you substitute but overall it will still be great taste. 2.) You should really try to grill them, but if you substitute regular lemon juice it will still be tasty.
Grilling the lemons caramelizes the natural sugars in the fruit making it sweeter and less bitter. The warm fruit will also be easier to juice, just be sure to strain out any seeds.
If your grill is still covered under 2 feet of snow (here, right here ::sobs quietly::) you can still get beautiful grill flavor using stove top grill pan. This one is most similar to the one we have and love.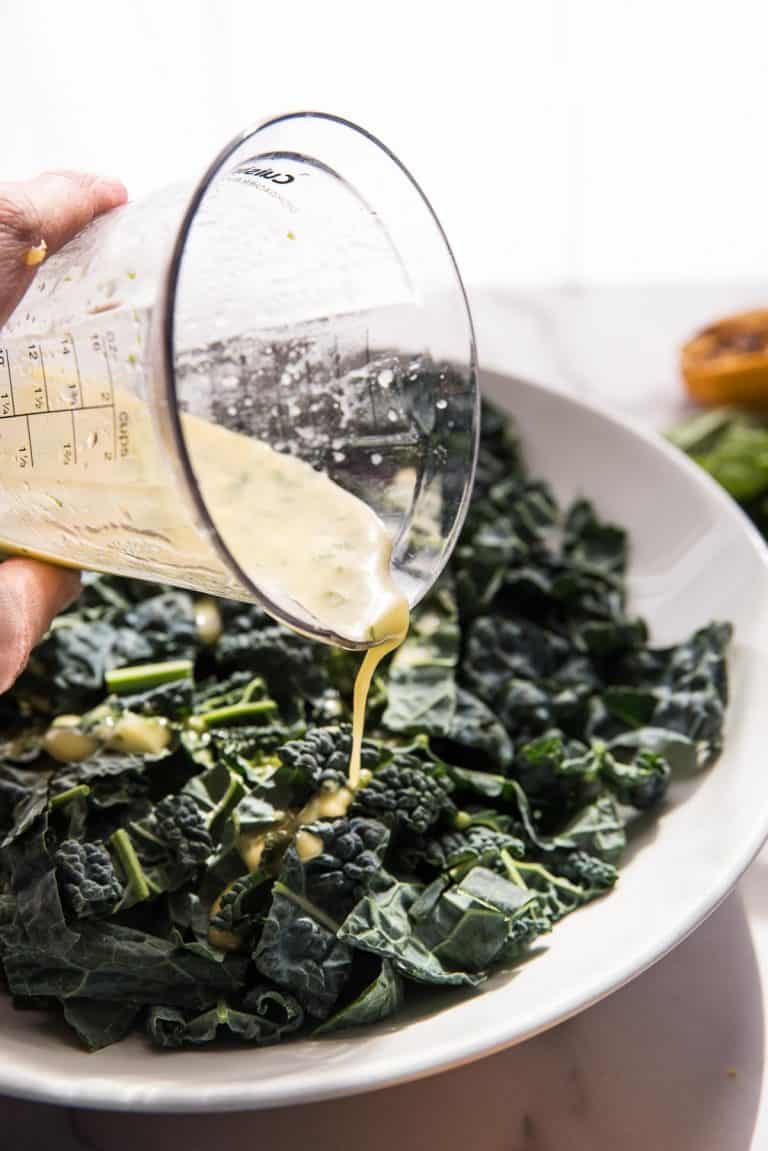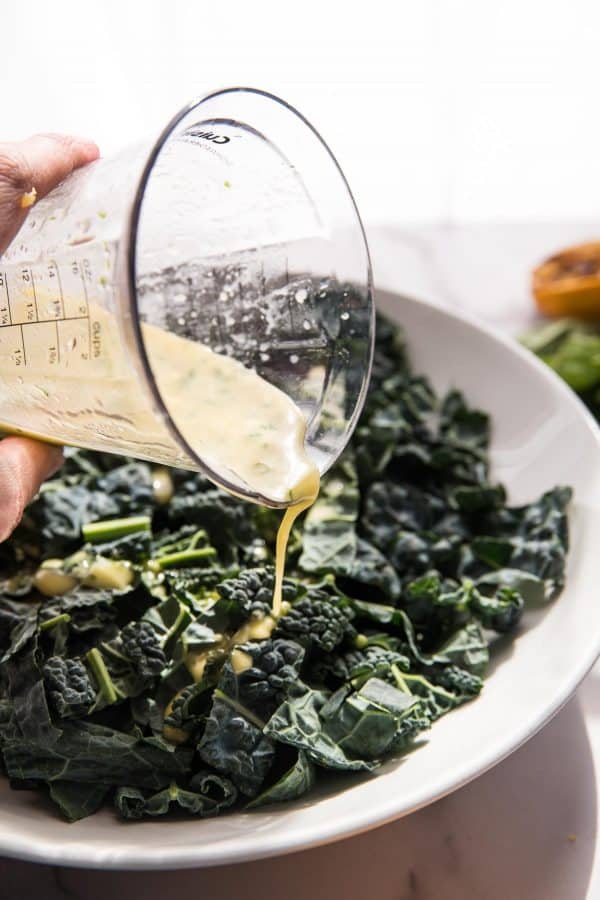 Side note, making salad dressing can be done so many ways. Classic style with just a whisk or in a food processor, but my personal favorite is using one of these hand blenders. It's easy to pulse and break up bigger ingredients like garlic cloves and the fresh basil while emulsifying the olive oil and with other liquids to just the right thickness that won't separate after storing.
How to make Kale Citrus Salad
Step 1 - love citrus fruits.
Step 2 - prep some things
Step 3 - put on your favorite good weather music, sit down and enjoy.
We can manage that right? Ok, ok, there might be a few more details involved in 'Step 2'. Like how to cut the citrus. It's not difficult, but it makes a difference when your blood orange segments are juicy and ready to go.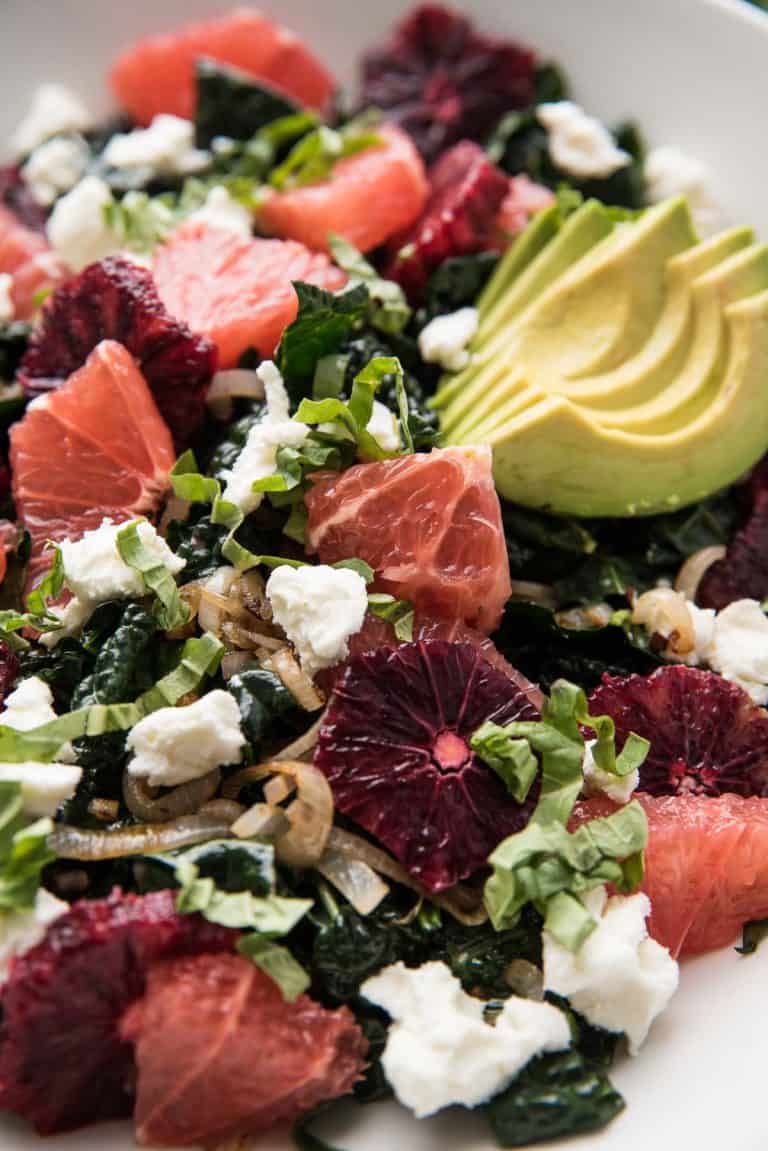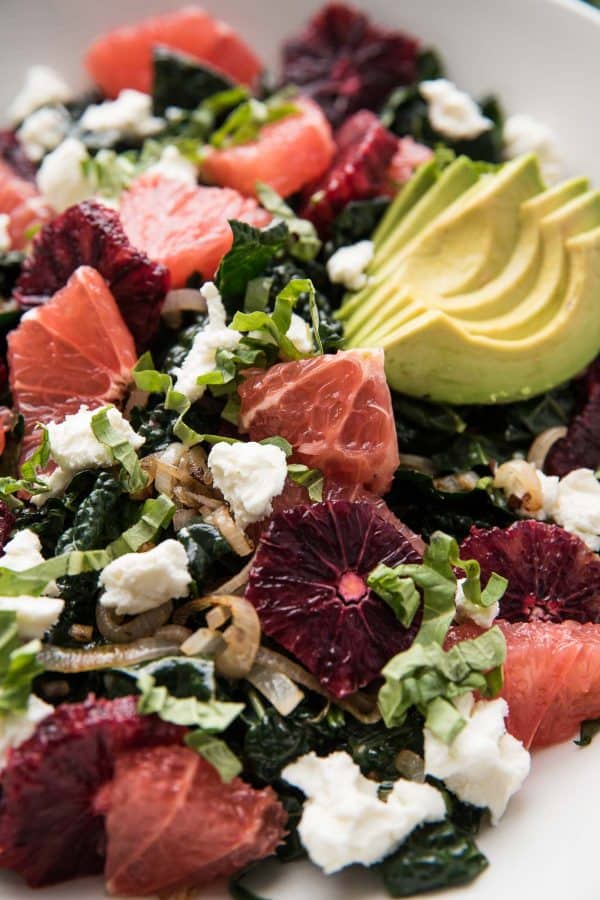 Cut off each end of the round fruits, then stand the fruit on one of the ends. Using a sharp knife, slice off the rind cutting as close to it as possible. Then slice the juicy citrus in ¼" rounds. The grapefruit rounds will need to be quartered to make them bite sized, or leave them whole if you like a challenge.
The hardest part in the prep process of this Kale Citrus Salad is the savory shallots - and bonus, it's really not that hard. Melt butter, add shallots, season, sauté, done. Phew! We're killing it right now.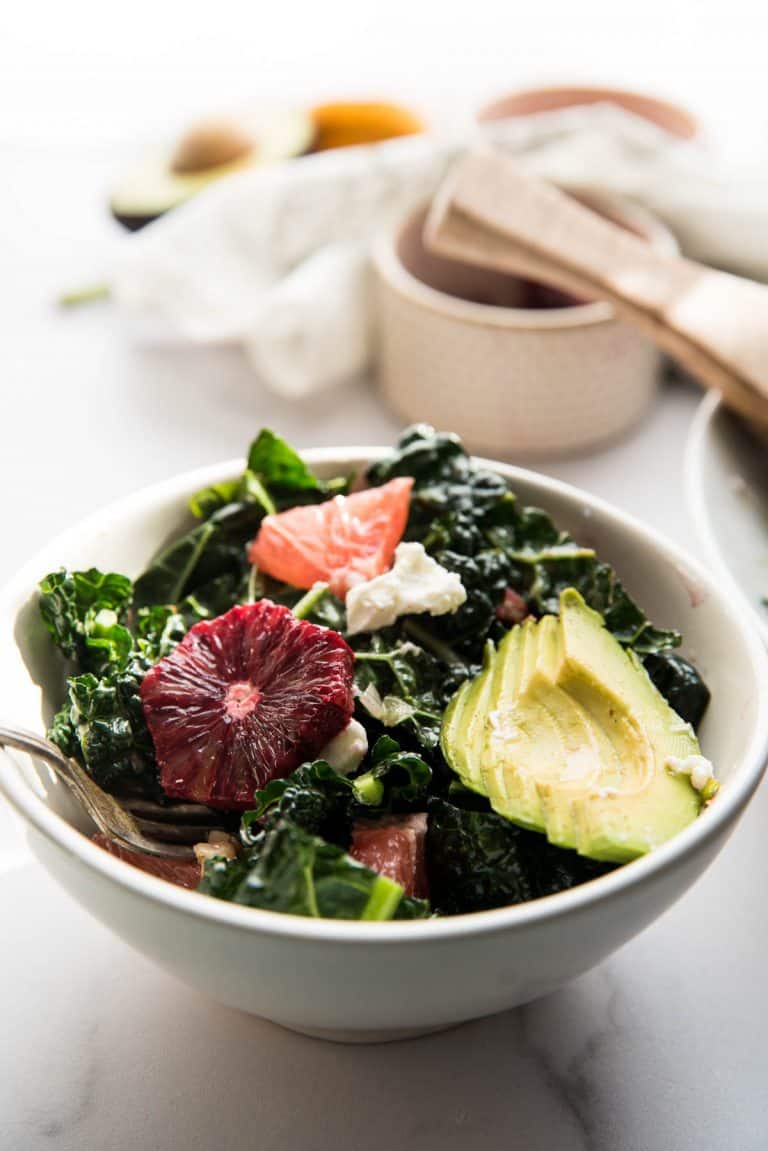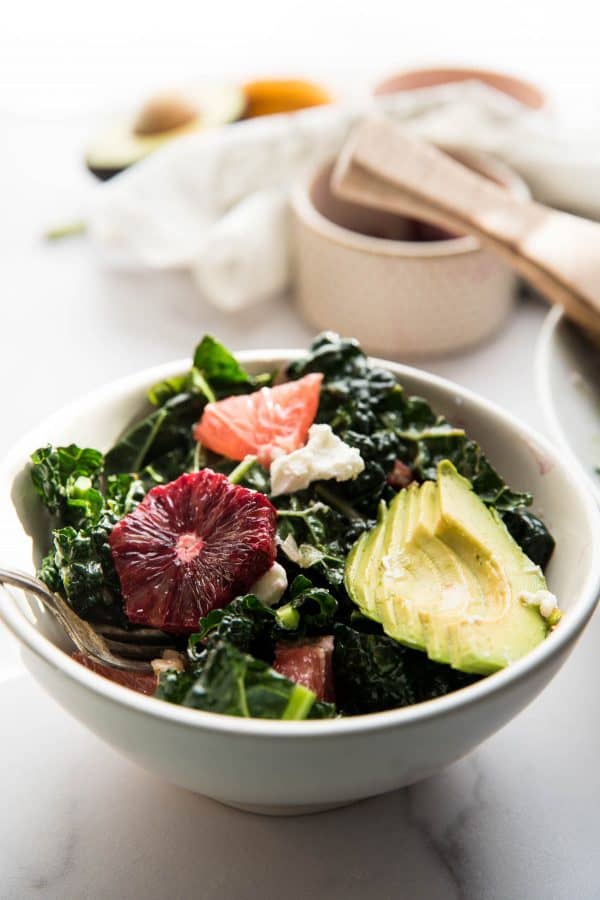 Finish up this beauty of a spring salad by adding the final toppings - healthy fats, herbs, and a touch of sweet. A drizzle of sweet honey over the blood orange and grapefruit adds just the right amount of balance. Creamy goat cheese and fresh avocado slices add the necessary good fats for kale citrus salad to be healthy and filling. While a sprinkle of fresh basil adds a final umphf of fresh sweet herb flavor!
Need more delicious spring salads in your life? Get inspired with these beauties!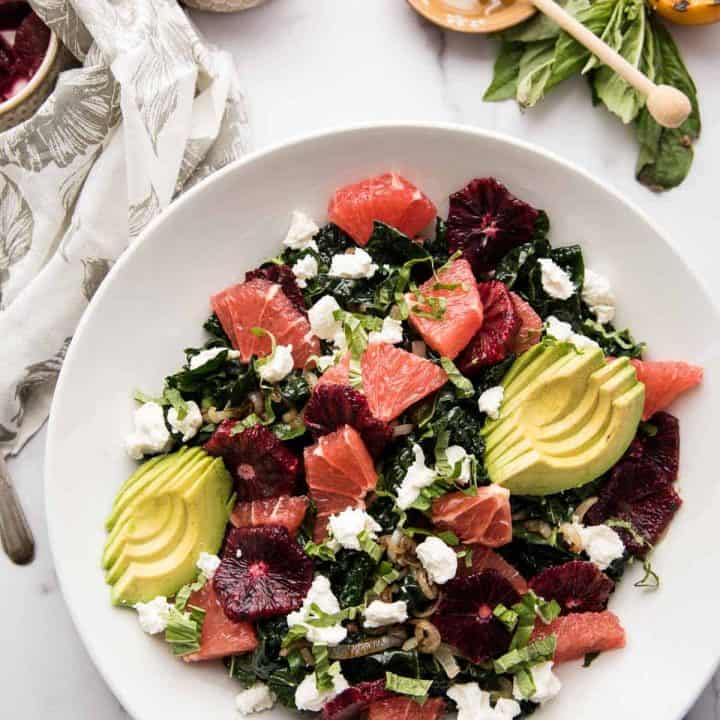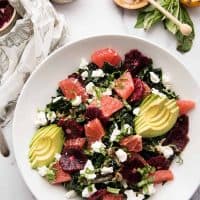 Kale Citrus Salad with Grilled Lemon Basil Dressing
Get ready for fresh flavors in this Kale Citrus Salad! Juicy grapefruit and blood oranges, lemon dressing massaged into chopped kale with creamy goat cheese, savory shallots, and sweet honey drizzle.
Print
Pin
Rate
Ingredients
Grilled Meyer Lemon Basil Dressing
3

tablespoons

lemon juice

(from 2 grilled meyer lemons)

1

clove

garlic

1

teaspoon

dijon mustard

¼

cup

extra virgin olive oil

2

tablespoons

honey

1

tablespoon

water

pinch

of salt

pinch

of white pepper

2

large basil leaves

(torn)
Kale Citrus Salad with Lemon Basil Dressing
1

large head tuscan kale

2

blood oranges

1

grapefruit

2

shallots

(cut in ¼" half moon slices)

1

tablespoon

unsalted butter

pinch

of kosher salt

1

avocado

(thinly sliced)

4

basil leaves

(chiffonade)

3

ounces

goat cheese

(crumbled)

2

teaspoons

honey
Instructions
Grilled Meyer Lemon Dressing
Heat a grill pan, or regular grill, over high heat. Slice each Meyer lemon in half and place flesh side down on the grill pan. Grill until soft, warm and dark grill lines appear on the flesh of the lemon, 3 to 5 minutes.

Combine the grilled lemon juice, garlic, dijon, olive oil, honey, water, basil, salt and pepper in a food processor or high sided dish. Using the food processor or hand blender, pulse to mince ingredients then blend until the olive oil is emulsified (doesn't separate from lemon juice.)
Kale Citrus Salad with Lemon Basil Dressing
Remove the large stem from each of the kale leaves, chop into bite sized pieces, wash and dry thoroughly. Coat the leaves with the dressing, massaging it into the kale.

Cut off the ends of the blood orange and grapefruit. Standing the citrus on end, cut the rind off as close to the flesh of fruit as possible. Slice into ¼" rounds and scatter over the kale.

In a small sauce pan melt the butter over medium high heat. Add the shallots, season with salt and saute until coated with the butter. Cook for 5 minutes until browned and slightly crispy. Scatter over the salad and add thinly sliced avocado.

Lay the basil leaves on top of each other and roll from one side to the other. Slice thinly with the knife. Crumble the goat cheese over the salad, then sprinkle the basil and drizzle with honey.
Nutrition
Calories:
368
kcal
|
Carbohydrates:
27
g
|
Protein:
6
g
|
Fat:
28
g
|
Saturated Fat:
8
g
|
Trans Fat:
1
g
|
Cholesterol:
17
mg
|
Sodium:
89
mg
|
Potassium:
428
mg
|
Fiber:
5
g
|
Sugar:
18
g
|
Vitamin A:
1439
IU
|
Vitamin C:
38
mg
|
Calcium:
66
mg
|
Iron:
1
mg