Who knew a muffin could blow your mind? I certainly didn't, yet here we are. Not only are they delicious but these peanut butter banana muffins are ridiculously wholesome.
This subtle stack of breakfast glory is boasting whole food goodness...
rolled oats
bananas
yogurt
maple syrup or dates
and chocolate chunks and sea salt flakes...because chocolate chunks and sea salt.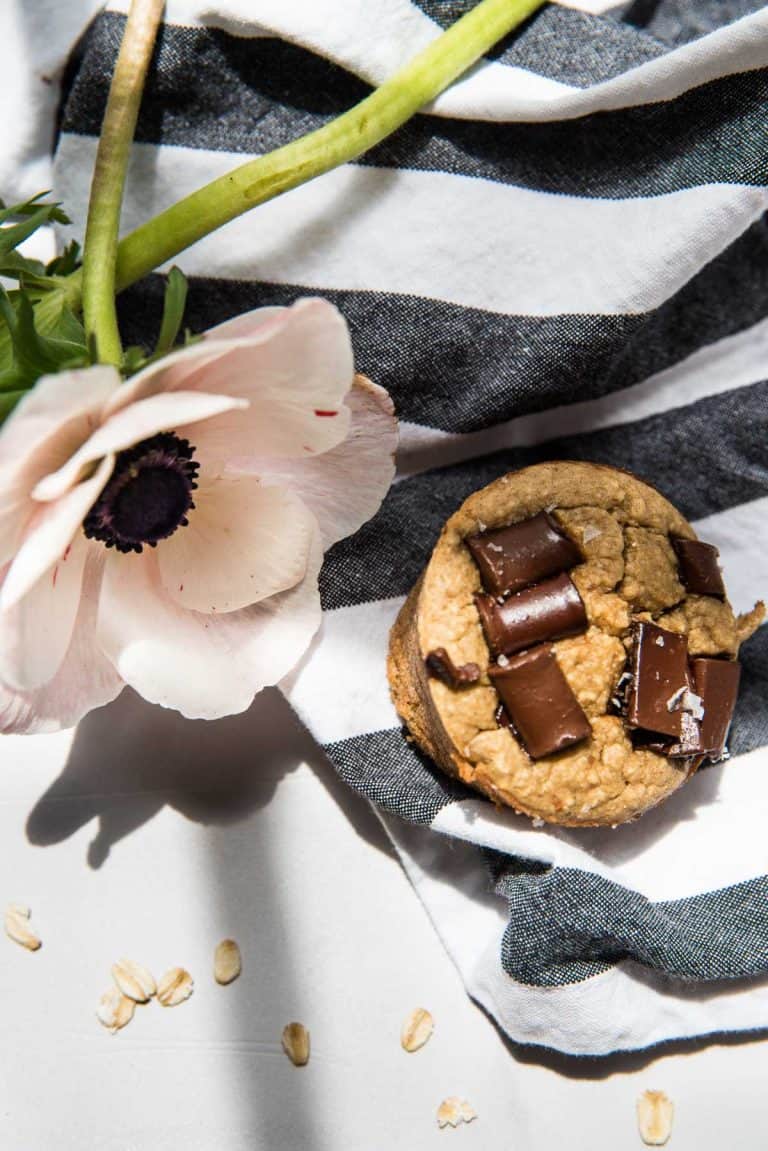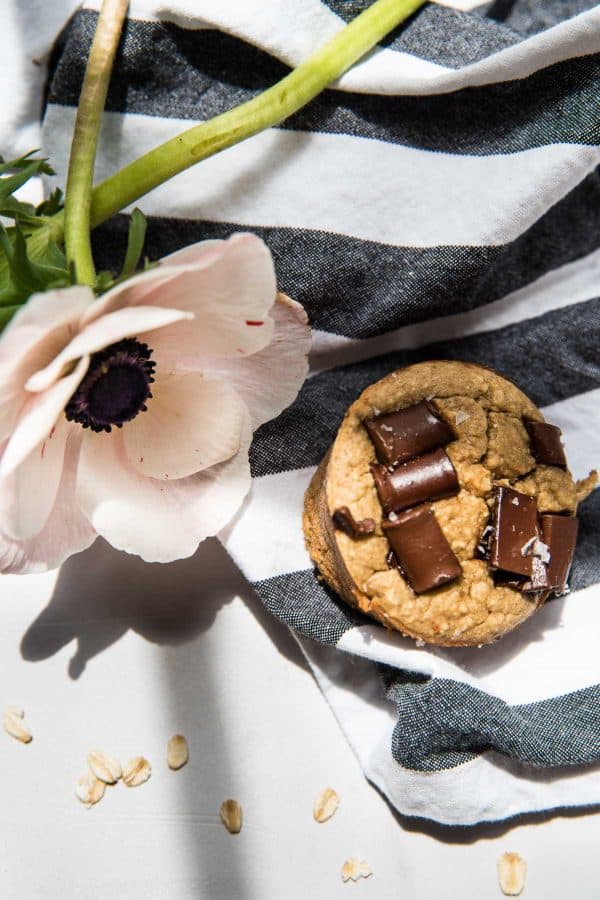 Oh! Did I mention we're going to just dump all the ingredients into a blender, blend it up and be on our merry way to muffin town? Climb aboard friends, it's going to be a quick, tasty, and feel good ride.
What is Powdered Peanut Butter?
Something about powdered peanut butter makes me feel like it needs some sort of dad joke-esque comment akin to milking an almond. If you come up with something let me know.
What is it? Simply ground, pressed peanuts. They roast the peanuts, then press them to remove most of the oil, and then grind them into a fine powder.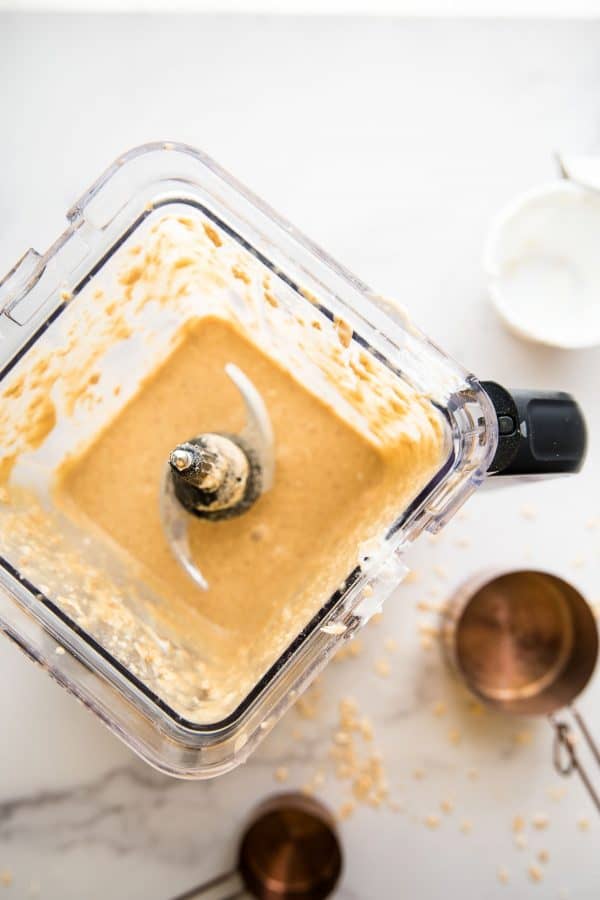 If you're looking for just regular peanut butter you add a bit of water to reconstitute it and BAM you have peanut butter with 85% less calories and lots of protein and fiber. Sounds like a win win situation to me.
Truth be told, yes, the texture is a little different than that of your standard open the jar and eat it with a spoon PB. But the flavor is there and we're stuffing it into wholesome peanut butter banana muffins.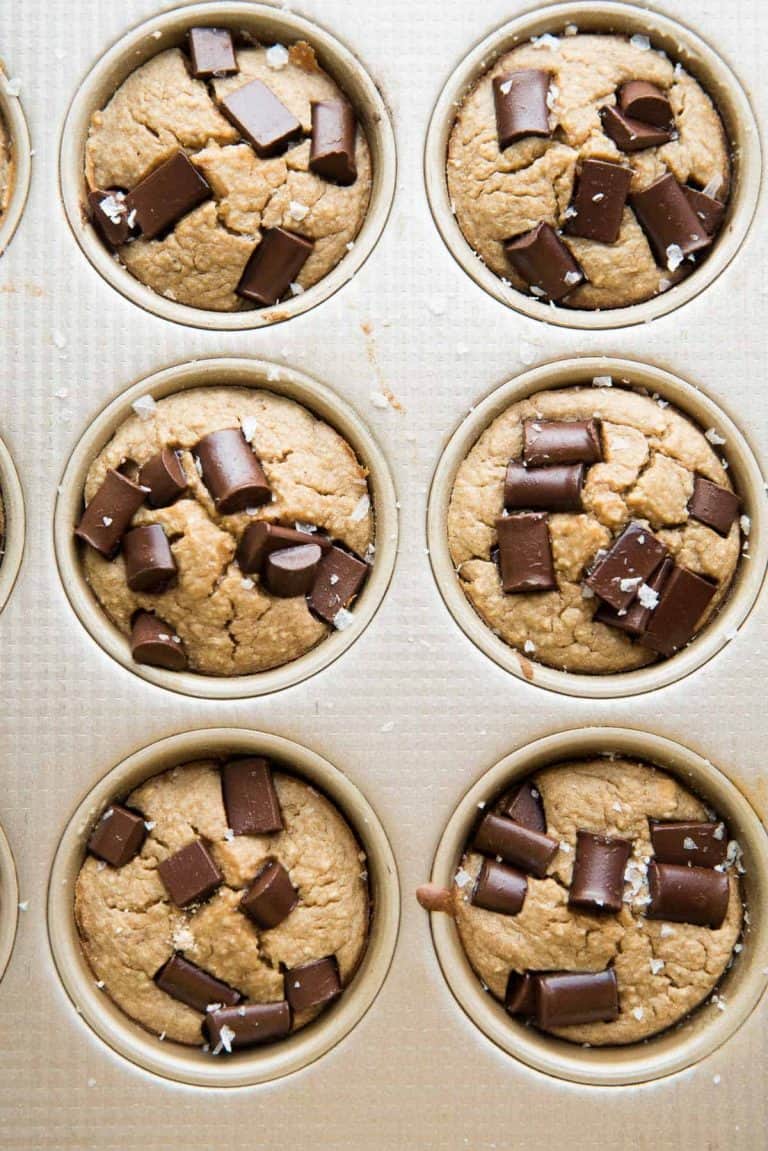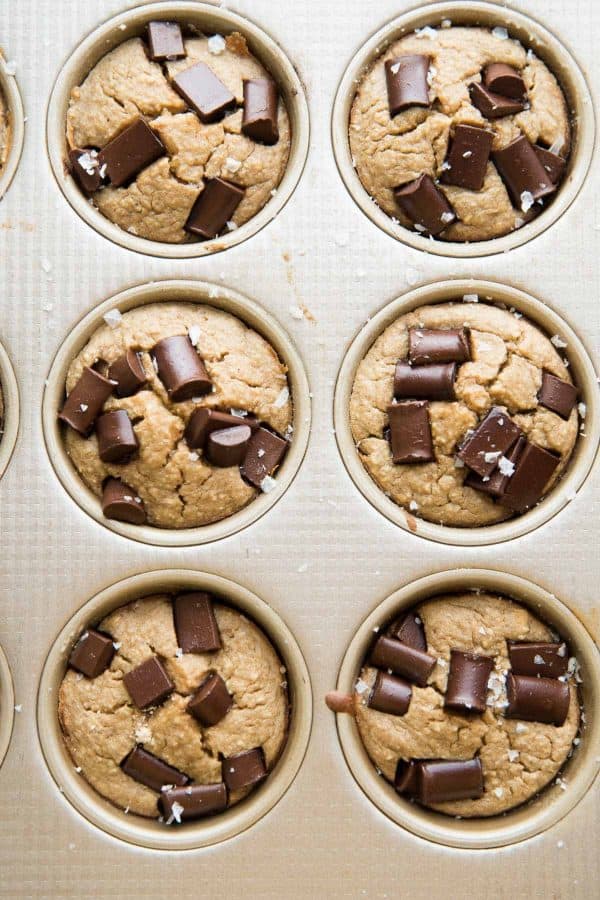 How to use powdered peanut butter?
A little bit of water, mix and poof you've got peanut butter. That's great and all but there are so many ways and my most favorite ways have nothing to do with smoothies.
Peanut dressing is my number one craving when it comes to summer salads. It's just so savory and robust and creamy without actual cream. Spicy Thai Peanut Dressing would be my first recommendation to check out.
Energy bites. These bad boys are kind of like the no bake energy bite version of these muffins minus the bananas. I know a few banana haters out there that would be very supportive.
Drizzle it over slices of honey crisp apple for the perfect crunchy sweet and savory no guilt snack.
Add it to breads or muffins for peanut butter taste and extra protein. While I can't speak for all recipes, mine take into account the moisture needed for the powdered peanut butter so you don't have to make it into peanut butter first.
Of course, you can go the standard route and add it to smoothies for a nutty, dessert quality taste.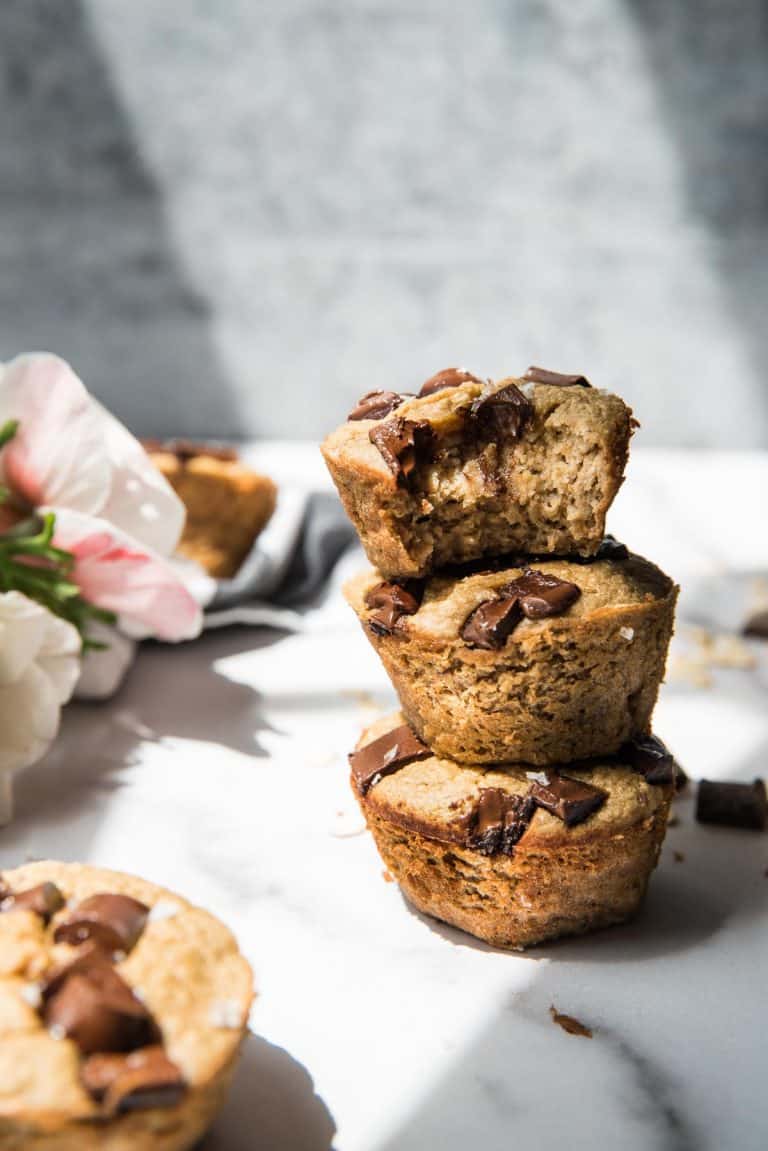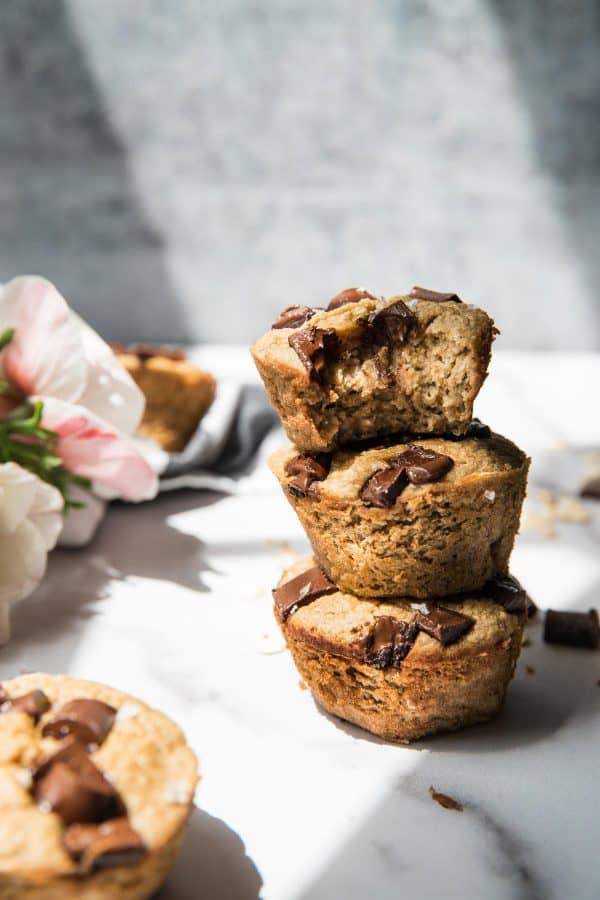 Peanut Butter Banana Muffin Bliss
Did you know you can make muffins in a blender? Yep. It's mah favorite.
Just throw it all in there press a few buttons, pour and bake. It's so so simple and so so good.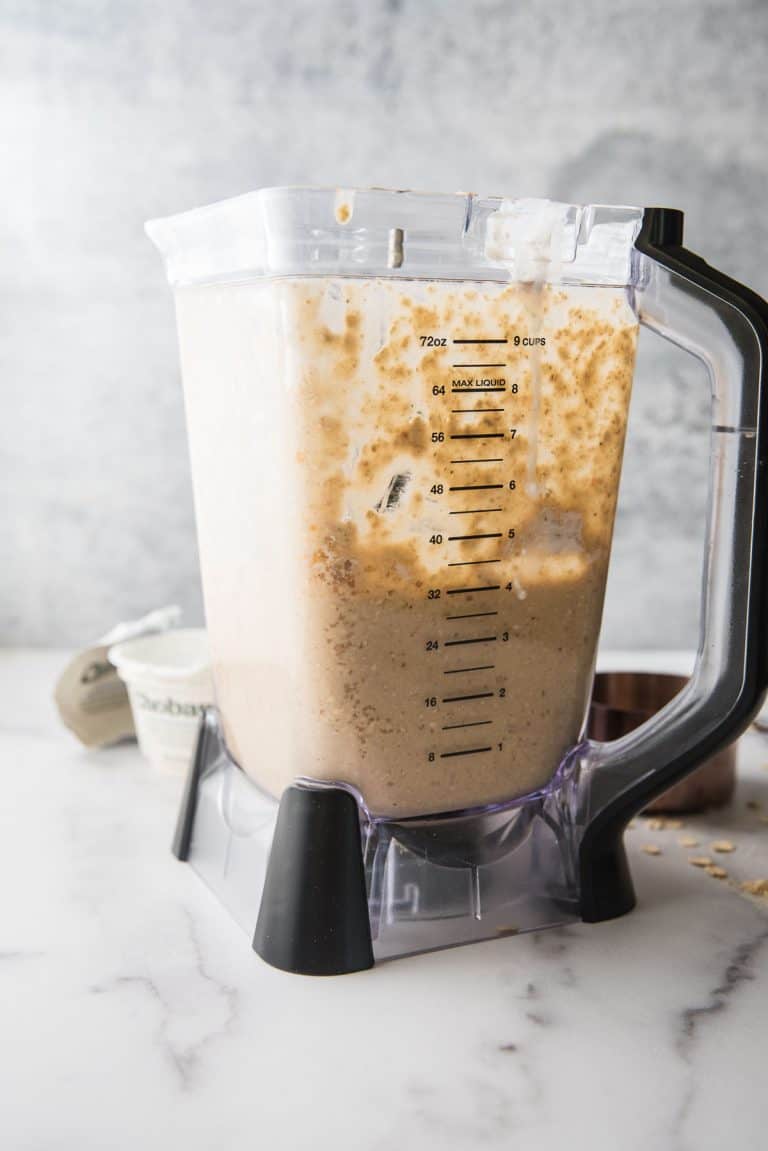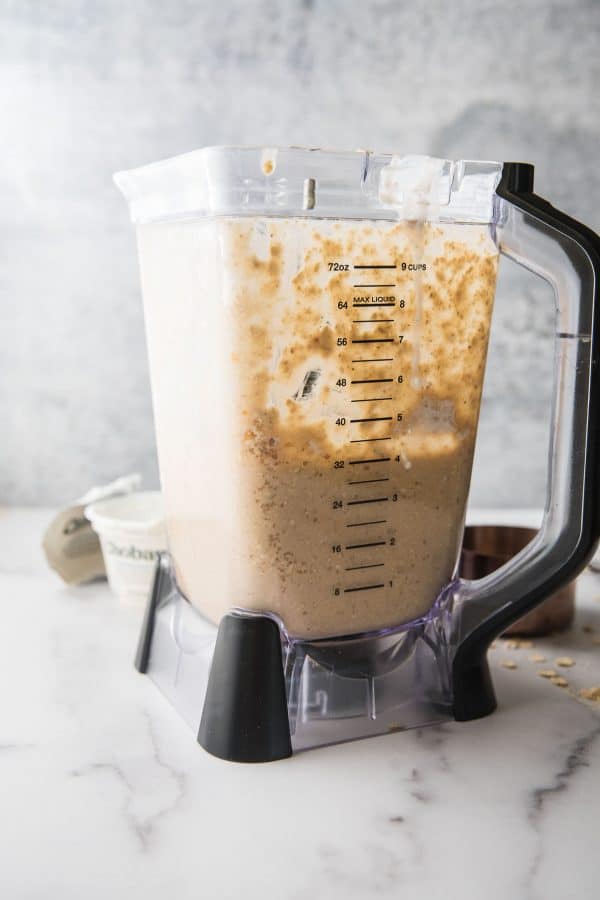 The oats replace the standard flour in a typical muffin recipe, so you can easily substitute gluten free oats for a gluten free option. The yogurt adds richness. If you don't have yogurt, sour cream is a nice tangy substitution.
And the sweet! We NEED to talk about the sweet.
I made this muffin recipe roughly 10 times before I found a way I like. When it comes to the sweet part, you can use medjool dates or maple syrup to replace standard granulated sugar. The maple syrup is my preferred method, it's just a touch sweeter and the maple banana flavor combo makes my heart fill with memories of Sunday breakfast.
If opting to use dates, soak them in hot water about 5 minutes to soften, then drain before using. This helps blend them up finer, especially if your blender is not the best.
Tip: add the wet ingredients first so the dry ingredients don't get stuck to the bottom.
The great thing, too, is this peanut butter banana muffin is an awesome parent-kiddo teamwork project.
minimal mess
no stirring involved
they get to press buttons
peel bananas (motor skills!)
use cupcake liners (motor skills again!)
sneak pieces of chocolate chips (ninja stealth skills 😂)
Plus, the chocolate chips are optional so you can skip it and these peanut butter banana muffins are completely refined sugar free!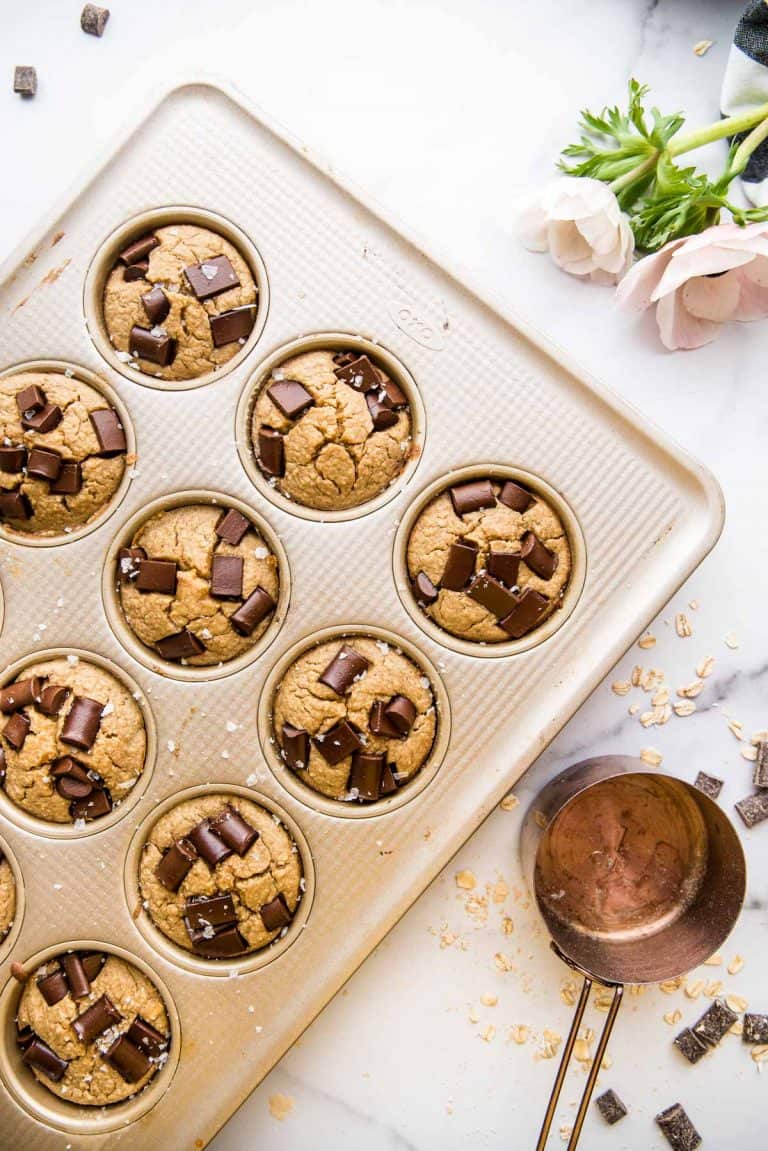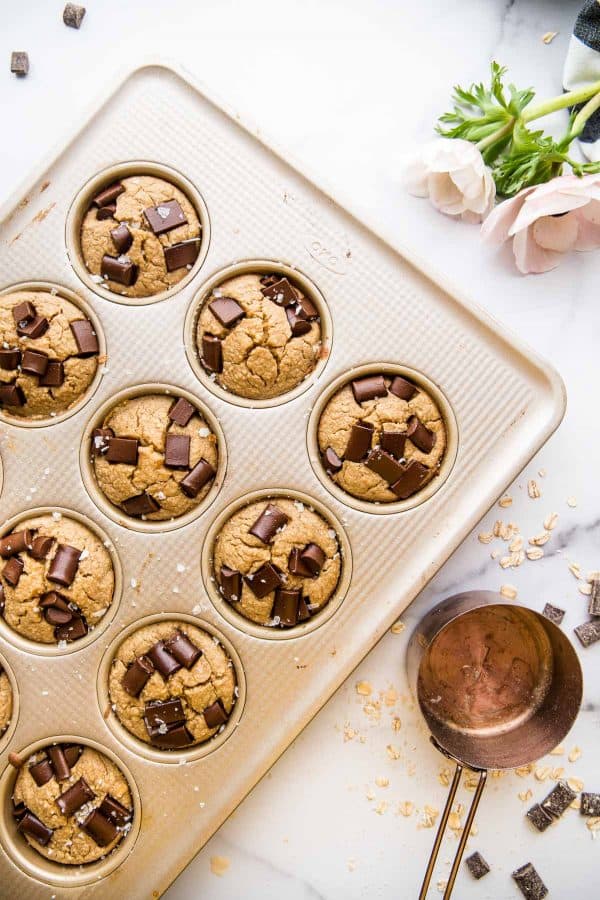 Because of all the fresh ingredients packed into each muffin, the shelf life on them is a smidge shorter. They'll stay fresh for 3-4 days, kept in the fridge. To eat, I'd recommend toasting them in a pan with a teenie bit of butter or ghee.
Or if you're having a particularly rough morning, you can opt for diner style with a very generous amount of butter and that perfectly crispy seared muffin edge. (Is this only a New England breakfast thing? Please let me know.)
We like to take peanut butter banana muffins on the go, too. They travel well and aren't too crumbly, so I give them a thumbs up for car seat snacking. Or regular seat snacking. If you find another way to enjoy them, be sure to let me know down below!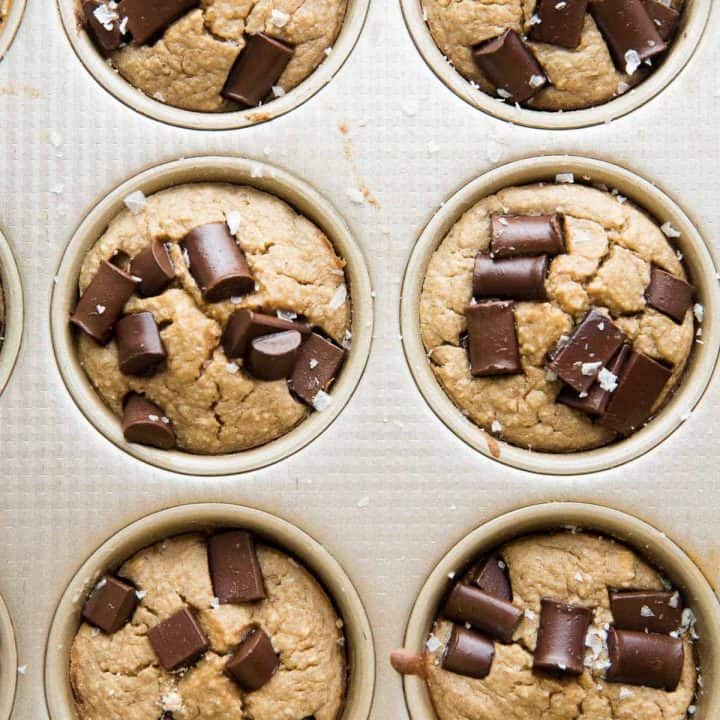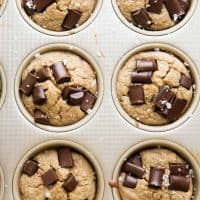 Skinny Peanut Butter Banana Muffins
Feel good about breakfast without spending a ton of time! Wholesome ingredients combine easily in the blender and powdered peanut butter, oats, and unrefined sweeteners will keep your peanut butter banana muffins nice and light.
Print
Pin
Rate
Ingredients
2

cups

rolled oats

⅓

cup

heaping powdered peanut butter*

2

large very ripe bananas

1

small container

low fat plain Greek yogurt

(5.3-ounce container or ⅔ cup)

2

large eggs

¼

cup

maple syrup or 10 medjool dates

(pitted)

1

teaspoon

baking soda

½

teaspoon

ground cinnamon

¼

cup

chocolate chunks

sprinkle of sea salt flakes
Instructions
Preheat the oven to 350°F. Line a muffin tin with cupcake liners and set aside. If using dates to sweeten the muffins, soak them in hot water.

In the blender, add the banana, yogurt, eggs, and maple syrup OR dates.* On top of that, add the rolled oats, powdered peanut butter and baking soda.

Blend on high for 45 seconds to 1 minute until the ingredients are well combined. Pour into the prepared muffin tin.

Optional: top each muffin with chocolate chunks or chocolate chips.

Bake at 350°F for 20 to 25 minutes until a toothpick comes out of the center of a muffin with minimal crumbs.

Optional: after baking, sprinkle flaked sea salt over each muffin.
Notes
The powdered peanut butter tends to clump together. Shake the can first before scooping out the powdered peanut butter.
If using dates, they blend easier if you soak them in hot water first. Be sure to drain them before adding to the blender. Use either the dates or the maple syrup, not both.
Nutrition
Calories:
141
kcal
|
Carbohydrates:
22
g
|
Protein:
6
g
|
Fat:
4
g
|
Saturated Fat:
1
g
|
Trans Fat:
1
g
|
Cholesterol:
28
mg
|
Sodium:
131
mg
|
Potassium:
165
mg
|
Fiber:
3
g
|
Sugar:
9
g
|
Vitamin A:
75
IU
|
Vitamin C:
2
mg
|
Calcium:
44
mg
|
Iron:
1
mg