Are you ready for the easiest, most delicious salmon sliders you've ever had in your whoooole life? Like we're talking minimal effort with maximum flavor. A whole salmon fillet, seasoned and sauced on a pre-soaked cedar plank just waiting to be served up with crunchy pickled cabbage, ribbons of fresh carrot and crunchy cucumber with a spicy sriracha aioli.
It's go time.
Best part? Grill or oven options for cooking.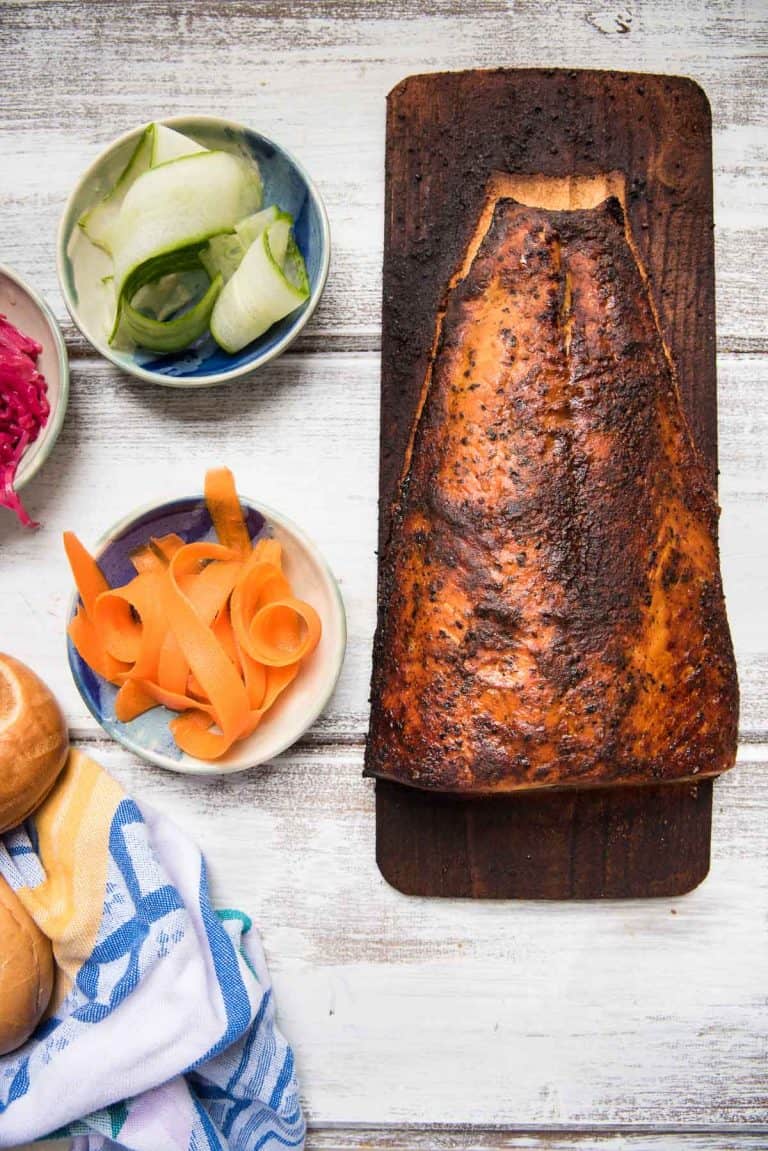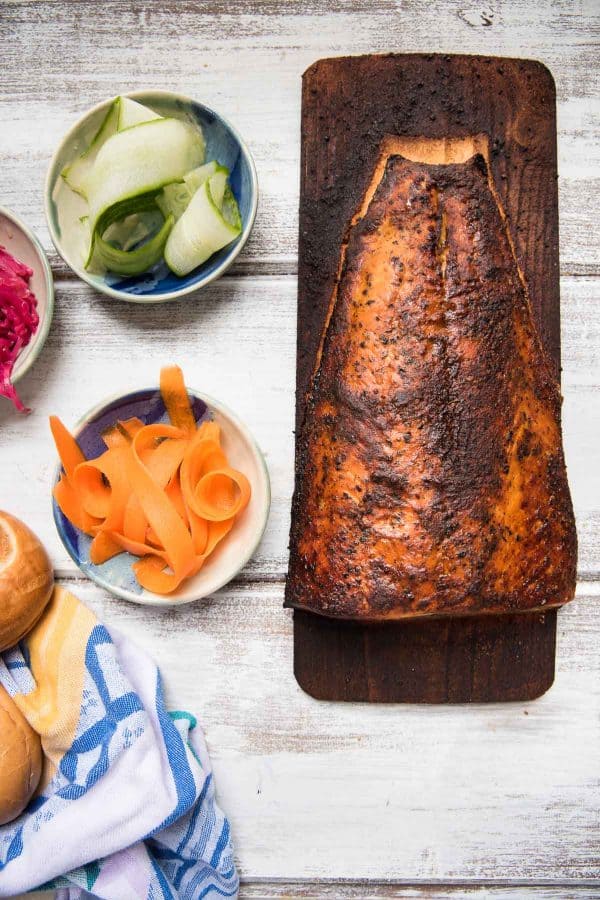 So for my city living people with no grills allowed, you can go right ahead and pop those cedar plank salmon right in the oven...or for my most favorite pro tip: the toaster oven. Because, man, do these apartments get HOT in the summer.
This post is sponsored by Cedar Bay Grilling Company. Cedar plank salmon samples were provided complementary for this recipe. I hope it's as much of a hit for you as it was for us!
Why use cedar plank salmon?
Cedar plank is a great way to enhance the flavor of your salmon. It's also tremendously easy to cook on, so if you're new to cooking fish or salmon this is a great place to start.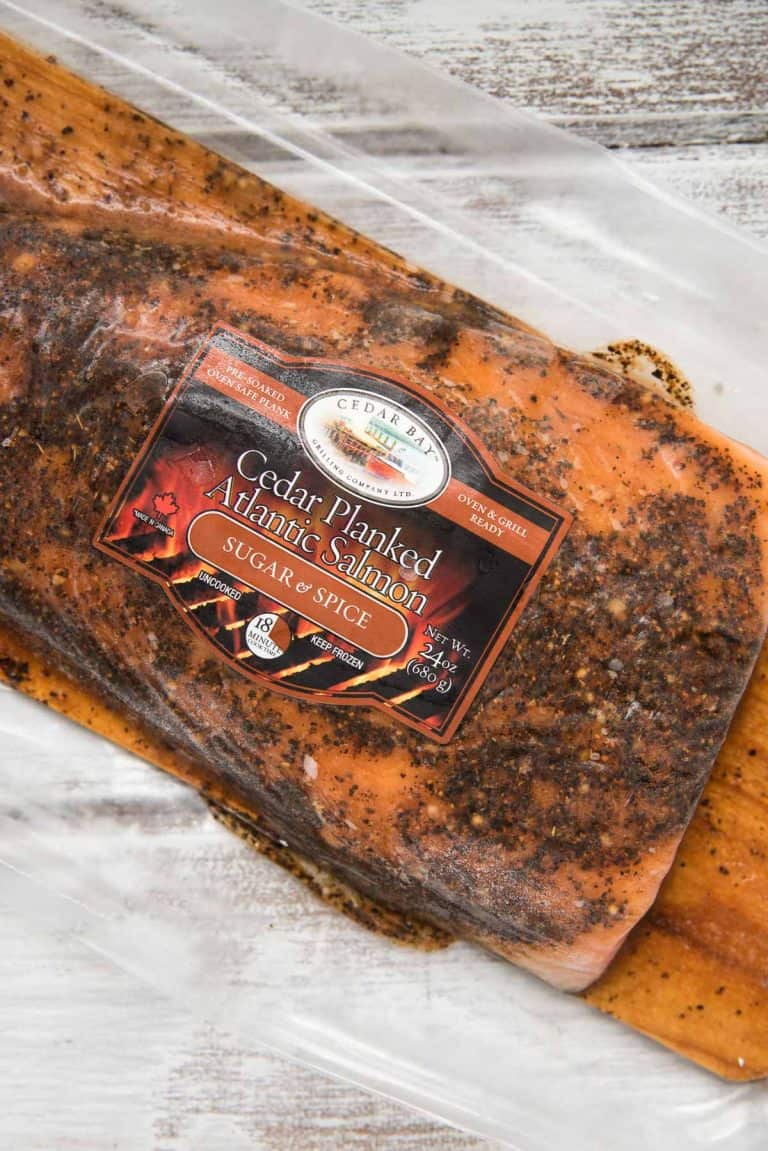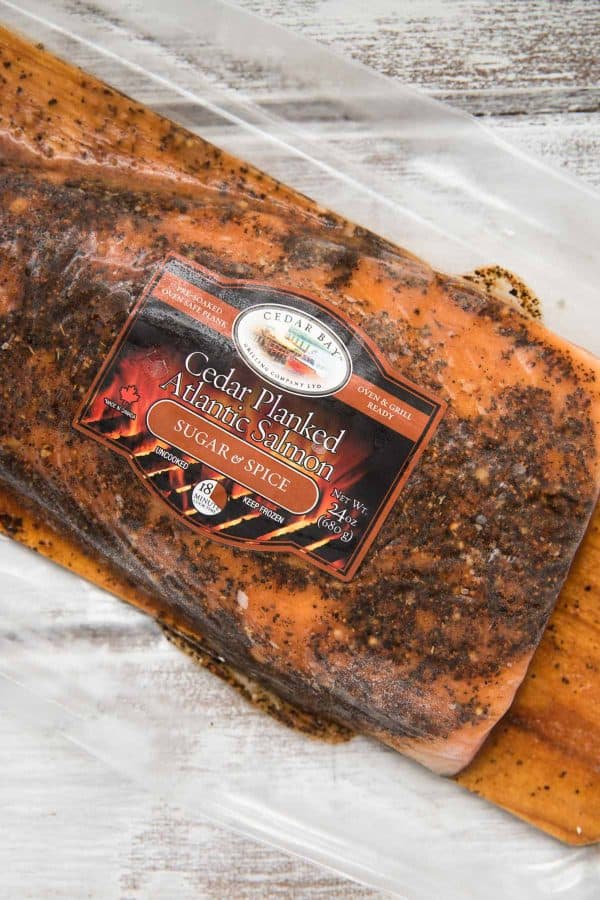 I 100% adore these ready to go Cedar Bay Grilling Company salmon fillets. The salmon is already seasoned with spice and a little sauce, and the cedar planks are already soaked so there's no worry of the wood catching fire. The soaked cedar planks are going to do so much more than just provide a safe haven for your salmon to cook. Here are some things to know:
Soaked cedar planks provide continuous moisture to the fish during cooking. The moisture steams up in the heat, which is perfect in a closed cooking environment like a grill or oven.
Cedar provides a slight woodsy flavor that richly enhances the taste and goes great with the smokey flavor of grilling. One of my favorite things is, the fillet slices so easily and slides right off the skin for easy serving making it great for these sliders!
Fillets are available in Sugar & Spice or Applewood with Orange & Ginger (thats what we're using!)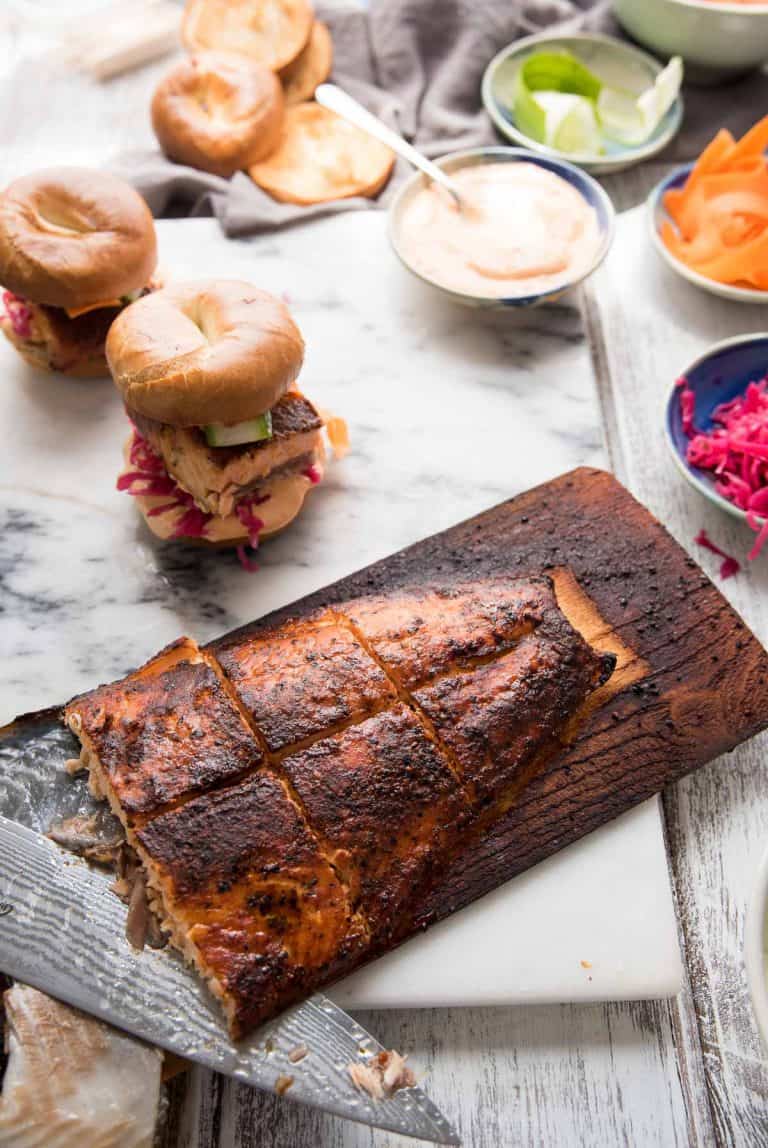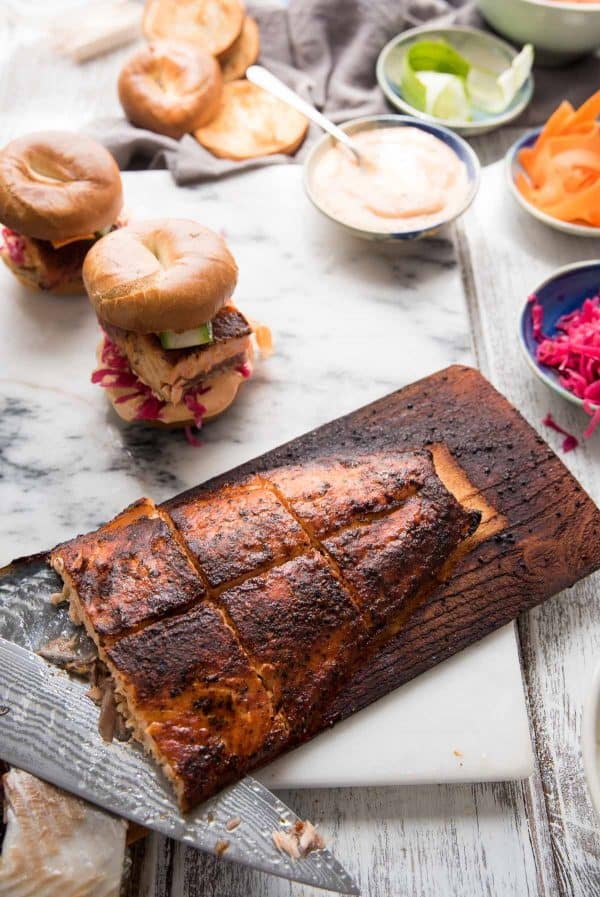 How to make Salmon Sliders
Are you ready for a fun spin on seafood? That's what these salmon sliders are! The flavor of the applewood plank with subtle orange and ginger is adding a little asian inspired flavor to the salmon, so let's build on that with simple but fresh ingredients.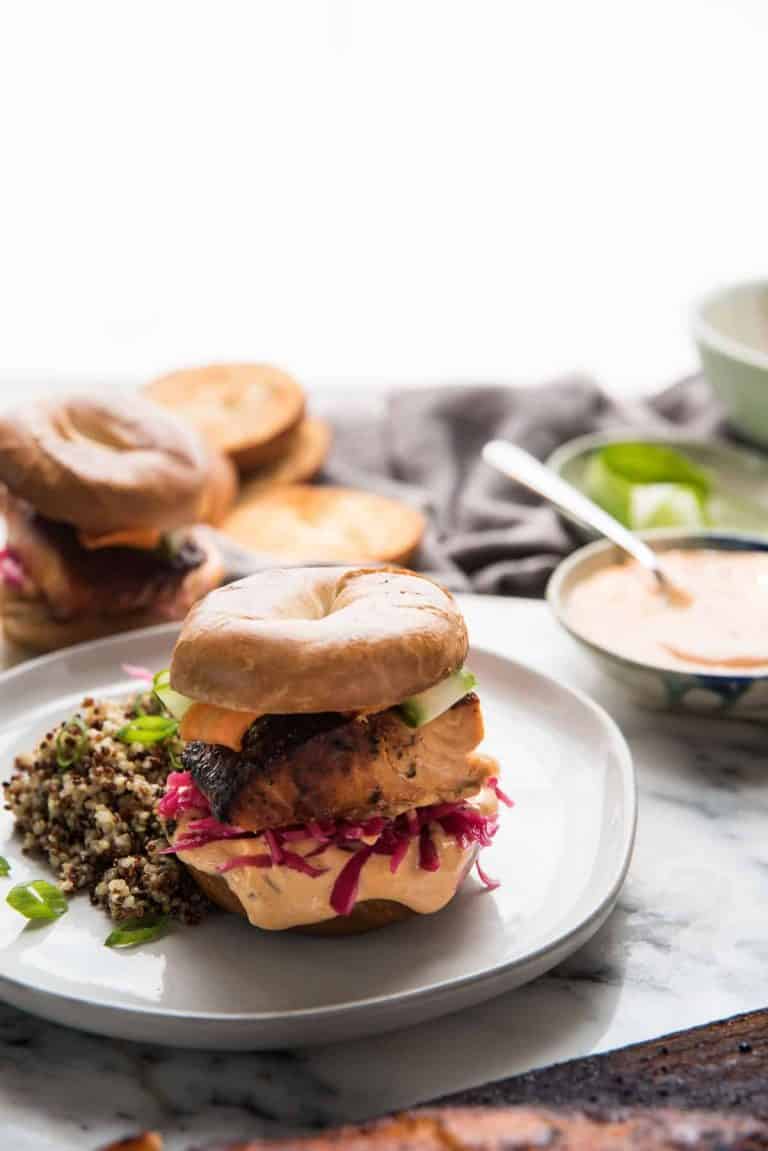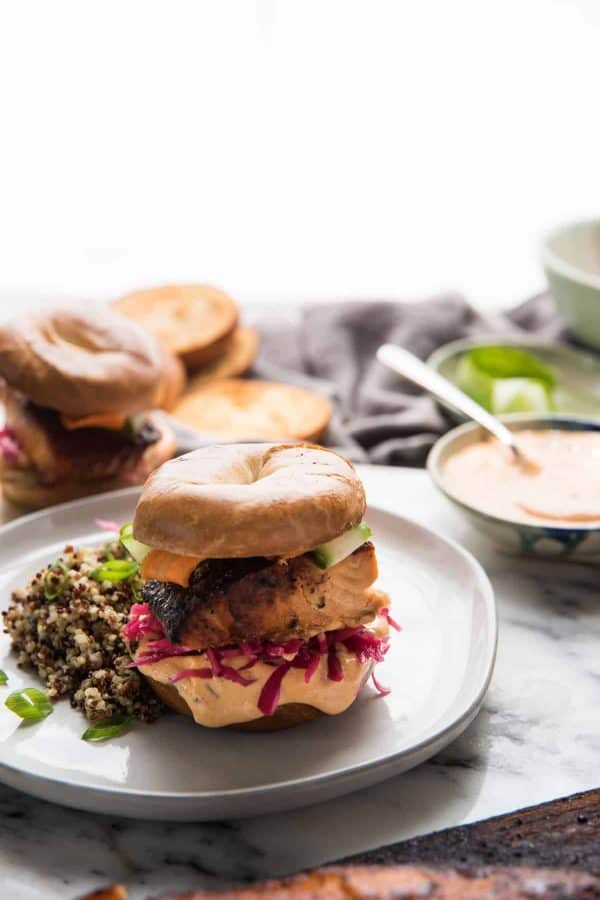 MINI BAGEL BUNS
First, let's talk about the bread. Use what you love. Little slider buns are a great option, like the ones in these pulled pork sliders. They're soft and tender, but may soak up some juices so I prefer these mini bagels for the salmon sliders.
Besides the fact that they are super adorable, they a little sturdier so we can add sauce and pickled cabbage without getting soggy buns.
SPICY SAUCE
More than just spicy mayo....sriracha aioli is the condiment of the 2010's. We're still keeping it easy with a mayo base but add both sriracha and a little minced garlic. The two flavors together really pop, best of all you can adjust to fit your level of spice preference. I'd give this recipe like a two pepper spice rating.
Slather it on the bottom bun to keep the pickled cabbage in place or use it on both sides for a 'need a napkin' 'eat over the plate' experience.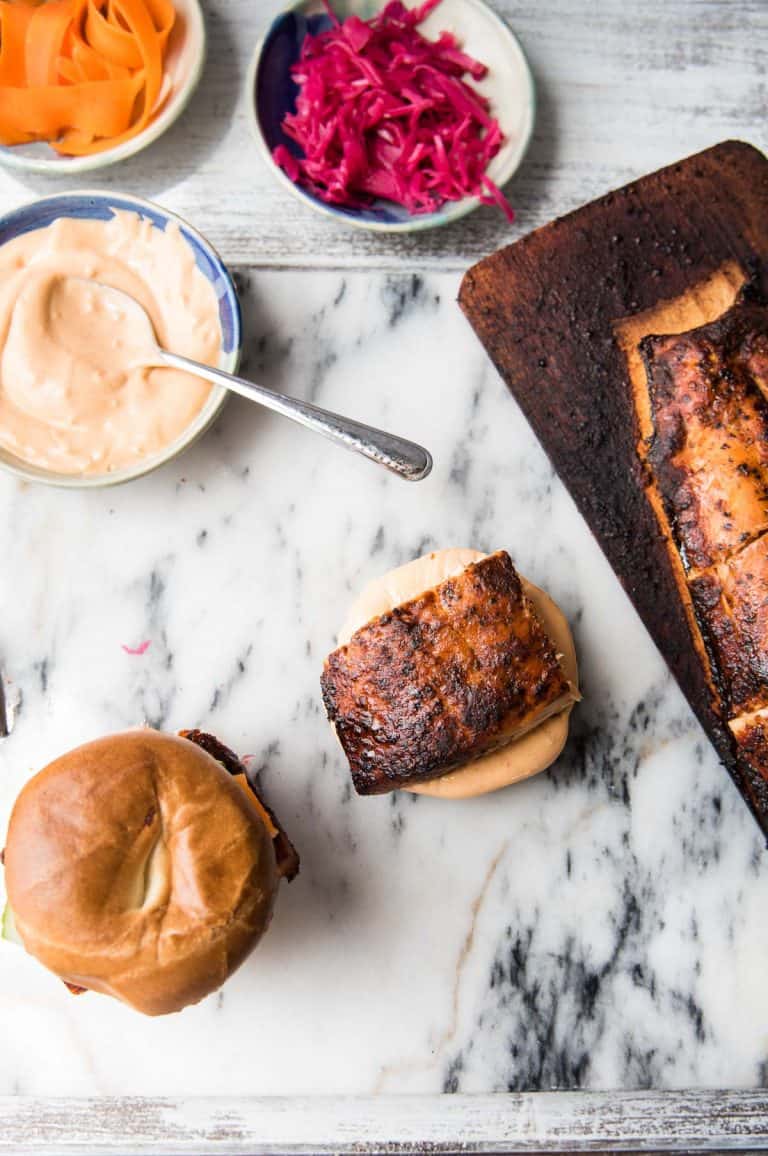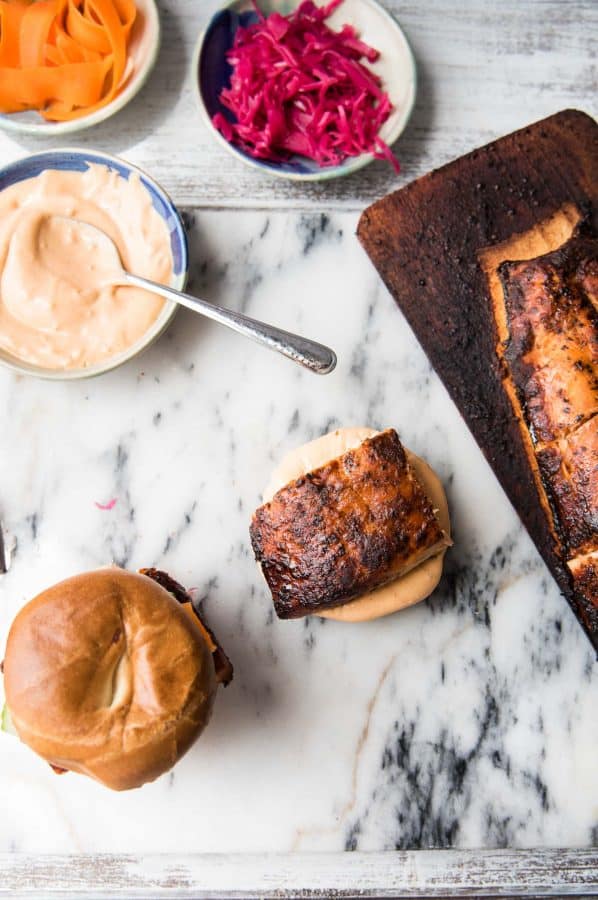 PICKLED CABBAGE
If you've been keeping up with the new recipes lately, one might say my obsession with pickled cabbage is getting out of control...but is it? I mean, just look at that beautiful fuscia color! And it adds the perfect tangy crunch. Add it to these sliders, throw it on tacos, or even on salad.
There's no wrong way.
RIBBONS OF VEGGIES
A fun - and simple - way to add fresh veggie crunch to anything! All you need is a veggie peeler.
I will forever be jealous of people, like my parents, that can peel veggies with just a knife. I've tried that and do you know what happens? I end up with half the amount of vegetable I'm supposed to have. So I'll be over here with my veggie peeler being safe and what not.
For these veggie ribbons, just peel the skin off the carrot, chop off the ends and lay the carrot flat against the cutting board. Applying pressure, slide the veggie peeler across the carrot making a long peel. Repeat until there's not enough carrot left to continue.
Repeat this process for the cucumber, but you don't have to peel the skin.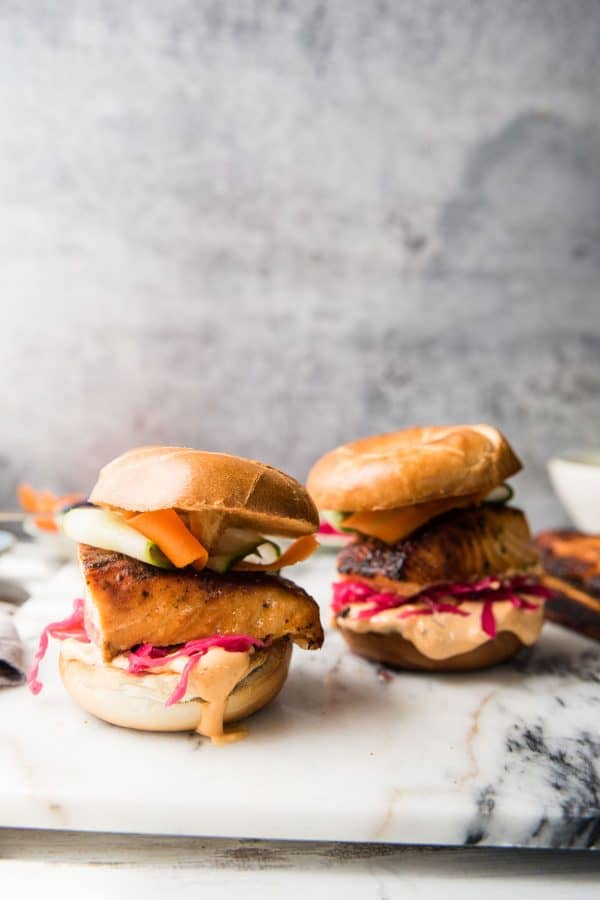 EASY PEASY SALMON
Cook the salmon, slice it up and stack your salmon sliders. These cedar plank salmon cook directly on the grill or the middle rack of the oven. If opting for the oven, just place a sheet pan below it in case any juices or sauce drips off the plank.
When it comes to slicing up the salmon, one full fillet will yield 8 to 10 servings. For 10 servings, cut the first two largest pieces into thirds and the remaining fillet will yield 4 pieces.
Here's my preferred stacking order:
toasted bottom bagel
generous slather of sriracha aioli
pickled cabbage
hearty slice of cedar plank salmon
two ribbons of carrots
one ribbon of cucumber
toasted top bagel
Since we're already keeping it fresh, serve it up with some no fuss tri color quinoa or brown rice. Of course, sweet potato fries or tots are always a welcome sight so you do what feels right in your heart.
In the meantime, I'll be over here relaxing and snacking because cooking and clean up was a total breeze with happy mouth results. To get your hands on your own crowd pleasing cedar plank salmon check out cedarbaygrilling.com, or follow along on facebook, instagram or twitter for more summer recipe inspo!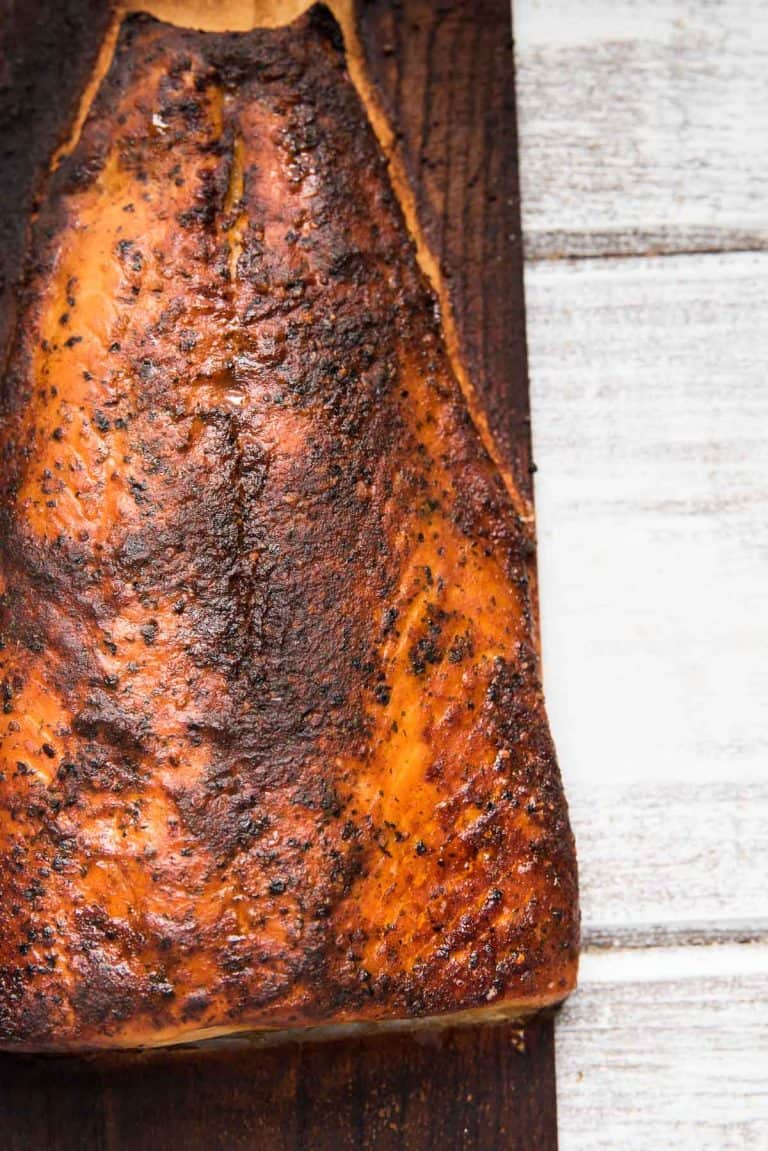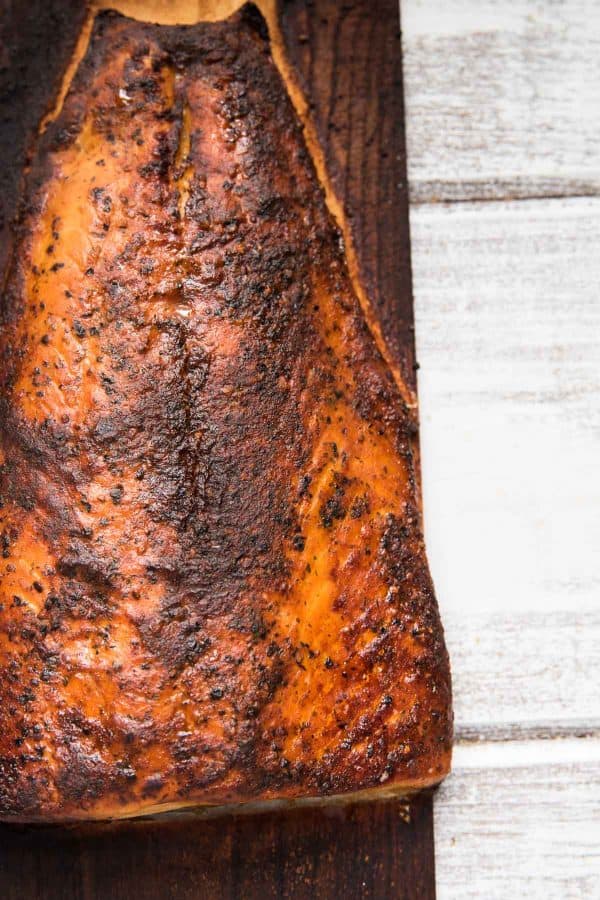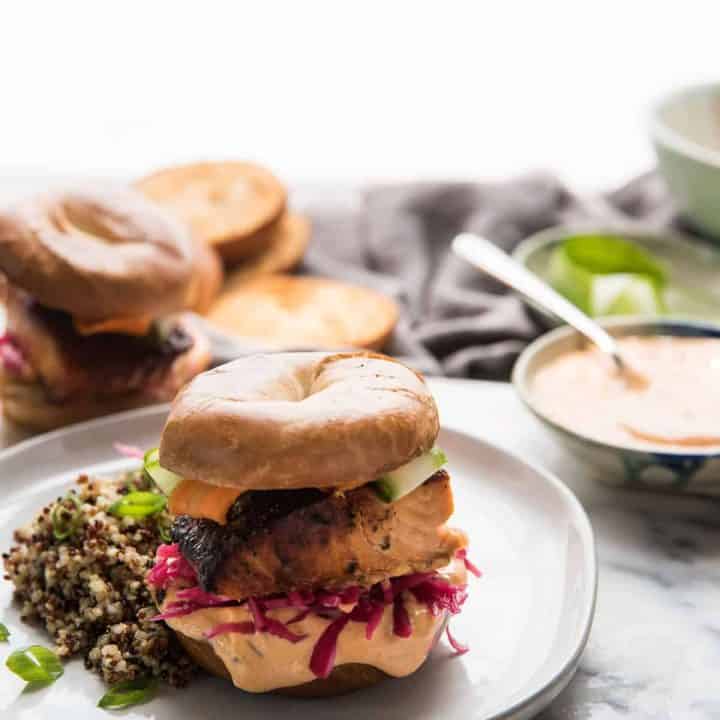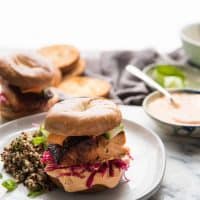 Easy Cedar Plank Salmon Sliders
Beyond simple, these ready to cook cedar plank salmon are perfectly seasoned cook easy and stack up tenderly on mini bagels with spicy sriracha aioli, tangy pickled cabbage and fresh cucumber and carrot ribbons.
Print
Pin
Rate
Ingredients
1

Cedar Bay Grilling Company 14" Applewood with Orange & Ginger Salmon Fillet

10

mini bagels

1

cup

pickled cabbage

1

medium

carrot

(shaved in ribbons)

1

english cucumber

(shaved in ribbons)

1

cup

sriracha aioli
Sriracha Aioli
1

cup

mayonnaise

1

tablespoon

sriracha

1

teaspoon

minced garlic
Instructions
Conventional oven: Preheat to 425°F. Remove the cedar plank salmon from packaging and place directly on the middle rack. On the rack below, place a parchment or aluminum foil lined baking sheet to catch any liquid that might drip off the plank. Cook for 18 to 20 minutes, until cooked through but still moist and tender.

Grilling: Preheat oven to 425°F. Remove the cedar plank salmon from packaging and place directly on the middle rack. Cook for 15 to 18 minutes, until cooked through but still moist and tender.

While the salmon is cooking, toast the mini bagels. After the salmon is cooked, remove from the oven or grill. Place on a heat proof surface and cut into 8 to 10 pieces.

Prepare the veggies: Using a vegetable peeler, remove the skin of the carrot and both ends. Using the vegetable peeler slice into ribbons. Repeat with the cucumber. Store in cold water until ready to use.

Assemble: Spread 2 tablespoons of sriracha aioli on the bottom bun of the bagel, top with pickled cabbage and one piece of salmon. Layer a ribbon of carrot and a ribbon of cucumber on top of the salmon and top with the top bun.
Notes
for regular burger size, slice the whole fillet into 5 to 6 pieces.
Nutrition
Calories:
375
kcal
|
Carbohydrates:
25
g
|
Protein:
19
g
|
Fat:
22
g
|
Saturated Fat:
3
g
|
Trans Fat:
1
g
|
Cholesterol:
47
mg
|
Sodium:
438
mg
|
Potassium:
469
mg
|
Fiber:
1
g
|
Sugar:
2
g
|
Vitamin A:
1194
IU
|
Vitamin C:
7
mg
|
Calcium:
29
mg
|
Iron:
1
mg