Has a tuna casserole ever blown your mind? Are you a lover of mac and cheese? Well you sit your beautiful bottom right down because these tuna mac and cheese balls are the creamiest, gooiest, most flavor packed combo of homemade mac and cheese, tender yellowfin tuna fillet and crispy crunchy panko.
Where are the lovers of the crumb topping on the mac and cheese? The yin to the yang of texture perfection. You've got luscious liquid gold coated pasta, tender flaky tuna and the perfect pop of crunch on top. Except this time, these tuna mac and cheese balls are changing the game and adding 360 degrees of crunch.
This post is sponsored by Tonnino Tuna and contains affiliate links. Free samples of Tonnino Tuna were provided to take part in a recipe challenge and this recipe is the delicious result! I hope you love it!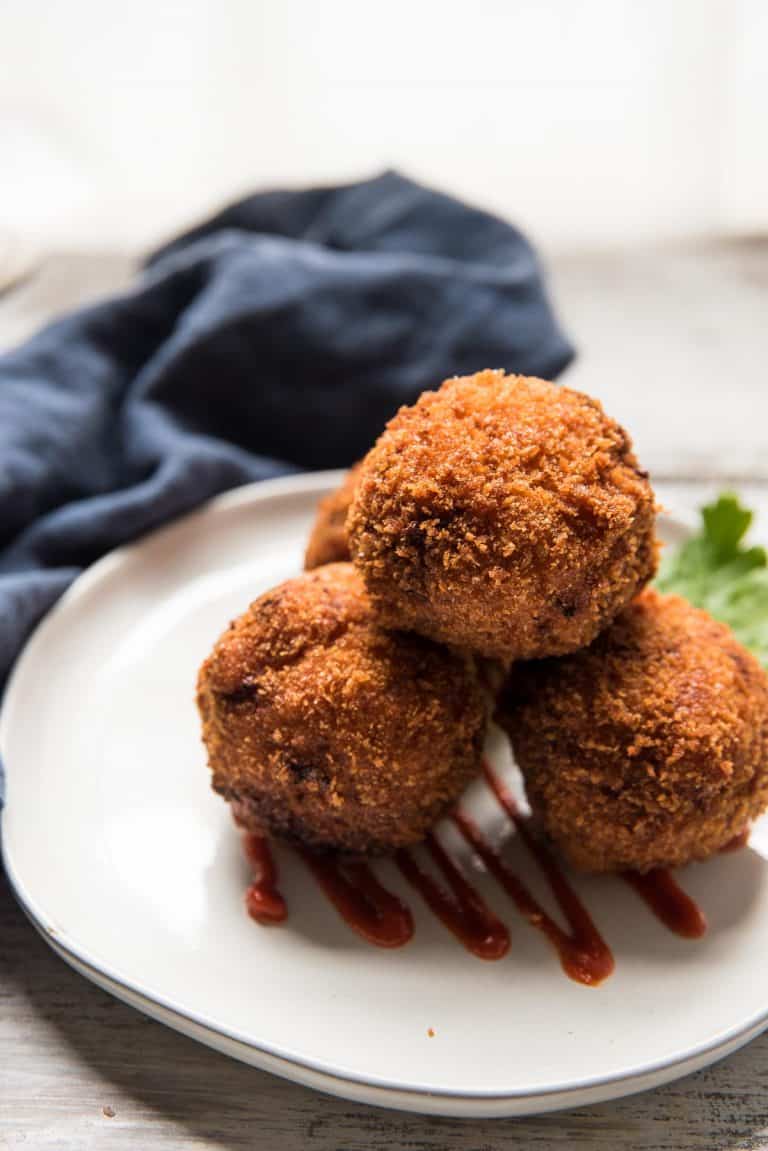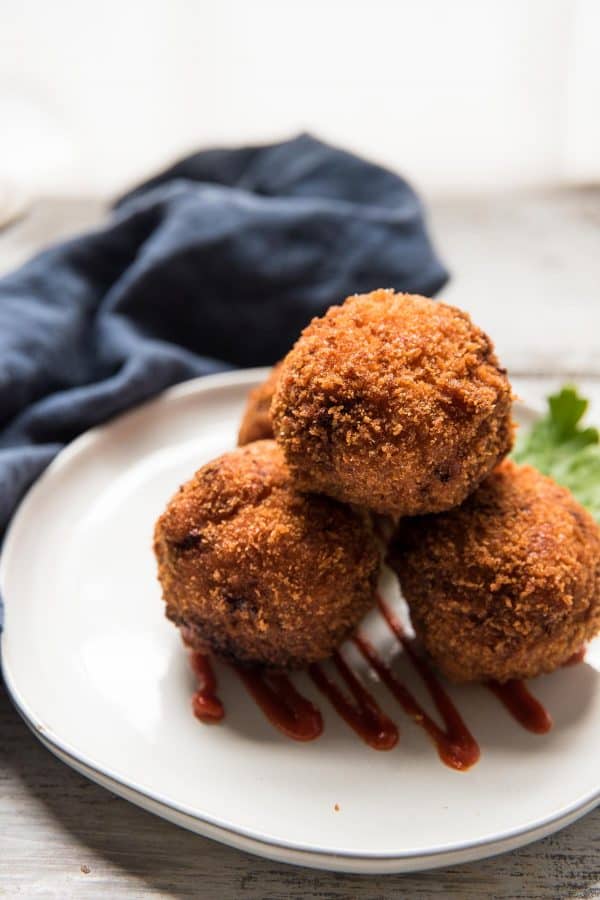 Homemade mac and cheese is a treasured meal in this house and the perfect opportunity to indulge in adding Tonnino Tuna. We're tossing out the old school can of albacore and brining in an upgrade - gourmet tuna fillets made from 100% yellowfin tuna.
The best part about these fillets is they're ridiculously flavorful, packed in olive oil for added richness and come in 8 different flavors so you can switch up the underlying flavors to your tuna mac and cheese balls.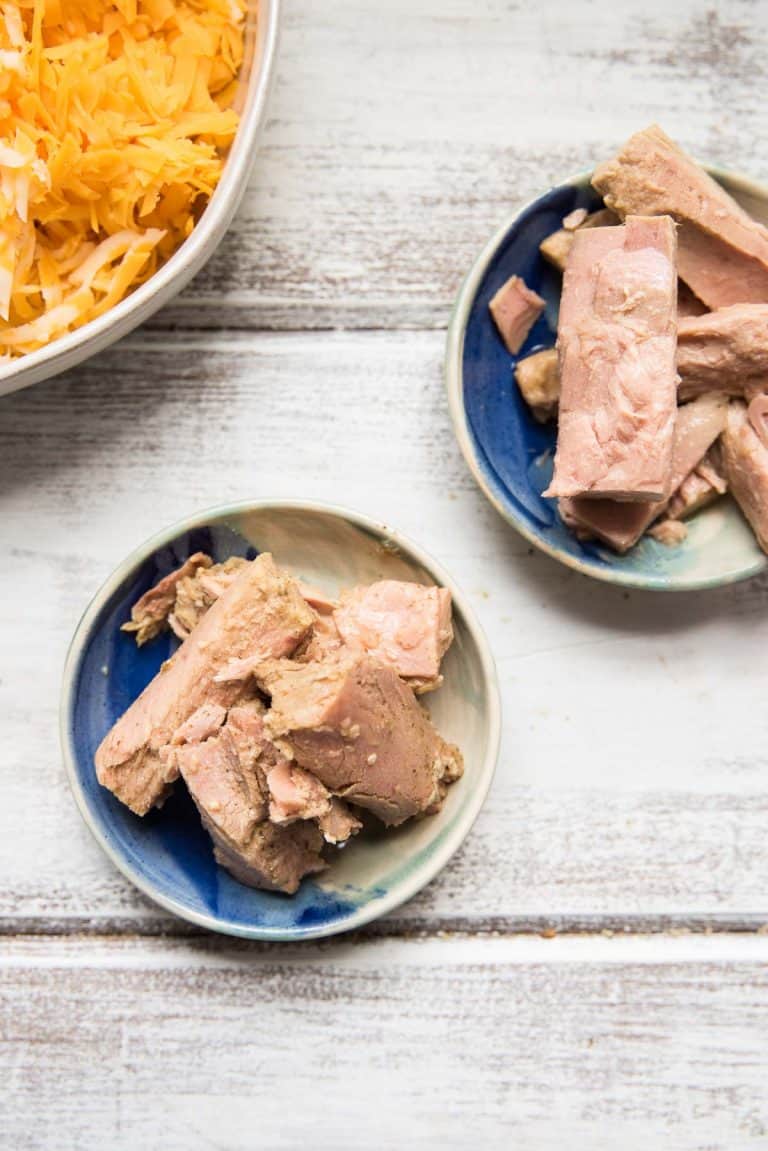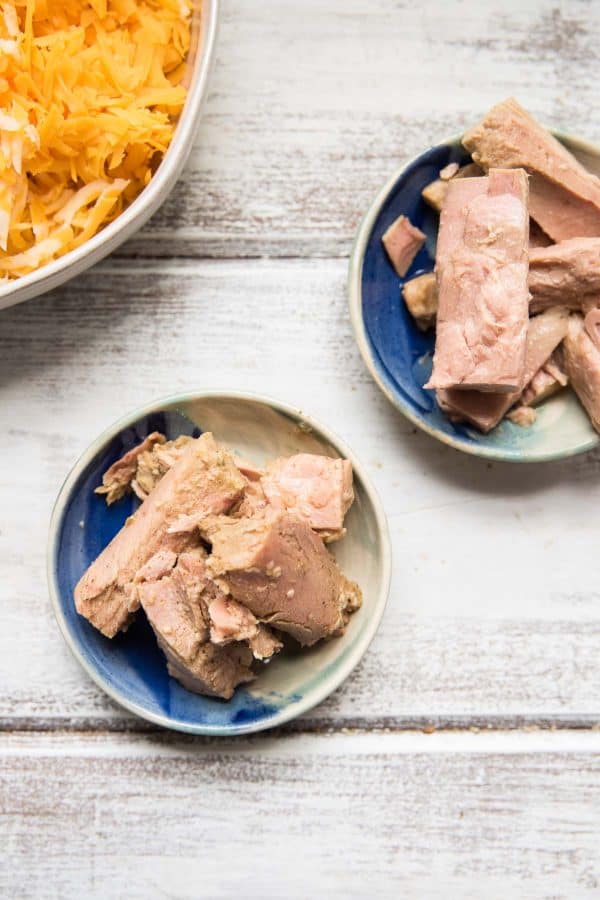 You feeling citrusy? Lemon pepper's got your back.
Want some spice? Oh hey, jalapeño in your business.
Feeling classic? Grab the traditional fillet.
You've got options my friend, it's a beautiful thing.
What's a mac and cheese ball?
These fritters are inspired by a dish we used to serve when I was bartending in Southie. Creamy macaroni and cheese - homemade with an awesome blend of cheeses, butter, cream, milk and spices - added tuna for protein and dredged in crispy panko before fried to golden perfection.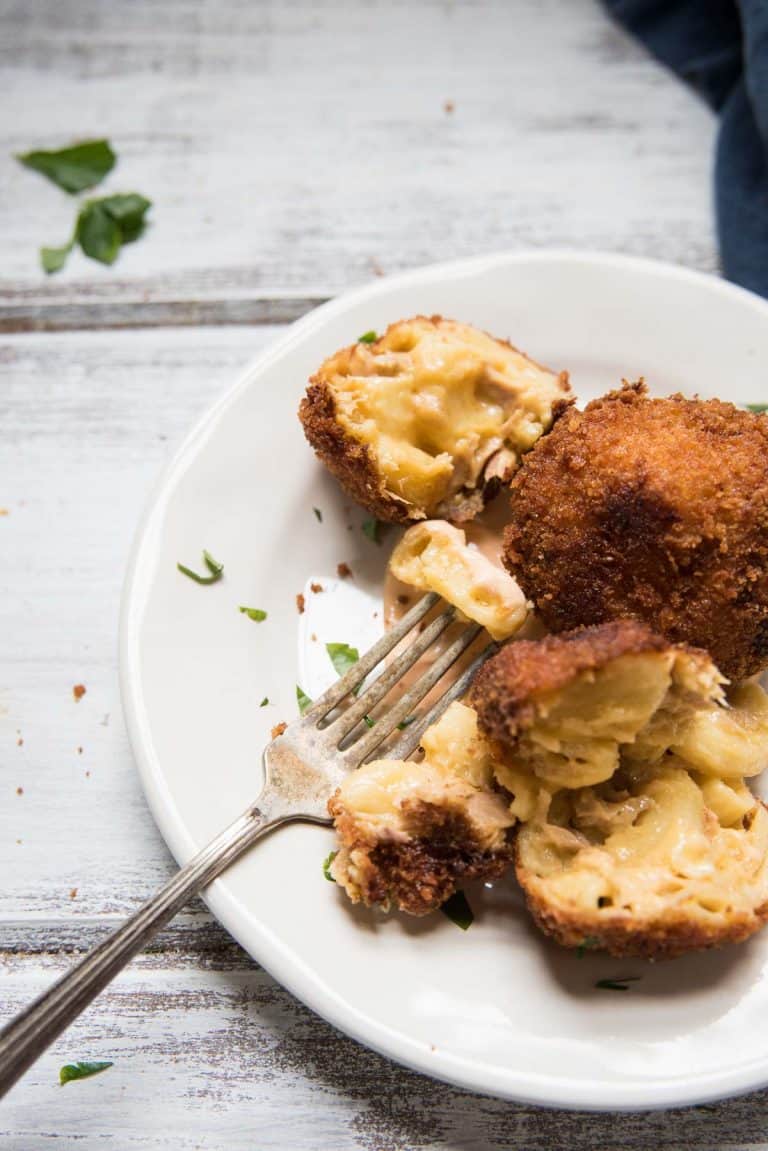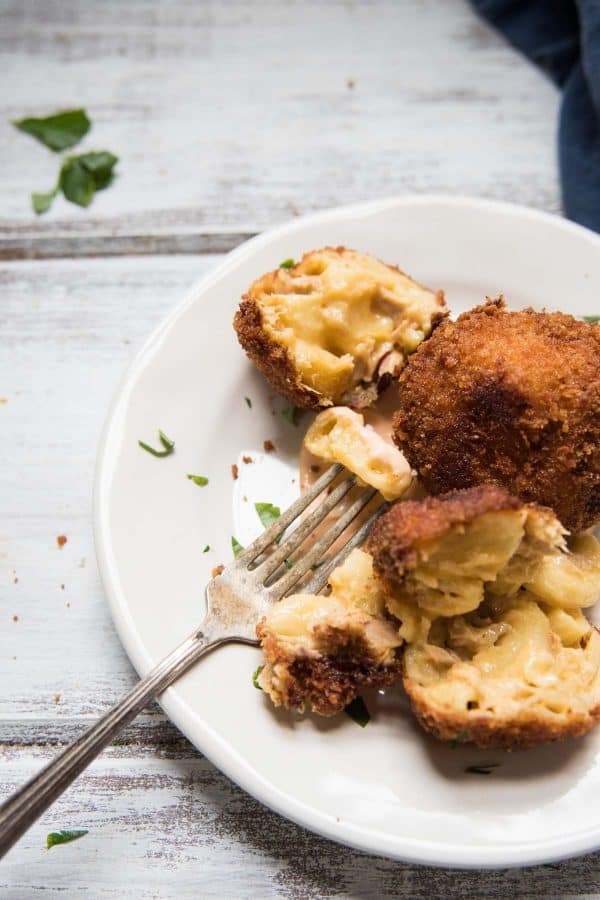 They're an awesome appetizer, but in this recipe we're making enough for a crowd so you could serve them for dinner, too.
Always a hit with the kids, a great way to sneak in some extra protein, and a fun way to enjoy some mac and cheese. Both my kids scarfed these down as if I said they could have unlimited ice cream after dinner (for the record, I did not say that.)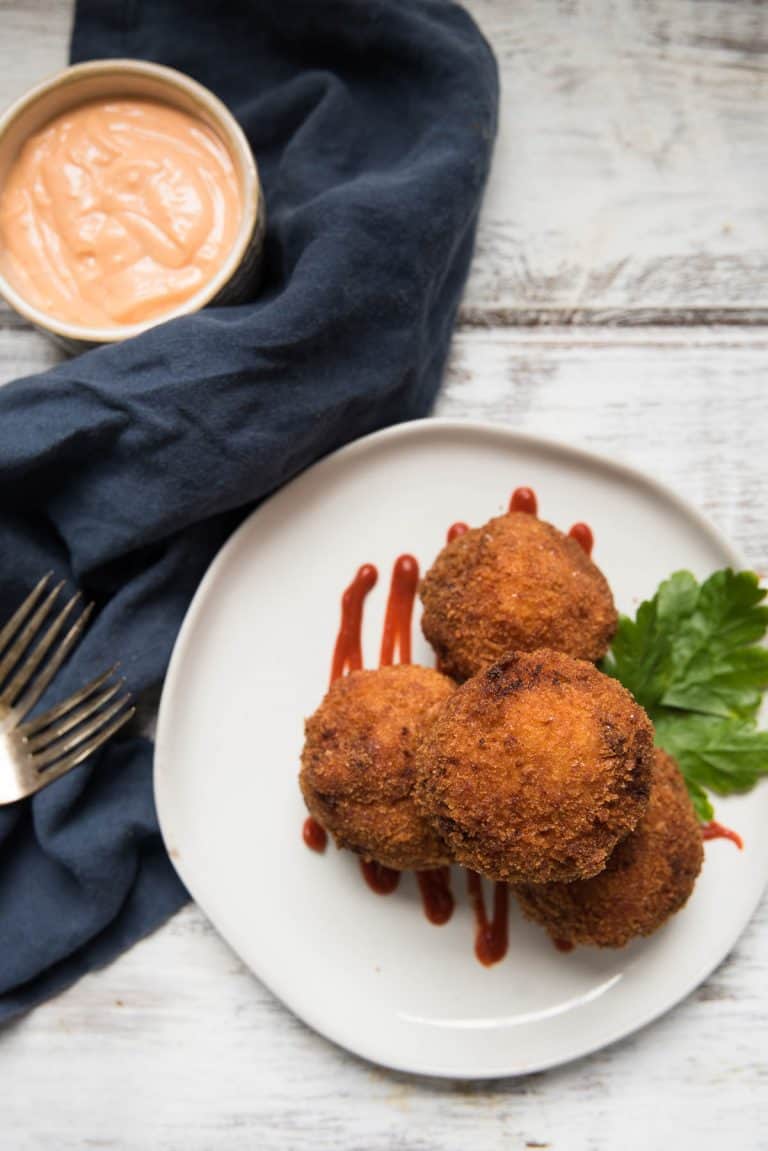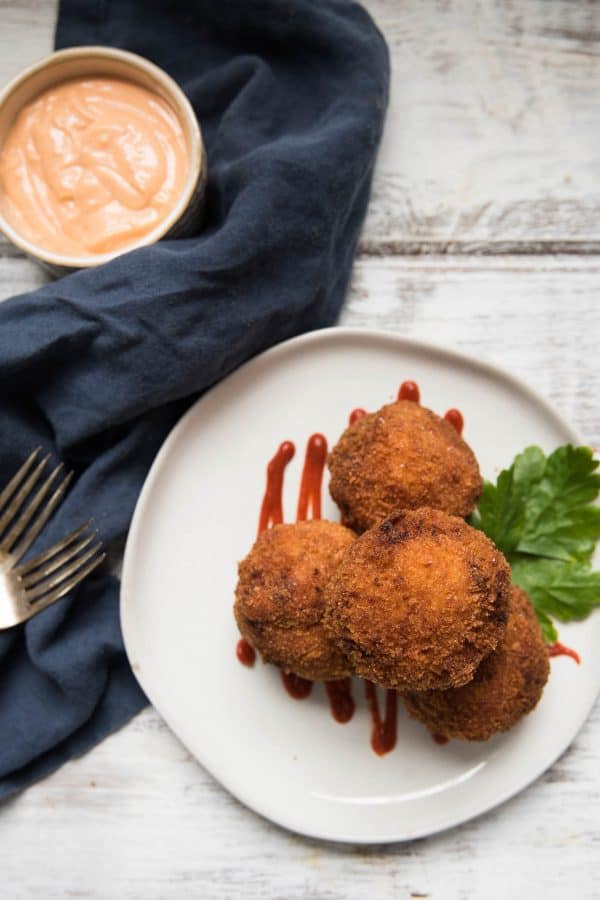 Tips for making the BEST mac and cheese
While homemade macaroni and cheese doesn't happen often in this house, when it does, we want to do it right. Lots of cheese, lots of gooey melted goodness. Can you get on board with that vibe?
Rather than cooking the pasta in water, we're going to cook it in heated milk. A slow simmer is fine but you definitely don't want to boil it. Boiling the milk would run the risk of it either separating or burning, which would be a huge bummer.
Before draining the pasta, reserve 2 cups of the milk, to be used in the sauce. This milk is laced with the starch of the pasta and help to both thicken and add richness to the sauce.
Make a roux from butter and flour. We want this to be the creamiest so we're going to use more butter than flour and whisk until there are no clumps and the color turns golden brown. If the color starts to darken quickly, remove from heat completely.
Slowly pour in the milk while whisking - but be careful! It will bubble and steam. It will also clump together a little but just keep whisking as you slowly add the milk and it will smooth out.
This is probably the most important part...use fresh grated cheese! I know, i know, it's kind of a pain but it's important! Pre-grated cheese is coated with cellulose to keep from sticking together so when you whisk it into your milk it's not going to melt as perfectly as cheese grated off the block.
A touch of ground mustard and white pepper is my secret to flavors that pop in macaroni and cheese. They give it just a little extra to upgrade the macaroni for adults without being too strong to scare away the kids.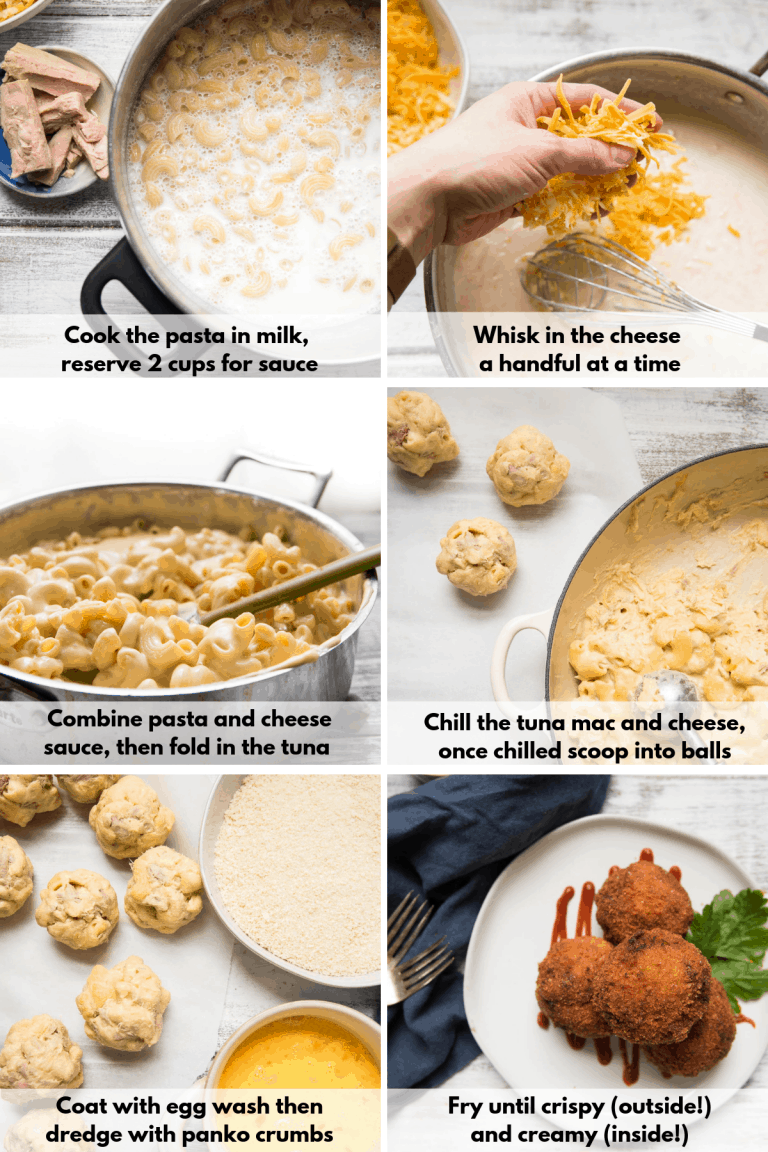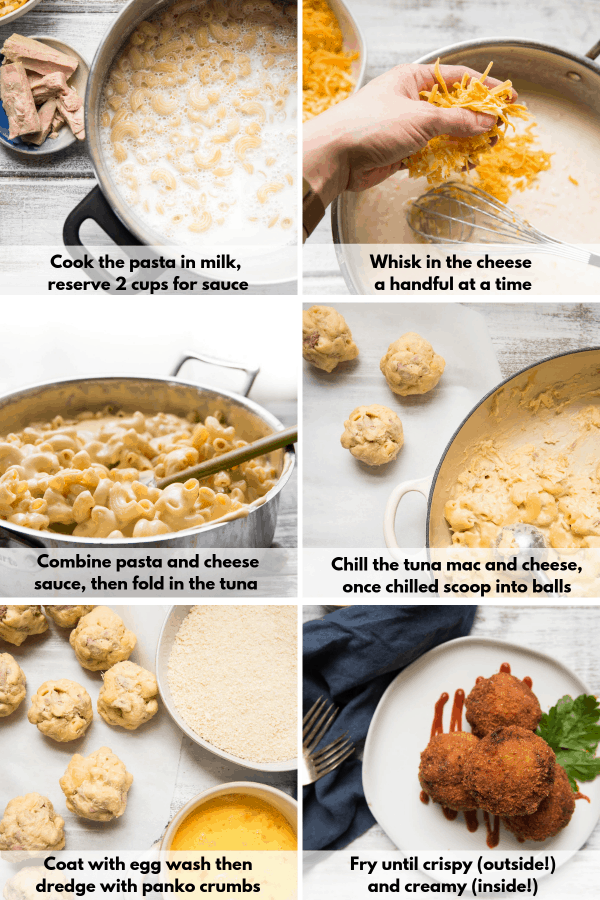 How to make tuna mac and cheese balls
One your pan of golden coated pasta is complete, break apart and stir in your Tonnino Tuna fillets. The size of the pieces are up to you, but I left mine in larger pieces so there would be a nice bite of tuna in each ball.
To pop up the flavors, I used one jar of the classic tuna in olive oil and one jar of the tuna in garlic and olive oil. It was the perfect way to add just a little, mellow garlic flavor.
Spread the tuna into one layer in the pan. Then comes the hardest part - wait for it to chill! I mean, if you sneak a few bites here and there during the process I will totally understand (and relate). Chilling the tuna mac and cheese is super important to being able to scoop the mac and cheese balls with ease.
Then it's just a matter of setting up a breading station - egg wash and panko crumbs seasoned with a little salt.
Roll the tuna mac and cheese ball through the egg, let any excess drain off, then roll through the panko crumbs lightly packing them on. Shake off any excess before setting aside.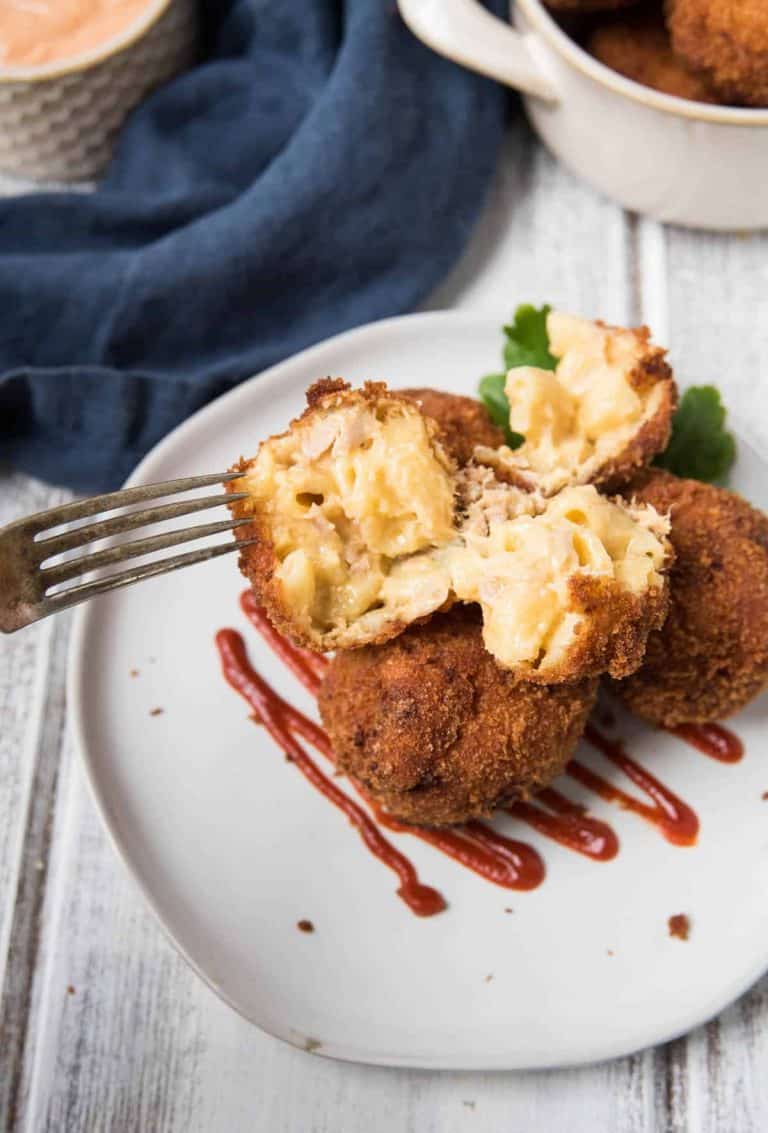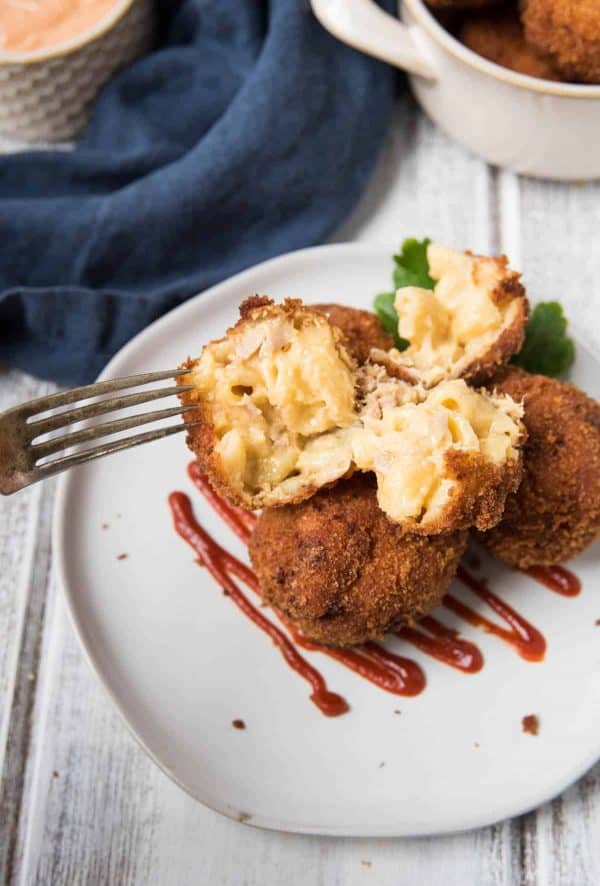 Frying Tips
If your oil is too cold you'll get greasy, oily fritters. If your oil is too hot, they will burn on the outside but still be cold on the inside. To solve this problem, keep a frying or candy thermometer (affiliate link!) clipped to the side of your frying pot. So you can adjust the heat to stay in that 350°F to 375°F zone.
As you add new, cold food to your hot oil the temperature will drop but you shouldn't need to adjust. It will climb as the food cooks but keep an eye on it.
You need to have a slotted spoon at the ready for lowering the balls into the oil, flipping them and taking them out. One of these slotted spoon/spatulas (affiliate link!) are great for frying.
Wherever your tuna mac and cheese balls are going after frying, keep it lined with paper towels to catch any excess oil.
Sauce it up!
While these panko coated balls of heaven are great on their own, if you're a condiment queen like myself, you can't resist getting a little saucy. Sriracha is the perfect pairing of spicy sauce with the crunchy breading. For a creamy, dippable sauce sriracha aioli is going to bring both the flavor and the texture.
To make sriracha aioli, it's really simple, just add all the ingredients in a bowl and mix them well! You can adust the heat factor by adding more or less sriracha. It's really that easy - no tricks I promise!
Upgrade your tuna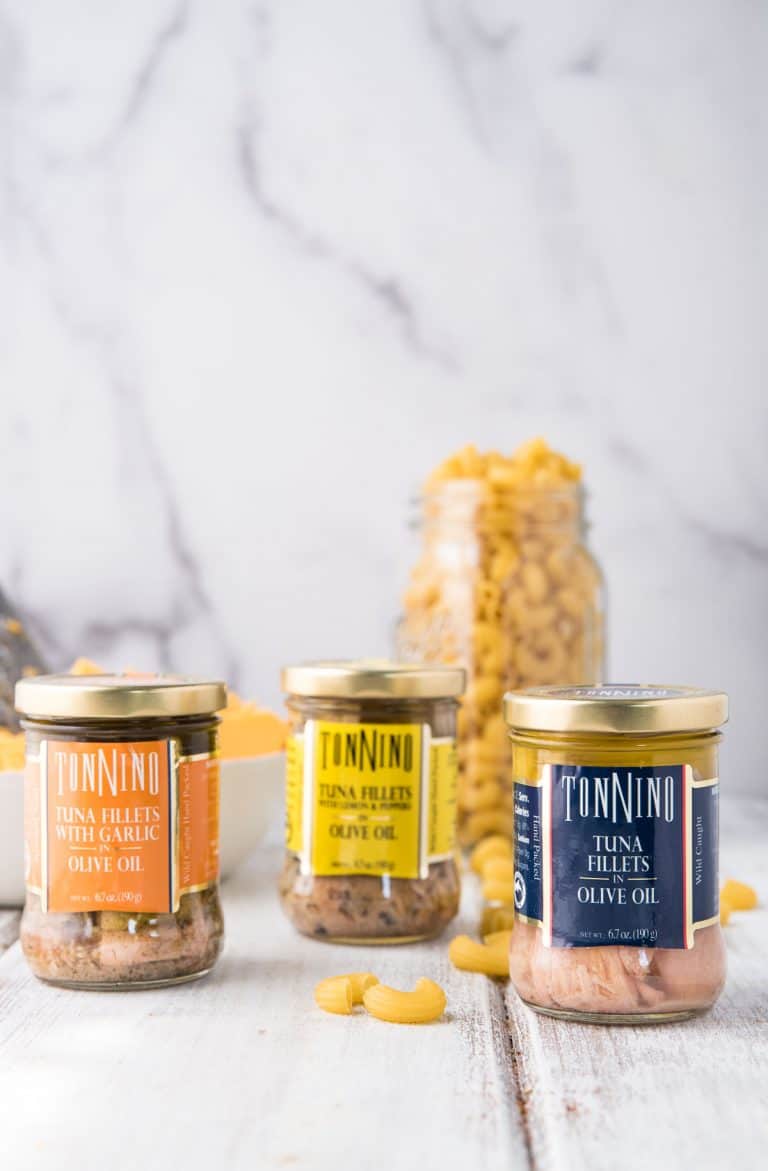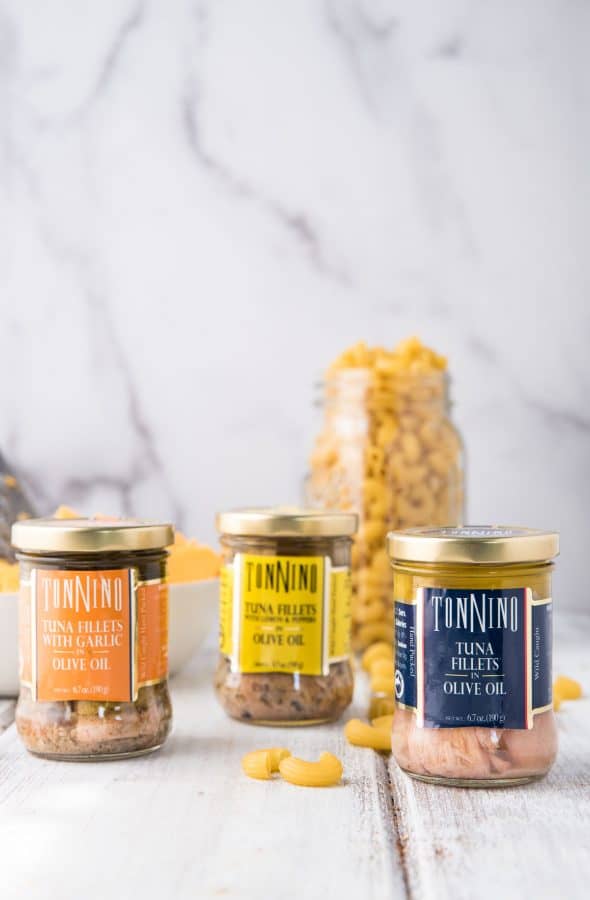 If you're ready to upgrade your tuna definitely check out Tonnino Tuna! What I really liked about the product is that it's in an easy to open jar - aka no weird fish water spilling out all over the counter, packed in olive oil and has so much flavor.
You can find out more about the different flavors they offer at tonnino.com, Facebook, or Instagram! Tonnino products are available for purchase at Whole Foods Market.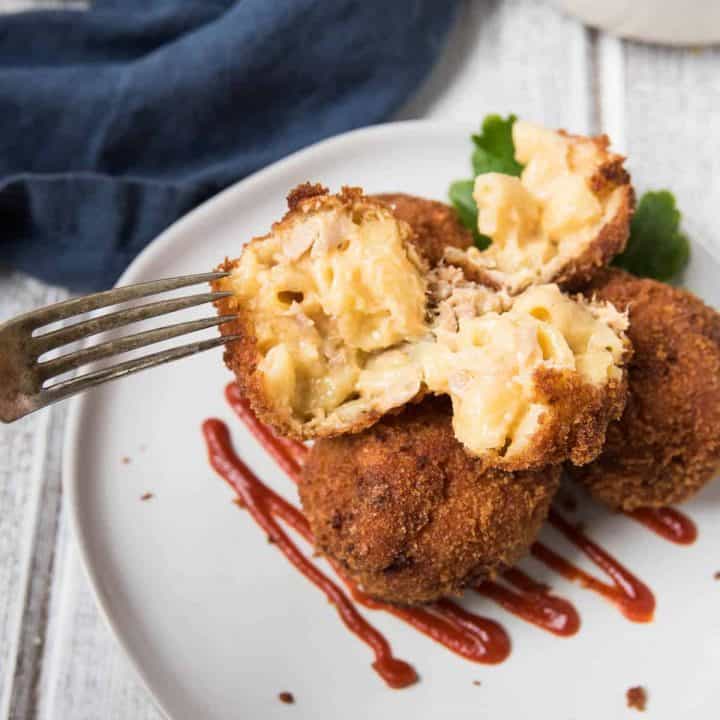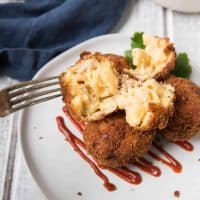 Tuna Mac and Cheese Balls
Tuna mac and cheese balls are going to be the creamiest, gooiest, most flavor packed combo of homemade mac and cheese, tender yellowfin tuna fillet and crispy crunchy panko.
Print
Pin
Rate
Ingredients
Tuna Casserole
1

pound

casserole elbow pasta

6

cups

whole milk

1

stick

unsalted butter

(½ cup)

4

tablespoons

all purpose flour

1

cup

heavy cream

8

ounces

cheddar

(fresh grated (see notes!))

8

ounces

colby jack

(fresh grated (see notes!))

1 ½

teaspoons

salt

(divided)

½

teaspoon

ground mustard

½

teaspoon

white pepper

1

jar

Tonnino Tuna Fillets in Olive Oil

(drained)

1

jar

Tonnino Tuna Fillets in Garlic and Olive Oil

(drained)
Breading Ingredients
4

large eggs

(beaten)

4

cups

panko breadcrumbs

canola or vegetable oil for frying

(1.48 liter container)

tools: frying or candy thermometer

(slotted long handled spoon, paper towels for excess oil)
Sriracha Aioli
1

cup

mayonnaise

1

tablespoon

sriracha

1

teaspoon

minced garlic
Instructions
Cook the pasta: In a large pot, heat the milk over medium heat. Add the pasta, stirring frequently to avoid clumping. Do not boil the milk. Cook the pasta in the milk over medium heat for 15 to 20 minutes until pasta is al dente. Milk should be simmering, but not boiling, you don't want to burn the milk or cause it to separate. Reserve 2 cups of the milk before straining, set pasta aside.

Prepare the sauce: In a large, deep sided saucepan or braiser, melt the butter over medium-low heat. Whisk in the flour, continuously whisking for 2 minutes until the roux (flour-butter mixture) is a golden color. Reduce heat to low and slowly pour in the reserved milk while whisking. It will bubble and steam. Continue whisking until completely incorporated and there are no flour clumps. Repeat with the cream.

Get cheesy: Add the cheese one handful at a time, whisking into the sauce until incorporated. Once all the cheese is melted and smooth, stir in mustard, pepper, and 1 teaspoon salt. Add the pasta, mixing until all the pasta is well coated with the cheese sauce.

Prep the tuna: Remove the tuna fillets from the oil. Break apart into bite sized pieces over the macaroni and cheese. Gently stir into the pasta until well distributed. Spread the tuna casserole into an even layer and chill in the refrigerator for at least 4 hours until completely cold, overnight is best. This step is crucial in shaping the fritters.

Form and bread the fritters: Using a large cookie scoop or eye balling it with a spoon, scoop a ball of tuna casserole, pack together and roll slightly to smooth. You want each ball to be smaller than a baseball but a little larger than a golf ball. Repeat until all the tuna casserole is formed into fritter balls. Place the well beaten eggs in one bowl and the panko crumbs in another. Season the panko crumbs with ½ teaspoon of salt. Roll each tuna casserole ball in the egg wash, drain off the excess, then roll through the panko crumbs packing the crumbs on slightly. Shake of excess and set aside. Repeat with all the tuna casserole balls.

Fry: In a heavy bottom, deep sided pan such as a dutch oven, heat the oil to 350°F to 375°F. Depending on the size of your pan, fry 4 to 6 balls at a time for 3 minutes each side, until golden brown. After flipping the tuna mac and cheese balls, gently move them around in the pan to avoid sticking to the bottom. After frying, drain with a slotted spoon and transfer to a paper towel lined platter. Test one to ensure the center is hot and creamy.

Dipping Sauce: Combine the mayo, sriracha and garlic in a bowl. Serve with in a bowl for dipping or to drizzle over the top!
Notes
Fritters can be prepped and breaded in advance for up to two days before frying.
To reheat, bake at 375 for 10 to 12 minutes, turning half way.
Grate the cheese by hand from a block. Pre-grated cheese as it is coated with cellulose and doesn't melt as well.
Nutrition
Calories:
491
kcal
|
Carbohydrates:
31
g
|
Protein:
21
g
|
Fat:
31
g
|
Saturated Fat:
14
g
|
Trans Fat:
1
g
|
Cholesterol:
100
mg
|
Sodium:
628
mg
|
Potassium:
273
mg
|
Fiber:
1
g
|
Sugar:
5
g
|
Vitamin A:
733
IU
|
Vitamin C:
1
mg
|
Calcium:
285
mg
|
Iron:
2
mg