It's here. Right here. I've finally made us a summer salad we can eat on repeat until the leaves turn colors. It's this glorious Chickpea Shawarma Salad and you're going to want it all of the days.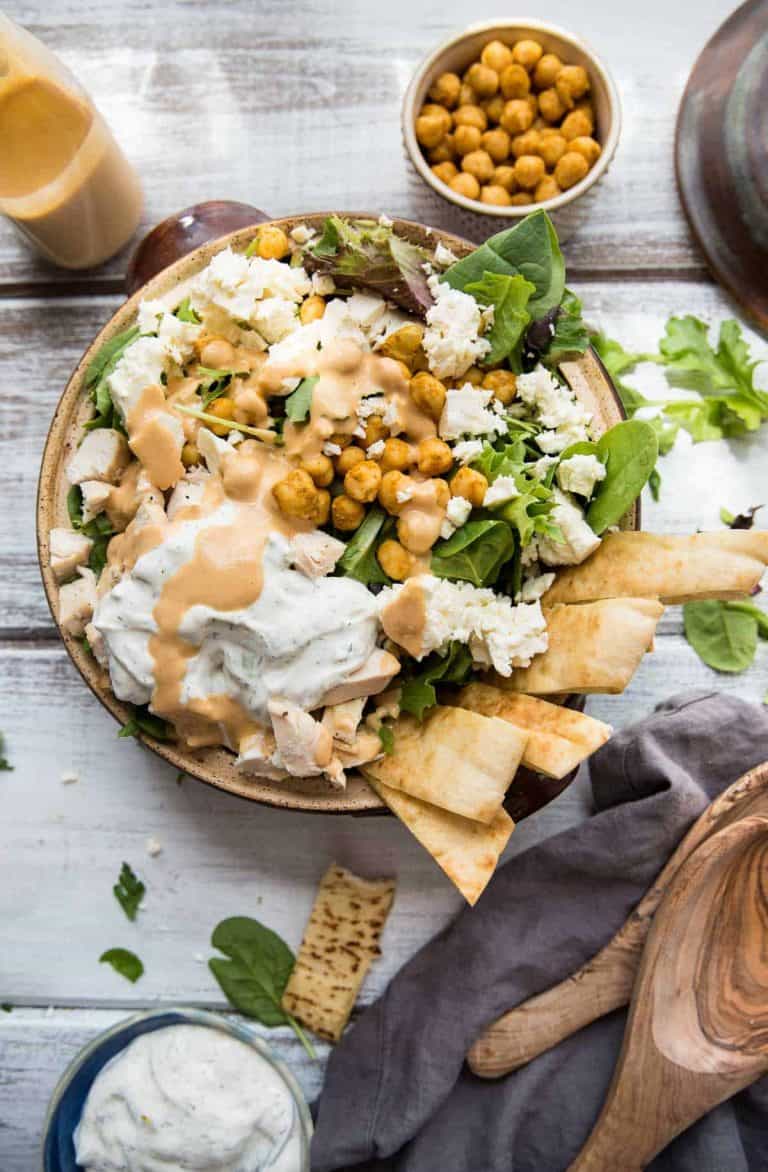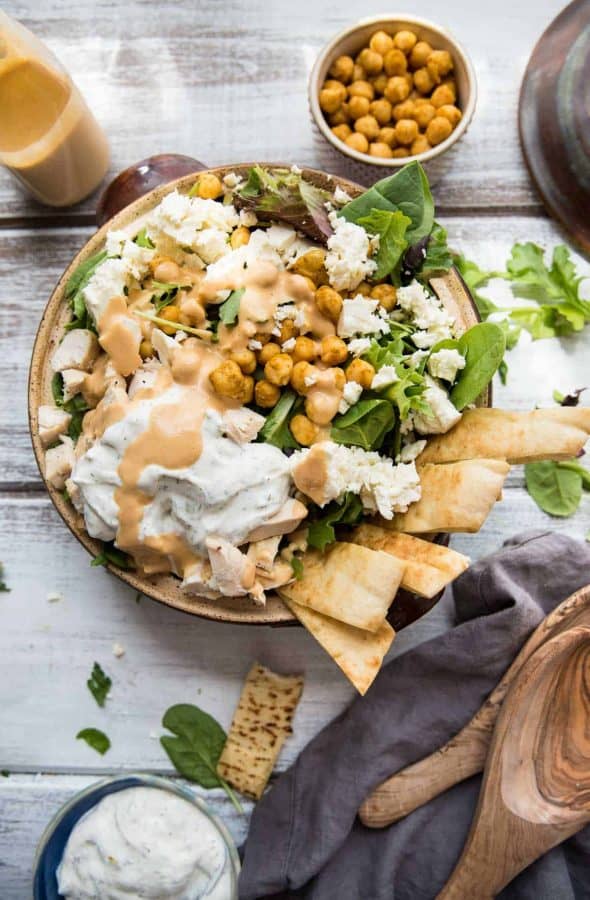 At least I hope so, because that's how I'm feeling about it. You know, it's weird to get emotional about a salad but this is serious salad mood people.
What the heck is in a shawarma salad? Welp keep on reading and I'll tell you about it, but if you don't have the time go ahead and scroll your cute thumb down to the bottom.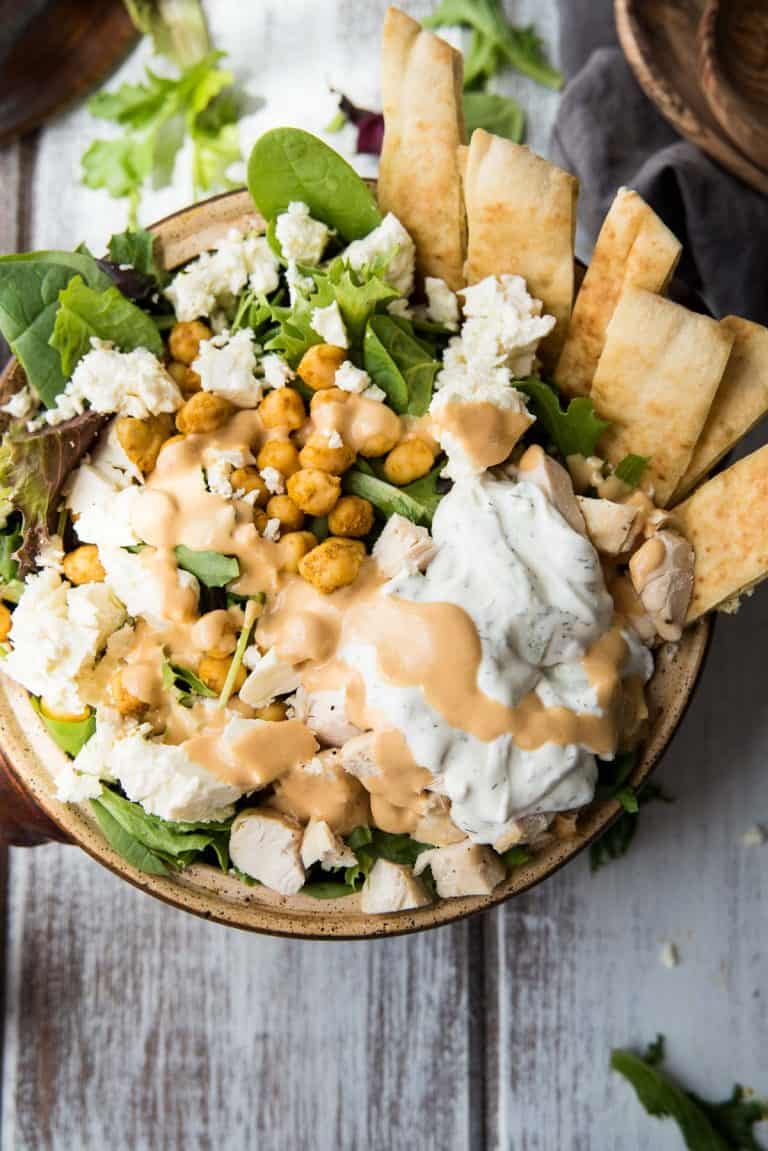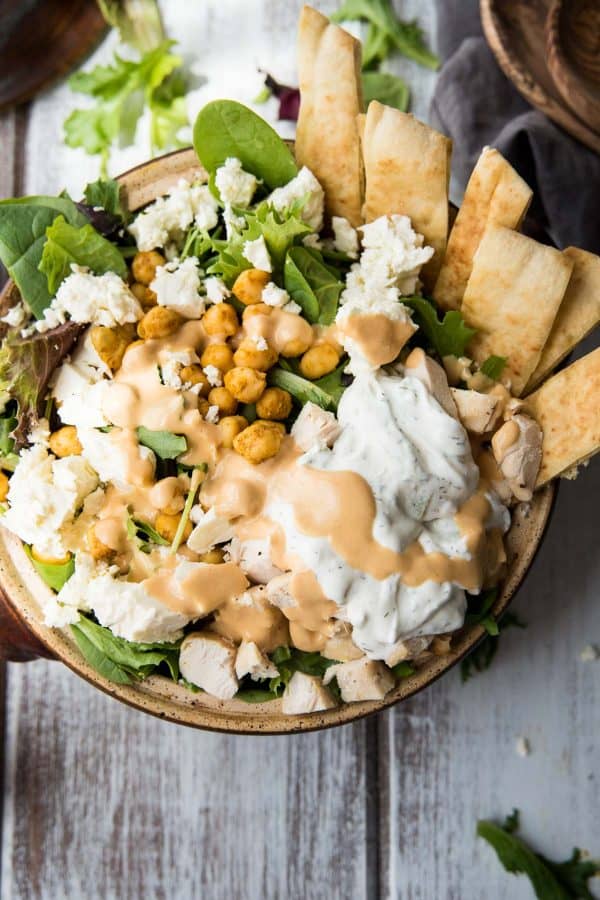 What is shawarma salad?
Inspired by middle eastern and Mediterranean cuisine this salad is like a play on all the good things about a gyro with shawamra spiced chick peas. Chicken is totally optional.
It's an ode to those delicious street cart gyros in New York City, but healthied up, less carby, more protein, drizzled with easy spicy tahini dressing and not served at 4am. Of course, you can totally eat this at 4am if you want, but that's just typically when we eat street cart gyros in NYC. Staying up past our bedtime and pretending we're still in our 20s and what not.
On this here shawarma salad your taste buds will be hit with the following delights:
deliciously spiced chick peas
ready to go spring mix
already whipped up tzatziki sauce
chunks of glorious feta
smattering of spicy, nutty tahini dressing
garlicky crunchy pita
optional grilled, roasted or sautéed chicken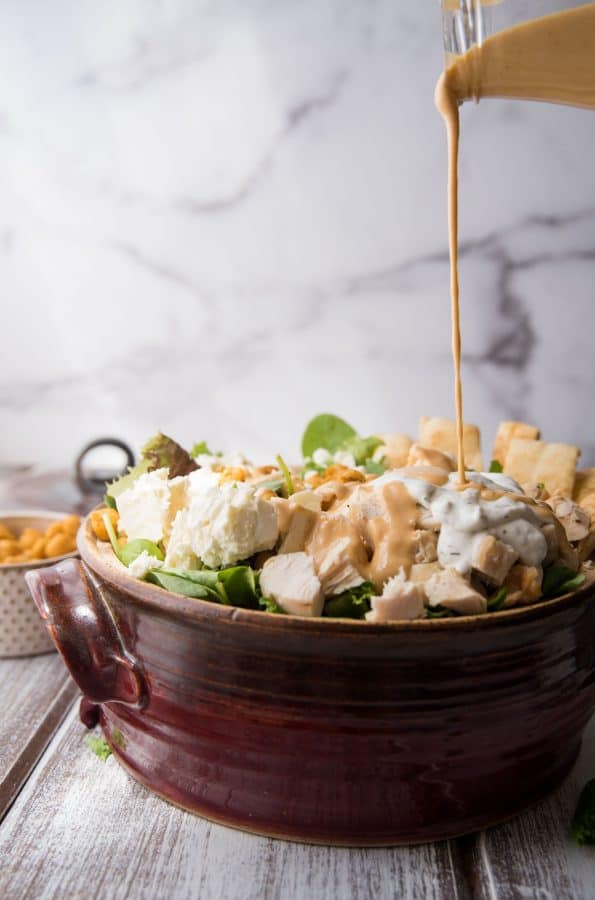 Are you in? Can you vibe this salad? Good, let's get into the nitty gritty.
How to make your life changing shawarma salad...quickly.
Even as I'm writing this post I'm making a mental note to pick up these ingredients at the store tomorrow. It's simple and easy to whip up.
PERFECTLY SPICED CHICKPEAS
A little bit of this, little bit of that seasoning here. The flavors of golden turmeric, floral ground coriander, pronounced and savory cumin with just a touch of salt.
Just drain and rinse the chickpeas, then shake them dry. In a bowl, sprinkle the seasonings over the chickpeas and toss together.
That's it!
If you're looking for extra crunch, you can bake the chickpeas at 400°F for about 20 to 30 minutes in a single layer on a sheet tray.
They're equally delicious either way!
GARLICKY PITA STRIPS
Oh hello carbs, did you miss me? Sometimes you just need a little bread with that salad ya know? These pita strips are inspired by the greek salad bowls Lindsey served us at the photography workshop.
You have a few options when it comes to the garlic oil:
make your own (see the recipe notes.)
buy garlic infused olive oil
rub the pita with a garlic clove then drizzle with oil
Once your pita is lightly toasted just cut into strips and serve alongside the your shawarma salad!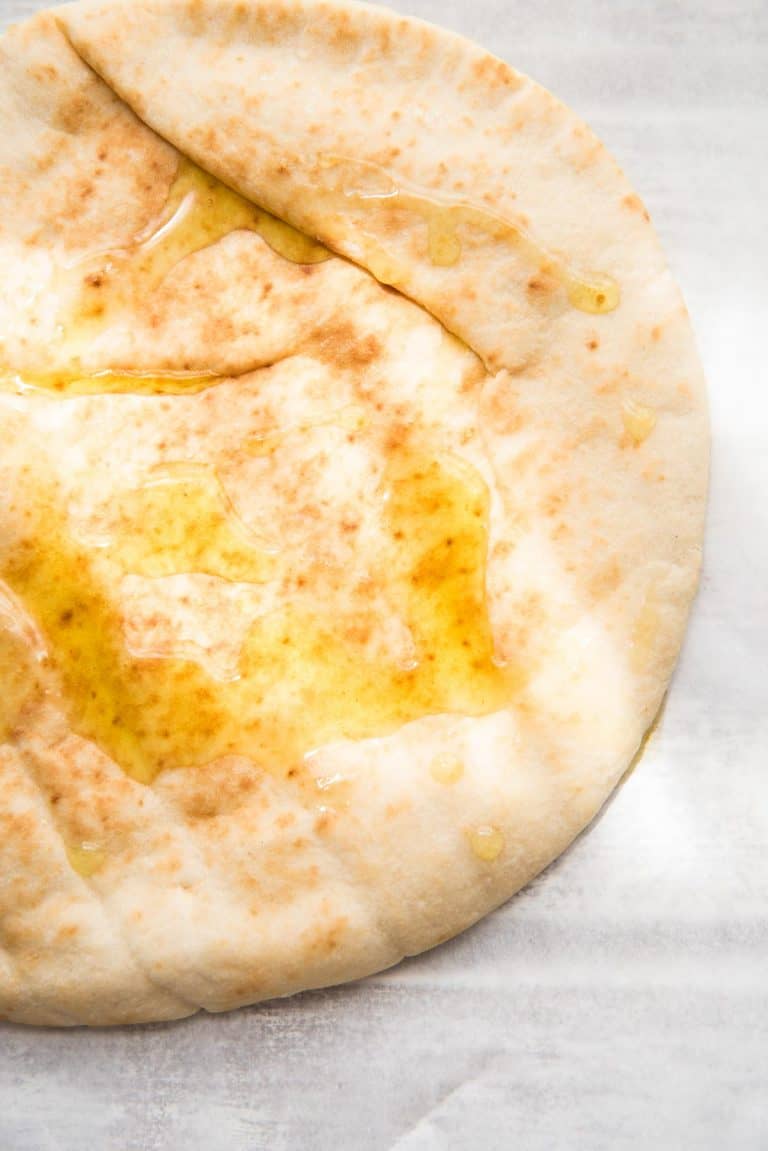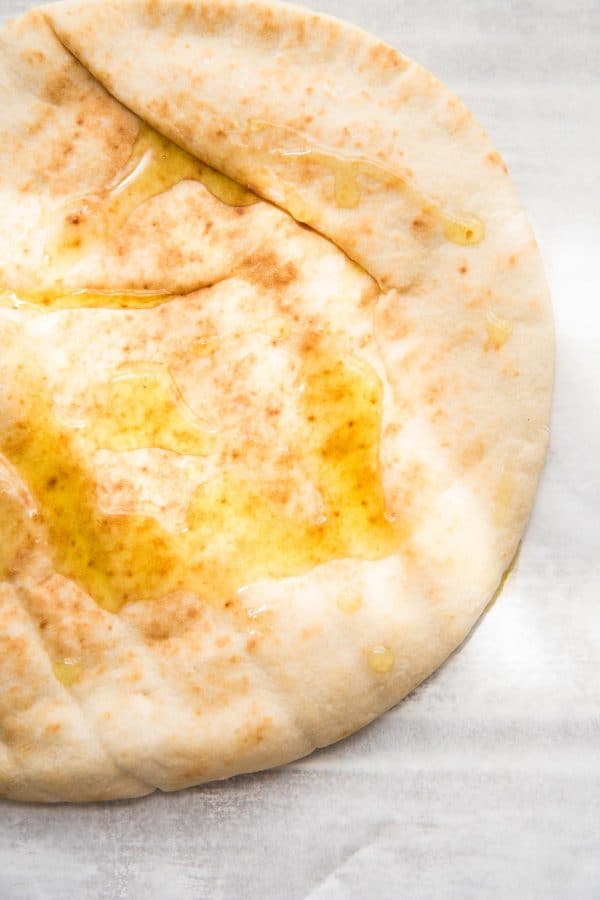 SHAWARMA SALAD SAUCES
In addition to the crisp spring mix lettuces, perfectly spiced chickpeas and creamy, salty feta we've got two delicious - easy and quick - sauces to add to our chickpea shawarma salad.
tzatziki sauce (aka cucumber yogurt sauce)
This magic sauce right here is what makes this salad divine. It's full of fresh flavors (cucumber and dill) and lightened up (yogurt based) and just a little pop of savory (garlic) that's classic of a street cart shawarma gyro.
This sauce is easy enough to make at home, Elizabeth from Bowl of Delicious has a great 10 minutes recipe here. (She's also a fellow New Englander! Well, former I should say, but we won't hold that against her.)
Me? I'm a BIG fan of just buying it ready to go at the grocery store because life is busy and sometimes just that little convenience is worth it.
spicy tahini dressing
Do you know about tahini? It's a little odd and kind of gross on its own, but when you use it in a dressing it transforms into the best savory, creamy with no cream dressing.
Tahini is ground sesame seeds. So alone, the flavor is nutty but also a little bitter. That's why this dressing has regular vinaigrette ingredients like dijon mustard, olive oil, salt but also a little sweet maple syrup.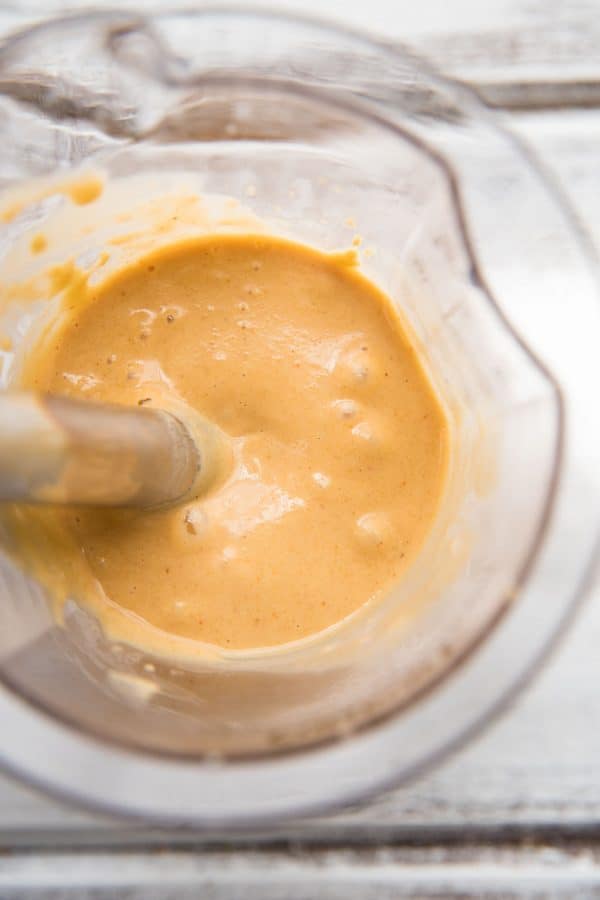 Then we bring out the big guns and add in the Sriracha to kick things up a notch. Two teaspoons is going to give you noticeable heat but still pleasant.
Tip: when tasting your salad dressings, dip a piece of lettuce in the dressing instead of your finger or a spoon to get the best flavor of the dressing.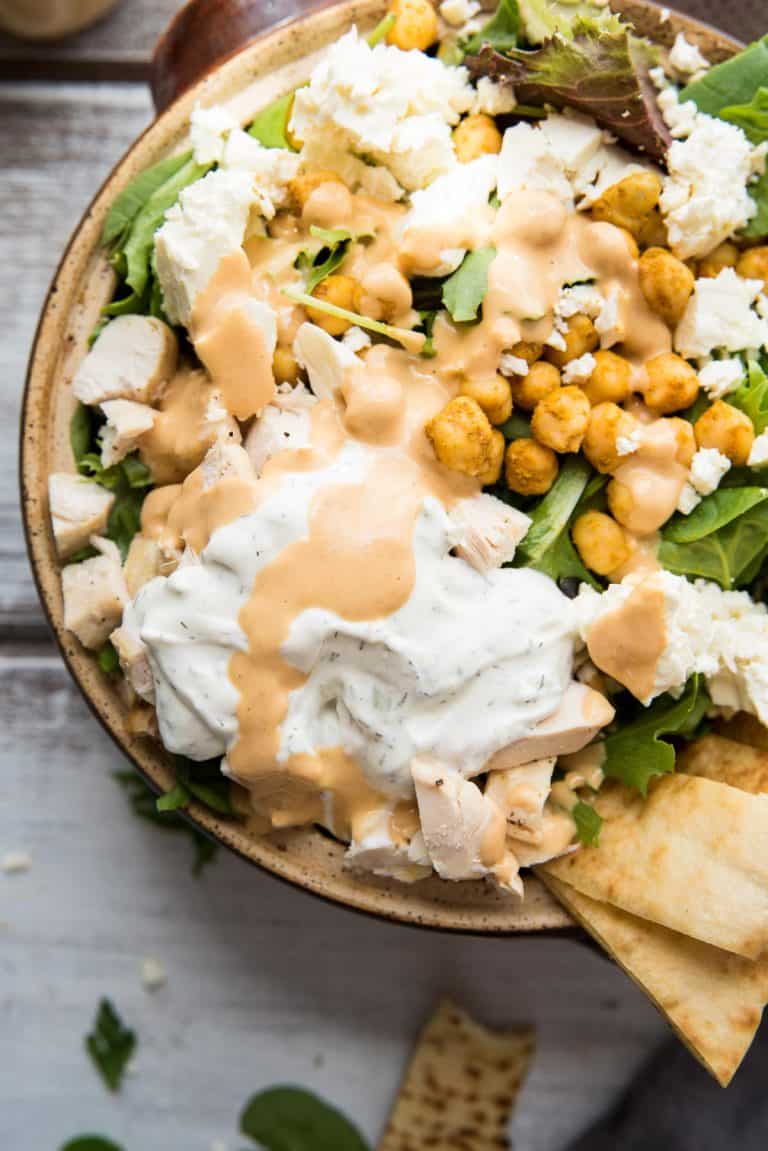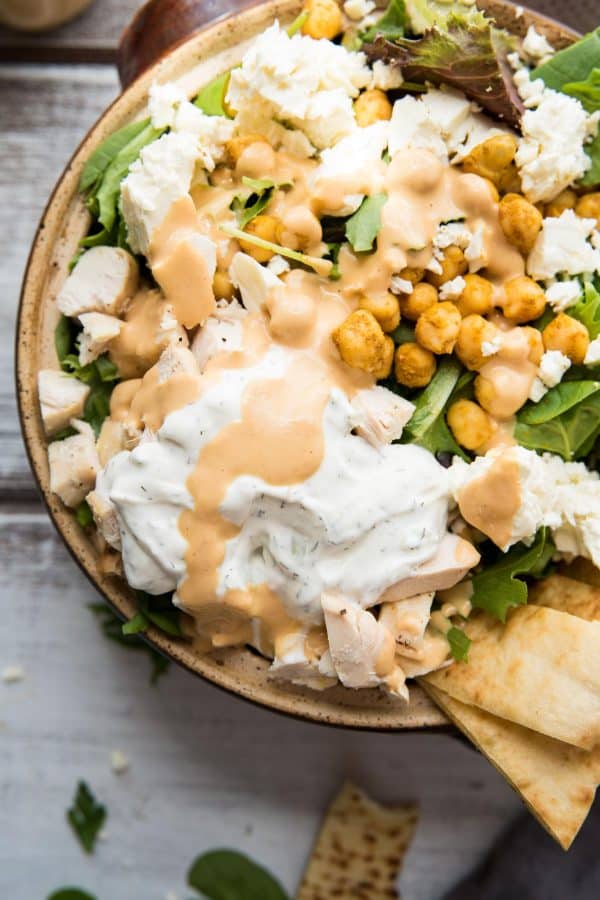 My favorite option for chicken is to use leftovers on salads. Whether you grilled it up, sautéed or pulled it off an rotisserie chicken from the store, it's a great way to pack on lean protein.
Once you layer all your ingredients together, you've got that street cart shawarma feeling but just lightened up and in bowl!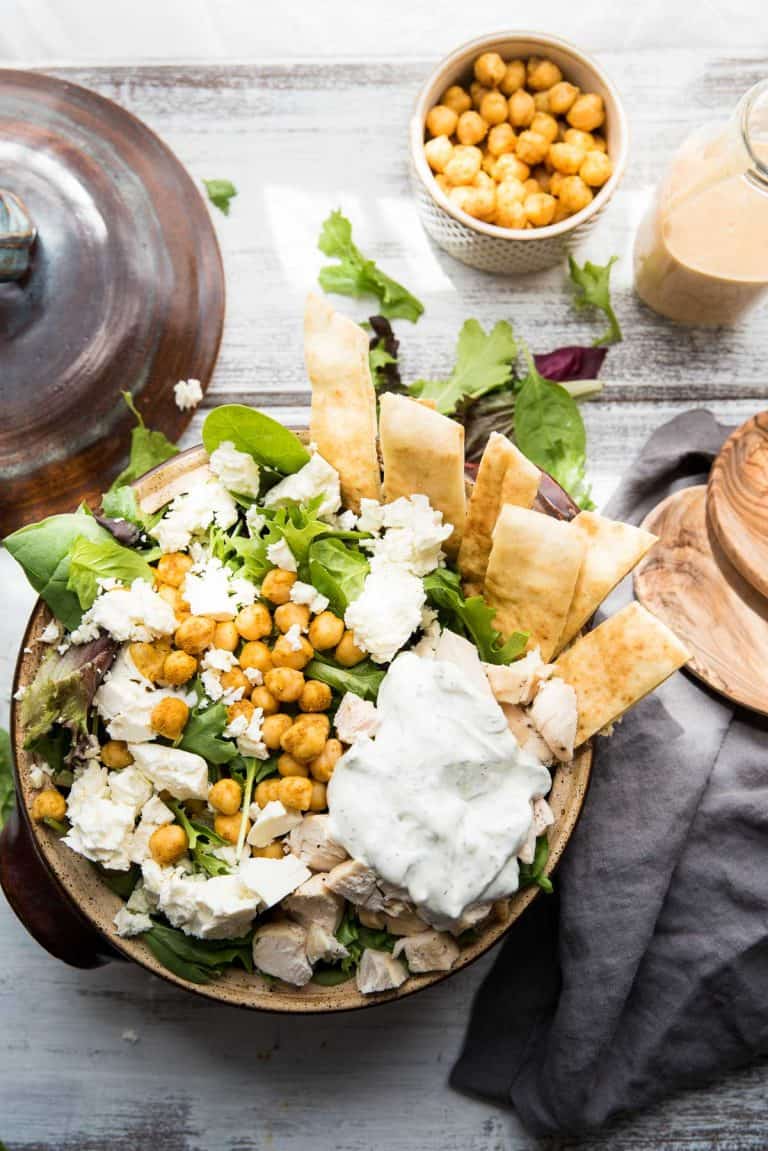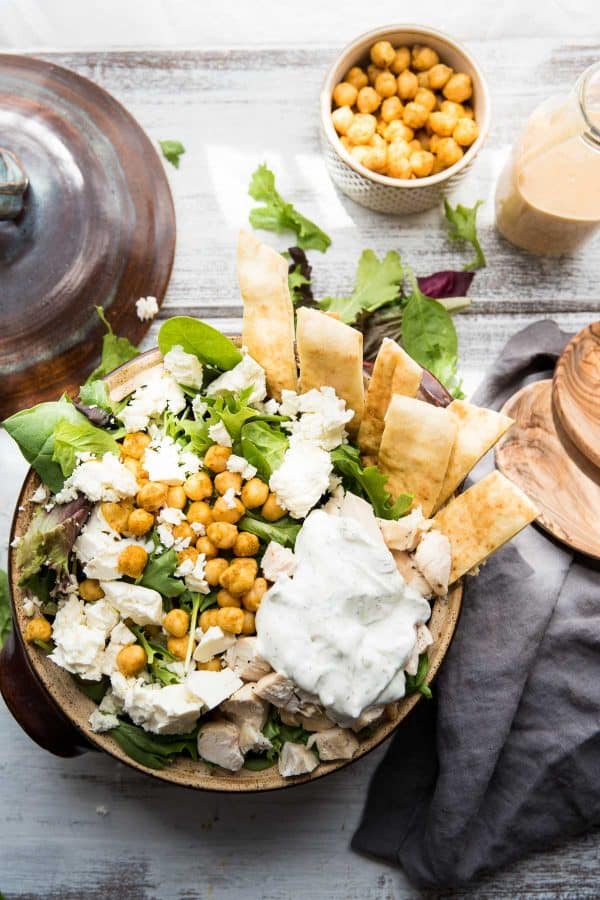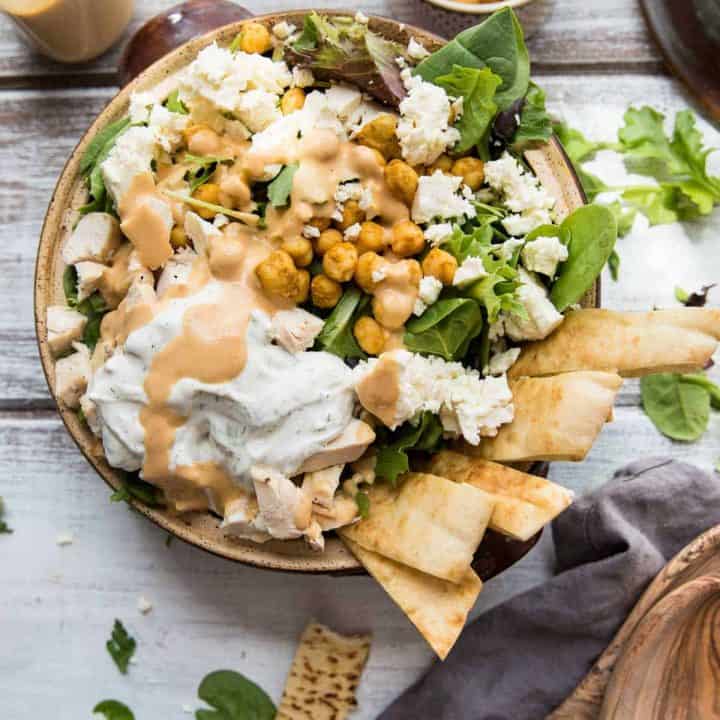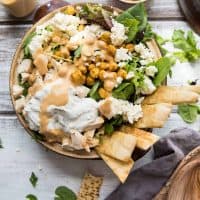 Chickpea Shawarma Salad with Spicy Tahini Dressing
Street cart inspired shawarma meets delicious, crisp salad that's easy and quick to throw together.
Print
Pin
Rate
Ingredients
Chickpea Shawarma Salad
5

ounces

spring mix

(1 container)

1

pita bread

1

tablespoon

garlic oil

(see notes)

4

ounces

feta cheese

¼

cup

tzatziki sauce

1

can

(15.5-ounce chickpeas)

1

teaspoon

turmeric

¼

teaspoon

ground coriander

¼

teaspoon

cumin

¼

teaspoon

salt

8

ounces

cooked chicken

(diced)
Spicy Tahini Dressing
¼

cup

olive oil

¼

cup

tahini

3

tablespoons

lemon juice

2

teaspoons

sriracha

2

teaspoons

dijon mustard

2

teaspoons

pure maple syrup

½

teaspoon

salt

3 to 4

tablespoons

water

(to thin consistency)
Instructions
Chickpea Shawarma Salad
Preheat the oven to 375°F, place the pita on a sheet pan and brush with garlic oil. Bake for 5-8 minutes until lightly crisp. Alternatively, you can toast these in the toaster oven. Let cool slightly and slice into strips.

In a serving bowl, spread the spring mix and top with feta cheese and tzatziki sauce. Set aside.

Drain and rinse the chickpeas. In a medium bowl, toss the chickpeas with turmeric, coriander, cumin and salt. Sprinkle on top of the salad.

Make the dressing: In a small bowl, combine the ingredients using a whisk or a handheld immersion blender. Dressing will make a little over ¾ of a cup.

Drizzle the desired amount of dressing over the salad. Top with diced chicken and serve with toasted garlic pita strips.
Notes
For the chicken, rotisserie chicken from the grocery store is a great, quick option to make this an even faster protein packed salad.
For the garlic oil, you can either buy the garlic oil already infused, make your own by simmering a head of garlic in 1 cup extra virgin olive oil over low heat for about 30 minutes, OR rub the pita with a garlic clove before drizzling with olive oil.
For the tzatziki sauce, I prefer to just buy this at the grocery store ready to go. If you have a chance to make it at home it is delicious but having one less thing to do is nice too. Typically it's in the same section as the hummus.
For added crunch, you can bake the chickpeas at 400°F for about 20 to 30 minutes.
Nutrition
Calories:
494
kcal
|
Carbohydrates:
18
g
|
Protein:
23
g
|
Fat:
37
g
|
Saturated Fat:
9
g
|
Cholesterol:
70
mg
|
Sodium:
1041
mg
|
Potassium:
337
mg
|
Fiber:
1
g
|
Sugar:
4
g
|
Vitamin A:
612
IU
|
Vitamin C:
15
mg
|
Calcium:
214
mg
|
Iron:
2
mg