A diverse round up of the ever popular tequila laced drink, these 16 margarita recipes will have something for everyone. From sweet, salty, and spicy, to loads of fresh fruit look forward to options galore for craft margarita cocktails this Cinco de Mayo.
Watermelon Basil Margarita | Chili Sugar Rim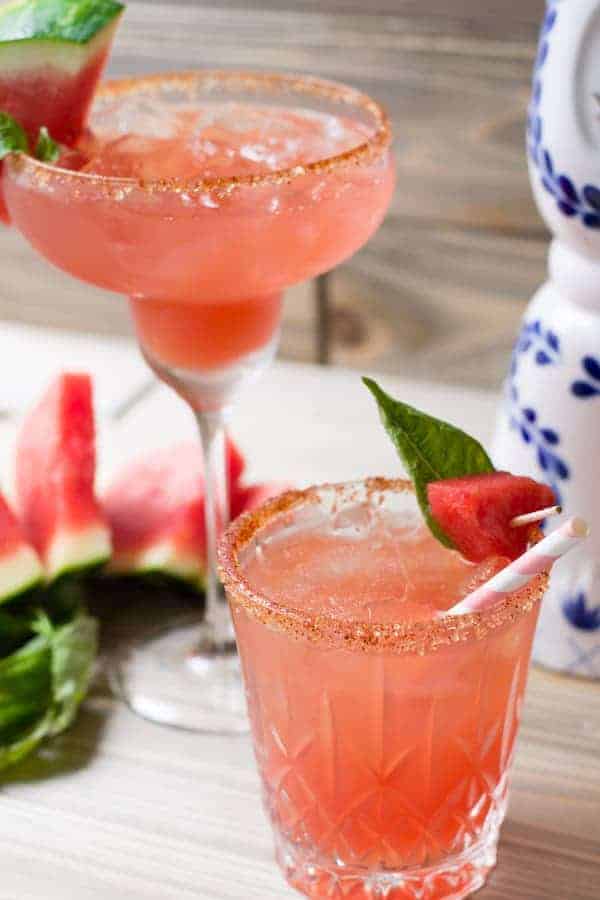 This margarita recipe from Hunger|Thirst|Play brings fresh watermelon and basil to the table and pairs it up with a spicy and sweet Chili Sugar Rim.
Orange Turmeric Margaritas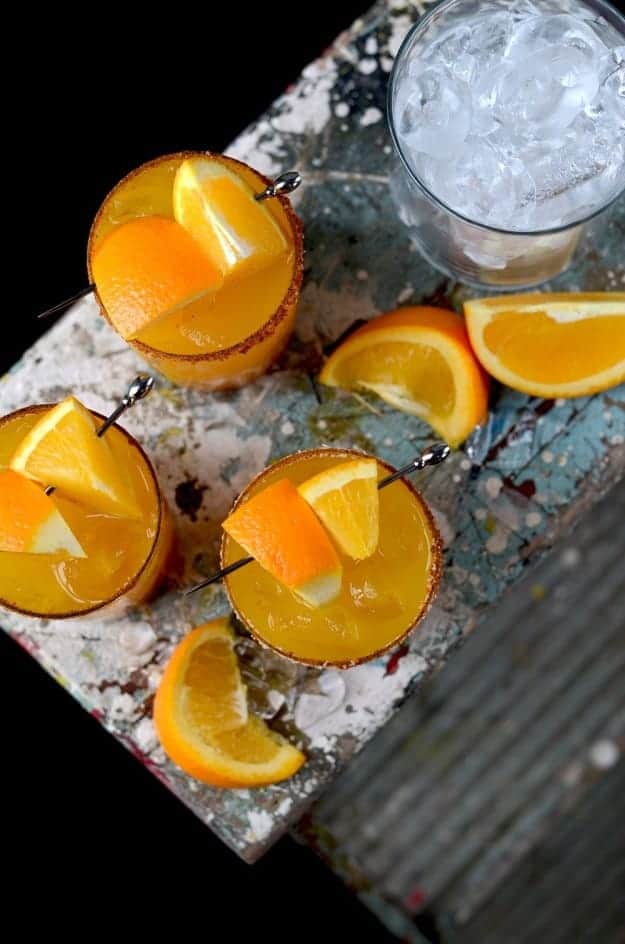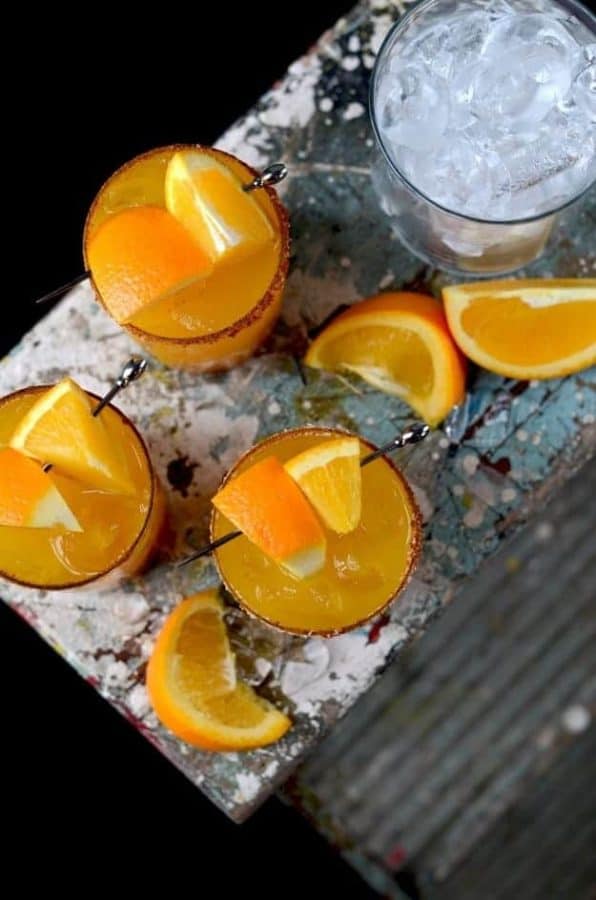 Vibrant orange colors with popping citrus flavor and smokey undertones from the fresh turmeric. This crafty cocktail from Vintage Kitty will have your tastebuds standing at attention.
Frozen Strawberry Margarita with Mint and Lime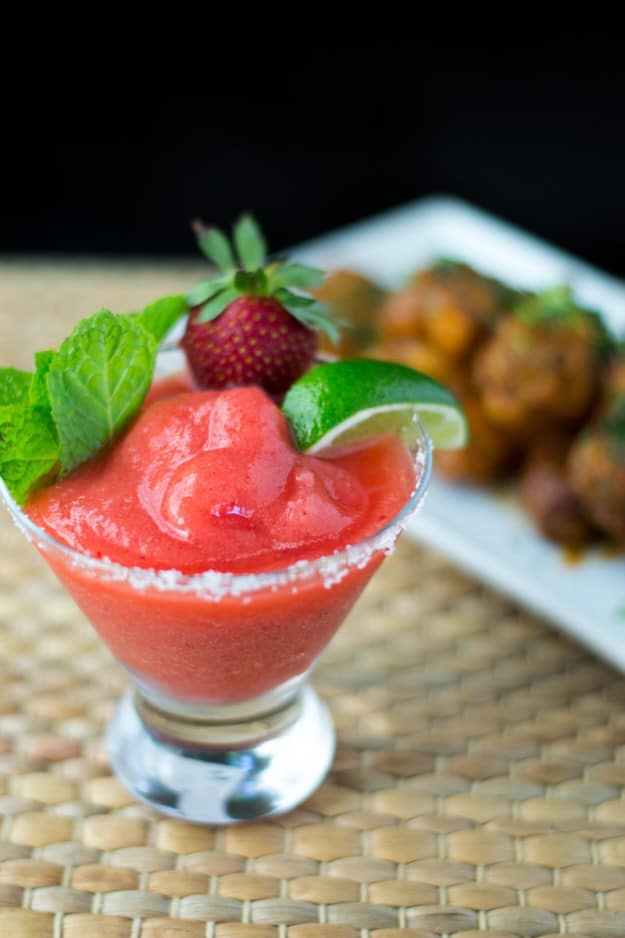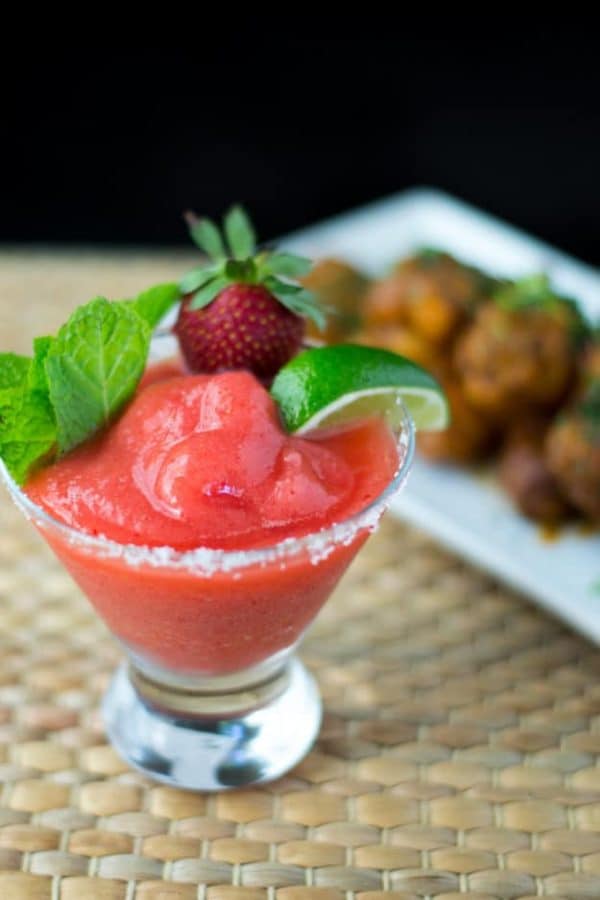 Brrr...it's cold in here...Nope, no Toros in the atmosphere. Just this divine frosty, fresh fruit and mint margarita recipe from Wanderspice.
Peach Basil Margaritas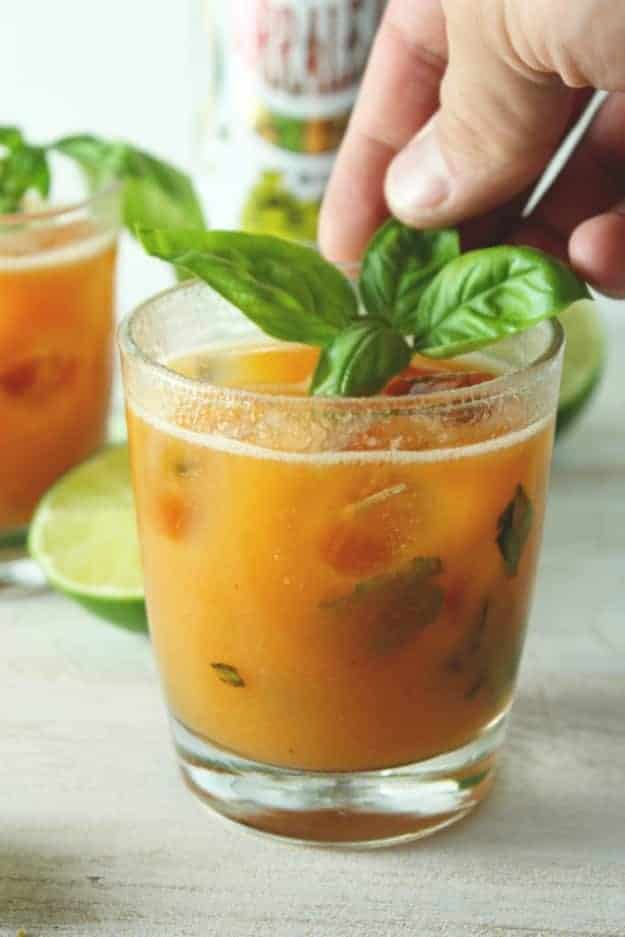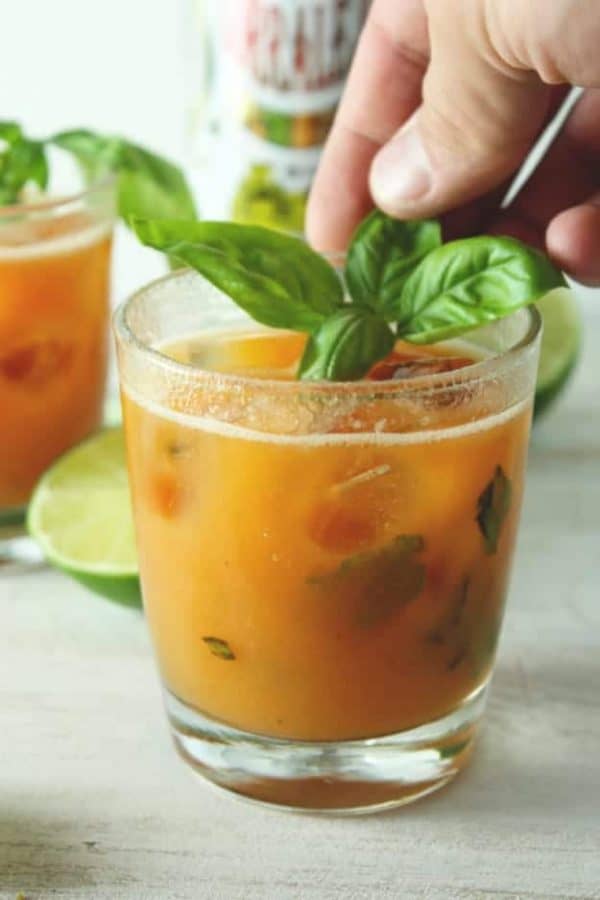 These Peach Basil Margaritas from The Fitchen have us dreaming of summer nights and barbecues.
Strawberry Jalapeño Margaritas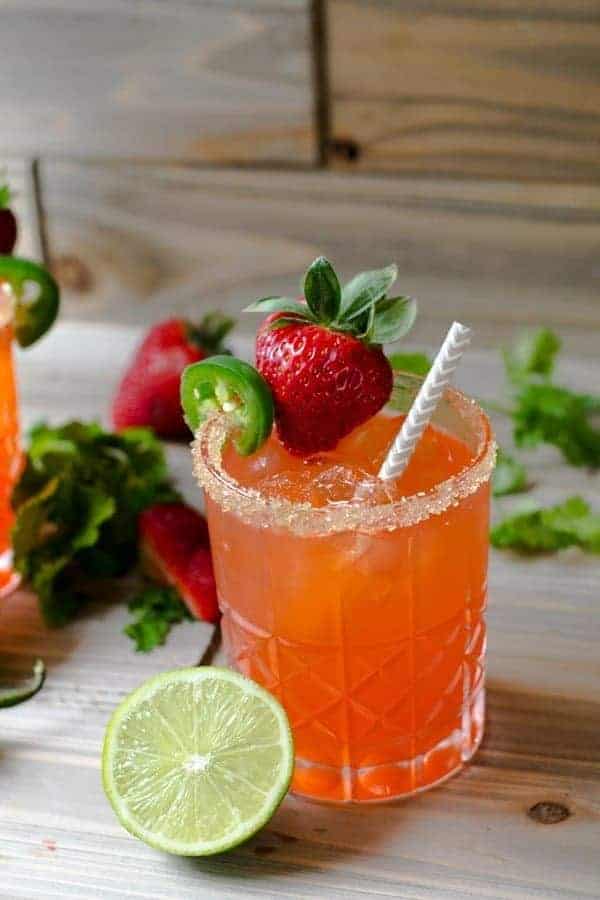 Sweet, intense strawberry flavor with subtle jalapeño heat delivers a little bit of everything for the tastebuds from Hunger|Thirst|Play.
Classic Skinny Margaritas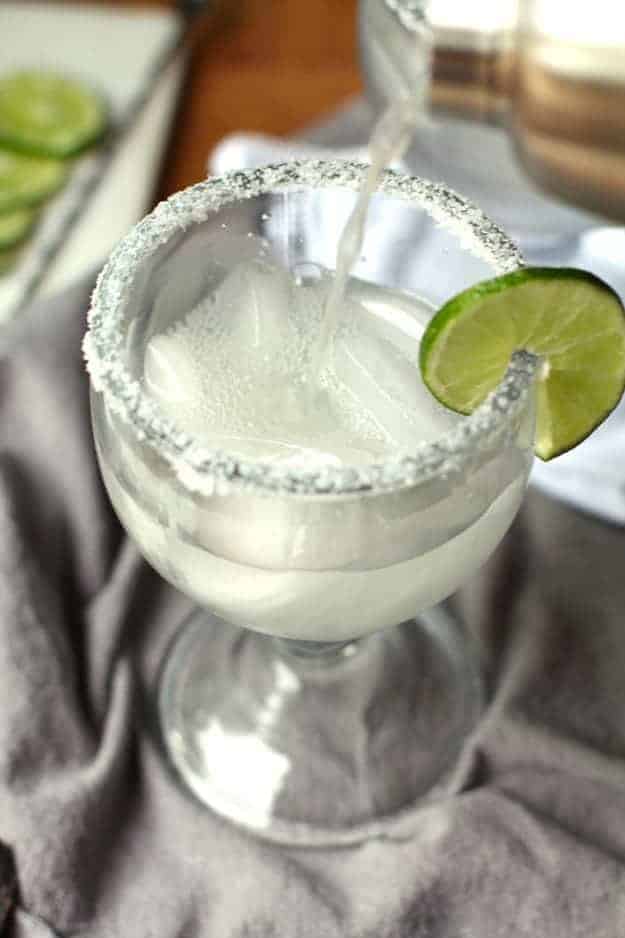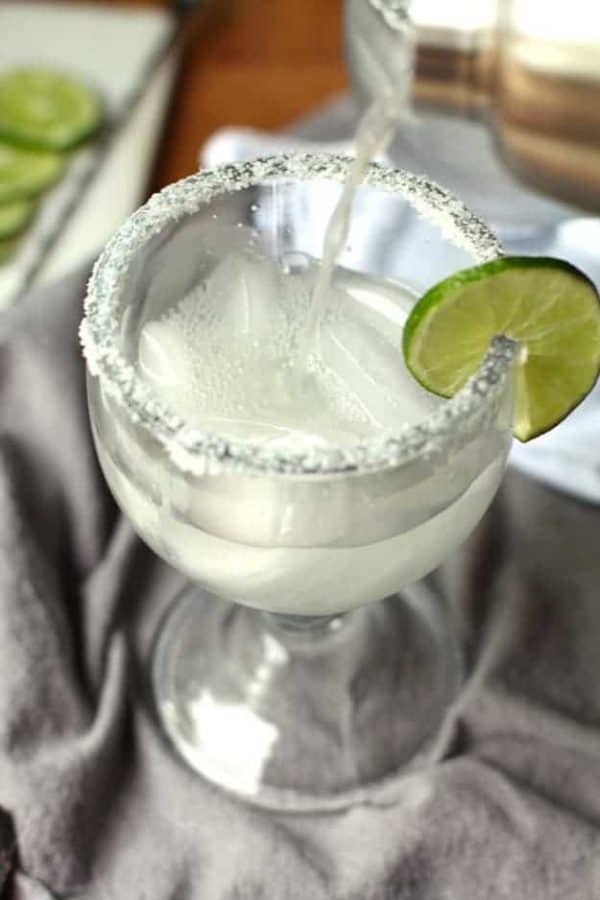 If it's skinny, does that mean you get more tacos or more margaritas? This Classic Skinny Margarita recipe from Sue Bee Homemaker will have you on Team Margarita in no time.
Elderflower Margarita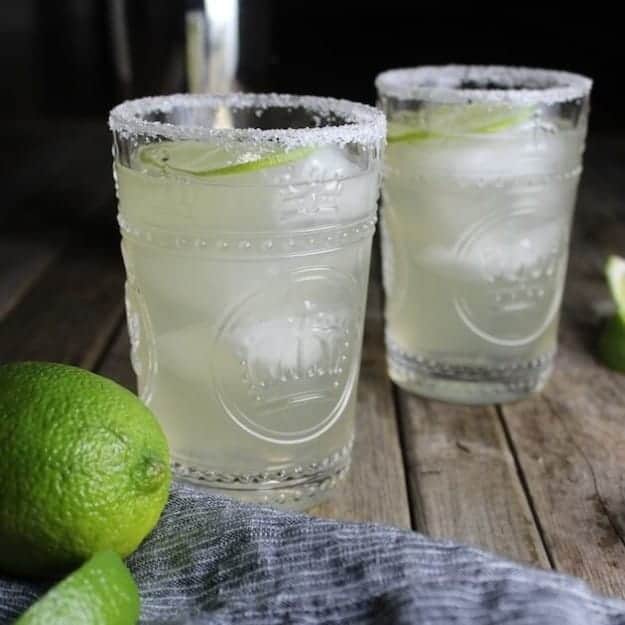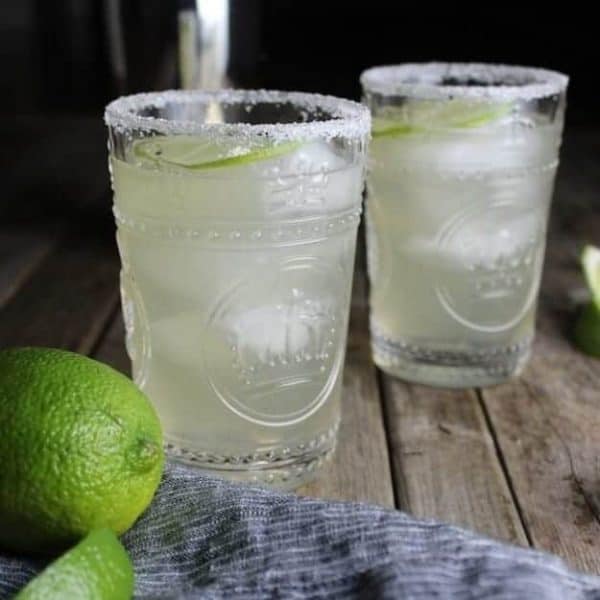 Elderflower liquor brings sweet floral notes to this take on the traditional tequila drink from Taste and See.
Blueberry Lime Margarita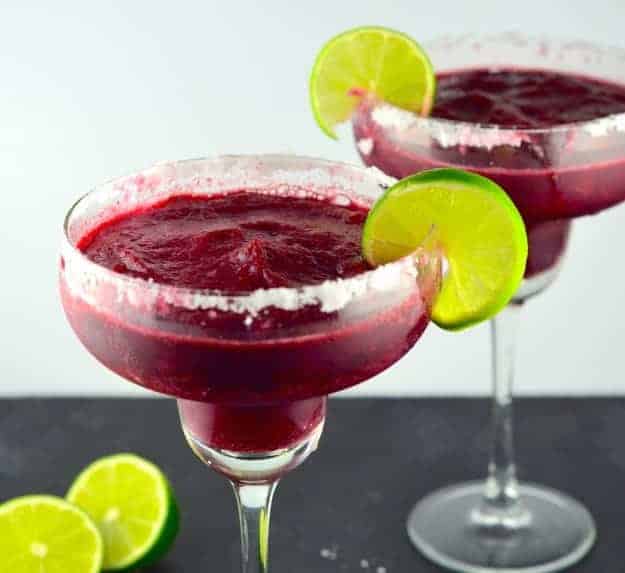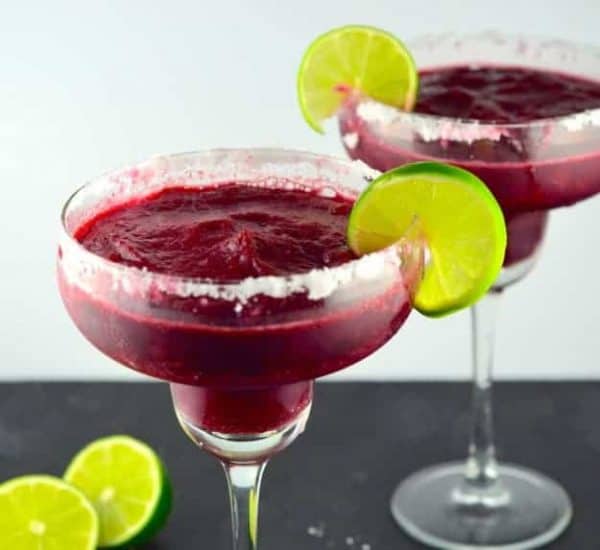 Blue and beautiful, these adult frozen drinks from May I Have That Recipe? will make you feel like a kid again.
Watermelon Margaritas with Watermelon Rind Garnish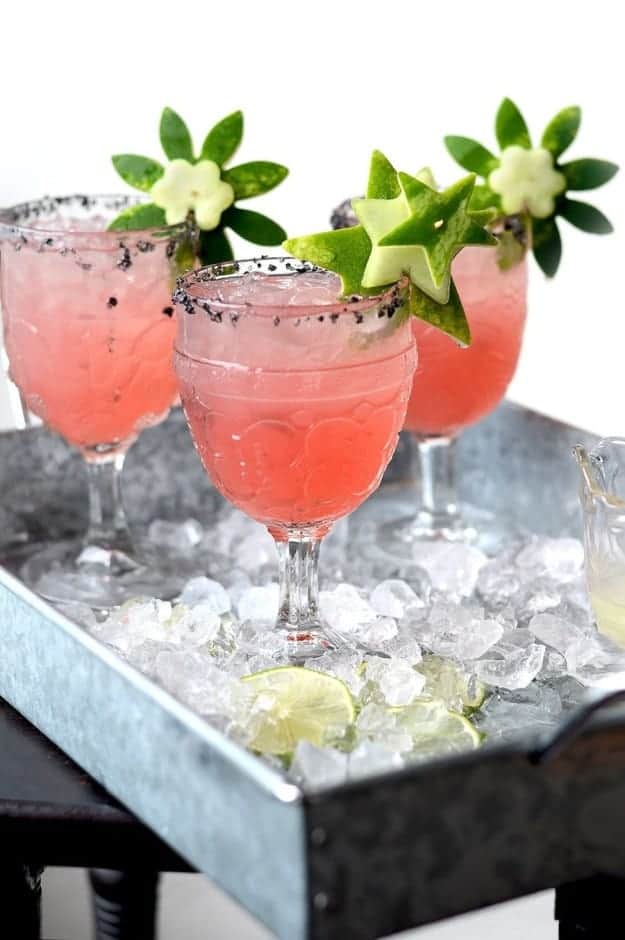 These watermelon margaritas from Vintage Kitty are as pretty as they are tasty!
Dan's Killer Margarita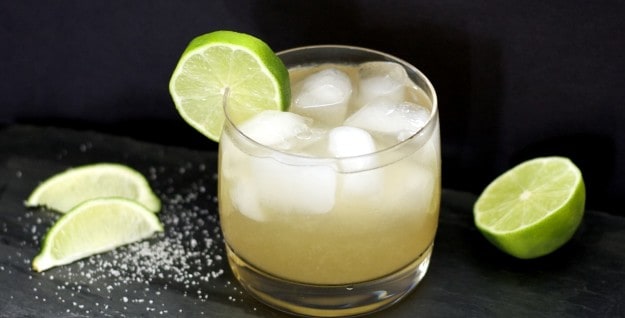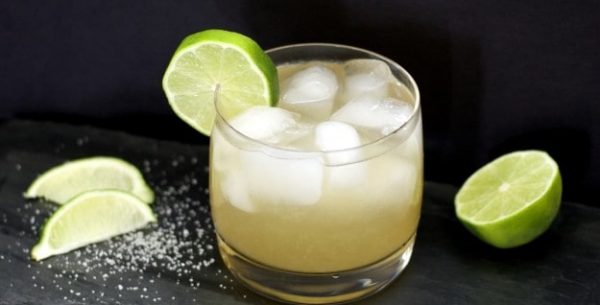 Certainly loving Dan's style, this killer margarita recipe from The Domestic Dietitian is on the lighter side bringing lots of taste without the guilt!
Blue Margarita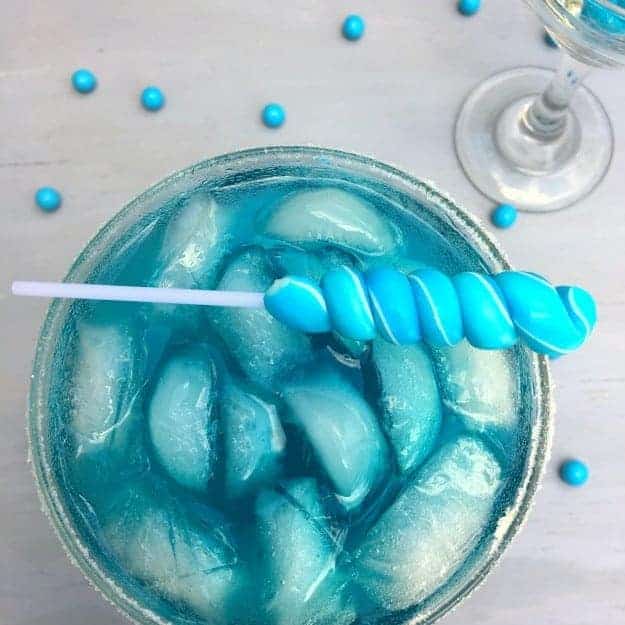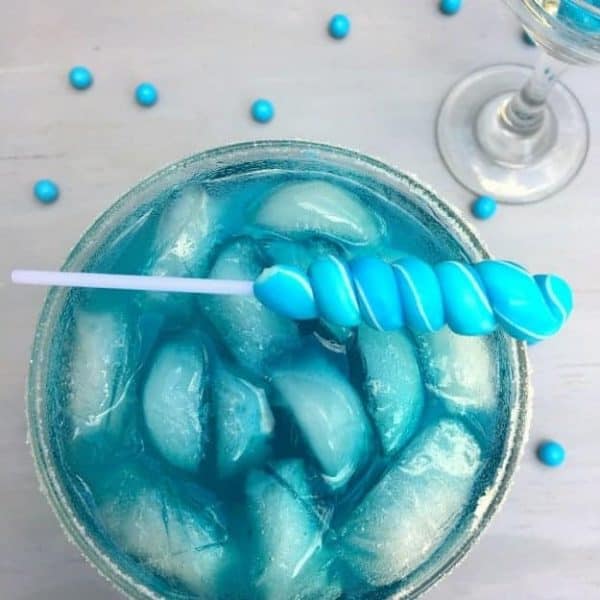 Bright blue eye popping color and citrus flavors from the Blue Curacao make this margarita from Krazy Kitchen Mom stand out.
Frozen Mango Margarita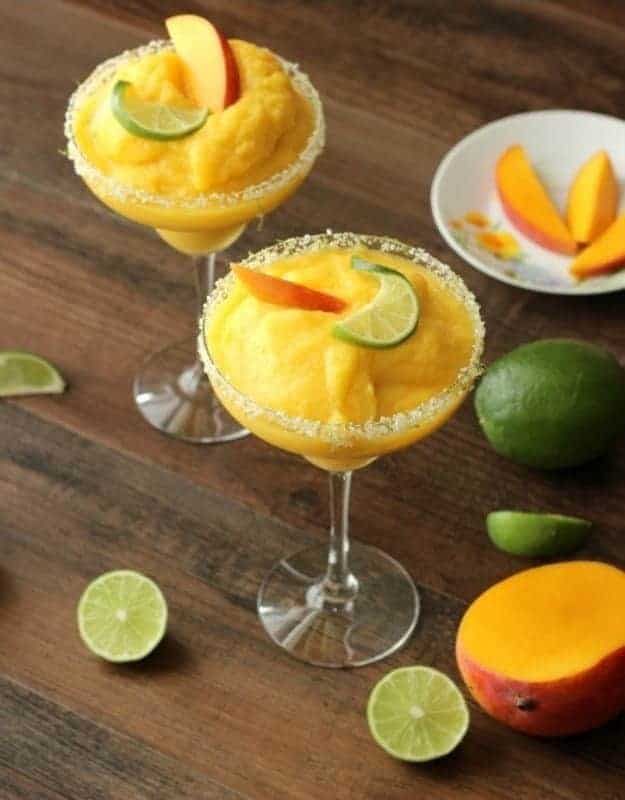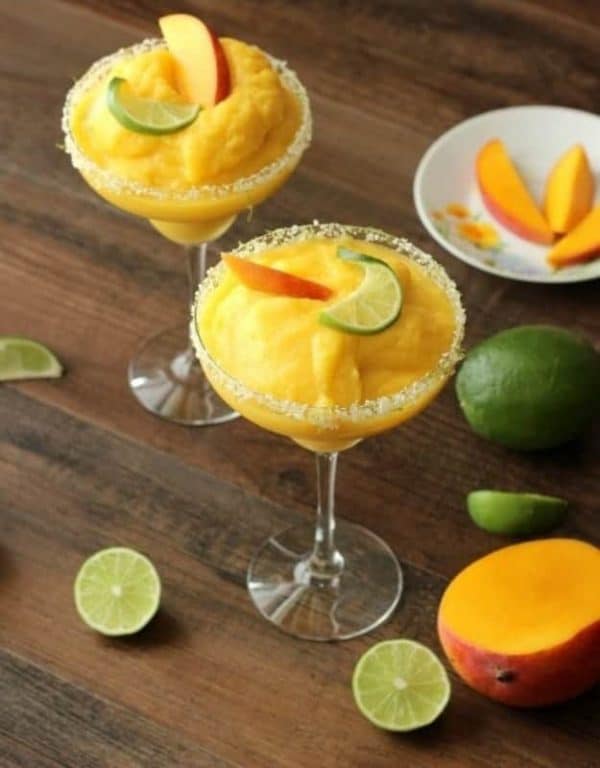 Blended fresh mango makes this margarita recipe from Mirlandra's Kitchen taste better than your breakfast smoothie!
Spicy Jalapeño Pineapple Margarita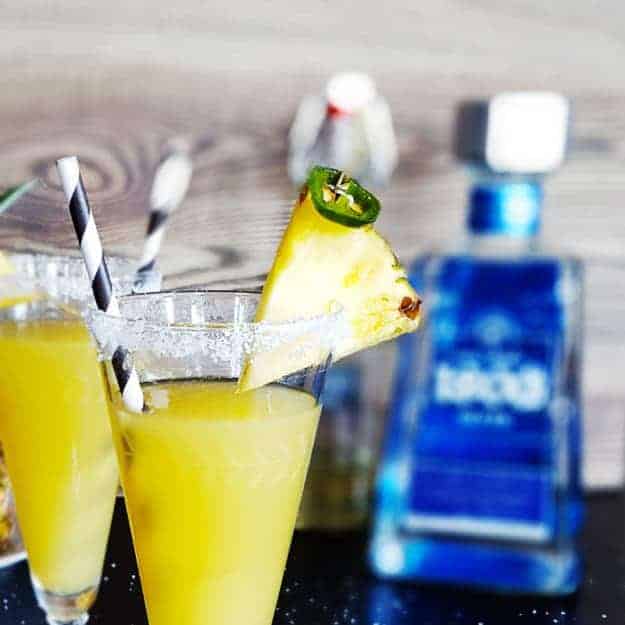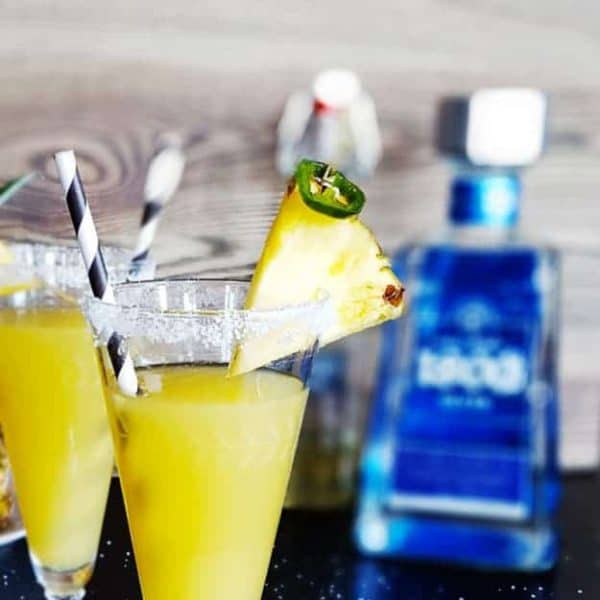 Spicy jalapeño simple syrup brings spicy and sweet along with the tropical flavors of pineapple in Feast in Thyme's take on the margarita.
Strawberry Thyme Margaritas

This herbaceous fruity margarita from My Wife Can Cook is easily made using a hand blender and thyme simple syrup.
Ginger Margarita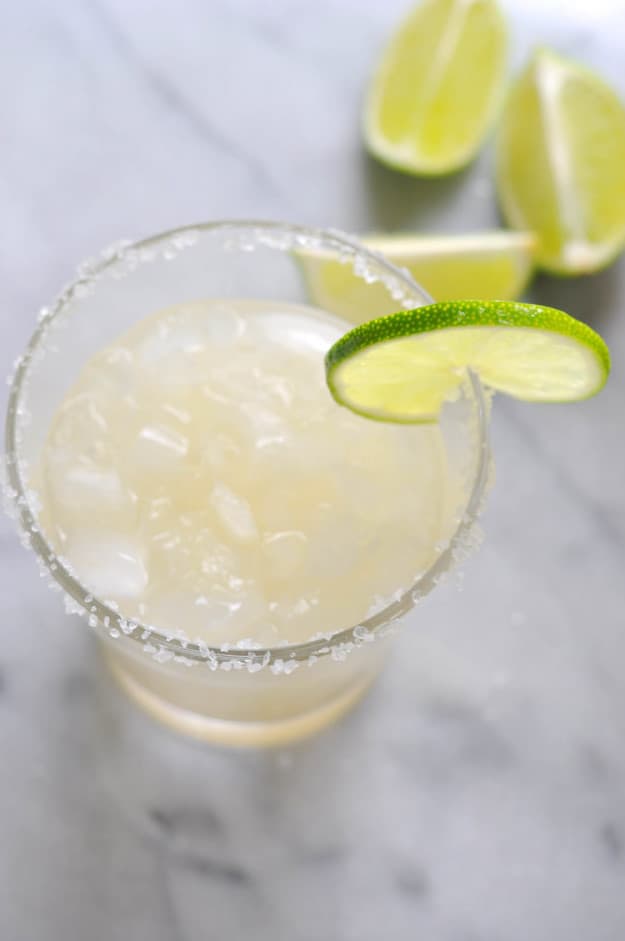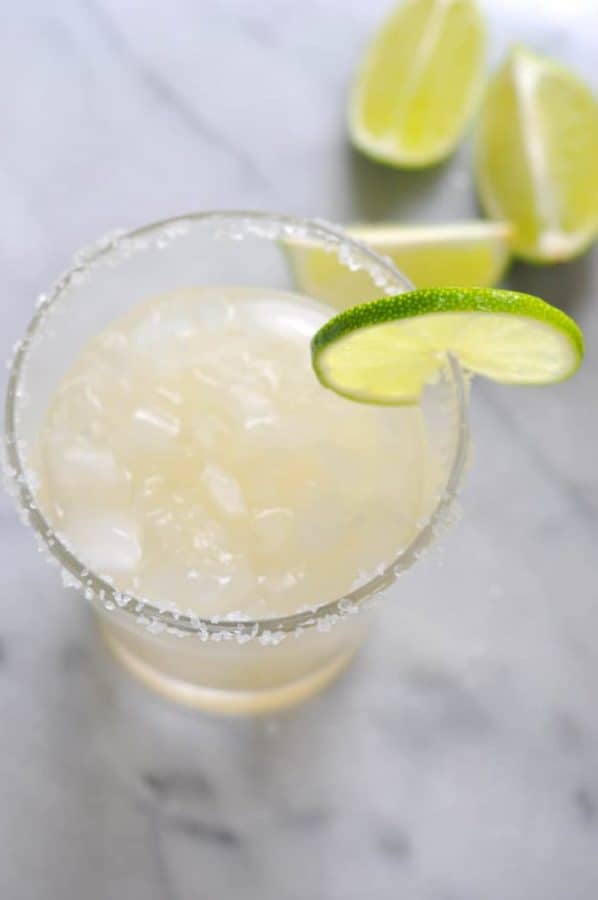 This fresh ginger margarita from Shiny Happy Bright will have the moscow mule lover in your life switching to team tequila!
Mexican 75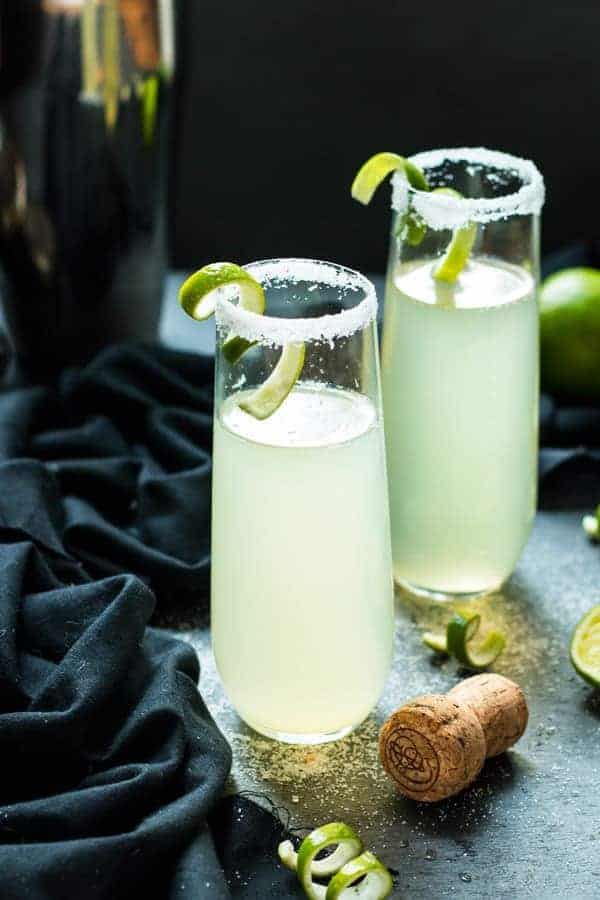 Your Cinco de Mayo celebrations are sure to 'pop' with this champagne based tequila cocktail from Gluten Free with LB.