Sometimes tacos get lonely. All that goodness hidden away in it's little tortilla blanket. They need friends, friends like Mexican Black Bean Soup. You're skeptical, right? Friends for tacos means less room for tacos. I'm with you on the logic, but after one spoonful of this smooth, spicy and smoky soup your tacos are going to have a new bestie for Taco Tuesday.
Can we taco 'bout life real quick?
Life is hard sometimes. Not in a dramatic way, but in a today-is-not-going-to-plan way. A late night at work resulted in a 3am arrival home, followed by a 3:30am child wake up from teething pain, followed by a 5:30am 'Dearest parents, I'm ready to get up for the day' howling. The final wake up call can be attributed to our upstairs neighbors deciding that vigorously vacuuming at 7:45am is wicked cool. Imagine for a moment the obscene gestures being made at the ceiling.
Thankfully my husband is the cat's pajamas. If he didn't take the brunt of the 5:30am wake up call, this post would not be happening. Zombie mom's can't type.
So on a crazy, 3-hours behind schedule, so much to do day, I am completely amped this soup is in my fridge to heat up for lunch. It's moderately healthy if you don't count the bacon drippings. So I'm not.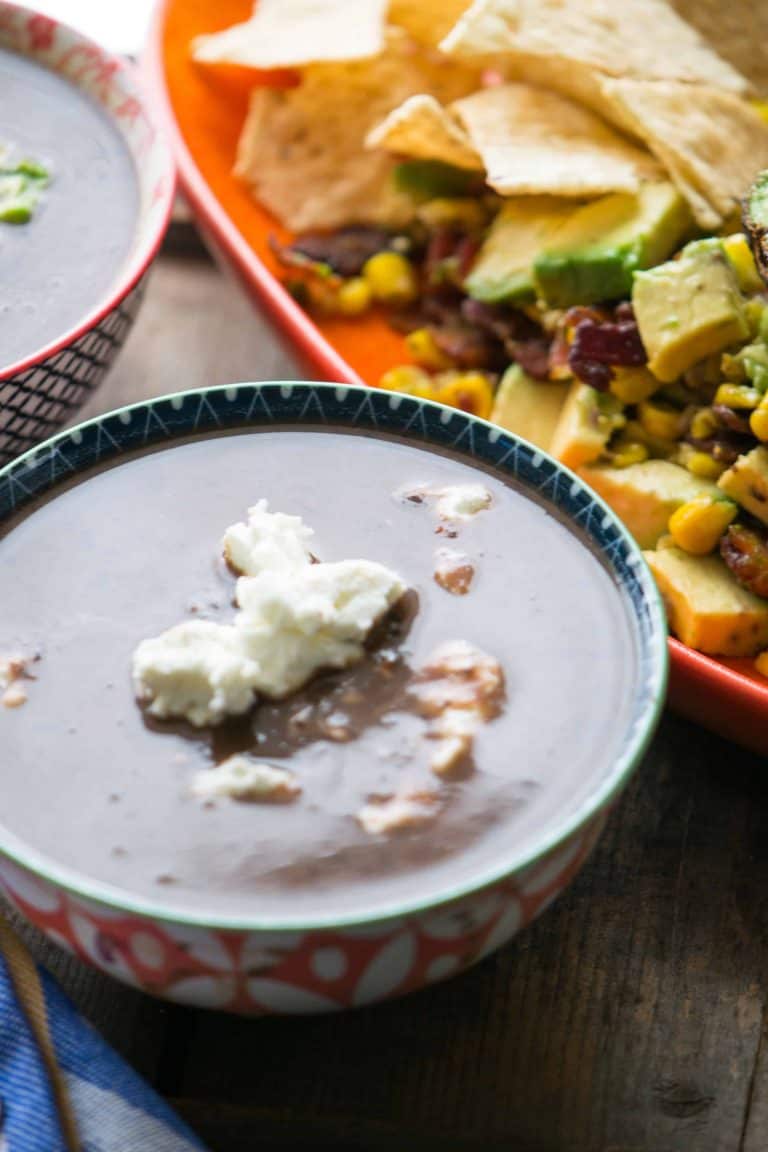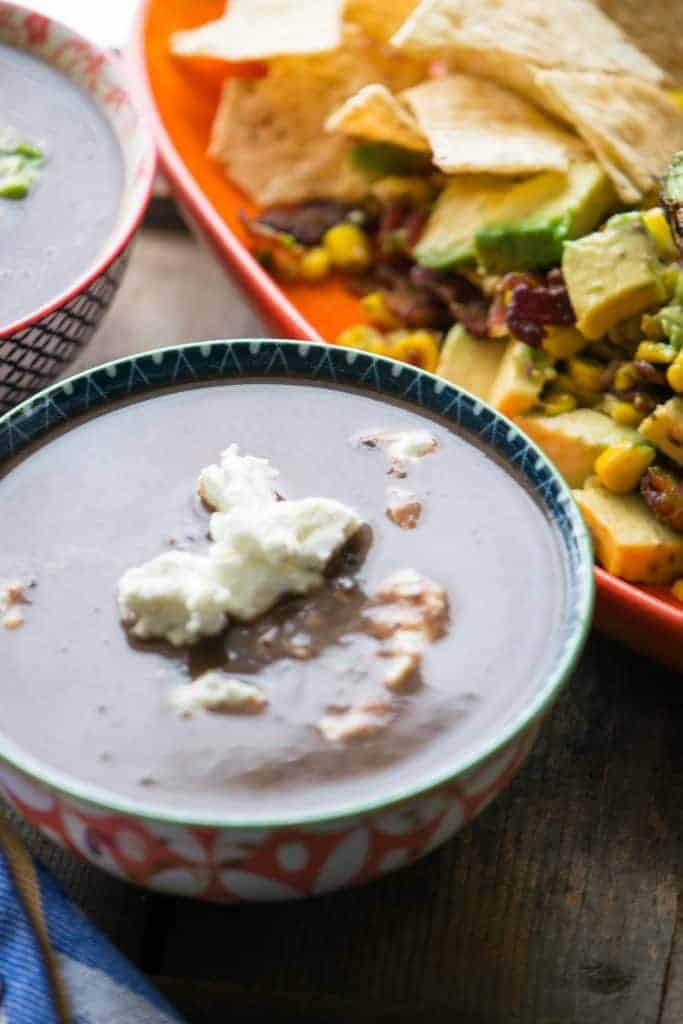 Apart from a quick lunch, this soup is easy to make and requires minimal prep work. Chop the bacon, chop the onions, mince the chipotle peppers and throw that cutting board in the dishwasher. If you haven't invested in an immersion blender, I'm not quite sure how to express the value of this purchase. Soup, salad dressings, cake mix, cookies - it's uses are pretty all over the map. If you're going to buy a gadget, you want to get your money's worth. Something like this one here on Amazon. That's the model currently in use in my kitchen, but if you're on a tighter budget they offer models as inexpensive as $16.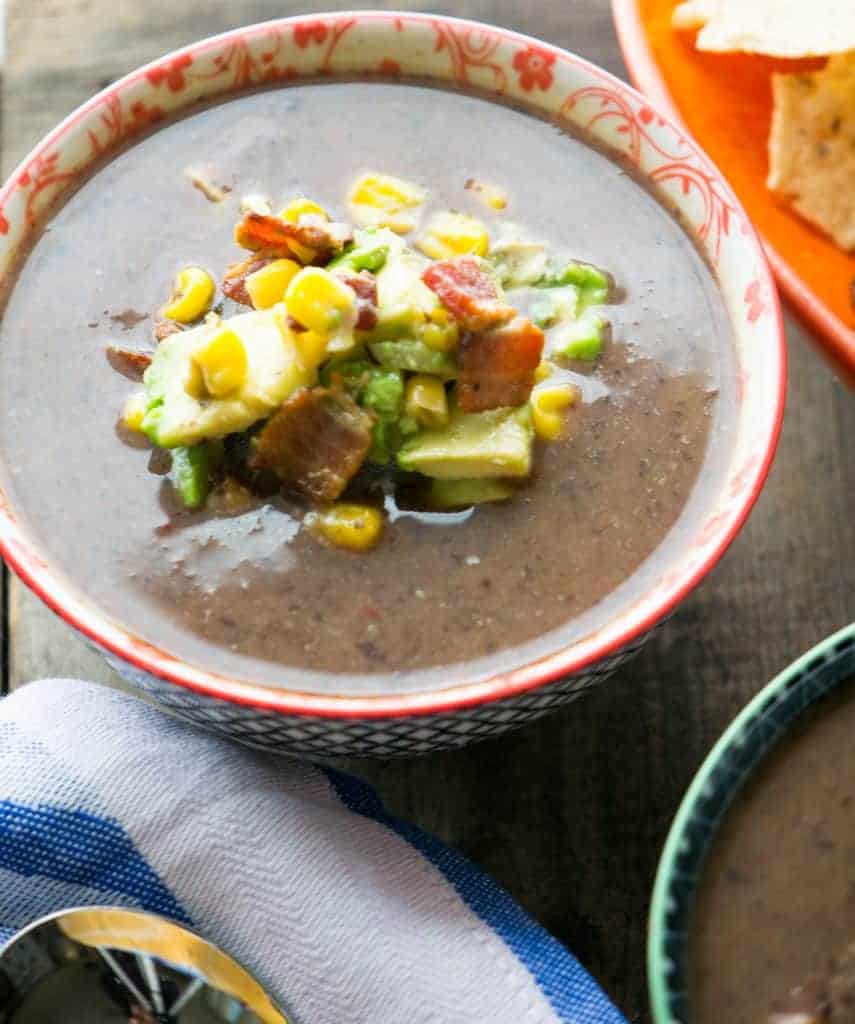 Ok, but soup...
The bacon is crispy, the onions are sautéed, the beans and chicken stock are added. Before you bring all that goodness to a boil, you're going to want to lace the strings that will tie this soup together - the spice. Salt because, well, salt. It's a cook's best friend. Salt and cooks, tacos and black bean soup. There's so much friendship going on today it warms my heart.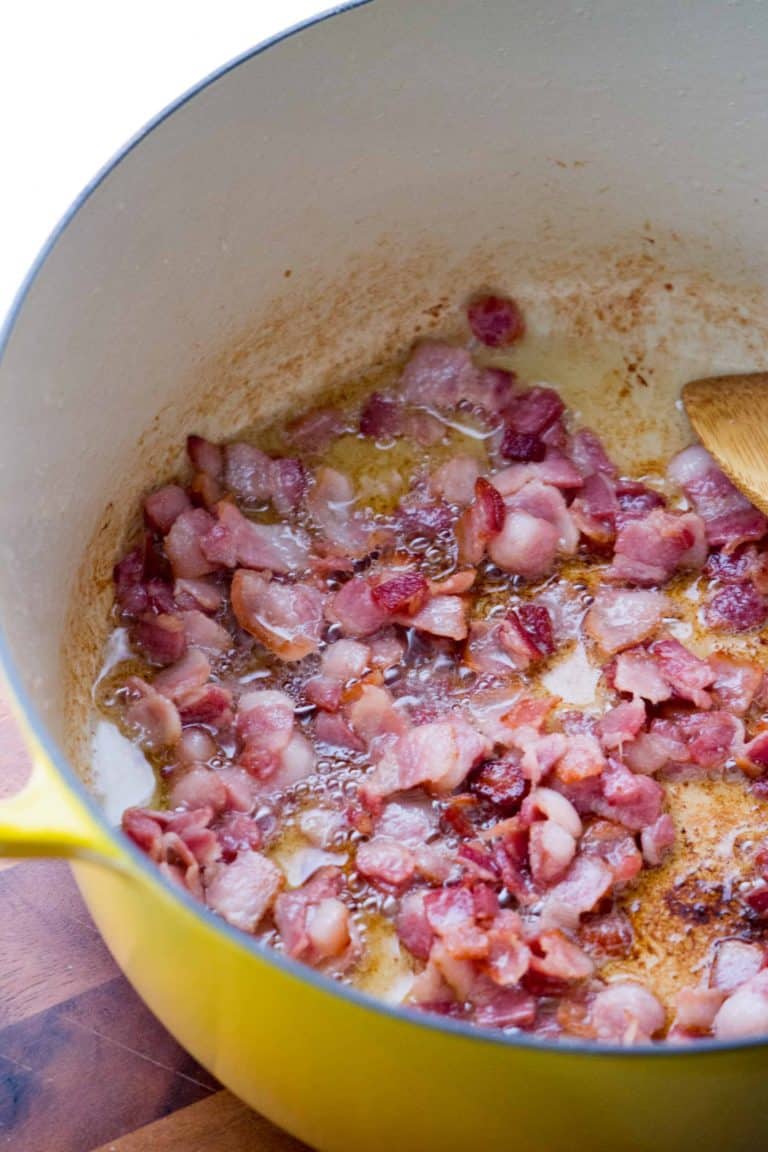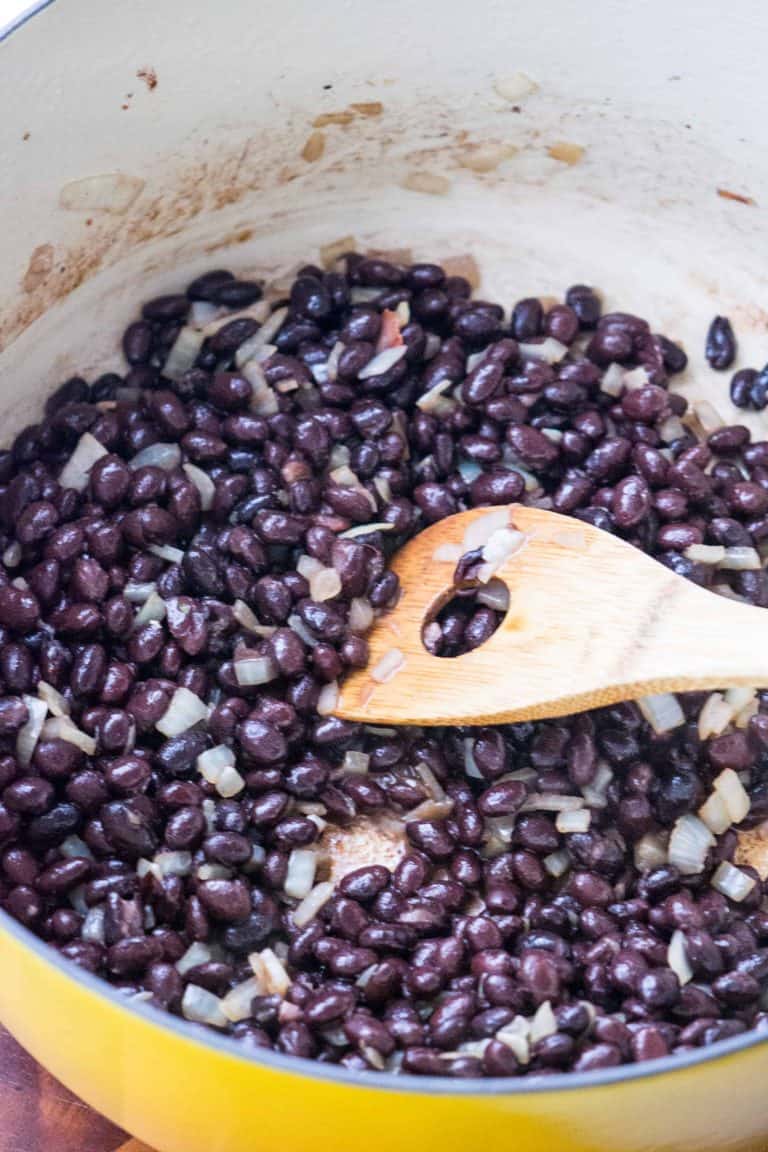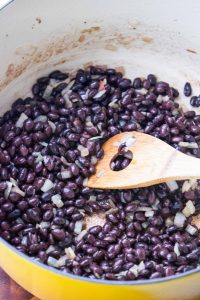 White pepper brings a subtle seasoning that will massage the spice sensors on your tongue. Chipotle peppers and the adobo sauce bring ultra smooth smokey flavors that will warm the inside of your mouth. Bringing just enough heat to make you go, "Ooo!" without making you reach for a glass of water.
Using your handy dandy immersion blender, stiiir it up baby. About 1 minute of blending should do. You may need to lift up one side of the pan to pool all the ingredients together. Then sit back, relax or make yourself a margarita and let this primordial looking soup mixture simmer. Too many margaritas and forgot about the soup? No worries, if you reduce it too long so the thick mixture is scoop able...say on a tortilla chip...you'll have black bean dip. A snack to go with your margaritas. Win-win.

Let's get chefy
Impress your family and friends with an ultra easy garnish that not only enhances the soup but looks like it came out of Bon Appétite magazine. A drizzle of créme fraîche or sprinkle of cojita cheese will add eye-popping white to the oil slick appearance. OR use those bacon leftovers and make this Bacon Corn Salsa that adds the perfect crunch to the smooth soup and is equal levels of awesomeness enjoyed on a tortilla chip...or taco...or salad. Really it's that practical.
Whether the friendship is between salsa and tortilla chips or tacos and soup, there is sure to be an immediate friendship between this soup and your taste buds.
Go ahead, make a new friend today.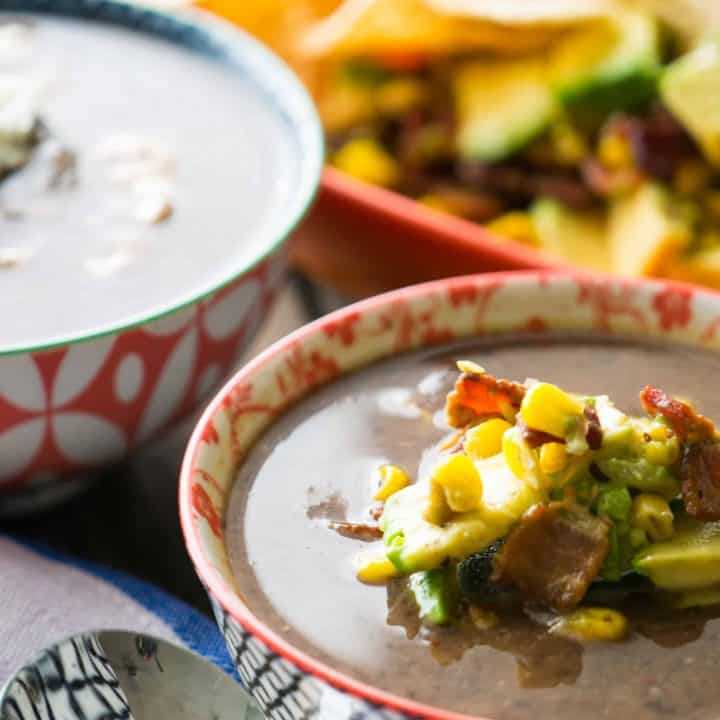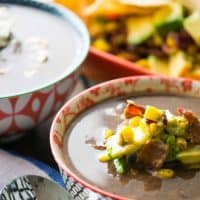 Mexican Black Bean Soup
Adobo chiles bring smoke and just the right amount of spicy heat to this smooth version of Mexican Black Bean Soup!
Print
Pin
Rate
Ingredients
Mexican Black Bean Soup
2

tablespoon

olive oil

1

pound

uncured thick cut bacon

(chopped in ½" pieces)

1

medium yellow onion

(finely diced)

3

15.5-ounce cans

black beans

(rinsed and drained)

6

cups

chicken stock

2

tablespoons

sauce from chipotle peppers in adobo

3

each chipotle peppers in adobo

(most seed removed, minced)

¼

teaspoon

white pepper

1

teaspoon

salt

1

tablespoon

silver tequila

(optional)
Quick Bacon Corn Salsa
½

cup

chopped bacon

(crispy)

1

8.75-ounce can

corn

½

avocado

(diced)

1

tablespoon

red onion

(finely diced)

1

teaspoon

cilantro

(finely chopped)
Instructions
Mexican Black Bean Soup
In a large pot, heat oil over medium-high heat and add chopped bacon. Cooking, stirring occasionally, until bacon is brown and crispy about 7-8 minutes. If pan drippings darken too quickly, reduce heat.

Using a slotted spoon, transfer bacon to a plate to save for garnishing the soup. Add onion to the pot and stir. Cook on medium heat until translucent, about 5 minutes. Add black beans and stir to incorporate with the onions.

Add tequila to deglaze bacon drippings from pan, scraping the bottom of the pan. (If not using tequila, add chicken stock and scrape bottom of pan.)

Add chicken stock, minced chipotle peppers, salt and pepper. Stir to combine. Cover and bring to a boil, about 10 to 15 minutes.

Remove cover and reduce heat to medium-low. Using an immersion blender* blend ingredients to create a smooth texture. Cover again and let simmer for an additional 45 minutes, stirring occasionally.
Quick Bacon Corn Salsa
Cook the bacon until crispy and let drain on a paper towel. Chop into small pieces.

In a bowl, combine the corn, bacon, diced avocado, red onion, and cilantro. Toss lightly to combine. Top each bowl of black bean soup for sweet and savory crunch.
Notes
*A countertop blender can be used if you do not have an immersion blender. Use caution as liquid will be very hot.
**For a chunkier texture, reserve 2 cups of the black beans before blending.
Optional garnish suggestions: Creme Fraiche, Cotija cheese or Bacon Corn Salsa
Nutrition
Calories:
784
kcal
|
Carbohydrates:
54
g
|
Protein:
32
g
|
Fat:
48
g
|
Saturated Fat:
15
g
|
Trans Fat:
1
g
|
Cholesterol:
70
mg
|
Sodium:
2542
mg
|
Potassium:
1229
mg
|
Fiber:
19
g
|
Sugar:
7
g
|
Vitamin A:
1398
IU
|
Vitamin C:
10
mg
|
Calcium:
96
mg
|
Iron:
6
mg