Want to see a magic trick? It's the one where you put down a huge platter of vegetables and it disappears. Into your family's belly! Well, may not the platter unless you're related to Cookie Monster or something. But a whole bounty of fresh, grilled summer vegetables that are simply seasoned and easy to prepare.
The slight char on each piece brings that mouthwatering 'fresh grilled' taste to eggplant, zucchini, peppers and more, while the heat of the grill brings out the natural sweetness and flavor in each. Best of all, this recipe doesn't involve any fancy ingredients. Relying on the kitchen staples of extra virgin olive oil, salt and pepper your prep work can be done in a blink of an eye.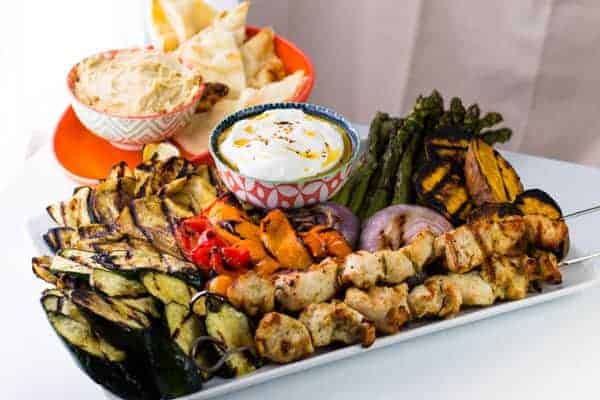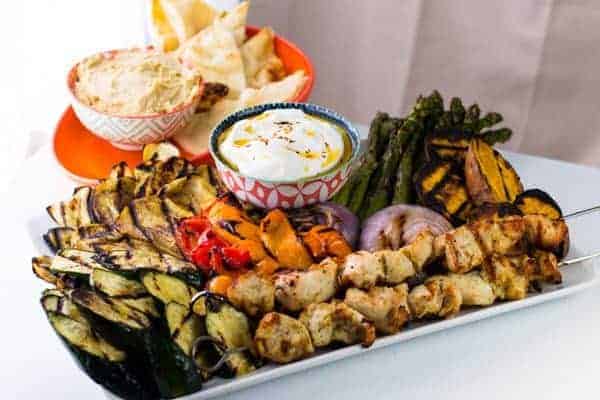 But first, before we nose dive into waves of deliciousness, gotta give a little shoutout. The inspiration for this grilled platter delight was inspired by Marinated Grilled Veggies and Whipped Goat Cheese from Half Baked Harvest, where we were both included on BBQ side dish roundup.
For the Hunger|Thirst|Play version, we're going to go light on the peppers, add a bunch more veggies and bring a different approach to eggplant prep. A spicy yogurt sauce using non-fat Greek yogurt will bring a little lightness.
Grilled Vegetables & Chicken Kebab
If there's a carnivore in the group you need to satisfy, grilled chicken kebabs are here to save the day and your time. A simple marinade of Good Seasons Italian, EVOO, and a splash of white vinegar comes together so quick and brings all the best things about an Italian style marinade. Bold herb flavor, just the right amount of salt to keep your chicken tender and juicy, and mild pepper flavor to round everything out. Skewer that chicken on a stick you're almost ready to unwind with a post-dinner prep cocktail.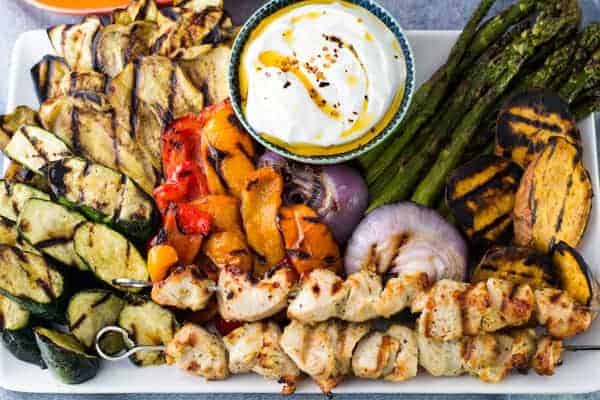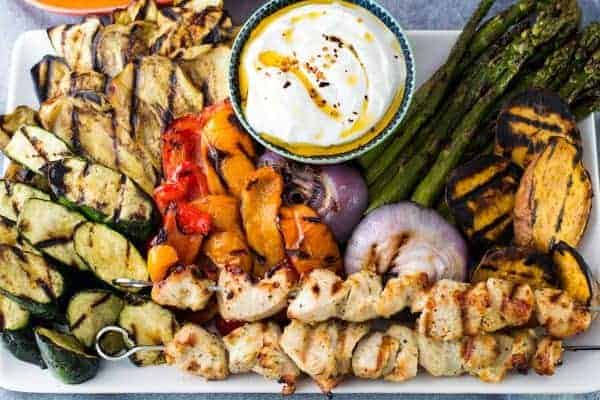 In addition to these flavor bursting grilled vegetables & chicken kebabs, while you're stocking up at the store pick up a package of easy to serve Naan bread and a container of your favorite hummus. Give the Naan a quick zap in the microwave or toss on the grill to heat just a touch and serve alongside that chickpea goodness that is Hummus. If your tummy starts to rumble while the grill heats up - not speaking from experience or anything - avoid the snackcident and have The Domestic Dietitian's Vegetarian Wonton Bites on hand. They come together quick and disappear just as fast!
Bonus points if you plan to whip up your own hummus I love this Harissa Hummus from Vintage Kitty. It's perfect with the grilled vegetables and soft, dippable Naan bread.
Spicy Yogurt Sauce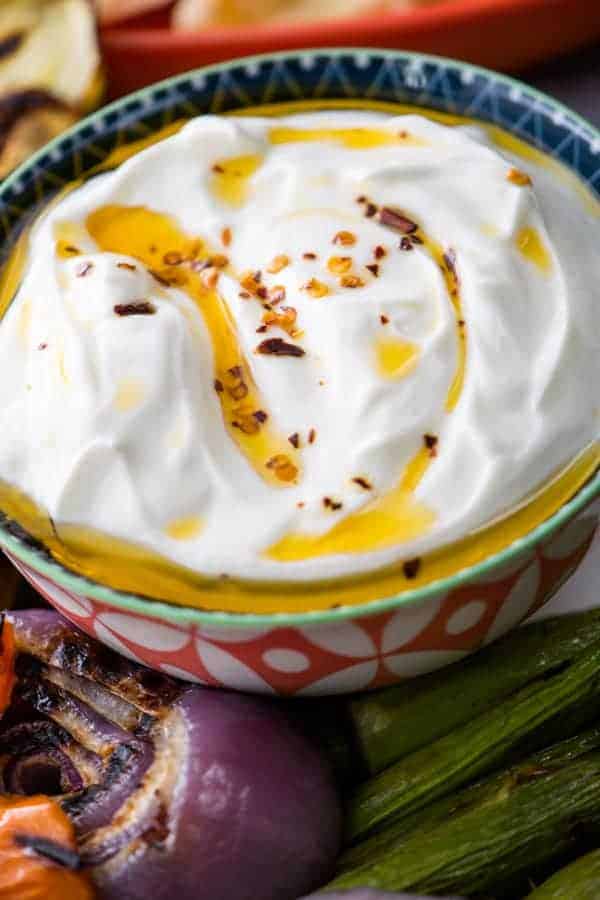 Are you ready for a delicious flavor combo that is super simple and perfect to go with grilled meals? Meet my new pal, spicy yogurt sauce. Simmer a little extra virgin olive oil and red pepper flake. Then drizzle over non-fat, plain Greek Yogurt. Thick, creamy, tart plain yogurt meets spicy chili oil. First it brings the heat, then it cools it down. All in one bite of happiness.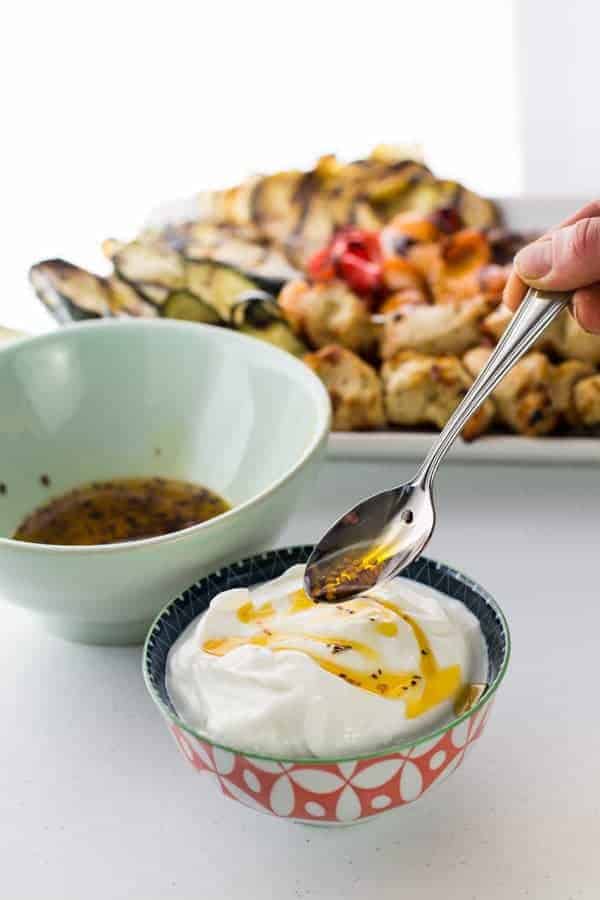 Hot or Cold, Dinner or Potlucks
Hot, grilled vegetables are so easy to scarf down. For example, when it's lunch time and you just finished shooting these photographs. Henry and I stood around the kitchen table snacking on this entire platter. Suddenly we looked down and 75% of it magically disappeared. See? This dish is magic I told you.
A piece of eggplant here, a juicy grilled zucchini there, a pepper slathered with spicy yogurt sauce over there...and a soft piece of Naan bread slathered in my favorite hummus? Well, don't mind if I do.
If getting hot veggies on the table is a struggle or if you're on the search for a perfect pot luck dish, serve this Grilled Vegetables & Chicken Kebab with Spicy Yogurt Sauce as a chilled, Middle Eastern version of a cold antipasto platter. Make the day before and chill overnight, adding the chili oil just before you serve it.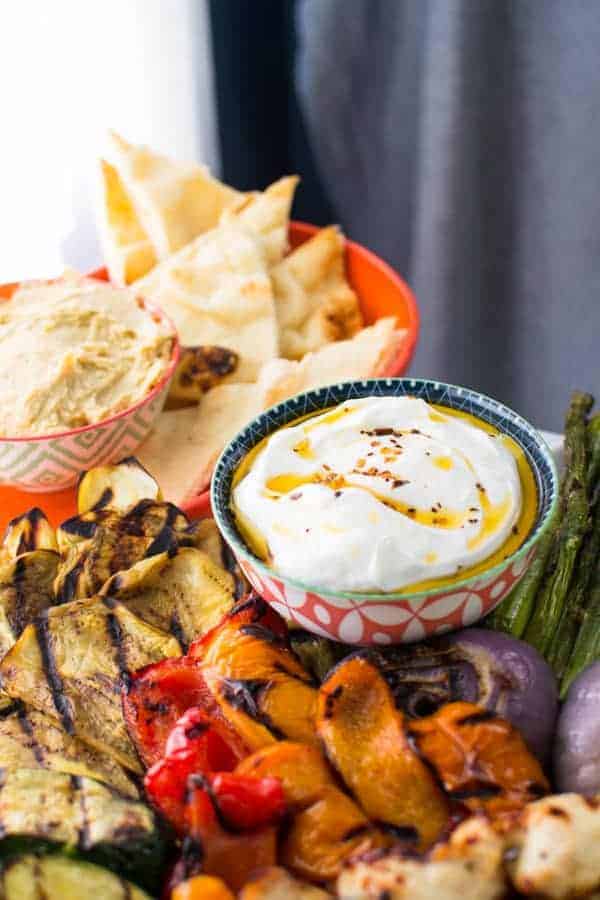 Isn't it beautiful that good food doesn't have to be complicated? Don't want to make hummus? Buy it at the store. Don't want to make chili oil? Buy it at the store. Don't want to cut your own grilling vegetables? Buy them pre-cut at the store. Just pre-heat that grill, toss them all with EVOO, salt and pepper and you're on your way to grill boss status.
Grill boss status, check. Grilled veggie master, check check. Easy, simple, healthy food - check, check, check.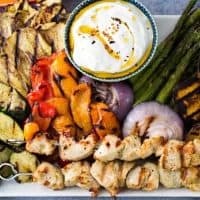 Grilled Vegetables & Chicken Kebab with Spicy Yogurt Sauce
Naturally flavorful vegetables shine in this grilled vegetable platter while spicy yogurt sauce brings the perfect mix of spicy chili oil and cool, non-fat yogurt. Chicken kebabs are the perfect and easy addition for the carnivore in your group.
Print
Pin
Rate
Ingredients
Spicy Yogurt Sauce
¼

cup

extra virgin olive oil

1

teaspoon

red pepper flakes

16

ounces

low fat plain Greek yogurt
Chicken Kebabs
2

pounds

boneless chicken breast

(cut in 1 to 2 inch pieces)

1

tablespoon

Good Season Italian Seasoning

(see notes)

2

tablespoon

extra virgin olive oil

1

tablespoon

white vinegar
Grilled Vegetables
2

small eggplants

1

red pepper

1

orange pepper

2

medium or 3 small zucchini

1

bunch asparagus

1

large sweet potato

1

large red onion
Extras
1

cup

hummus

(store bought or homemade)

1

package of Naan style bread
Instructions
Spicy Yogurt Sauce
In a small saucepan, combine extra virgin olive oil and red pepper flakes.

Simmer on low for 5 to 6 minutes. Let cool completely.

Add yogurt to serving dish. Drizzle with chili oil.
Chicken Kebabs
Trim chicken breast in 1 to 2 inch pieces. Add chicken, olive oil, vinegar and seasoning to a mixing bowl or plastic ziplock bag.

Massage marinade into the chicken and let sit for 15 minutes. Skewer pieces and set aside while vegetables are prepared.

Grill on medium heat for 15 minutes until cooked through.
Prepare the eggplant:
Remove both ends of the eggplant and peel the skin. Cut into long, ¼" thick slices.

Line a large cutting board or sheet tray with paper towels or kitchen towels. Brush each piece of eggplant with olive oil (front and back) and sprinkle kosher salt (one side).

Repeat the towel, oil, salt process to keep eggplant in single layers.

Trim the pepper stems and remove the seeds. Slice in large pieces that will not fall through the grill grates. Add to a large mixing bowl.

Trim the ends of the zucchini and slice thick pieces on an angle. Repeat with sweet potato. Add to the mixing bowl.

Drizzle ingredients in the mixing bowl with extra virgin olive oil. Sprinkle with kosher salt and fresh cracked black pepper. Set aside and prepare remaining vegetables.

Trim the ends off the red onion and remove the outside layer. Cut down the middle into two large pieces. Skewer each piece through the center and brush with olive oil.

Cut the ends off the asparagus. Drizzle with olive oil, sprinkle with salt and pepper.
Grilling:
Preheat grill on medium-high heat until grill reaches 350°F to 400°F.

Working in batches, grill vegetables on both sides until grill marks appear and vegetables are cooked through. About 10 to 15 minutes, depending on thickness of the vegetable.
Extras
Remove Naan bread from the package, warm in the microwave for 10 to 15 seconds until soft and just warm OR grill on both sides for 10 to 20 seconds per side.

Using a pizza cutter, cut the Naan bread into triangles.
Notes
Your favorite marinade can be substituted if Good Seasons is not available.
Nutrition
Calories:
584
kcal
|
Carbohydrates:
42
g
|
Protein:
48
g
|
Fat:
25
g
|
Saturated Fat:
5
g
|
Trans Fat:
1
g
|
Cholesterol:
103
mg
|
Sodium:
540
mg
|
Potassium:
1423
mg
|
Fiber:
10
g
|
Sugar:
15
g
|
Vitamin A:
6972
IU
|
Vitamin C:
70
mg
|
Calcium:
169
mg
|
Iron:
3
mg