Are you ready for some awesome summer flavors to spark those taste buds to life? These strawberry rhubarb pie pops are seriously my jam right now. Besides, things on sticks are: A. convenient B. cuter and C. taste better.
Ok, ok, the evidence is still coming in on C but let's run with it.
Strawberry rhubarb is one of the tastiest summer flavors. In New England, rhubarb really hits it's stride right at the beginning of summer. Technically it's not actually summer right now but the weather is saying differently. While global warming is still a major concern, we might as well capitalize on all this delicious magenta celery while it's here a little early.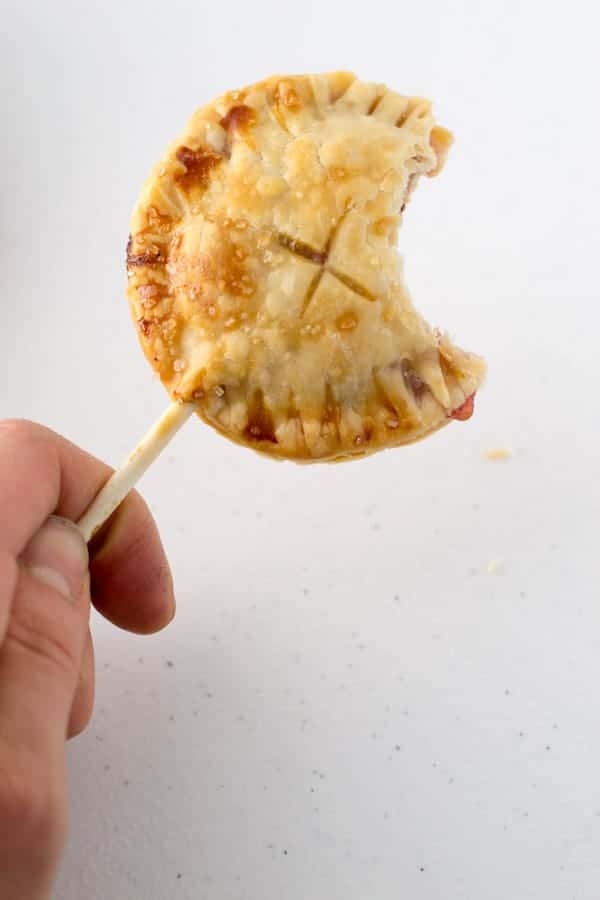 There are plenty of ways to enjoy strawberry rhubarb, or just straight up rhubarb. Crisps, jams, ice cream, tarts, and pies. This time of year always takes me back to my early childhood. My Pepére George had rhubarb, along with a litany of other fruits and vegetables he grew, but I distinctly remember watching him eat rhubarb raw with just a little granulated sugar. Hearing the crunch of the rhubarb and the satisfaction on his face from the combo of tart, crunchy and sweet.
My 5-year-old self thought the combination was pretty terrible, but that's par for the course when you're 5 and you really just want pb&j with the crust cut off for lunch.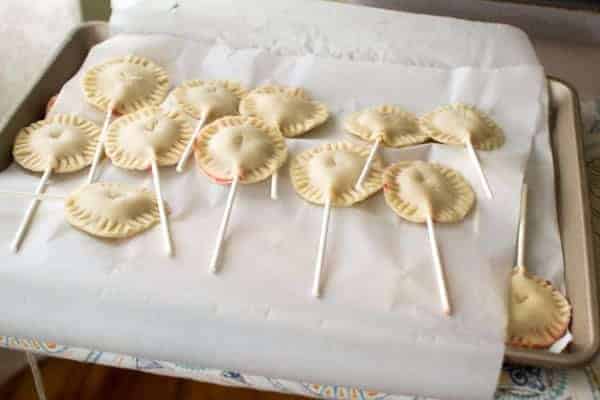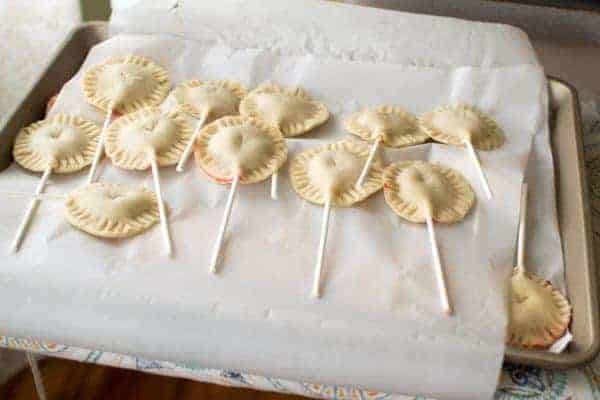 Strawberry Rhubarb Pie Pop Hacks
At first glance, the idea of making small pies on sticks may look daunting but waaaaaiiit. It's far easier than it looks. The filling comes together with minimal effort and a little simmering. Store bought pie crust will save you a whole lot of time and messy counter tops. Stay with me, it's going to be rad.
A drinking glass makes a perfect pie crust cutter, or any circular kitchen item about 3 inches in diameter. This step is perfect for when you're filling is simmering on the stove and takes just about the same time.
The best thing about using store bought crust is that the clean up is roughly 1,000x easier, and the next best thing is you can re-roll the scraps to make additional pie crust without worry of over working the dough. I'm not sure what magic they use over at Pillsbury, but it's incredibly forgiving when it comes to being over worked.
Strawberry Rhubarb Pie Pop Assembly
After your filling is all gooey, slightly mashed, and cooled transfer it to a piping bag. This is by far the most important hack for keeping these pie pops from becoming the next 'Pinterest fail.' How so? By piping about a tablespoon amount in the center of each mini pie crust you'll keep your hands clean of filling and stop the transfer of sugar to the outside (which will affect the final look of the pop during baking) and keep the filling from getting all over the stick.
Long story short, it keeps the pie making process efficient and clean. Soo, umm, just do it, ok?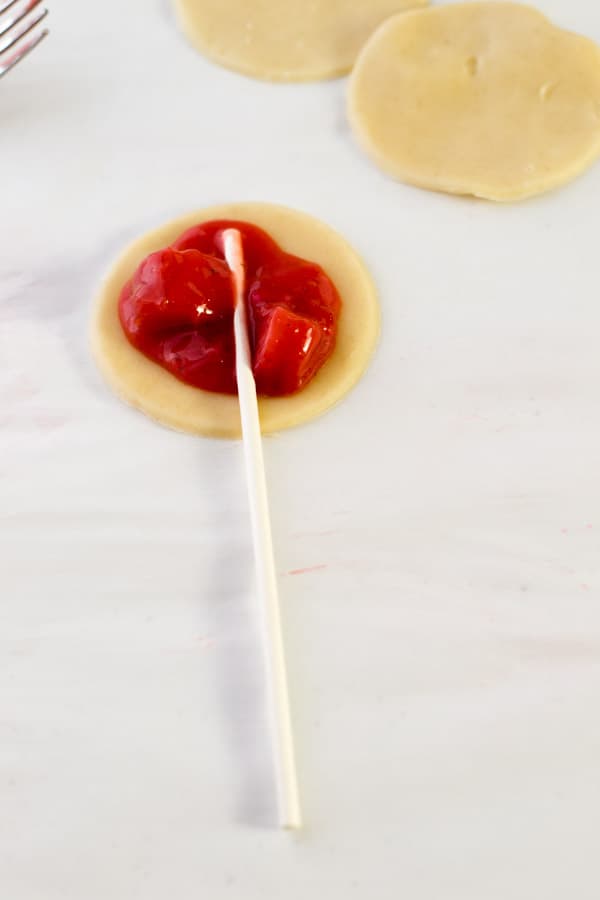 Save the stress, prep in advance
Think these will be perfect for your next barbecue or party? That was the thought process over here! Take this little life hack with you. Make in advance and freeze the assembled pops on parchment paper.
Once frozen solid (about 4 hours) transfer to a plastic freezer bag. The day of your party or even the night before, remove from the freezer, brush with egg wash and bake on baking sheets lined with parchment paper. No need to thaw or defrost. Display for your guests or pack up for a picnic or maybe eat them for breakfast. Speaking from experience, they're pretty good with coffee.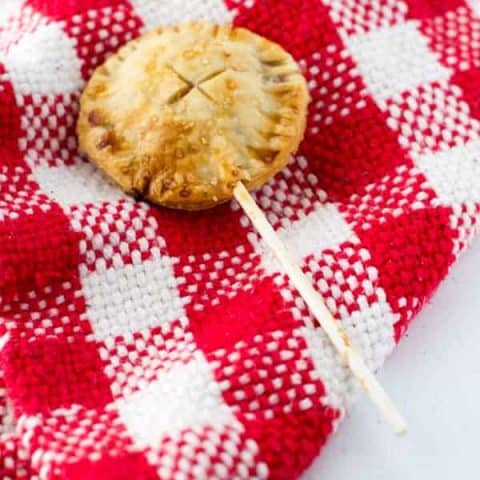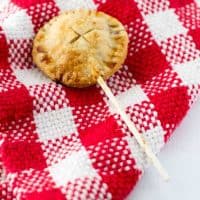 Strawberry Rhubarb Pie Pops
Mini strawberry rhubarb pie pops are perfect for your next barbecue or picnic. A balance of tart, sweet, and full of summertime flavors!
Print
Pin
Rate
Ingredients
Strawberry Rhubarb Pie Pops
2

packages ready made pie crust

(4 crusts)

30

cake pop sticks

1

egg

(optional)

¼

cup

turbinado sugar

(optional)
Filling
2

cup

rhubarb

(½" pieces (about 2 large stalks))

3

cup

diced strawberry

(1 quart)

3

tablespoon

all-purpose flour

¾

cup

granulated sugar

1

teaspoon

lemon juice

1

tablespoon

orange juice

2

tablespoon

unsalted butter
Instructions
Filling
Combine rhubarb, strawberries, flour, sugar, lemon and orange juice in a large saucepan. Stir over low heat until well combined and sugar begins to liquify, about 2 minutes.

Increase heat to medium. Add unsalted butter stir until butter is melted.

Return heat to low and cook, uncovered, on low heat for 10 to 12 minutes until rhubarb is fork tender and sauce is thickened. Stir occasionally.

Using a potato masher, mash the sauce slightly. The consistency should be thick and slightly chunky, but be able to pass through a piping bag with a large open tip (about ½").

Let cool before transferring to piping bag, about 20 minutes.
Strawberry Rhubarb Pie Pops
Unroll ready made pie crust. Using a cookie cutter or water glass, roughly 3 inches in diameter, cut circles in the dough. Save scraps as you go.

Using the scraps, slightly kneed together and roll out to ¼" thickness. Cut circles in remaining dough from the scraps.

Place one pie crust circle flat on your work space. Firmly press down cake pop stick in the center of the crust, but not so firmly it breaks through the crust to the other side of the dough.

Pipe about 1 tablespoon of filling on the dough. Cover with top crust circle and press down edges with your fingers. Use a dinner fork to press down edges firmly and create outer crust design.

Using a sharp pairing knife, cut an 'X' on the top of the pie to vent steam during the cooking process.*

Optional: Once your pie pops are assembled, brush the tops with an egg wash (1 beaten egg) and sprinkle with turbinado sugar.

Bake in a preheated 375°F oven for 25-30 minutes until golden and pie crust is cooked through.**
Notes
*Creating a steam vent will keep the filling from escape through the sides and any areas where the seams are weak.
**Pie pops can be frozen after assembly and cooked at a later date. Cooking process will take 30 to 35 minutes.
Nutrition
Calories:
148
kcal
|
Carbohydrates:
20
g
|
Protein:
2
g
|
Fat:
7
g
|
Saturated Fat:
2
g
|
Trans Fat:
1
g
|
Cholesterol:
7
mg
|
Sodium:
95
mg
|
Potassium:
72
mg
|
Fiber:
1
g
|
Sugar:
7
g
|
Vitamin A:
43
IU
|
Vitamin C:
9
mg
|
Calcium:
15
mg
|
Iron:
1
mg