Fresh sweet strawberry shaken cold with smooth vodka and topped with just the right amount of sparkling wine. Sparkling Strawberry Martinis are the perfect cocktail for any celebration, especially to toast the New Year!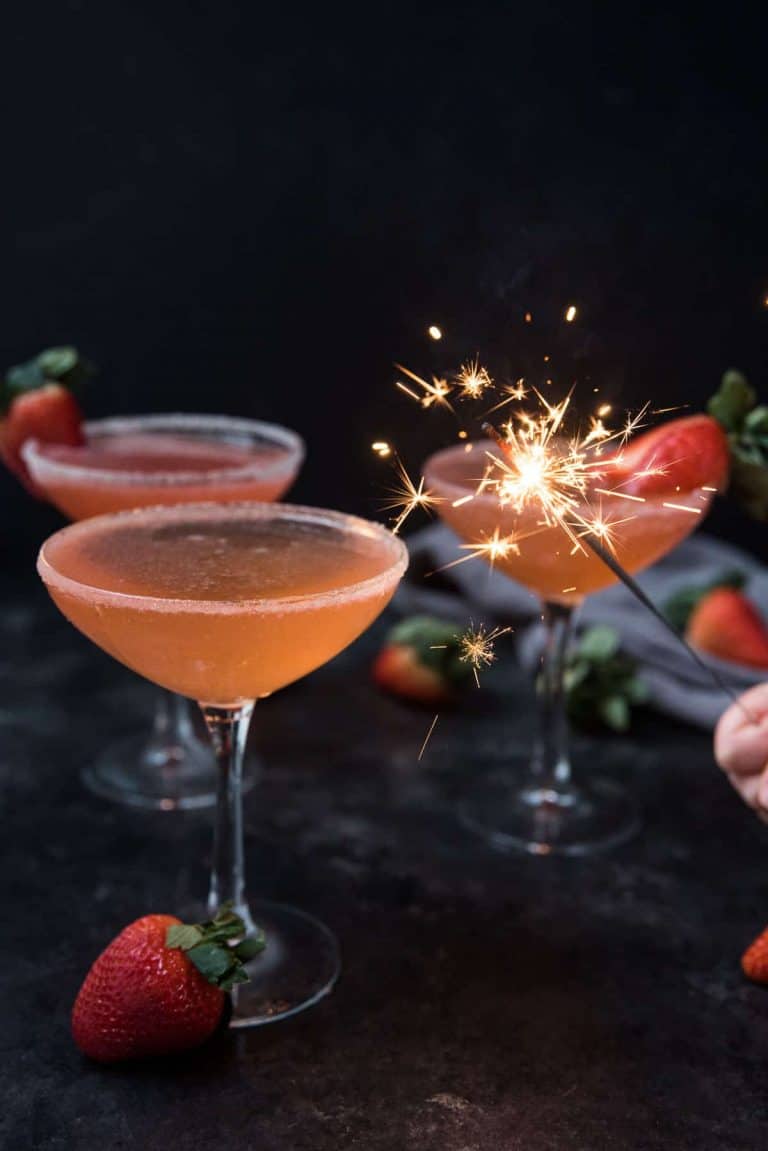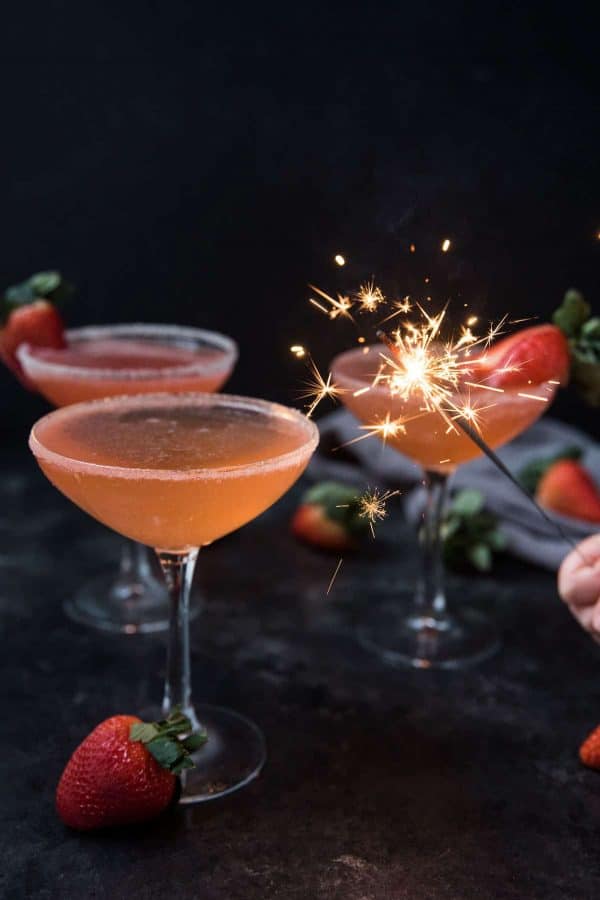 Another year in the books and we begin to make plans to make plans to celebrate the closing of 365 days and a decade. Woah. Perhaps I'm not the only one out there feeling conflicted about all that's happened in 2019. It's been chock full of ups and downs. The ups have been so so great and the downs...well...let's pack them up on a rocket and send them to space.
In the meantime, I'm going to fill my glass with strawberry martinis and sparkling wine because they are just a smidge too easy to sip on.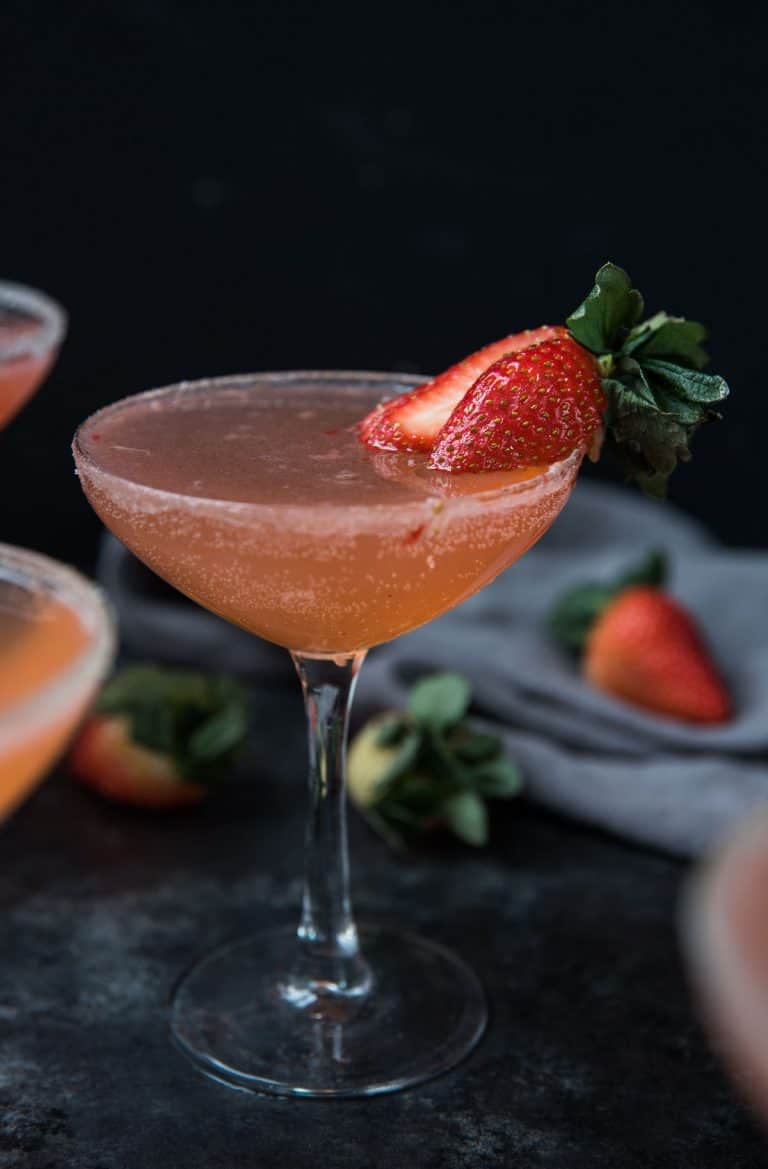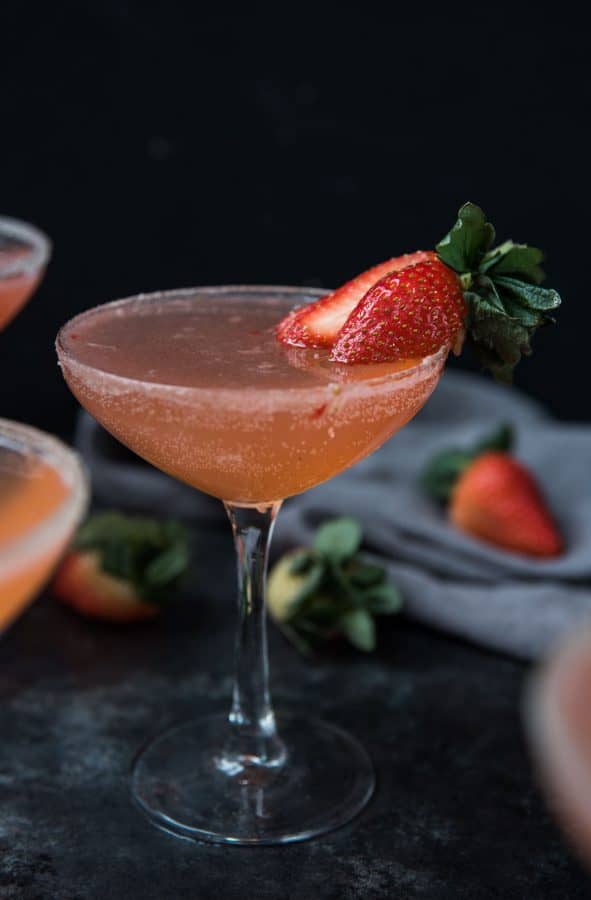 Boozy Strawberry Bliss
This martini is positively delicious, goes down way way way too easily, and the champagne is just a little float on top to add an appropriate amount of festive bubbles and a hint of bubbly wine flavor. Champagne + Strawberries - yes, please.
"Wait...whaat? Champagne and vodka? I mean 2019 had it's moments but it wasn't that bad..." Don't go running for the hills just yet.
The fresh muddled fruit shaken cold with vodka and simple syrup makes the base for this martini boozy enough but without being a shock of harsh alcohol taste. The sparkling wine adds a little natural acidity and balances the sweet while providing a pleasant fizz.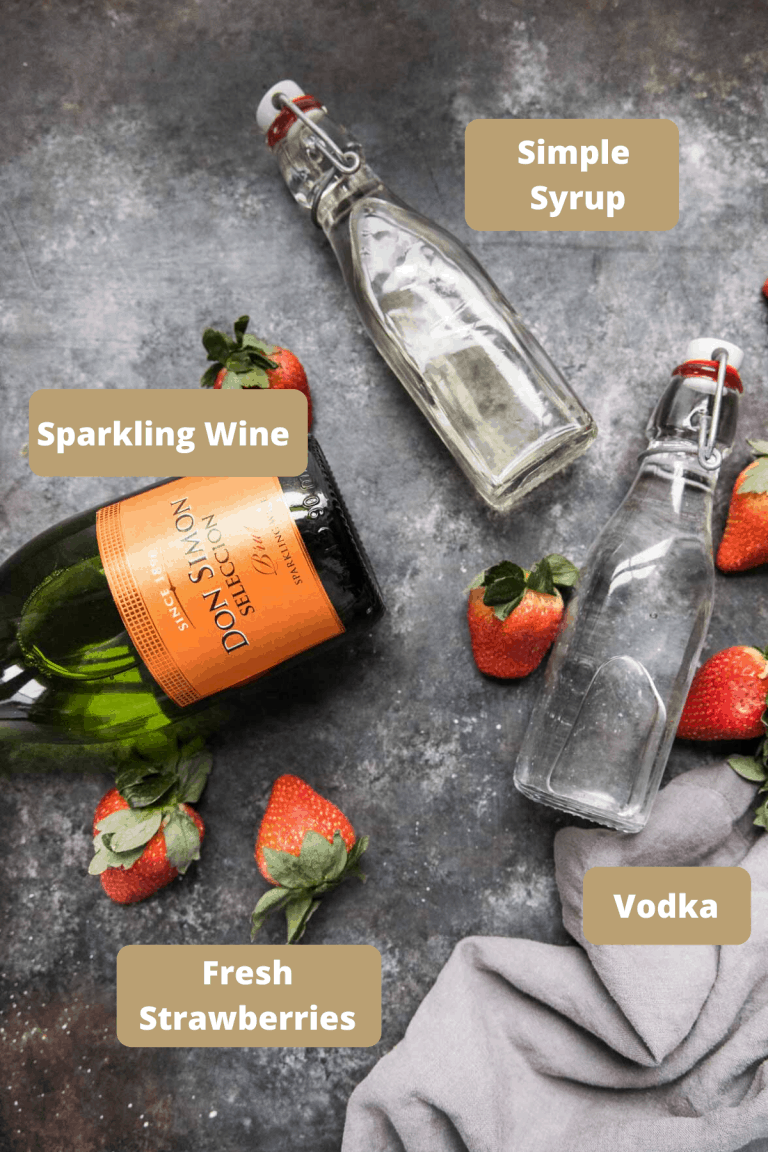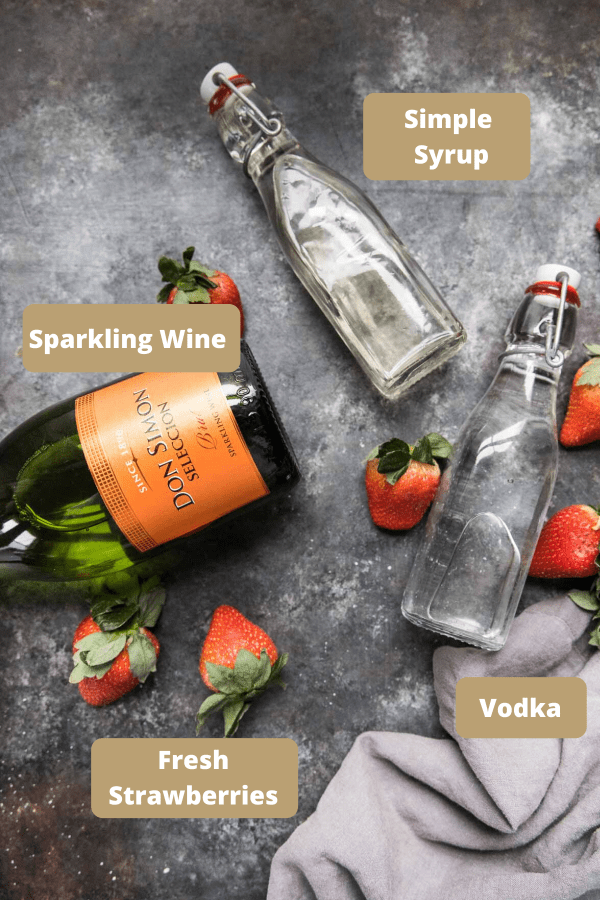 Making sparkling strawberry martinis is easy, quick and seriously....that strawberry flavor is unreal.
Building the cocktail
Great news! You'll have cocktails for cheersing in no time.. In a martini shaker, muddle 4 large strawberries. Smoosh them down like you're in one of those old Bacardi mojito commercials from 2005. After muddling, they should resemble strawberry purée. Add your simple syrup - equal parts sugar (dissolved) and water - and the vodka.
Give it a really good shake over ice. Like 'I skipped arm day' shake.
The trickiest part, that really isn't that tricky, is that you need to double strain it into the martini glass. So really, it just involves holding a small mesh strainer (like a tea strainer or heck a really small holed colander) above the martini while you empty the contents of the shaker.
Then just top off the martini with enough champagne or sparkling wine to fill the glass and you are off and cocktailing.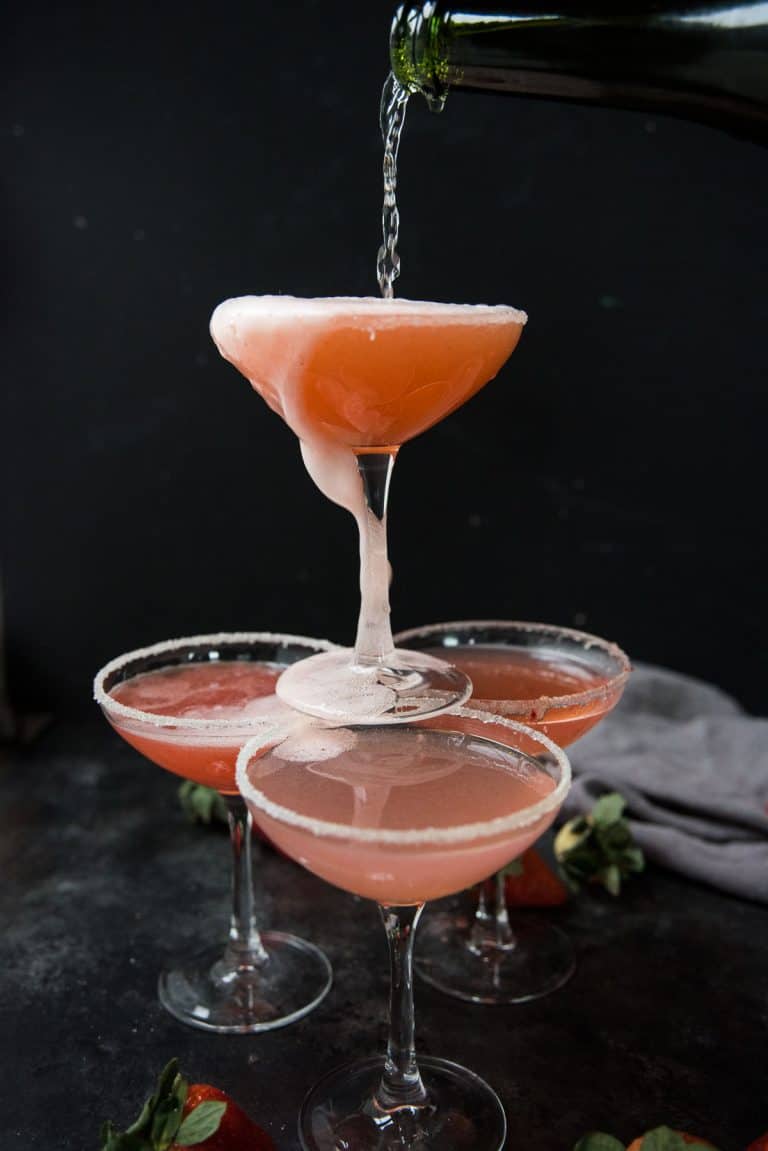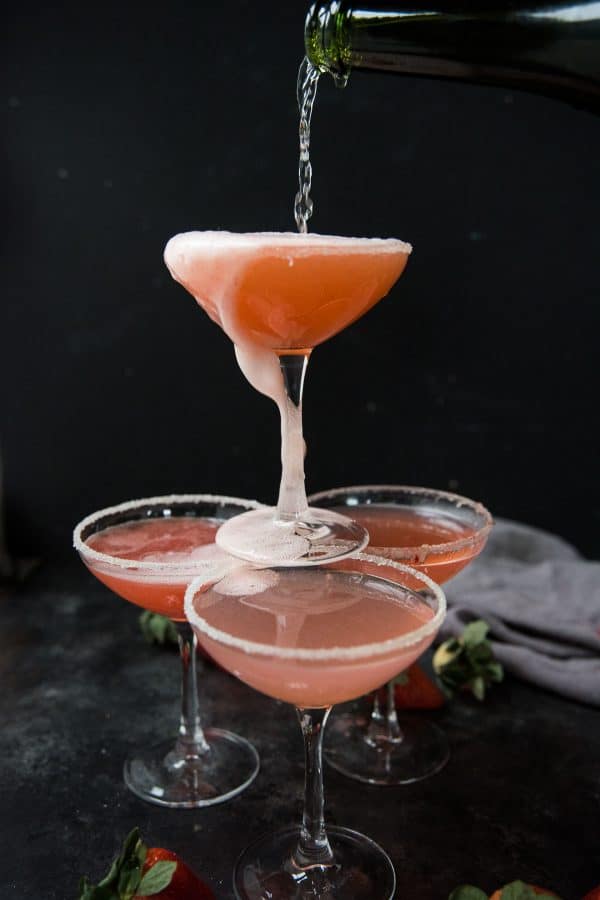 Tips for making sparkling strawberry martinis
CAN I USE FROZEN STRAWBERRIES?
Yes! If the strawberries at the store are looking a little sad and unripe, pick up frozen, whole, unsweetened strawberries and just let them thaw before muddling.
CAN I JUST PUT THE STRAWBERRIES IN THE BLENDER?
Unfortunately, no. Unless you plan on making it a frozen drink and blending them with ice. The muddling of the strawberries turns it into a juice, but when you blend them they just get chopped up into smaller bits and you won't get enough of that strawberry juice flavor in the drink.
If you're able to get your hands on fresh strawberry purée - something a bar would use - that will work as an easy substitute.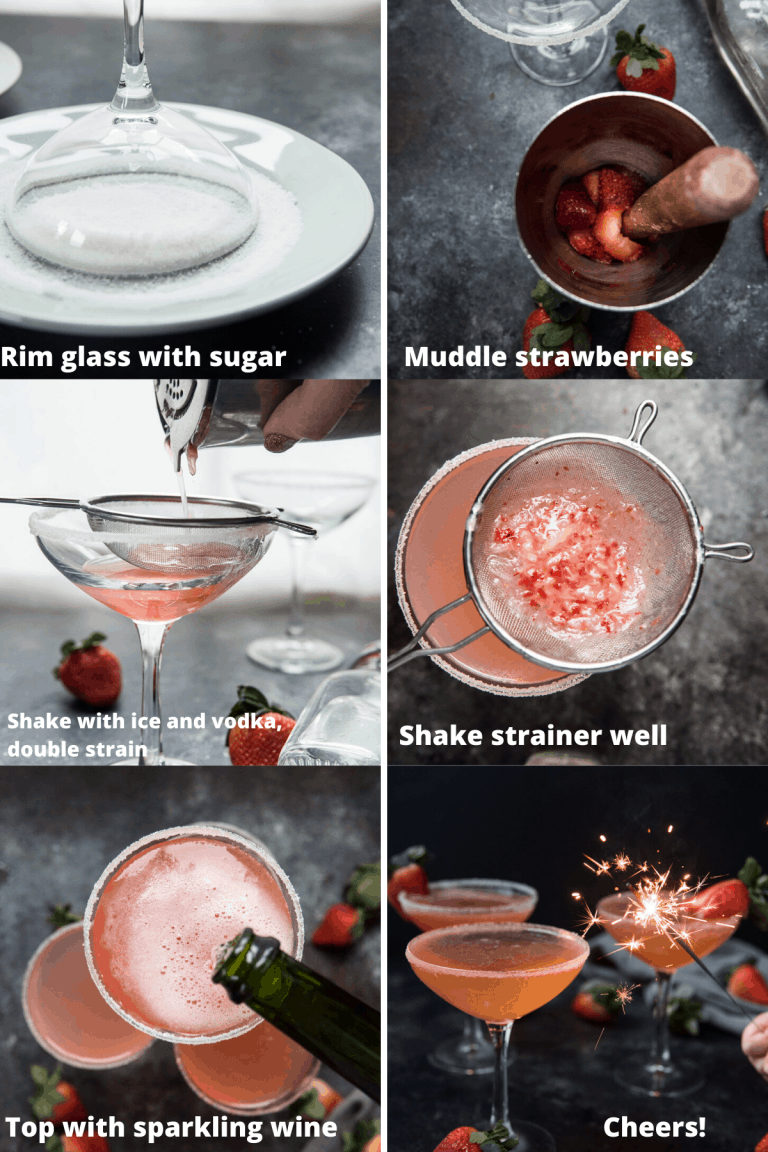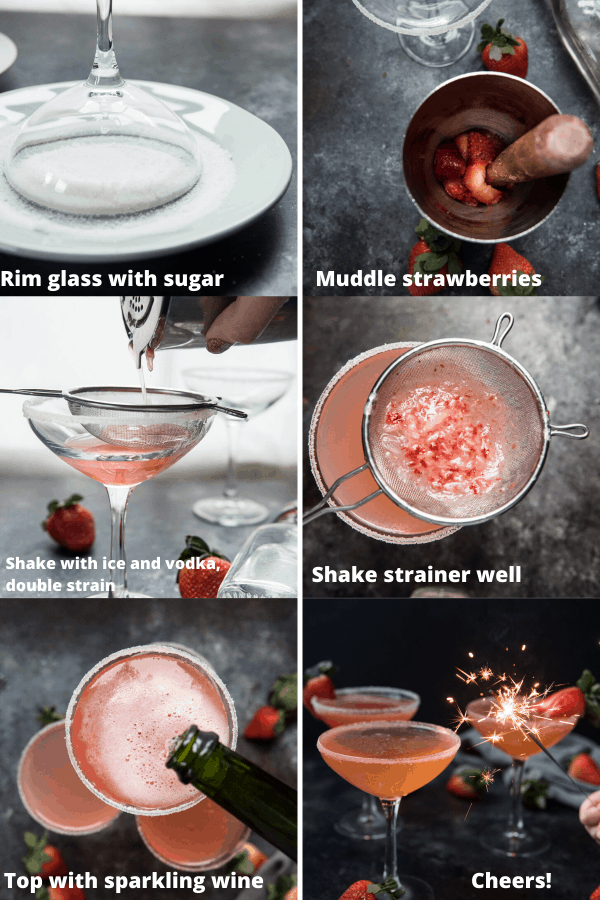 WHAT IS MUDDLING?
An important tool in the bartender's arsenal. A muddle - or even the handle of a wooden spoon - is used to mash fruit, herbs, and sometimes spices in the bottom of a mixing glass to add flavor to drinks. It's the first step when building a muddle drink.
When muddling the mint for a mint julep or whiskey smash, it's just to bruise the mint. When you're muddling the strawberries for these sparkling martinis, you want to mash the fruit. Really get that anger out.
Tip: add crushed ice to the mixing tin helps to mash the strawberries.
DO I NEED A DOUBLE STRAINER?
For a really smooth and delicious martini, yes. This small mesh sifter is a good one. If you're okay with serving this cocktail over ice, then I'd say you could skip the double strainer. The difference is that the mesh strainer is going to keep out the strawberry pulp. Having some pulp is more forgiving if served over ice rather than martini style.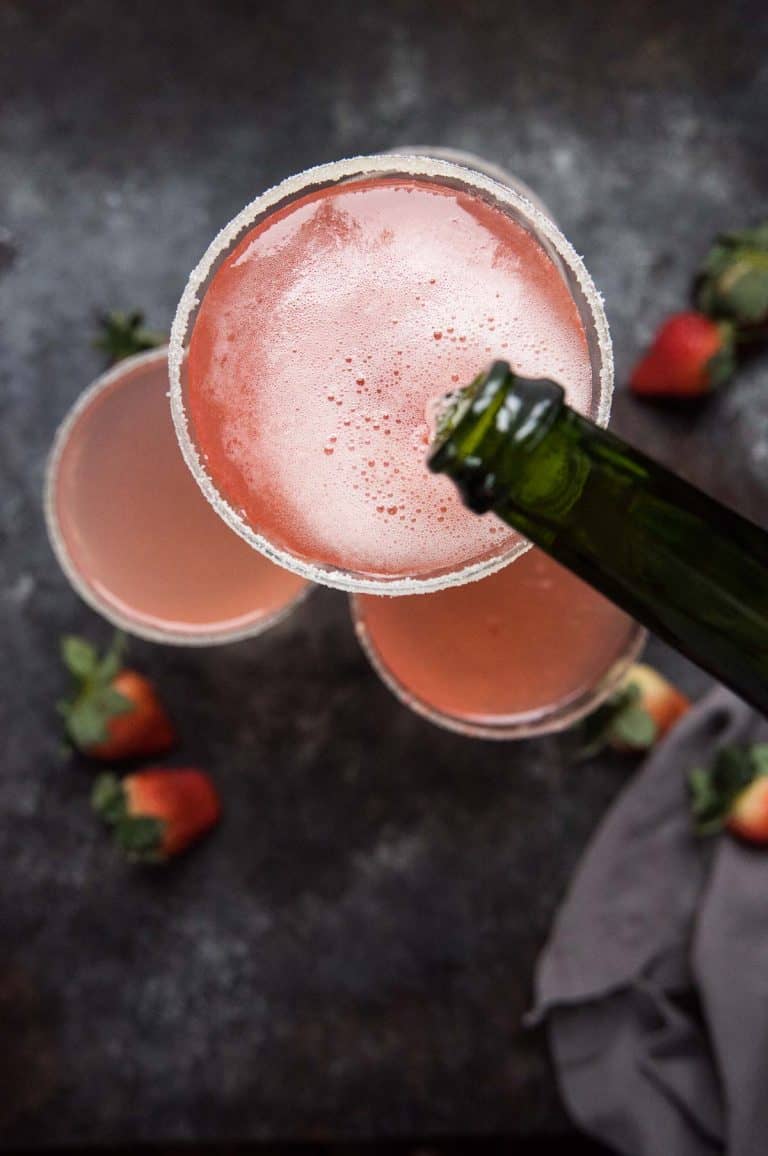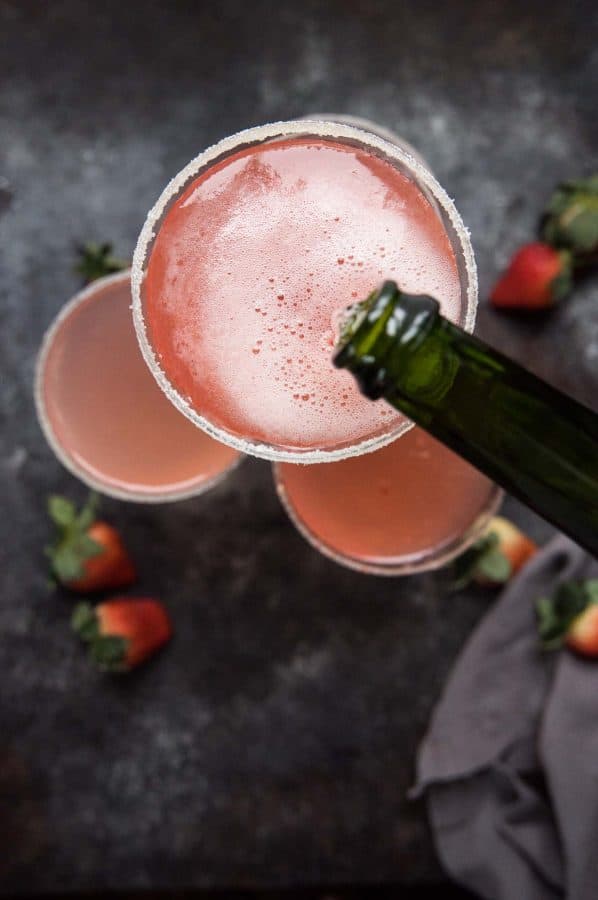 All dressed up and no where to go...
To dress up the appearance of your drink, it's New Year's after all, you can float a thin slice strawberry and/or rim the glass with sugar. To do that just pour a little simple syrup on one plate and granulated sugar on another plate. Dip the martini glass rim in the simple syrup, shake off excess liquid and then repeat with the sugar.
Voila! All dressed up and no where to go but down the hatch.
If you're hosting the holiday or serving this up for brunch, these fig flatbreads go wonderfully with strawberry martinis or fresh homemade bruschetta. They're quick, simple and delicious - just like your cocktail!
Happy New Year's everyone!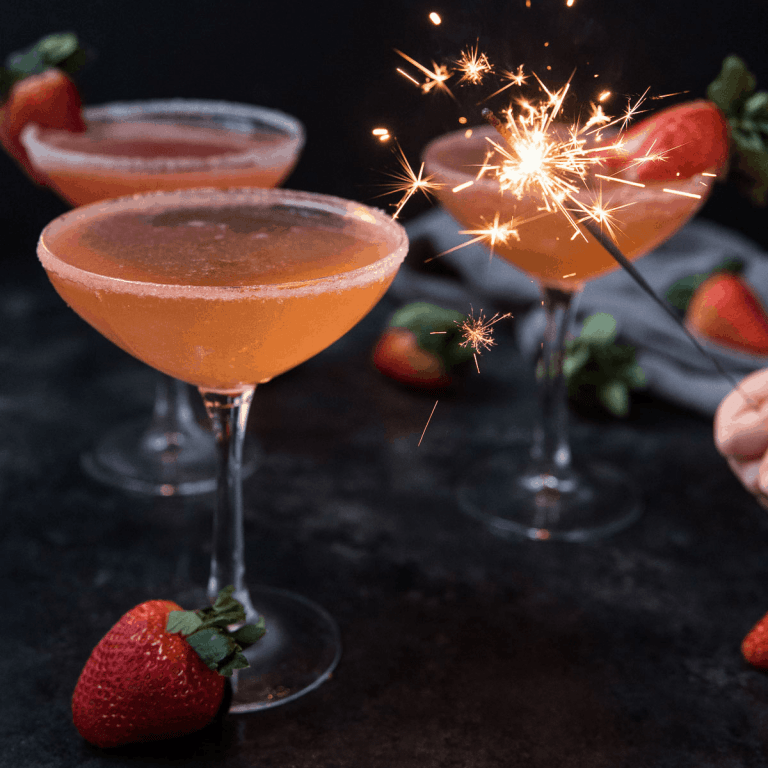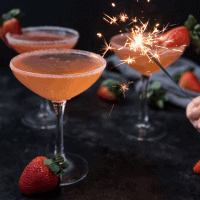 Sparkling Strawberry Martinis
Muddled strawberries, simple syrup and vodka come together for a slightly sweet and smooth fruit martini. A champagne float adds just the right amount of festive bubbles!
Print
Pin
Rate
Ingredients
Simple Syrup:
½

cup

granulated sugar

½

water
Sparkling Strawberry Martini
4

large fresh strawberries

3

ounces

good quality vodka

1 ½

ounces

simple syrup

1 ½ to 2

ounces

sparkling wine

additional simple syrup and sugar to rim the glass
Instructions
To make simple syrup:
In either a small saucepan combine the sugar and water. Bring to just a boil, stirring to dissolve the sugar. Remove from heat and let cool.
Sparkling Strawberry Martini:
On two small plates drizzle a small amount of simple syrup on one plate and a small layer of granulated sugar on another. Dip the rim of the glass into the agave, then press into the sugar. Shake off excess and set aside.

In a martini shaker, add strawberries and muddle well. Press as much juice out of the fruit as possible.

Add simple syrup, vodka and ice. Shake vigorously for 20 seconds.

Double strain into the rimmed martini glass using mesh strainer. Tap the strainer against your hand to shake as much of the martini out of the strawberry pulp left in the strainer.

Slowly pour sparkling wine over the top of the martini to fill the glass.
Nutrition
Calories:
347
kcal
|
Carbohydrates:
35
g
|
Protein:
1
g
|
Fat:
1
g
|
Saturated Fat:
1
g
|
Sodium:
29
mg
|
Potassium:
139
mg
|
Fiber:
1
g
|
Sugar:
34
g
|
Vitamin A:
6
IU
|
Vitamin C:
28
mg
|
Calcium:
17
mg
|
Iron:
2
mg