Another year in the books and we begin to make plans to make plans to celebrate the closing of 365 days.  Perhaps I'm not the only one out there feeling conflicted about all that's happened in 2016.  It's been chock full of ups and downs.  The ups have been so so great and the downs…well…let's pack them up on a rocket and send them to space.
And if they could explode into a million tiny pieces, yeaaah that would be greaaat.
In 2016, we did a lot of celebrating.  We managed to navigate the first year of parenting without any casualties – I'd like to claim that as the No. 1 success of 2016.
Finally coming to terms with turning 30 and the party that followed was fan-freaking-tabulous, too.  And though the whole process of dealing with Frank and the countless doctors visits and radiation treatment that followed is one certainly a whole group of happenings in 2016 I'd like to package up together and set on fire, it did allow me to form some seriously strong bonds with some pretty fabulous friends and family.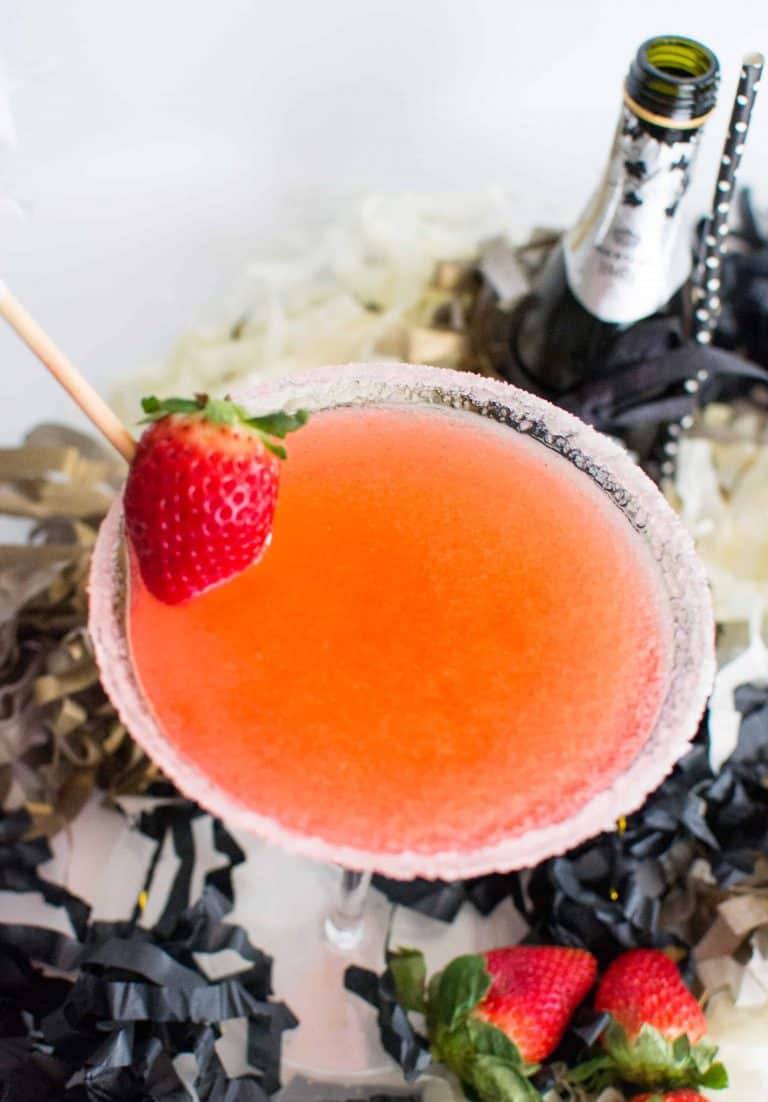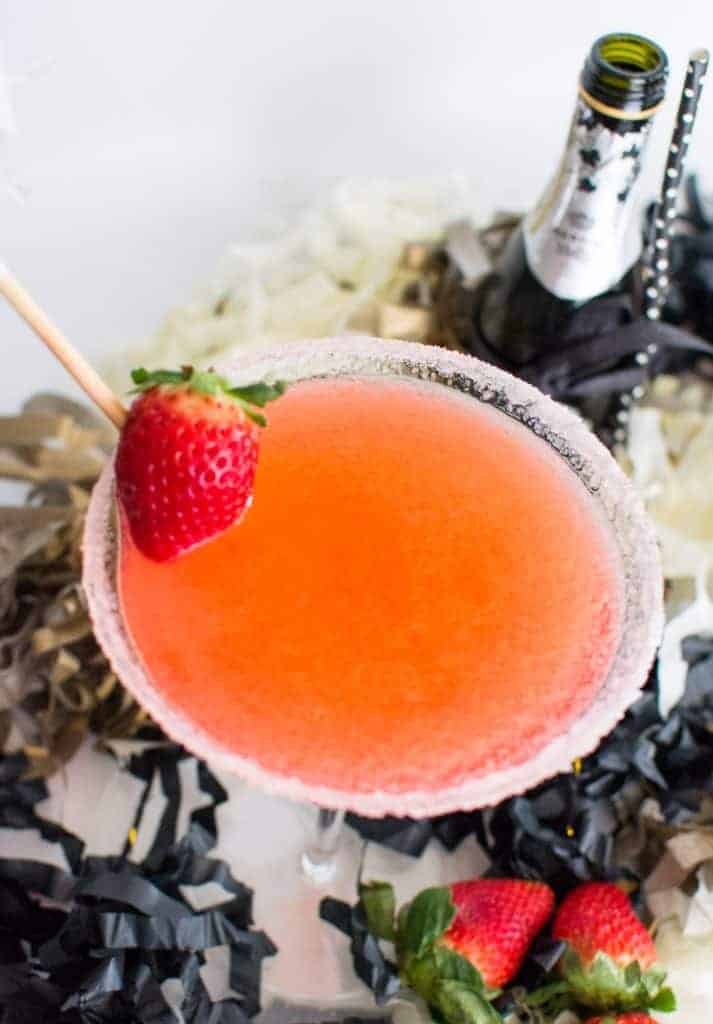 So long and thanks for all the fish…
So with all that 2016 has brought me – the good, the bad, the ugly, and the tasty – I'll be over here popping bottles if you'd like to join me [insert multiple champagne bottle emojis.]  Well, popping bottles and shaking up some vodka because, why not?  It's New Years, let's toast to 365 new days in our pajamas eating Chinese take out.
Are you saying, "Wait…whaat?  Champagne and vodka?  I mean 2016 wasn't great but it wasn't that bad…"  Don't go running for the hills just yet (or the aspirin).
This martini is positively delicious, goes down way way way too easily, and the champagne is just a little float on top to add an appropriate amount of festive bubbles and a hint of champagne flavor.  Champagne + Strawberries – yes, please.
A little muddle and a little shake are you are steps away to divine sparkling strawberry martini intervention.
The sweetness of the simple syrup and the juice from the smashed strawberries blend perfectly with the vodka to create a fruity, not overly sweet martini that is very easy to enjoy.  Just don't enjoy too many and end up accidentally kissing the wrong person at midnight.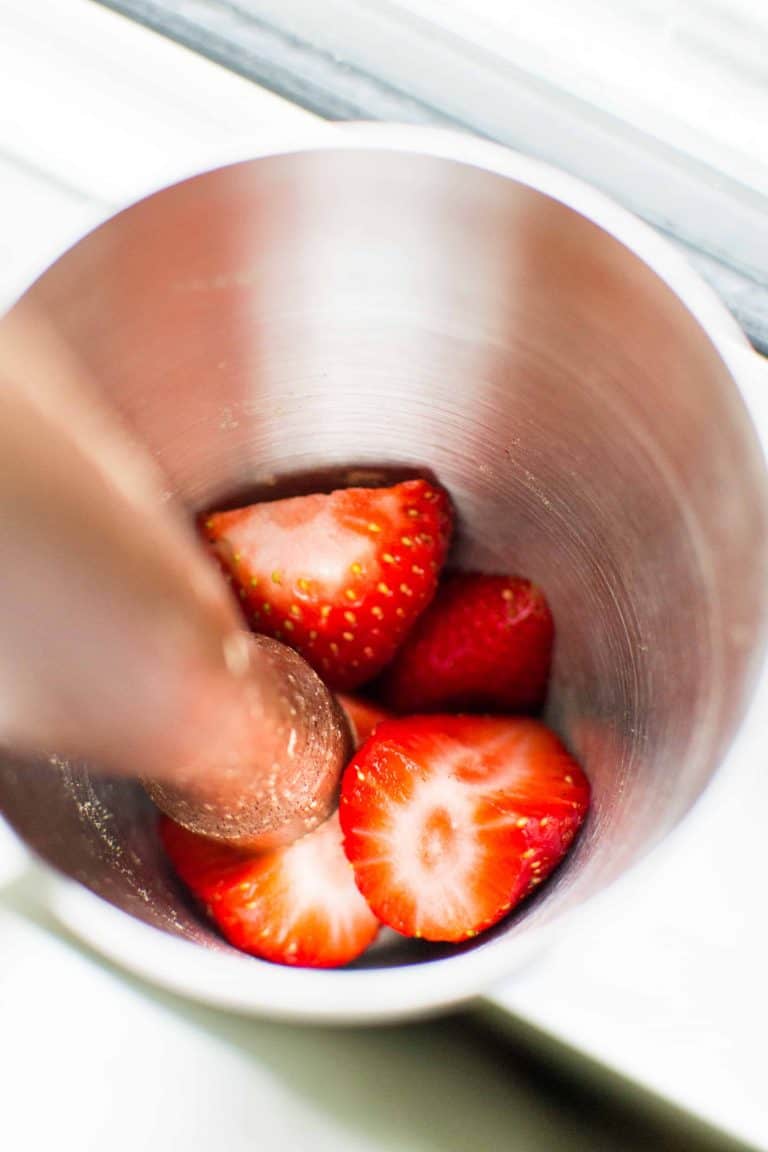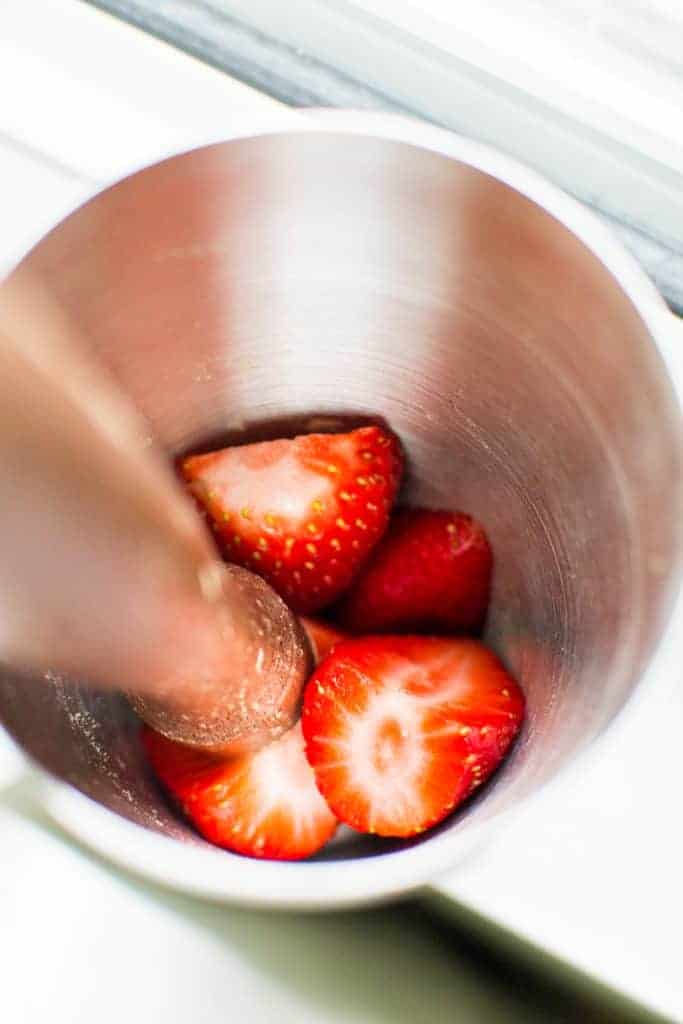 Can we talk about my muddler real quick?  Poor guy has definitely seen better days.
Building the cocktail
Great news!  Sparkling Strawberry Martinis are a breeze to make.  In a martini shaker, muddle 3 to 4 strawberries depending on size.  For the bigger strawberries, cut those bad boys in half.  Smoosh them down like you're in one of those old Bacardi mojito commercials from 2005.  Add your simple syrup – equal parts sugar (dissolved) and water – and the vodka.
Give it a really good shake over ice.  Like 'I skipped arm day' shake.
The trickiest part, that really isn't that tricky, is that you need to double strain it into the martini glass.  So really, it just involves holding a small mesh strainer (like a tea strainer or heck a really small holed colander) above the martini while you empty the contents of the shaker.
To finish, slowly pour champagne over the back of a spoon over the top of the martini.  How much you use is up to your preference, but I'd recommend somewhere between 1 1/2 to 2 ounces.  Lastly, I'd recommend sticking with a sweeter sparkling wine like Martini & Rossi Asti Spumante or Sparkling Moscato.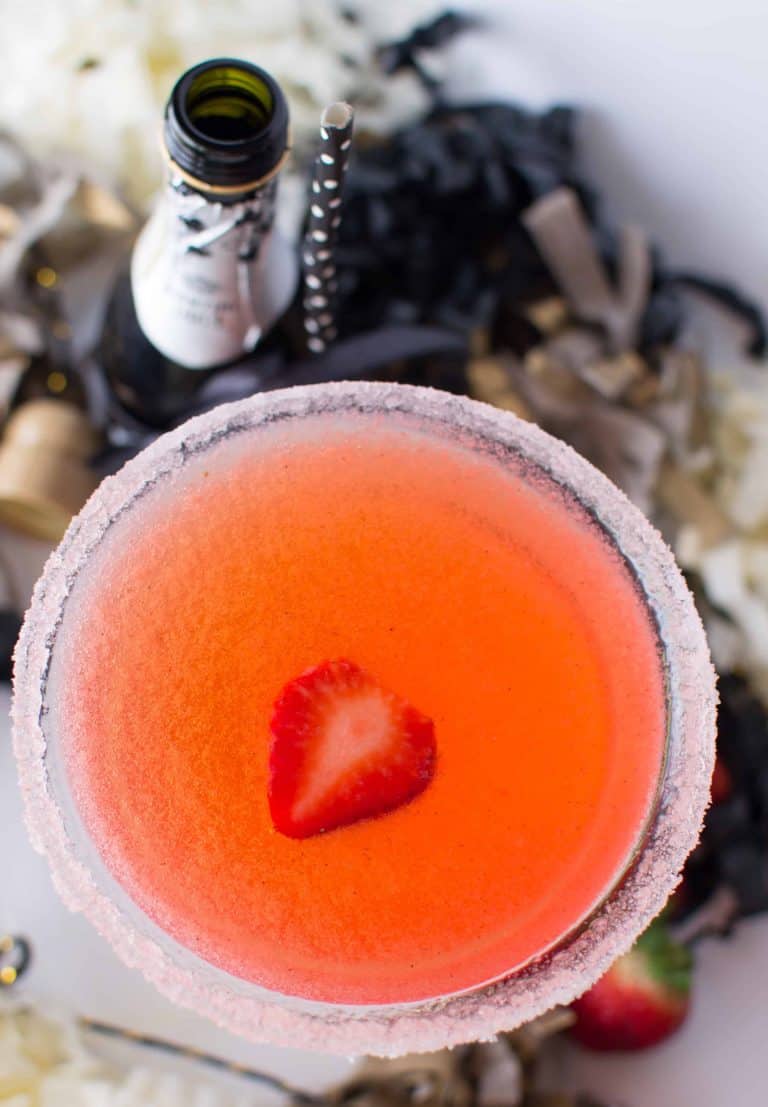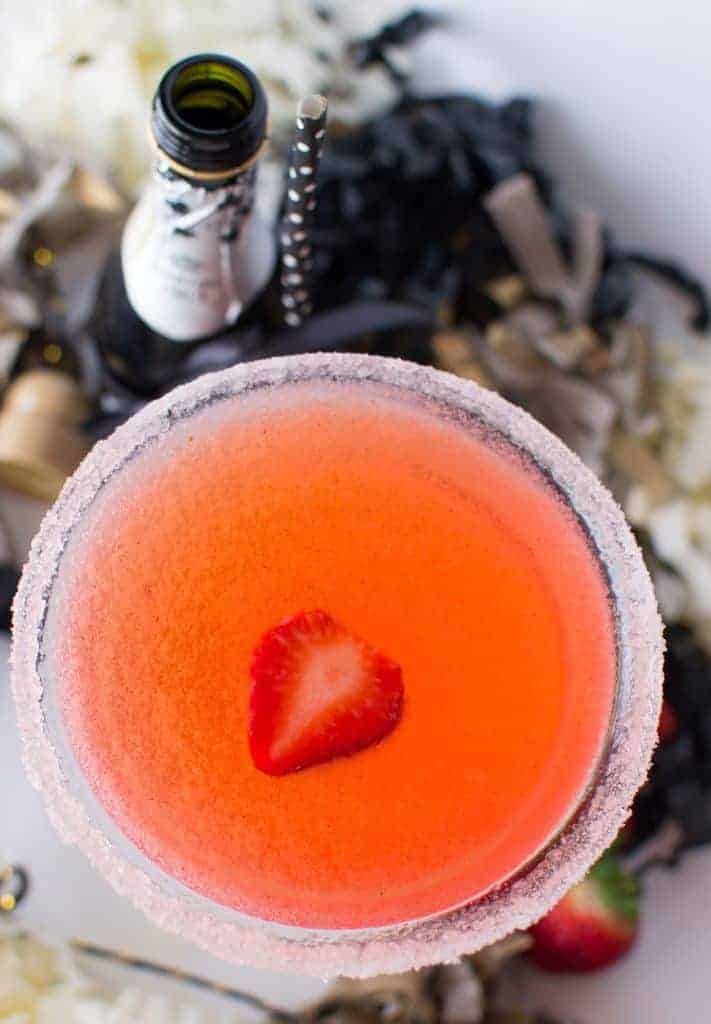 All dressed up and no where to go…
To dress up the appearance of your drink, it's New Year's after all, you can float a thin slice strawberry and/or rim the glass with sugar.  To do that just pour a little simple syrup on one plate and granulated sugar on another plate.  Did the martini glass rim in the simple syrup, shake off excess liquid and then repeat with the sugar.
Voila!  All dressed up and no where to go but down the hatch.
Happy New Year's everyone!
Print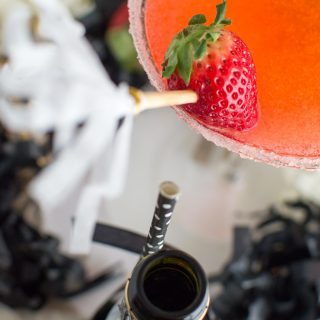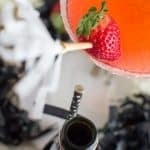 Sparkling Strawberry Martinis
---
Description
Muddled strawberries, simple syrup and vodka come together for a slightly sweet and smooth fruit martini. A champagne float contribute just the right amount of festive bubbles!
---
Scale
Ingredients
Simple Syrup:
1/2 cup

granulated sugar

1/2

water
Sparkling Strawberry Martini
3

to

4

strawberries, hulls removed, larger strawberries halved

3 ounce

s vodka

1 1/2 ounce

s simple syrup

1 1/2

to

2

ounces Asti Spumante or sweet sparkling wine
---
Instructions
To make simple syrup:
In either a saucepan or microwave safe bowl, heat water until boil. Add sugar and stir until dissolved.
Sparkling Strawberry Martini:
In a martini shaker, add strawberries and muddle. Press as much juice out of the fruit as possible.
Add simple syrup, vodka and ice. Shake vigorously for 20 to 30 seconds.
Strain using mesh strainer into martini glass.
Using the back of a spoon, slowly pour champagne over the top of the martini.
---
Recipe Card powered by