Fluffy small-batch buttermilk pancakes, naturally dyed using beetroot powder and shaped with simple to make foil molds. These heart shaped pancakes are the perfect breakfast - or breakfast for dinner! - for Valentine's Day or any special occasion with your family.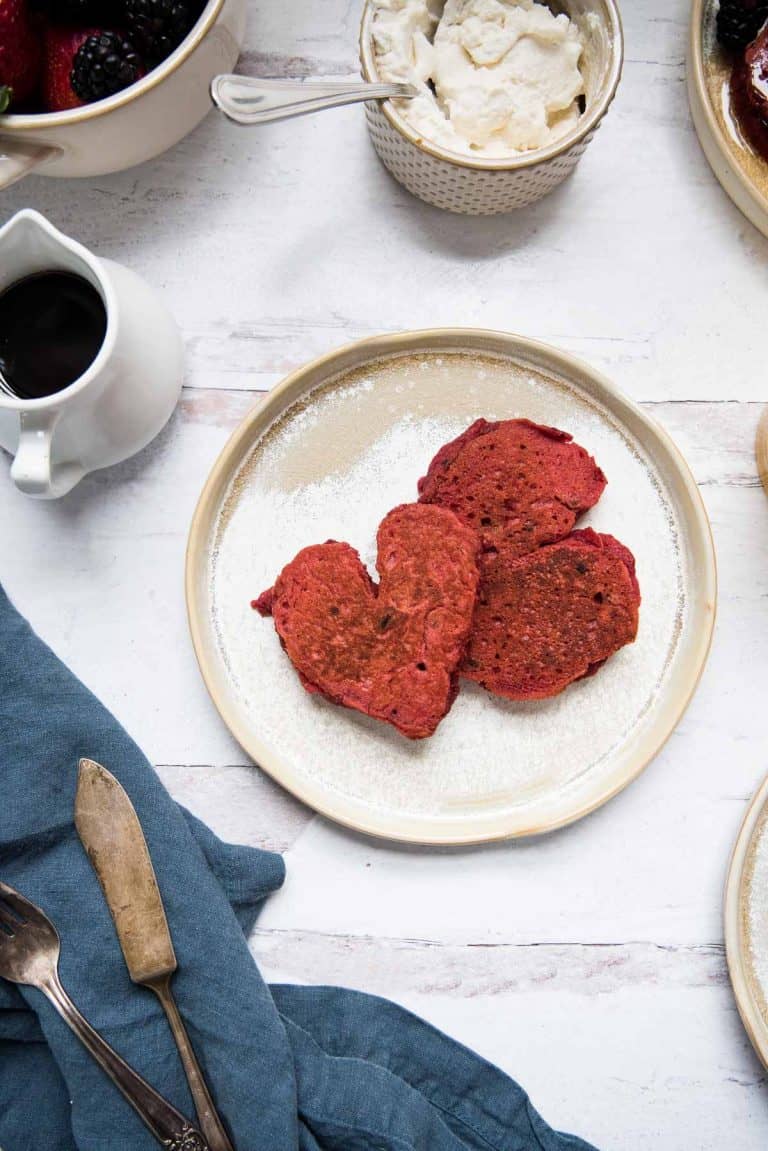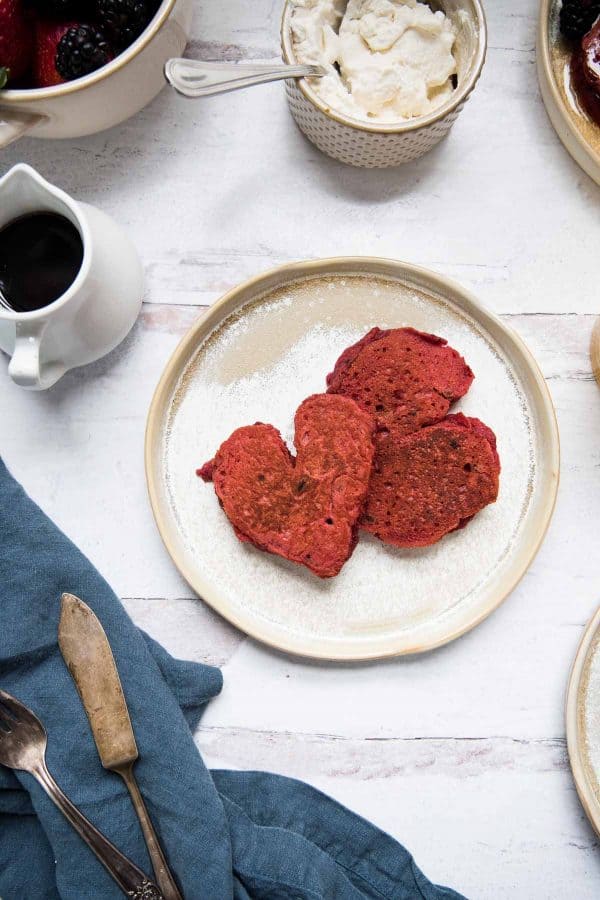 In search of the perfect way to start Valentine's Day? It's right here and it's super simple. In fact, it's beyond breakfast.
The kids, Shea in particular, have been obsessed with breakfast for dinner and we are here for it!
We're loving these heart shaped pancakes because
delicious and fluffy pancakes with perfect buttermilk tang
smaller recipe means no waste
fast
wholesome ingredients
naturally dyed
hands-on for the kids
That's a lot to love!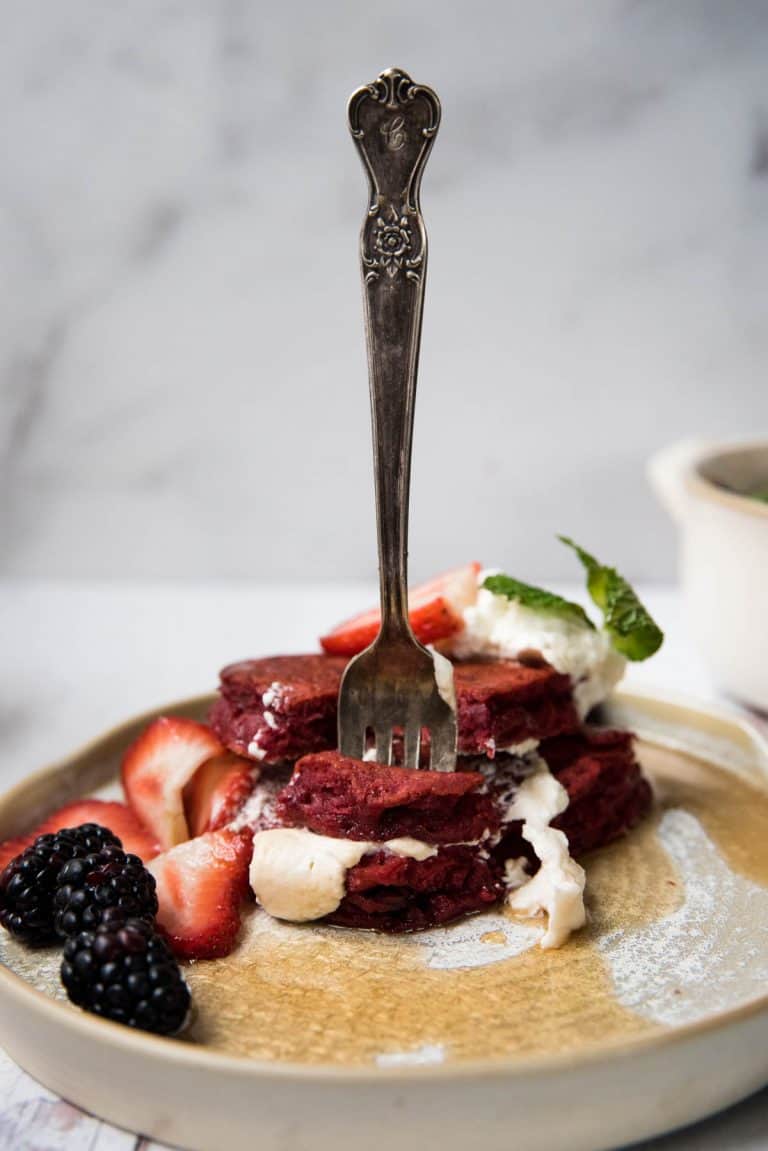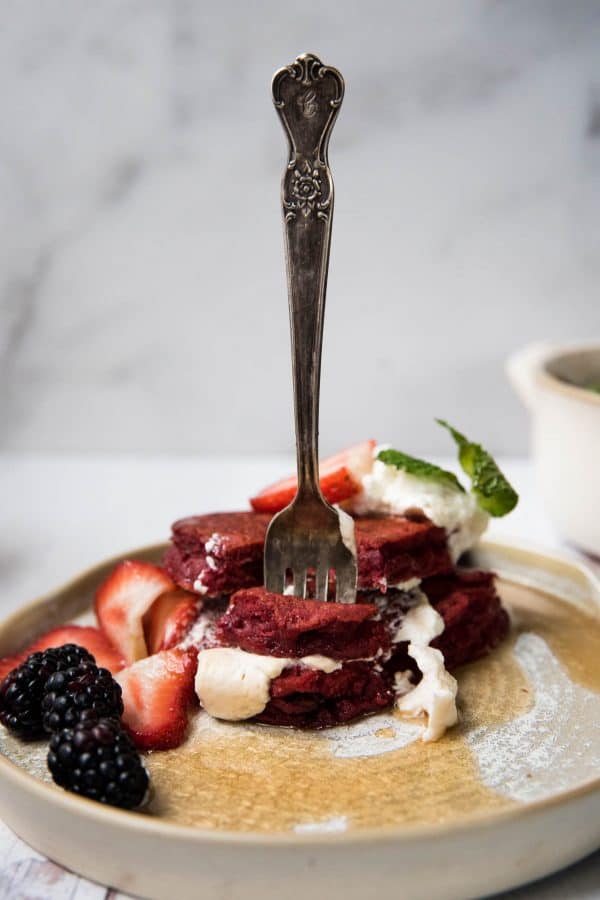 Natural Red Food Dye
There are two ways to get these pancakes that perfect 'I love you' red. You can use red food coloring or vegetables to change color! The veggie route is a really fun way to go and what we're doing here, but if you don't have time to get the ingredients you can always substitute red food coloring.
To naturally dye the color red, mix beetroot powder into the dry ingredients. When you mix it in at first the color will be a very paint pink, but as the wet ingredients are incorporated the red will darken.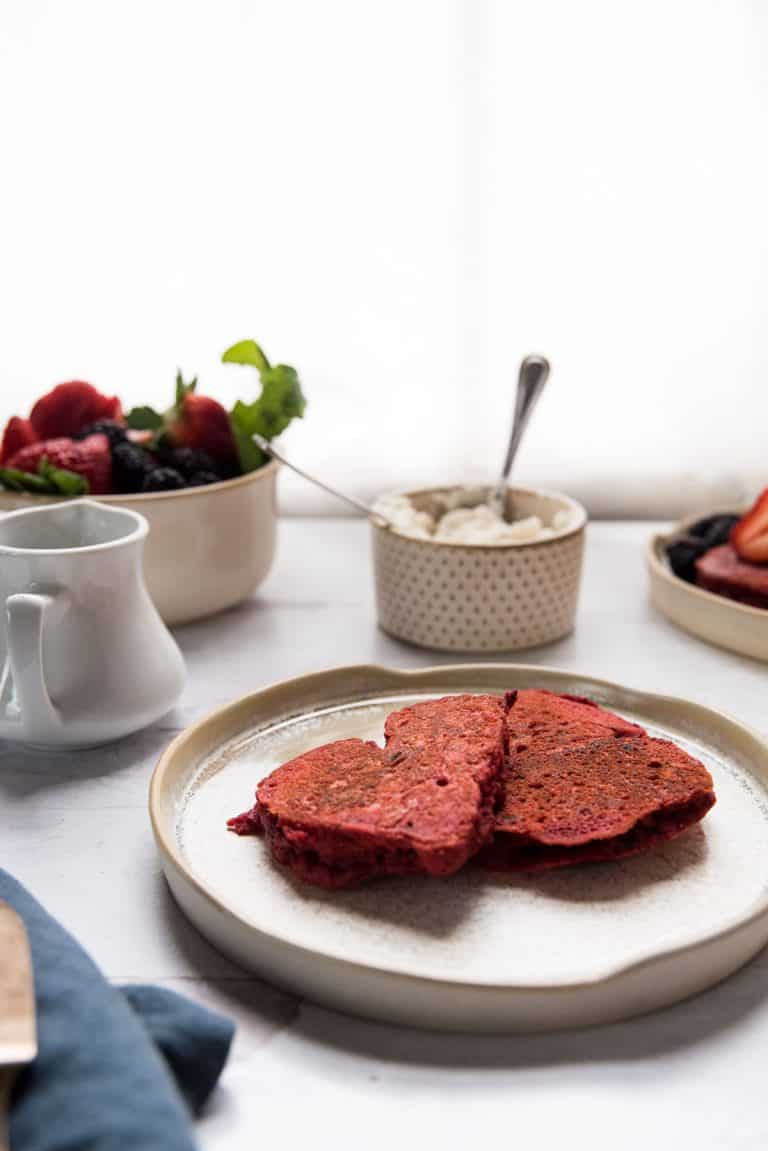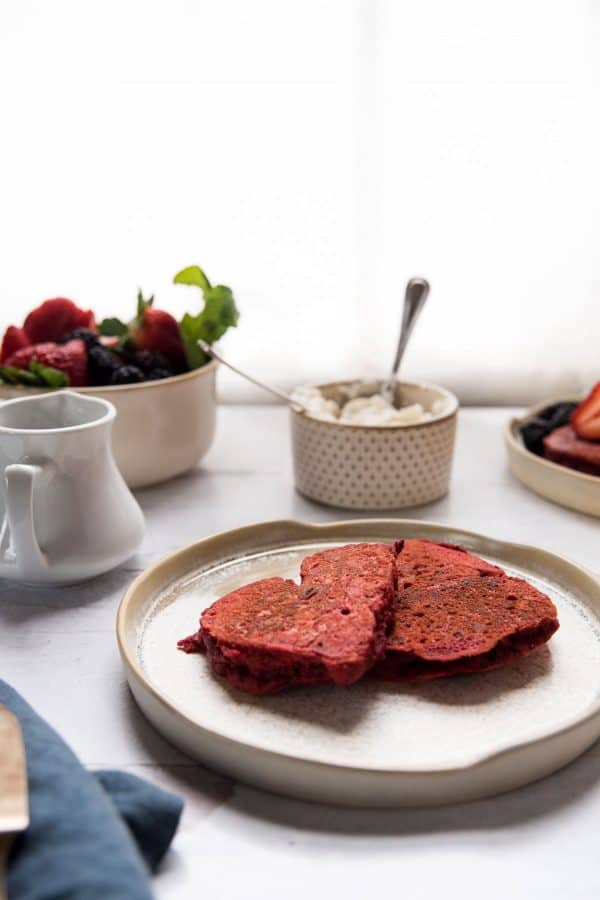 Alternatively, if you can't get your hands on beetroot powder, you can take 1 small very well cooked beet, mash it or blend it into the buttermilk. Similar to what we do to make this risotto, but instead it's buttermilk for pancakes.
WILL MY PANCAKES TASTE LIKE BEETS?
Nope! The beetroot powder is so fine and the flavors of the flour and buttermilk will overpower any remain beet taste. Especially if you're topping your pancakes with all the extras.
HOW ELSE CAN I USE BEETROOT POWDER?
Because it's mostly flavorless, you really can add it to anything! Smoothies or cocktails. Chia seed pudding or oats are a great option too!
WHERE DO I FIND BEETROOT POWDER?
Any natural foods store should carry it, but if you're more about not having to leave the house you can easily purchase beetroot powder from amazon.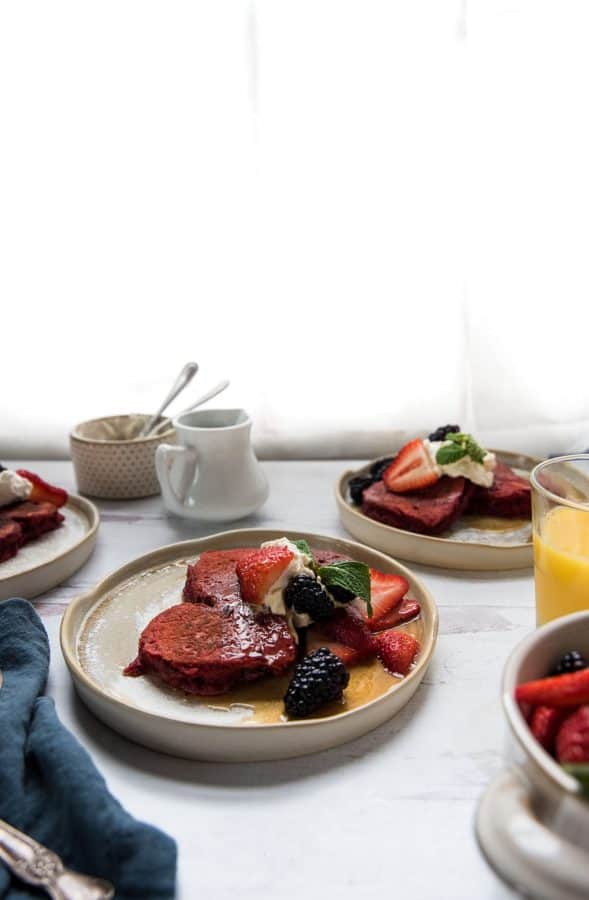 Making the molds
If you have heart shaped cookie cutters that's the easiest approach, but if you're doing this on the fly or don't want to spend the money these molds can be easily made out of aluminum foil.
Be sure to watch the video, there's a tutorial on making these, but here's the overview:
Take a piece of aluminum foil that's a little under 1 ½ feet long
Fold it into quarters or until it's just over an inch wide
Fold it in half the long way (to make the point of the heart)
Make the top of the heart by connecting the two ends, fold them over and round out the tops.
Simple! Cost effective! Easy!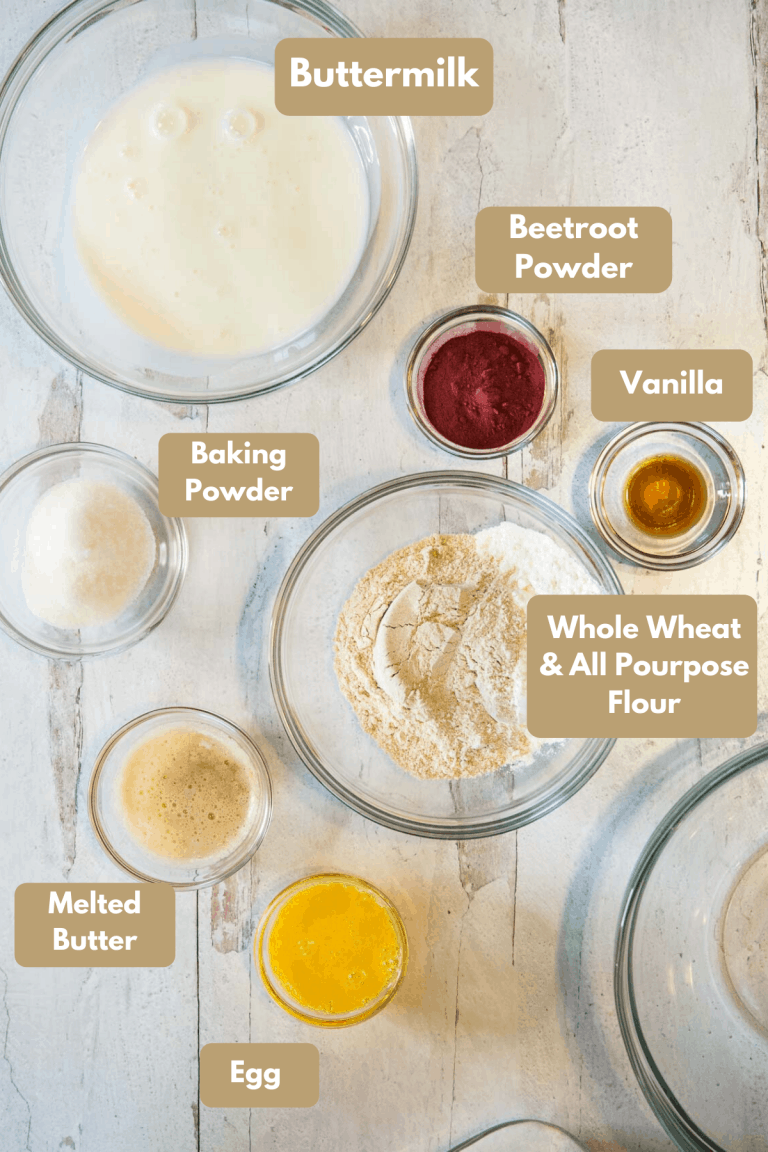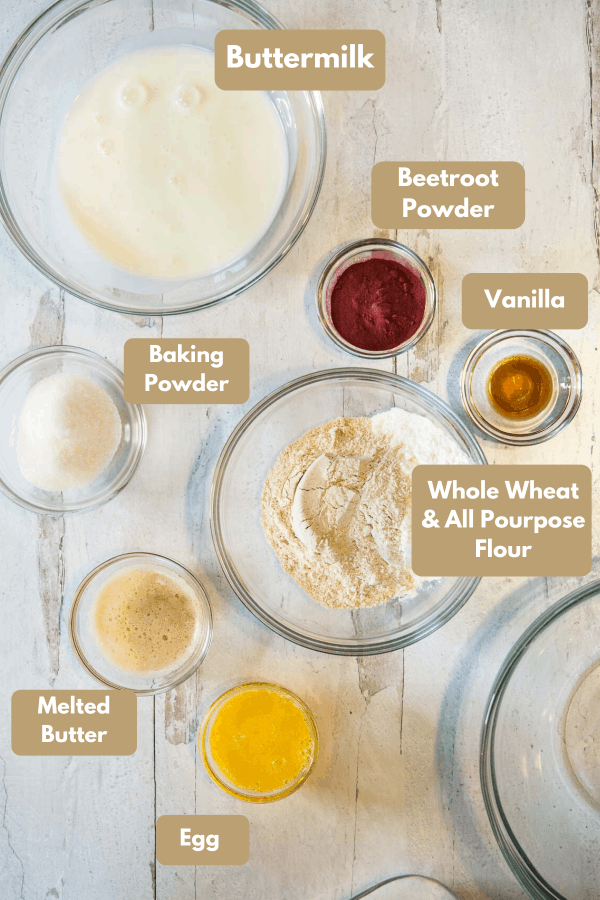 When it comes to filling the molds in the pan, you're going to use about ¼ cup of batter per mold and spread it with a spatula. Use the tip of a small spatula or a spoon to release the mold from the batter when it's time to flip the pancakes.
How to make heart shaped pancakes
Dreaming of fluffy, cloudlike pancakes? Don't worry you're not alone. If your syrup-soaked breakfast bites have a reputation for being tough, dense or thin here are a few tips for perfect buttermilk pancakes every time.
DON'T OVERMIX YOUR BATTER! The batter should be mixed to the point that there are no longer any dry spots, but keep the lumps! If you're mixing out all of the lumps in your batter, you will end up with dense pancakes. Not fluffy clouds.
Even better, if you make the batter and let it rest for a little bit will get you even fluffier pancakes.
Whisk together the dry in one bowl and the wet in another before combining. I know it seems tedious to create an extra dish, but it helps to evenly incorporate the ingredients. This recipe has a fair amount of baking powder which helps create those beautiful air pockets in the pancakes during cooking and you want them to even throughout the batter.
Use a nonstick skillet or griddle over medium heat and butter then pan before each round of pancakes. The butter creates the perfect crisp edges and makes for easy flipping.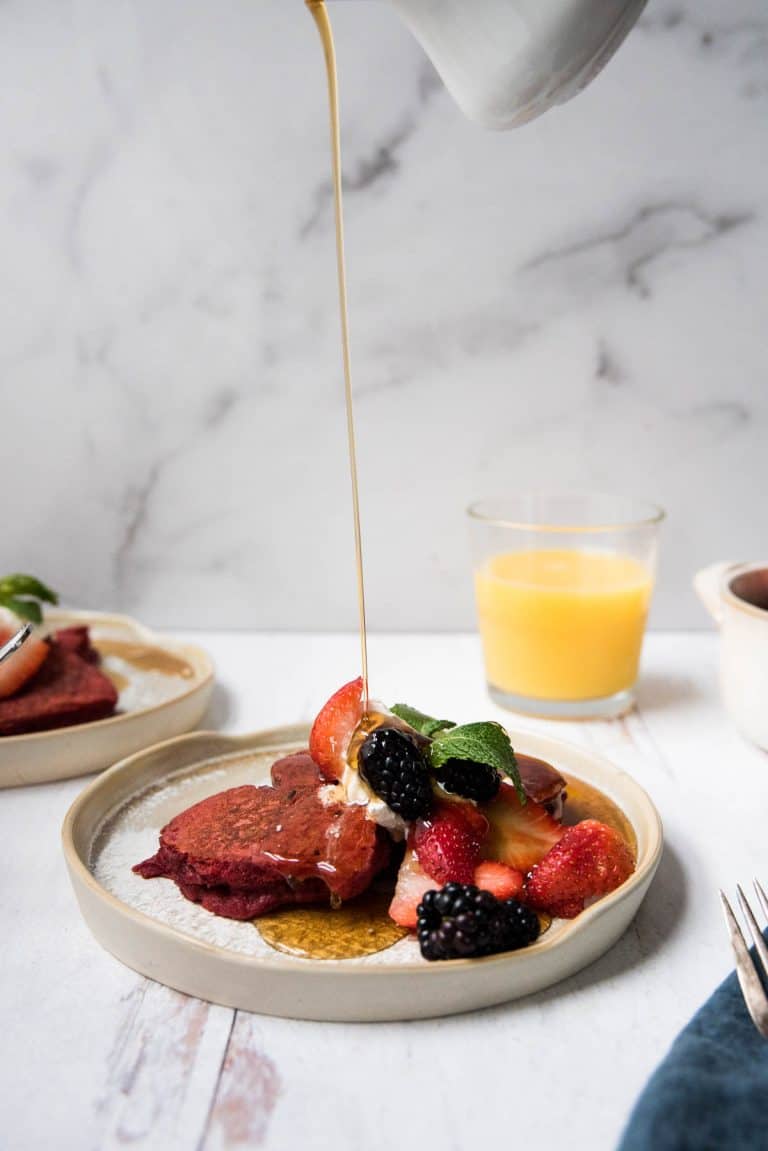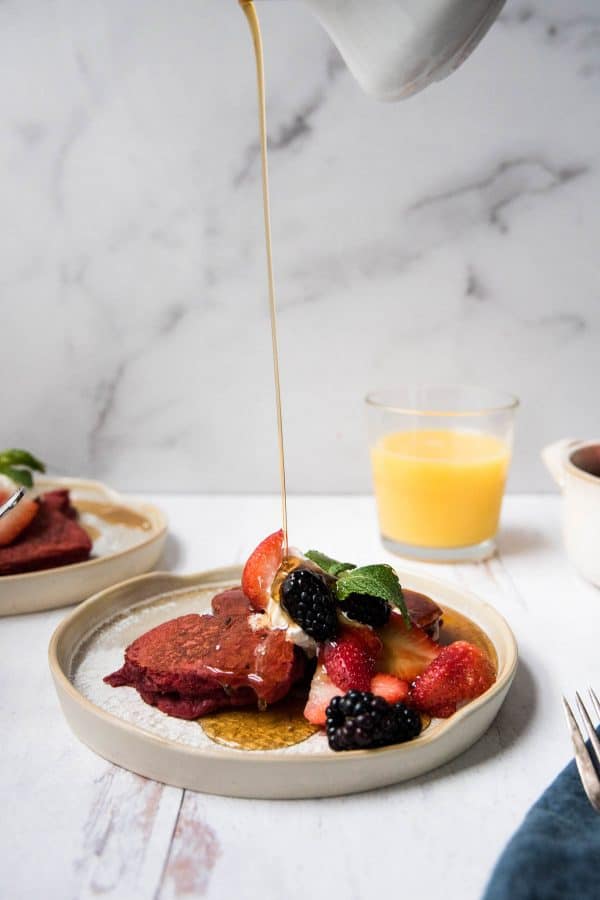 Recommended Toppings & Sides
These heart shaped pancakes are good on their own, but my sweet tooth is already looking for the maple syrup. On our Valentine's Day pancakes we're adding more than just syrup and here are some of our favorite go tos:
maple syrup
whipped cream
fresh fruit
mint
shaved chocolate
chocolate sprinkles
candied or raw nuts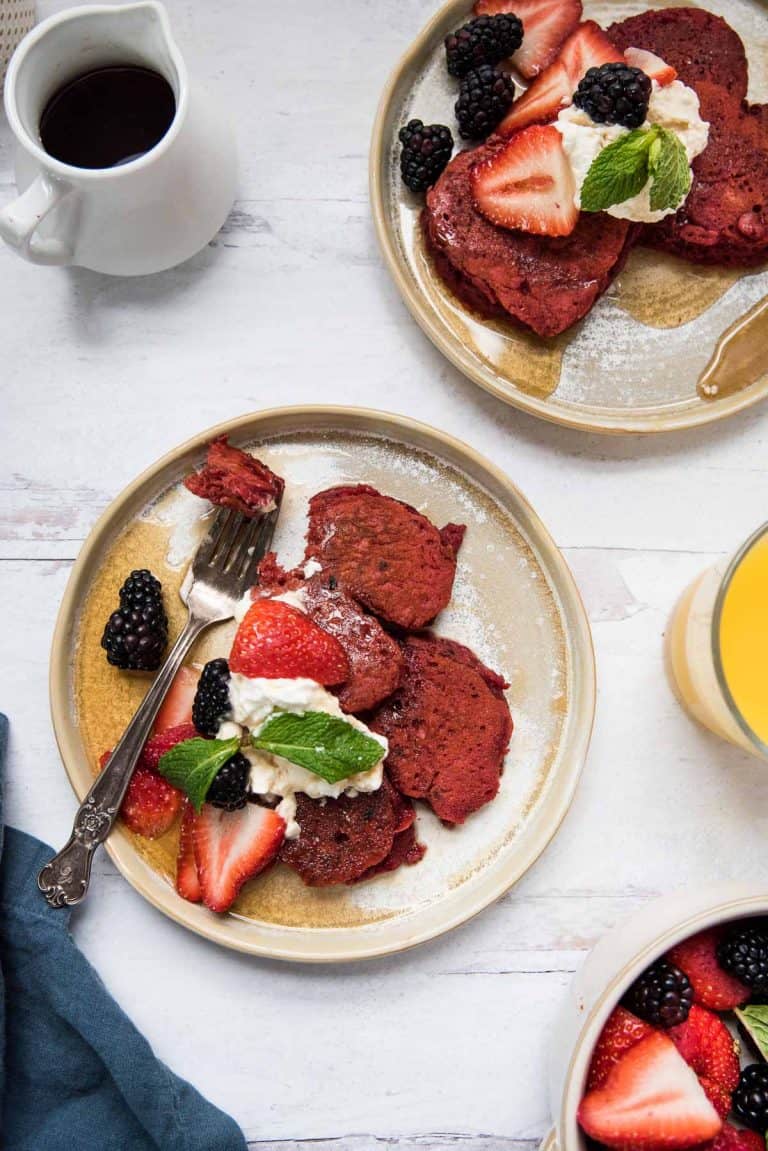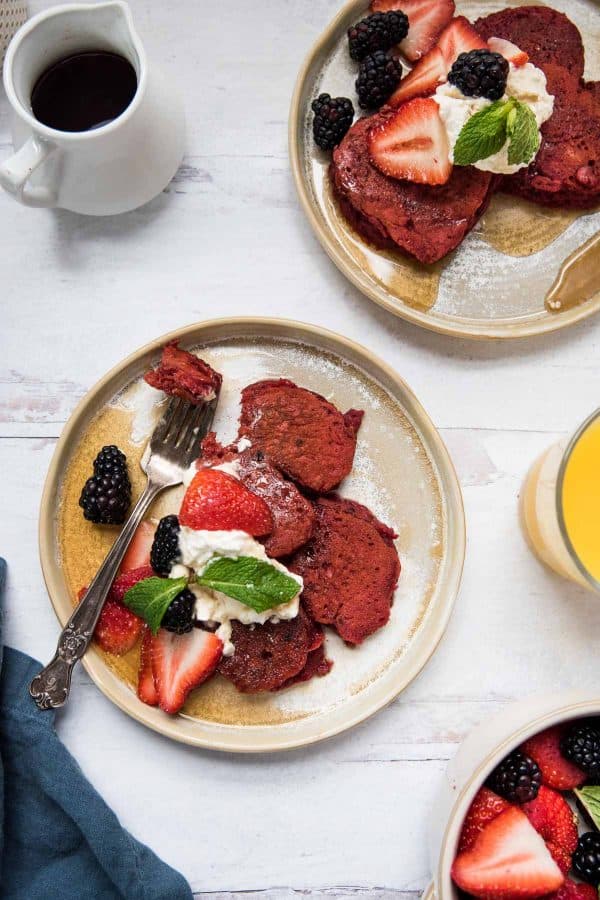 If you need a little savory to go with your sweet, this sweet potato hash has all the flavors you need. Don't forget the brunch cocktails to wash them down either! Well for the adults, you can always substitute the prosecco in any recipe with sparkling cider for a fun fancy non-alcoholic cocktail.
If you're loving this fun recipe, I'd appreciate your hearts below with a rating or a comment! Be sure to tag @hungerthirstplay on social media or add photos of your finished dishes to Pinterest so others can see your beautiful eats!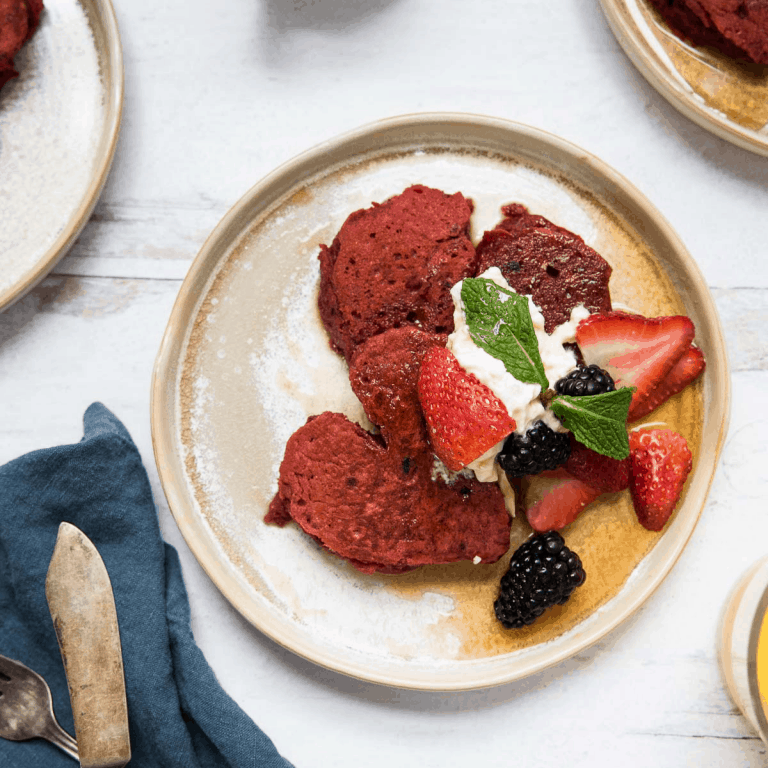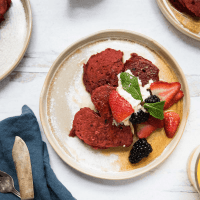 Naturally Dyed Heart Shaped Pancakes
We're in love with these heart shaped pancakes! Fluffy, buttermilk pancakes in a fun red heart shape easily done with natural food dye and DIY pancake molds.
Print
Pin
Rate
Servings:
8
heart pancakes
Ingredients
½

cup

all purpose flour

½

cup

whole wheat flour

2

tablespoons

granulated sugar

2

teaspoons

baking powder

2

tablespoons

beetroot powder

1

cup

buttermilk

1

egg beaten

½

teaspoon

vanilla extract

2

tablespoons

butter melted

additional butter for the pan

optional toppings: maple syrup

(fresh fruit, whipped cream, mint)
Instructions
In a medium bowl, whisk together the flour, sugar, baking powder, and beetroot powder. In a seperate bowl, combine the buttermilk, egg, vanilla, and melted butter.

Using a rubber spatula, mix the wet ingredients into the dry ingredients. Do not overmix! Stir until all the dry ingredients are incorporated, but there should be some lumps in the batter.

Make the heart molds using aluminum foil. Take a piece of aluminum foil that's a little under 1 ½ feet long. Fold it into quarters or until it's just over an inch wide. Fold it in half the long way (to make the point of the heart.) . Make the top of the heart by connecting the two ends, fold them over and round out the tops. Repeat for as many times as you need to fill the pan or the griddle. For a 13 inch skillet, you'll need 3 molds.

Melt butter in the skillet or griddle over medium heat and place the molds in the pan. Fill each mold with ¼ cup batter and spread gently with a small spatula or the back of a spoon. When bubbles appear on to the top of the pancakes, carefully remove the molds. You may need a small spatula to seperate the molds from the sides of the pancakes. Flip and cook the other side about 2 minutes.

Repeat until all the batter is used. Serve and garnish with your favorite toppings!
Notes
If the beetroot powder is clumpy, give it a quick sift first.
If using regular red food dye, mix it into the wet ingredients instead of the dry. Start with ½ a teaspoon and adjust depending on how vibrant you want the red color.
Heart shaped cooking cutters can be used in place of the foil molds.
Nutrition
Calories:
118
kcal
|
Carbohydrates:
16
g
|
Protein:
3
g
|
Fat:
5
g
|
Saturated Fat:
3
g
|
Trans Fat:
1
g
|
Cholesterol:
31
mg
|
Sodium:
171
mg
|
Potassium:
85
mg
|
Fiber:
1
g
|
Sugar:
5
g
|
Vitamin A:
167
IU
|
Calcium:
101
mg
|
Iron:
1
mg