Creamy, smokey and spicy! Vegan tofu chipotle aioli is the perfect sauce to slather on tacos, sandwiches or dip your fries in. If you follow a plant-based diet, just want to eat more plants, or want a creamy sauce that also cuts the calories mayo brings to the table this sauce is equally delicious and just requires a quick blend of the food processor.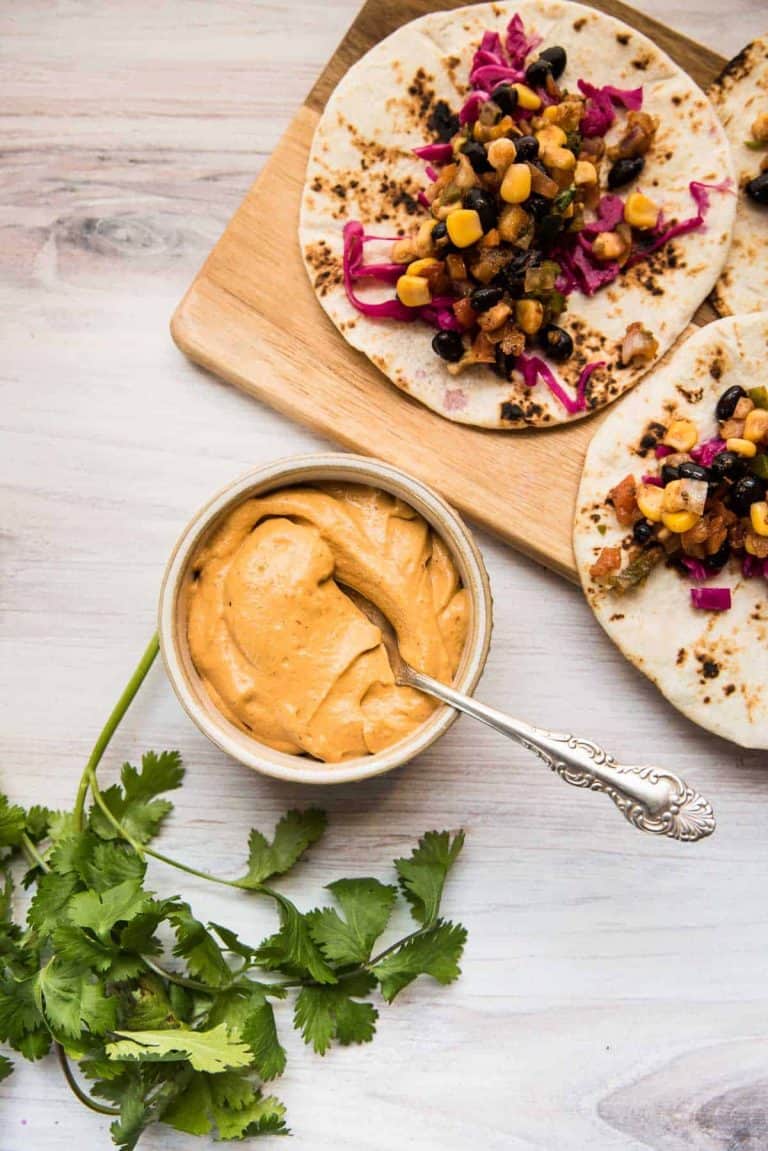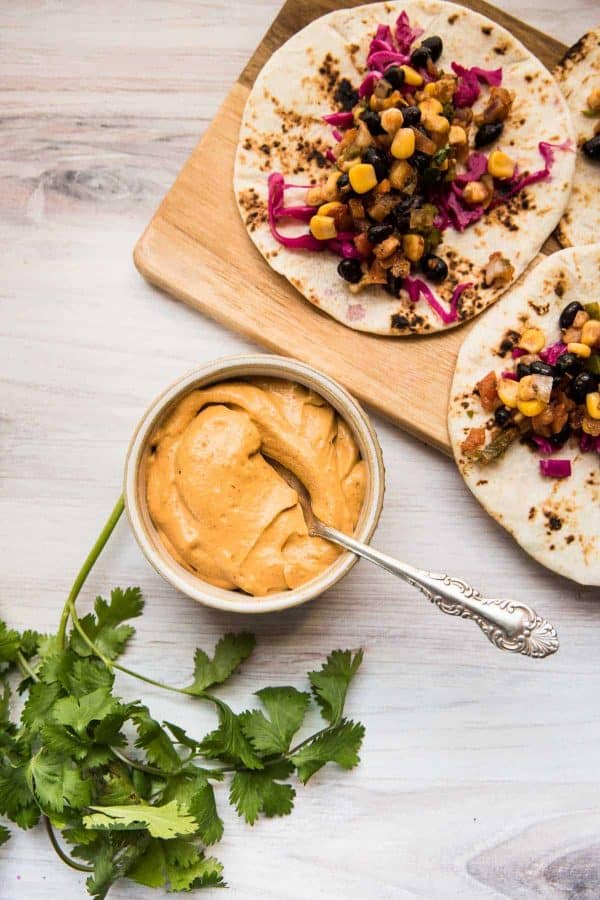 Have you ever had a sauce you want to put on all the things?! The dipping of the fries is not enough. It needs tacos and veggie burgers and just....all the things. THIS vegan chipotle aioli is that.
The girls and I were having lunch at by CHLOE. in the Seaport, chowing on delicious vegan eats and it was pretty hard to believe everything was plant-based. (Go for the guac burger!) The tofu chipotle aioli for dipping the air fryer sweets was so similar to the mayo-based spicy sauce I had sitting in the fridge at home...recreating it just needed to happen.
So here we are. Waiting for our food to cook so we can cloak it in creamy, smokey, spicy goodness.
The current rotation is for dipping cauli-tots and topping Beyond burgers for our Meatless Monday meals. It's thick enough to be the perfect dipping sauce and still creamy like regular mayo. At the end of the day, we're adding a little more protein and plants into the meal. I, for one, am totally down with that idea.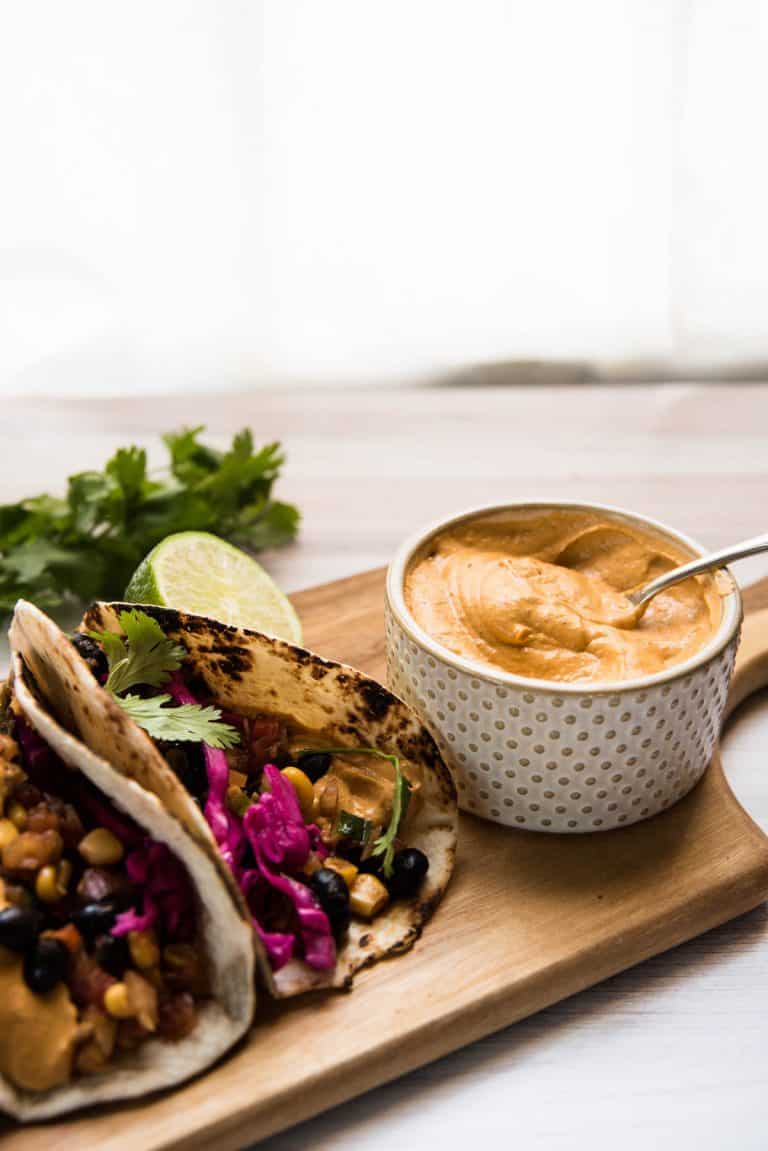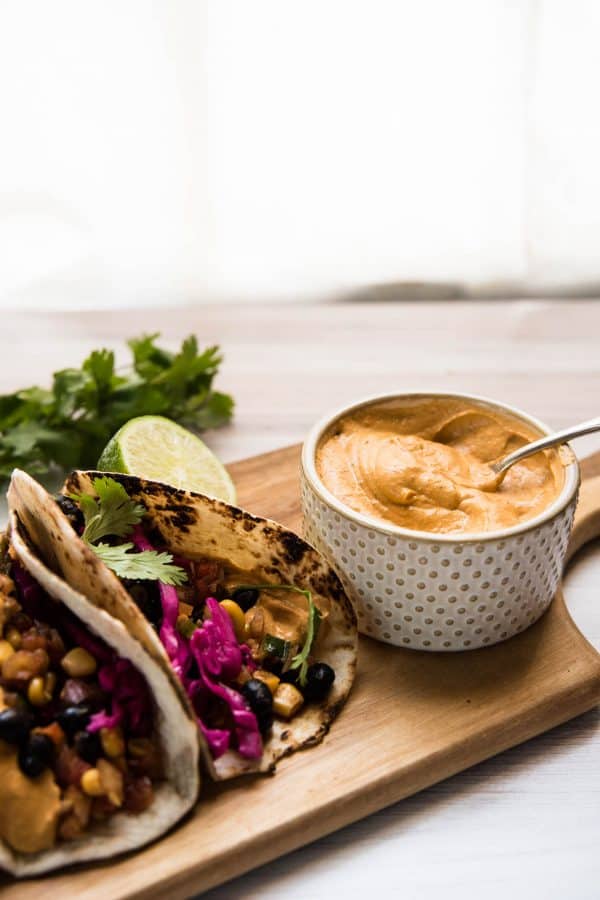 Is aioli the same as mayonnaise?
Yep. Same same, friend. It's just a fancy way to say mayo blended with other ingredients into a rich flavored sauce.
How do you make vegan chipotle aioli?
There are a few different ways to get this done, but the special thing about this recipe is that we're adding silken tofu to up the creaminess. The only prep that's required for this is to soak the cashews in hot water for about an hour. This softens them up so they blend smooth. *But don't worry, there's a short cut if you didn't make time for that in your plans.*
After draining the cashews, just add everything to the blender or food processor and puree it until its smooth.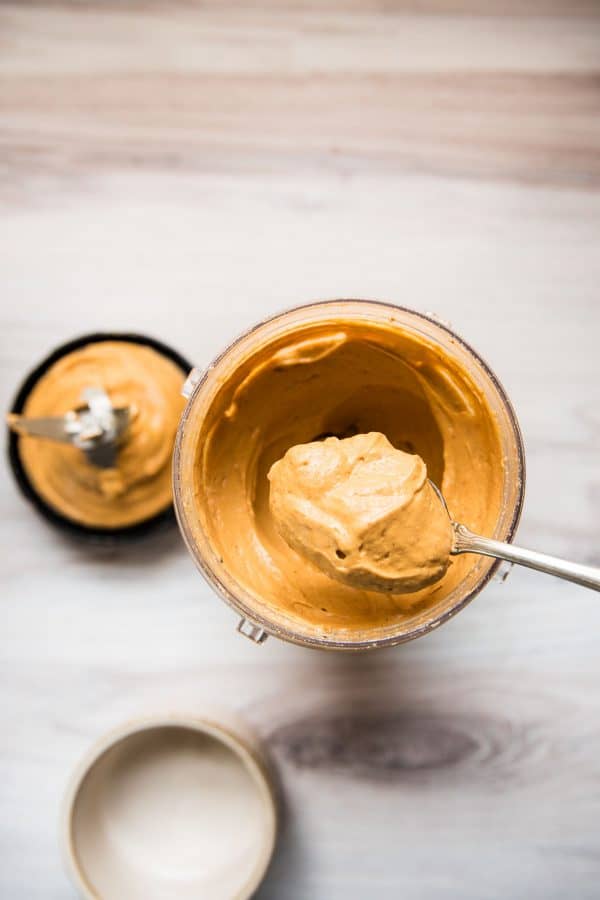 TIP: to save yourself the dishes of a cutting board and knife, just use some kitchen scissors to roughly cut the fresh cilantro.
Also, a note about the spiciness. If you love the smokiness of chipotle but don't really care for a lot of heat, you can adjust the level by adding fewer peppers. I recommend you start with two and if you're still craving a little more zip, then blend in a third.
And that's all it takes to get the spicy plant-based sauce.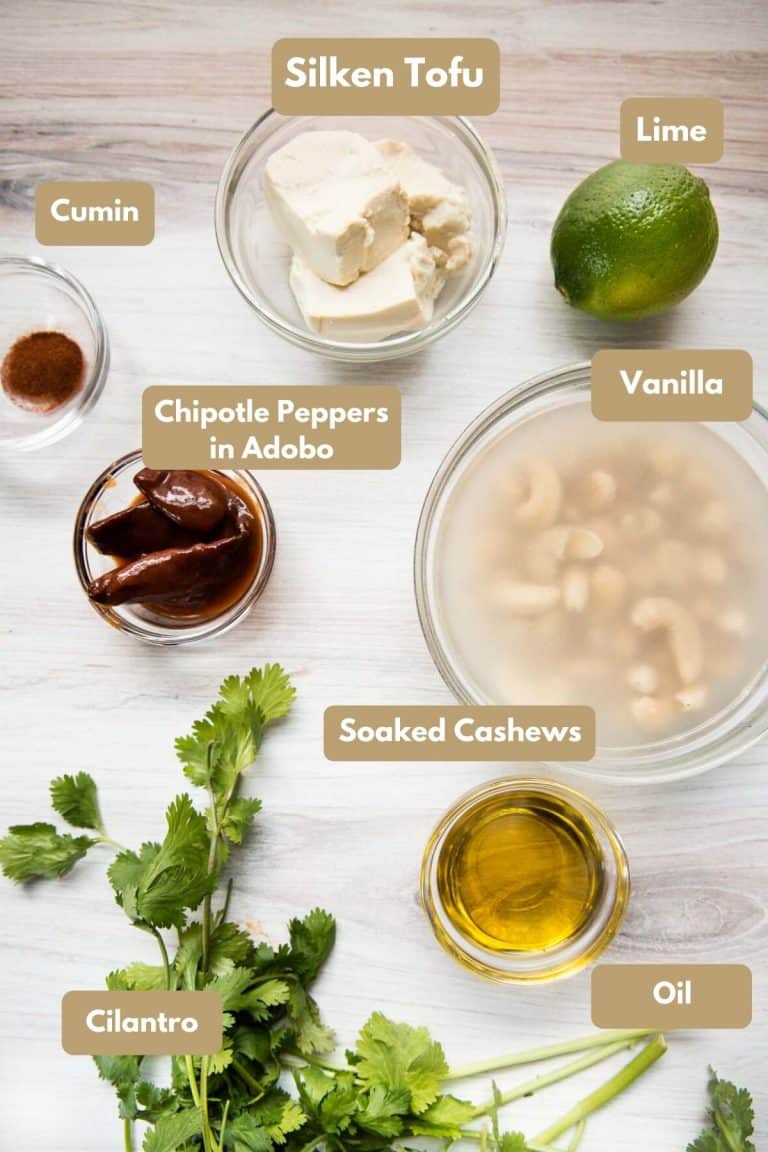 Do you have to soak the cashews?
Unfortunately, yes. The water helps soften them so they get that smooth and rich texture.
BUT WAIT! Don't sigh and go searching for another recipe just yet. A short cut to the soaking is bringing cashews and water to a boil in a saucepan, turn off the heat and let them sit for 15 minutes. After that, drain and go about the recipe.
If you happen to be bad at thinking ahead (totally raising my hand over here!), this is a great hack.
What do you serve with it?
Anything. Ok, ok....I can be more specific.
Using it as a saucy garnish for tacos is high up on the list. You can swap out the wasabi ranch for vegan chipotle aioli on these sprout and kale tacos. Salmon sliders or veggie burgers are a solid decision. Of course, there's always the option to just bake off some fries and let the dipping commence.
Did you make this recipe? Please let me know how it went with a comment and recipe rating below. You can always show off your delicious eats on social media by tagging @hungerthirstplay or adding the photo to the pin on Pinterest!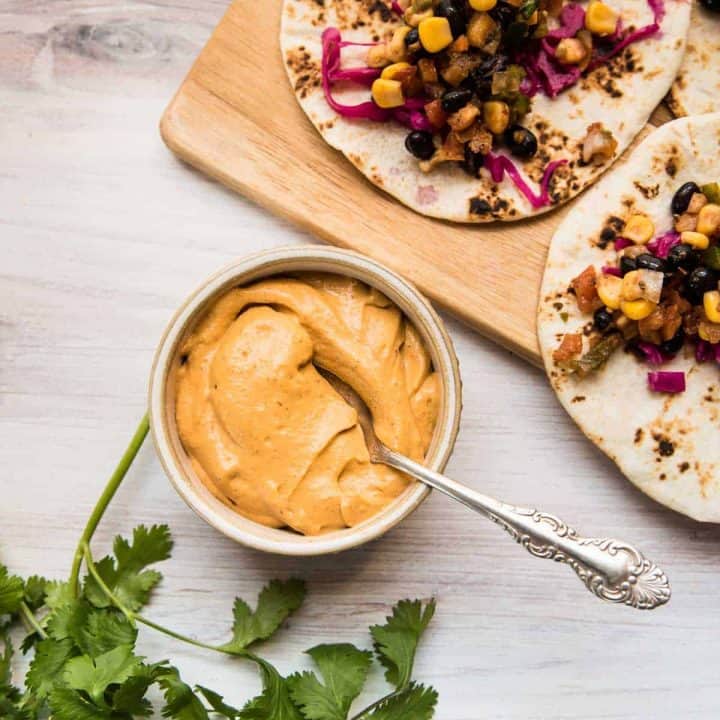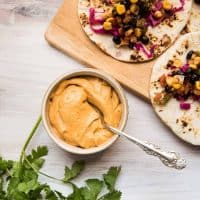 Vegan Chipotle Aioli
Creamy, smokey, spicy and totally vegan! The combination of silken tofu and soaked cashews makes this protein packed, no mayo, creamy chipotle aioli perfect to slather on sandwiches and tacos or dip your fries.
Print
Pin
Rate
Ingredients
¾

cup

cashews

½

cup

silken tofu

3

tablespoons

lime juice

1

tablespoon

fresh cilantro

(roughly chopped)

½

teaspoon

salt

2 to 3

whole chipotle peppers in adobo

1

teaspoon

adobo sauce

2

tablespoons

oil

(olive, grapeseed, avocado, etc.)

¼

teaspoon

paprika
Instructions
Soak the cashews in hot water for 1 hour. Alternatively, if crunched for time, you can add cashews to a sauce pan and cover with water. Bring to a boil, remove from heat and soak for 15 minutes.

Drain the cashews from the water. Add all ingredients to a blender or food processor. Blend for 30 seconds on high or until all ingredients are smooth and creamy. Serve right away or store for later.

Refrigerate in an air tight container for up to 3 days.
Notes
The chipotle peppers add both spice and smoke. Use 2 or 3 peppers depending on your preference for both.
To adjust the thickness of the sauce, blend in 1 tablespoon water at a time until you get your preferred conssitency.
Nutrition
Calories:
893
kcal
|
Carbohydrates:
42
g
|
Protein:
24
g
|
Fat:
75
g
|
Saturated Fat:
10
g
|
Trans Fat:
1
g
|
Sodium:
2419
mg
|
Potassium:
918
mg
|
Fiber:
7
g
|
Sugar:
10
g
|
Vitamin A:
1599
IU
|
Vitamin C:
16
mg
|
Calcium:
86
mg
|
Iron:
8
mg