Pillows of cauliflower pasta with the perfect crisp outside and tender inside. The first step to making perfect Trader Joe's Cauliflower Gnocchi is putting the package directions straight in the trash can and doing it faster and easier, this way.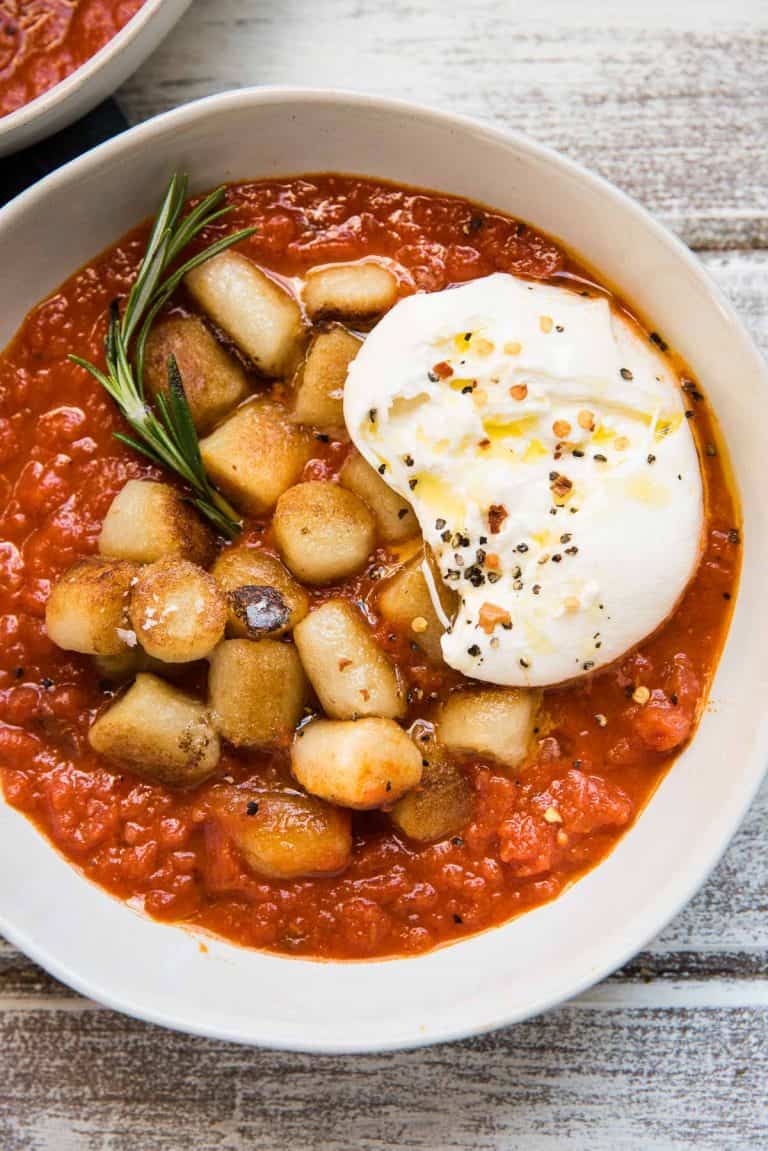 Looking to lighten up pasta night? Add more veggies to your eats? Cauliflower is having its moment in the spotlight and we are here for it! You go cauliflower!
It's rice, it's pizza crust, and thanks to our friends at Trader Joe's it's now pasta. When cauliflower gnocchi first came out, the stores couldn't keep it in stock it was that popular. The buzz has died down a bit and now is the perfect time to go grab yourself a bag, heat up the skillet and make some cozy pasta eats.
The current package instructions involve adding water and the result is gummy stuck-to-the-pan goopy gnocchi. Ain't nobody have time for that TJ. If we're investing the time to make pasta, we want it perfect the first time around which is exactly why you're going to love this recipe along with these reasons:
no thawing required
crisp outside
tender, light and fluffy inside
cooks quick
simple marinara and burrata make this a fancy meal with little effort
We can get down with that, right?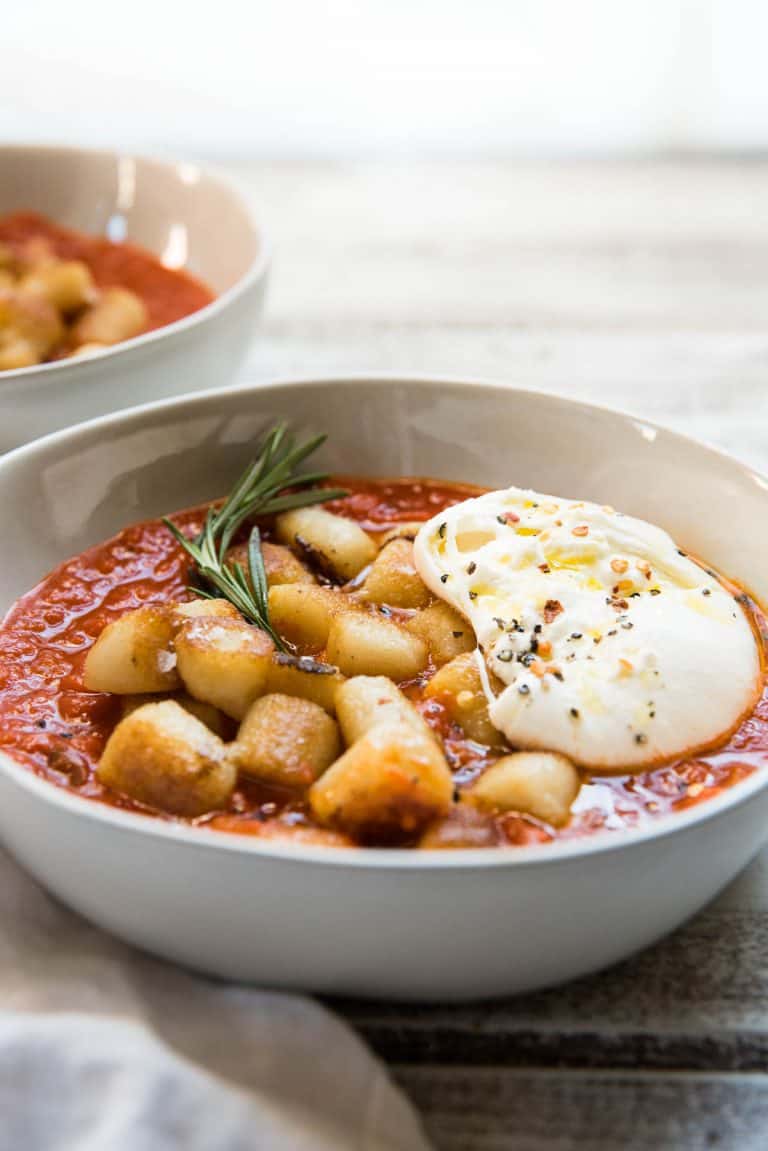 Why the package instructions don't work
It's on the package then it should work, right? But the way I see it, we can't give them that hard of a time since they came up with this genius veggie delight.
That being said there are 2 issues with the package instructions...
they tell you to thaw the gnocchi
they add water to the skillet during cooking
The intention was good because the thawed product would technically cook faster and the adding water part is very similar to how you cook dumplings at home but don't do this. You'll end up with doughy, soggy, sad gnocchi with half of it stuck to the pan.
The frustration is enough to make you want to set the skillet on fire and walk away. So don't do that, do the following instead for happy stressless eats.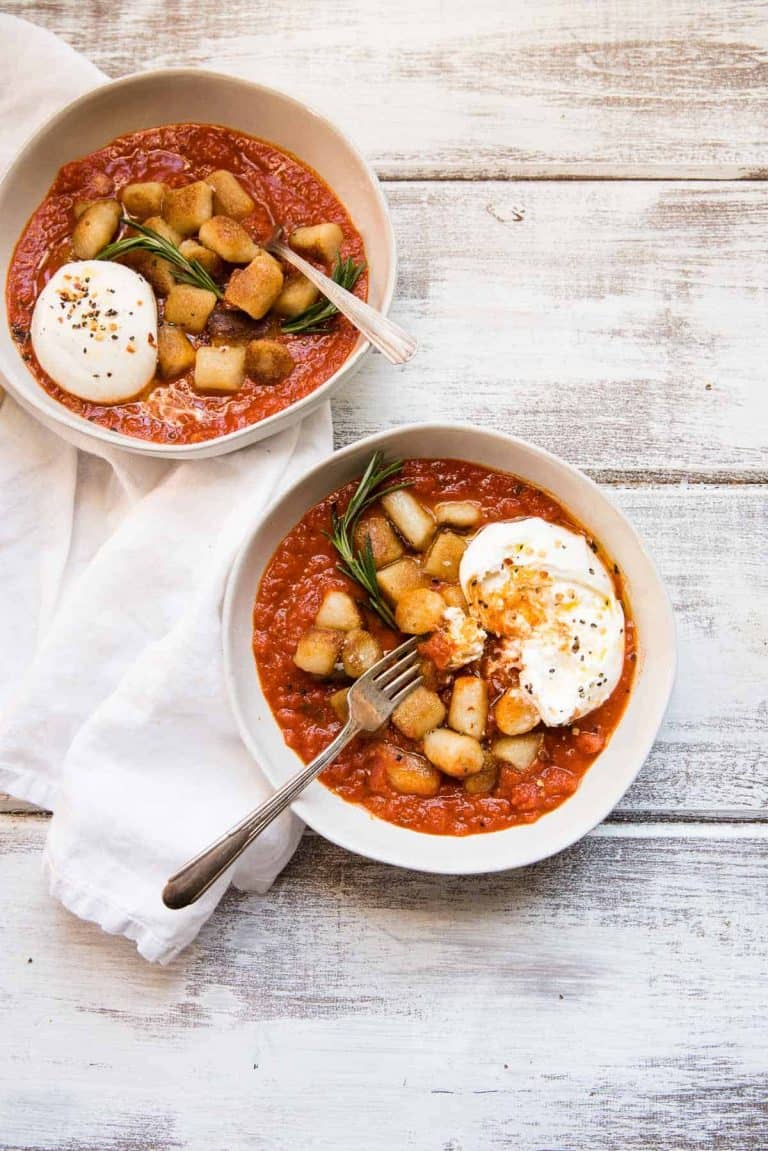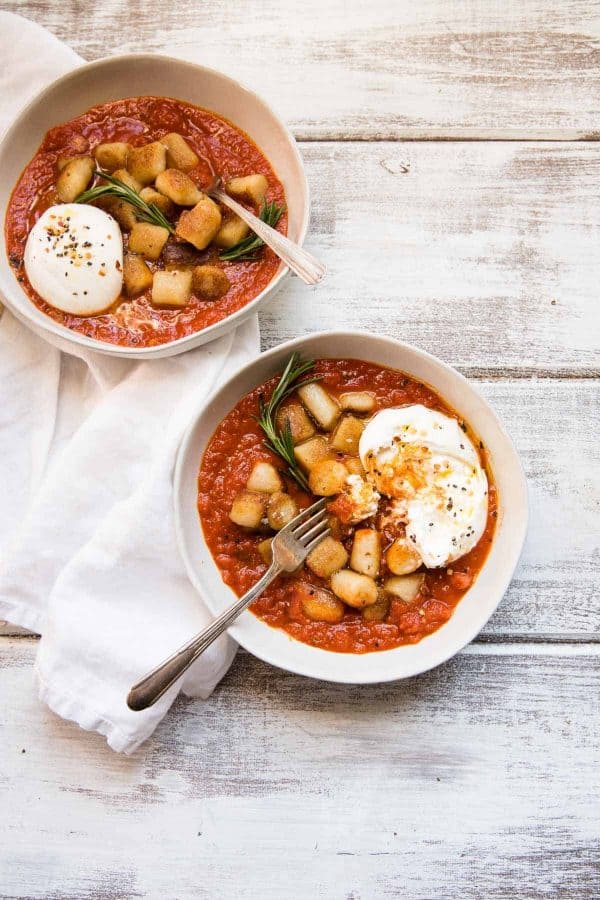 Perfectly cooked gnocchi in under 10 minutes
That's it! You read that correctly. It takes just 10 minutes to cook this pasta recipe from start to finish. So beautiful.
What you'll need:
a non-stick skillet
tongs
oil
All we're doing is heat oil in the nonstick skillet and add the pasta to the pan while it's still frozen. Keeping the pasta frozen during cooking keeps it from getting soggy and goopy.
Cook the gnocchi, uncovered, for 4 minutes then flip to the other side to cook for another 4 minutes. The result is golden brown gnocchi with crisp edges - perfect for catching sauce - and tender, light, fluffy cauliflower pillow pasta on the inside.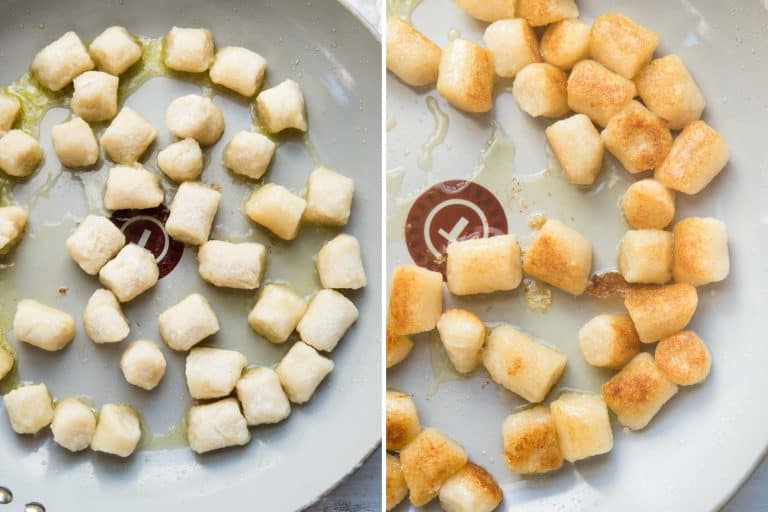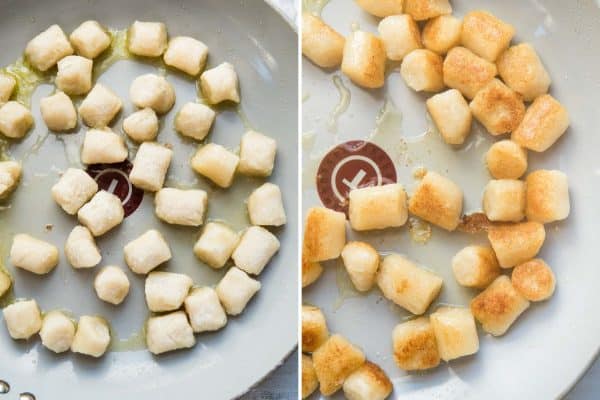 Look at those golden beauties! Ugh, be still my cauliflower lovin' heart.
Now, you can cook them a little longer if you're on Team I Like Things A Little Crispy. That's the way we do things in this house, and you're pasta will end up looking like this instead.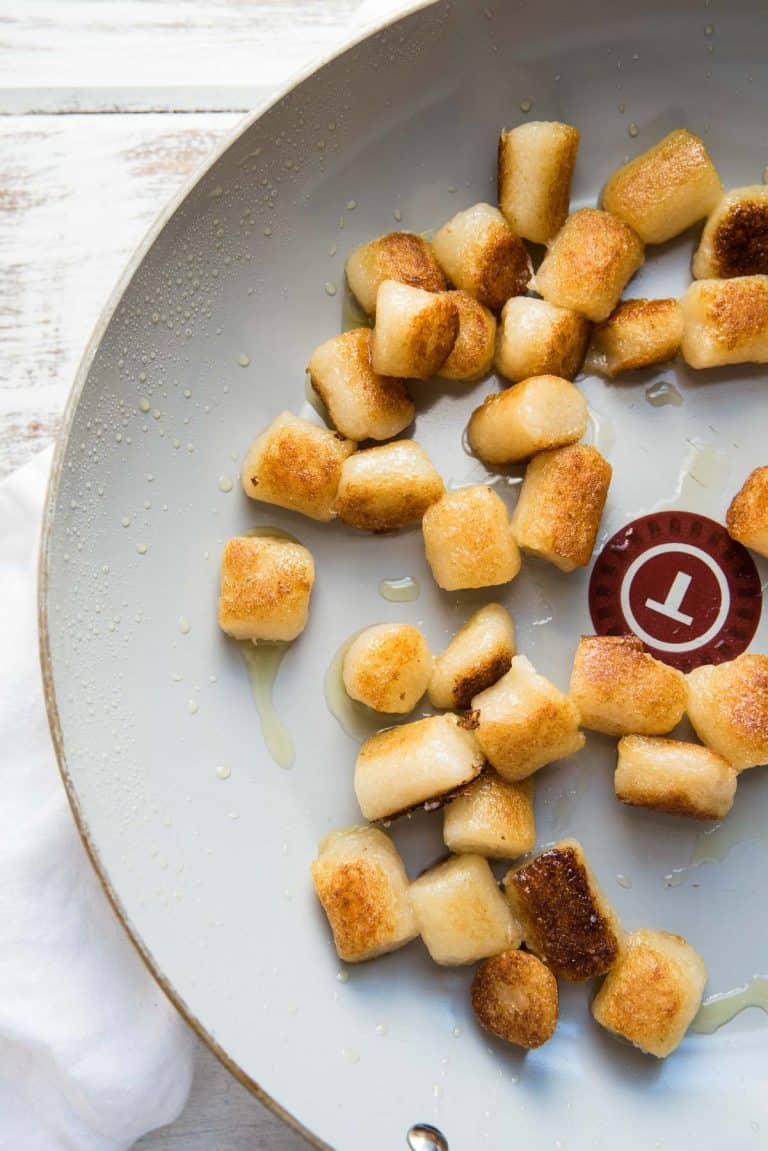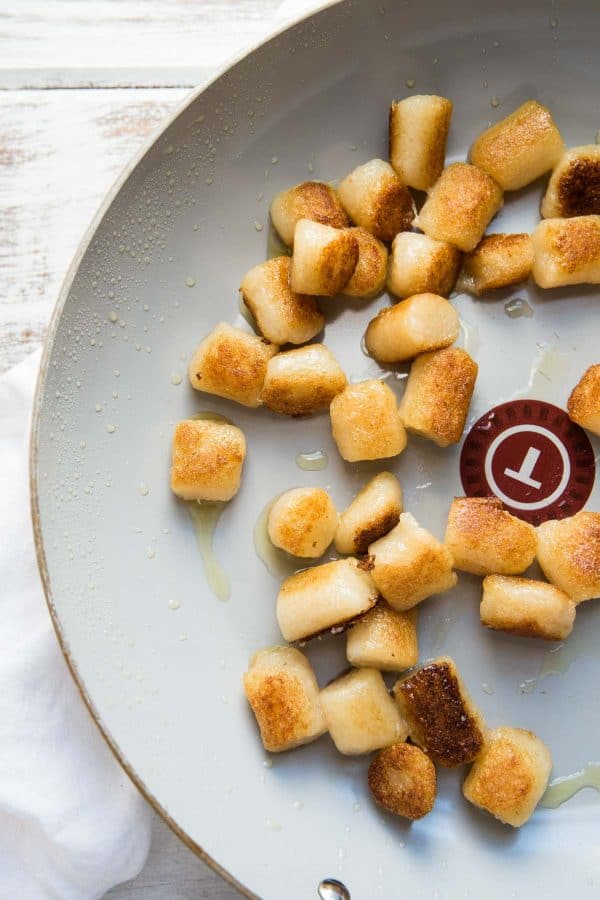 In a separate pan, heat up your favorite tomato sauce - mine is a toss-up between the Rao's marinara or tomato basil. If you like garlic and spicy this arrabbiata is going to bring it both and is great with veggie pasta. With spring around the corner,
A ball of creamy, melty burrata is the perfect rich addition to this simple dish that takes no extra prep but adds lots of wow factor. The burrata could use a little seasoning, so a drizzle of olive oil, salt, and pepper will add a wow factor for taste and eye appeal. #cheesedreams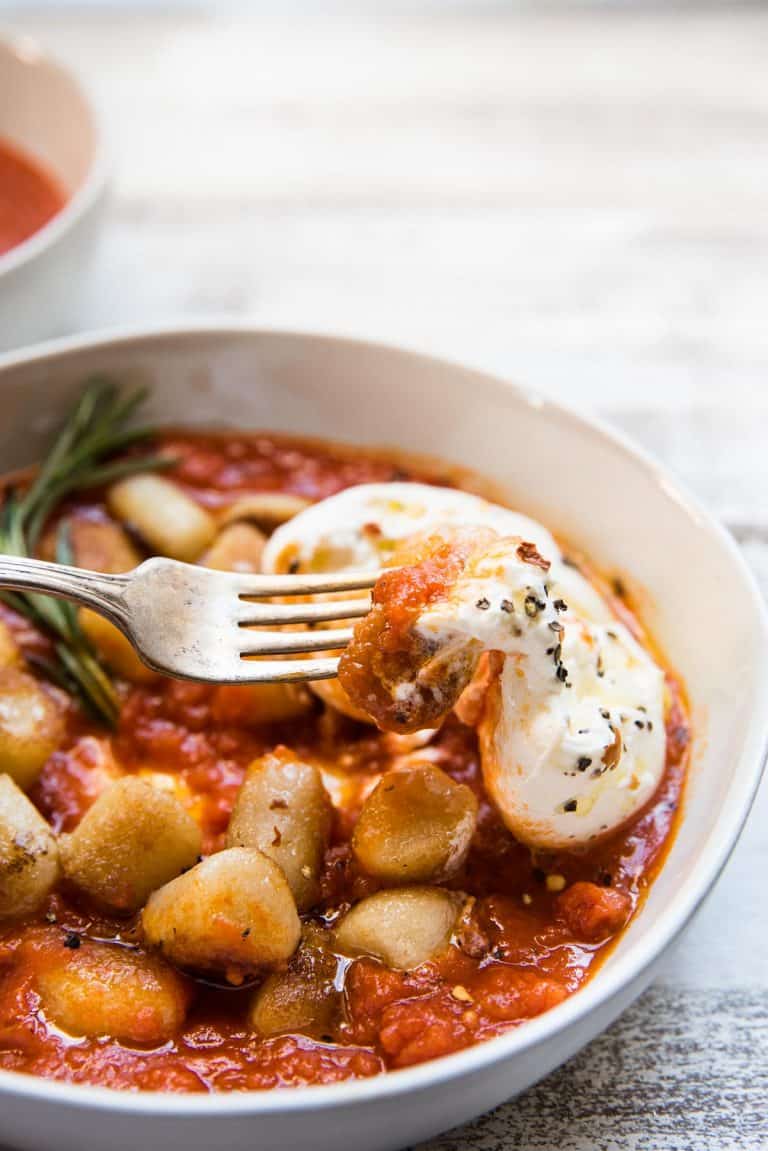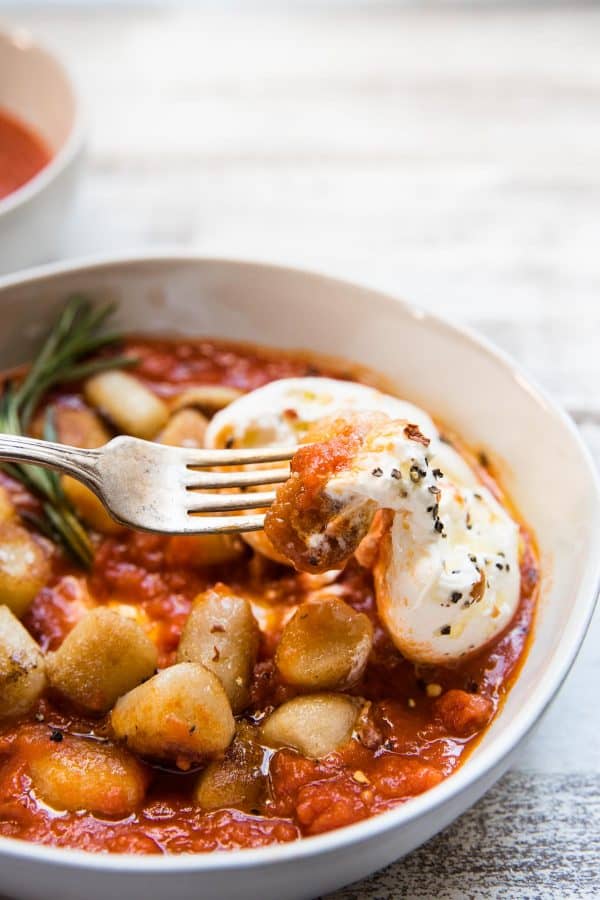 If you're on the hunt for more veggie pasta recipes, give these zoodles with avocado pesto a try! We also highly recommend the TJ's cauli gnocchi with grapefruit pesto or Meyer lemon pesto as the weather warms up for some light, fresh flavors.
Make this recipe?! Please add a rating and let us know how it went in the comments! Don't forget to subscribe to the newsletter so you never miss a recipe!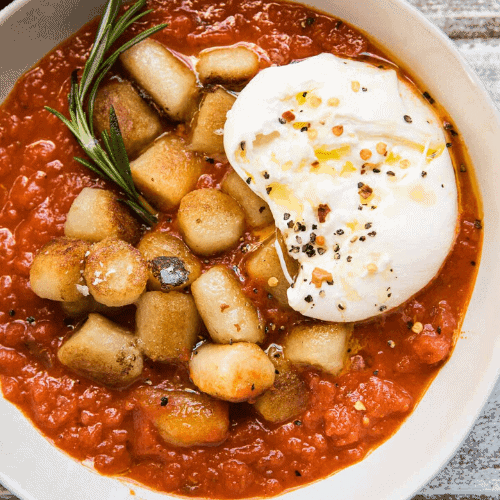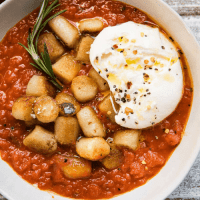 How to Make Trader Joe's Cauliflower Gnocchi
No more squishy soggy stuck-to-the-pan cauliflower gnocchi! The super popular Trader Joe's veggie pasta gets perfectly cooked with crisp outside while keeping the inside tender and fluffy.
Print
Pin
Rate
Servings:
2
to 3 servings
Ingredients
1

bag Trader Joe's Cauliflower Gnocchi

2

tablespoons

olive oil

(plus extra for drizzling)

1 ½

cup

pasta sauce

2

balls

burrata cheese

(4-ounces each)

sea salt

black pepper

red pepper flakes
Instructions
In a large non-stick skillet, heat olive oil over medium-high heat until it shimmers. Add the frozen cauliflower gnocchi to the oil and immediately give the pan a little shake so the frozen pasta doesn't stick. Do not thaw the gnocchi before cooking.

Cook the gnocchi for 4 minutes, turn each piece of pasta over using a pair of tongs and cook for another 3 to 4 minutes until both sides are golden brown.

Reduce heat to medium-low and add the pasta sauce to the pan until it simmers. Divide into 2 to 3 bowls and top with burrata, a drizzle of olive oil, salt and pepper. For a spicier flavor, sprinkle with red pepper flakes. Alternatively: You can heat the sauce in a seperate pan and pour into serving bowls then top with gnocchi, burrata and seasoning (as seen in the photos).
Nutrition
Calories:
335
kcal
|
Carbohydrates:
36
g
|
Protein:
5
g
|
Fat:
19
g
|
Saturated Fat:
3
g
|
Cholesterol:
1
mg
|
Sodium:
1518
mg
|
Potassium:
863
mg
|
Fiber:
10
g
|
Sugar:
8
g
|
Vitamin A:
803
IU
|
Vitamin C:
13
mg
|
Calcium:
74
mg
|
Iron:
3
mg