The staple to making restaurant-quality food in your own kitchen is having a really good stock at the ready. A restaurant will typically simmer it's chicken stock somewhere around 8 hours. Thanks to our handy friend the electric pressure cooker, we can have the best Instant Pot chicken stock in just 4 hours.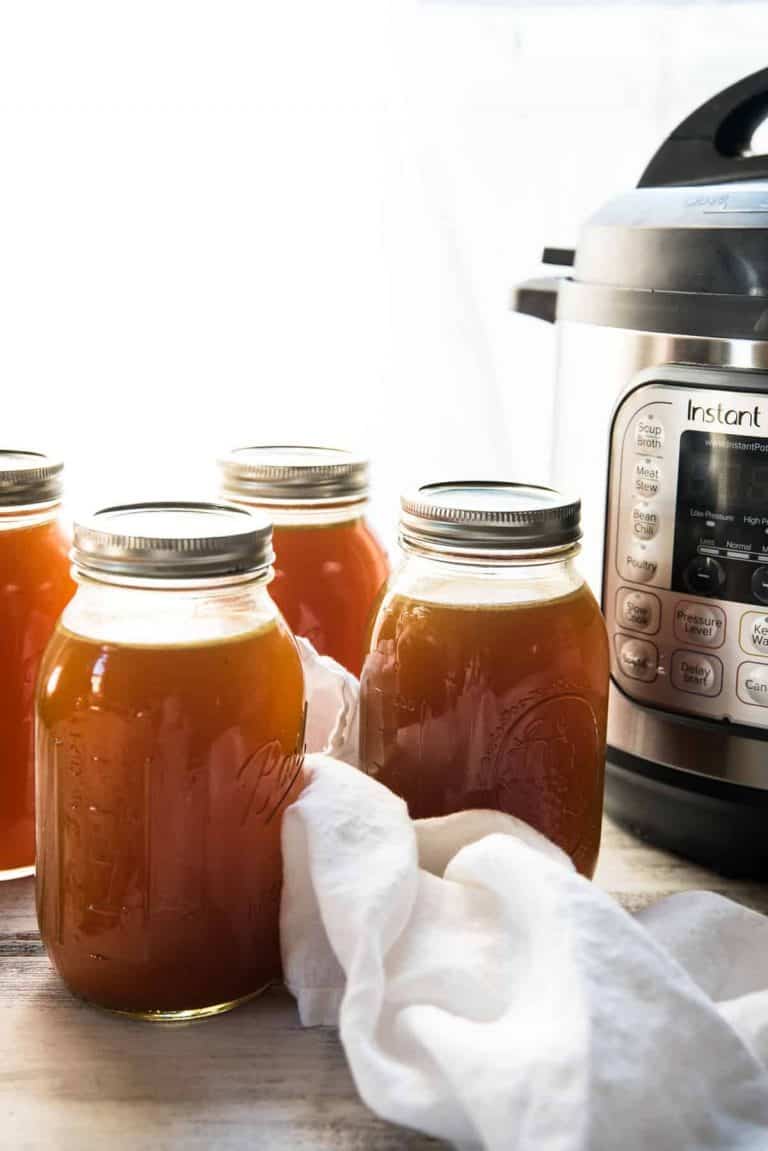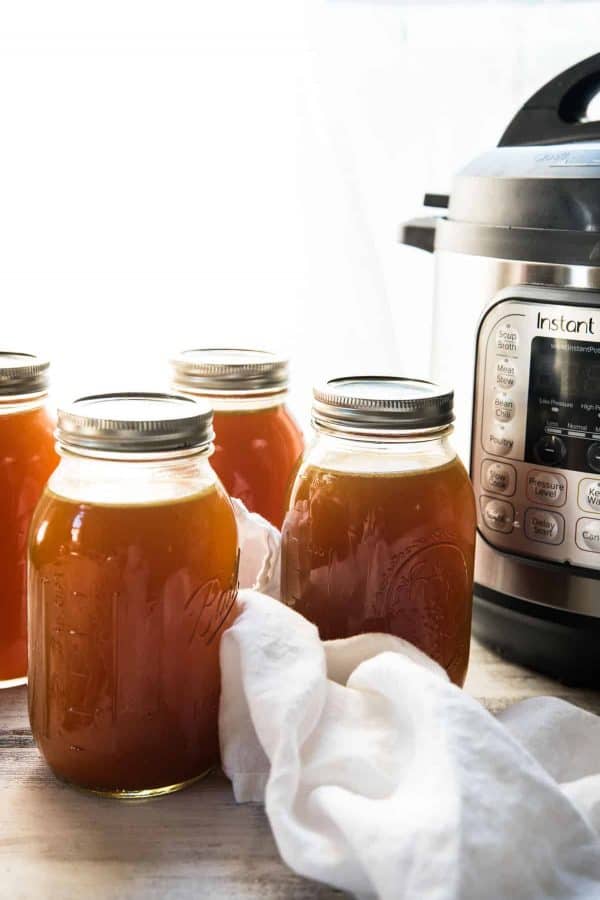 Step away from the faucet my friend. We're upping the ante on flavor with the next savory recipe you're about to make. When it comes to making rice, quinoa, sauce, or a little water in the roasting pan swap out the water for chicken stock and watch everyone go for second helpings.
Listen, I'm not a chef. But I've been working in restaurants for almost 20 years....oh good lord, doing the math on that hurt a little. So I'm officially staking a claim on kinda knowing this part. Stock is the blood of the menu. It's all over and in almost everything. Except maybe if you're a pizza place, but you get my drift. I've lived years of my clothes smelling like stock because my office has always happened to be near the prep kitchen.
Good chicken stock is so so important to bring extra flavor to a dish. It's the wow factor in risotto, the backbone of soup and the serious deliciousness in a good pan sauce.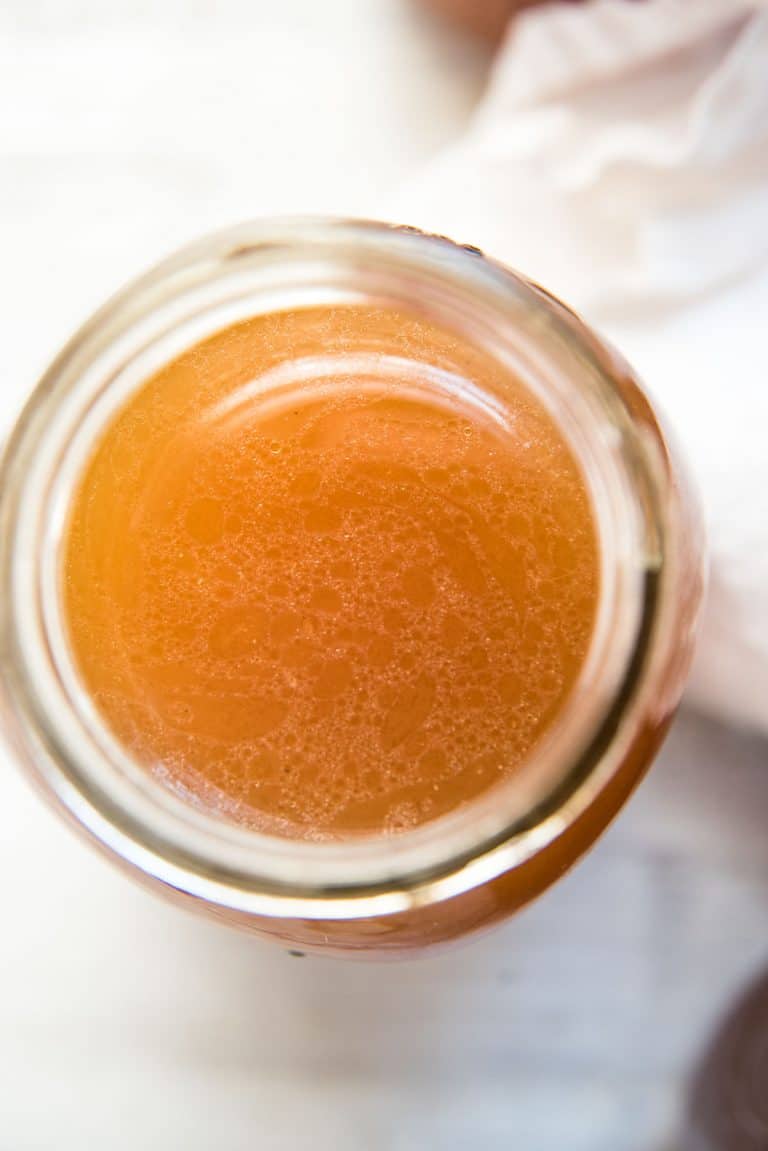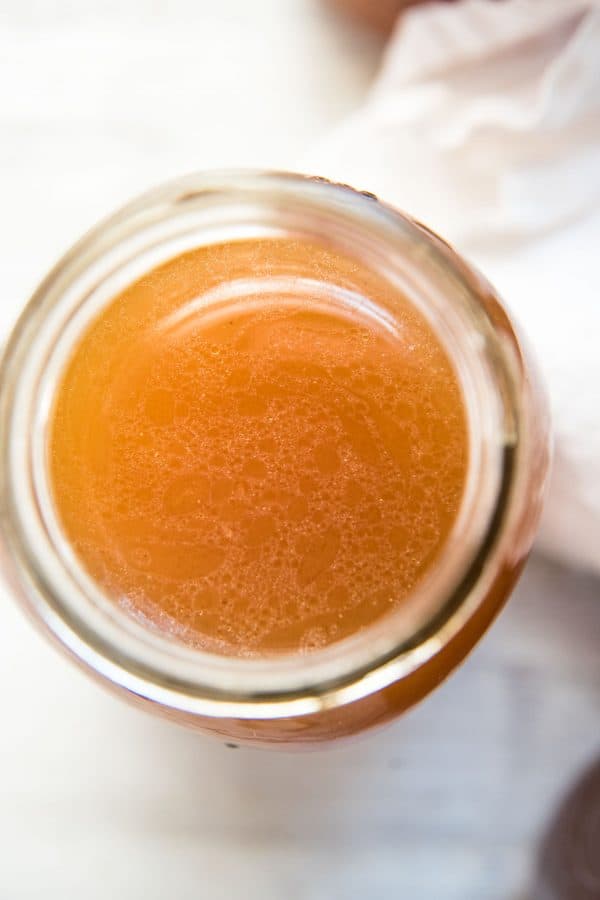 When you have a commercial kitchen at your disposal, it's nothing to let the stock simmer from the early morning preopening prep hours through lunch until the dinner shift. 10 hours later you have rich, robust liquid gold at your disposal.
However, you and I....we don't have a tilt skillet hanging out in our kitchens. (And if you do, I'm expecting my invite over any day now, thank you very much). And hanging around the stove for 8 to 10 hours is definitely not on my to-do list. Thanks to the almighty golden child of kitchen appliances, the Instant Pot is getting us restaurant-quality chicken stock in half the time.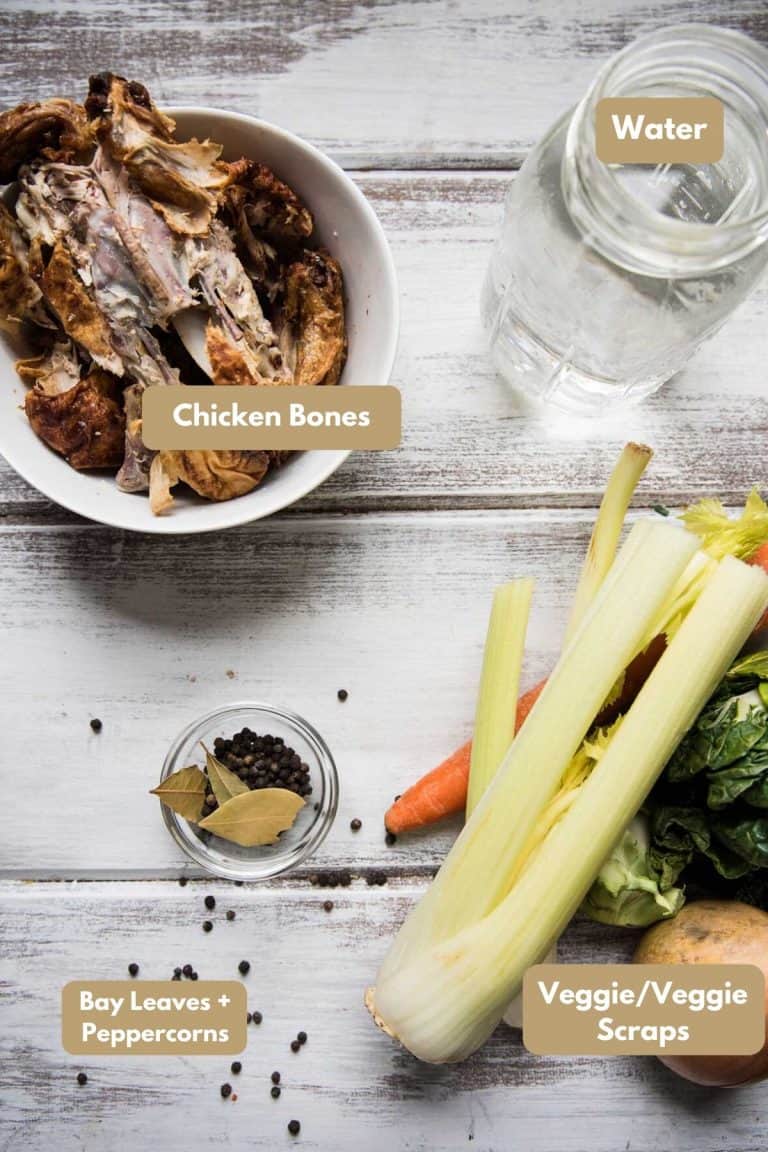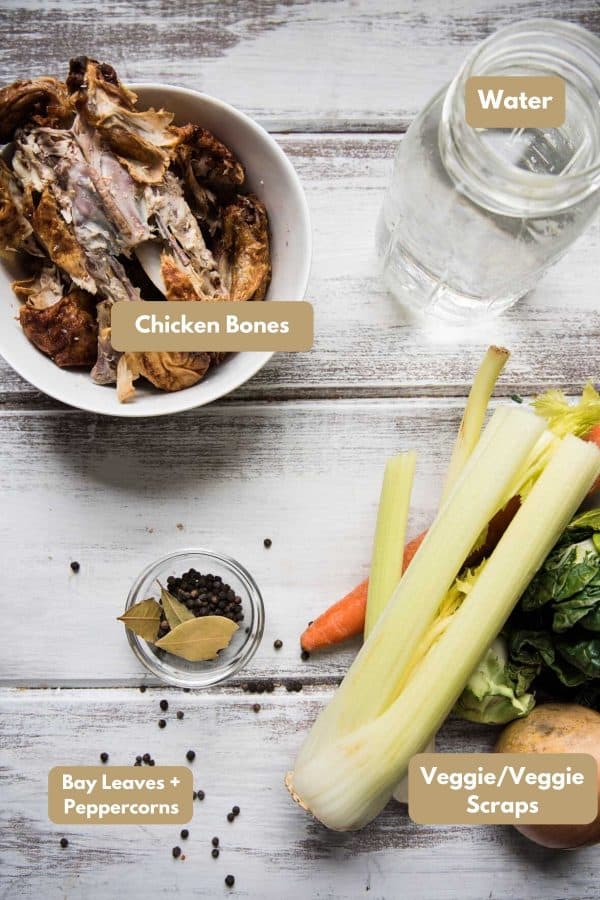 What makes this the BEST Instant Pot Chicken Stock?
Love and patience? Shouting positive affirmations at the ingredients? I'M KIDDING. Granted, those 3 things probably couldn't hurt. Here's why this recipe is so-called 'restaurant quality'. We're taking the building blocks of stock ingredients and cooking time but adapting them for at-home use with the biggest impact of flavor.
rotisserie chicken bones - already roasted, extra flavor!
veggie scraps and standard stock veggies - consistent flavor
easy spices and herbs - not overwhelming, always on hand
pressure cooked - faster and extracts more flavor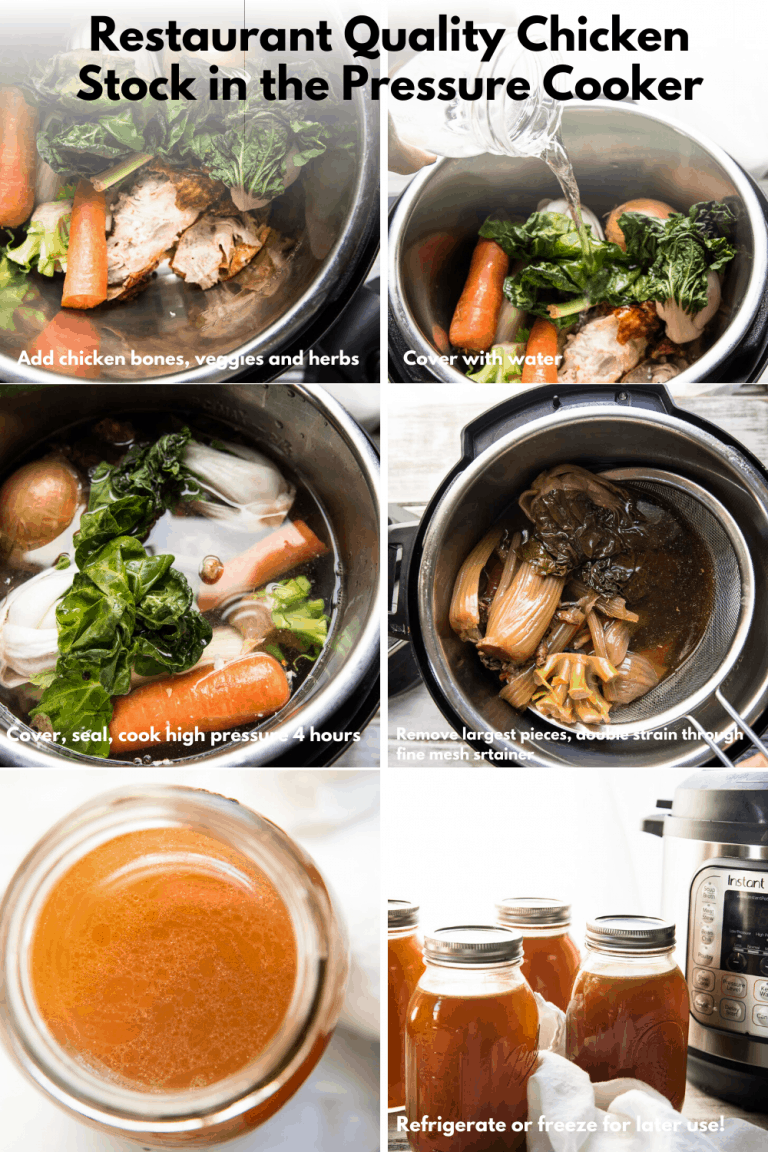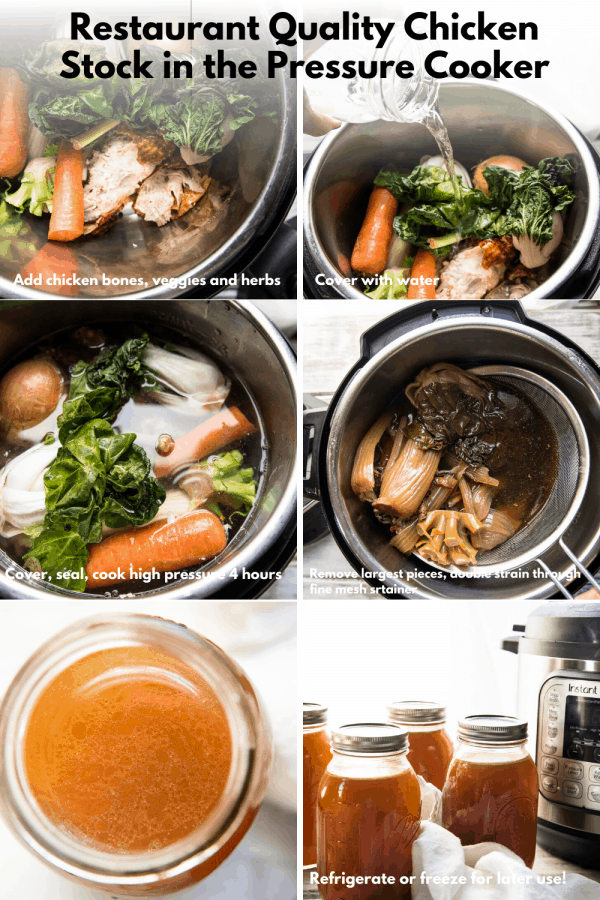 Why is the cook time so long?
I get it, 4 hours is a long time, but it's worth it! Especially if you want a chicken stock that's oh so rich and flavorful, just like your favorite restaurant downtown. We're doing it in half the time and all the prep you need to do is throw a bunch of ingredients in the pot, cover it with water and punch a button.
Then just settle yourself in for a good long movie (Dances with Wolves my own personal 90s throwback recommendation) and let that little pot do all the work.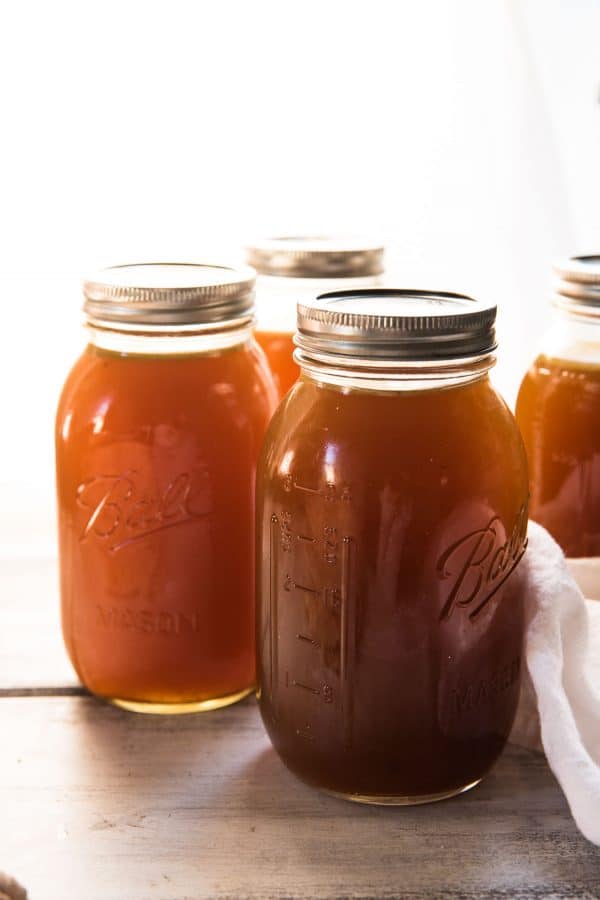 Tips for best results
Even though the directions are really simple, a few tweaks here and there will help yield the fastest heavenly stock.
Use bones from a rotisserie or roasted chicken. If you have drippings from the pan you can add those in as well. You can toss the skin on too as long as the seasoning was mild.
Bring on the veggie scraps! While prepping food throughout the week, have a bag or tupperware in the freezer and add your veggie ends and trimmings to it until you're ready to make stock. Also, any vegetables that are on the cusp of going bad (but not bad yet) are great for making chicken stock.
Using warm or hot water will help bring the Instant Pot to pressure faster.
Fresh herbs and fresh garlic make great additions, but simple pantry basics like bay leaf and peppercorns work great too!
Double strain the stock before storing for perfect results.
Bonus tip: before using, you can remove the fat cap that settles on top. Keeping a thick fat cap on top of the stock during storage will keep it good for longer.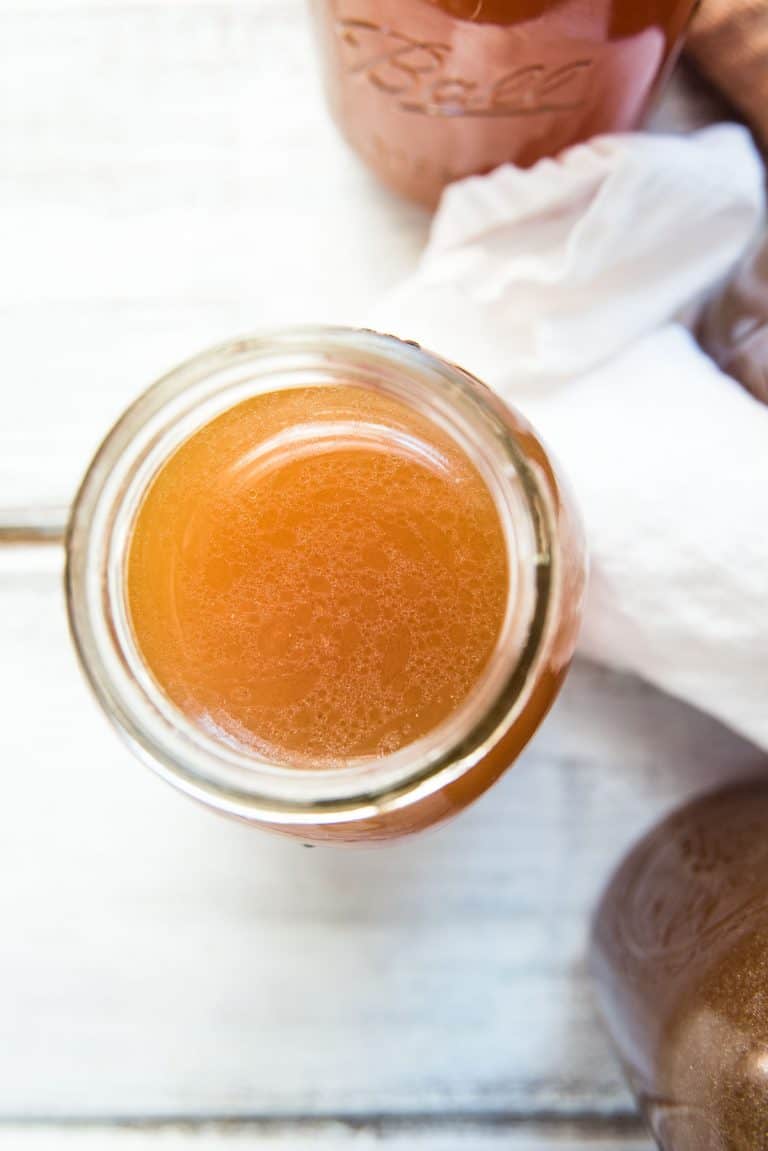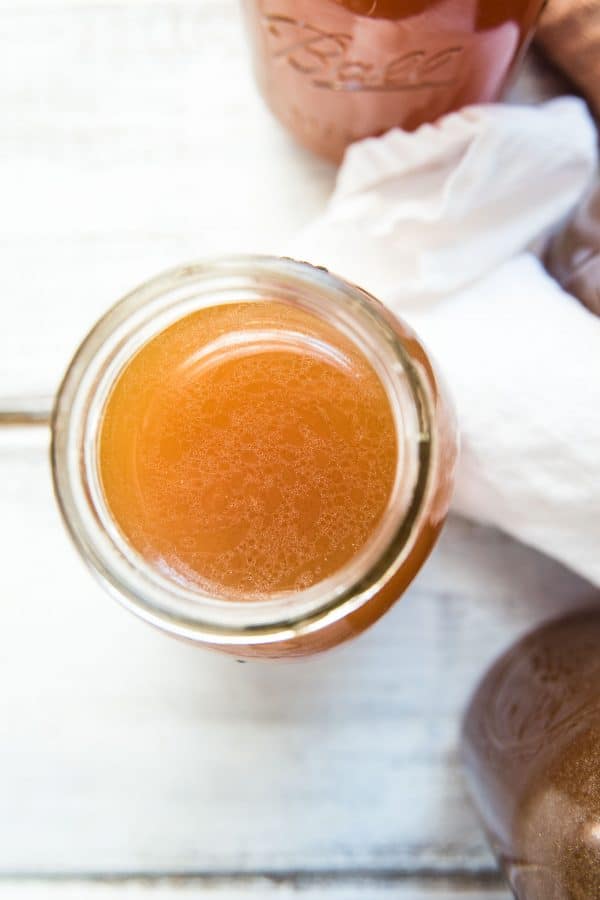 How to store homemade stock
My go-to is in quart mason jars. Hot stock into the jars with proper fitting lids makes a solid seal that keeps the chicken stock fresh and also keeps the chicken stock smell from invading the rest of your fridge.
Because this recipe makes about a gallon of stock, you might want to freeze some of it. Here's how to freeze your chicken stock:
Pour the stock into ice cube trays or muffin tins, freeze, then transfer to a plastic zip bag.
To freeze in large batches, pour the cooled stock into a plastic freezer bag. Seal and lay flat to freeze. Make sure the outside of the bag isn't wet.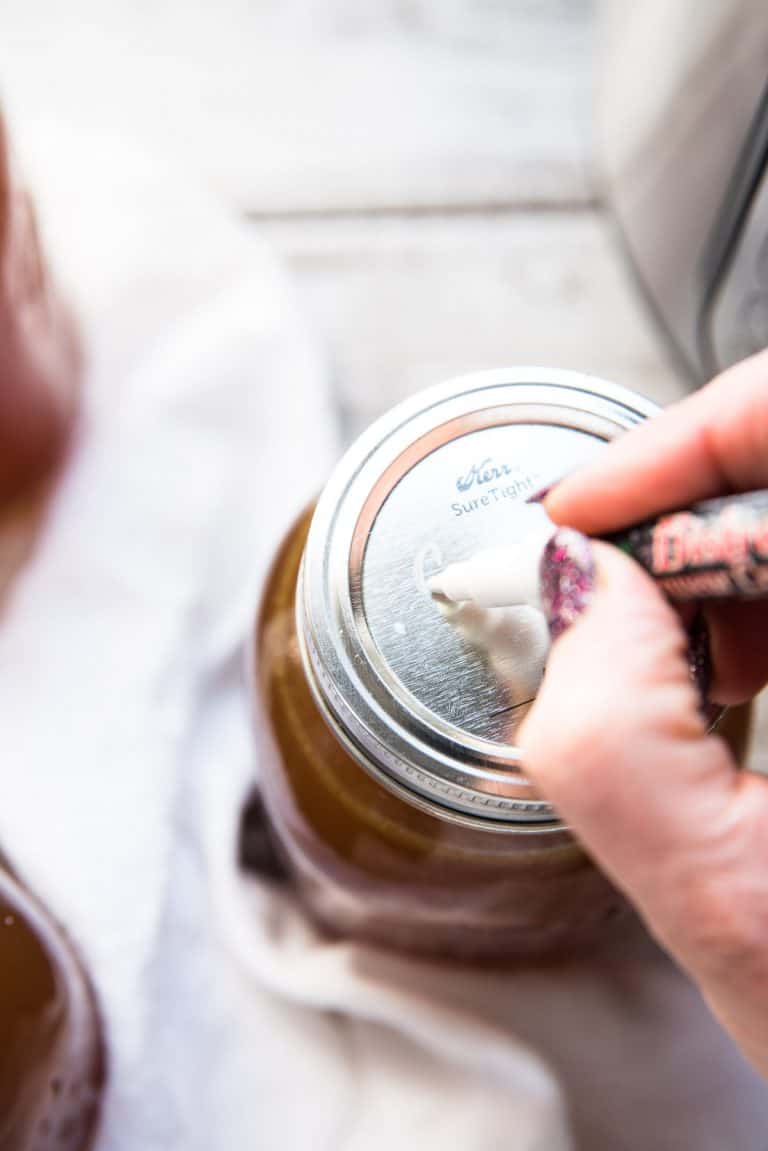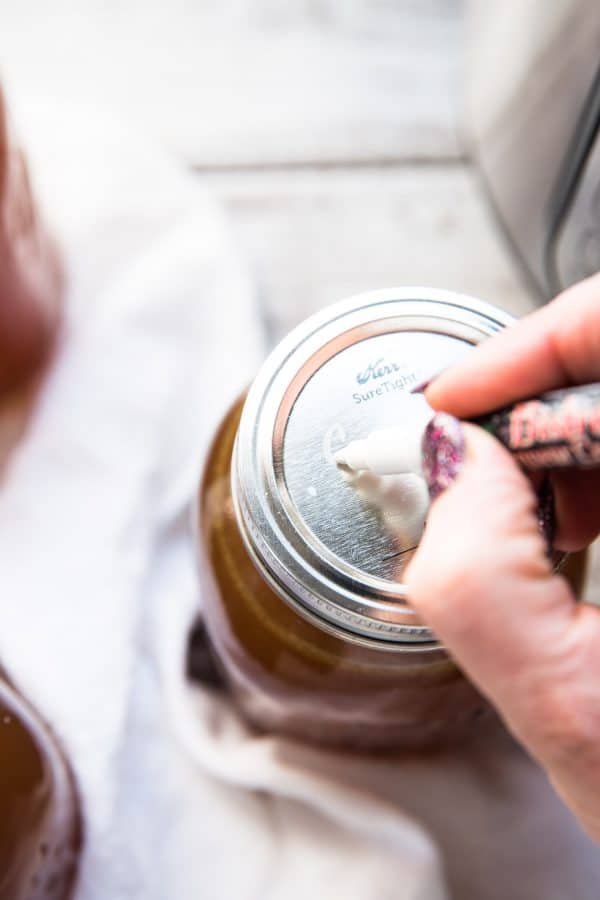 How are you going to use your chicken stock? If you made this recipe, leave a rating and comment below! To keep in touch will new recipes and more, subscribe to get email updates!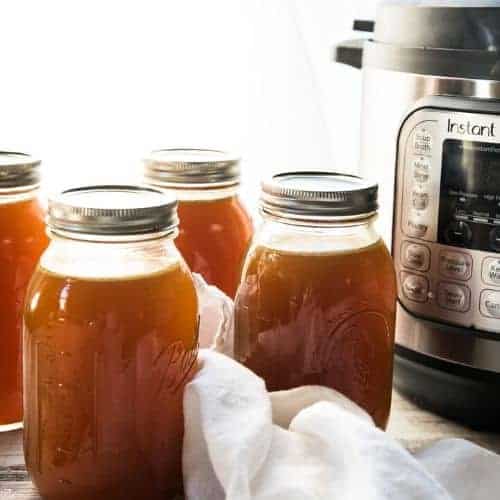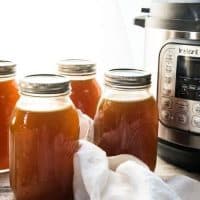 The BEST Instant Pot Chicken Stock
Easy to make and staple to have in the kitchen, you can have restaurant quality chicken stock in half the time using the electric pressure cooker.
Print
Pin
Rate
Ingredients
2

pounds

chicken carcas

(including neck, back and skin see notes)

1

large onion

3

celery stalks

(cut in half)

2

carrots

(cut in half)

2

bay leaves

1

teaspoon

black peppercorns

1

garlic clove

(optional)

fresh herbs

(optional)

4

quarts

water
Instructions
Combine all the ingredients in the Instant Pot. Fill with hot water until all the ingredients reach just below the 'max PC' line - about 4 to 5 quarts depending on your final quantity of chicken and vegetable ingredients.

Lock the lid, seal, and set to cook on high pressure for 4 hours. Depending on your model, this is the third option of the 'soup/broth' button.

When cooking is done, you can either natural release or quick release the pressure.

Using a strainer, remove the the largest pieces possible. With a fine mesh strainer over a mason jar or another stock pot, laddle the stock from the instant pot through the strainer to catch any small pieces.

Seal and label the storage containers. Chicken stock will stay fresh for up to 6 days in the refrigerator and up to 12 months in the freezer.
Notes
Rotisserie chicken is the best to use and a nice quick option. Usually this is about a 4 to 5 pound chicken with the meat. Remove the meat for another recipe. You can keep the skin on if it's mildly seasoned.
Chicken stock can be frozen in large mouth mason jars. Leave 1 inch space from the lip of the jar to allow for the liquid to expand during freezing or pour the chicken stock into ice cube trays and freeze that way.
Nutrition
Calories:
28
kcal
|
Carbohydrates:
7
g
|
Protein:
1
g
|
Fat:
1
g
|
Saturated Fat:
1
g
|
Sodium:
72
mg
|
Potassium:
163
mg
|
Fiber:
2
g
|
Sugar:
3
g
|
Vitamin A:
5119
IU
|
Vitamin C:
4
mg
|
Calcium:
53
mg
|
Iron:
1
mg