Hey, hey! It's my favorite kind of post day! It's soup day, ahhhh. I don't know when it happened but sometime over the past year I came to the realization that I'm bonafide soup lady. Most likely because there is a small human dictating the happenings of my day. And it doesn't hurt that soup is a.) typically quick and much can be done while simmering b.) there is always chicken stock in this house and c.) the term 'soup' fits a wide variety of ingredients. Except gazpacho - bletch - sorry cold soup lovers, you'll probably never see that on here. I just can't do it. I guess that will have to be a Henry contribution to the blog. Anyway, the soup du jour brings you Tuscan Kale, White Bean & Sausage Soup. Hang on to your hats people.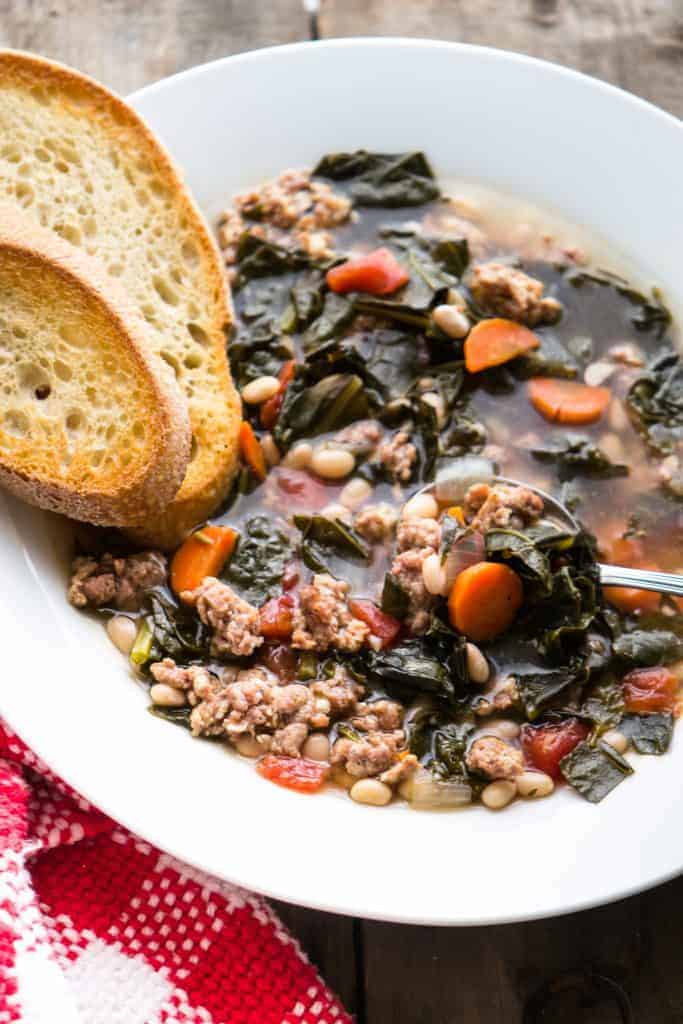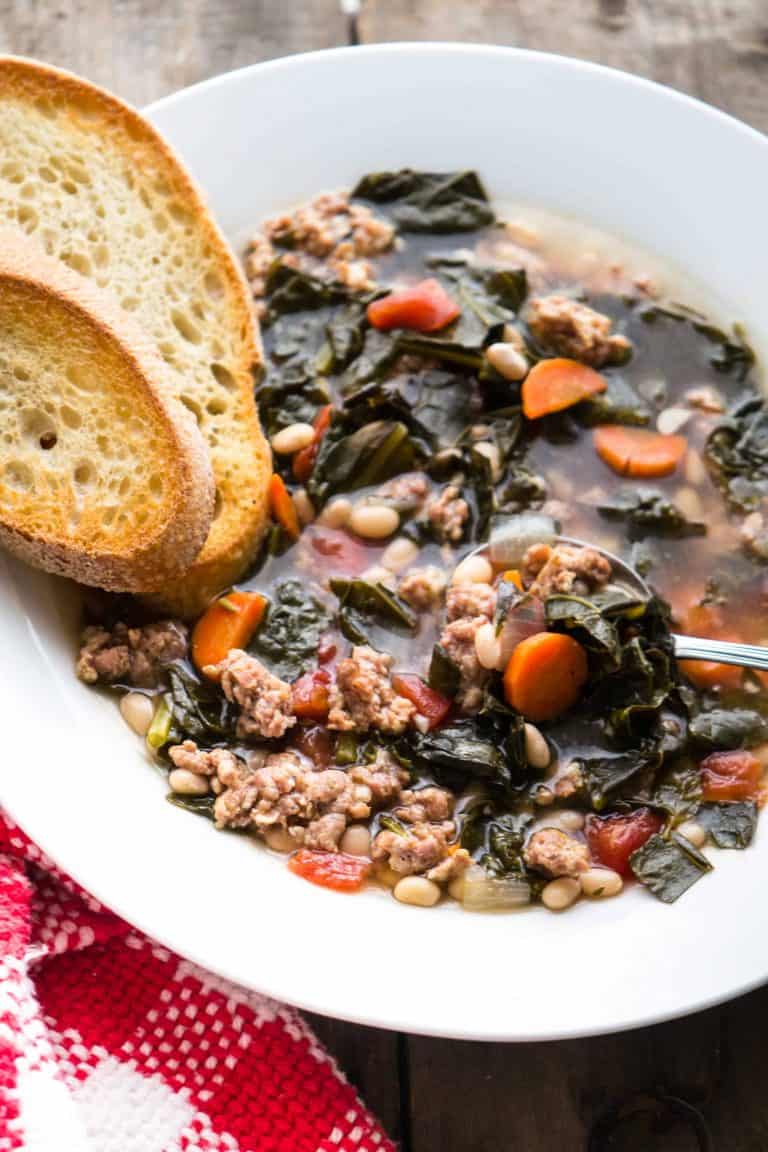 Ok, so it's not like the wildly sought after truffles of Europe, but it's dang delish and super duper easy to make. Plus, with all those veggies and beans in there you'll be feeling so good about yourself.
And on a quick side note that is somewhat related to soup, but more likely not at all....it's the first snowstorm of the year in Boston! Though I'm certainly one that could spend her days with the warm ocean wind blowing through her hair. The kiss of the sun on my skin, light and warm like getting tucked into bed. Sigh, oh do I love the beach and warm weather!
BUT, but (finger pointing) the first snow in Boston, or really anywhere, is one of my favorite things. Not like a sprinkling that you're not going to shovel in hopes that the sun will melt it away the next day. When no one leaves the house and you stand outside in the peaceful, gray landscape and believe you can hear for miles. So let's stock up on tea and hot chocolate and snuggle up with a movie or book in front of the fire place. And you know what else you should do?? You should probably eat some soup. Just sayin'. It's right here and all.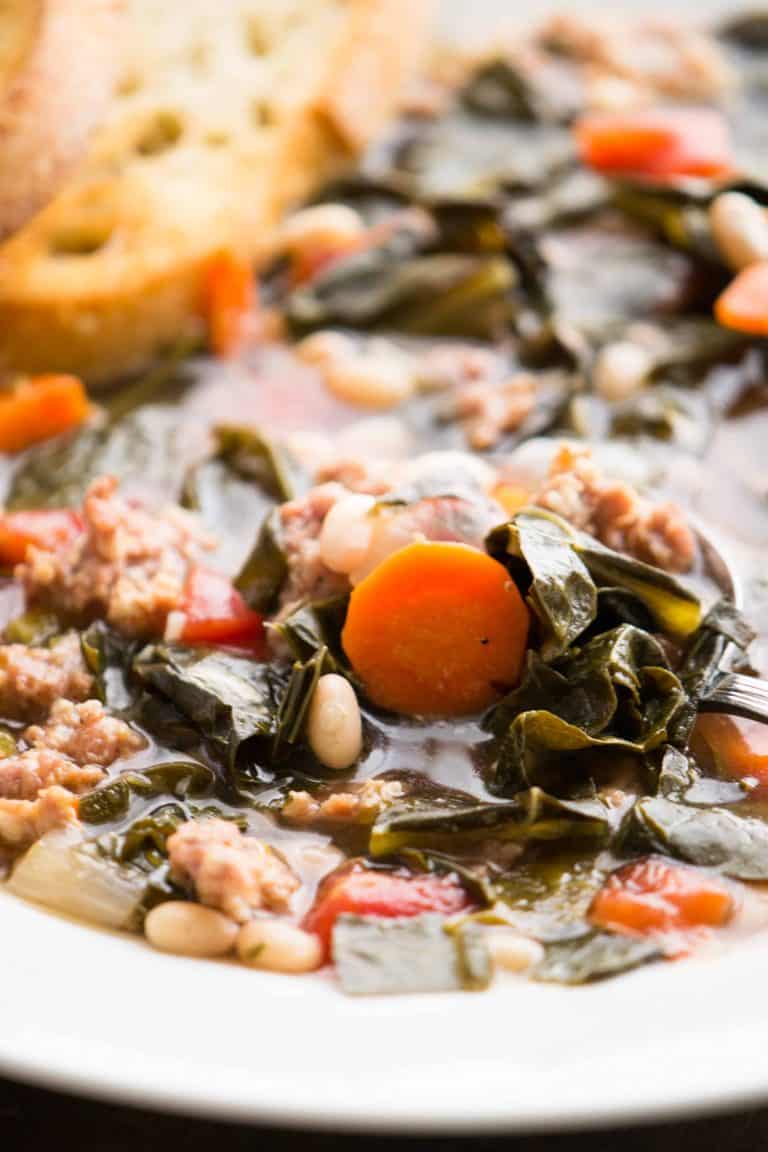 Let's talk ingredients
The prep work for this taste bowl of hearty goodness is minimal, just the way we like it. You need to dice up an onion, in small ¼ inch pieces, peel some carrots and chop them up too. Whenever I make soup it always reminds me of my first week of manager training at my first adult job.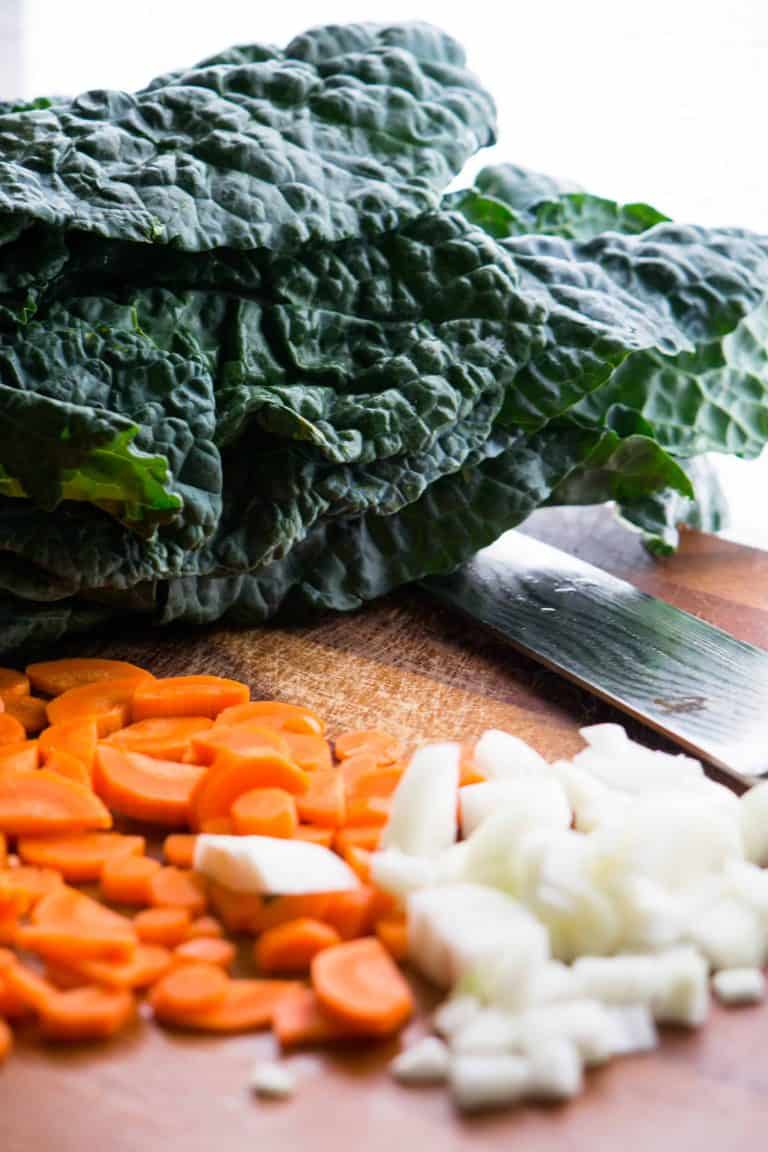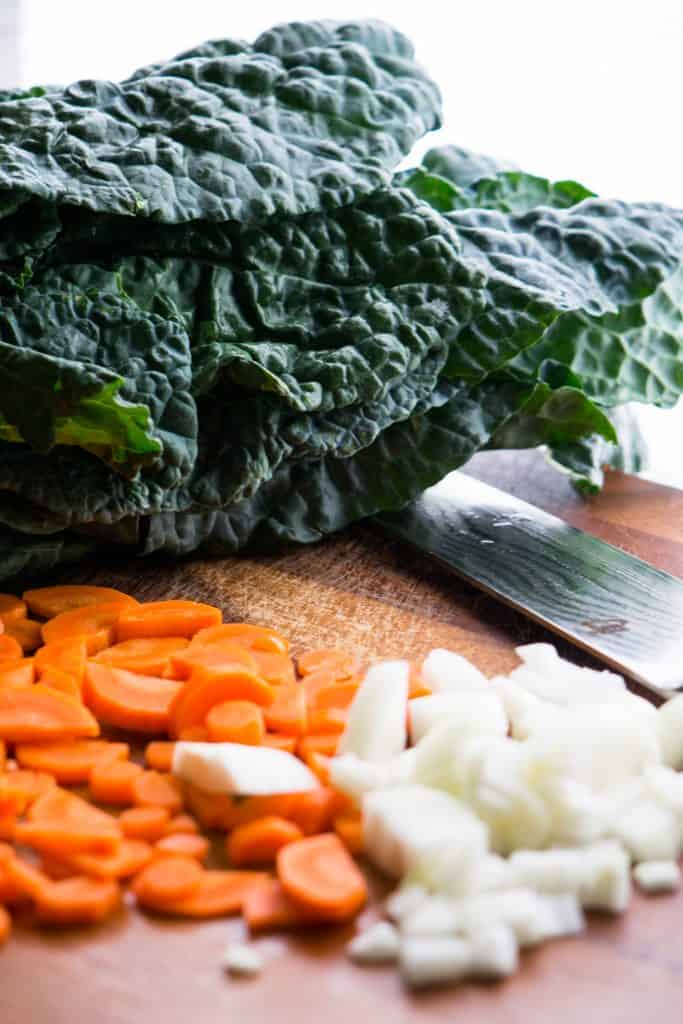 My rotation in 'prep' was my first week. I show up in my kitchen uniform, two sizes too big, ready to make boundless batches of pomodoro sauce and focaccia bread. Except I never received a hat and the only hat the sous chef had was a big floppy white chef hat while everyone else had baseball caps. So there I am in my too big clothes, in my big floppy hat, cutting vegetables for minestrone soup for what seemed like hours. Some stranger walks in and says, "Your vegetables are too big, they need to be small enough you get more than just a carrot on the soup spoon." and walks away.
Well okay strange dude. My poor reception of this constructive criticism aside, it held a lot of good advice. So I pass it on to you. Peel those carrots and onions, and chop them up with your spoon in mind. Same goes for the kale. The tuscan kale cut in bite sized pieces will hold it's texture without becoming overly mushy or overly chewy - but remove any large stems.
When you're at the market, find the loose sausage without the casing. If that's unavailable, you can just squeeze out the sausage from the casing. The leftover casings are a bit slimy and reminiscent of something you might find in a tissue, so I try to avoid that scene altogether. After cooking the sausage, it's just a matter of adding the veggies, sautéing it altogether, and letting it simmer.
Get the skinny
To slim down this already healthy soup, in more ways than one, you can make a few minor adjustments to the ingredients.
1.) Use low-sodium chicken broth and watch it when adding salt to taste.
2.) Substitute chicken sausage for the full fat sweet Italian sausage in the recipe.
3.) After cooling soup, transfer to storage containers and chill in the refrigerator overnight. The next day, any fats in the soup will have risen to the top and solidified. Then just use a spoon to skim it off the top! You certainly won't loose any flavor, just a few unnecessary calories. Win-win.
If guys need me, I'll be hanging out in my pajamas with a cup of soup enjoying the snow day. Well, until tomorrow at least when I'm asking myself once again why I live some where it snows!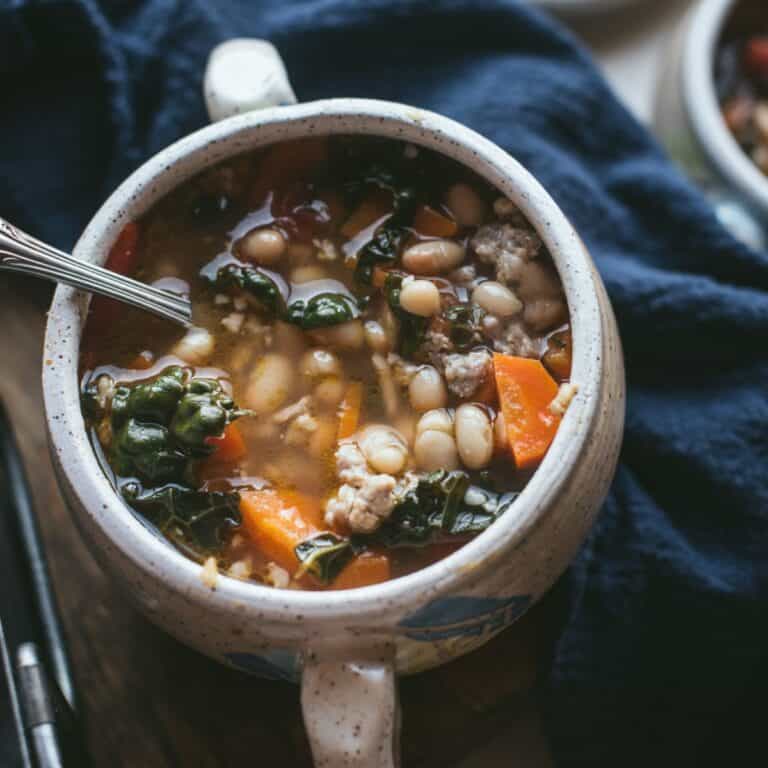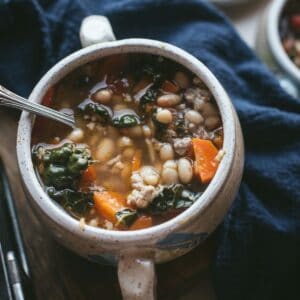 Tuscan Kale, White Bean & Sausage Soup
Hearty and healthy this rustic Italian soup is easy to make and even easier to enjoy!
Print
Pin
Rate
Ingredients
2

tablespoon

extra virgin olive oil

1

pound

sweet italian sausage

(casing removed)

1

head

tuscan or lacinato kale

(large stems removed, chopped in bite size pieces)

1

medium

yellow onion

(small dice)

2

large

carrots

(peeled, small dice)

1

clove

garlic

(minced)

2

15-ounce cans

small white beans

(drained, rinsed)

½

cup

white wine

1

15-ounce can

diced tomatoes

(drained)

8

cups

chicken stock

2

sprigs thyme

2

sprigs oregano

2

bay leaves

⅛

teaspoon

red pepper flakes

salt and pepper

(to taste)
Instructions
In a large pot, heat olive oil. Add sausage and cook over medium high heat, using a wooden spoon or spatula to break into smaller pieces.

Once sausage is mostly cooked, there may still be some pink a few larger pieces, add the carrots and onion. Stir to sauté with olive oil and sausage, season with salt and pepper. Cook for 5 minutes until onions have begun to sweat.

Add garlic and stir to combine. Cook an additional 2 minutes. Carefully add the wine white to deglaze the pan. Use the spoon or spatula to scrape the bottom of the pan.

Add kale and cook with existing ingredients for 5 minutes. Once kale has begun to cook down, add the white beans and diced tomatoes. Stir to combine.

Finally add the chicken stock, herbs and remaining spices to the pot. Season with salt and pepper. Bring the soup to just a boil, stirring occasionally, then reduce the heat to medium low and simmer for 20 to 30 minutes.
Notes
The amount of salt required for seasoning will vary depending on the chicken stock. Start small and add over the course of time the soup is simmering and taste as you go.
If fresh herbs are unavailable, substitute ½ teaspoon dried herbs.
Nutrition
Calories:
454
kcal
|
Carbohydrates:
17
g
|
Protein:
19
g
|
Fat:
32
g
|
Saturated Fat:
10
g
|
Cholesterol:
67
mg
|
Sodium:
1030
mg
|
Potassium:
656
mg
|
Fiber:
1
g
|
Sugar:
7
g
|
Vitamin A:
4072
IU
|
Vitamin C:
6
mg
|
Calcium:
46
mg
|
Iron:
2
mg