White bean and parsnip soup is rich with flavor and simple to prepare. Roasted parsnips and garlic with savory leeks, fresh sage and creamy white beans simmered with chicken or vegetable stock. You'll have this on repeat all soup season!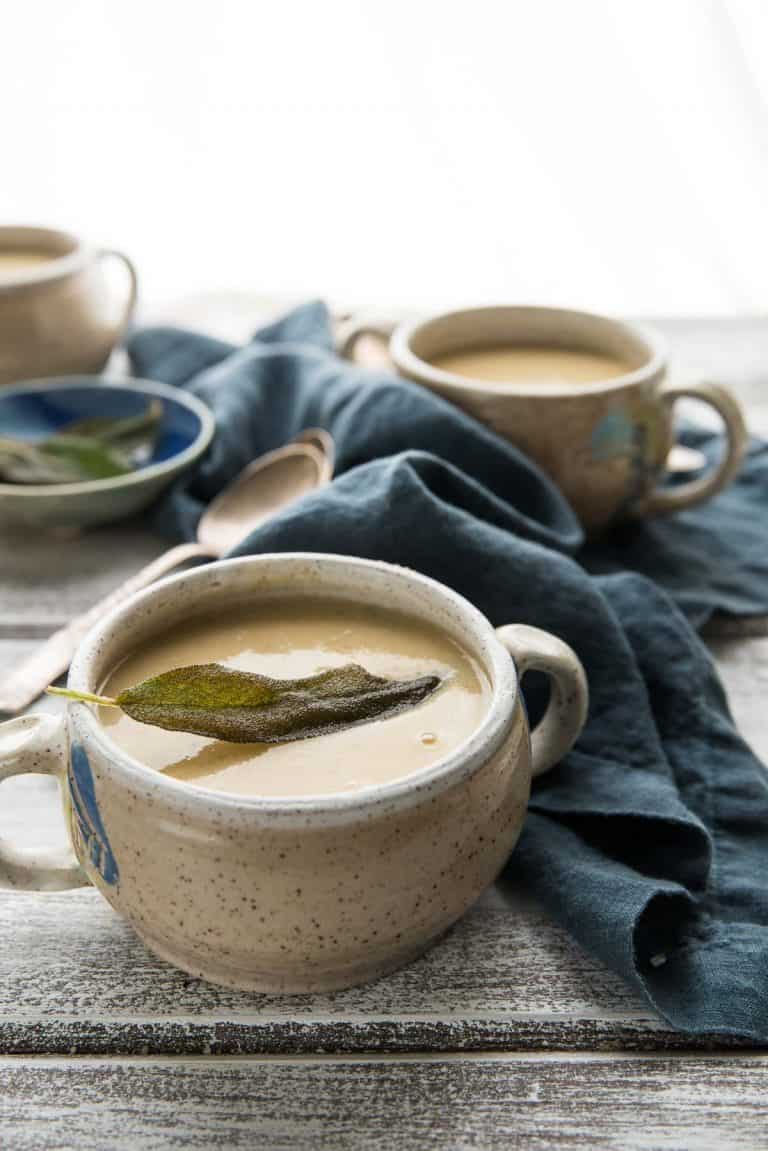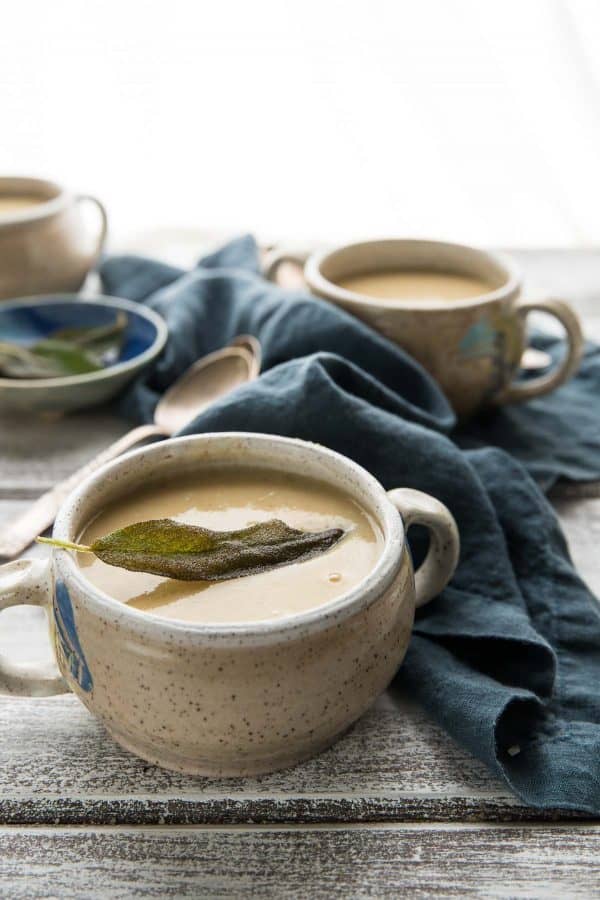 This post first appeared on hungerthirstplay.com in March 2016.
Did you hear that? My apologies for being off pitch, but it's just me singing from the roof tops because soup season is finally here.
Is there any reason to not love soup? Maybe if you have to eat on the go because hot soup + travel could be dangerous. But if you're staying put, it's such an easy way to fill your belly and satisfy your taste buds!
Maybe it's the New Englander in me that loves soup so much, you know, because before the modern world we had to live off root vegetables throughout the winter. White bean and parsnip soup is here to make that a happy repeat occasion.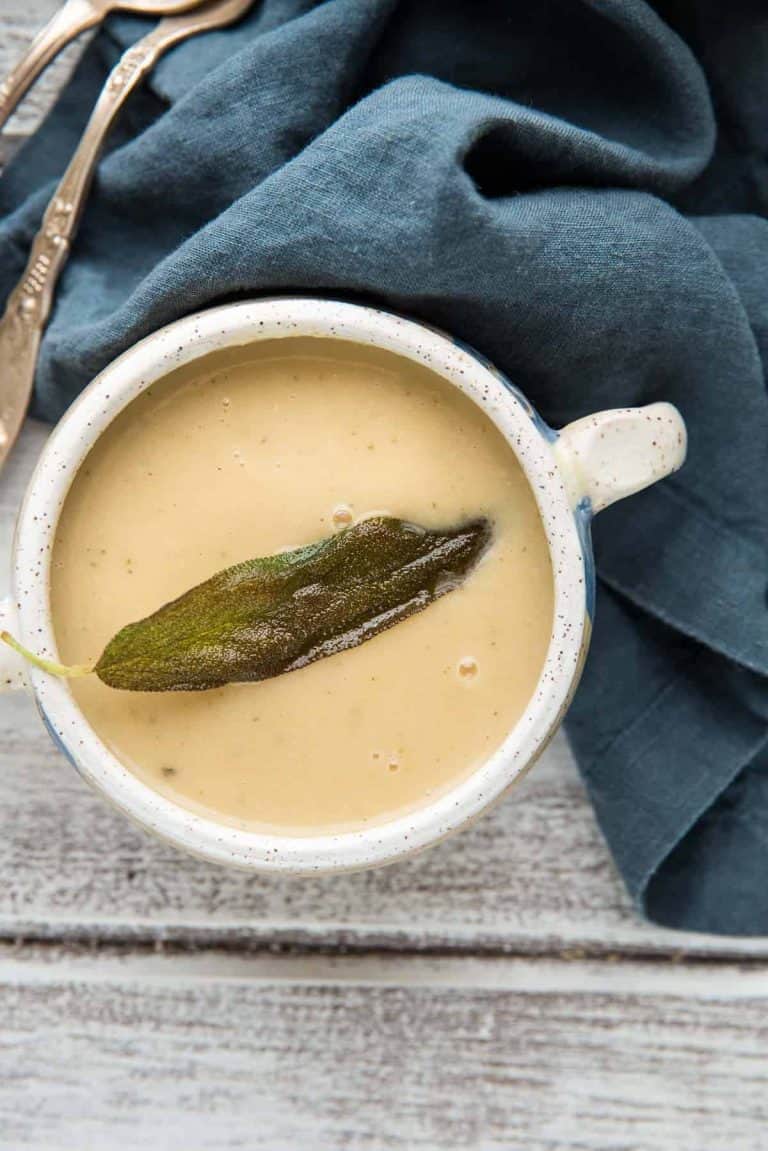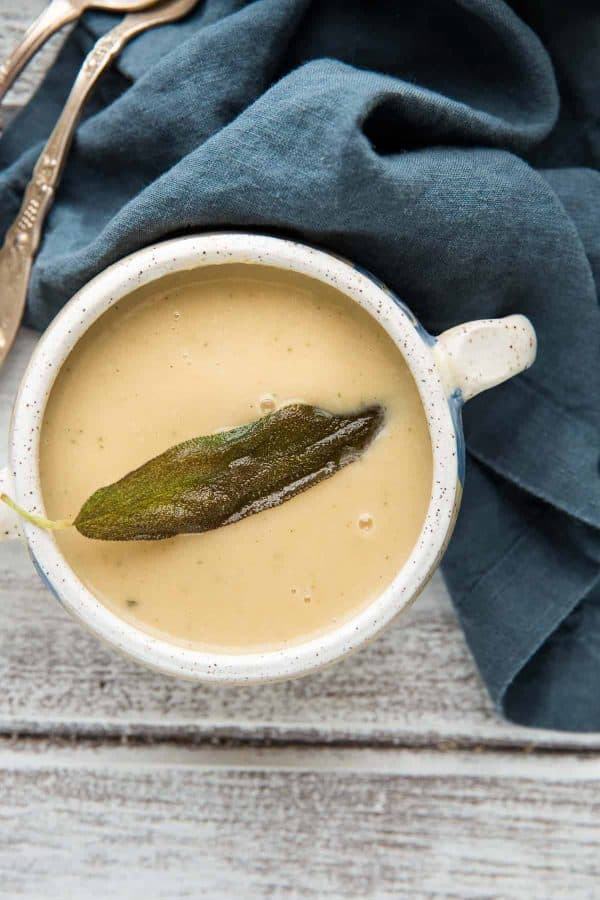 Smooth Soup
Where are the smooth soup fans hiding?
Bisque or purée-like soups such as butternut squash, tomato and now this soup! They are THE. BEST. They are also extra delicious for dunking crusty outside and soft inside soup bread.
Not only smooth in texture, the roasted vegetables create a wonderfully smooth blending of flavors. Just enough earthy parsnip flavor, with the white beans giving it great texture, while the fresh herbs bring brightness to the palate.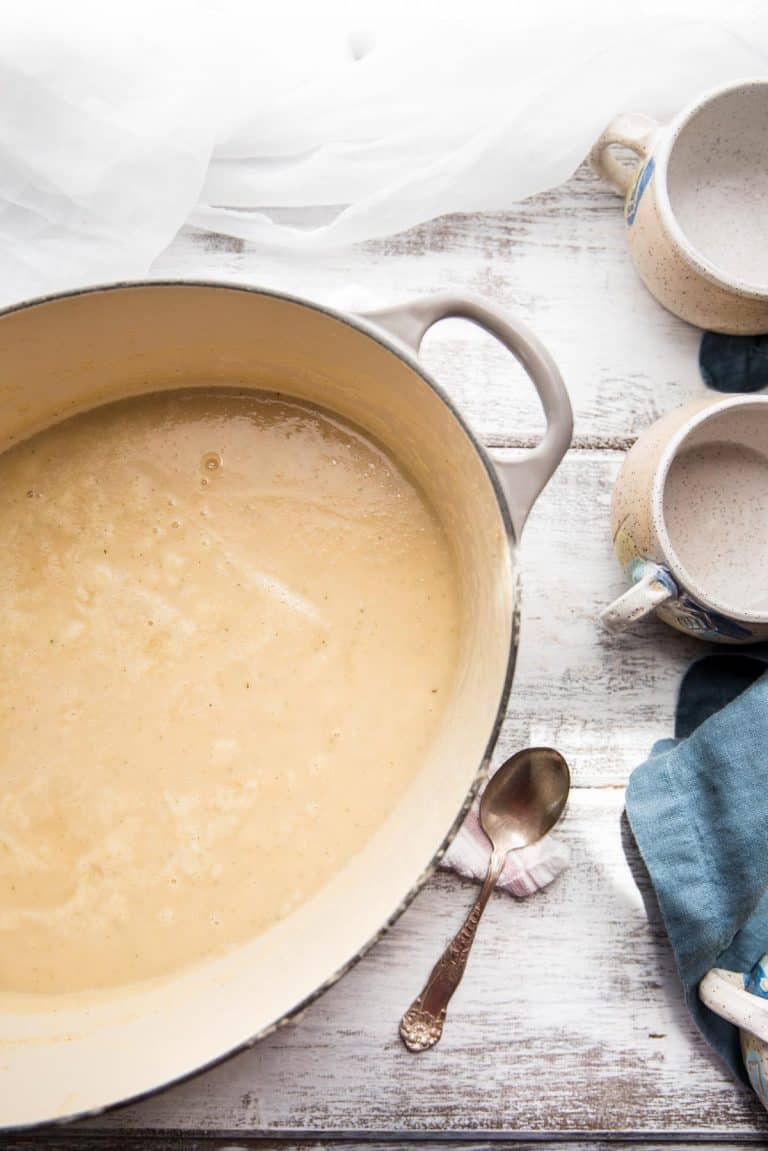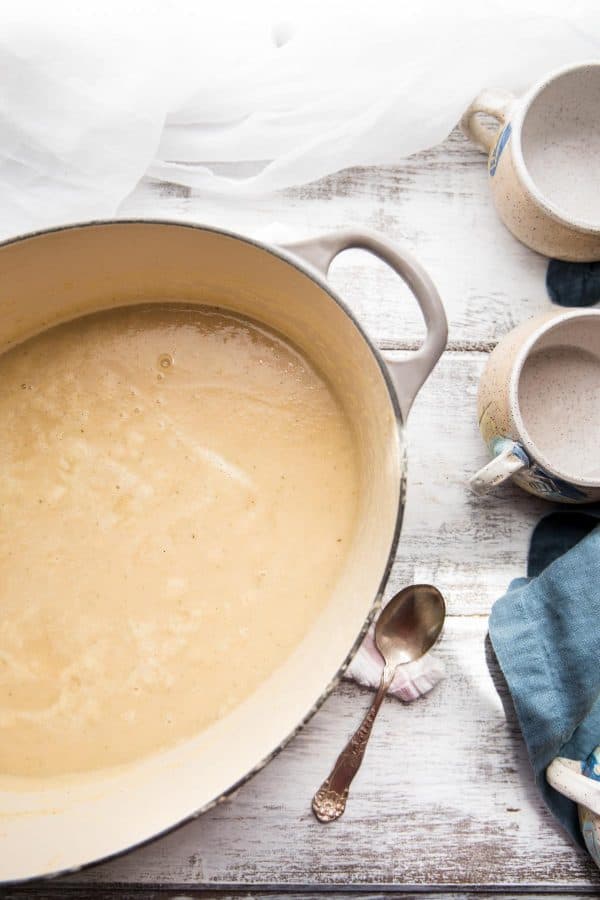 HOW DO I BLEND THE SOUP?
May seem like a silly question but there are a few different options depending on what tools you have available.
If a food processor is your only option, place the roasted parsnips, garlic, sautéed leeks, and beans in the food processor and blend until smooth. Then incorporate them into the soup with the stock. This method is a little more cumbersome and will take a little longer.
My favorite tool for soup making is a hand held immersion blender. This Kitchen Aid hand held blender is my favorite and it comes with a whisk attachment so it can also be used for whipped cream, salad dressings and cake batter. It's the best option for soup because you can blend all the ingredients together, in the pan, and fast.
Your last option is to transfer the soup ingredients to a blender ::carefully:: and blend. That one's a little trick because, you know, soup is really freaking hot and what not.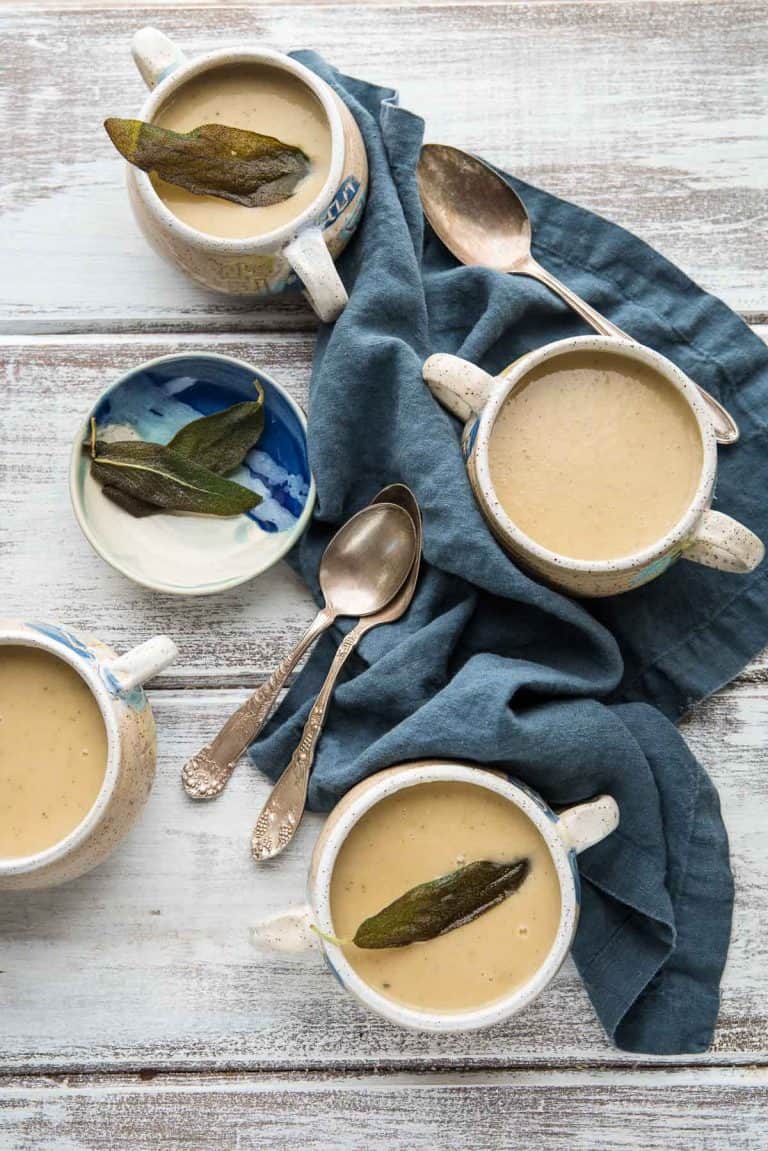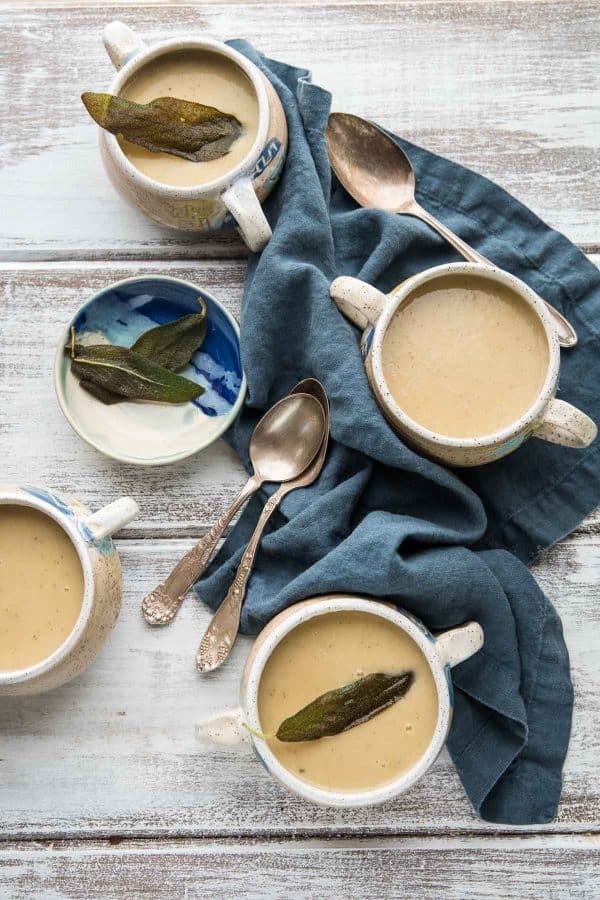 WHAT IS A PARSNIP?
Parsnips are a root vegetable in relation to the carrot. They are sweet, like carrots, but have more underlying root-vegetable taste - it reminds me like the earthiness of beets but just a fraction. They become sweeter when cooked or roasted.
Bonus fun fact? Parsnips were considered an aphrodisiac in ancient Rome. Bring on the White Bean & Parsnip Soup...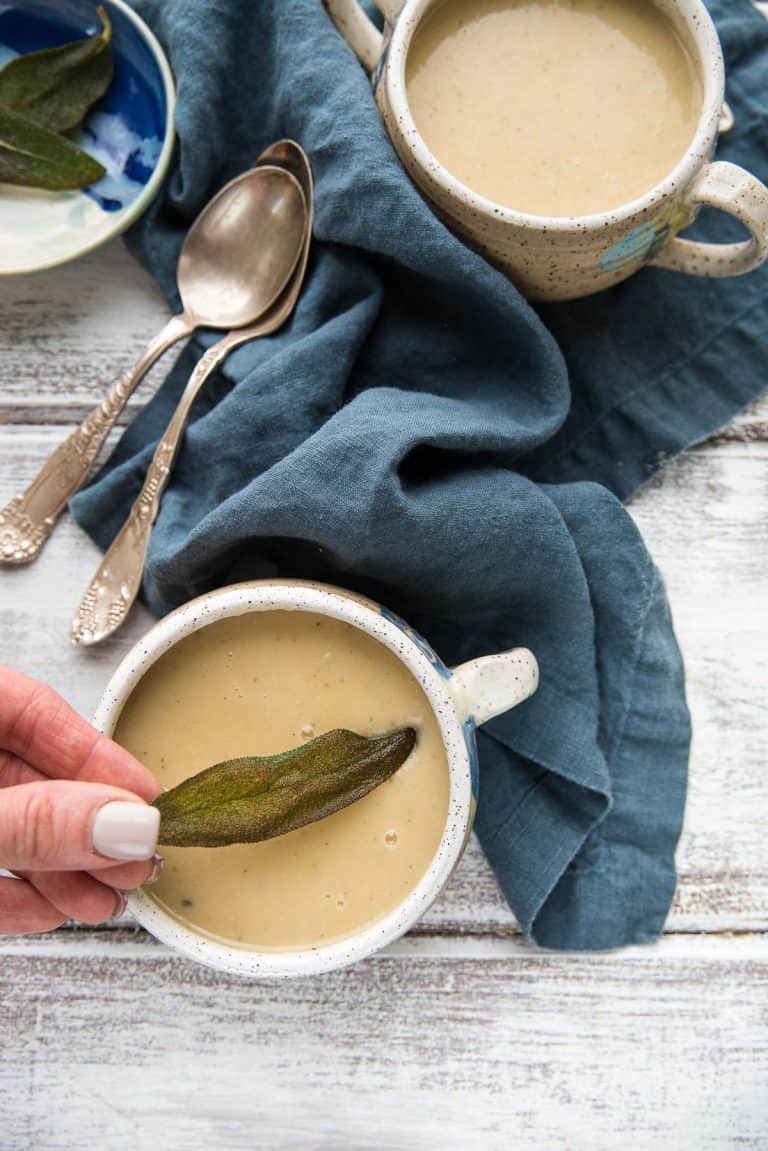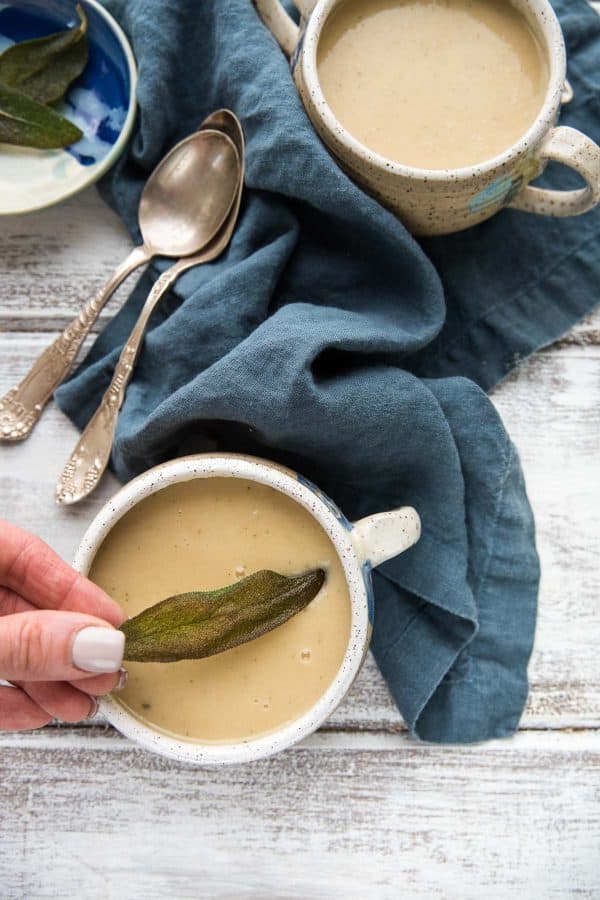 White Bean and Parsnip Soup
Don't you love a soup that has a little bit of everything? Oh good, me tooo. The white beans will pack all the protein you need for this soup to be not just delicious, but filling too. Providing constant healthy energy throughout the day.
Setting flavors aside for a minute, this White Bean and Parsnip Soup is incredibly fitting for the cold rainy days of fall, blustery days of winter, or when the sun just won't shine in Spring. The epitome of comfort food without throwing your entire healthy eating plan in the garbage. I like to think if soup could give hugs, this soup would give the best hug. Like your favorite grandma kind of hug.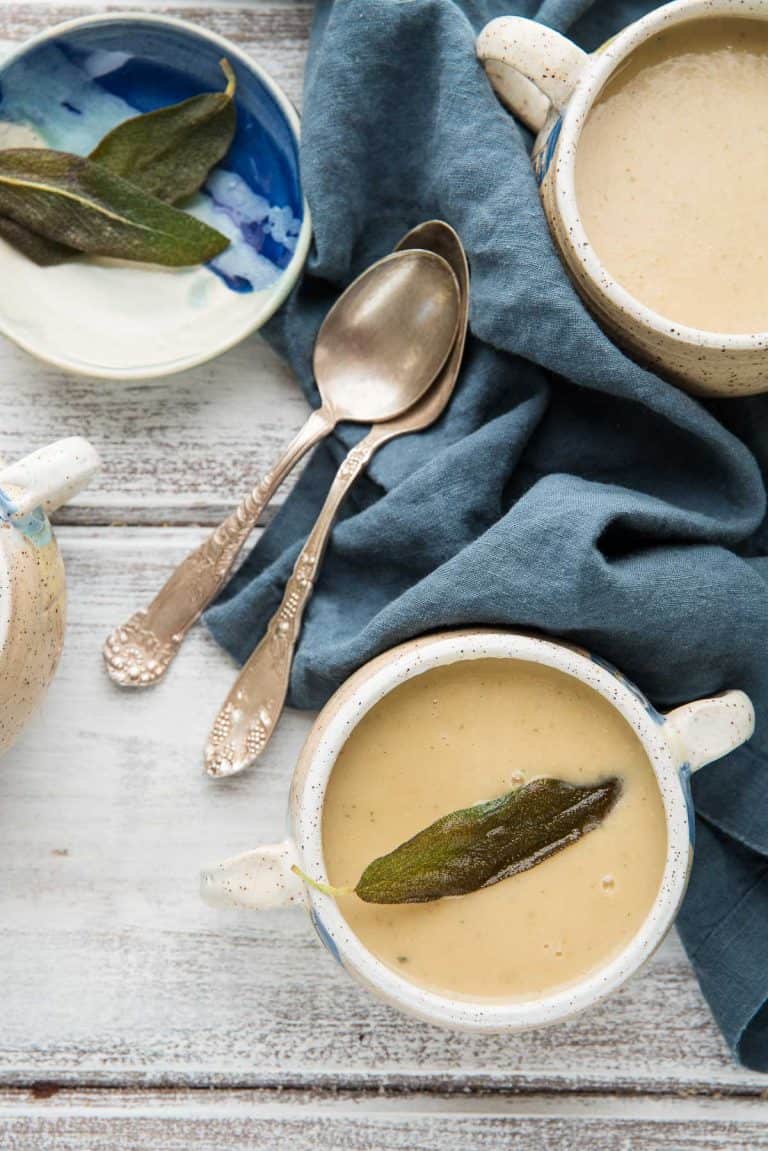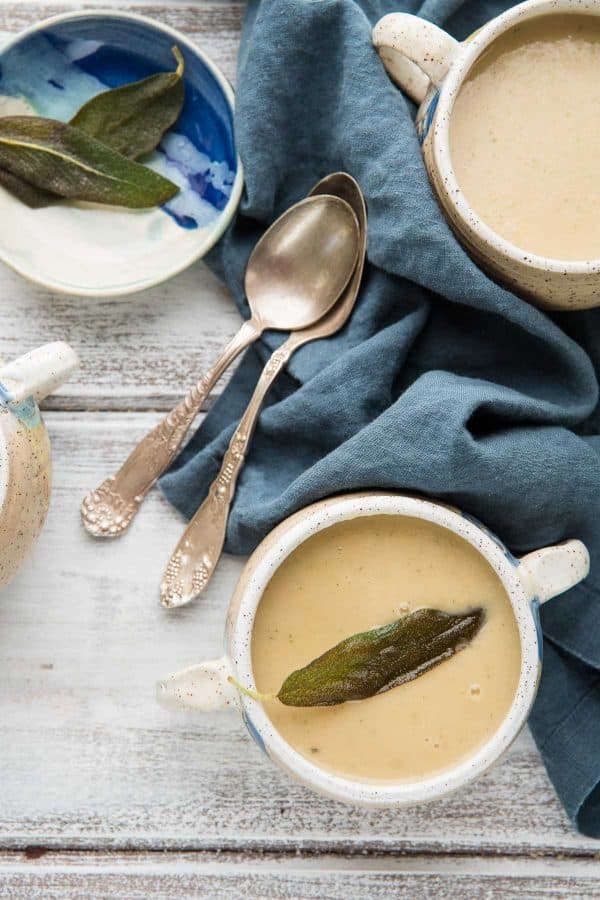 Bonus: It's also customizable for a variety of diets as well. If you're a meat eater, you can follow the recipe as is and use chicken stock. If you're a vegetarian or vegan that chicken stock can be switched out for a vegetable stock - which is honestly my favorite variation since it cuts out calories and adds a little more earthiness in flavor.
However you chose to make it, my recommendation is that you eat it all snuggled up.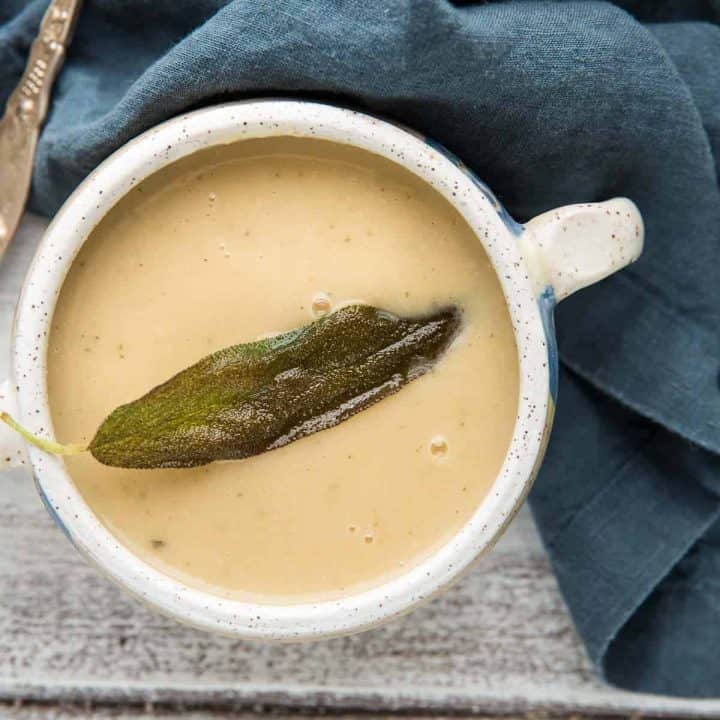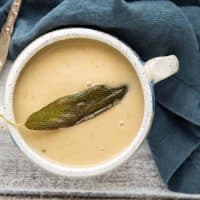 White Bean and Parsnip Soup
Smooth, creamy white beans and earthy, sweet parsnips pair up with fresh and bright sage for a comfort food White Bean and Parsnip Soup that's delicious, filling and light.
Print
Pin
Rate
Ingredients
1

pound

fresh parsnips

2

cloves

of garlic

1

leek

(thinly sliced)

4-6

fresh sage leaves

2

sprigs of thyme

1

teaspoon

kosher salt

¼

teaspoon

white pepper

2 15.5-

ounce

cans Great Northern Beans

6

cups

unsalted chicken stock*

4

tablespoons

Extra Virgin Olive Oil

salt and pepper to taste
Instructions
Preheat your oven to 400F. Peel the parsnips and cut into 3-4" pieces. For larger parts of the parsnips, cut in half or quarters so they are all about the same size. Peel two cloves of garlic. Lightly toss parsnips and garlic with 1 tablespoon of olive oil and spread out on a baking sheet lined with parchment paper. Bake at 400F for 20-25 minutes until slightly brown and roasted.

When parsnips are almost roasted, start to prepare your other ingredients. Thinly slice the leek into quarters - cut the end off the leek, cut in half horizontally and then vertical so your leek is in four long pieces, then thinly slice. Chiffonade 4 large sage leaves or 6 medium sage leaves. Remove the thyme leaves from the sprigs. Drain and rinse your beans and set aside.

In a stock pot, heat 3 tablespoons of olive oil. Add the leeks and sauté about 3 minutes. Add the herbs and sauté 3 minutes more or until the leeks are translucent. Add the beans, roasted parsnips, roasted garlic, salt, white pepper and 4 cups of chicken stock. Stir the ingredients, reduce to medium heat and bring to a boil - about 10-15 minutes.

Reduce heat to low and add the remaining 2 cups of chicken stock. Stir to combine and then blend the ingredients together using an immersion blender.

Once ingredients are blended, season with salt and pepper to taste. For a fancy garnish with a pop of flavor, fry a few sage leaves in oil until crispy and top each bowl of soup with a crispy sage leaf.
Notes
*Chicken stock can be substituted for vegetable stock for a vegetarian/vegan recipe
Nutrition
Serving:
1
bowl
|
Calories:
69
kcal
|
Carbohydrates:
2
g
|
Protein:
1
g
|
Fat:
7
g
|
Saturated Fat:
1
g
|
Sodium:
293
mg
|
Potassium:
20
mg
|
Fiber:
1
g
|
Sugar:
1
g
|
Vitamin A:
185
IU
|
Vitamin C:
1
mg
|
Calcium:
7
mg
|
Iron:
1
mg