Bold pumpkin flavor and natural food dye are making these mini tombstone cakes scary good! Super tender cakes with moist crumb and spooky graveyard designs, your halloween party is going to need these little treats!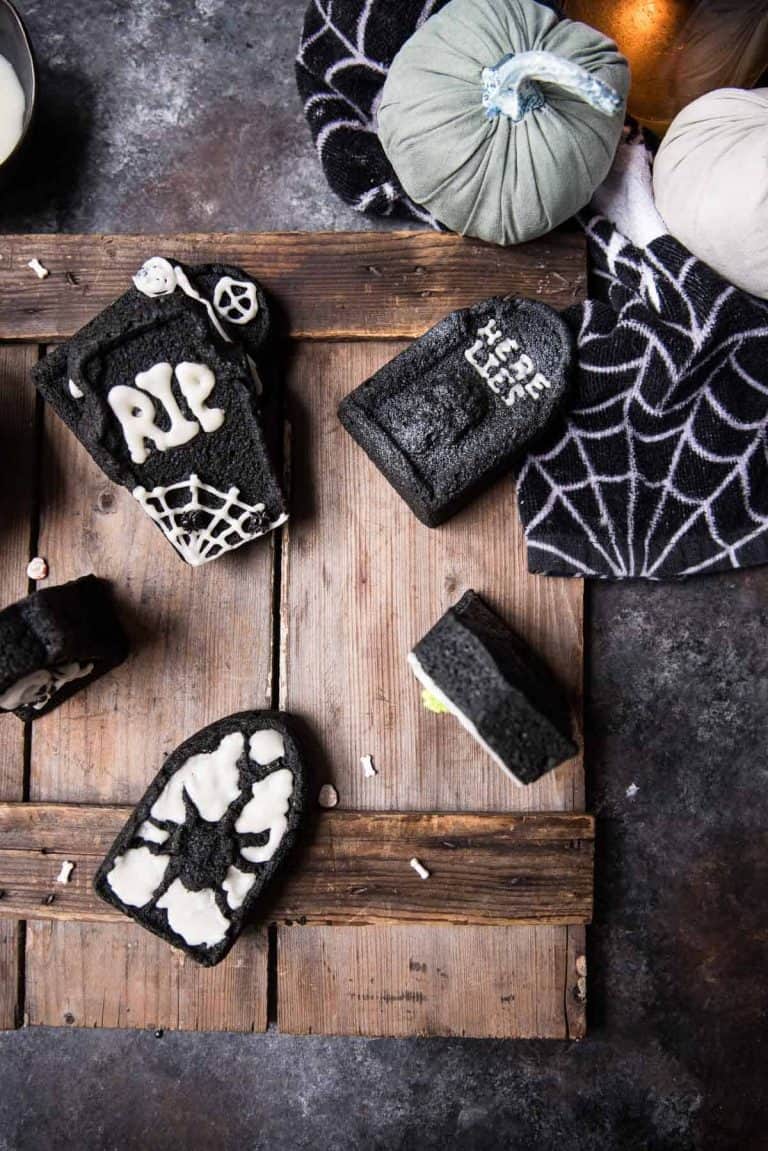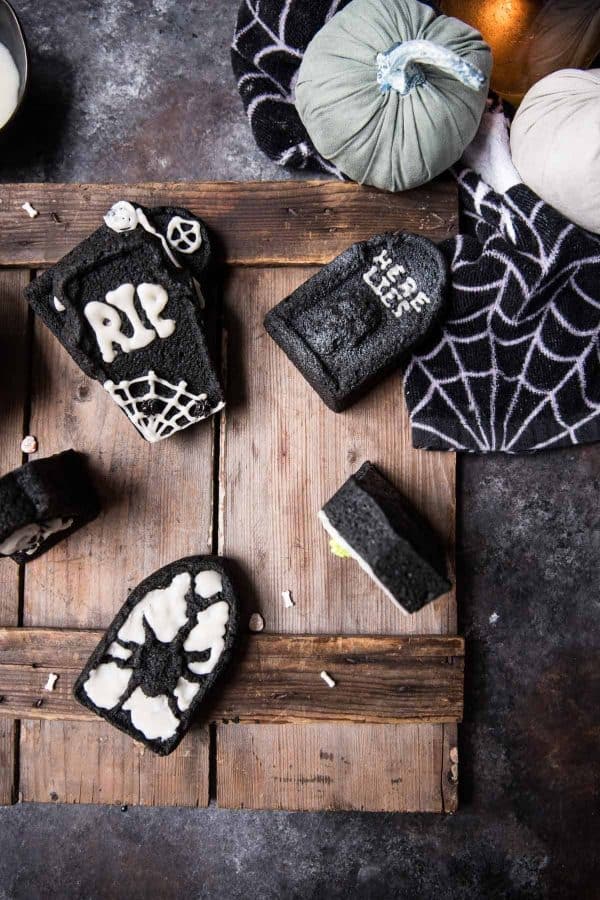 Eeeeek! You guys, I am soooo excited for these cakes! They are ridiculously easy to make, naturally died using activated charcoal, and SO MUCH FUN.
They really taste like pumpkin, but they're totally spooky and cute and naturally died. Whaaaa? (All I can think about is that minion from the Despicable Me movies, lol.)
Ever since I picked up the Pasta, Pretty Please cookbook, I also picked up some food grade activated charcoal. Besides making black pasta, I've been itching to use it somewhere else. Win win. Hello, Halloween.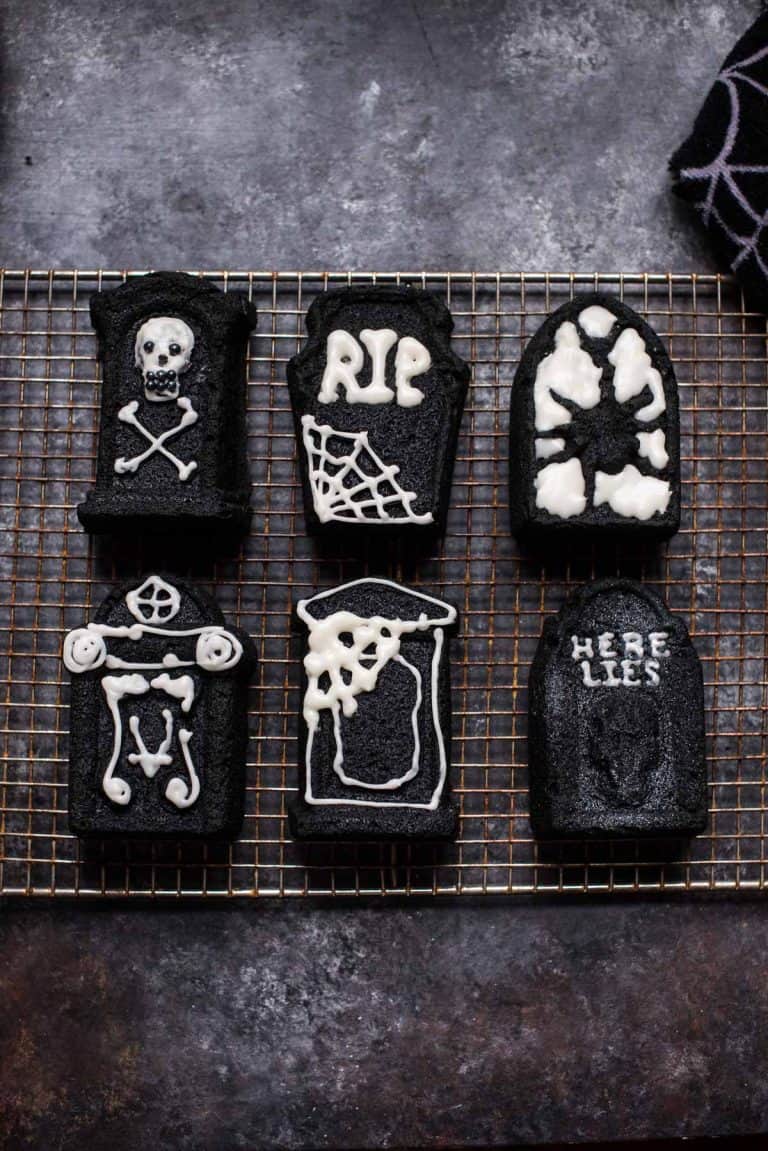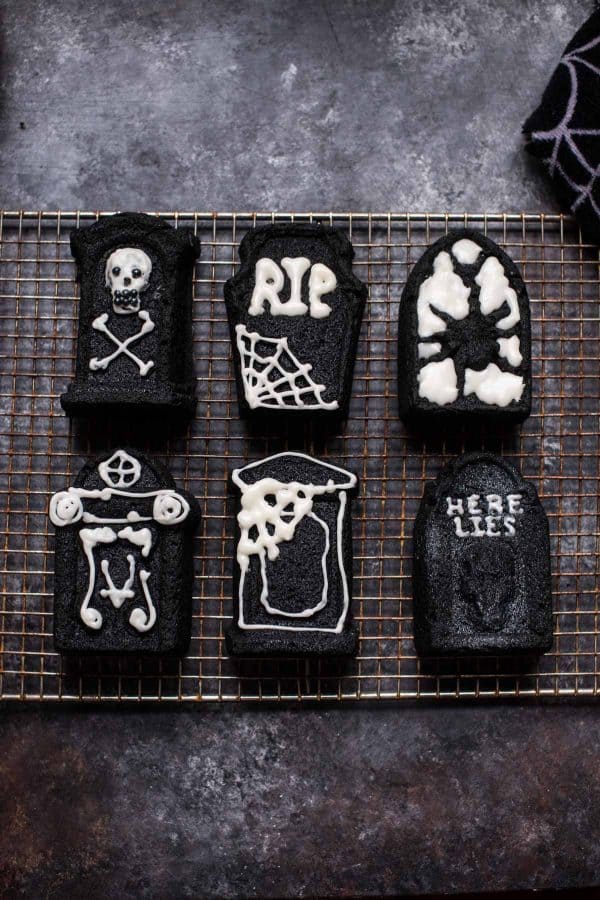 Halloween Desserts
October is here and Halloween is riiiight around the corner. Truth? I've never really been a huge Halloween person, but now that we have kids the holiday spirit is 110% every holiday.
Are there any other true scaredy cats in the house? Haunted houses? No thank you. Scary movies? Pass. But cute and creepy cakes I can totally get behind! Maybe it's something about eating your fears? I'm not sure...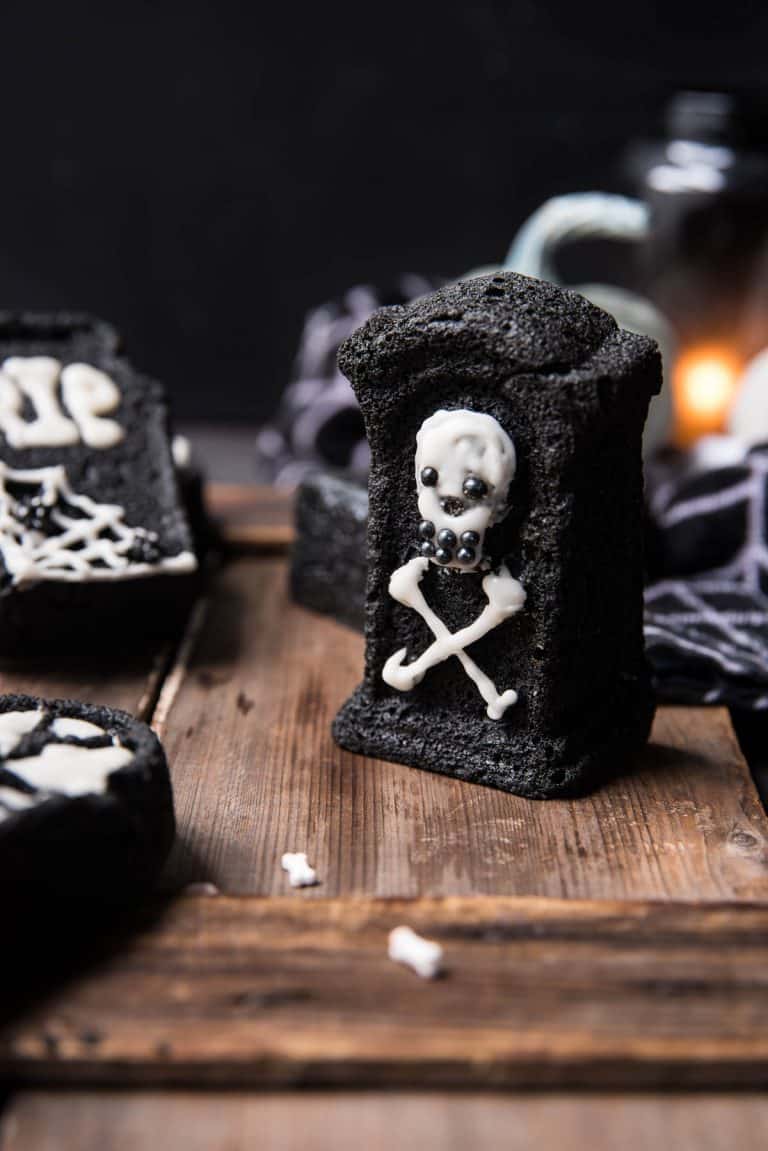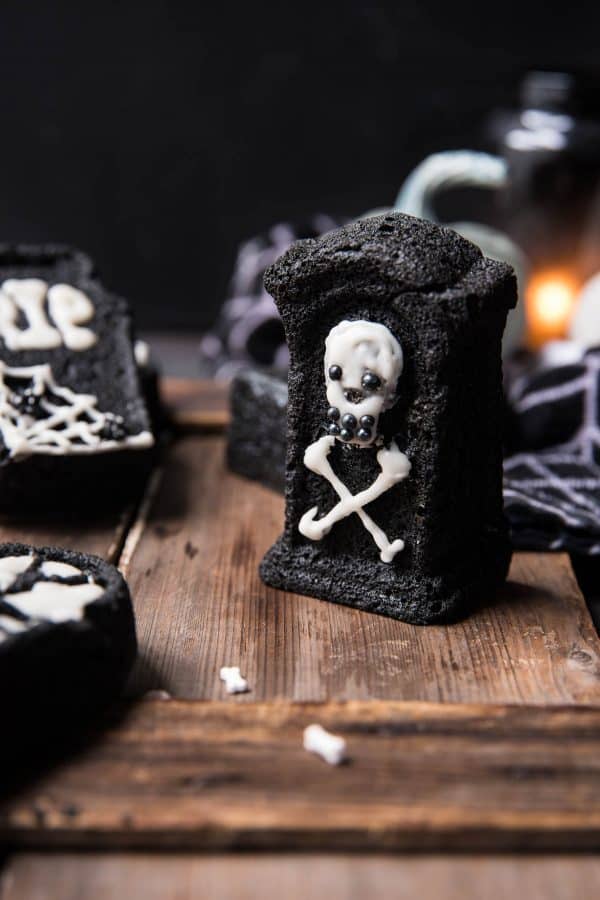 The best part about this halloween dessert is that it requires just a few ingredients and a cute little cake pan. They are great for making with the kids too. The trickiest part is the getting the right activated charcoal, but like most things these days...it's on amazon.
Cooking with activated charcoal
So activated charcoal is pretty cool. It's not quite the same as the brickettes you have out in the grill.
WHAT IS ACTIVATED CHARCOAL?
Food grade activated charcoal is made from coconut husks! They cook them at a super super high heat and treated in a way that makes it porous so it's often used as a way to soak up toxins.
One thing to know about activated charcoal is that while it can be used as a teeth whitener, bug bite relief, and food dye because it's porous it can also soak up other nutrients and possibly medicines. If you're unsure about wether or not activated charcoal is something you want to use, I'd recommend reading up on it first.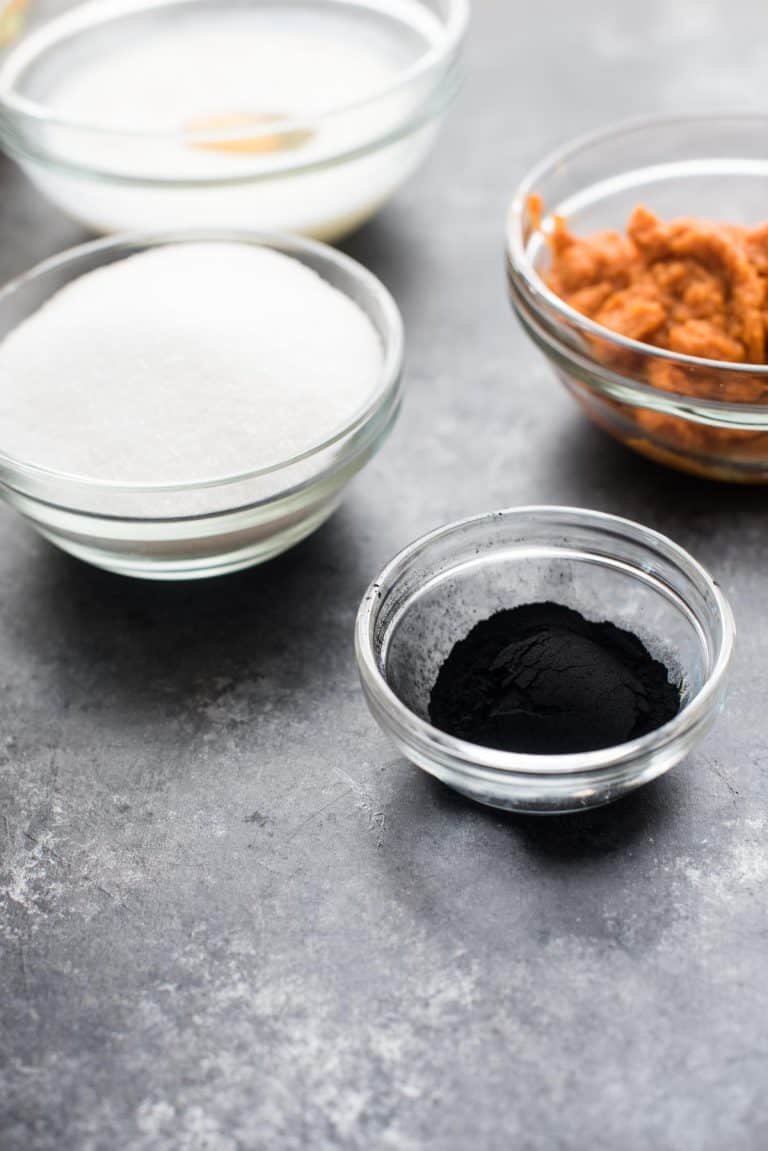 CAN I USE SOMETHING OTHER THAN CHARCOAL?
Absolutely! Wilton cake dye makes a black dye that can be used in place of activated charcoal, like in this dragonscale cake frosting. You'll probably need about half the container of dye and just a heads up, it may stain your teeth temporarily while eating the cakes but it'll clear.
How to make pumpkin tombstone cakes
First, you'll need the pan. While your perusing the virtual aisles of Amazon for your food grade activated charcoal, you can also plop a Nordicware tombstone cake pan in your cart too. (And right now they're on sale!)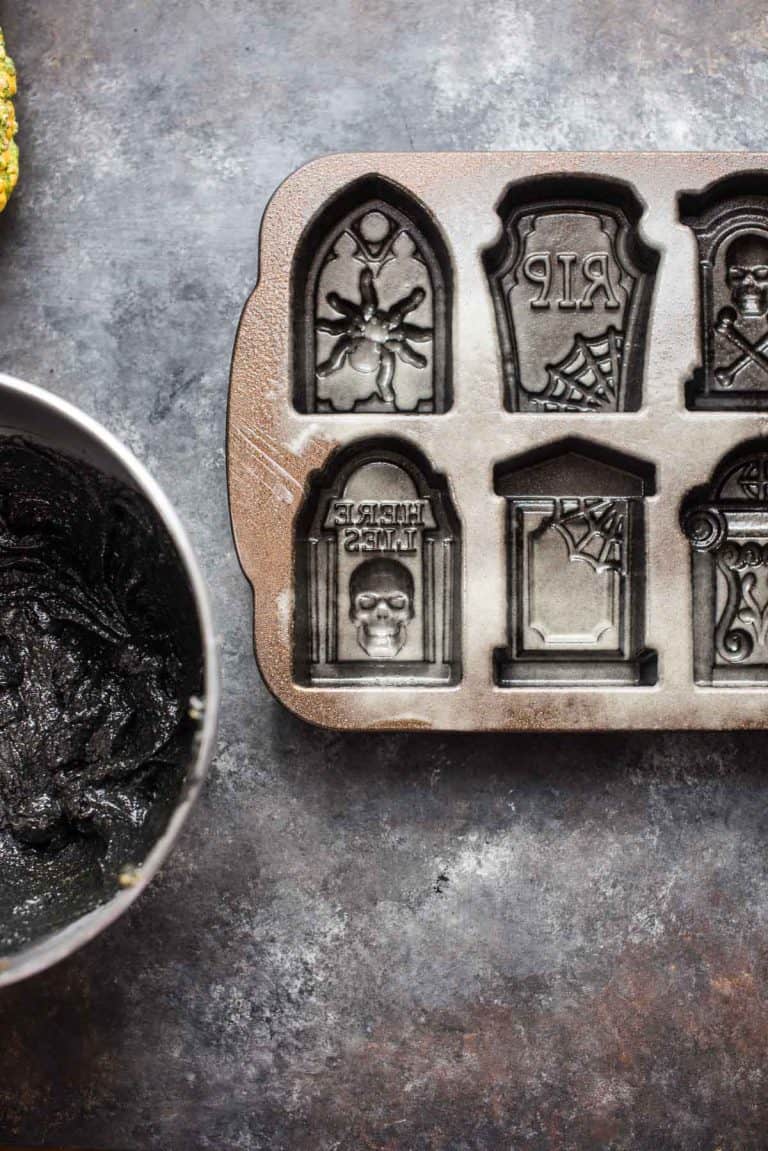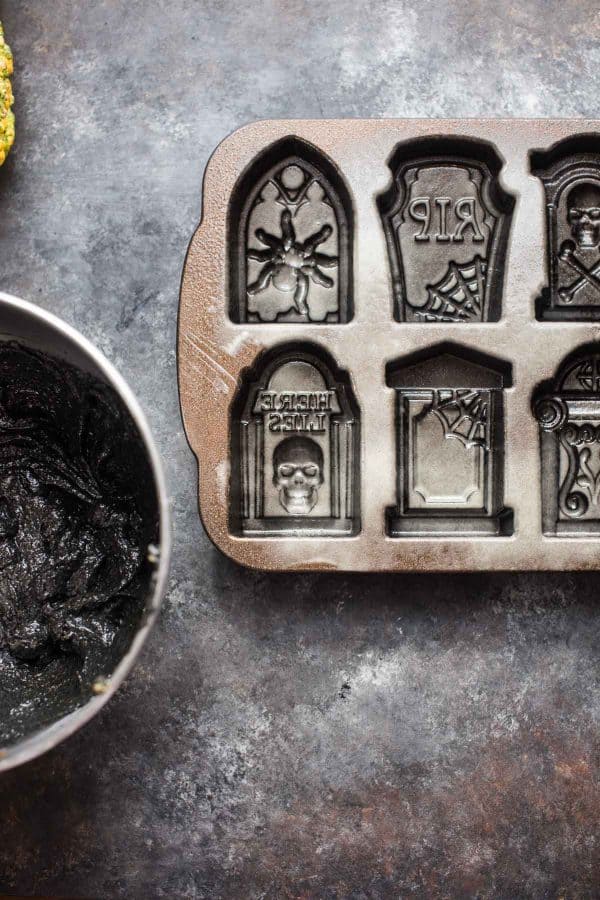 If you're running to the store for ingredients, your best bet is to pick up the baking spray they sell with the other oils. It has flour in the spray so in one quick squirt you can grease and flour the pan. This is the best method for these cakes because the flour residue bakes off, so you end up with clean, perfectly formed tombstone cakes.
The batter is made using traditional methods...cream the butter and sugar and mix the wet and dry ingredients in separate bowls. Then add half the dry and half the wet. Easy peasy friends!
TIPS FOR MAKING PERFECT TOMBSTONES CAKES
using baking spray verses traditional butter and flour
scrape down the sides of the bowl before giving it a final mixing
spread into all corners of the cake pan with a spatula for even baking
let the cakes cool for 5-10 minutes then invert and cool on a wire rack
let the cakes cool completely before decorating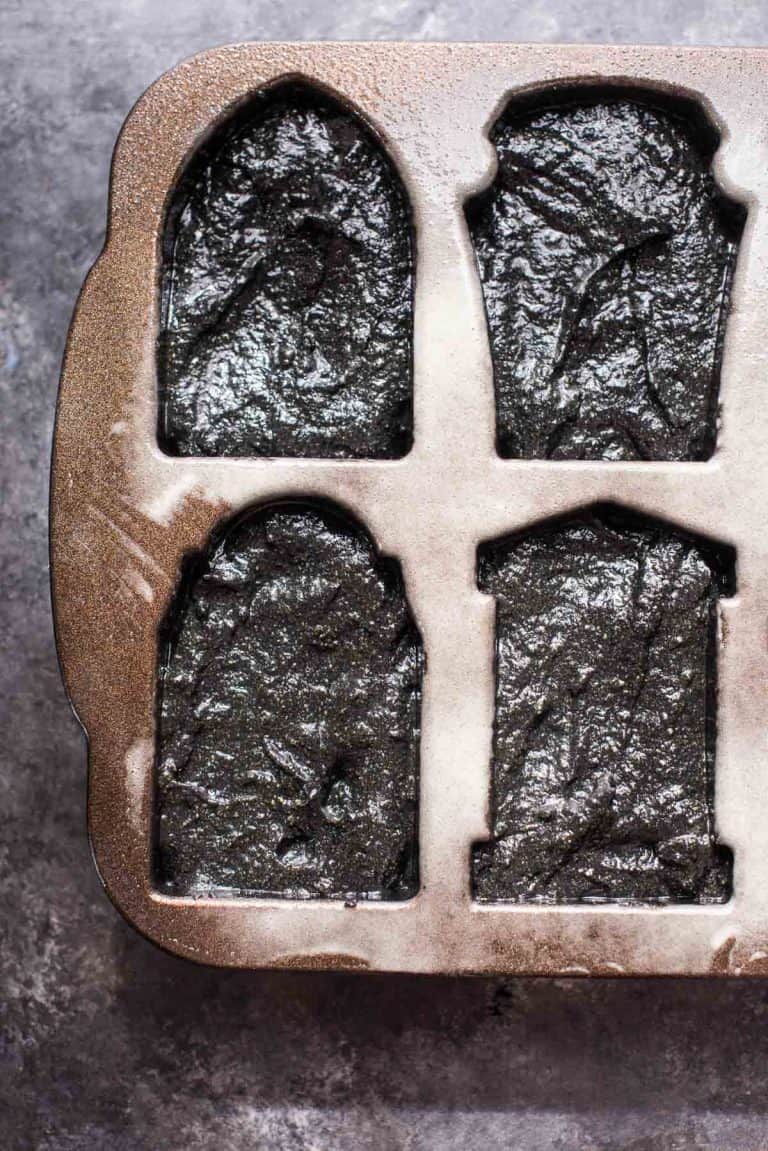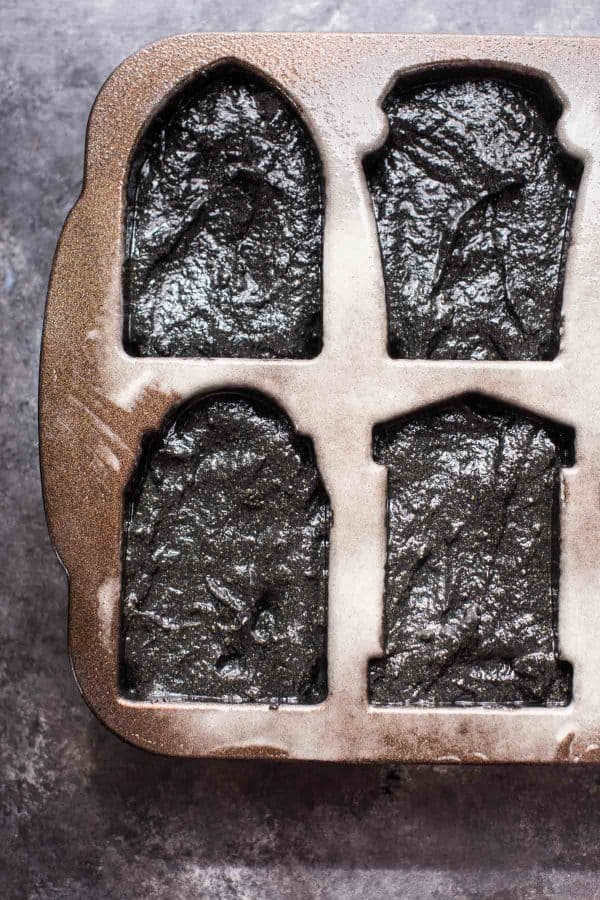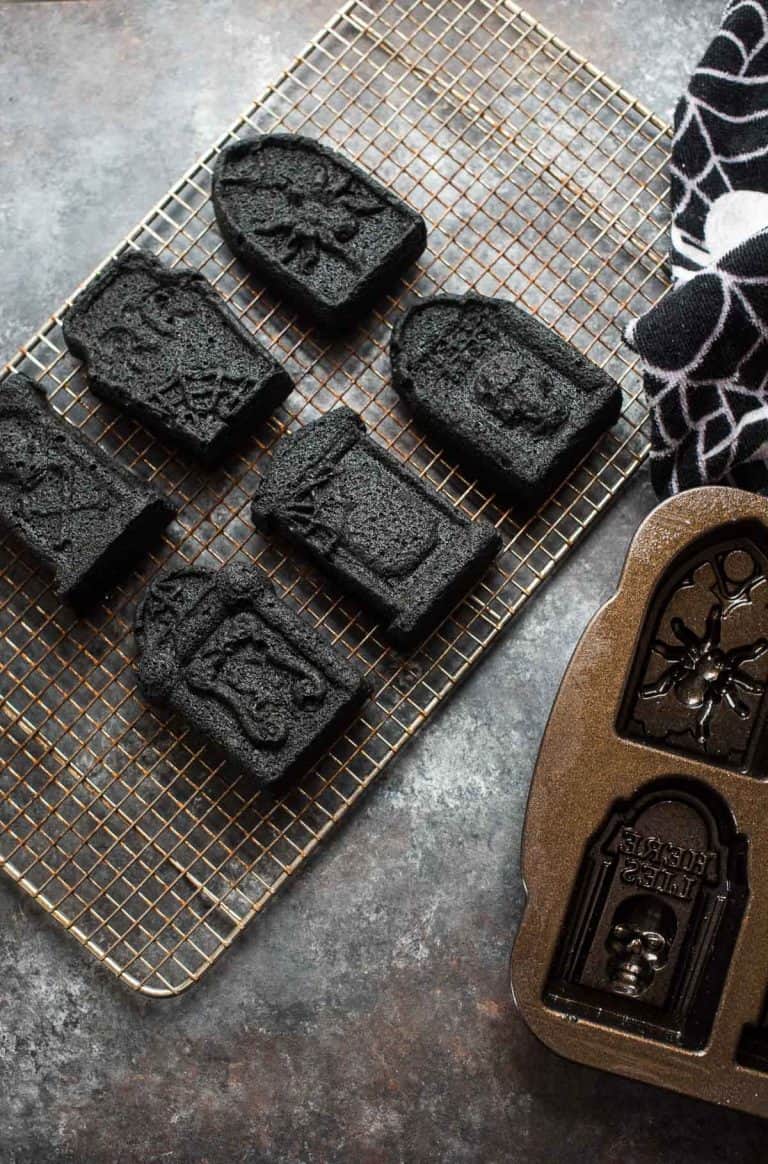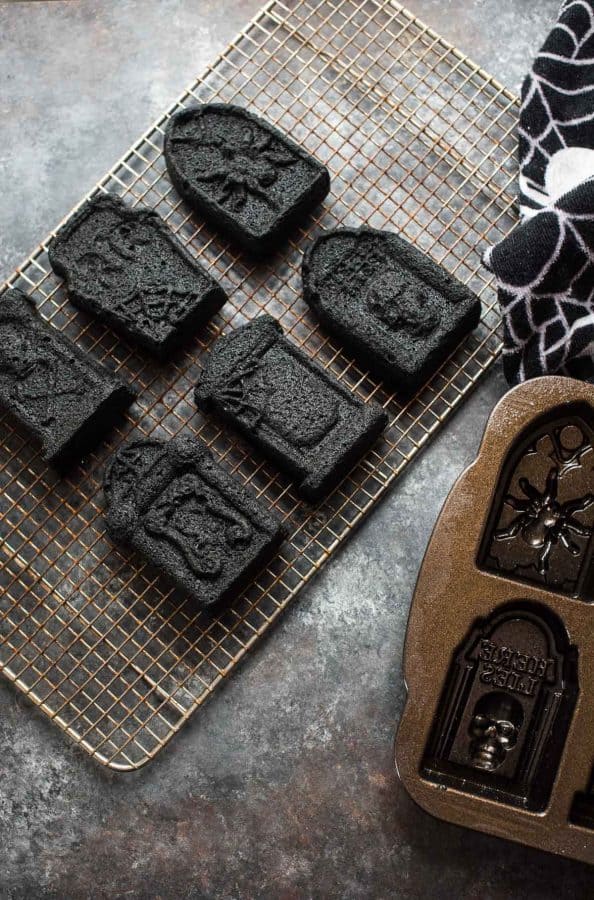 Simple decorating icing
Serve up your pumpkin tombstone cakes as is or add a little Halloween flair! For this decorating icing we're keeping it simple. No egg whites or mixer required.
Simply add confectioners sugar and vanilla to a bowl and slowly mix in the heavy cream until a thick paste forms. The icing should be thin enough to squeeze through a piping bag (or plastic sandwich bag with the corner cut off) but thicken enough that it doesn't flood. If it comes out too thin or thick you can add more confectioners sugar or cream to adjust.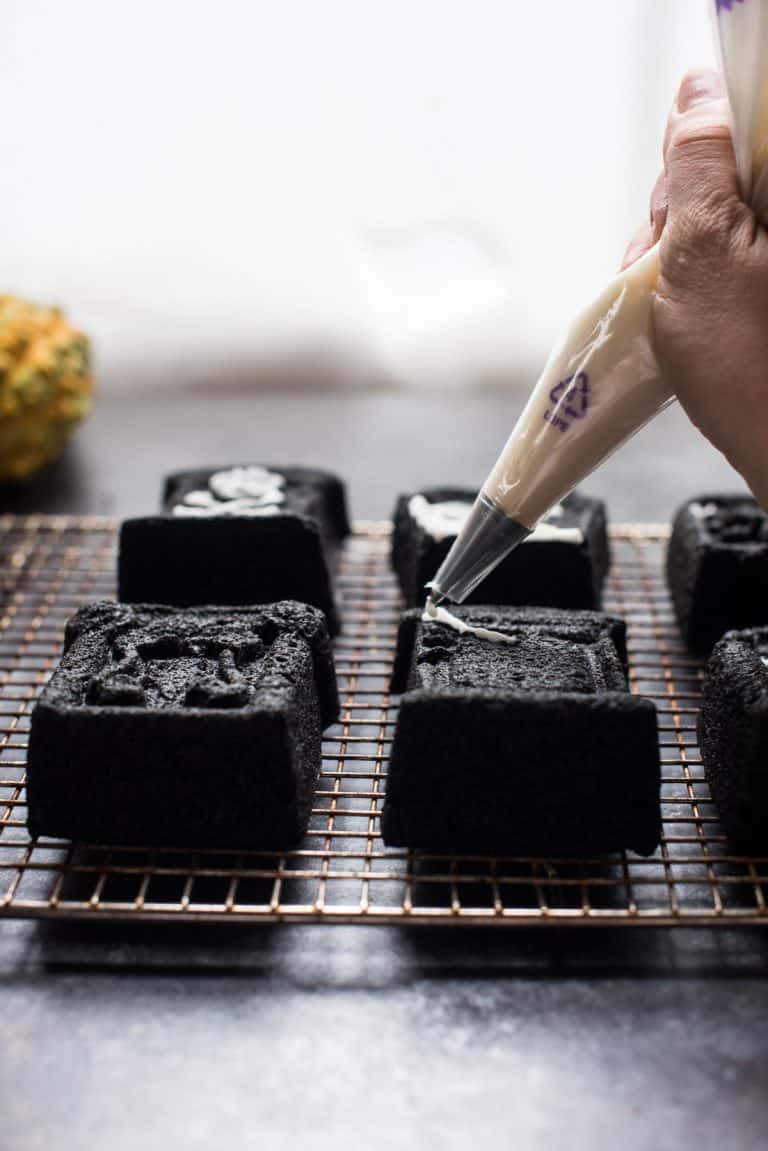 Have fun with it! Make your cakes as spooky or as cute as you want! They'll taste like tender delicious bites of halloween-y pumpkin goodness.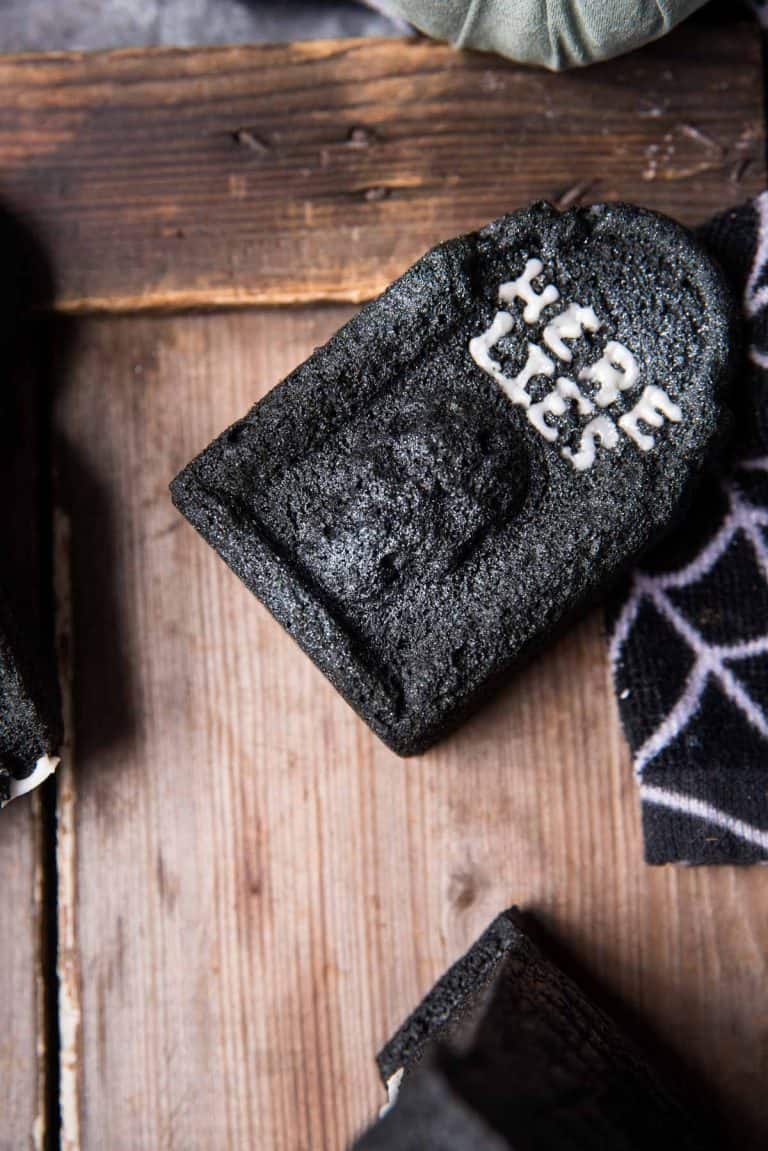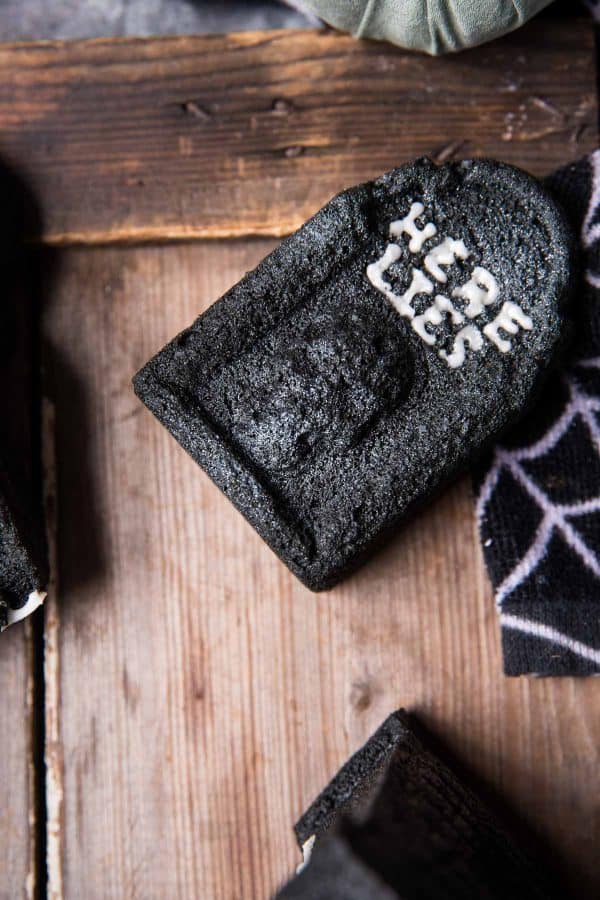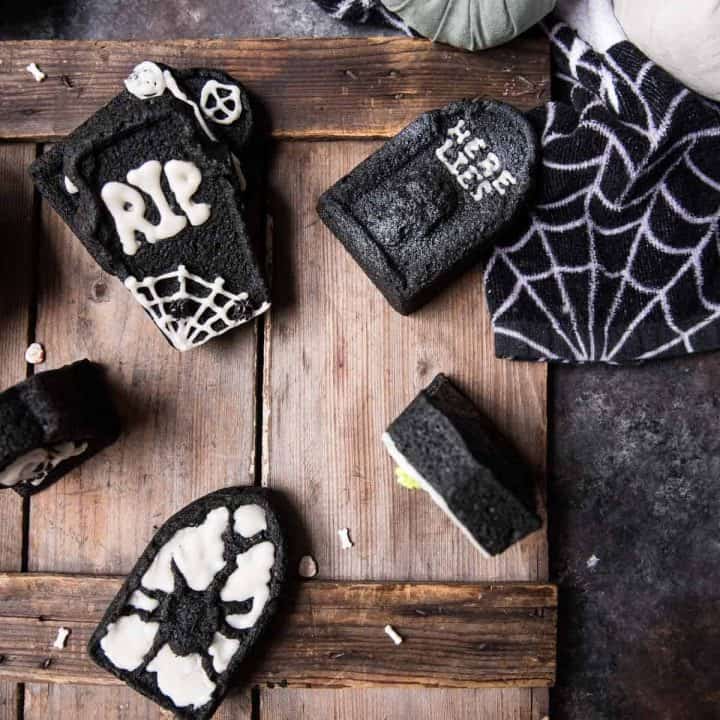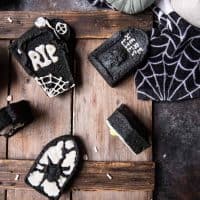 Pumpkin Tombstone Cakes
Naturally dyed using activated charcoal, these tombstone cakes are scary good and easy to make with lots of pumpkin flavor! A simple confectioners sugar frosting whips up easy for adding decorations.
Print
Pin
Rate
Ingredients
Pumpkin Tombstone Cakes
1

cup

all purpose flour

1

teaspoon

baking soda

3

tablespoons

food grade activated charcoal

½

cup

unsalted butter

(room temperature)

¾

cup

granulated sugar

¾

cup

pumpkin purée

½

cup

buttermilk

1

egg

(lightly beaten)

1

teaspoon

pure vanilla extract

¼

teaspoon

ground cinnamon optional
Simple Confectioners Sugar Icing
½

cup

confectioners sugar

¼

teaspoon

vanilla

3 ½

teaspoons

heavy cream
Instructions
Preheat the oven to 350°F. Spray the tombstone cake pan with baking spray for best results (see notes.)

In a small bowl, whisk together the buttermilk, egg and vanilla. Set aside.

In a separate bowl, combine the flour, baking soda and activated charcoal.

In a mixer or in a large bowl with a hand mixer, beat the butter on medium high speed until pale and fluffy. Add the granulated sugar and cream together on medium speed for 1 minute. Add the pumpkin puree to the bowl and beat into the butter and sugar. It'll look a little strange, but everything will come together after adding the remaining ingredients.

With the mixer on low speed, add half the amount of dry flour mixture to the bowl, then half the buttermilk mixture. Mix until just combined, about 1 minute. Repeat with the remaining ingredients. Scrape down the sides of the bowl and mix on medium speed until combined, about 30 seconds to 1 minute.

Divide the batter equally in the prepared pan. Bake at 350°F for 20 to 25 minutes or until a toothpick inserted in the center of a cake comes out clean. Let the tombstone cakes cool in the pan for 5 to 10 minutes before inverting onto a cooling rack. Cool the cakes completely before adding decorative frosting.

For the icing: In a small bowl combine the confectioners sugar and vanilla. Slowly add the heavy cream until a paste like consistency forms. You want it thick so it will set and harden but soft enough to push through a piping bag using a Wilton Tip#3.
Notes
Be sure to use food grade activated charcoal! If you don't want to use activated charcoal, you can substitute wilton cake dye gel in black.
For the best, cleanest cakes, grease the pan using a baking spray with flour. You can use a traditional greasing method of butter and flour or brushing with pastry 'goop' but this will leave a residue on the final cake and might obscure some of the details in the tombstones.
If you don't have piping bags or decorating tips, use a plastic sandwich bag. Cut as little off as possible of one of the corners.
Nutrition
Calories:
393
kcal
|
Carbohydrates:
55
g
|
Protein:
4
g
|
Fat:
18
g
|
Saturated Fat:
11
g
|
Trans Fat:
1
g
|
Cholesterol:
74
mg
|
Sodium:
219
mg
|
Potassium:
132
mg
|
Fiber:
1
g
|
Sugar:
37
g
|
Vitamin A:
5355
IU
|
Vitamin C:
1
mg
|
Calcium:
46
mg
|
Iron:
2
mg