The weather has been pretty great in New England this March and thus an equally great motivator for me to get my act together health wise. Just around the corner is my first 5k of the year and my 30th birthday...groan...both great motivating factors.
Though I do love to make lots of sweets and indulgent entrees for HungerThirstPlay, we typically eat pretty healthy in this house. Well, with the exception of quality control - how do you know if the product is perfect if you don't sample, right?
'Healthy' is a bit of a blanket statement, but for me this means - little to no sugar except what comes naturally from food and occasional sweeteners, very light on the grains (I mostly eat sweet potatoes for my starch), and no dairy. Sort of a paleo-ish food plan with lots of exercise. A lot of people are big 'meal prep' enthusiasts, but I could never get into it. One downside to that being a quick and easy breakfast. Although I love me some eggs, some mornings there just isn't time for all that cracking, cooking, and cleaning. That's where this chia seed pudding comes in.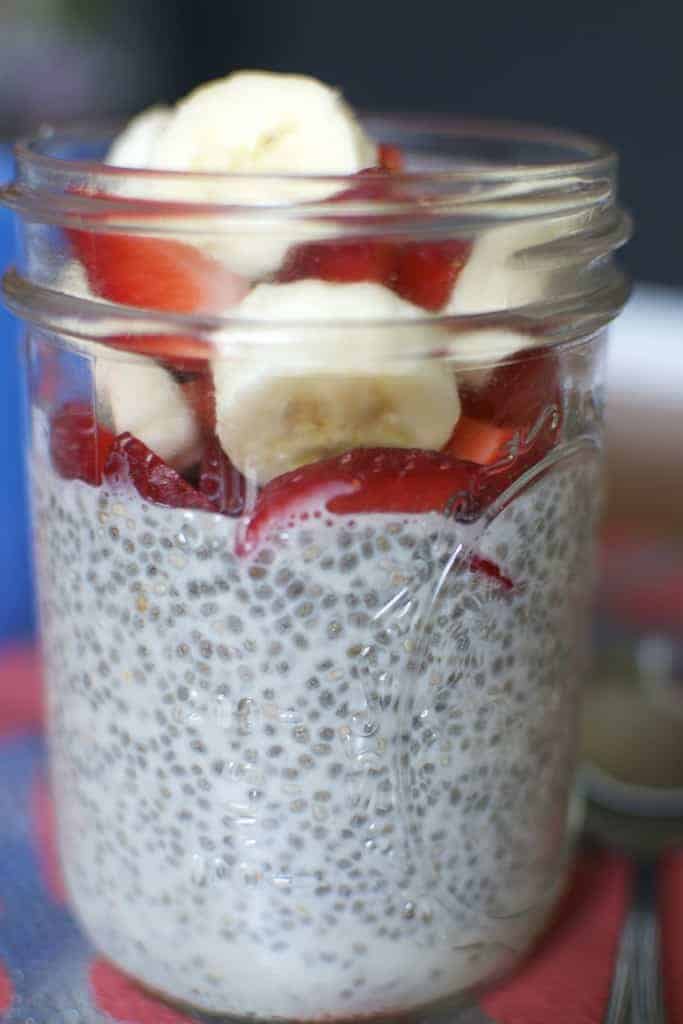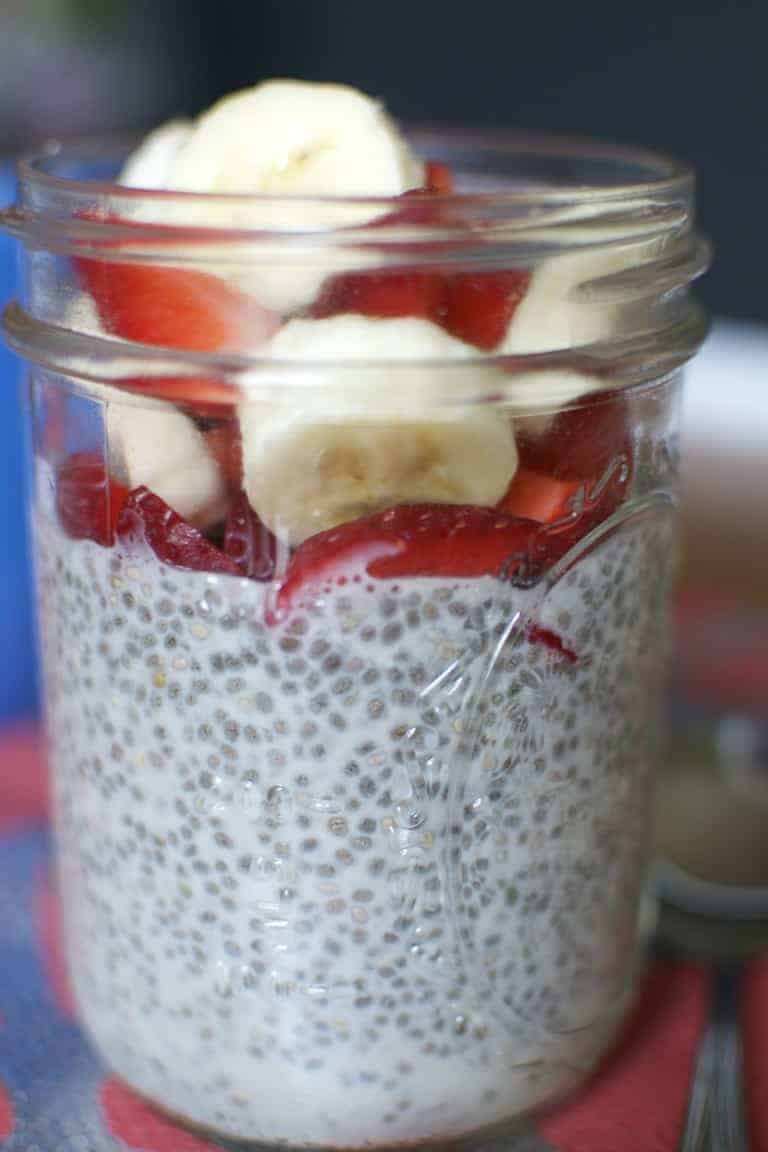 Though a little late to the chia seed bandwagon, I am currently obsessed. Almost a kale level of obsession, but not quite. If you haven't heard of the Chia Seed - they're these little black seeds that come primarily from South America. Marketed as the 'Superfood of the Aztecs' they are packed with loads of antioxidants, fiber, omega-3 fat, and have a satisfying crunch to them. They do have a bit of gelatin mouthfeel once they sit liquid for a bit, so if that doesn't jive on your texture palate you may want to skip this recipe.
Chia Seed Pudding is best if you let it sit overnight, however, being the forgetful person that I am occasionally that doesn't happen. Sometimes I'll throw one together right before I leave for spin class and by the time I get back it's more like cereal than pudding, and that works for me. I like mine topped with fresh fruit, like strawberries and bananas, but any fruit would be good. If I need to satisfy my chocolate fix, I add about 1 tablespoon of cocoa powder. The recipe is incredible versatile so add what you love most!
Ready to try something new? Here's what you'll need: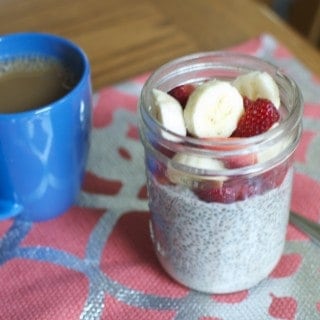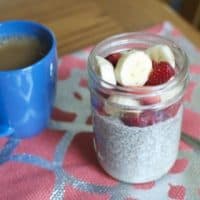 Chia Seed Pudding
Quick and simple, chia seed pudding makes for a great breakfast or snack and it's completely vegan! Make it with your favorite non-dairy milk and customize it with fresh fruit toppings or granola.
Print
Pin
Rate
Ingredients
Chia Seed Pudding:
3

tablespoons

chia seeds

1

cup

almondmilk

(we always have unsweetened plain in the fridge, so that's my preferred type)

1

tablespoon

pure maple syrup

1

teaspoon

vanilla extract
Instructions
Whisk all the ingredients together, pour into a container. Cover and let sit overnight.

Top with sliced fruit or granola for added texture. Easy peasy!
Nutrition
Calories:
275
kcal
|
Carbohydrates:
30
g
|
Protein:
7
g
|
Fat:
14
g
|
Saturated Fat:
1
g
|
Trans Fat:
1
g
|
Sodium:
333
mg
|
Potassium:
197
mg
|
Fiber:
13
g
|
Sugar:
13
g
|
Vitamin A:
19
IU
|
Vitamin C:
1
mg
|
Calcium:
549
mg
|
Iron:
3
mg