Pumpkin. Spice. Latte. Martini. Or perhaps we should call it by a trendier name...the amped up "espresso" martini? Creamy baileys, sweet spiced pumpkin and espresso laced vodka are the building blocks to the pumpkin spiced coffee classic turned happy hour treat.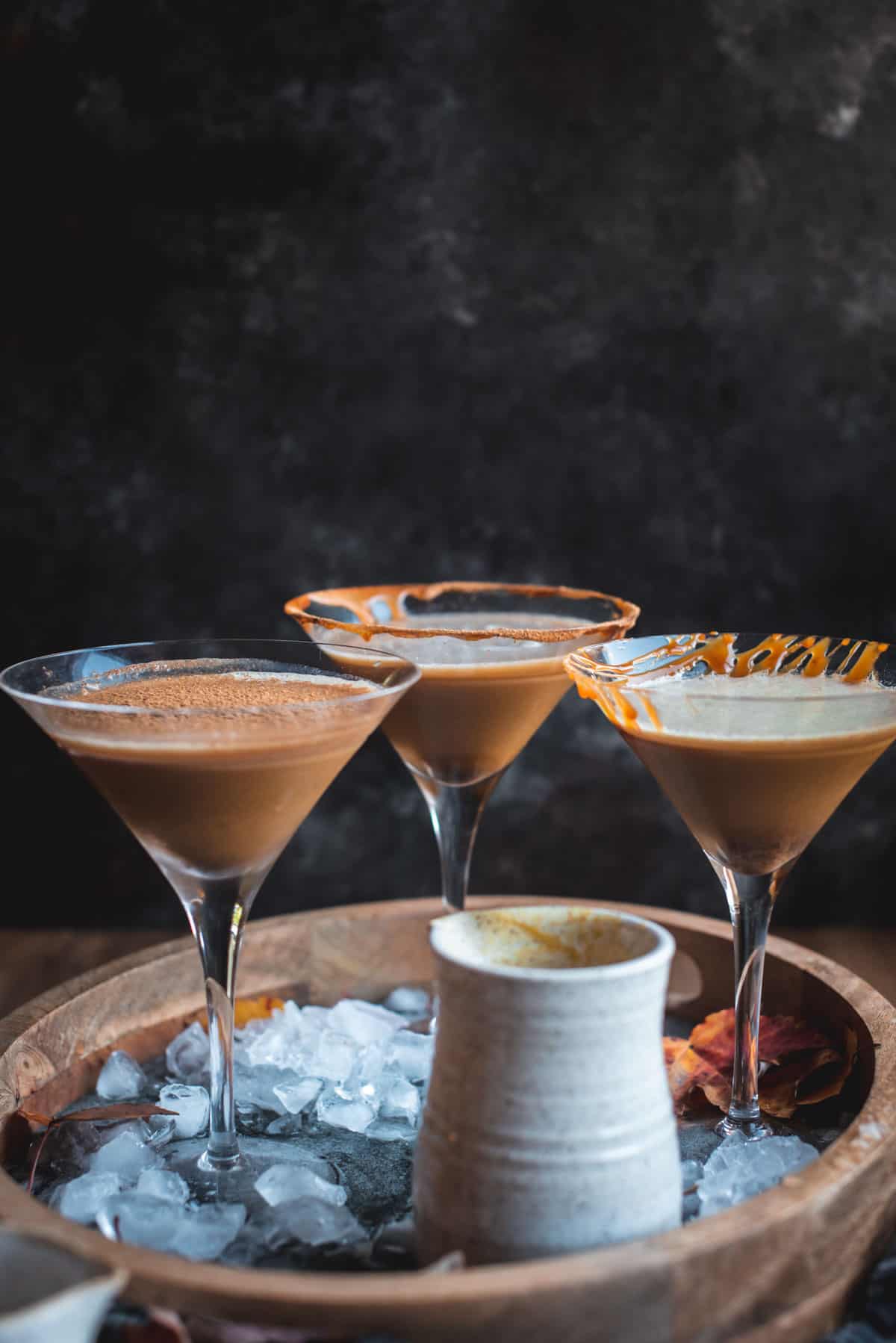 Why I Love Sippin' on this Fall Style Cocktail
It's officially Fall in Boston. That time of year when the students descend, driving on Storrow Drive is increasingly frustrating, and the streets are busy before Sunday brunch with Starbucks Pumpkin Spice Latte in hand.
The haters are gonna hate...let them, they don't know what they're missing. A great way to make something better? Make it a cocktail!
It's a New England miracle, an alcoholic Pumpkin Spice Latte. Just the right coffee flavor with sweet, nutty pumpkin and creamy Bailey's. ::Insert all the heart emojis::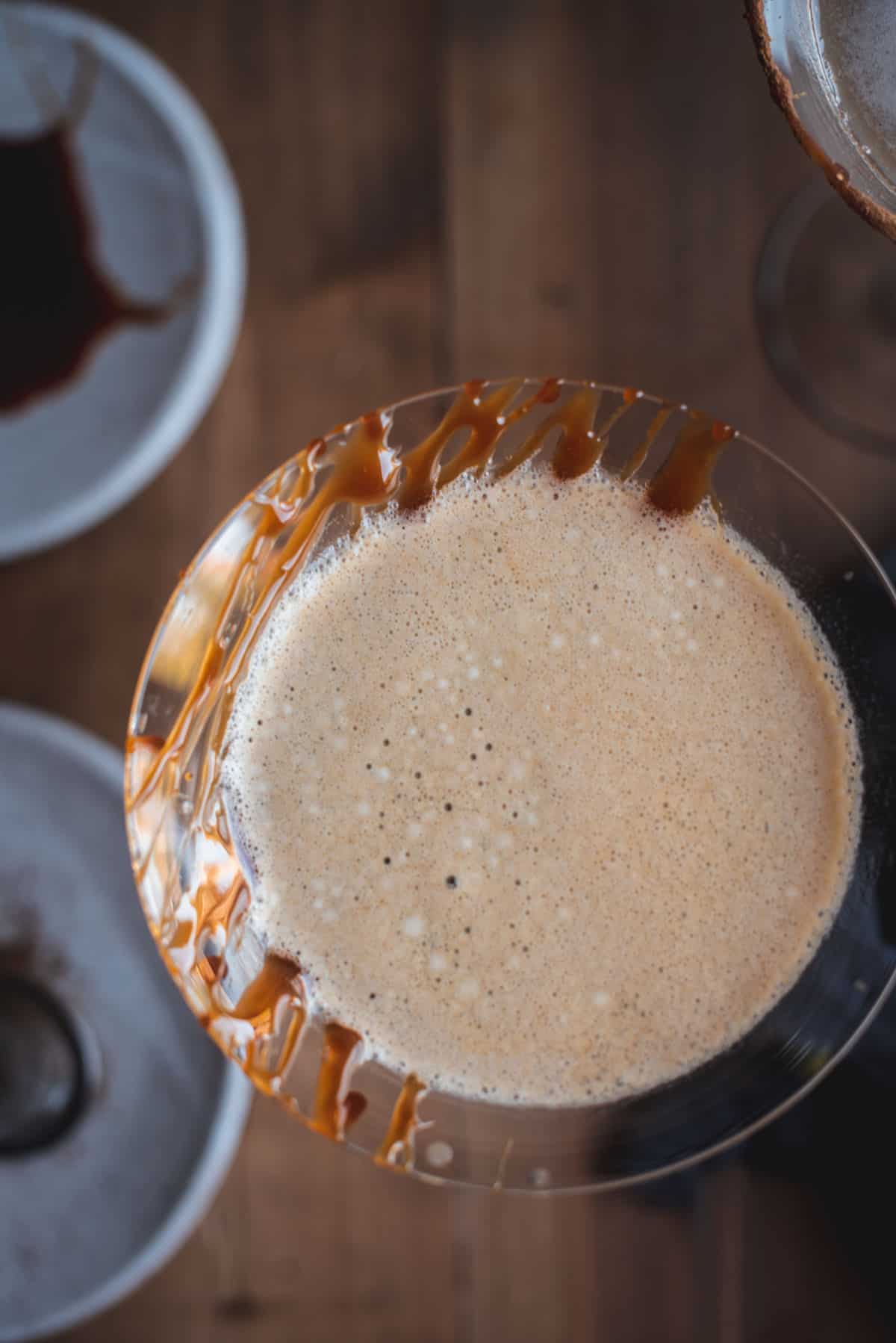 Pumpkin Spice Latte Cocktail
A sweet, creamy cocktail bringing a taste of Fall with each sip. While you drink this at happy hour, you can pretend you're at home on your couch, in your sweats, with the fireplace a glow.
Vodka of choice here is the Van Gogh Espresso Vodka. The company does make a double espresso vodka, but the single espresso is clear and carries a pronounced, yet subtle, coffee flavor so the pumpkin really shines. Of course, the number one rule in my book is to substitute what's convenient. If dark espresso vodka is the only espresso vodka available, you go on and make yourself a Pumpkin Spice Latte Martini.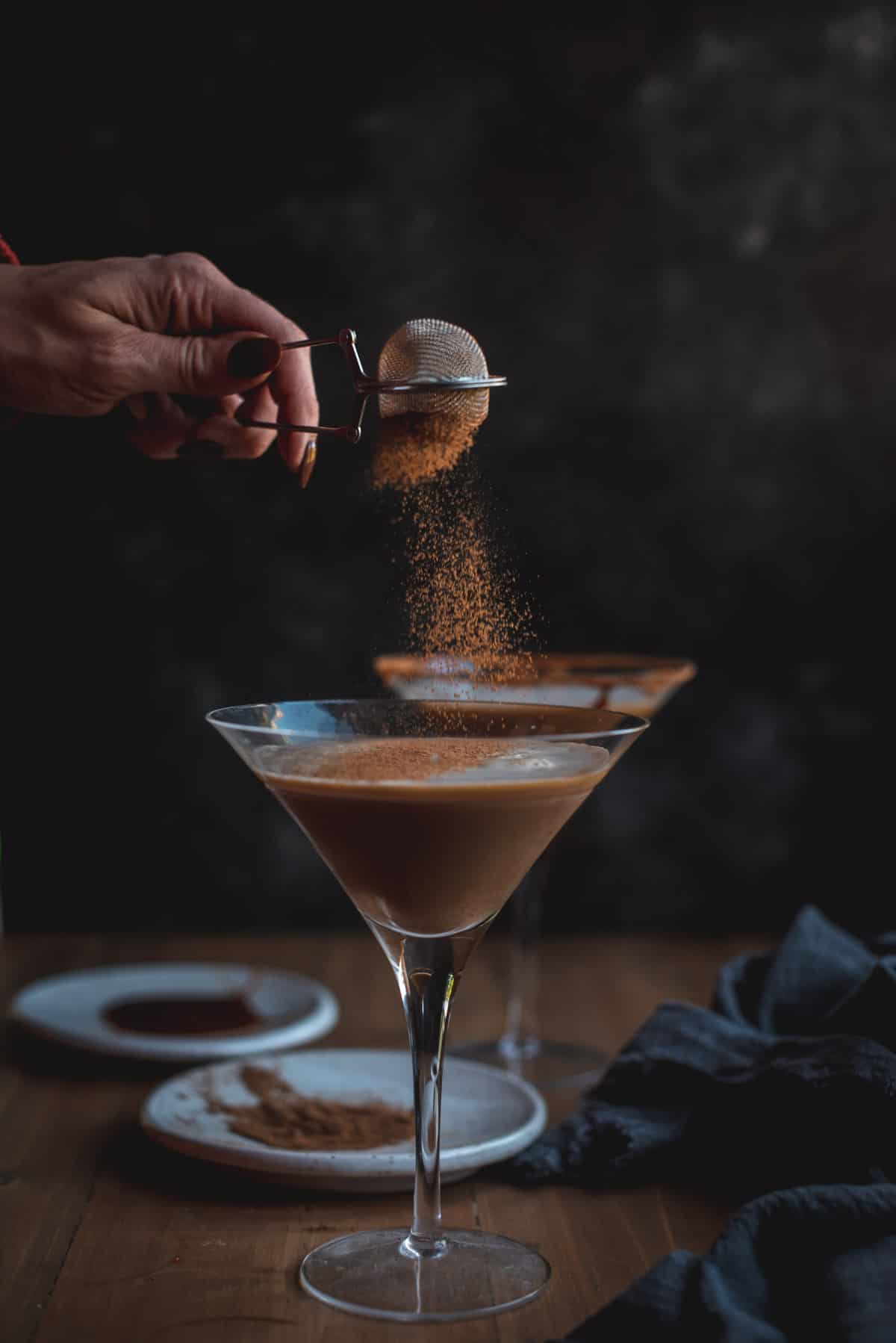 Pumpkin Spice liquor may be a little harder to come by for some, though it's always been readily available in the stores around here. But this is New England, Pumpkin Spice practically replaces our blood once the leaves start to change. Hirram Walker is the brand that is the most attainable. And just look at that little bottle of Frangelico, it's just so cute!
Ingredients and Substitutions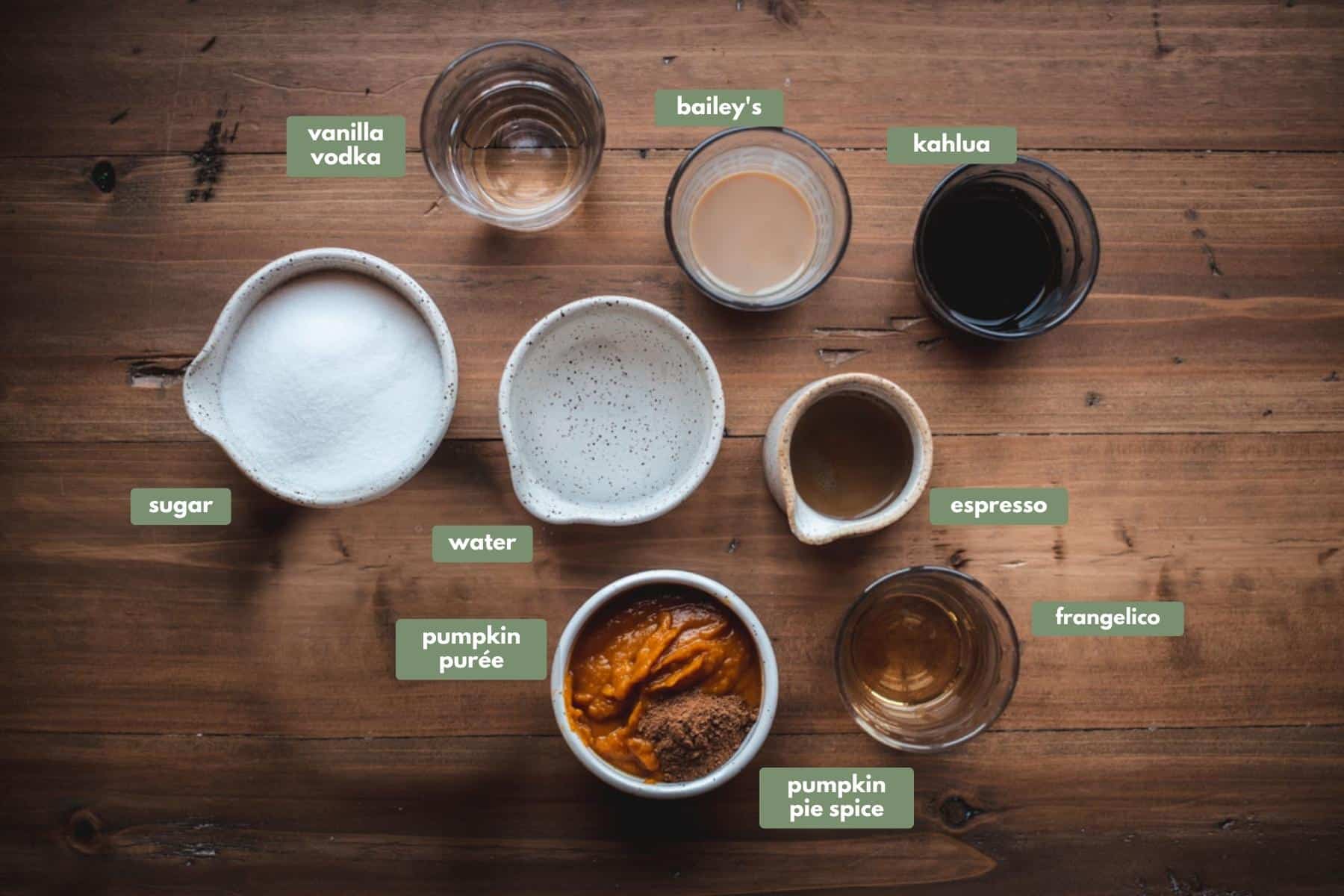 With pumpkin spice running through my veins right now, I can't imagine being anywhere but New England where it is infused into just about anything possible! But, if you can't find pumpkin spice liquor, don't panic - you can definitely still make this using homemade pumpkin spice simple syrup!
If the espresso vodka is hard to come by - or maybe you don't want to splurge on a whole bottle - you can make a mixture with vanilla vodka and real espresso for the same delicious boozy coffee kick!
There is an optional ingredient for this martini, the additional of heavy cream. Without the heavy cream the kick from the vodka will be more apparent, like a typical espresso martini. If your objective is a smooth, dessert-like beverage the addition of just a touch of heavy cream is your path.
How to Make the Best Pumpkin Espresso Martini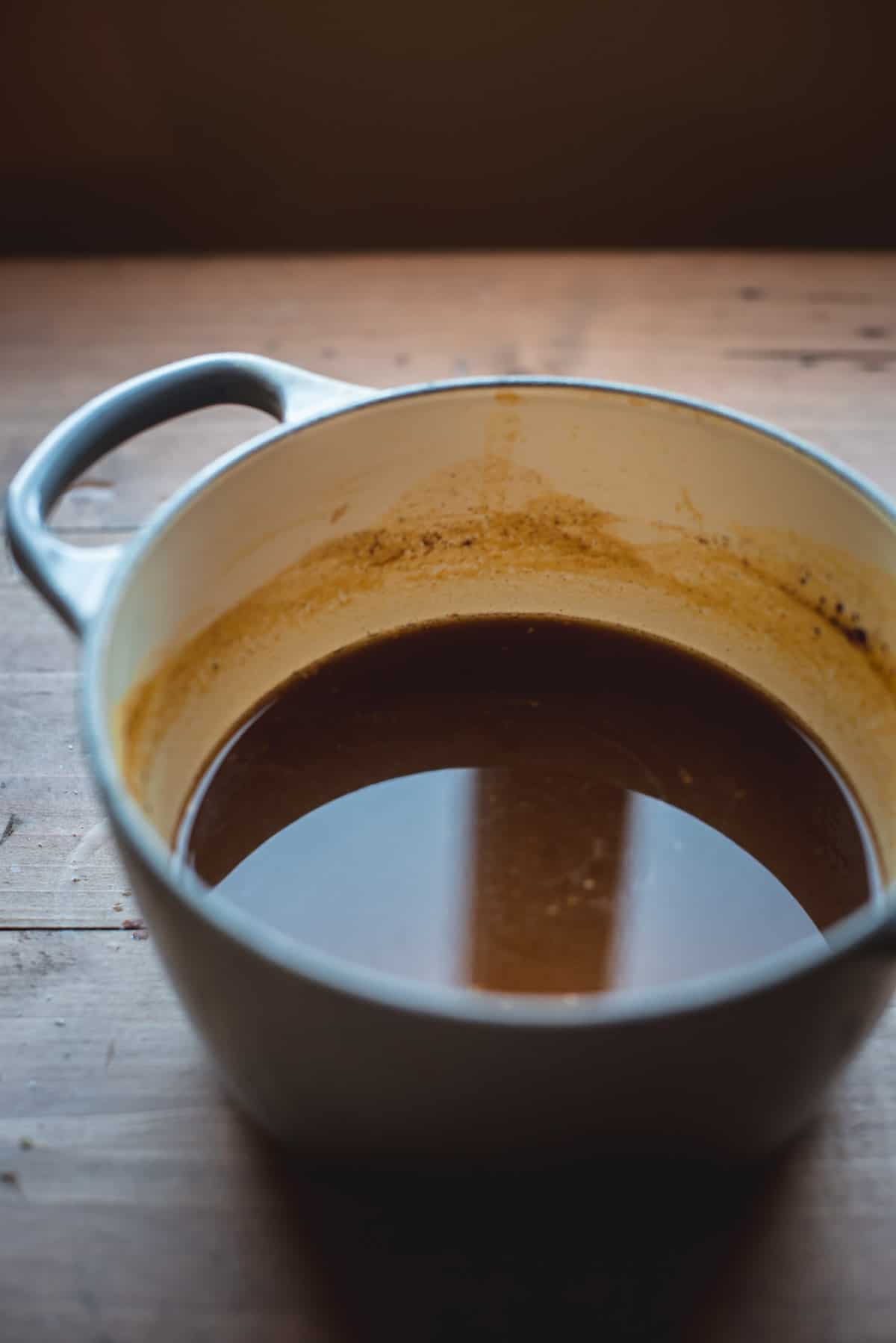 Make the pumpkin spice syrup.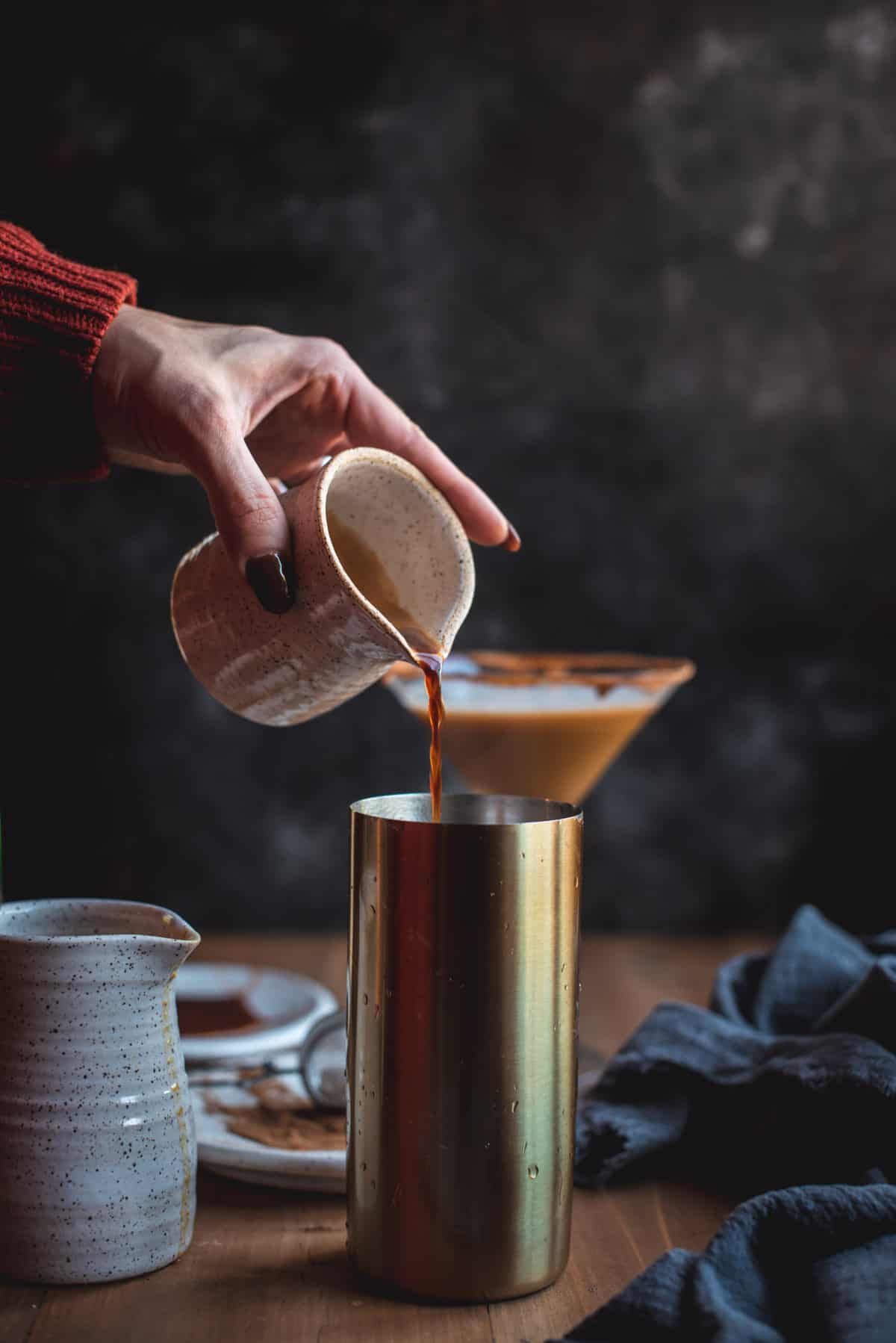 Brew the espresso.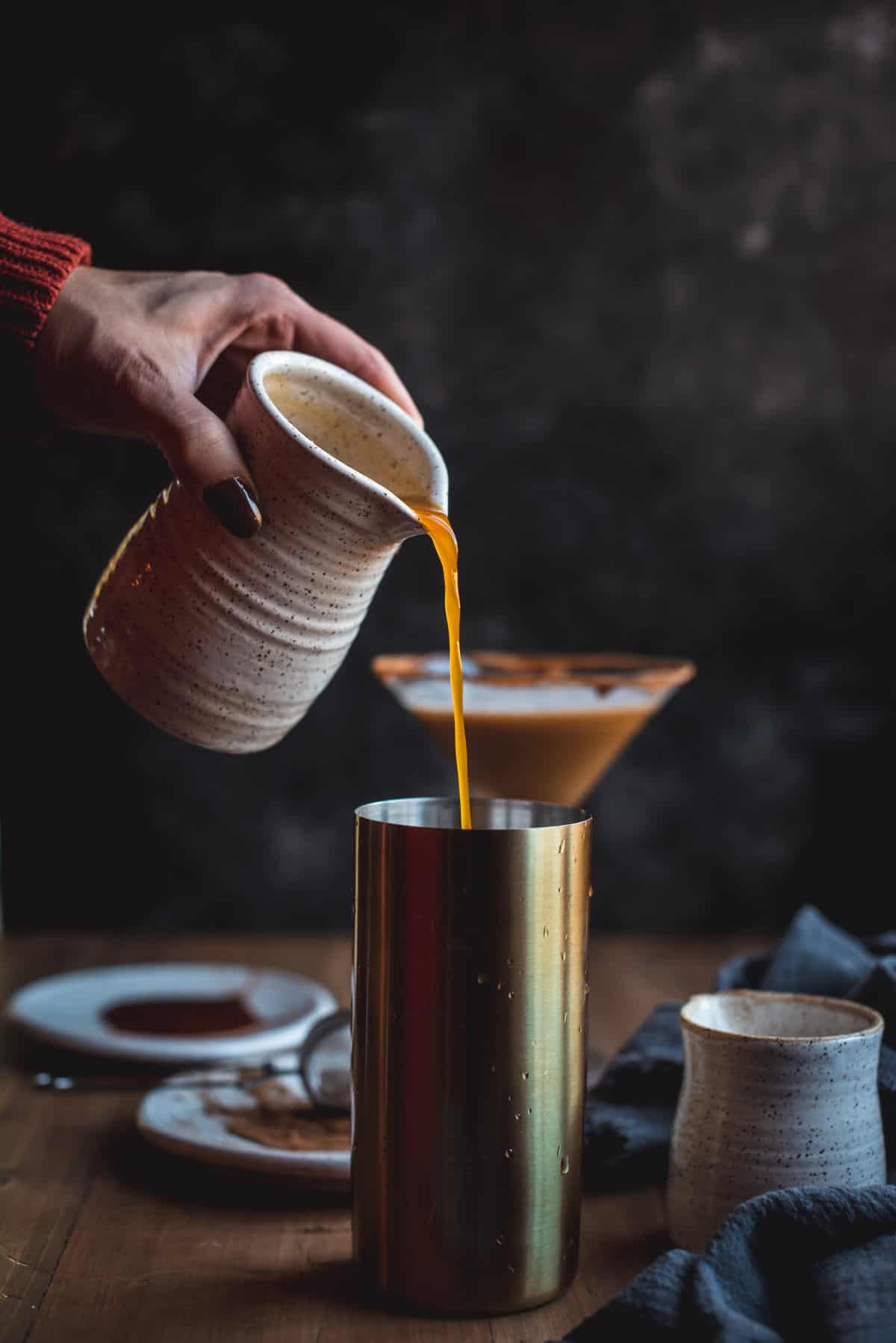 Combine the pumpkin spice syrup, vodka, Kahlua, Baileys, Frangelico and espresso in a martini glass with ice.
Shake vigorously and strain into a martini glass.
FAQs
Can I make this Pumpkin Spice Latte Martini without a cocktail shaker?
Just like Bond, this needs to be shaken, not stirred. So if you don't have a cocktail shaker, grab a big Mason jar or even a spill-proof coffee to-go cup! Anything that you can screw a lid on tightly to and not have any leakage!
Can I make this in advance?
If you want to make this Pumpkin Spice cocktail ahead of time, mix all your ingredients together in a jug or pitcher (minus the cream) when the time comes, pour it over ice in your shaker with the cream and get to work shaking!
How long will this stay fresh for?
I don't recommend keeping it for long after it has been made, I can't tell you any length of time that would be suitable as they have never lasted that long in my company!
Is this like an espresso martini?
Yes - it's my Fall take on a classic. I can't get enough of any pumpkin spice drink throughout Fall (and Winter) so I find a way of putting it in everything!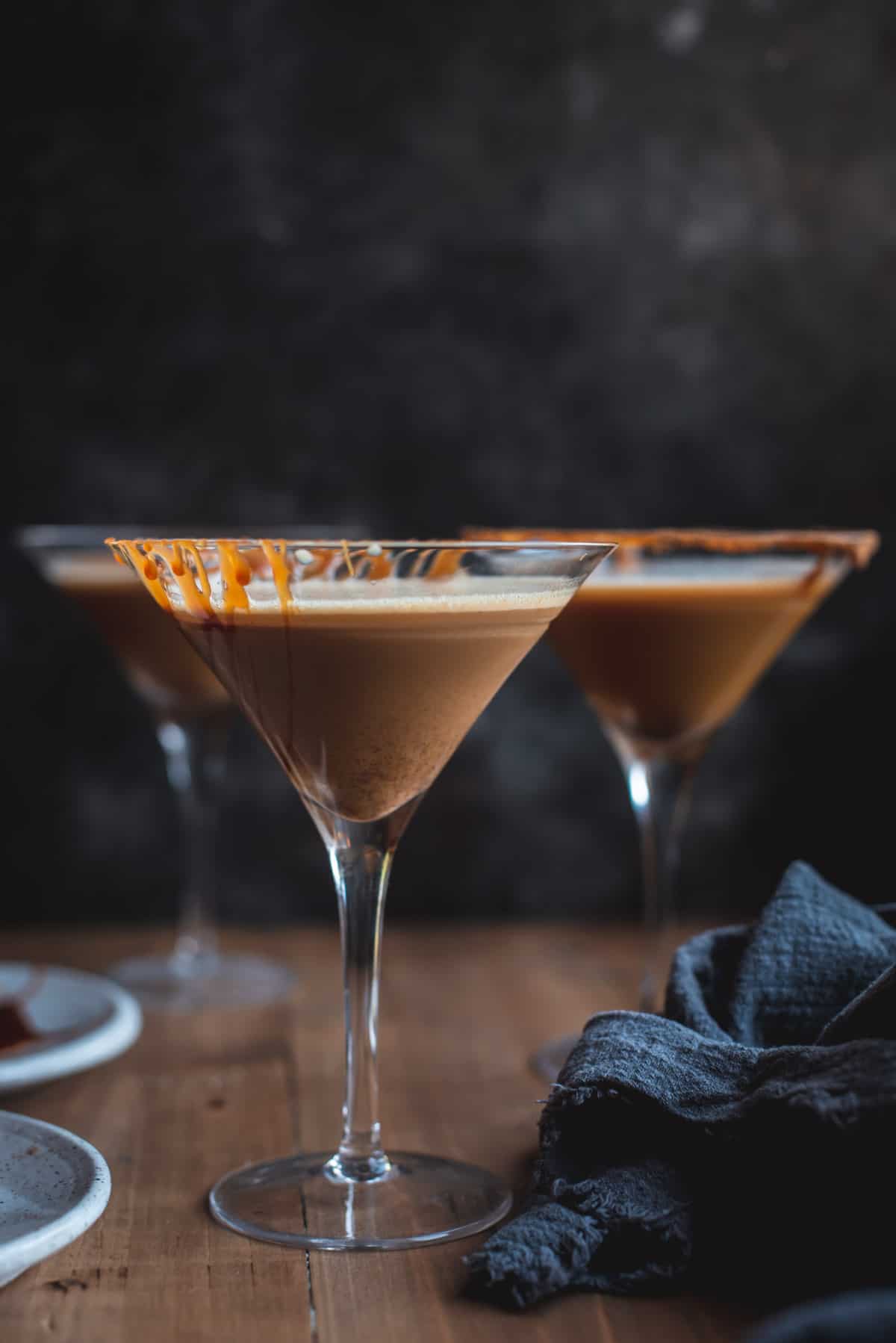 All the Pumpkin Spice
If you're looking to go Pumpkin Spice to the max, whip up these no-refined sugar Pumpkin Spice Blender Pancakes. Pancakes and cocktails? I can get down with that brunch.
Pumpkin spice pita chips with vanilla cream dip are quick to make, can be made ahead, they are the perfect sweet and crunchy appetizer to have on the table for a small get-together. However, I can also confirm they are great for cozying up on the couch with a blanket and Netflix.
If you decide you want to share a sweet treat amongst friends, The Gingered Whisk's Pumpkin Pull Apart Bread with Pecan Cinnamon Streusel is seriously singing the glory of good pumpkin things.
Now, I've got my pumpkin spice latte martini, warm cozy socks and some new posts from some of my favorite bloggers to catch up on. Cheers and happy Fall everyone!
I really hope you enjoyed my twist on the espresso martini and devoured the most delicious Pumpkin Spice Latte Martini! If you tried it then please consider leaving a star rating and comment below! Don't forget to tag @hungerthirstplay when you post on Instagram and Facebook so I can see all your hard work!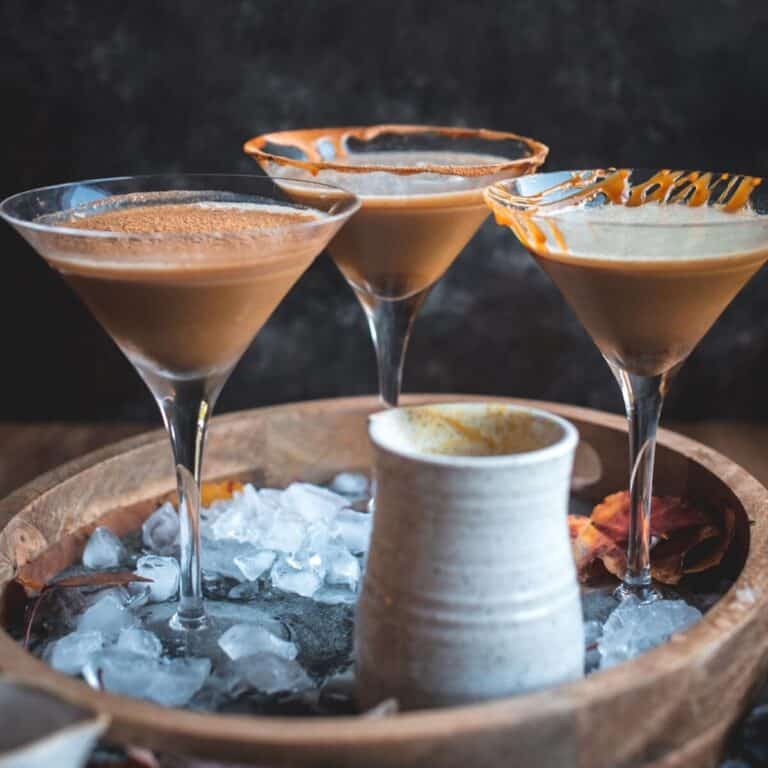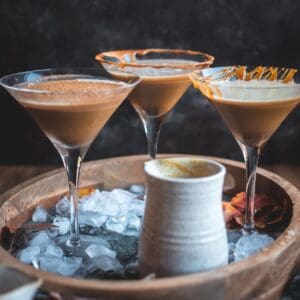 Pumpkin Spice Latte Martini
The sweet pumpkin and cinnamon spice flavors of your favorite latte transformed into a creamy cocktail! An easy way to sip into fall.
Print
Pin
Rate
Ingredients
Pumpkin Spice Latte Martini
2

ounces

pumpkin spice syrup

1

ounce

vanilla vodka

1

ounce

Bailey's

(or any Irish cream liquor)

½

ounce

Kahlua

(or any coffee liquor)

½

ounce

Frangelico

(or any hazelnut liquor)

1½

ounces

fresh brewed espresso

(about 1 shot)
Pumpkin Spice Syrup
1

cup

water

¾

cup

sugar

1

cup

pumpkin puree*

1½

teaspoons

pumpkin pie spice
Cinnamon Rim:
1

teaspoon

granulated sugar

1

teaspoon

ground cinnamon

1

teaspoon

ground nutmeg
Instructions
Pumpkin Spice Syrup
In a medium saucepan, combine the water, pumpkin purée, sugar, and pumpkin pie spice. Stir to combine and bring to just a simmer until the sugar is completely dissolved. Remove from the heat.

1 cup water,

¾ cup sugar,

1 cup pumpkin puree*,

1½ teaspoons pumpkin pie spice
Pumpkin Spice Latte Martini
Combine the pumpkin spice syrup, vanilla vodka, bailey's, kahlua, frangelico, and espresso in a martini shaker.

2 ounces pumpkin spice syrup,

1 ounce vanilla vodka,

1 ounce Bailey's,

½ ounce Kahlua,

½ ounce Frangelico,

1½ ounces fresh brewed espresso

Fill the cocktail shaker with ice, shake vigorously, and strain in rimmed martini glass.
Notes
If you want more espresso martini flavor with just a hint of pumpkin, reduce the pumpkin purée to ¾ cup.
If you have leftover pumpkin spice syrup, mix with a few tablespoons of condensed milk to make your own pumpkin spice coffee creamer!
This recipe was updated October 2022 to include easier to find ingredients. If you loved the original recipe, here it is:

1 ½ ounces Van Gogh Espresso Vodka
1 ounce Bailey's
¾ ounce Hirram Walker Pumpkin Spice Liquor
½ ounce Kahlua
½ ounce Frangelico
1 ounce Heavy Cream (optional)
Nutrition
Calories:
396
kcal
|
Carbohydrates:
56
g
|
Protein:
1
g
|
Fat:
4
g
|
Saturated Fat:
2
g
|
Polyunsaturated Fat:
1
g
|
Cholesterol:
1
mg
|
Sodium:
40
mg
|
Potassium:
85
mg
|
Sugar:
54
g
|
Vitamin C:
1
mg
|
Calcium:
8
mg
|
Iron:
2
mg