Gingerbread cinnamon rolls are a simple one rise yeast dough stuffed with buttery sugar and gingerbread spice, a touch of molasses and tangy cream cheese under thick sweet frosting. If you've never made homemade cinnamon rolls before, this is the recipe to try!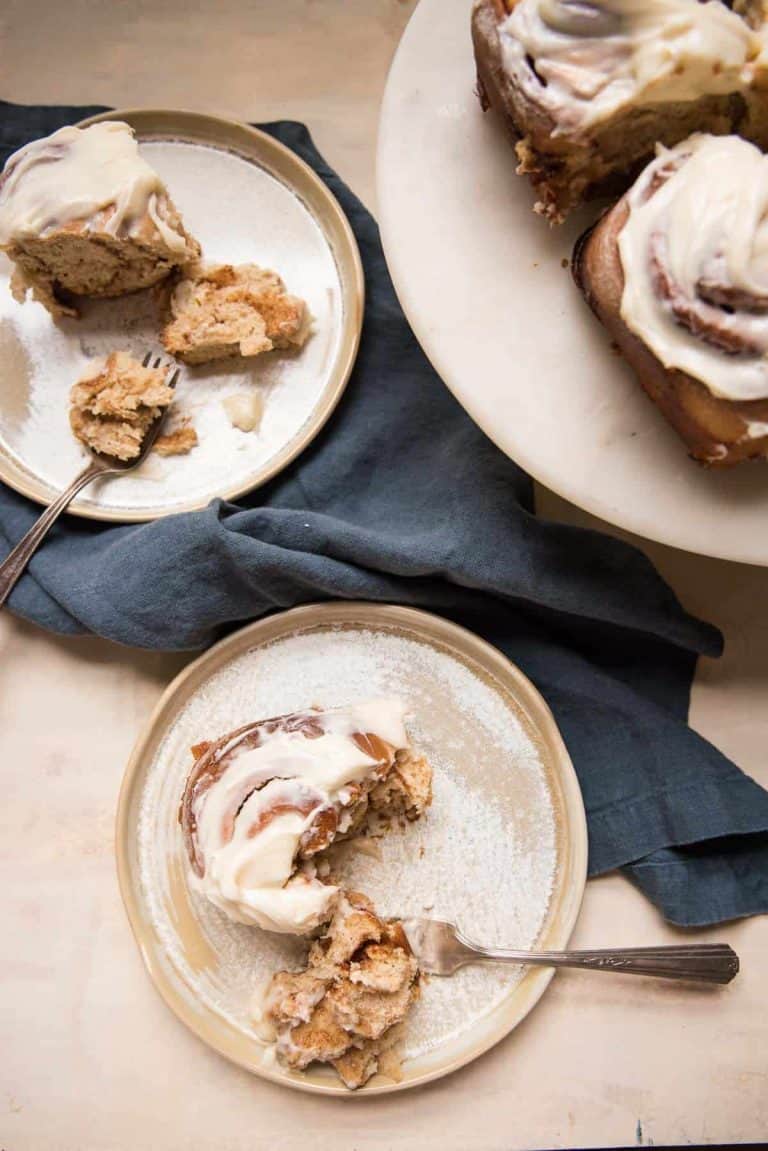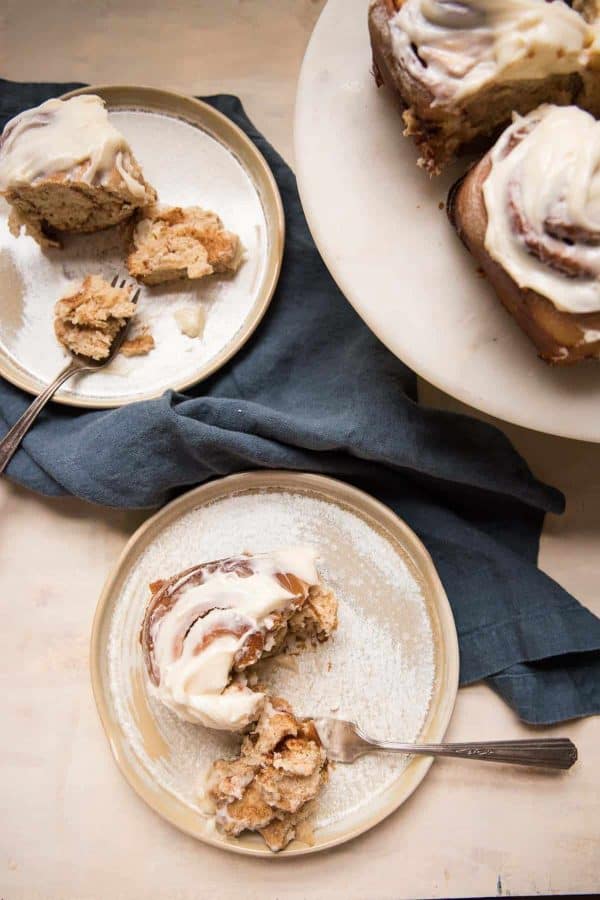 Are the bread sweats a real thing? Because the smell of this dough is seriously everything this December. Warm yeast rising with spicy ginger and sweet cinnamon all stuffed with tangy cream cheese and rich butter. Forget the presents, I'll be looking for these on Christmas morning.
These gingerbread rolls are perfect for first time cinnamon roll makers. Yeast doughs can be a little intimidating if you've never done it before - the kneading, the resting, the proofing. But these beauties in particular are going to require just one rise and there's a trick I'm going to show you to make that rise happen even faster.
Hold on to your spatulas, making dough is about to get sweetly easy.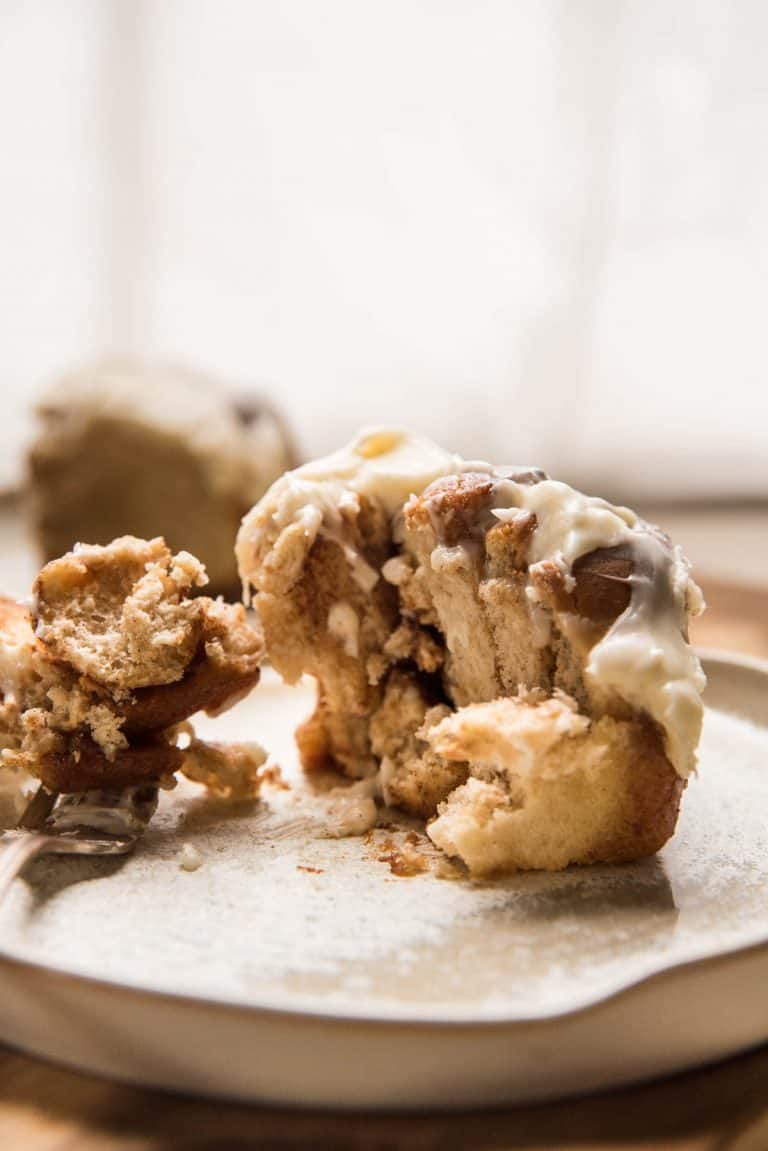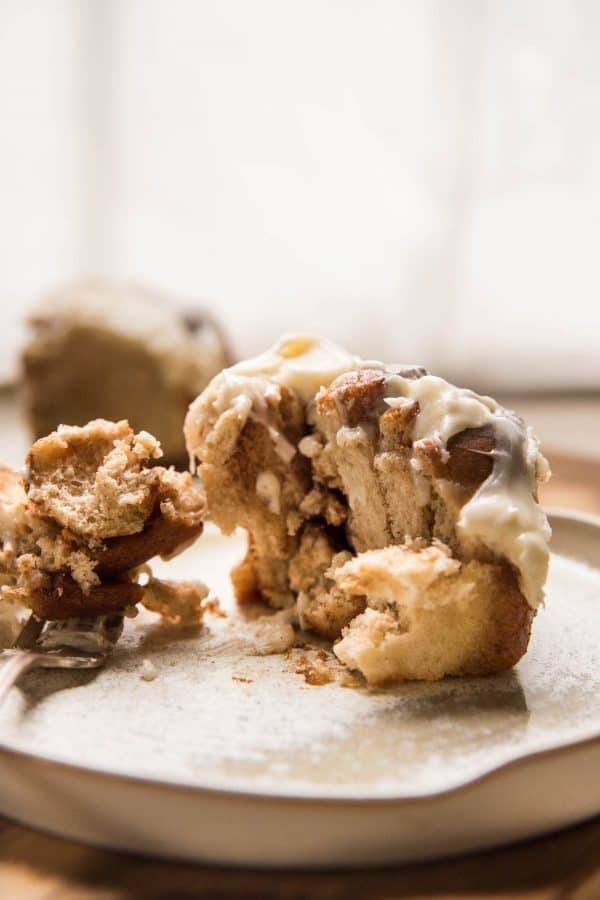 How to make cinnamon roll dough
WHY DOES TEMPERATURE MATTER WHEN MAKING DOUGH?
The most important thing to know about making dough for cinnamon rolls - or really any yeast based dough - is making sure your liquid is the right temperature. Whether it's just water or a combination of fat, milk and water like we use here, the liquid should be at least 100°F but not exceed 110°F.
Yeast is part of the fungi family and giving it the right amount of heat will help it to bloom. It it's too hot, it kills the yeast. If it's too cold, the yeast won't thrive. (Very dramatic of it, but we can't all be easy going I suppose.)
The best way to make sure your starter liquid is the right temperature is just to use a thermometer. You can clip a candy thermometer onto the side of the pan while it steams or just stick a digital thermometer into the liquid and test it.
DO I HAVE TO KNEAD CINNAMON ROLL DOUGH?
YES! Kneading the dough helps develop the gluten which gives you soft and flaky cinnamon rolls.
You can either do this in the standing mixer (my personal method) but just keep an eye on the mixer as the dough pulls away from the bowl. The more traditional route is to knead it on a lightly floured surface with your hands. Either way you want to knead the dough for about 4 minutes. It should be shiny, smooth and elastic when you're done.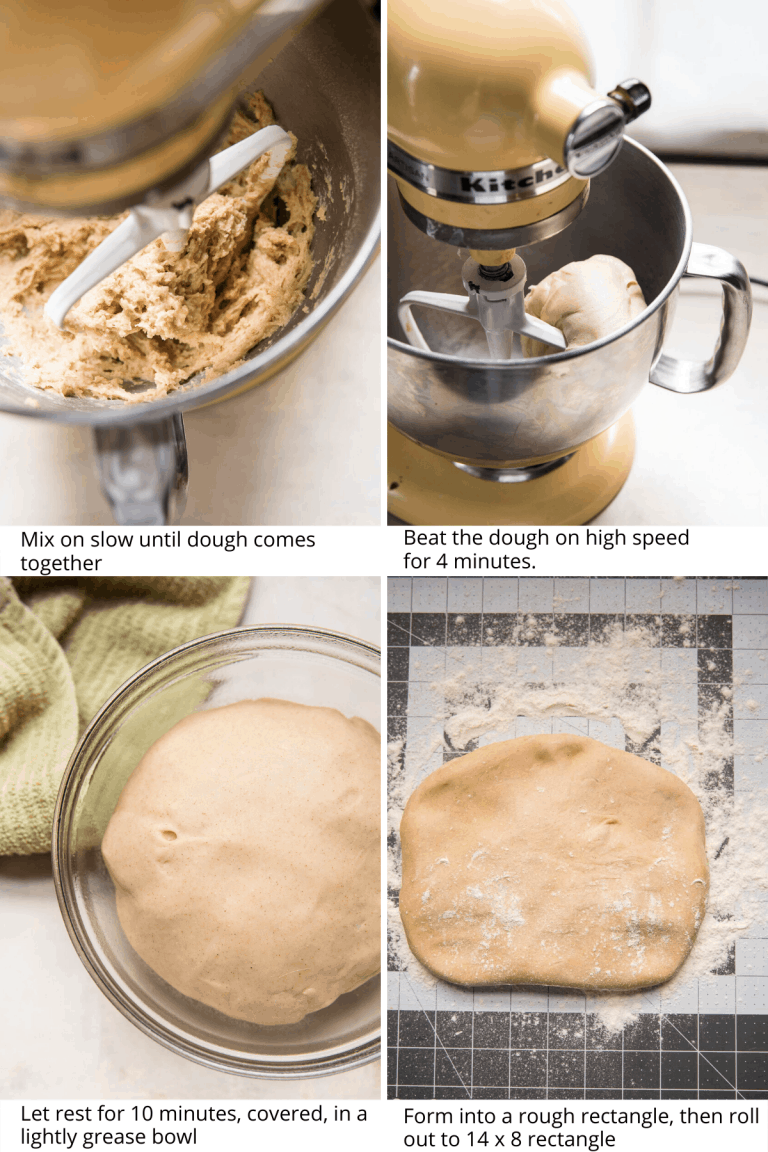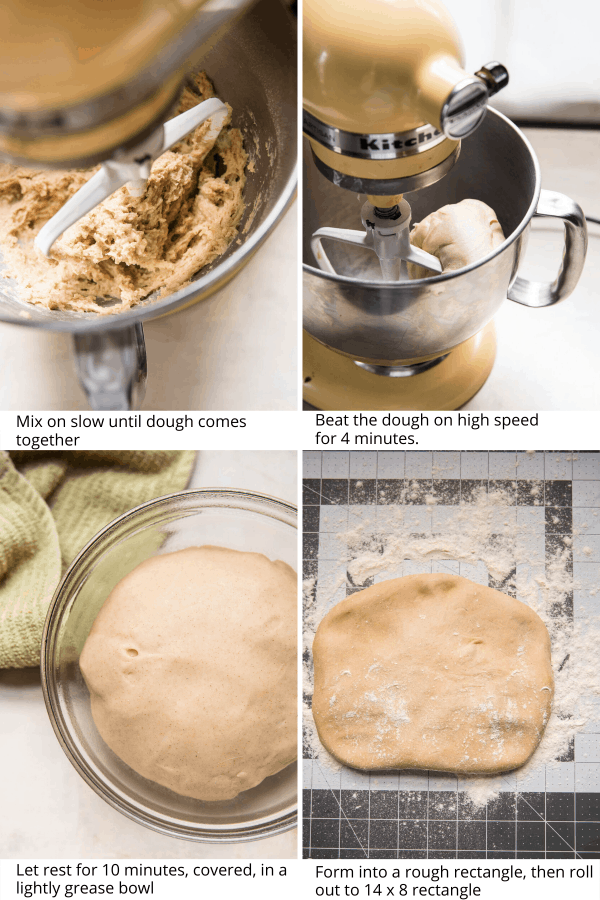 GIVE IT A REST WILL YA!
Well you just beat it up for 4 minutes, any one would need a rest. Jokes aside, let the dough rest in a lightly greased bowl, covered, before shaping the rolls. This again helps develop the gluten leading to soft and flaky dough
SHAPE AND ROLL
Take the dough out of the bowl and form it into a rough rectangular shape with your hands. On a lightly floured surface, sprinkle the dough with a little flour and roll into a 14 x 8 rectangle. My favorite 'trick' is to do this on a quilting mat. It has a grid printed on it and being able to just rinse the flour off the mat makes for quick clean up.
Once the dough is rolled out, brush with butter and molasses and sprinkle with sugar and spice mixture. Roll it from bottom to top the long way so the roll is 14 inches long. Cut into roughly 1 ½ to 2 inch rolls with a serrated knife.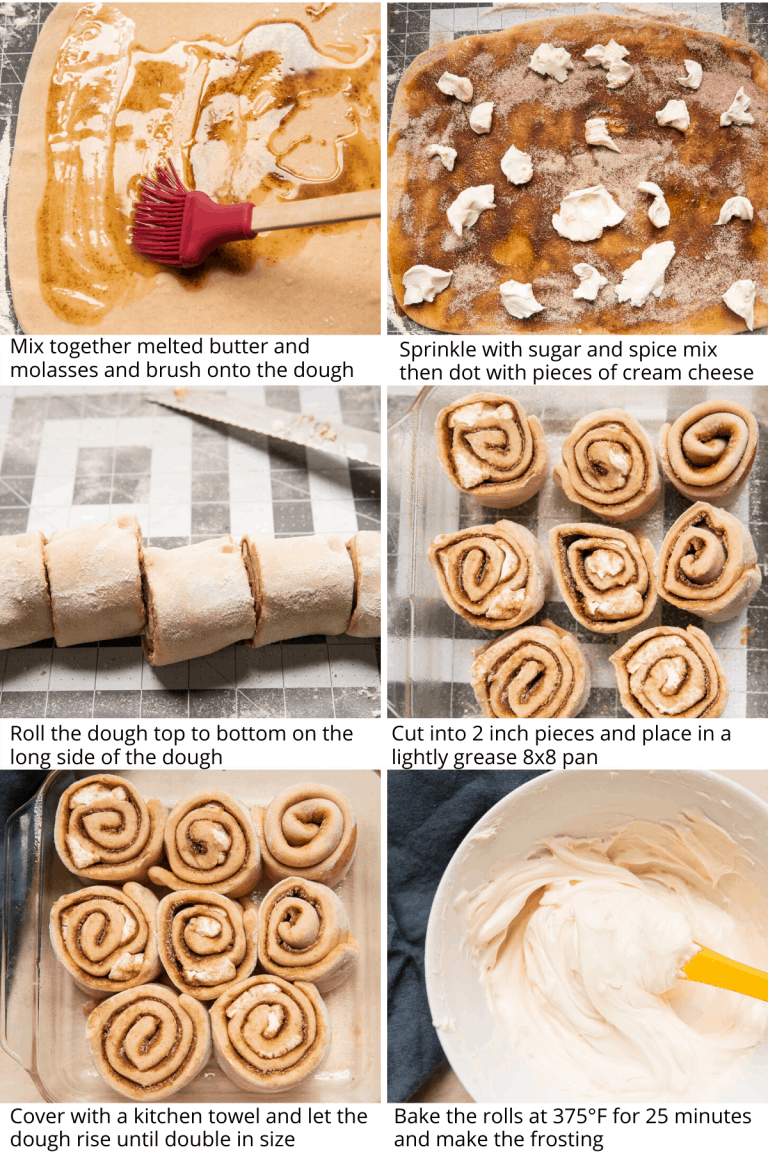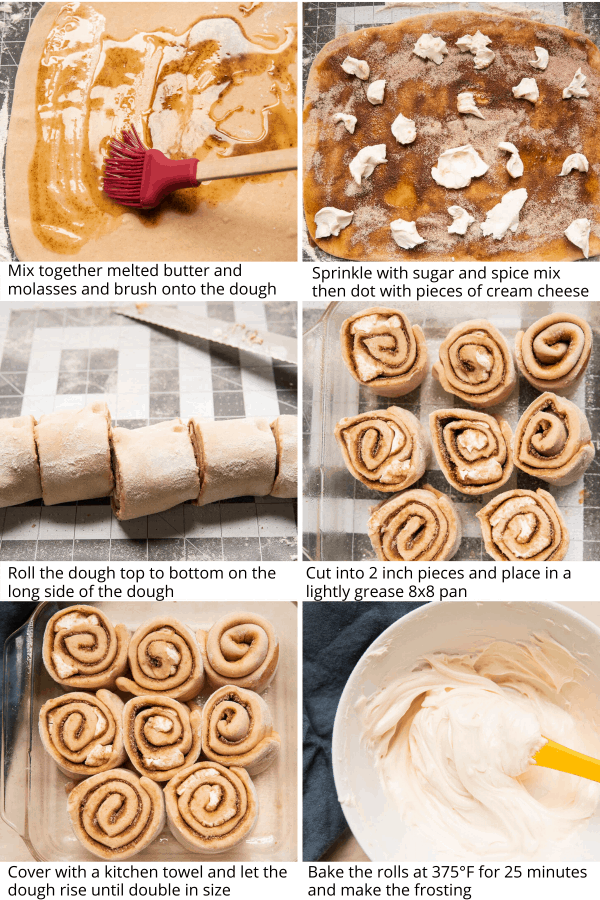 Letting your gingerbread cinnamon rolls rise
After making the rolls, they need to rise before baking. There are two methods for doing this. One involves more steps but is faster. The other is less steps but takes longer.
200 DEGREE OVEN METHOD
Before cutting the rolls, preheat the oven to 200°F. Once your gingerbread cinnamon rolls are cut and placed in a lightly grease baking dish cover them with loose plastic wrap or a clean kitchen towel. Place the pan in the oven, shut off the heat and leave the door cracked.
This method forces a warm environment for increasing the speed of the rise - you're looking for double in size. I usually drape a kitchen towel over the door to help keep it cracked open and the rolls are ready to baking in about 45 minutes.
The only down side to this method is you need to remove the pan and preheat the oven to 375°F before baking the rolls.
SIMPLE RISE METHOD
Cover the baking dish and let it rise in a warm environment for 60 to 90 minutes. When using this method my trick is to place the baking dish on top of the stove while the oven preheats because that's the warmest place in the house.
Gooey Creamy Gingerbread Cinnamon Rolls
So not only are these holiday themed rolls stuffed with tangy creamy cheese, but they're going to live under a blanket of sweet, thick cream cheese frosting.
The fact that this can even be considered a breakfast food makes this world we live in a really great one.
Once the rolls are done baking, let them cool about 5 minutes before frosting. The frosting will still get a little melty, but not run all over the gingerbread rolls.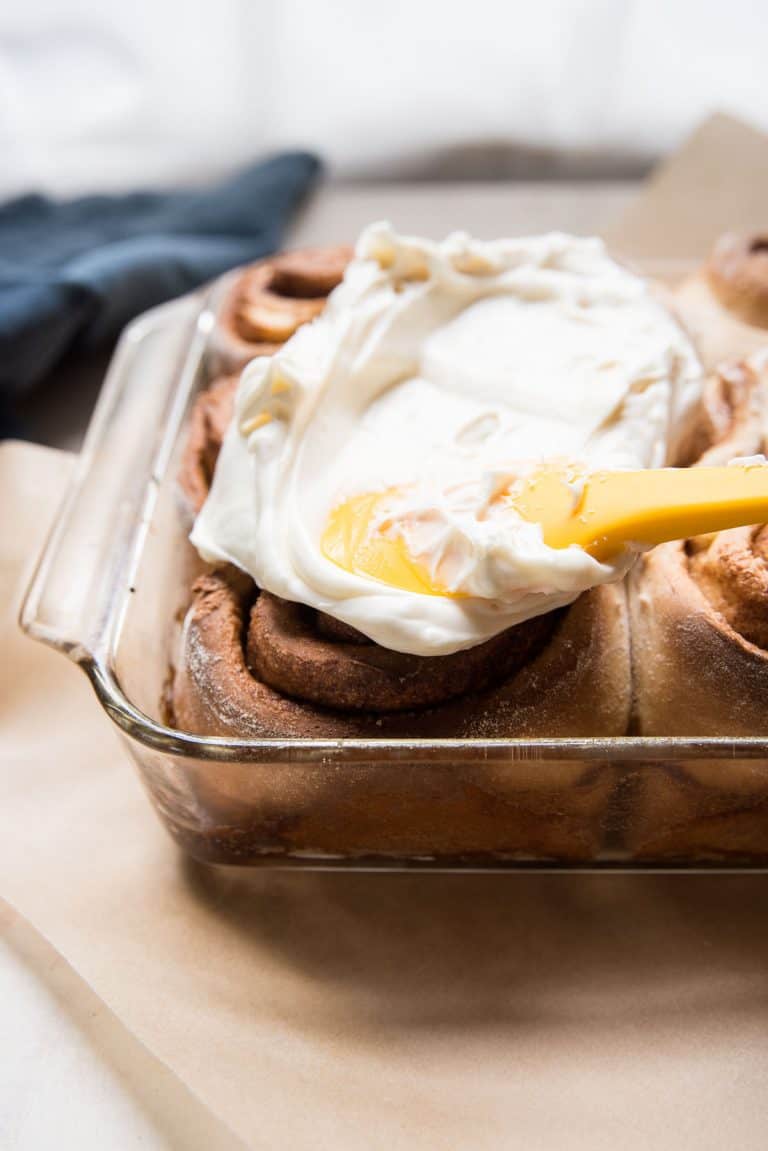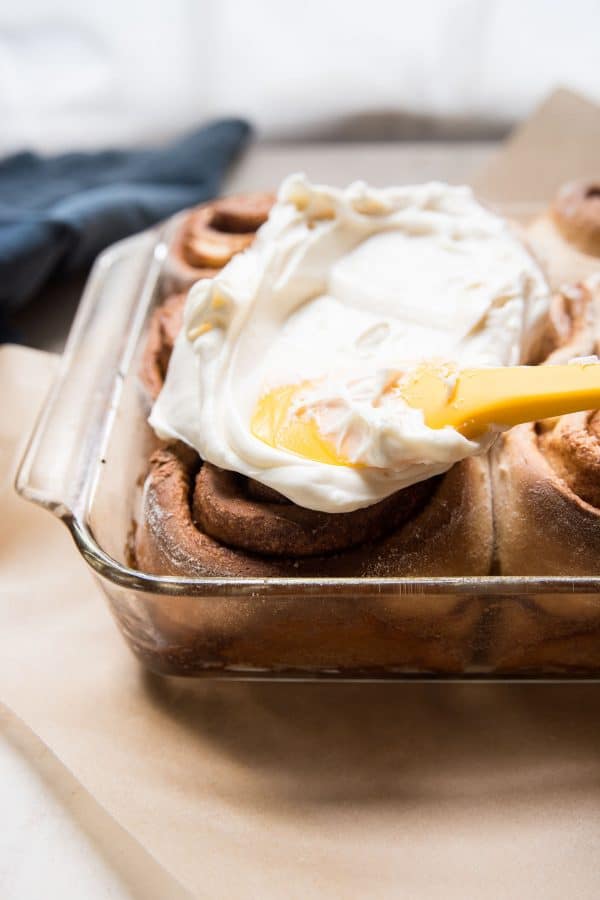 This pan of flaky gingerbread perfection travels with ease to your holiday get together, makes a great companion to the Christmas dinner or try baking them up on Christmas morning.
You've got this yeast dough thing in the bag - or in the oven I suppose. If you're looking at expanding your yeast dough cinnamon roll game, try this tiramisu twist. For your next pasta night, we love serving this savory roll version! It's full of herbs and lots of cheese, bless.
If you have any questions about this recipe or others, leave a comment below or for the fastest response reach out through Instagram. Be sure to tag @hungerthirstplay and #gingerbreadweek on all your gingerbread deliciousness!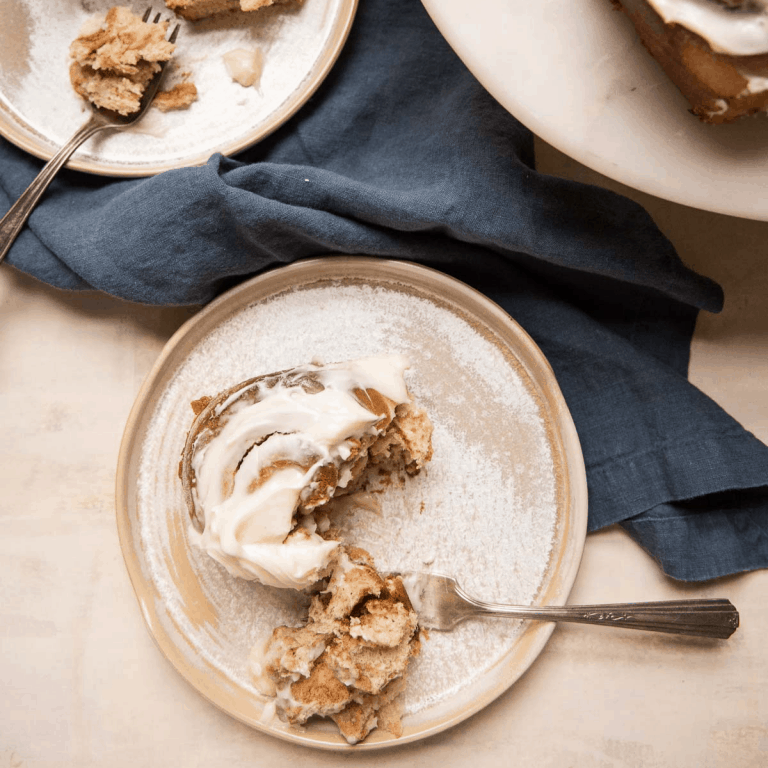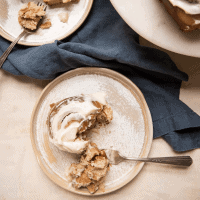 Gooey Gingerbread Cinnamon Rolls
Simple and quick! No need to be scared of this one rise yeast dough. A holiday spin on a classic, gingerbread cinnamon rolls are stuffed with gooey cream cheese and topped with creamy frosting.
Print
Pin
Rate
Ingredients
dough
3

tablespoons

unsalted butter

½

cup

milk

¼

cup

water

2 ¾

cup

all purpose flour

¼

cup

granulated sugar

1

teaspoon

salt

2 ¼

teaspoon

instant yeast

(1 packet)

½

teaspoon

ground cinnamon

¼

teaspoon

ground ginger

1

egg
filling
3

tablespoons

butter

1

tablespoon

molasses

½

cup

granulated sugar

1

tablespoon

cinnamon

½

teaspoon

ginger

4

ounces

cream cheese

(softened)
Frosting
4

ounces

cream cheese

(softened)

¾

cup

confectioners sugar

1

teaspoon

vanilla extract
Instructions
Make the dough: In a medium bowl, whisk together the flour, sugar, salt, yeast, cinnamon and ginger. Set aside.

In a small saucepan, melt the butter over low heat. Add the milk and water and heat to 110°F. When the milk mixture comes to temperature, transfer to a large bowl or standing mixer. Mix in 1 egg on low speed.

Mix in the dry ingredients on low speed until the dough comes together, about 1 minute. Increase speed to medium-high and beat the dough for 4 minutes until the dough completely pulls away from the sides of the bowl. If you're not using a standing mixer, turn the dough out onto a lightly floured surface and knead for 4 minutes.

Once the dough is smooth and shiny, transfer it to a lightly greased bowl and cover it with plastic wrap or a kitchen towel and let rest for 10 minutes.

Shape the dough: Preheat the dough to 200°F. Turn the dough out onto a lightly floured surface. Shape into a rectangle, sprinkle the top lightly with flour and roll out to 14 x 8 piece.

Make the rolls: In a small bowl, combine the melted butter and molasses. Combine the sugar, cinnamon, and ginger in another bowl. Brush the melted butter and molasses over the dough then sprinkle with all of the sugar mixture. Using your fingers, break off pieces of the cream cheese and dot the dough.

Roll the dough from bottom to top using the longer side. Cut into 2 inch rolls and place in a lightly greased 8x8 pan or 9-inch round pan.

Cover with plastic wrap or a kitchen towel and place in the preheated oven. Shut the heat off and crack the oven door see notes. Let rise 45 to 60 minutes or until double in size. Remove from the pan from oven and preheat oven to 375°F.

Remove the plastic wrap or kitchen towel. Bake the rolls at 375°F for 18 minutes, cover with aluminum foil and bake for 7 to 10 minutes. Let cool for 5 minutes before frosting.

Make the frosting: In a small bowl, whisk together the cream cheese, confectioners sugar and vanilla. For a thinner frosting, add 1 to 2 tablespoons heavy cream. Once the frosting is mixed, spread over the rolls while they are still in the pan.
Notes
Alternatively to proofing the rolls in the oven with the door cracked, you can just place them in a warm area covered with plastic wrap or a kitchen towel. They may take from 60 to 90 minutes to rise until double in size. If using the low temp oven method for the rise, I find draping a thick kitchen towel over the door after turning off the heat helps keep the oven cracked if anyone tries to close it.
My favorite 'trick' for rolling out the dough is using a quilting mat. It has a grid printed on it and being able to just rinse the flour off the mat makes for quick clean up.
Cover rolls in between servings. Unrefrigerated rolls will last up to 3 day and refrigerated rolls will keep up to 5 days.
Nutrition
Calories:
451
kcal
|
Carbohydrates:
69
g
|
Protein:
9
g
|
Fat:
16
g
|
Saturated Fat:
9
g
|
Trans Fat:
1
g
|
Cholesterol:
65
mg
|
Sodium:
407
mg
|
Potassium:
198
mg
|
Fiber:
3
g
|
Sugar:
34
g
|
Vitamin A:
579
IU
|
Vitamin C:
1
mg
|
Calcium:
81
mg
|
Iron:
3
mg