Everyone needs a back pocket recipe right? Well, this is mine. I certainly won't deny that I use jar pasta sauce, but this easy homemade pasta sauce is so easy and so quick, there's really no reason not to have a sauce that tastes like it's been simmering all day.
Bold tomato flavor blended with the perfect amount of garlic and spices with a little wine and olive oil make this quick and 7-ingredients pasta sauce better than store bought.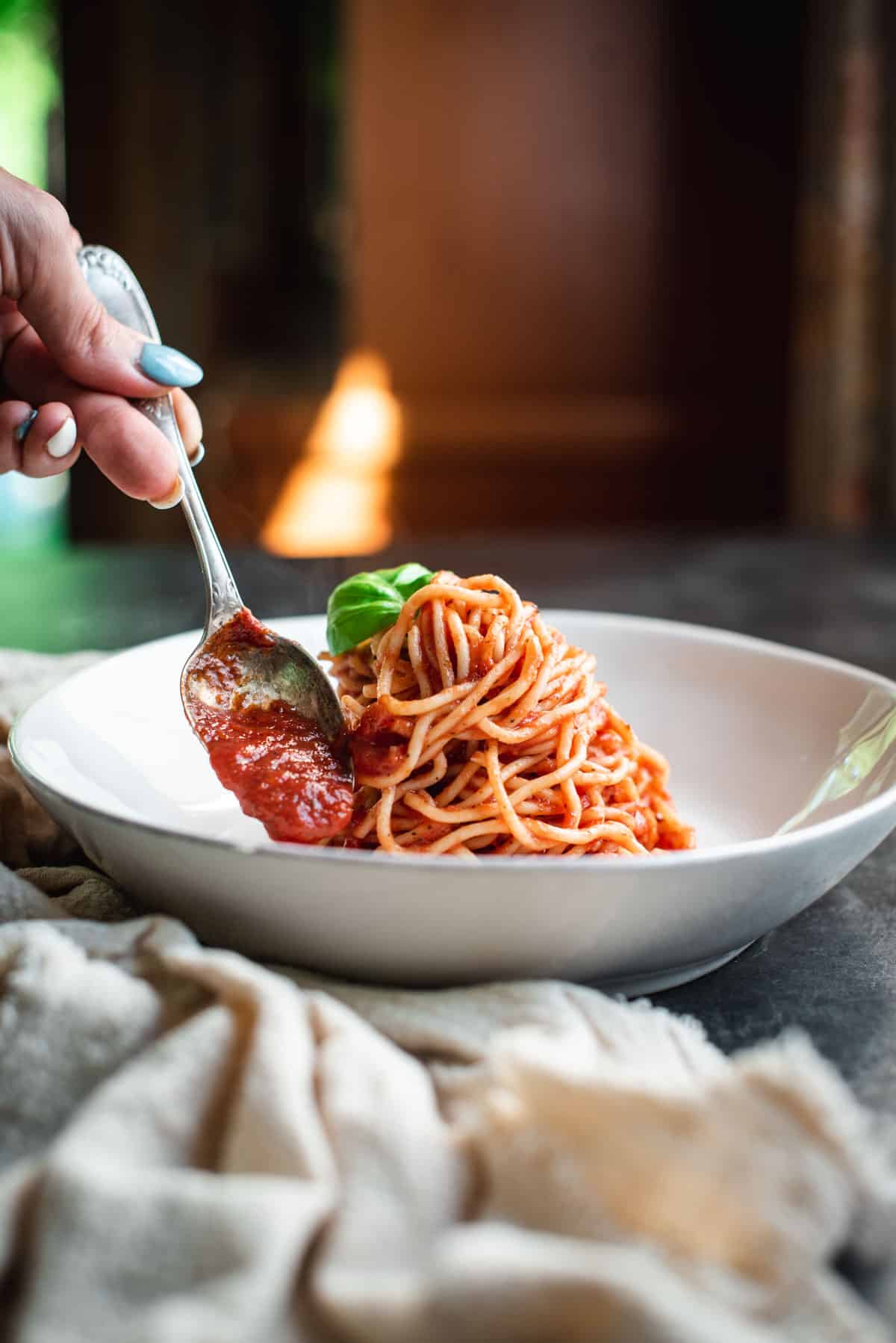 This recipe evokes quite a bit of nostalgia for me. My mom was never a huge fan of buying jarred tomato sauce, but we always had the ingredients for making this in the pantry!
We always had the best homemade pasta sauce growing up without the all-day effort of steaming, peeling, or roasting the tomatoes. And while I am a die hard fan for Rao's Marinara, I love this recipe to use in traditional Italian dishes like braciole and lasagna.
This recipe does use canned tomato sauce in order to save the hassle of peeling and hand crushing tomatoes. We
Why I Love This Easy Spaghetti Sauce Recipe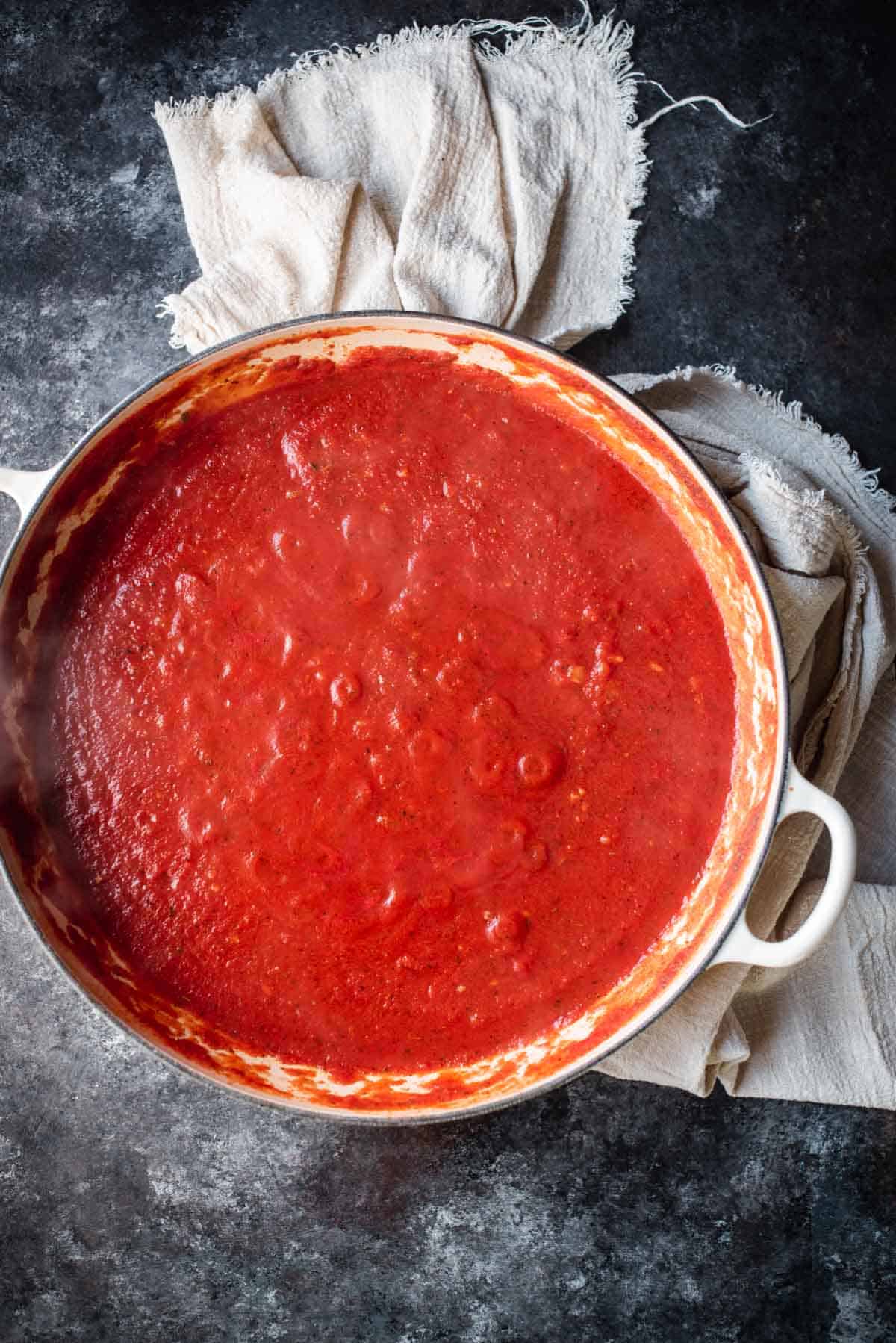 My favorite thing to do with this recipe is to make big batches of it, can or freeze it, and store it in my pantry. Using the 3 ½ cup mason jars is perfect - it's just enough to add to bolognese, amatriciana, or just a plain pound of pasta.
Perfect for hot or late nights when you don't want to order take out but also want minimal effort (and mess) in regard to cooking dinner.
Using this easy homemade pasta sauce goes beyond pasta as well - zucchini noodles, sautéed peppers, onions and sausage, spaghetti squash. Yum!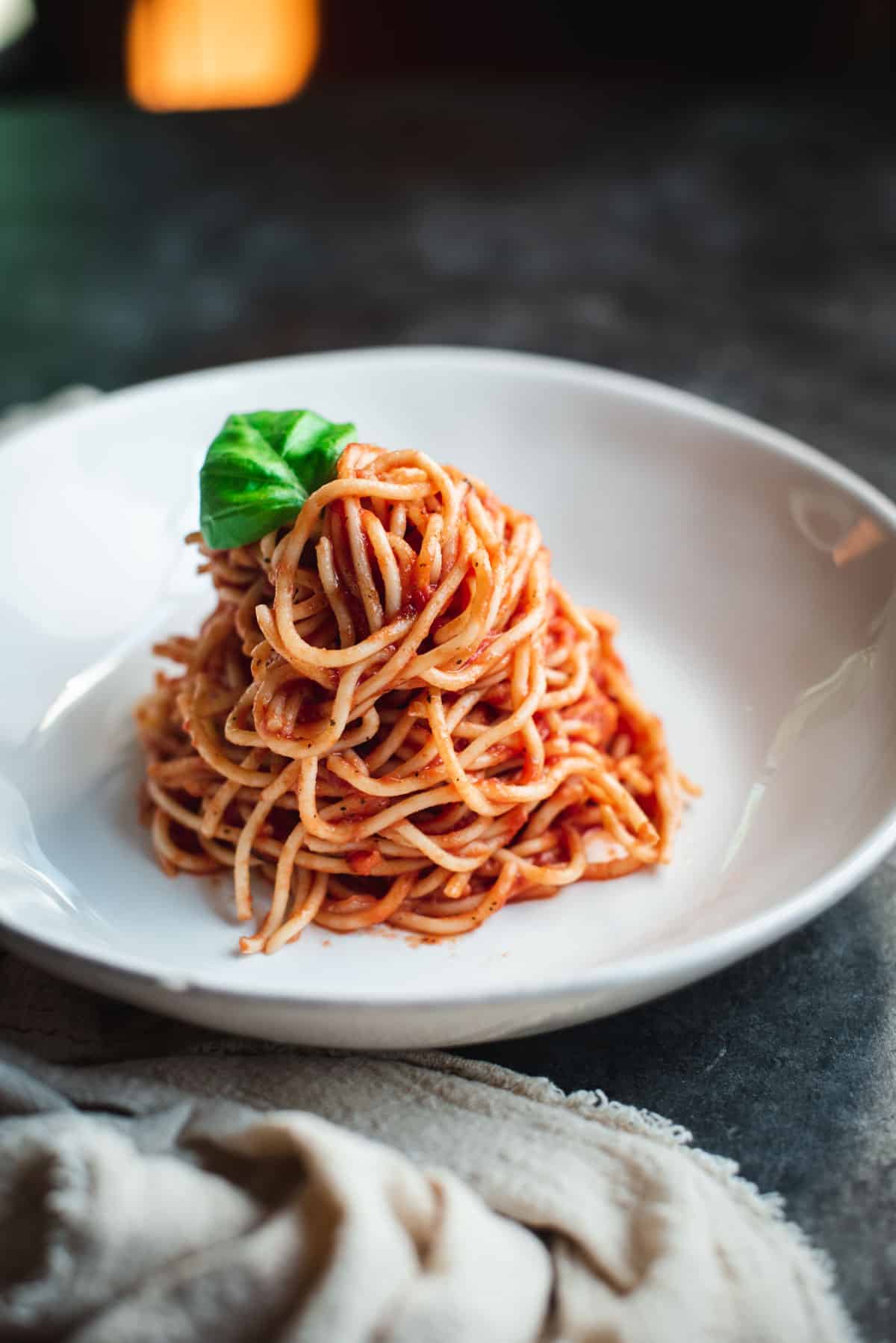 What is canned tomato sauce?
So many different types of tomatoes, so little time! Canned tomato sauce is pureed, unseasoned tomatoes that have been cooked. It is not as sweet nor as thick as tomato paste.
Ingredients for Easy Homemade Pasta Sauce
You're just a few quick steps to stocking up your pantry with an easy, go-to meal!

If going the traditional route, you could definitely replace the Italian seasoning with fresh herbs like basil and oregano. It's a personal preference of both convenience and taste for me.
For the canned tomato sauce, the choices can be a bit daunting. I always buy the sauced tomatoes in a can. You can also substitute a can of crushed tomatoes, diced tomatoes, or san marzano tomatoes (and hand crush them like in my Pomodoro recipe) for one of the cans of tomato sauce.
If you really to up the anté with this, you can roast fresh tomatoes in the oven at 350°F for about 25 to 35 minutes, and purée in a blender.
How to Make Homemade Pasta Sauce from Scratch
You are only a few simple steps from having your own quick homemade pasta sauce.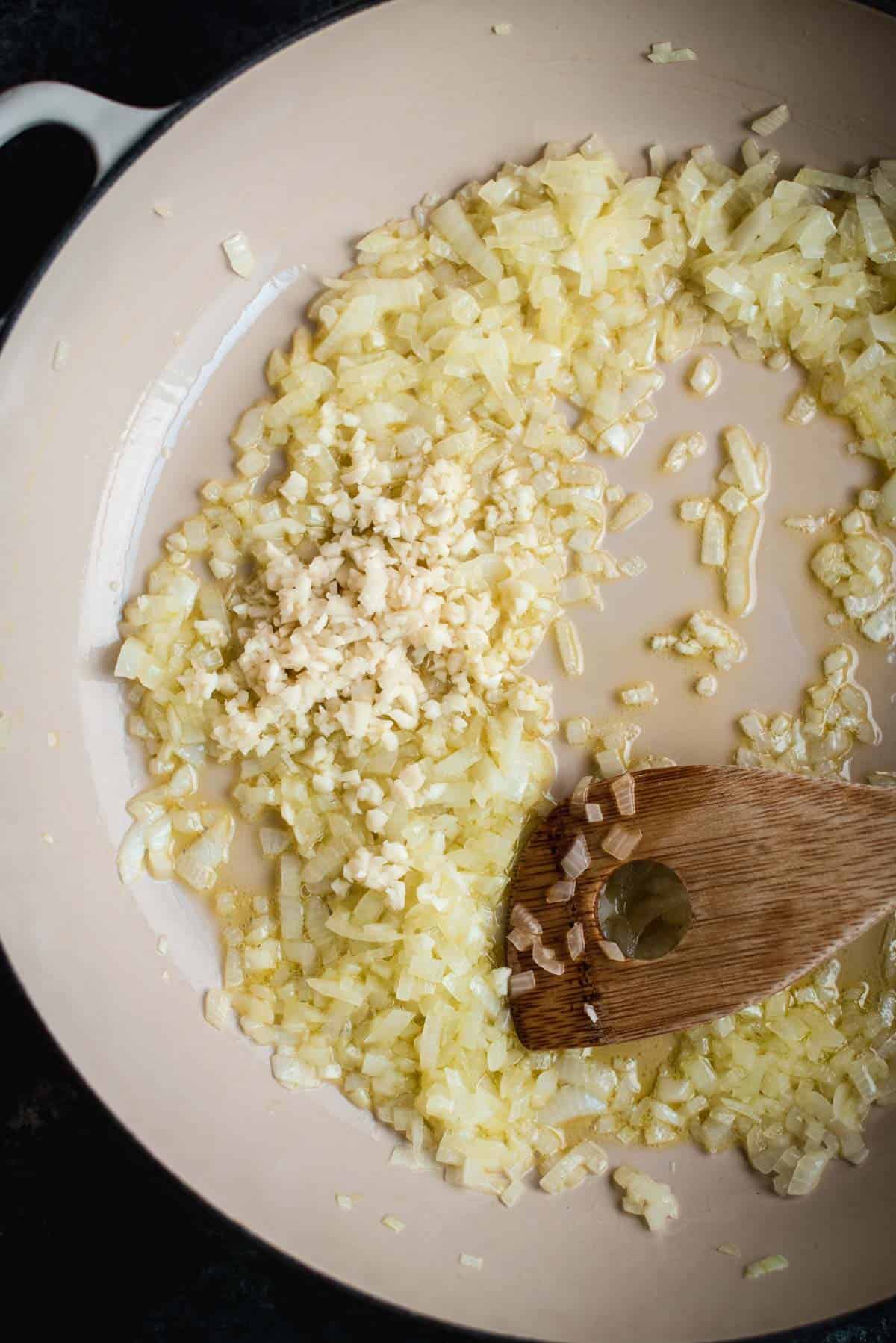 In a large heavy bottom pot or a large deep sided pan, heat the olive oil on medium heat. Sauté onions until translucent. Add the garlic and cook until fragrant.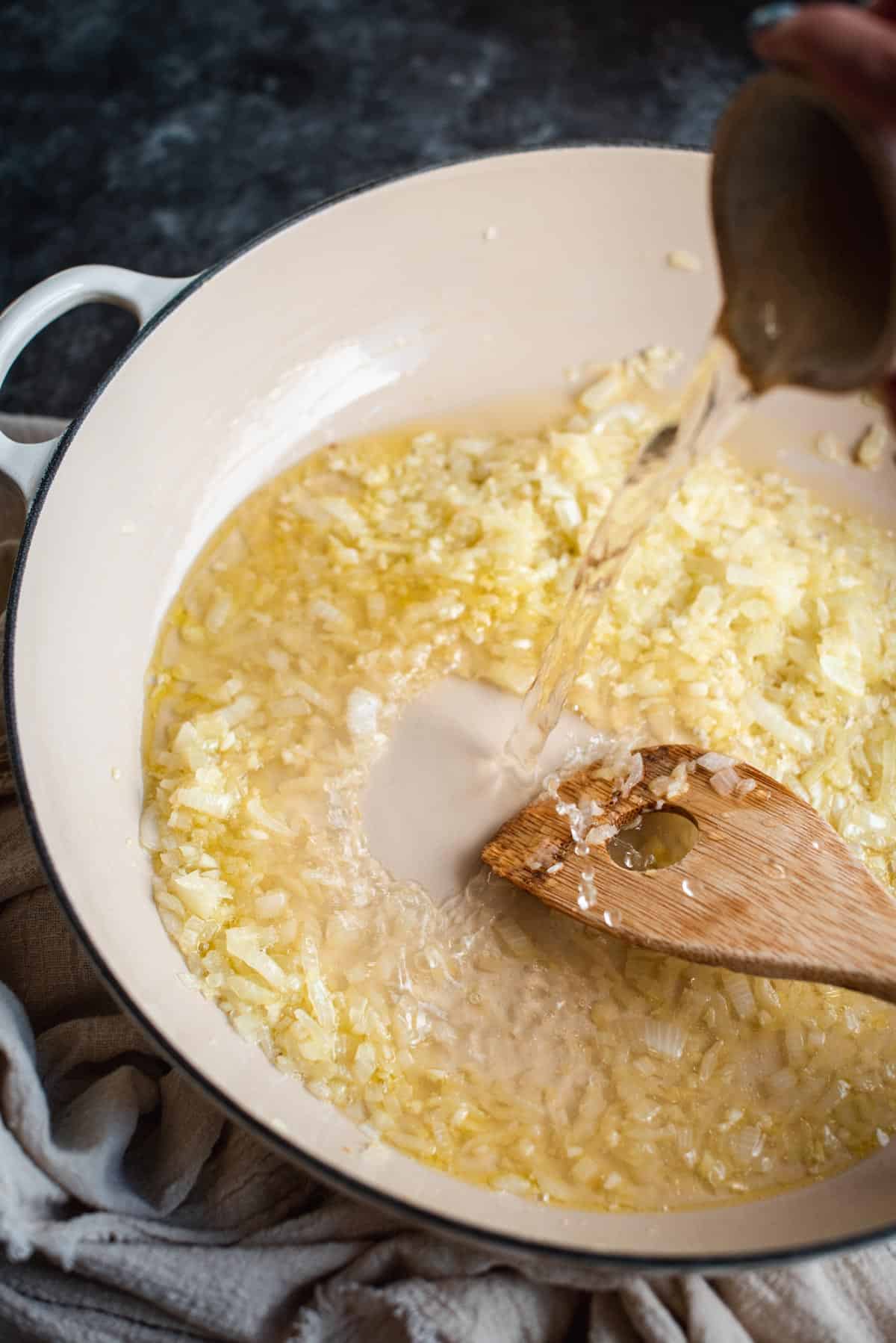 Saute the garlic for about 1 minute. Stir in the white wine and simmer for about 1 to 2 minutes to reduce.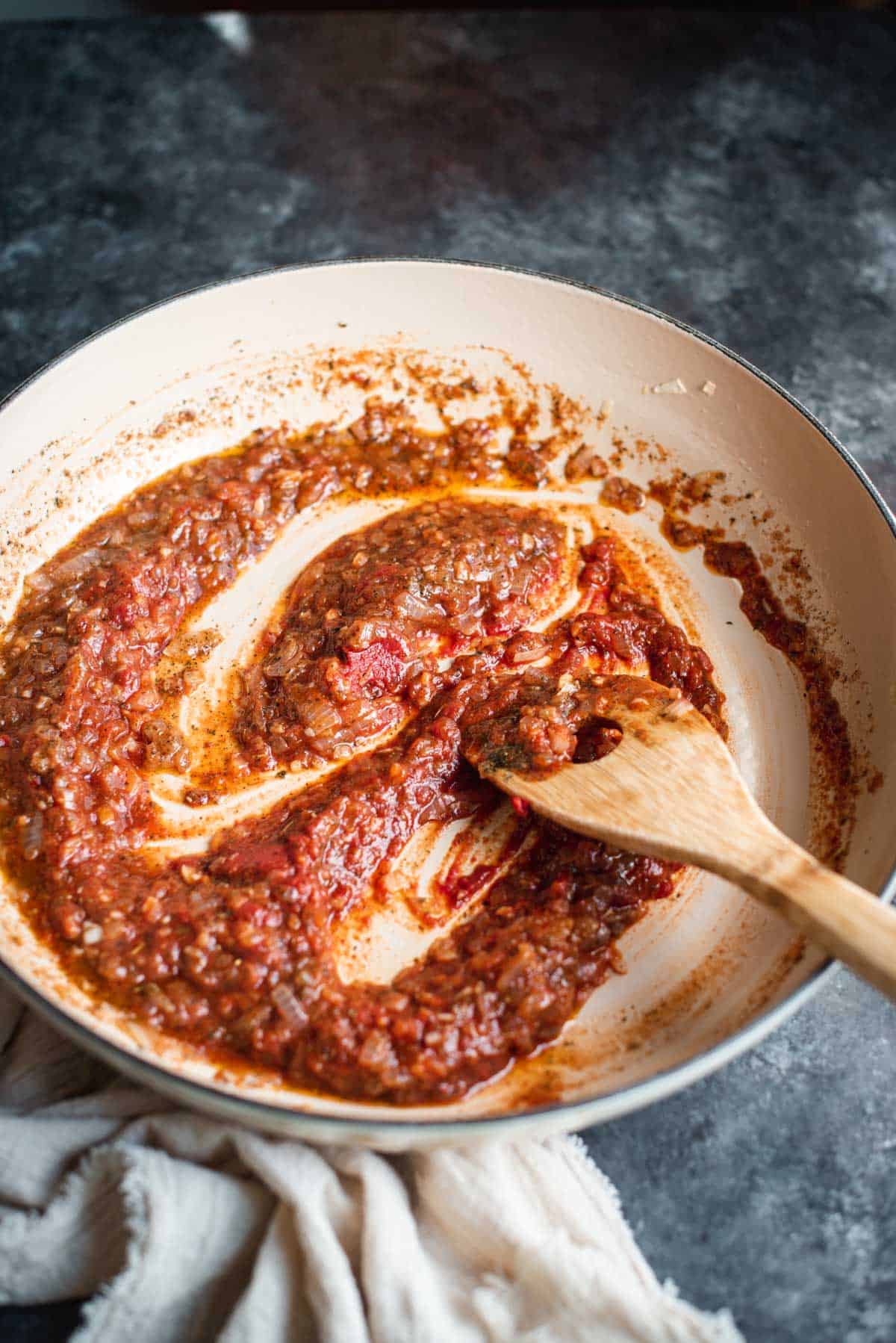 Add the tomato paste and Italian seasoning, salt, and black pepper. Stir until combined into a thick sauce.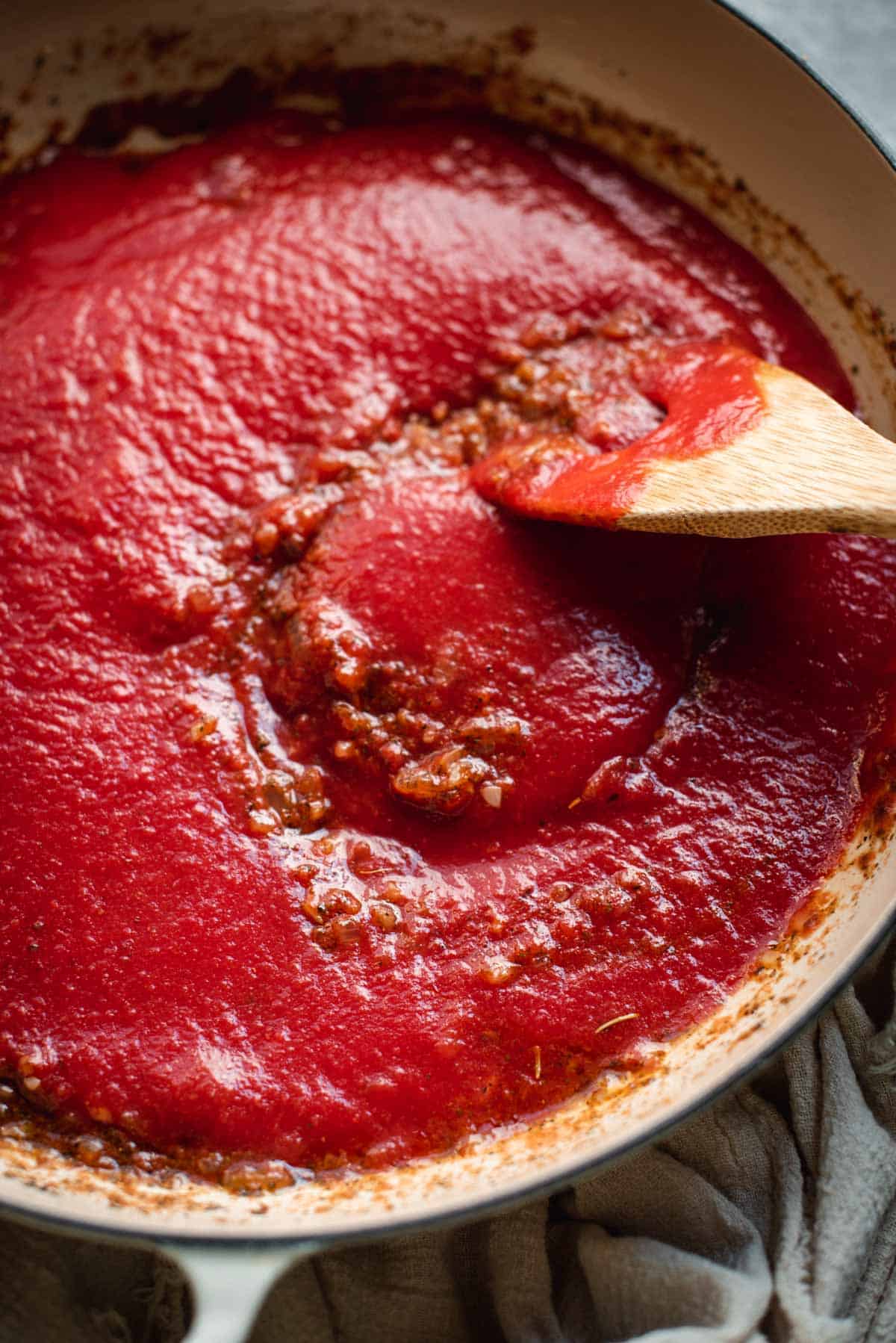 Add the canned tomato sauce to the pan. Stir until fully combined. Bring to just a simmer, reduce heat to low and cook for about 10 minutes.
Top Tips on Storing this Homemade Meatless Pasta Sauce
This easy homemade pasta sauce is best eaten fresh in my opinion, with a few herbs scattered on top. However, it will stay fresh in the fridge for up to 5 days, provided it is sealed in an airtight container.
Alternatively, you can freeze it. I recommend doing so in smaller batches so it's easier to defrost in portions. This method is great for anyone out there meal prepping! It will last in the freezer for up to 3 months. I normally use ziplock bags for this as it means it doesn't take up too much space in my freezer.
The last option you can use, is canning. It's a fairly long-winded process involving sterilizing and adding pressure to cans, I can't say I've ever bothered myself to be honest! But maybe you are interested, it makes your sauce last up to a year!!!!
FAQs
Can I make this easy spaghetti sauce with fresh tomatoes?
Yes absolutely - it just involves a few extra steps! Slice your fresh tomatoes on half and roast them in the oven with some olive oil, salt and pepper for about 30 mins at 350°F, until the flesh is puckering. Toss it all into a blender or food processor and blend well until puréed.
How long long does this easy homemade pasta sauce stay fresh?
It depends on how you pack it and store it. It will last up to 5 days in an airtight container in the fridge. Or you can freeze it (not in glass!) and that will last around 3 months!
Any tips on canning or jarring this sauce?
If you want your pasta sauce to stay fresh for a long time, you will need to take some extra steps to make sure it is sealed properly, canning is a rather long process (which is how large companies pack their products) but will make your pasta sauce last up to a year!!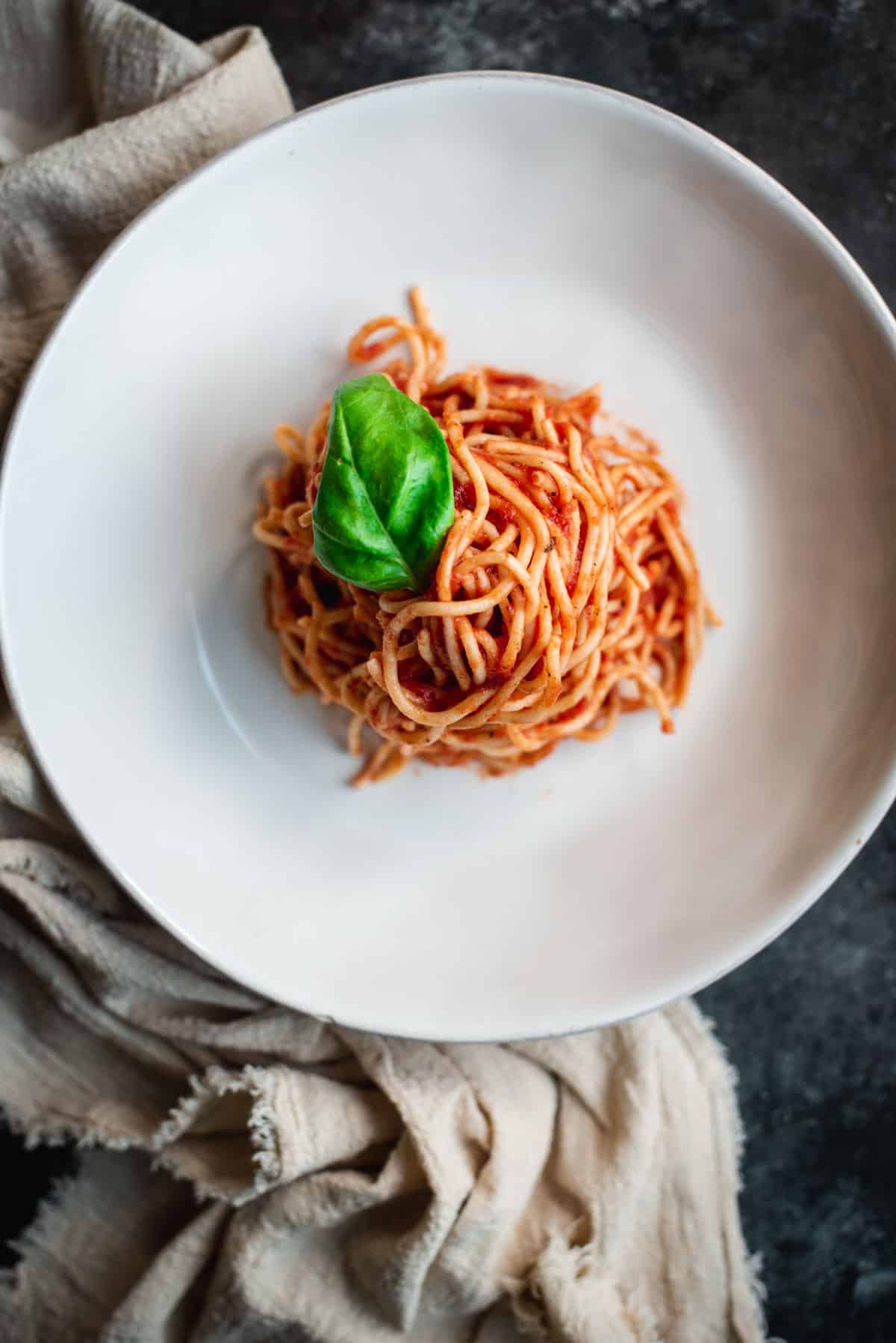 Hungry For More?
Now that you have a delicious easy homemade pasta sauce, you could go all out and make your own pasta. I loove homemade pasta as it has the perfect chew to it!
If there's lot of you for dinner tonight and you want a little bit more than pasta, then add on some delicious Truffle Parmesan Fries, they sound fancy and everyone will love them, including the cook...because they are so simple!
You could even try my super quick and easy grilled eggplant, it's full of body-loving nutrients and tastes so tender and smokey!
Please leave a comment below if you tried this recipe, or share your own photos on Facebook or Instagram, I love seeing your creations!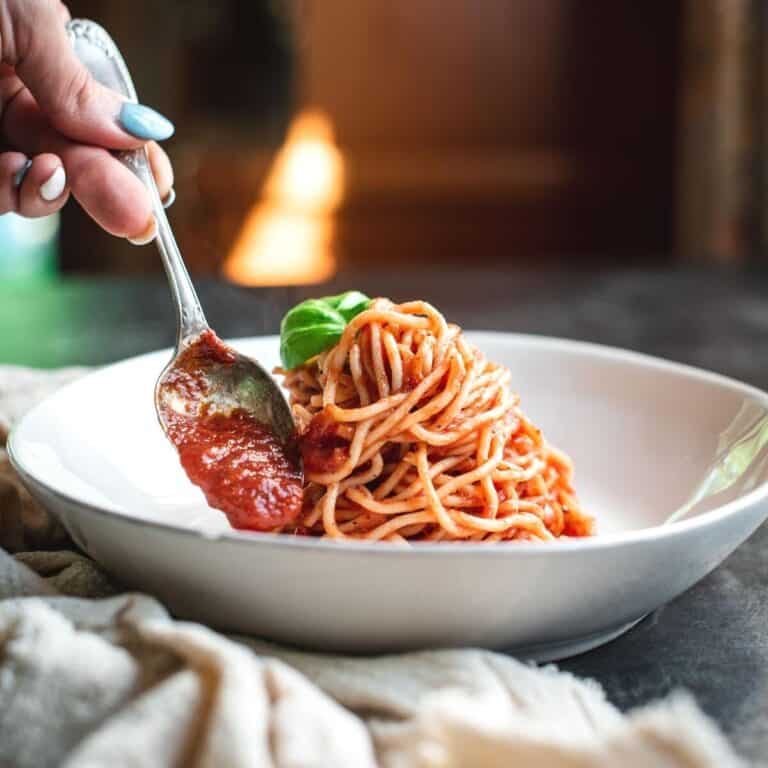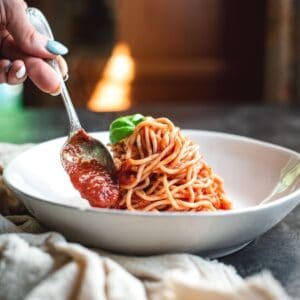 Easy Homemade Pasta Sauce
Easy and quick tomato sauce takes minutes, but tastes like it simmered all day!
Print
Pin
Rate
Ingredients
¼

cup

extra virgin olive oil

1

large yellow onion

(finely diced)

4

cloves

garlic

(minced)

1

teaspoon

kosher salt

¾

cup

white wine

2

29-ounce cans

tomato sauce

(substitute San Marzano, crushed or puréed tomatoes)

⅓

cup

tomato paste

(about ½ of a 3-ounce can)

1 ½

tablespoons

Italian seasoning

¼

teaspoon

black pepper
Instructions
In a large heavy bottom pot or a large deep-sided pan, heat the olive oil on medium heat. Sauté onions until translucent. Add the garlic and cook until fragrant, about 1 minute.

Stir in white wine and let reduce for 1 to 2 minutes.

Add the ⅓ cup tomato paste, 1 ½ tablespoons Italian seasoning, 1 teaspoon salt, and ¼ teaspoon black pepper. Stir to incorporate tomato paste and spices, the mixture should be thick.

Stir the tomato sauce into the pan, incorporating the sauce with the paste and spices completely. Cook while stirring until the mixture starts to bubble. Reduce the heat to low, cover, and let simmer for 10 minutes.

Serve immediately or let cool and transfer to storage containers for later use!
Notes
Substitute 1 can of tomato sauce for crushed, diced, or hand crushed san marzano tomatoes (with the juice) for a more textured sauce.
Allow to cool before storing.
Follow proper instructions if canning sauce.
Nutrition
Calories:
520
kcal
|
Carbohydrates:
27
g
|
Protein:
4
g
|
Fat:
37
g
|
Saturated Fat:
5
g
|
Polyunsaturated Fat:
4
g
|
Monounsaturated Fat:
26
g
|
Sodium:
2029
mg
|
Potassium:
887
mg
|
Fiber:
6
g
|
Sugar:
12
g
|
Vitamin A:
983
IU
|
Vitamin C:
21
mg
|
Calcium:
146
mg
|
Iron:
4
mg