Fork tender roasted acorn squash stuffed with savory and sweet flavors of sausage, sweet potato, apple, onions and a touch of marsala wine. Stuffed acorn squash are a healthy, flavorful and filling fall themed meal!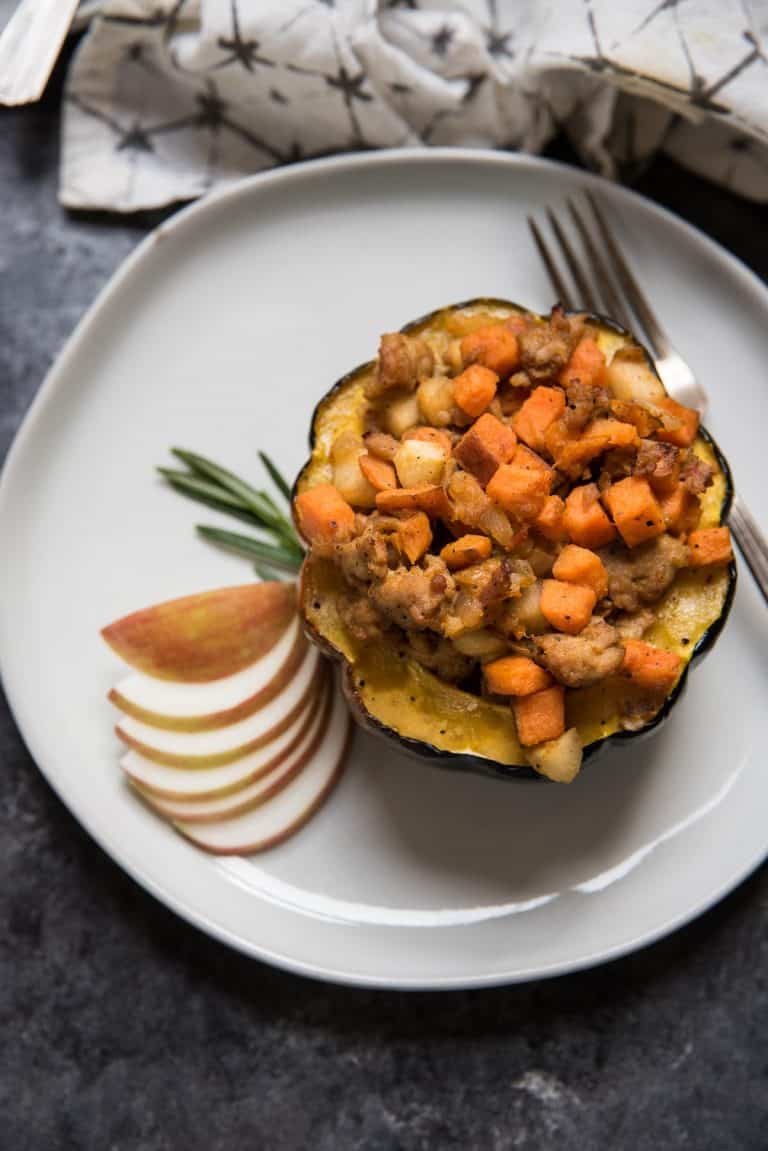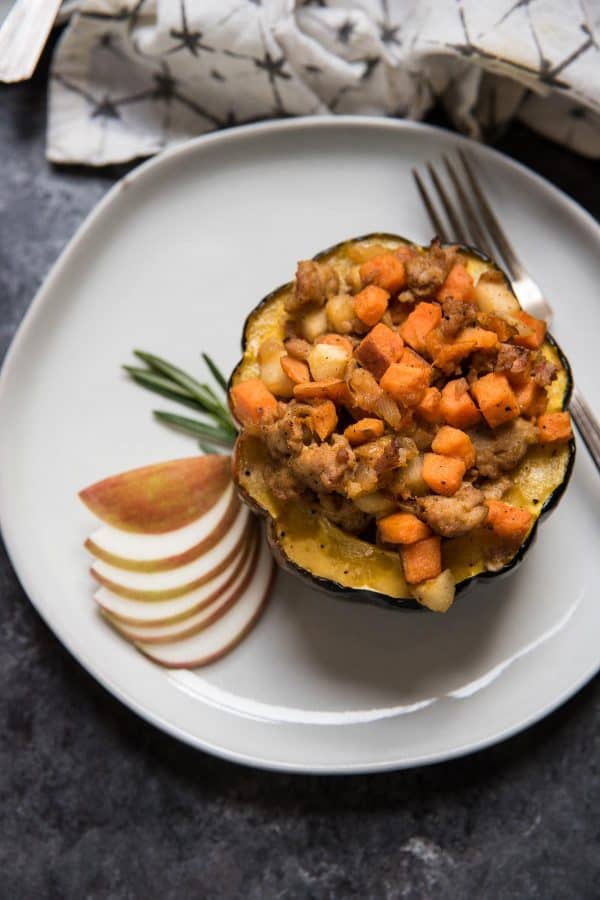 A whole lot of fall on a plate right here and we are here for it! There are so many reasons to run out to the store and grab the simple ingredients for this main dish of goodness, but here are a few key players:
Wholesome food goodness
Perfect combo of sweet and savory
Healthy and filling
Awesome entree or split it up as a fun side
All great things right? It's hard to nail down the best part. For me, the combo of the sweet potato with the savory sausage and sweet apple is probably my number one. The sneaky marsala adds just the right amount of sweetness.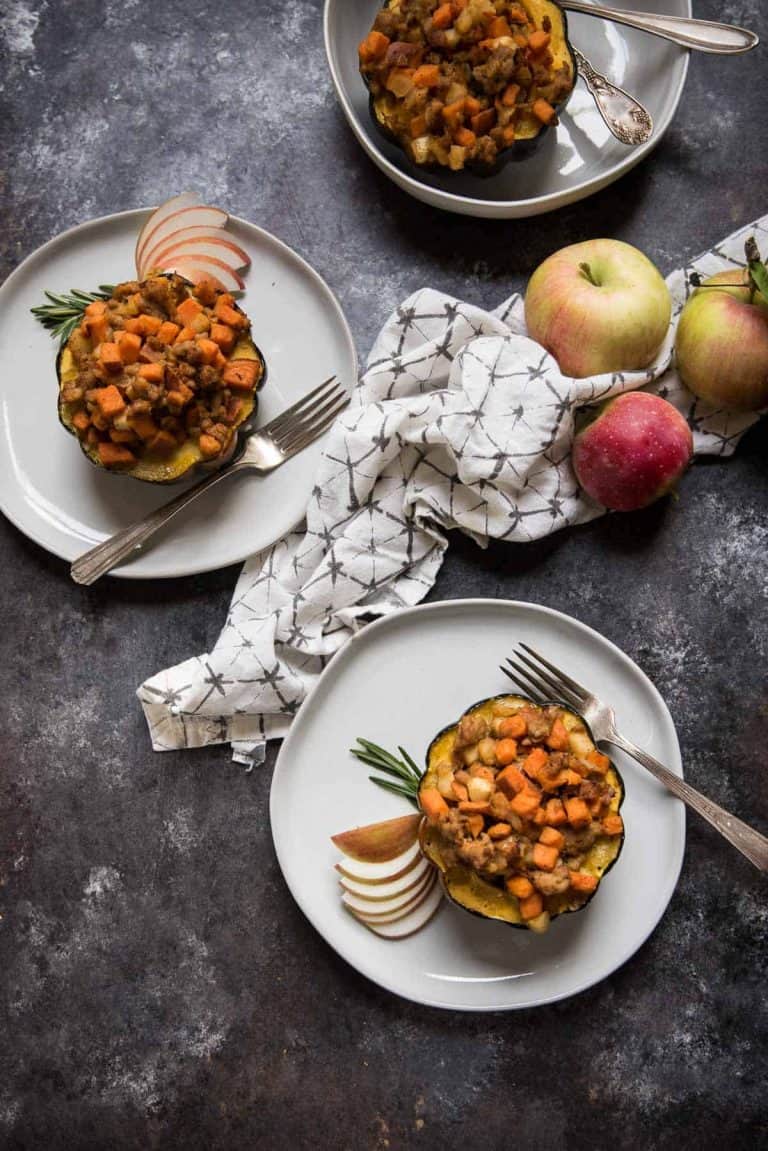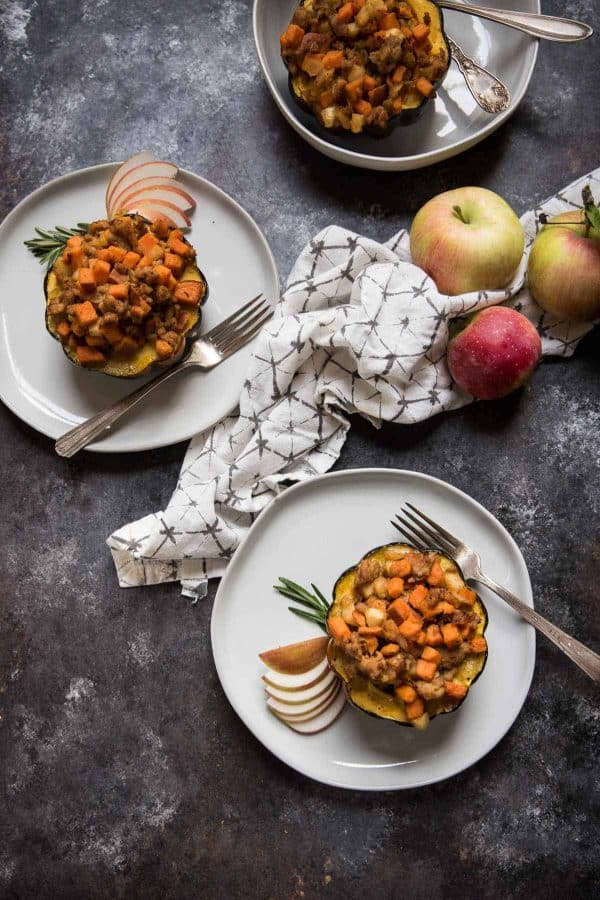 WHAT DOES ACORN SQUASH TASTE LIKE?
On its own, acorn squash is mild and pleasant. It's a smidge naturally sweet, but not nearly as sweet as butternut squash or pumpkin. Which makes it perfect for stuffing with super flavorful ingredients. The roasted acorn squash will break down sugars as it roasts and naturally sweetened, then the stuffing will add more flavor and herbs to the mix.
It's a win win for everyone.
CAN YOU EAT THE SKIN?
Absolutely. It's a matter of personal preference though. I'm not a huge fan of the skin from a texture perspective but if a few pieces end up on my fork it's still tasty.
The nicest thing is the 'meat' of the squash pulls away easily from the skin so there's no need to peel it. Which would be difficult and annoying.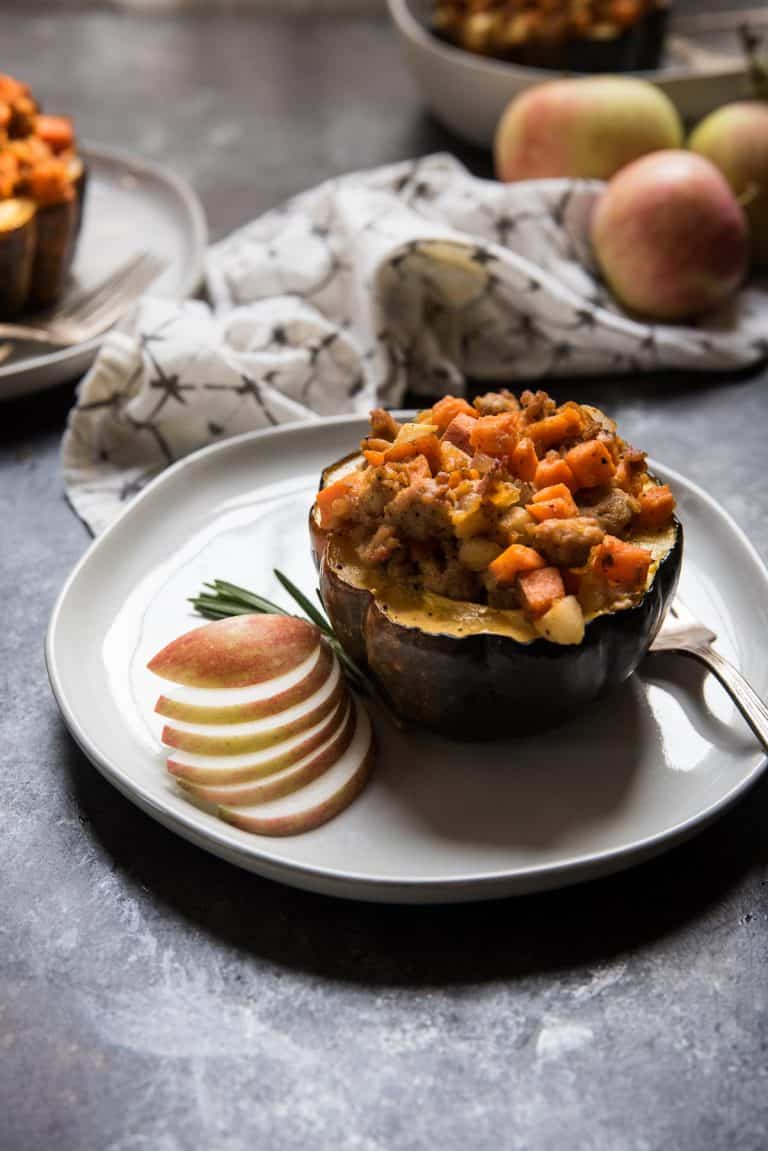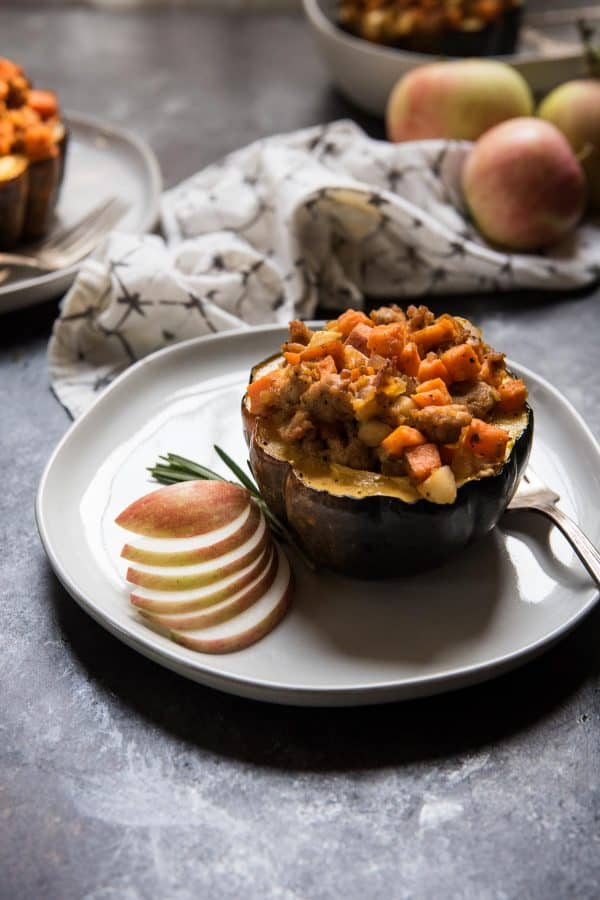 How to make stuffed acorn squash
Roast squash. Stuff it with tasty things. What? Okay...I guess we can elaborate a smidge more.
You'll want to prep the squash by cutting it in half horizontally and a small piece of each end off so it lays flat on the sheet tray. It is shaped like an acorn after all. Then in a pumpkin-like fashion scoop all the guts out (seeds and the stringy texture in the center of the acorn squash.) Try not to go through the bottom, but it's not the end of the world if you do.
Channel your inner horror movie bad guy and using a fork poke some holes into the flesh of the squash. This will help cook it soft and tender by allowing the oil to soak into it. While the beautiful acorn squash halves are roasting just prep the rest!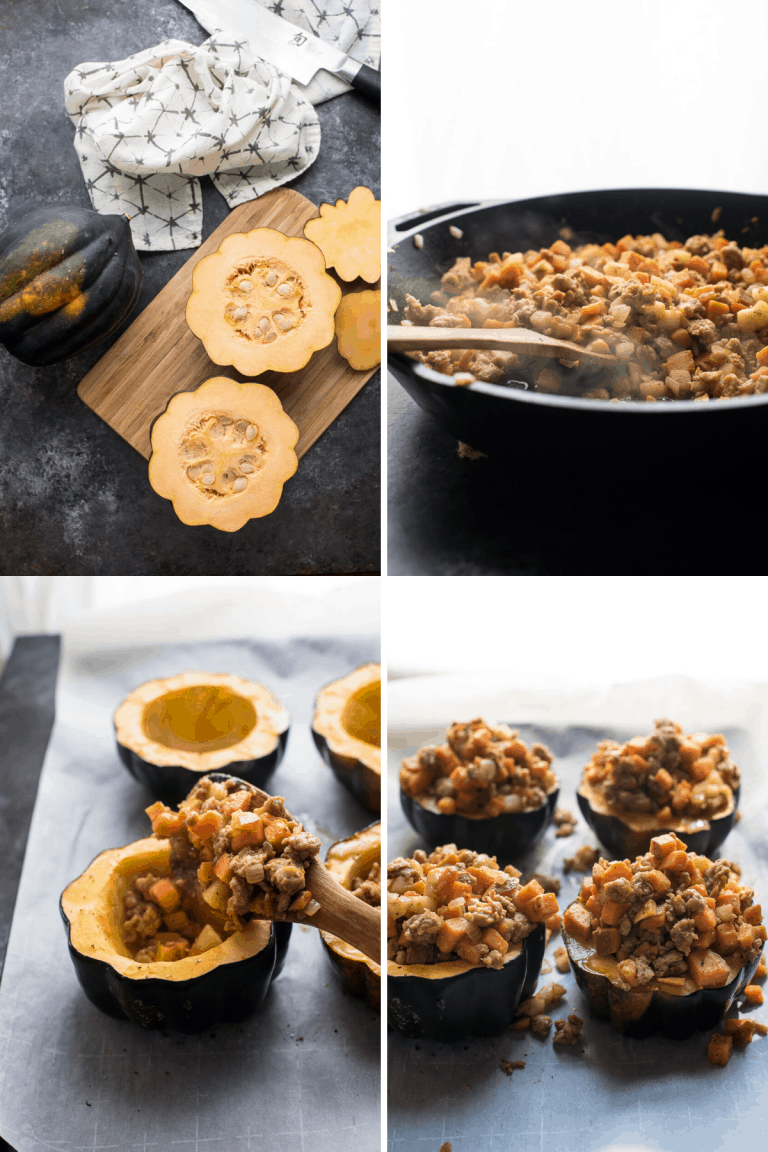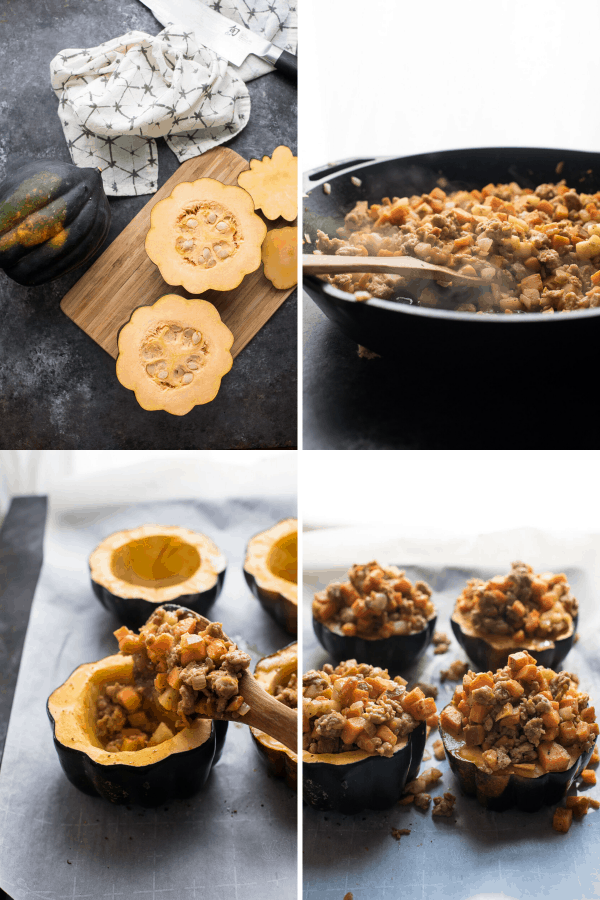 Is there anyone else in this house (and by 'house' I mean the internet) that cooks almost everything on high heat? SUPER GUILY RIGHT HERE. I guess you could say it's one of the many things I inherited from my mother. IDK, we're both just busy people that like to cook things fast and there's nothing wrong with that right?
But...it's also the reason I like to cook with a cast iron pan. They tend to be a little bit more forgiving if the pan gets a bit too hot. Stainless steel or non stick will work great on this recipe too, but heat the oil for sautéing your stuffing ingredients on medium-high versus full blast.
Regardless of the vessel in which you cook it, you're just a quick sauté of sweet potatoes, onions and apples, then sausage, chicken stock and marsala before you've simmered to acorn squash stuffing perfection.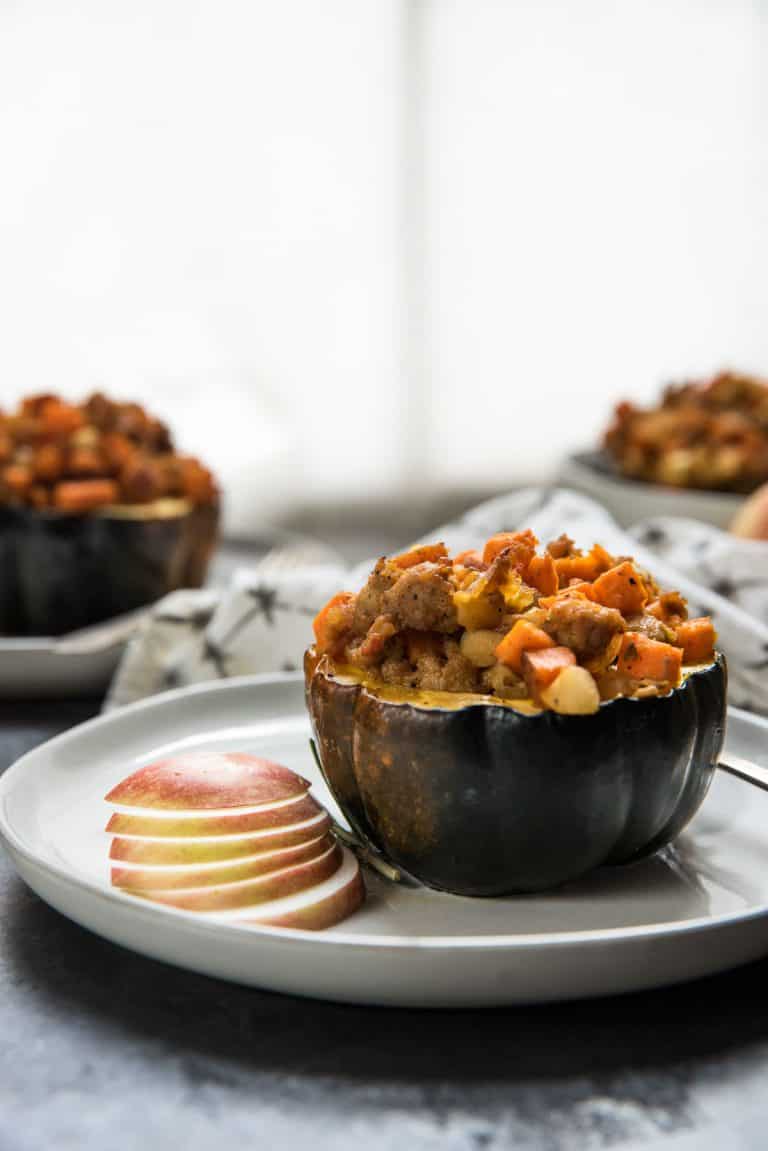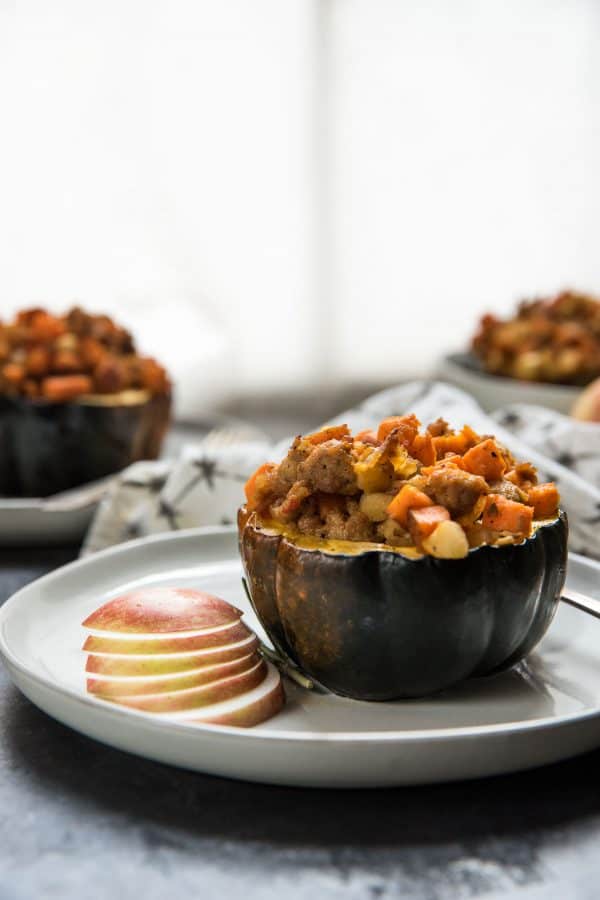 DO I NEED TO ADD CHICKEN STOCK?
Technically, you don't need to do anything. For super tender, super flavorful, not dried out bites of fall bliss the chicken stock is added to the pan of stuffing ingredients and simmered until near evaporation. Most of the liquid will be absorbed by the potatoes which will help to soften them, but it also adds moisture to the chicken sausage which can be a little dryer than regular pork sausage since it has less fat.
CAN I MAKE THIS VEGETARIAN?
Absolutely! If you're skipping the sausage, try substituting barley, farro or wild rice instead (cook it in a separate pan first then add it). Chicken stock can be substituted for vegetable stock.
WHAT DO YOU SERVE WITH STUFFED ACORN SQUASH?
Typically, we eat this as the main dish. It's protein and veggies and fruit all in one, like a food pyramid powerhouse. And it's not like it's hard to make, but there's a fair amount of steps involved that I feel this is enough to enjoy as is.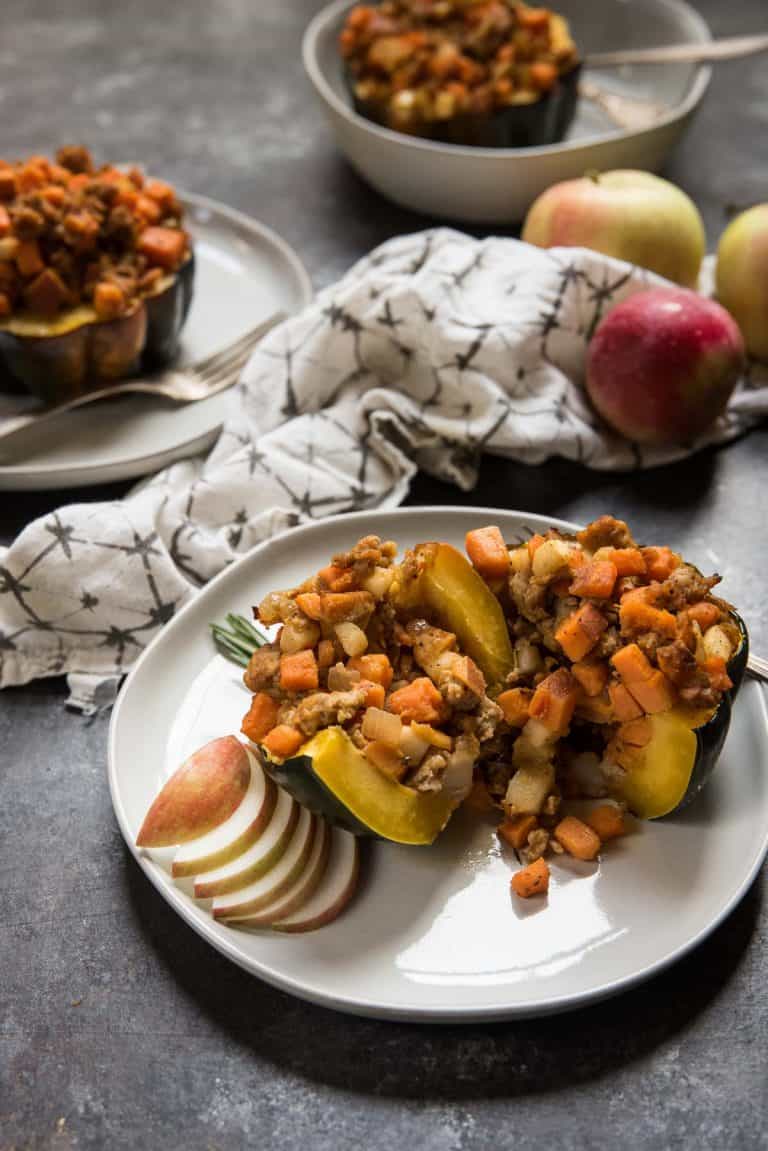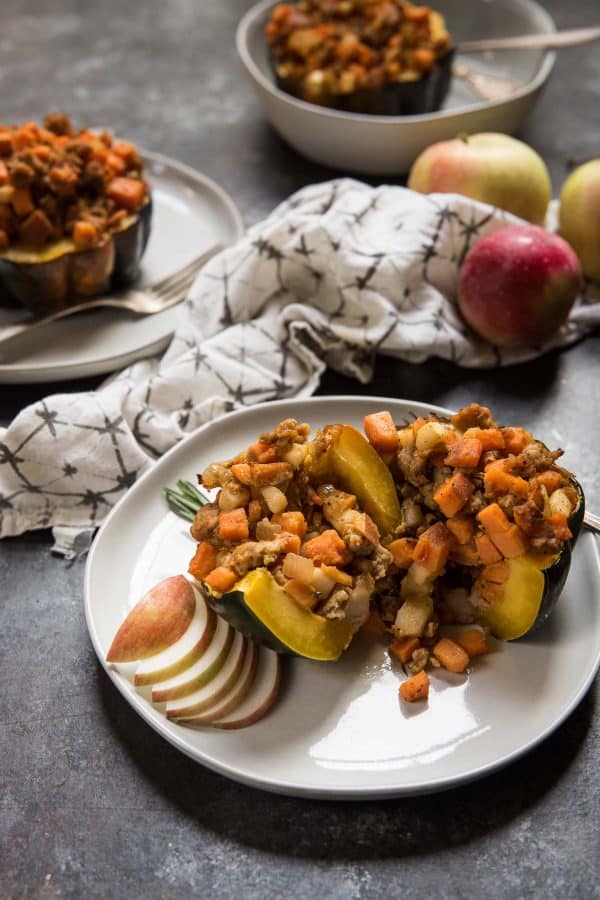 However, if you're in the mood for a little more this is perfect alongside a roasted chicken or to serve at thanksgiving with the turkey. You can just slice up the squash and serve it as a side dish full of autumn flavor!
Whichever way you decide to dish it out, these cute fall squash are going to be warm and comforting with seriously drool worthy flavors.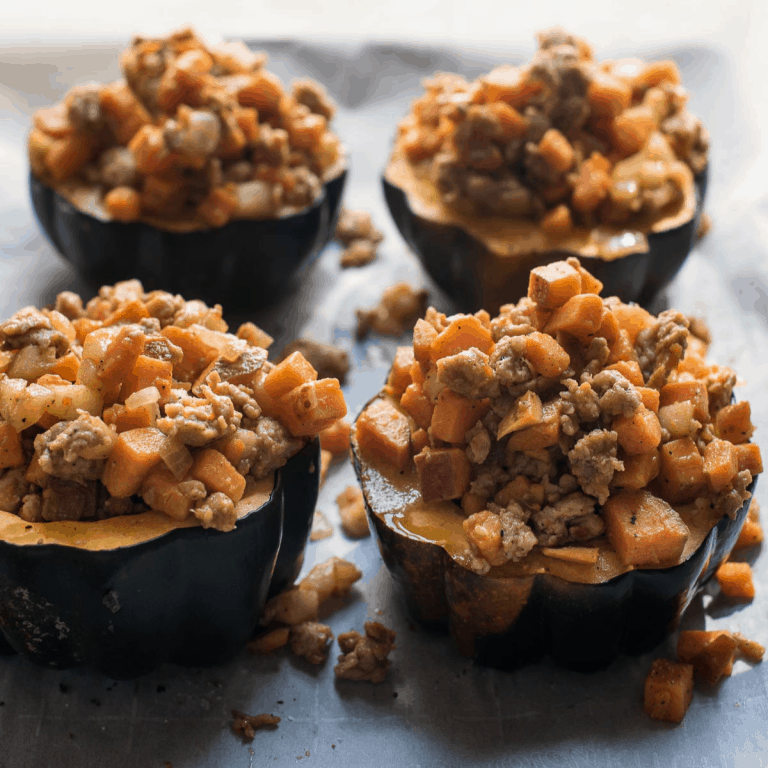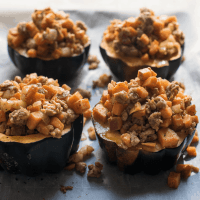 Stuffed Acorn Squash with Sausage and Apple
Fork tender roasted acorn squash stuffed with sweet and savory flavors of chicken sausage, sweet potato, apple and a splash of marsala wine. Stuffed acorn squash is great as wholesome fall main dish or served up sliced as a side.
Print
Pin
Rate
Ingredients
2

acorn squash

6

tablespoons

olive oil

(divided)

1

large

sweet potato

(diced)

1

yellow onion

(diced)

1

pound

italian chicken sausage

1

gala apple

(diced (see notes))

½

cup

chicken stock

3

tablespoons

marsala wine

salt and pepper
Instructions
Roast the squash. Preheat the oven to 375°F. Line a sheet tray with parchment paper. Cut a small piece of the tops and tips off the acorn squash so they will lay flat on the sheet tray. Cut each acorn squash horizontally across the center and scoop out any stringy, seeded pieces.

Poke each piece of squash several times with a fork, drizzle with 3 tablespoons of olive oil and season with salt and pepper. Roast in a 375°F oven for 35 minutes. While the squash roasts, prepare the stuffing.

Sauté the stuffing. In a large sauté pan, heat the remaining 3 tablespoons of olive oil over medium-high to high heat. Once the oil shimmers, add the sweet potatoes and onions, cook for about 5 minutes stirring frequently until the sweet potatoes are just starting to soften and the onions are starting to brown. Combine the apple with the ingredients in the pan, season with salt and pepper, and sauté for 1 minute longer.

Using a spatula or wooden spoon, break apart the sausage into bite sized pieces as it cooks. Once the sausage is almost completely browned, about 3 to 4 minutes, deglaze the plan with the marsala wine. Allow the wine to reduce, about 1 minute, then add the chicken stock to the pan. Reduce the heat to medium-low and simmer until almost all the liquid is absorbed. Remove from heat until the acorn squash is done roasting.

Stuff and roast. Remove the roasted squash from the oven. Scoop the filling and any pan juices into each of the acorn squash halved, pressing down gently to fill. Return the squash to the oven and roast for 10 minutes. Serve immediately.
Notes
You can use any apple you have handy, you just want it to be a medium sized apple. I tend to stock my fridge with Honeycrisp since those are my fav, but gala tend to be the easiest to find, have great flavor, on the sweet side, but sturdy enough to hold up during cooking.
If using a cast iron skillet, start with the heat on high. Adjust if you see the potato browning too quickly.
If trying to meal prep or make ahead, you can fill the squash with the sausage and apple filling then store or freeze for later. When you're ready to eat just bring to room temperature first, then roast for 10 minutes in a preheated 375°F oven.
Nutrition
Calories:
635
kcal
|
Carbohydrates:
56
g
|
Protein:
22
g
|
Fat:
38
g
|
Saturated Fat:
6
g
|
Cholesterol:
81
mg
|
Sodium:
1259
mg
|
Potassium:
1165
mg
|
Fiber:
7
g
|
Sugar:
12
g
|
Vitamin A:
13276
IU
|
Vitamin C:
32
mg
|
Calcium:
108
mg
|
Iron:
3
mg